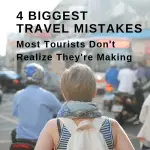 4 Biggest Travel Mistakes Tourists Don't Realize They're Making
Last updated on August 24th, 2022 at 07:56 pm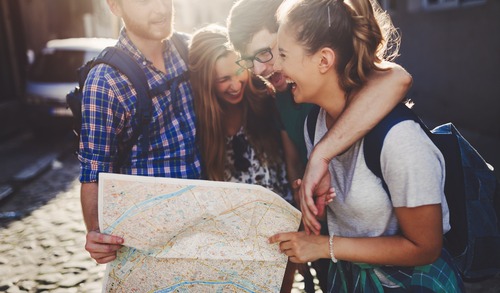 Traveling is fun, and it's a great way to experience a different culture. Regardless of how well you plan a trip, problems are inevitable. These problems usually happen because you are unaware of the mistakes you're making like not doing your research prior the trip or being negligent of your surroundings. Problems happen all the time, and there are ways you can minimize on these.
Here is a list of the biggest mistakes you might not realize you're making when you travel:
1. Not Paying Attention to Their Passport
Knowing how long your passport needs to be valid for will help you prevent future problems. People tend to overlook the passport date of expiration and only realize its importance once they're at their destination. Some countries, like China, require that you have three to six months remaining on your passports before traveling.  If you're having problems securing your passport, here is a good Passport info guide to help you.
More than having a passport, you also have to make sure that it's safe when you travel. Do the following to safeguard your passport:
Carry it everywhere you go
You'll need to bring your passport anywhere you go and best if you carry it in a bag that you can wear across your body. Keep it secured inside the pocket of your bag and make sure your bag zippers are always shut.
Each person carries their passport
Most mistakes people make is giving all their passports to a single person for safety. But, what you don't understand is you're risking all of it in the event of theft. Each person who's old enough should carry their passport.
Lock it up when you can't bring it
Most hotel rooms will have a safe that you can use to lock up your belongings. If you're not confident enough about their security, you can bring your own locking travel safe.
Check it regularly while traveling
Check your passport in private while you're touring the city. Doing so will give you peace of mind.
Keep a photocopy of your passport pages and divide them up. This will make replacing and reporting your passport stolen a much easier task.
Your passport should always be kept safe, and it should be your priority whenever you travel.
2. Underestimating Language Barrier
English may be the universal language, but you can't expect everyone to speak or even understand it. Sometimes, expecting locals to speak English can be offensive. A good rule of thumb is by asking politely if the person knows or understands the language. Here are also other ways you can overcome language barriers:
Before even boarding the plane, know what language is spoken in the destination you're going to. Some countries may have more than two official languages which vary from city to city.
Buy a phrase book and learn a few local languages such as "thank you," "goodbye," "yes," and "no." Learning a few phrases will earn the respect of locals and help you immerse in their culture.
Avoid using slang and speak clearly
If ever you do find someone who can understand and speak English, it's best to speak clearly and concisely, but never loud.
There are tons of app that you can use to help translate phrases for you. If you do ever find yourself in a challenging situation, you can just take out your phone and find the words you need.
3. Not Bringing Appropriate Clothing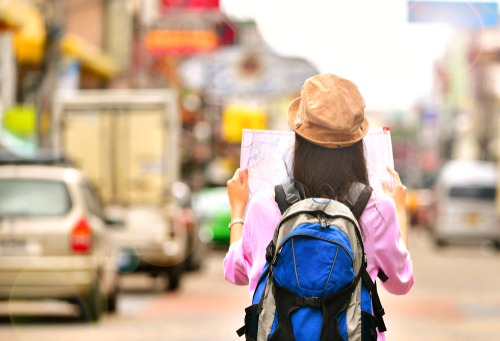 More often than not, in an attempt to pack light people tend to bring the lightest clothes which can sometimes mean shorts and tank tops. While those are appropriate when you're going on a cruise, it's not always applicable to some destinations. Sometimes dressing like the locals can be useful as you won't be a target of pickpockets.
Here are some tips on how you can pack appropriate clothes:
Use close-toed shoes when traveling as flip flops or clogs are usually frowned upon by some nationalities.
Wear pants most of the time and reserve your walking shorts going for the beach or the park.
Never use shirts with profanity, military or even religious symbol as it draws unwanted attention and may even incite violence.
Bring neutral colored pieces clothing, nothing screams tourist than a brightly colored shirt.
When traveling, you'd want to avoid drawing too much attention to yourself. Pack appropriate clothing all the time and try look like a local. Furthermore, never wear flashy jewelry when traveling and keep your camera inside your bag when not in use.
4. Inappropriate Behavior
Some travelers are unaware that they're being disrespectful because this is what they're used to. You have to remember that your culture is so much different from the country you're going to. Also, never think that you should be given special treatment just because you're a tourist. Here is a list of disrespectful things you should watch out for when you're overseas:
Commenting negatively in public – If you're not in a private place among your peers, never give out negative comments. This is disrespectful even if you think that you're giving constructive criticism.
Not being careful with what you wear –  There are countries in the Middle East and parts of Africa and Asia, where they don't allow people to bare too much skin. Countries in Southeast Asia will be more lenient when it comes to the type of clothing, but make sure they're not too skimpy. Being careful with your clothing means that you respect a country's culture and practices.
Taking photos of people without their permission – Some tourists travel to third-world countries who will take pictures of a child in rags or a mother nursing a baby on the side of the road. No matter how pure your intentions are, politely ask if you can take their photo before taking out your camera.
Wearing a hat inside an establishment – It's unnatural for some countries to see people wearing hats inside establishments. Some countries will find this behavior rude. Take a look around before sticking with the hat.
Expecting the same luxuries you're used to – Some places will not have the luxuries and privileges you're used to. This is especially true if you're traveling to a remote destination. You can't expect rural hotels or motels to offer you something they don't have.
Littering – No matter how poor the environmental policy of a country is, don't add up to it. As a traveler, you should do your part in helping the environment by being eco-friendly. Avoid littering, bring reusable bags and straws and accumulate as little trash as you can.
Conclusion
Like many things, traveling is a skill that you learn over time. It's okay if you've committed some mistakes listed here, what's important is that you're doing something about it. Just being polite and keeping an open mind can help you avoid mistakes most tourists make. If you're in doubt, you have to check the Internet beforehand.
This page contains affiliate links for which we may receive financial compensation when a purchase has been made through one of our affiliate partners.