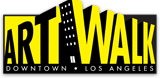 A Treat for the "Art Lovers"
Last updated on January 5th, 2018 at 03:40 pm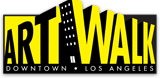 Take a stroll on the Downtown LA Art Walk, a popular Los Angeles attraction that takes place every 2nd Thursday of the month, and learn what the LA art world is all about.  The event goes from 12pm-10pm (Specific times vary by gallery), and features various exhibitions in local galleries, along with surrounding activities taking place at neighboring venues.  The exciting part of this event is the diverse groups of people who walk the streets from sun up to sun down, mingling and admiring the local talent together.
This month's Art Walk will take place on Thursday, November 13th.  Some of the must see Art Shows include "Streetscapes: Downtown Los Angeles," showing at the Blackstone Gallery, and the photographic exhibit "Pool," showing at the Carol Cirillo Stanley Studio Gallery.  You may also want to check out the live painting that will take place in front of the Downtown Art Mart by Haider Ali, a talented Pakistani truck artist.
Art Walk LA also features an intimate art lounge, where other exciting events will be held, including an art show from the featured artist.  This month's featured artist is Alex Schaefer.  Also, in honor of Latino Heritage month, there will be activities and giveaways held in the lounge celebrating Latino contributions in our society.
So, if you happen to find yourself in LA on the November 13th, make it a point to take a trip to downtown LA, because needless to say, it will be a sight to see.  Walk, eat, socialize, and admire!  Maybe even buy?  If you are into a relaxing yet eventful social environment, then this is the event for you!
Detailed location/time information can be found at www.downtownartwalk.org.
This page contains affiliate links for which we may receive financial compensation when a purchase has been made through one of our affiliate partners.
Melanie Eke is a TV/Radio Personality and Blogger from Los Angeles, CA specializing in Lifestyle/Travel and the Road to Success. Melanie found her way into Hosting as an On-Camera interviewer for Los Angeles events and award show red carpets. She quickly developed a passion for sharing exciting experiences with viewers, and began developing her own video content, exposing viewers to places to go and things to do and see around Los Angeles. Currently, Melanie is a Co-Host on the Generation U Radio Show—a topic, comedy, and music driven online radio show. Melanie also recently launched a web based show, "Road to Success: Action Tip of the Week, highlighting valuable action steps taken by accomplished people to (YouTube.com/MelanieCEke: Action Tip of the Week), or on VertroTV via ROKU TV reach their goals. The show can be viewed via YouTube and FILMON TV.