Category Archives: Port of Galveston – Galveston TX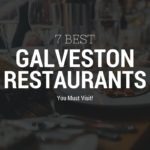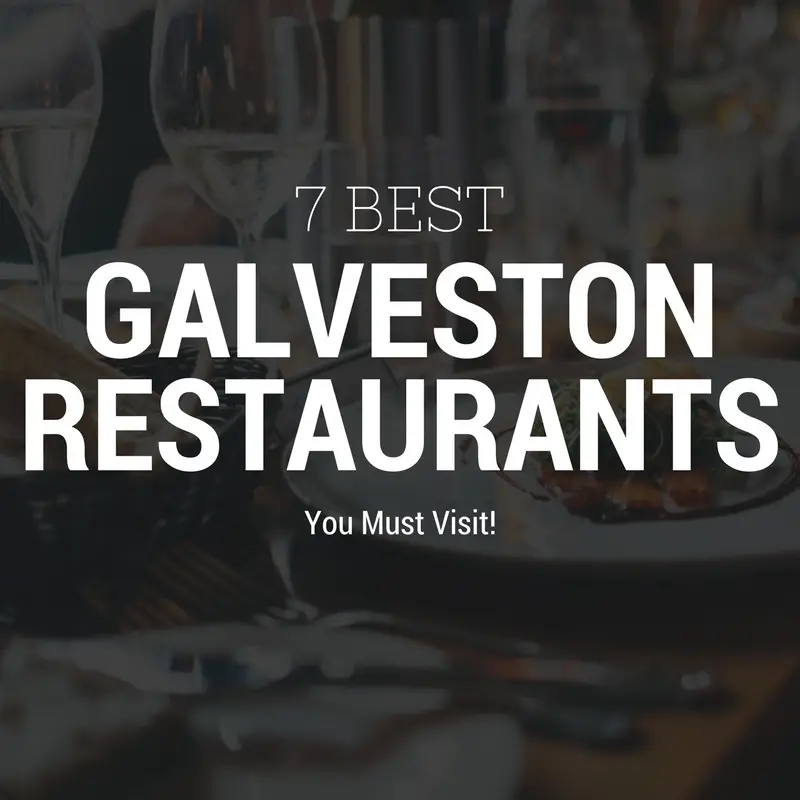 Last updated on February 25th, 2020 at 12:11 pm
When you are in Galveston for your cruise, there are many excellent and affordable Island favorite restaurants that you simply have to try. Here are our seven top choices (in order from least to most expensive):
#1 Shrimp 'N Stuff (Cost – $)
Have the first bite and you'll be fall in love!#galveston #galvestonfood #Hungary #downtowngalveston #shrimplinguine #shrimpnstuffdowntown pic.twitter.com/AifSucaHuL

— Shrimp 'N Stuff (@ShrimpNStuff) December 27, 2016
Shrimp 'N Stuff is a Galveston, Texas tradition. It first opened in 1976, and it became rapidly known as the shrimp place where locals eat.
Shrimp 'N Stuff offers very affordable, delicious seafood, including po-boys, gumbo and fresh salads.
For gumbo buffs, know that theirs is made from scratch. Every shrimp is peeled, deveined and breaded in house; nothing is frozen. Also, all of the seafood breading for the shrimp, oysters, fish and crab balls, are made in house, as are all of the sauces.
This is a warm and casual restaurant, with dining available inside and out. Customers order their meals at the counter, seat themselves, and pick up their order when it is ready.
#2 Star Drug Store (Cost – $)
If you are in the mood before or after your cruise for an old fashioned soda fountain and a sandwich, you can't go wrong here. Known as the oldest drug store in Texas, locals also say that the breakfasts are tasty and affordable – the pancakes, sausage and grits and bacon are among the favorites. The grits are smooth and creamy and the bacon thick and crispy. You can't do better than that!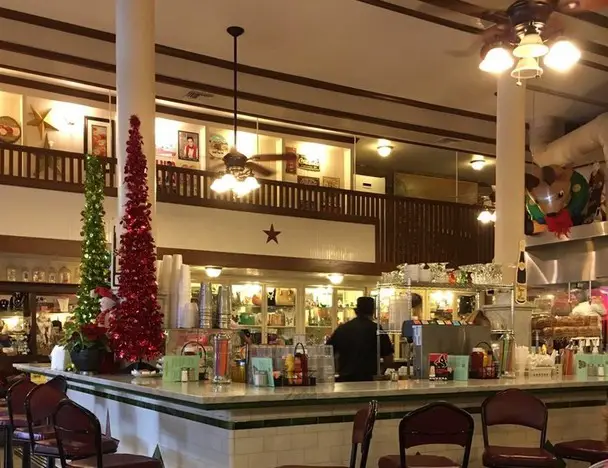 History buffs should note that the Star Drug Store dates to 1886. The soda fountain was added in 1917. Also, this was the first desegregated lunch counter in town.
Star Drug Store Menu
#3 Blvd. Seafood (Cost – $$)
Blvd. Seafood has the look of a nondescript diner on the outside, but recent visitors say that they prepare a multitude of delicious, creative seafood plates.
The seafood eatery features an open kitchen/dining room with plenty of seating available to view all of the food prep action.
Executive Chef Chris Lopez has created a menu with plenty of fresh seafood choices, and many are from local fishermen. Signature dishes include the Gulf Coast Flat Fish Stack and Broken Arrow Ranch Venison Medallions.
#4 Sunflower Bakery (Cost – $$)
Locals say that 99% of the food here is made from scratch and features local, fresh ingredients. On the menu include delicious Gulf shrimp, homemade sandwiches, and the best bakery in Galveston.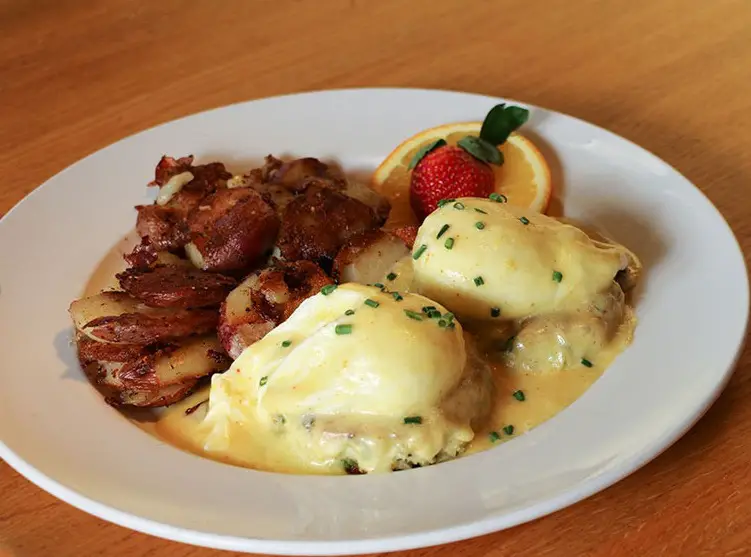 Popular with tourists and locals, visitors rave about the fresh waffles for breakfast, featuring fresh blackberries, raspberries and real whipped cream.
If fresh baked goods are your desire, you can enjoy delicious fresh pies, cakes and cookies, plus banana bread and pound cake.
Sunflower Bakery Menu
#5 The Steakhouse at the San Luis Resort (Cost – $$$)
To celebrate the beginning or ending of your Galveston-based cruise, consider The Steakhouse. This elegant eatery is known for its select, USDA Midwest, grain-fed beef, live Maine lobster and outstanding wine list.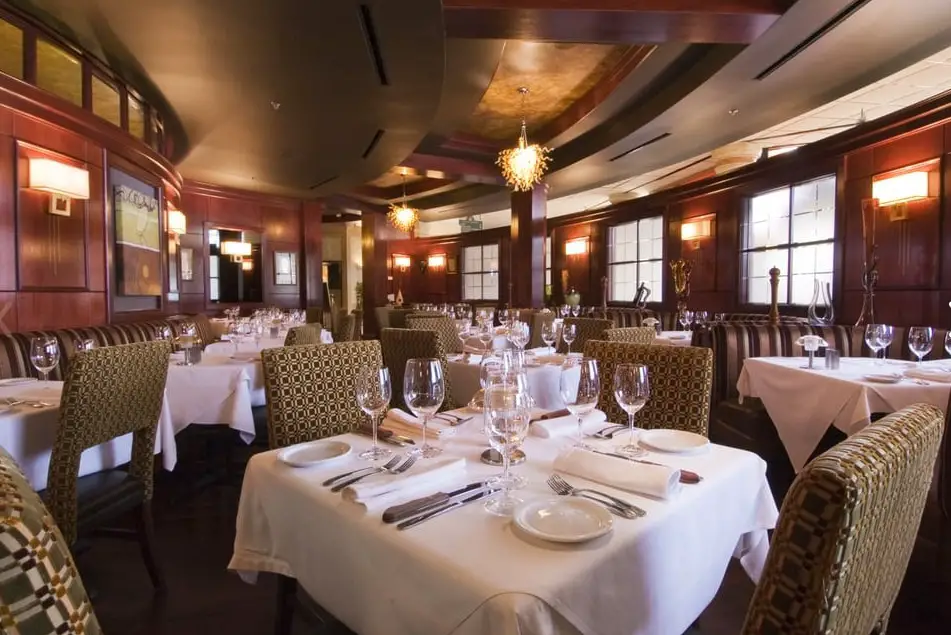 It has been the recipient of the AAA Four Diamond Award for the last 13 years, and was chosen as a Top Ten Texas Steakhouse by renowned food critic Thomas Horan.
Visitors note that the steaks and lobster are top notch, and the lobster mashed potatoes receive rave reviews. Also highly favored are the escargot ('mild and buttery') and the lamb chops are succulent.
Note that this excellent steakhouse is located in the four star San Luis resort, and resort casual attire is appropriate. No t-shirts, shorts or tank tops, please.
The Steakhouse Menu
#6 Gaido's (Cost – $$$)
Gaido's has been a luxury seafood mainstay in Galveston since 1919, and it has a reputation for five-star food and service. It has a strong commitment to serving only the freshest, locally sourced seafood.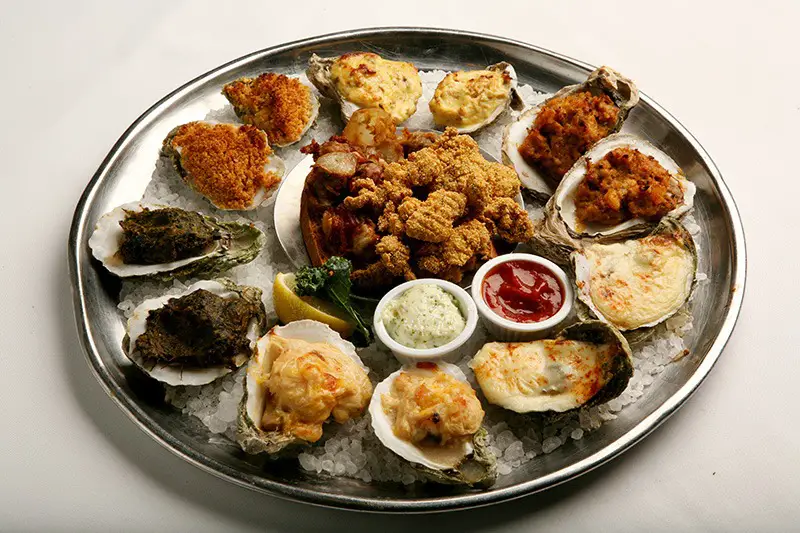 The raw oysters on the half shell are highly recommended. The blackened yellow tuna is dusted with Cajun seasonings, and the delicious, moist Atlantic salmon is brushed with lemon garlic butter and dusted with charcoal seasonings.
Gaido's Menu
#7 Rudy & Paco Restaurant & Bar (Cost – $$$$)
If you are visiting Galveston for a cruise, you cannot miss one of the best and most unique dining experiences. Rudy & Paco offers delicious, fresh seafood & steak, with an unusual South/Central American flavor.
Tops on the extensive menu are the grilled Gulf red snapper with a mild cilantro cream sauces, and the sublime crab cakes, featuring a chipotle cream sauce.
Please note that shorts and tank tops are not permitted in the dining room, but are acceptable at the full service bar
On your next stop in Galveston, make sure you visit one of more of these top Island eateries for delicious food and local flavor.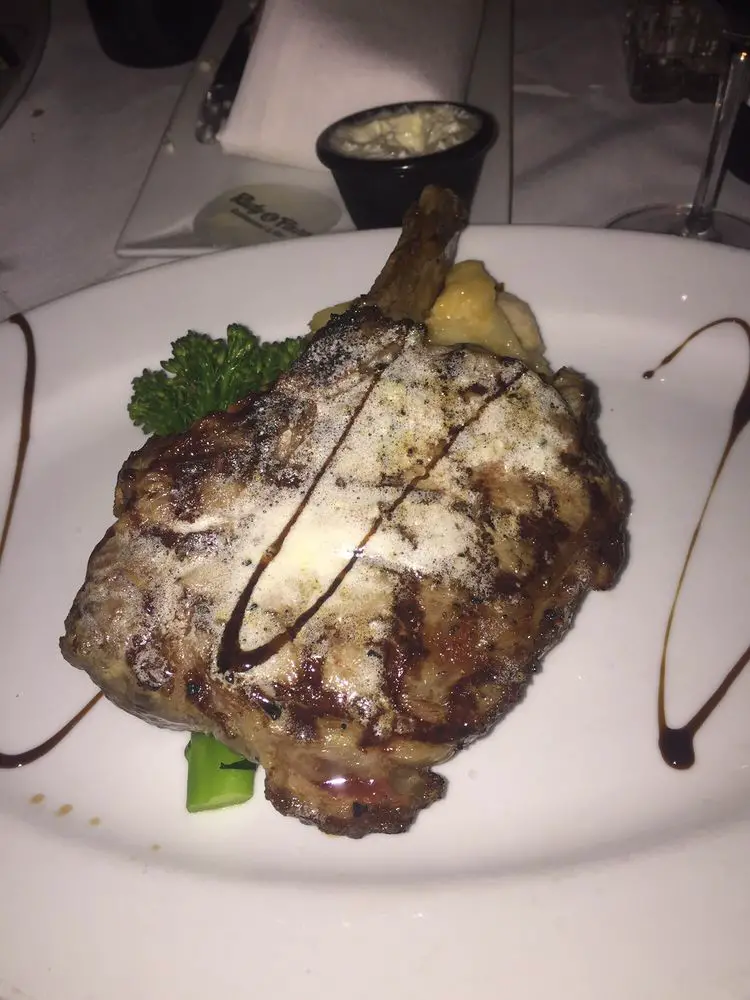 Patrick Manley is a real estate investor in the Houston / Galveston area.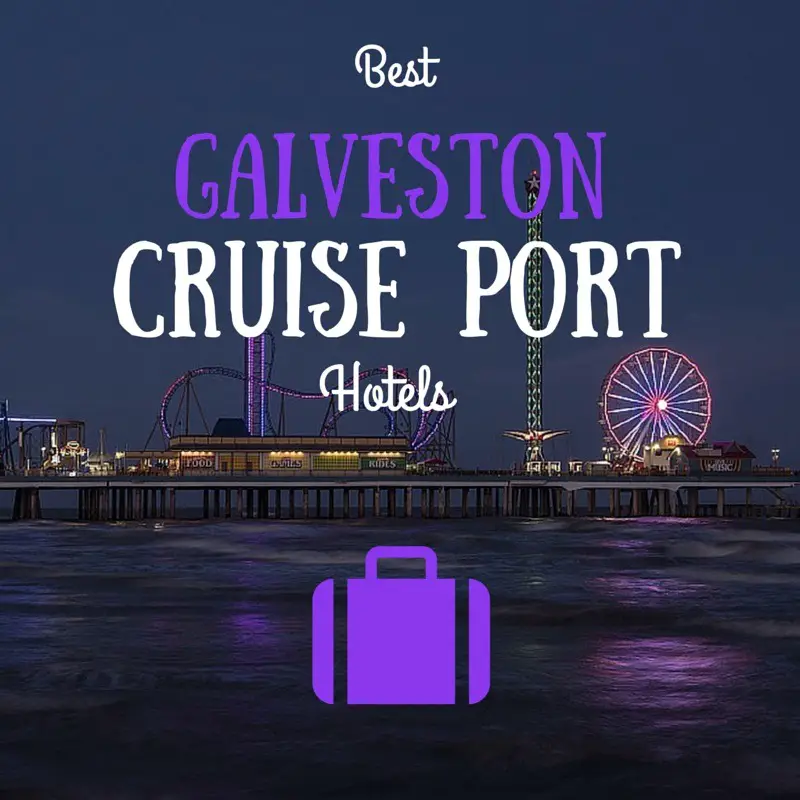 Last updated on February 25th, 2020 at 01:07 pm
If you're cruising from Galveston, chances are you'll want a place to stay the night before you depart, or perhaps you want to check out the area after your cruise.
Galveston might not be on your radar as a great place to visit, but there is plenty to see.
Check out all these unique attractions while you're in Galveston.
Once you realize what a great place Galveston is, here's our top picks for the best Galveston cruise port hotels.
5400 Seawall Boulevard, Galveston, Galveston Island, TX 77551 | 855-271-3621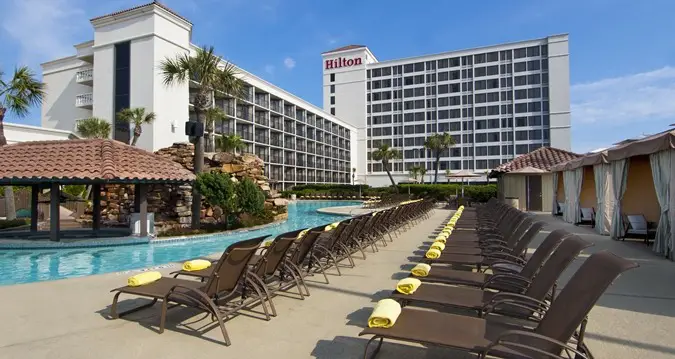 Enjoy your pre-cruise stay at the Hilton Galveston Island Resort, complete with complimentary long-term parking and cruise terminal transportation. This AAA 4 Diamond rated hotel is full of wonderful amenities and is located within walking distance of shopping, restaurants and is just steps from the gorgeous beach.
This 32 acre resort boasts 10 restaurants and bars including Rainforest Cafe and IHOP, heated outdoor swimming pool with swim-up bar and pool-side cabanas and fitness center. You can also treat yourself to a day of fun at the nearby Pleasure Pier, Galveston's historic amusement park. Your elegantly appointed room offers amazing Gulf views, some with private balcony. Click here for more information on the Hilton Galveston Island Resort.
Miles to Port : 3.8
Airport Transfer : No
Port Transfer : Yes – Complimentary – Contact Hotel for Details
Long-Term Parking : Yes – Complimentary – Contact Hotel for Details
Breakfast : $
Swimming Pool : Outdoor
2300 Ship's Mechanic Row, Galveston, TX, 77550 | 409-763-0300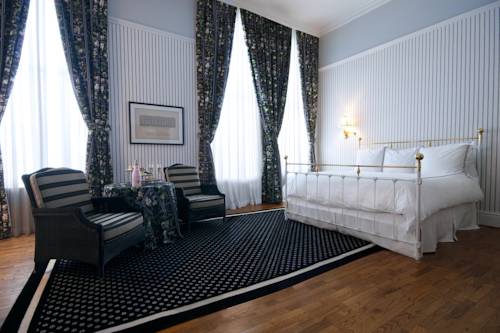 Located less than a mile from the Galveston Cruise Terminal, The Tremont House, A Wyndham Grand Hotel offers upscale elegance and timeless sophistication and 19th Century charm. With their Park and Sail Package, you will have overnight accommodations in one of their luxurious rooms, valet parking for up to 7 days, as well as round trip transportation to the cruise terminal.
Guest rooms boast 12 foot ceilings, state-of-the-art air purification systems, and hardwood floors. Stay fit in their new onsite fitness center or visit the spa and pool at the nearby Hotel Galvez. Dine at the Tremont Cafe before enjoying a drink at the Rooftop Bar. For more information and great deals on rates at The Tremont House, click here.
Miles to Port : 0.3
Airport Transfer : No
Port Transfer : Yes
Long-Term Parking : 7 Days
Breakfast : $
Swimming Pool : Offsite
2024 Seawall Blvd., Galveston, TX | 409-765-7721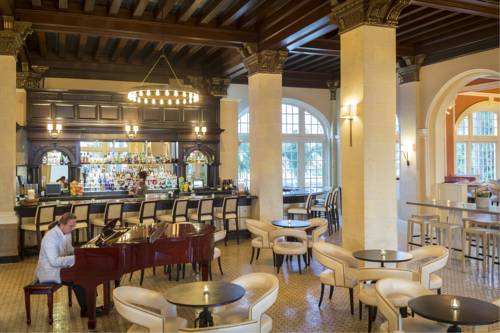 Enjoy pure luxury and sophistication with a stay at the Hotel Galvez & Spa, A Wyndham Hotel. Built in 1911, the hotel underwent a multi- million dollar renovation in commemoration of its 100th anniversary. Known as the "Queen of the Gulf" you will quickly realize why this property boasts a 4 Diamond AAA rating once you pull into the elegant circular drive lined with towering palm trees and see the expansive oceanfront view.
It also offers a Park and Cruise Package with free valet parking for the duration of your cruise as well as round-trip transportation to the Galveston cruise terminal with a one-night stay. Pamper yourself before you cruise with a spa treatment, and take a dip at the heated outdoor pool with swim-up bar. Enjoy delicious seafood dinners at the onsite restaurant, or head to the nearby Strand for some resort-town shopping and restaurants. Click here for great rates and more information on the Hotel Galvez & Spa, A Wyndham Hotel.
Miles to Port : 1.8
Airport Transfer : No
Port Transfer : Yes
Long-Term Parking : Yes
Breakfast : $
Swimming Pool : Outdoor
5002 Seawall Boulevard, Galveston, TX 77551 | 409-740-5300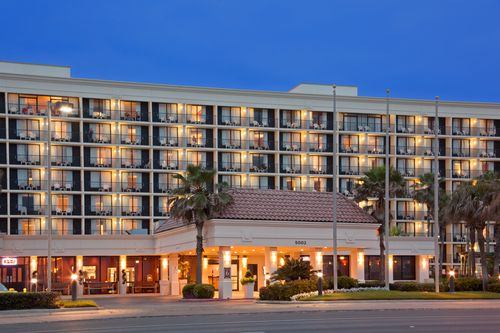 The Holiday Inn Resort Galveston – On The Beach is a perfect spot for passengers looking for a pre-cruise stay. Long term parking and port shuttles are complimentary, but there are also cruise packages available such as the Park, Stay and Go package which offers breakfast for two adults (kids always eat free) in addition to the parking and transportation.
It's location is perfect – under 3 miles from the cruise terminal and offers beachfront accommodations (just across the street) for a great price. Kids will enjoy the playground, arcade as well as the children's pool which is attached to the large outdoor pool with waterfall and the Schlitterbahn Waterpark is nearby. There are numerous onsite eateries, a tennis court and fitness facilities if you want to get one last workout in before you indulge on the the ship. For more information on The Holiday Inn Resort Galveston – On The Beach, click here.
Miles to Port : 2.7
Airport Transfer : No
Port Transfer : Yes – Complimentary
Long-Term Parking : Yes – Complimentary
Breakfast : $
Swimming Pool : Outdoor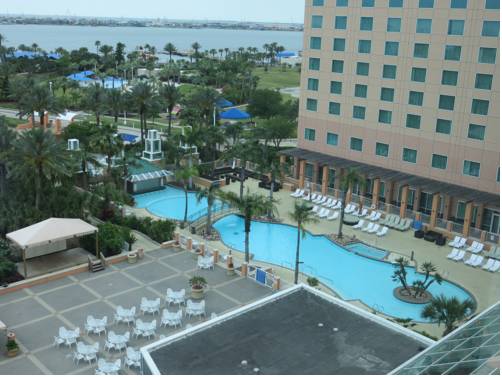 While not offering amenities specific to cruising, this list would not be complete without mentioning Moody Gardens Hotel Spa and Convention Center. This 4 star hotel is popular among Galveston visitors because there is so much to do and see, right on the resort property. There is a botanical garden, aquarium and rain-forest, a spa, beautiful beach and three restaurants. Kids will enjoy the 3-D theatre and Discovery Pyramid science exhibit and Palm Beach with its lazy river, wave pool and slides.
The hotel itself has an outdoor tropical pool with a swim-up bar, Jacuzzi and adults-only area, complete with cabanas and poolside beds. There is also an indoor lap pool, perfect for a bit of exercise, or a dip in the water in cooler weather. This pool is fully accessible. The rooms themselves offer luxurious bedding, complimentary WiFi, bath robes and maid service twice a day. Long term parking and shuttle can be arranged by contacting the hotel. For more information on Moody Gardens Hotel Spa and Convention Center and great prices on rates, click here.
Miles to Port : 5.7 miles
Airport Transfer : No
Port Transfer : $
Long-Term Parking : Contact Hotel
Breakfast : $
Swimming Pool : Indoor/Outdoor