Category Archives: Port of Seattle – Seattle WA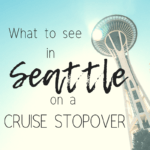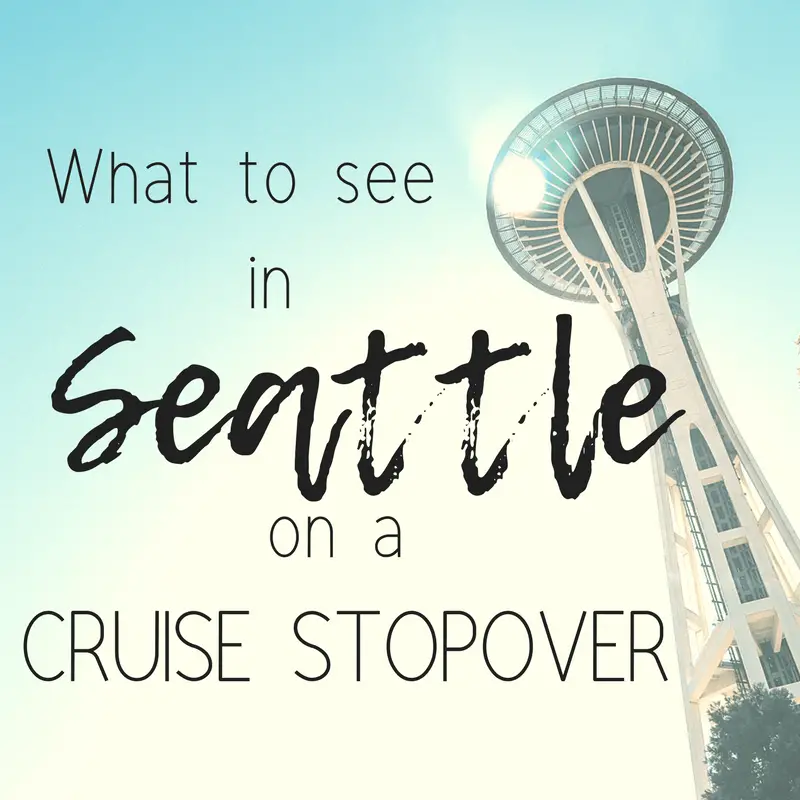 Last updated on February 22nd, 2020 at 09:40 am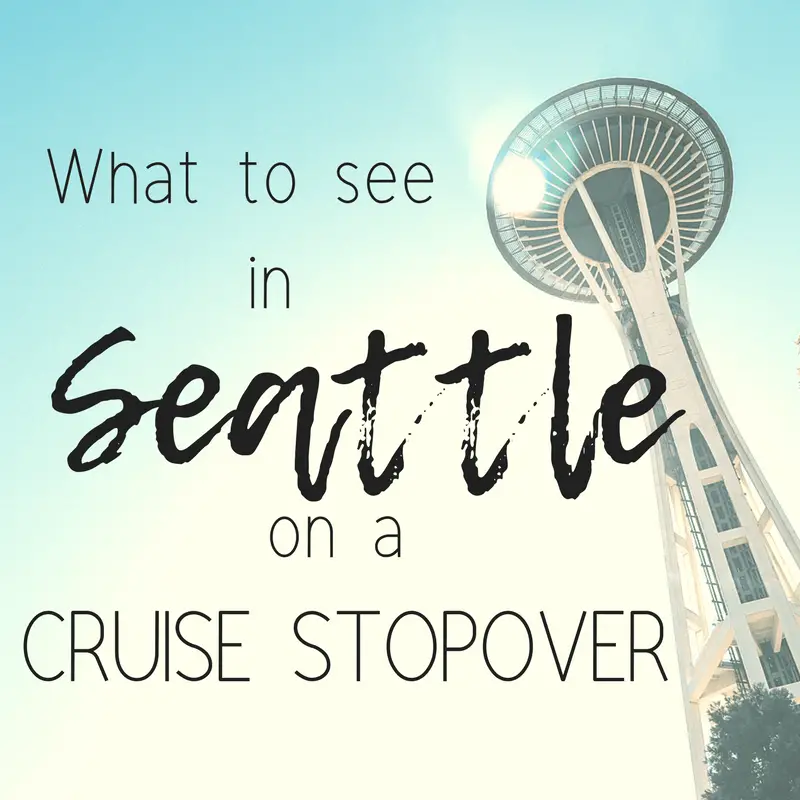 Put on your comfortable shoes, grab your camera and disembark — you've arrived in Seattle and time is of the essence. Home to some of the most beautiful scenery on the West Coast, the Emerald City is a popular choice for cruise stopovers. From picturesque parks to fish-filled markets, skyscrapers to a gum wall, Seattle is the perfect combination of art and smart. We've narrowed down a list of must-see things to ensure your short time in Seattle is memorable.
Space Needle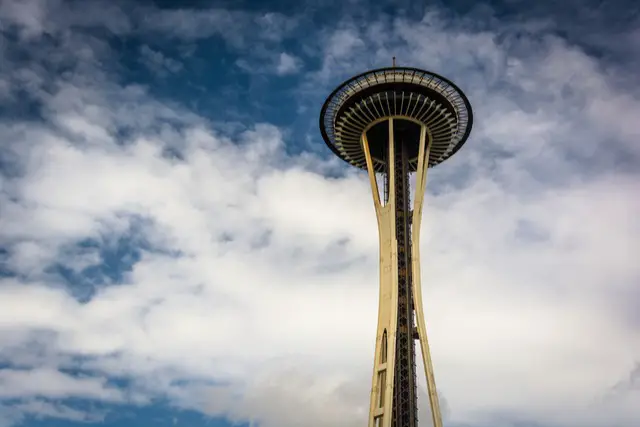 The famous Space Needle landmark stands at 605 feet tall and is an absolute must during a trip to Seattle. Whizz up to the observation deck in the elevators and look out the glass windows over the busy city landscape below. Once at the top, enjoy breathtaking panoramic views across Elliott Bay and rows of skyscrapers, and on clear days, the snow-capped peaks of the mountainous backdrop. After you've had your fill of photo-taking and fresh air, grab some food at the rotating restaurant, SkyCity. Located in the UFO-shaped part of the Space Needle, the restaurant is praised for its fresh cuisine and unique dining experience. Tuck into some crab and watch the Seattle skyline drift by.  
Seattle Great Wheel
Over on Pier 57, the Seattle Great Wheel perches on the water edge, slowly turning to reach a peak of two hundred feet. The wheel gives fantastic views of the waterfront, dotted with the white specs of sails and boats. A ride is a great group activity as each gondola fits up to eight people, and if you're feeling brave, request a VIP gondola and complete your journey with a glass floor. Visitors can buy tickets in advance or at the base of the wheel.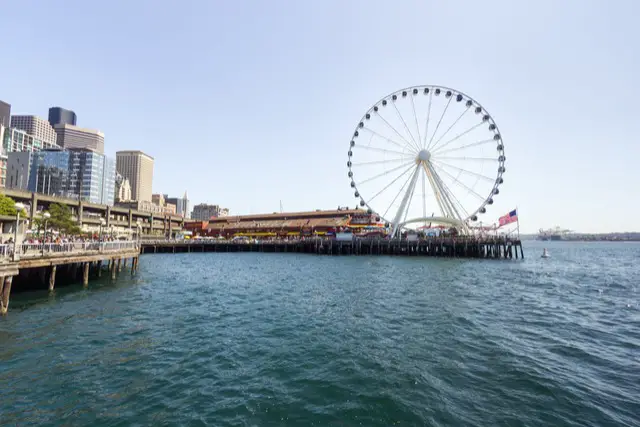 The wheel is particularly spectacular at night when it's illuminated by colorful lights shining across the calm bay. When you're back on solid ground, wander along Pier 57 where you'll discover a games arcade and a vintage carousel, perfect for young children or nostalgic adults.
Pike Place Market
A short walking distance from the Seattle Great Wheel, Pike Place Market is the community hub of Seattle. Established in 1907 to bring together farmers and locals, the market is an energetic space filled with fresh produce, artisanal shops, and entertainment. Stroll through the buzzing atmosphere, sample foods, buy cute gifts, and remember to duck when the fresh fish catch takes place. The throwing has been a tradition for more than 30 years and entails fish vendors launching seafood to one another, much to the amazement of spectators.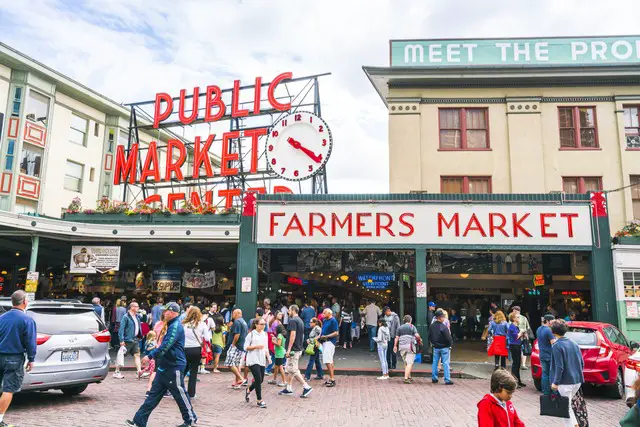 If you prefer something with a lower velocity, the market hosts an array of events throughout the year, as well as guided tours and educational workshops. Need to restore your caffeine levels after a day exploring? The first-ever Starbucks shop is located across the road from Pike Place Market and has kept its original outside appearance. Swing by for a cappuccino and a slice of history.
Gum Wall
True to quirky Seattle form, a side alley wall covered in colorful, chewed gum is a popular attraction for locals and tourists alike. The wall has been collecting used gum since the early 90s and is over 50 feet long. It got its new coating when people going to the nearby theatre would stick coins to the wall using the gummy substance. After a while, the coin tradition was dropped and only gum was stuck on the expanding brick. While we definitely recommend you don't get too close to the sticky alleyway, visitors are encouraged to contribute to the wall, so remember to get chewing before you arrive, and leave your mark in Seattle.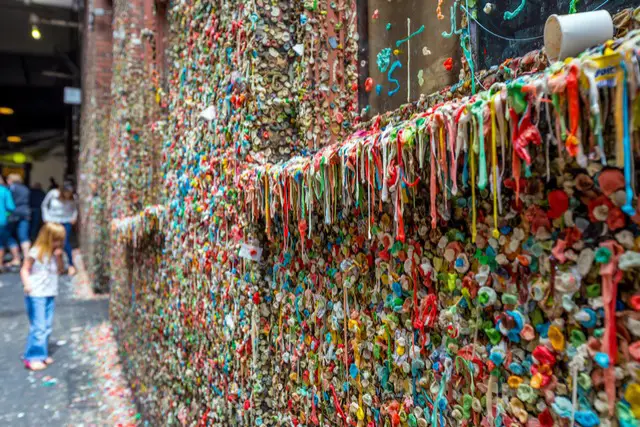 To reach the gum wall, follow the ramp down Pike Street and turn left, you won't be able to miss the bright mosaic pattern.
Fremont Troll
The Fremont Troll is another edgy artwork in Seattle, hiding under the North end of the Aurora bridge. The sculpture emerged on Halloween back in 1990 and was created by Steve Badanes, Donna Walter, Will Martin, and Ross Whitehead, who won a contest with the arts council to improve the messy underpass. With long, shaggy hair, a skinny frame and curled bottom lip, the troll is both scary and endearing. In his extended right hand, the sculpture crushes an old Volkswagen beetle car, while its right eye is made using a car's hubcap. The significance of the car parts on the troll was intended as a protest against outsider development in Seattle.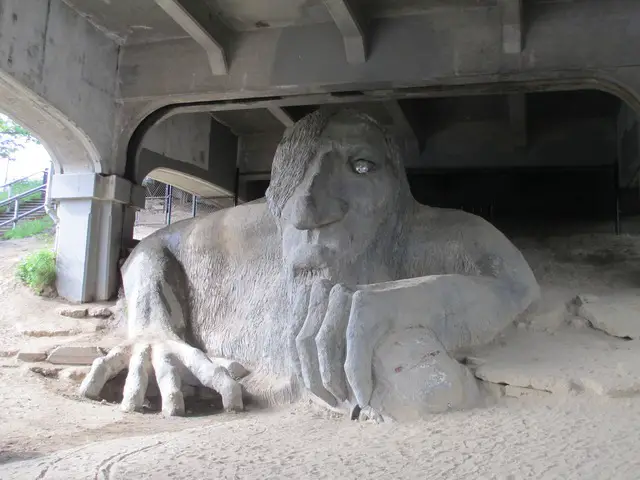 Travelers are free to clamber up the 18-foot troll and pose for photos. If you're visiting around November you may see people in costumes getting ready to celebrate 'Troll-oween' — a festival beginning at the underpass and moving on to other unusual art pieces in Seattle.
Ducks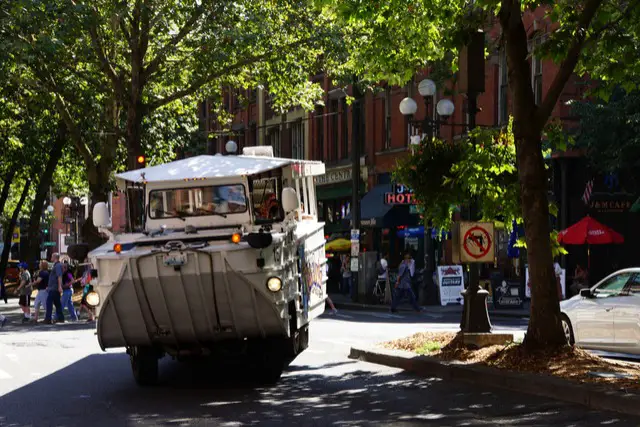 During your time in Seattle, you might just spot a duck in the lake — not the quacking kind, but the popular amphibious trucks that offer tours of the city on land before driving into the water for a mini cruise. The vehicles were originally built for military use to transport cargo from the water directly onto the shore. Nowadays the ducks are driven by a Coast Guard-certified captain, coasting along the Seattle waterfront, through Pioneer Square, past Pike Place Market to downtown, and finally splashing into Lake Union. The way the ducks are designed means that the journey on both roads and waves is smooth, but don't expect to sit quietly, the tour is rammed with singing and dancing, as well as surprisingly facts about Seattle. The ducks depart all year round from either Westlake Center or the Seattle Center, but their availability depends on the season, so it's best to check the schedule before booking.
Kerry Park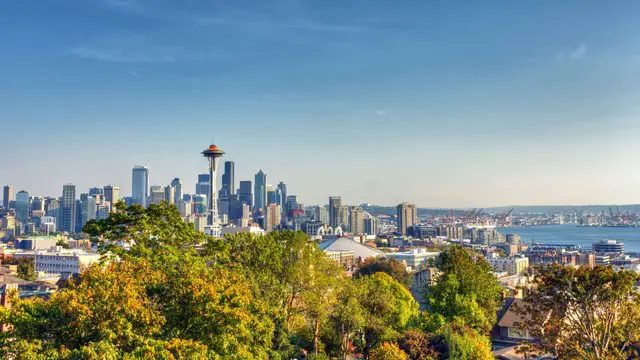 Make the most of being on solid ground by making your way to Kerry Park. Situated halfway up Queen Anne Hill, the park may be small but it has big sights. With an unobstructed view of the city and the bay set against the grand Mount Rainier, it's no wonder Kerry Park has featured in multiple movies. Sit on the grass and enjoy a picnic, watch as ferries glide across the water, or marvel as the sun sets over silhouetted roofs. Kerry Park is the perfect spot to take in Seattle in its entirety, and to make a lasting memory of the city.
Loved Seattle so much you want to go back? Find the perfect accommodation for your next trip on AllTheRooms.
Grace Brennan is a writer and copywriter from the U.K. She's had the pleasure of living in 5 countries, combining her two loves: language and travel. She currently lives in Medellín, Colombia.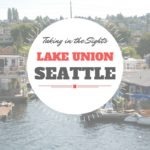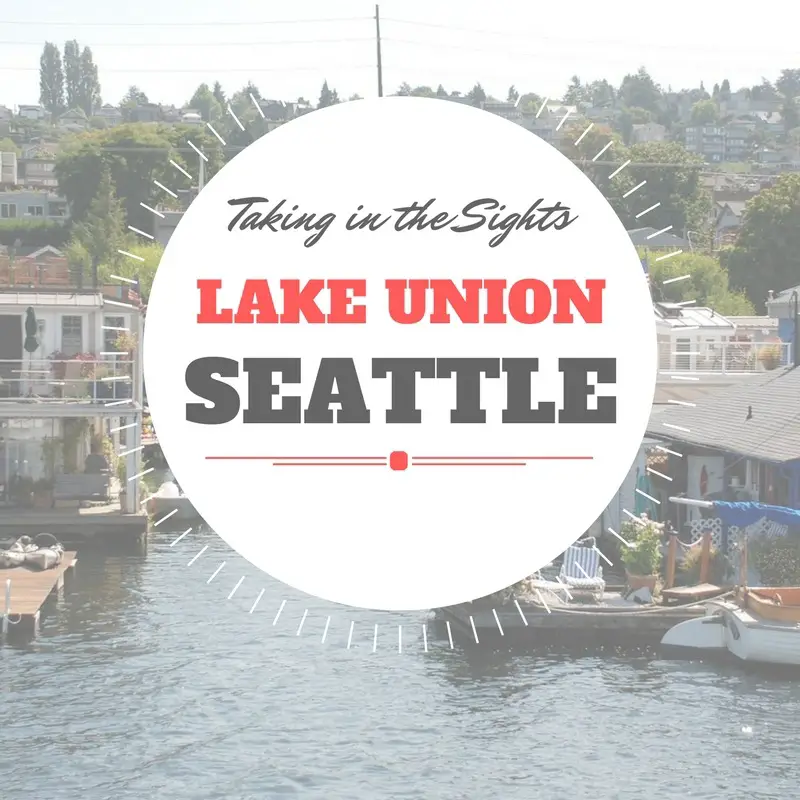 Last updated on February 25th, 2020 at 12:11 pm
Your cruise ship docks and you're ready to disembark from one of Seattle's cruise piers for some offshore fun. Grab your sunnies – Seattle enjoys more sunny days than Juneau, Alaska or Hilo, Hawaii – and get ready to play.
Just three miles and fifteen minutes from Seattle's Cruise Ship Terminal, Lake Union beckons. The quick cab ride is just the beginning of your adventure inside Seattle. And just why would you want to leave the water to go see more it?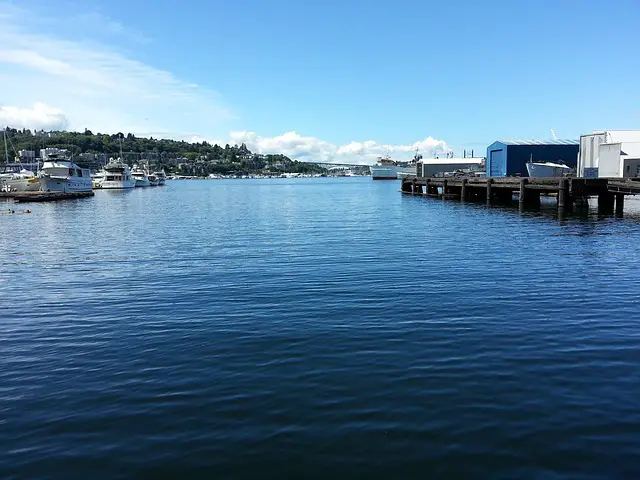 Lake Union is the nearly 600-acre Mecca of Seattle, where residents and tourists alike come for fun.
Once the exclusive domain of shipyard and logging companies, Lake Union boasts a lively and upbeat vibe for a variety of businesses, including tech giants like Amazon, Facebook, and Zillow. Residences line the east and west shores, but it's the hip South Lake Shore that will keep you occupied and entertained.
Charm on the water
Unless you've been to Amsterdam, the bohemian houseboats and floating homes on Lake Union may be like nothing you've ever seen – except for in Sleepless in Seattle. There are more floating homes here than anywhere else in the United States, and hopeful residents jockey for positions on the waterfront.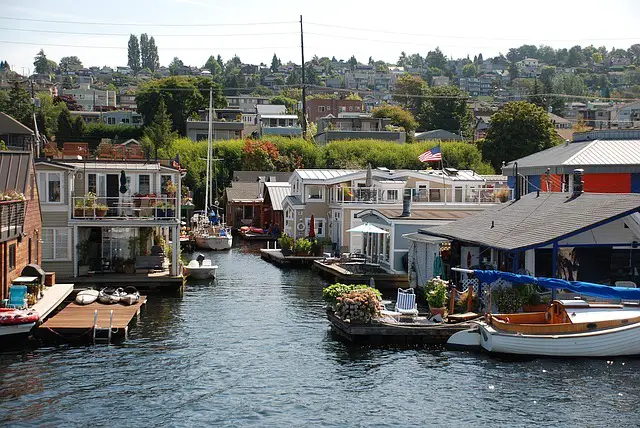 This aquatic settlement had its early roots in the logging camps around Seattle, and then others discovered the allure of living on the water. The original homes were inexpensive solutions to a housing shortage, and even college students in the 1930 and 40s could easily afford to live in a floating home.
Now living on the water is a trendy lifestyle choice, with some of the homes costing millions of dollars. Even smaller homes can cost $800 per square foot or more, but they are hardly snooty. This is a community that comes together to help each other, especially when storms roll through. The best way to see the collage of unique homes dotting the waterline is by boat or kayak.
Lake Union is the hub of energy in Seattle.
A 90 minute narrated boat tour with Argosy Cruise Lines will place you in the center of everything happening on Lake Union as you cruise among planes, paddlers and other boaters. For an even more personal tour, check with the Floating Homes Association for their next Open House; you may be one of the lucky ones who get to walk the docks and visit with the residents.
Up into the air
Tour the lake and Seattle by air.
Even if you're not a fan of flying, taking off and landing in a seaplane is a surprisingly relaxing experience. Pilots will tell you that it has something to do with the water.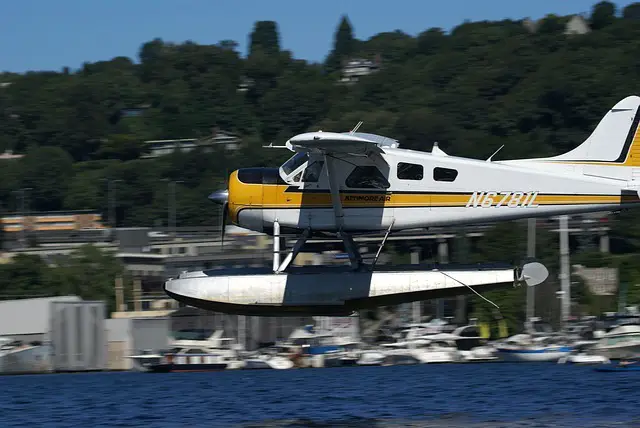 Take a float plane tour with Kenmore Air, and you'll see a bird's eye view of Seattle from your window seat in a de Havilland Otter or Beaver. From your vantage point, you'll glimpse the University of Washington and professional sports stadium Safeco Field, home of the Seattle Seahawks. You'll be flanked on one side by the Seattle skyline and Mt. Rainier off in the distance.
The tour includes narrated audio of the trip; go ahead and listen to it. The sound of the engine prevents you from be able to chat with the pilots, and often, each other.
In your own hands
During the warmer myths, you can combine your love of exploration with a little exercise by renting a kayak or paddleboard to take your on tour of Lake Union. It's one of the best ways to enjoy the lake.
Several outfitters are available to serve your needs. Northwest Outdoor Center – Paddle Seattle offers sunset tours, full moon tours or stand-up paddle board tours.
Art and culture live here
If you'll be in Seattle in early July, you may want to make it a point to get to the Wooden Boat Festival held on Lake Union. The city holds its annual firework display here, too.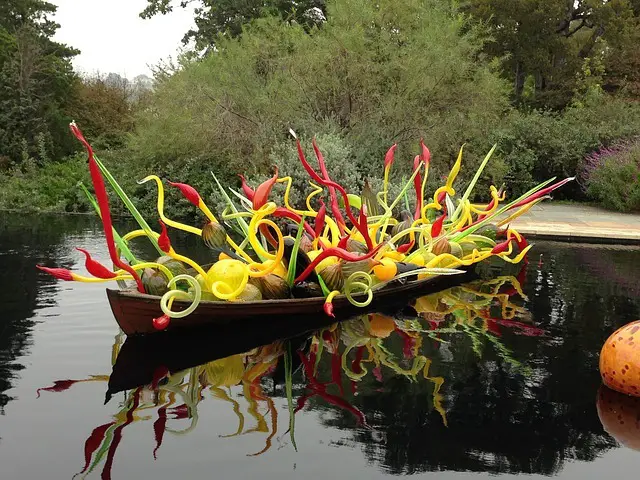 On the north shore of Lake Union sits the Chihuly Studio, where glass artist Dale Chihuly creates his masterpieces. You won't be able to tour his studio, but you can take pictures from the water. Instead, on your way back to your ship, stop by the Chihuly Garden and Glass to see exotic hand-blown glass sculptures in vibrant colors, many of which are inspired by Pacific marine life. Yes, they will ship your purchases for you.
You'll be back aboard your own ship in record time, with plenty of memories of Lake Union.
Debi Christensen is a freelance writer from Texas whose heart lies in two places: the Lone Star State and the Pacific Northwest. She divides her time between writing, traveling and sharing her experiences with others, but her ultimate dream is to own and fly her own seaplane, a DHC-2 Beaver with a round engine.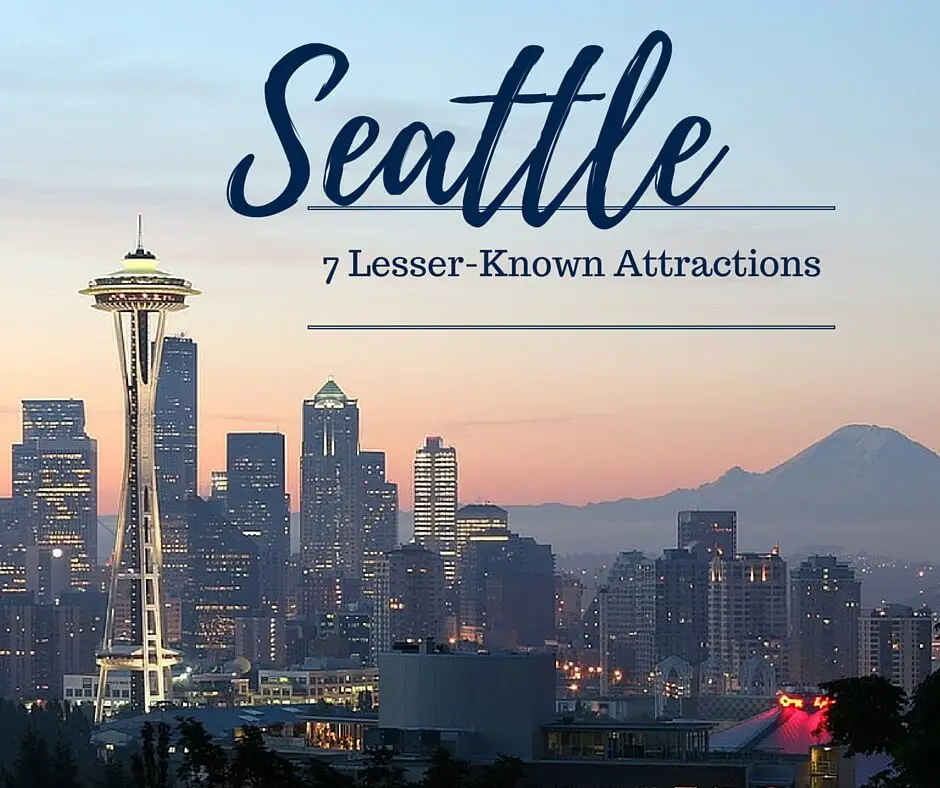 Last updated on September 10th, 2021 at 03:45 pm
Trying to find something to do for a few hours while you wait for your cruise to board can be an annoying task. Even more annoying is getting caught up in touristy parts of a city and not being able to actually enjoy the layover.
Luckily, we've compiled a list of a few things to do around Seattle that will keep you out of the high priced and high traffic tourist trap. If you're worried about transportation Seattle has you covered with free buses during certain hours of the day.
Mystery Soda Machine
The mystery soda machine is an old vintage soda machine on Capitol Hill. Aside from its age, it looks pretty inconspicuous. The mystery comes in when you find out that no one knows who keeps it stocked. It appears to have a never ending supply of soda and juice for all your beverage needs. There's plenty of stories surrounding the soda machine including those of discontinued sodas popping out every so often. The reality is though, it has no permit, the nearby locksmith lends it power and no one can track down an owner. If you're up for spontaneity and a little bit of sugar this is a must try stop.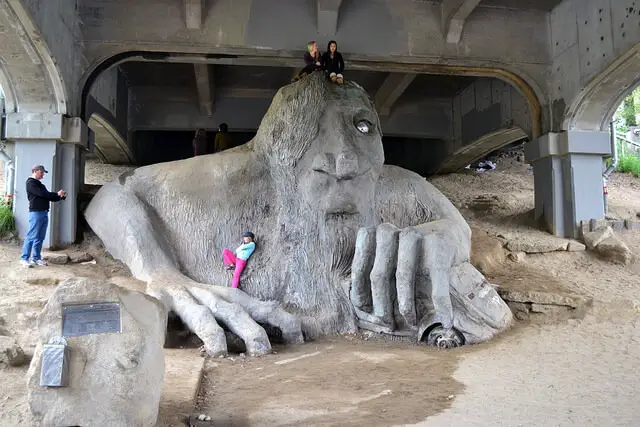 Fremont Trail Troll
Troll lore has been around Fremont for a while but it went to a whole new level in 1989 when a giant Troll sculpture was built under the Aurora Bridge. The sculpture was commissioned by the Fremont Arts Council and was built by the Jersey Devils and Steve Badanes. The sculpture has become a monument for the area and a fun photo opportunity for both kids and adults. The sculpture has helped to grow the culture of Fremont and their fun loving, mischievous Trolls.
Gum Wall
The gum wall is one of Seattle's worst kept secrets, but if you happen to be out of the loop, it is a large brick wall that has become people's favorite place to dispose of their used gum. This disgusting attraction is located in the alley behind one of Seattle's biggest landmarks, Pike Place Market. If you need to get rid of your gum before frying up your fish you now know the place to stop. The wall was recently cleaned, removing 20 years of people's ABC gum in an attempt to preserve the historic walls of Pike Place on either side of the infamous wall. Go stick your colorful gum on the bare bricks and be one of the first to restart this unsanitary tradition.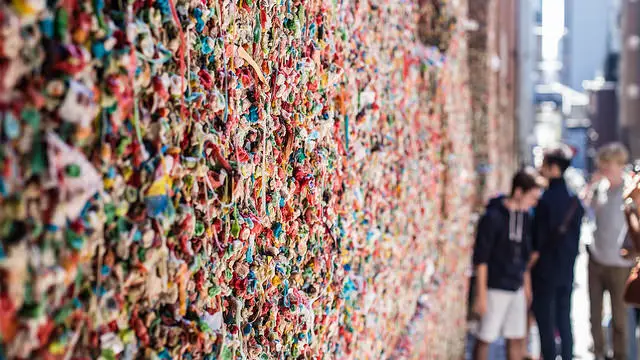 Northwest Seaport- Maritime Heritage Center
If you haven't gotten your fill of boats, check out the Northwest Seaport. They are a "non-profit organization dedicated to the preservation and interpretation of the maritime heritage of Puget Sound and the Pacific Northwest." The museum is home to an array of ships including two that are considered National Historic Landmarks. They offer tours, sleepovers and on board story time for kids. It's a great opportunity to explore different kinds of boats and learn about the impact the marine industry has had on the community. Before or after your cruise, this could be a really cool place to stop and learn more about the vessels that helped make cruising possible.
Walker Rock Garden
The Walker Rock Garden is a labor of love created by Milton Walker and his wife in their backyard. It is now managed by their daughter who has kept the garden open to the public. Milton created large sculptures and other art out of rocks and pebbles all over the garden that was maintained by his wife. The large formations are whimsical and enchanting for both kids and adults. It is a great little oasis in the middle of Seattle for anyone who wants to stroll around a park and enjoy the art.
Gasworks Park
At the site of an old gasification plant the city of Seattle has erected a 20 acre park. The park offers beautiful views of Seattle and the Puget Sound. With acres of green grass and rolling hills, as well as walking paths and play equipment it is a great place to take the whole family if you want a mini escape from the business of the city. Parts of the old gasification plant were left behind and have been repurposed for the park.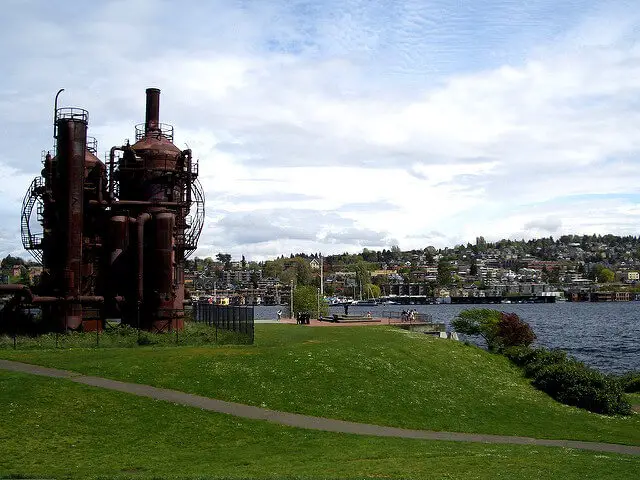 The boiler house is now a covered picnic shelter with tables and grills; the exhauster-compressor building is now a play barn for the kids. They've even left an assortment of old equipment in the play barn and painted it in bright colors for the kids to explore and learn about. This park with a unique history is something you won't find anywhere else and is definitely worth the trip to go see.
These are just a handful of quirky locations around Seattle. Ask the locals for some of their favorites and you might find a few more hidden gems.
Ally is a freelance writer from the Pacific Northwest. She enjoys camping, backpacking, boating, her German shepherds and getting lost in the middle of nowhere.