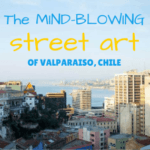 The Mind-Blowing Street Art of Valparaiso, Chile
Last updated on January 5th, 2018 at 03:40 pm

Valparaiso (literally, "Paradise Valley") is more than just a small, gritty seaport close to Santiago. It's a haven for creative artists and an outdoor gallery bursting at the seams with vibrant masterpieces.
The talented street artists of this small city in Chile have treated nearly every surface in the city like a blank canvas – covering the walls and buildings with bright, highly detailed painted murals. Any wall, facade or flat surface is fair game and an ideal target for a colourful masterpiece. Like a punk rocker, Valpo (as it is often called) is covered head to toe in tattoos and looks completely badass and amazing.
As I huffed and puffed up the steep streets, admired the views of the blue Pacific and marveled at every intricate piece of al fresco artwork – I fell in love with Valpo. It is gritty, poetic, messy and a little bit rough around the edges. In his poem "Ode to Valparaiso" Pablo Neruda described it as the "the patched-up prow of a small brave ship."
Valparaiso doesn't have much in the way of attractions or "things to do." Instead, the best thing to do while in this city is to roam the multi-hued streets and soak up the creative, bohemian vibe. The city clings to the steep hills, looking down at the water. If you don't feel like testing your lungs with a steep climb, you can take one of the dozen funiculares – vintage elevators that slowly slide up and down the hills.

A Culture of Street Art
These artists aren't rogue vandalists who have splashed their artworks on Valpo's ramshackle collection of buildings. The local authorities here actually support street art as long as it contributes to the aesthetic of the city. It is used as a form of social and political expression and it has come to define the city. The local government has commissioned a number of pieces around the city.
Graffiti and street art are embraced here, as it is a land of free expression where artists can make controversial statements. The artworks, painted in bold strokes on the sides of buildings for all to see, give a voice to the oppressed, make criticisms of society and call out for positive change.
Cafe and hostel owners want to have their buildings splashed with unique and creative murals as it attracts more visitors. After all, Valparaiso has a growing reputation as one of the quirkiest and coolest cities in South America and visitors visit to enjoy the edgy, artsy vibe. People have traveled from all over the world just to take Chile tours and see the street art here.

How to Find the Coolest Artwork in the City
It's hard not to find cool artwork in Valparaiso, you'll discover it around every corner. Take your time and wander with your eyes open. There are a few great streets and neighbourhoods that are quite street art heavy. This disheveled yet beautiful city is a popular stop on cruises through the area. (Remember, if your cruise is going to stop in the USA, you will need to apply for an ESTA.)
Check out Avenida Alemania which winds down the hill, as it offers some gorgeous views of the harbour and some cool murals. You should also take a walk along Calle Cumming and Calle Ecuador and check out the houses that feature art in a range of different styles. Also, walking downhill from Cerro Abajo is like walking through an outdoor art gallery – there is so much great art to enjoy. Templeman Street on Cerro Alegre is also a fantastic place to see street art.
Then, head to the open air museum in the neighbourhood of Bellavista, which is populated with murals, paintings and mosaics. The museum was originally started in 1969 but was abandoned during the dictatorship of Pinochet between 1973 and 1990. In 1992 over 70 artists of Valpo came together to complete the open air museum project – including Roberto Matta, Maria Martner, Eduardo Perez and Francisco Mendez. This is one of the projects that began the renaissance for street art in Valparaiso.
If you would rather walk around with a local guide who can show you the best neighbourhoods for street art and tell you about the history and meaning behind the paintings – check out these graffiti and street art tours. Bring your camera on these great Chile tours, you are going to want to snap photos of almost every wall and surface you see.
What do you think of the street art in Valparaiso? Let us know in the comments below.
This page contains affiliate links for which we may receive financial compensation when a purchase has been made through one of our affiliate partners.