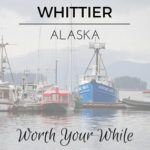 Whittier Is Worth Your While
Last updated on August 24th, 2022 at 07:14 pm
Whittier, Alaska, located at the edge of Prince William Sound, offers visitors some of the best scenic venues for photography and opportunities for adventure. Poised between the harbor and the Anton Anderson Memorial Tunnel, Whittier was designed by the Army Corps of Engineers as a cargo port during WWII.
This small town of 300 residents comes alive for a variety of activities during the tourist season, from April – September, but also offers winter activities such as snowmobiling, skiing and weather watching.
When arriving in Whittier, you may find it necessary to rely on your cruise ship's Wi-Fi for you connectivity needs, or prepare to have your phone on roaming unless you are staying at one of the hotels.
The town residents all live in Begich Towers, Inc. (BTI), a fifteen-story building that contains city hall, the police station and an indoor playground. Because of the fierce winter weather, the town has four tunnels for travel. The Anton Anderson Memorial Tunnel leads from Anchorage to Whittier, a pedestrian tunnel leads to the BTI as well as a nearby museum that includes fascinating information about bush planes and their pilots. Students walk from the BTI to their school through a tunnel. The fourth tunnel, which leads from the BTI to the Buckner Building, is closed.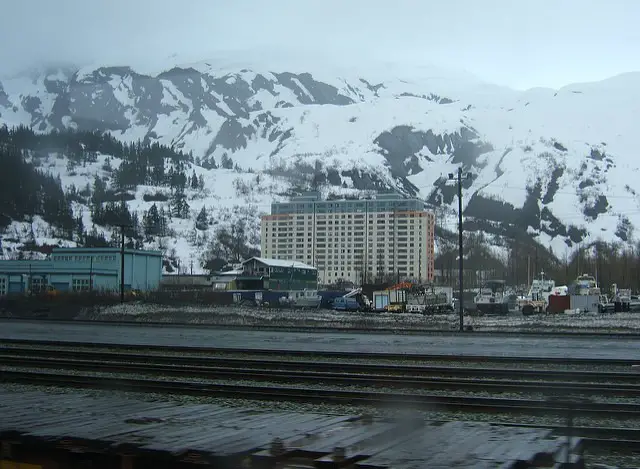 Whittier is pedestrian-friendly, as you'll see when exploring the "triangle" at the city center. It's here that you can visit the Log Cabin for gifts and see some of the town's pet reindeer.
Lodging
There are three options for lodging in Whittier.
You can rent a condo in the BTI tower, or you can go more upscale and stay at the Inn at Whittier, which boast rooms with fireplaces, a fine dining restaurant and full-service bar. The Inn is a mere two blocks from the cruise ship dock, but you can also hire the town's only taxi driver if the thought of schlepping your luggage that far is worrisome. A third choice for lodging is the Anchor Inn, which also has a restaurant and lounge that many of the locals enjoy.
Other great restaurants to try are the Wild Catch Café and the Swiftwater Seafoods Restaurant, which also sells souvenirs.
Enjoying Whittier
Visitors come to Whittier to experience the Anton Anderson Memorial Tunnel and take in the majectic natural beauty. The birding opportunities in this Southeast Alaska area are tremendous. You might catch sight of Sandhill Cranes, eagles, Harlan's Red-tailed Hawks and various species of ducks and other shorebirds.
You'll find plenty of other things to enjoy on your visit in Whittier, as well.
Kayaking and Canoeing
Imagine setting out in your own kayak or canoe, and paddling past nearby sheets of ice that drop from impressive heights into the ocean. These are the tidewater glaciers, and Whittier is located close to two areas renowned for tidewater glaciers.
A guided tour can help you navigate your way across the water and along the shore. Be prepared to observe whales, sea lions and otters, as well as bears, puffins and eagles.
Try the Lazy Otter for your kayaking/canoe needs. They've been in business for more than twenty years, and they're well respected. You can grab a quick breakfast or lunch, and you can pick up some souvenirs there.

Fishing and Hunting
Fishermen and women come to Whittier to catch halibut, lingcod, salmon and sea bass – even salmon shark. You can also catch sole and flounder. The fishing season begins in May, but in July and August, you'll hook some pretty amazing salmon and halibut.
AlaskaN 4Star Charters can personalize a trip for you that you'll always remember.
Hunters can opt for bear, caribou, deer, moose, goat and sheep hunts.
Horsetail Falls
Horsetail Falls drops 200 feet down the Whittier Glacier and then continues for another 400 feet, for an impressive, year round view. At just one mile, this trek is good hike, not too strenuous for most adventurers. You'll find well-placed boardwalks are an added bonus for the trip. Be prepared, however for fierce predators along the way: gnats and mosquitoes!
Six other waterfalls within eight miles of Whittier will tempt you with more exploring, and you can expend your journey by taking the GrandView Train for incredible sightseeing.
Anton Anderson Memorial Tunnel
At two and a half miles in length, this Anton Anderson Memorial Tunnel is the longest tunnel in the United States, and it's a testament to the ingenuity of the Army Corps of Engineers, who carved and blasted their way through the granite of the Chaguch Mountains.
Unless you're pulling a trailer, the tunnel toll is $13 USD; be sure to check the schedule before taking the tunnel. It's a single lane road that is shared with trains. Sometimes you can expect access delays of 15-30 minutes. Driving tip: The water leaching from the tunnel's ceiling make for a slick surface along the passageway.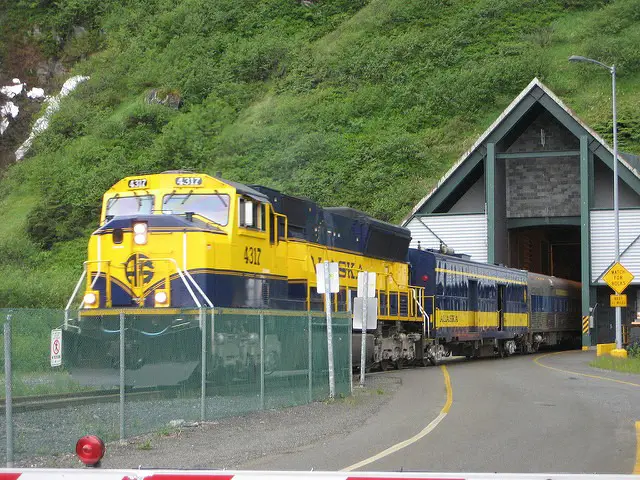 The tunnel makes the trip to or from Anchorage a mere 58 miles. Some Alaskans make the drive to Whittier as a special excursion or getaway.
You'll find Whittier special, too.
You may be tempted to pass on Whittier as a destination port, but don't. Whittier offers you the best of Alaska at prices that are, by Alaskan standards, more than reasonable.
This page contains affiliate links for which we may receive financial compensation when a purchase has been made through one of our affiliate partners.
Debi Christensen is a freelance writer from Texas whose heart lies in two places: the Lone Star State and the Pacific Northwest. She divides her time between writing, traveling and sharing her experiences with others, but her ultimate dream is to own and fly her own seaplane, a DHC-2 Beaver with a round engine.