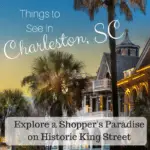 Explore a Shoppers Paradise on Historic King Street
Last updated on August 24th, 2022 at 08:13 pm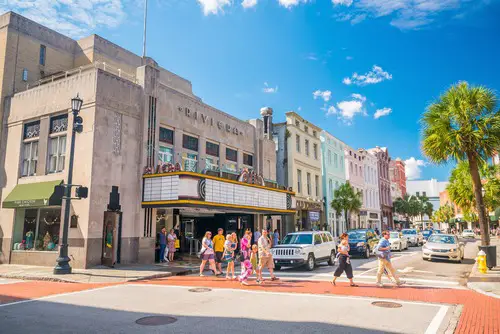 With its cobblestone streets and stucco-brick buildings, Charleston may not strike you as a place for amazing shopping opportunities at first glance. This charming town is actually a shopper's paradise, especially when you venture into historic King Street in the heart of downtown Charleston.
Voted in the top 10 of America's best shopping streets, King Street has clearly earned its reputation with its impressive array of designer shops and one-of-a-kind boutiques. Whether you are looking to revamp your closet or take home a unique treasure from your stay in the Holy City, you'll find everything you need on Historic King Street.
Exploring Historic King Street
To make it easier to find your way around King Street, it helps to know the three main areas: Upper King Street (the dining and nightlife district), Middle King Street (the fashion district), and Lower King Street (the antiques district).
Each of these areas offer some of the best shopping in the Lowcountry region. Take a stroll through each section, and it will quickly become apparent why so many natives choose to make historic downtown Charleston their home.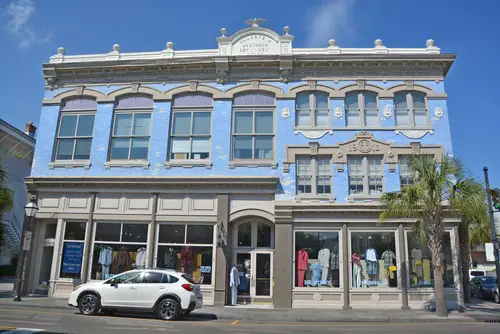 Upper King Street
Located along Calhoun Street to Spring Street, Upper King is best known for its world-class restaurants and thriving nightlife. This rapidly transforming area also has its fair share of galleries and eclectic shops, featuring the best Lowcountry fashion and art.
For an unforgettable night, visit The Woolfe Street Playhouse and watch local talent put on a show in a charming and intimate setting. Looking for something to read? Blue Bicycle Books is the place to go. This locally-owned bookstore has a diverse selection of books, featuring both local authors and bestselling books. Discover a book about Charleston's fascinating history or attend an author signing in their charming event space.
Don't forget to stop by Cupcake Downsouth for a delicious cupcake. Located on 433 King Street, this specialty bakery makes fresh cupcakes daily, with traditional flavors including Vanilla Bean and Southern Red Velvet as well as seasonal favorite flavors including Turtle and White Chocolate Raspberry.
Middle King Street
Middle King Street, between Market and Calhoun, is the fashion district. Here, you'll find big chain stores such as Urban Outfitters and H&M, along with popular local boutiques including House of Sage and award-winning Hampden.
If you are searching for Lowcountry-inspired fashion, check out Copper Penny. This upscale lady's boutique features fashionable southern style that is both sophisticated and uniquely Charleston.
For designer fashion, you won't be disappointed with Middle King Street's offerings. On 307 King Street, you will find Haute Hanger, a trendsetting clothing boutique that provides the latest styles from innovative clothing designers. Head south down King Street, make a left onto Market Street. and you will find The Shops at Belmond Place, where upscale stores like Gucci can be found.
If you left your four-legged friend at home for your vacation in Charleston, then you will want to stop by Woof Gang Bakery. This cute shop makes special gourmet dog treats that your pup is sure to love.
All that shopping can leave you feeling exhausted. Head towards the antiques district on King Street and refuel at Bin 152, a locally-owned wine bar. This charming place is also an art gallery and antique shop, with a beautiful wine program, including 40 different options by the glass. Relax with a glass of rose and enjoy a beautiful charcuterie and cheese platter while you bask in the joy of a perfect shopping day.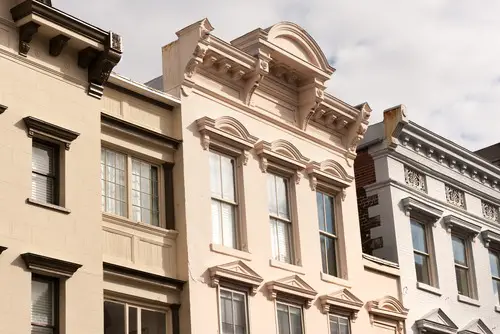 Lower King Street
For historic treasures, you can't beat Lower King Street. This area in historic downtown Charleston features a wide array of high-end antique shops displaying their unique offerings.
Want to take home a timeless piece of jewelry? At Joint Venture Estate Jewelers, don't be surprised if you fall in love with its vast array of vintage jewelry pieces and gemstones. This consignment store has been operating on King Street for a couple decades, and it is a great place to score one-of-a-kind jewelry.
Founded in 1922, George C. Birlant & Co is one of the oldest and largest antiques shops in the southeast as well as one of Charleston's oldest stores. It's certainly worth a visit to peruse their antique collection, but they are most famous for their beautiful, handcrafted Battery Benches. These benches are part of the landscape of downtown Charleston, including Battery Park. Purchase one today to add elegance, sophistication, and a sense of history to your home or lawn.
If you love Western-themed art, then stop by the Paderewski Fine Art & The Sportsman's Gallery, Ltd. This gallery is composed of four viewing areas that feature a wide variety of inventory, from textural forest landscapes to bird hunting dogs and wildlife.
There are also a few upscale boutiques, many of them locally-owned, tucked into the antique district. D. Dumas & Sons has been outfitted Charleston men for over a decade. A staple of Lower King, they offer a wide selection of men's specialty items. Another local favorite, Berlin's, offer conjoining spaces for both men and women who enjoy designer clothing and accessories.
Conclusion
While Charleston is known for many things, including history, food, and culture, its fashion scene can't be ignored. From designer brands to independent stores, there is something to please every kind of shopper on historic King Street in downtown Charleston.
If you are planning your Charleston vacation, consider scheduling it around the middle of the month. 2nd Sunday on King Street is a monthly celebration, where the streets are blocked off from traffic and people are free to roam freely to enjoy all the wonderful things that merchants and restaurants have to offer. It's a great way to explore the heart of downtown Charleston.
This page contains affiliate links for which we may receive financial compensation when a purchase has been made through one of our affiliate partners.
Traci Magnus was raised on the Charleston Coast and attended the College of Charleston before moving to New York City in the mid 1990s. Her first job in the Big Apple was with the renowned NYC real estate brokerage Douglas Elliman. For the next decade, she honed her marketing skills at some of Madison Avenue's top advertising agencies. In 2006, she returned to Charleston along with her husband Glenn and their son Max. She joined the Dunes Properties team in early 2008 as Director of Marketing.