Category Archives: Charleston SC Attractions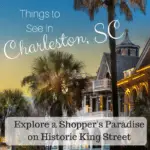 Last updated on August 27th, 2020 at 02:40 am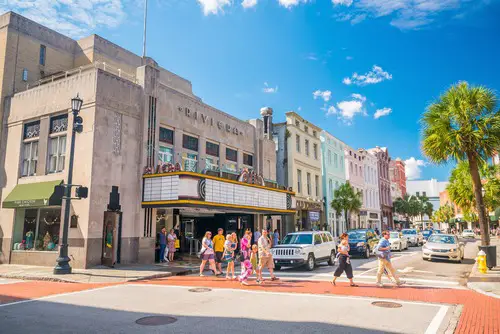 With its cobblestone streets and stucco-brick buildings, Charleston may not strike you as a place for amazing shopping opportunities at first glance. This charming town is actually a shopper's paradise, especially when you venture into historic King Street in the heart of downtown Charleston.
Voted in the top 10 of America's best shopping streets, King Street has clearly earned its reputation with its impressive array of designer shops and one-of-a-kind boutiques. Whether you are looking to revamp your closet or take home a unique treasure from your stay in the Holy City, you'll find everything you need on Historic King Street.
Exploring Historic King Street
To make it easier to find your way around King Street, it helps to know the three main areas: Upper King Street (the dining and nightlife district), Middle King Street (the fashion district), and Lower King Street (the antiques district).
Each of these areas offer some of the best shopping in the Lowcountry region. Take a stroll through each section, and it will quickly become apparent why so many natives choose to make historic downtown Charleston their home.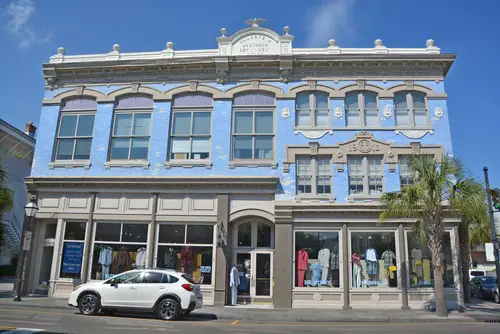 Upper King Street
Located along Calhoun Street to Spring Street, Upper King is best known for its world-class restaurants and thriving nightlife. This rapidly transforming area also has its fair share of galleries and eclectic shops, featuring the best Lowcountry fashion and art.
For an unforgettable night, visit The Woolfe Street Playhouse and watch local talent put on a show in a charming and intimate setting. Looking for something to read? Blue Bicycle Books is the place to go. This locally-owned bookstore has a diverse selection of books, featuring both local authors and bestselling books. Discover a book about Charleston's fascinating history or attend an author signing in their charming event space.
Don't forget to stop by Cupcake Downsouth for a delicious cupcake. Located on 433 King Street, this specialty bakery makes fresh cupcakes daily, with traditional flavors including Vanilla Bean and Southern Red Velvet as well as seasonal favorite flavors including Turtle and White Chocolate Raspberry.
Middle King Street
Middle King Street, between Market and Calhoun, is the fashion district. Here, you'll find big chain stores such as Urban Outfitters and H&M, along with popular local boutiques including House of Sage and award-winning Hampden.
If you are searching for Lowcountry-inspired fashion, check out Copper Penny. This upscale lady's boutique features fashionable southern style that is both sophisticated and uniquely Charleston.
For designer fashion, you won't be disappointed with Middle King Street's offerings. On 307 King Street, you will find Haute Hanger, a trendsetting clothing boutique that provides the latest styles from innovative clothing designers. Head south down King Street, make a left onto Market Street. and you will find The Shops at Belmond Place, where upscale stores like Gucci can be found.
If you left your four-legged friend at home for your vacation in Charleston, then you will want to stop by Woof Gang Bakery. This cute shop makes special gourmet dog treats that your pup is sure to love.
All that shopping can leave you feeling exhausted. Head towards the antiques district on King Street and refuel at Bin 152, a locally-owned wine bar. This charming place is also an art gallery and antique shop, with a beautiful wine program, including 40 different options by the glass. Relax with a glass of rose and enjoy a beautiful charcuterie and cheese platter while you bask in the joy of a perfect shopping day.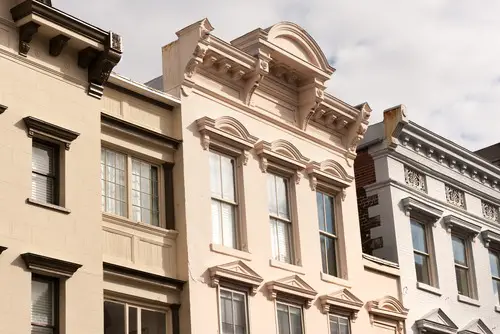 Lower King Street
For historic treasures, you can't beat Lower King Street. This area in historic downtown Charleston features a wide array of high-end antique shops displaying their unique offerings.
Want to take home a timeless piece of jewelry? At Joint Venture Estate Jewelers, don't be surprised if you fall in love with its vast array of vintage jewelry pieces and gemstones. This consignment store has been operating on King Street for a couple decades, and it is a great place to score one-of-a-kind jewelry.
Founded in 1922, George C. Birlant & Co is one of the oldest and largest antiques shops in the southeast as well as one of Charleston's oldest stores. It's certainly worth a visit to peruse their antique collection, but they are most famous for their beautiful, handcrafted Battery Benches. These benches are part of the landscape of downtown Charleston, including Battery Park. Purchase one today to add elegance, sophistication, and a sense of history to your home or lawn.
If you love Western-themed art, then stop by the Paderewski Fine Art & The Sportsman's Gallery, Ltd. This gallery is composed of four viewing areas that feature a wide variety of inventory, from textural forest landscapes to bird hunting dogs and wildlife.
There are also a few upscale boutiques, many of them locally-owned, tucked into the antique district. D. Dumas & Sons has been outfitted Charleston men for over a decade. A staple of Lower King, they offer a wide selection of men's specialty items. Another local favorite, Berlin's, offer conjoining spaces for both men and women who enjoy designer clothing and accessories.
Conclusion
While Charleston is known for many things, including history, food, and culture, its fashion scene can't be ignored. From designer brands to independent stores, there is something to please every kind of shopper on historic King Street in downtown Charleston.
If you are planning your Charleston vacation, consider scheduling it around the middle of the month. 2nd Sunday on King Street is a monthly celebration, where the streets are blocked off from traffic and people are free to roam freely to enjoy all the wonderful things that merchants and restaurants have to offer. It's a great way to explore the heart of downtown Charleston.
Traci Magnus was raised on the Charleston Coast and attended the College of Charleston before moving to New York City in the mid 1990s. Her first job in the Big Apple was with the renowned NYC real estate brokerage Douglas Elliman. For the next decade, she honed her marketing skills at some of Madison Avenue's top advertising agencies. In 2006, she returned to Charleston along with her husband Glenn and their son Max. She joined the Dunes Properties team in early 2008 as Director of Marketing.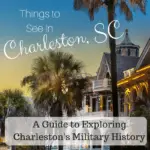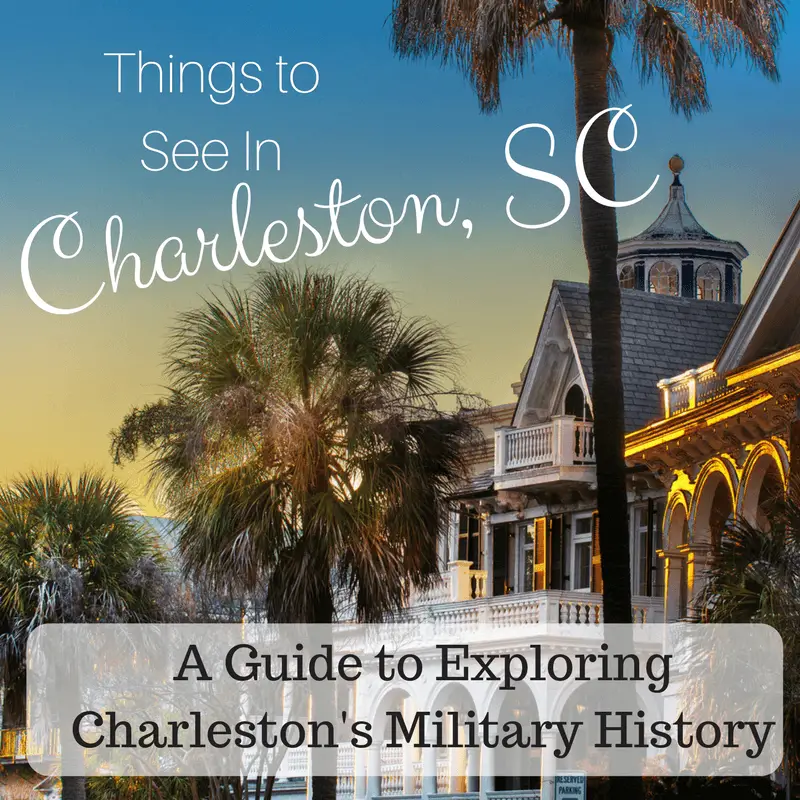 Last updated on February 25th, 2020 at 11:33 am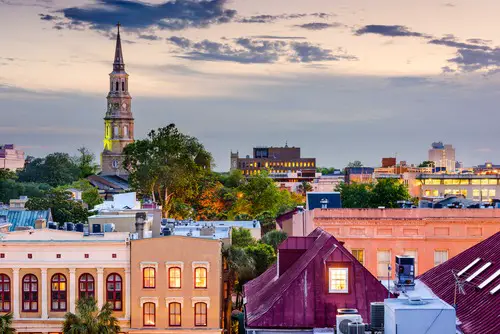 Each year, millions of tourists visit Charleston for its beautiful beaches, Lowcountry cuisine, and Southern charm. Besides being a great place for a beach vacation, the Holy City is a history buff's paradise. With over 300 years of rich military history, there is much to be explored in Charleston.
With so much history to cover, it's understandable if you don't know quite where to begin. Let us guide you through some of the best spots in Charleston to take a deeper look into its military history.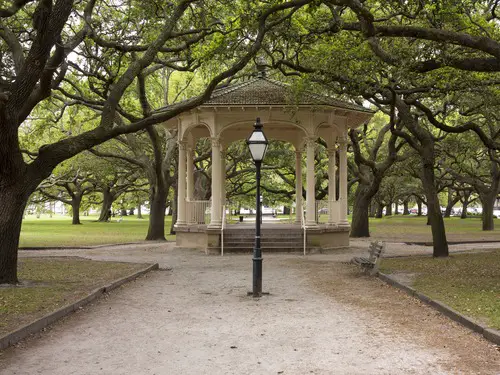 Battery & White Point Gardens
Start your journey at Battery & White Point Gardens, a beautiful park located in the French Quarter of downtown Charleston. This waterfront park not only offers stunning views of the Charleston Harbor, where Fort Sumter is visible, but it also features cannons and monuments of notable military figures.
Stroll through the tree-canopied park to the southern end of the Battery, and you will find cannons and cannon balls from various time periods, which kids are welcome to explore. As you wander through the park, you will also see monuments of historical significance, including one dedicated to sailors aboard the H.L. Hunley, a 2007 monument of General William Moultrie, and a striking monument of Sergeant William Jasper.
Confederate Museum
Located at the corner of Meeting Street and Market Street, the Confederate Museum is located at the entrance to the Charleston City Market. In this museum, you will find a variety of interesting and unique artifacts from the Civil War era.
A National Historic Landmark, the Confederate Museum is part of the Museum Mile, which is also worth exploring if you want a comprehensive look inside Charleston's storied past. At only $5.00 per adult, you can't beat the admission price at the Confederate Museum. Though it isn't a large museum, Civil War buffs should expect to spend at least an hour studying the Civil War memorabilia within its walls.
The Citadel
If your stay is long enough, consider stopping by The Citadel, Charleston's historic military college. Graduates have participated in every American War since the Mexican-American War of 1846.
Tour the campus to find interesting monuments and military displays, as well as a museum chronicling The Citadel's history and distinguished leaders who passed through its ranks. Visit The Citadel on a Friday afternoon to catch the weekly dress parades, an impressive event that both young and old are sure to enjoy.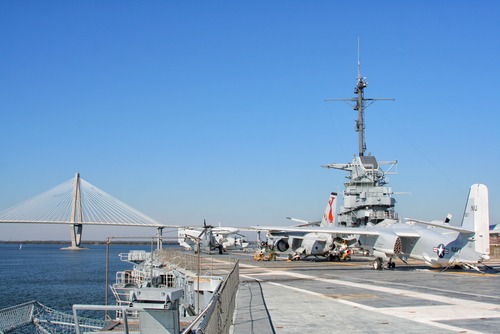 Patriots Point Naval & Maritime Museum
Located at Patriot's Point in Mt. Pleasant, the Patriot's Point Naval & Maritime Museum is a great place for kids and adults alike. You will see the USS Yorktown, one of 24 Essex-class aircraft carriers built in WWII, at this National Historic Landmark.
You can also explore the USS Lafey, a Sumner-class destroyer, and the USS Clamagore, a GUPPY III submarine. Don't forget to explore the surrounding grounds of the museum to view the Cold War Sub Memorial and Vietnam Support Base camp for a truly immersive military experience.
Fort Moultrie
On relaxing Sullivan's Island, you will find Fort Moultrie, a site that is particularly important to South Carolina's history. Built by South Carolina Patriots in 1776, this series of fortifications was made of Palmetto logs specifically to protect the Charleston Harbor.
When British forces attacked the fort on June 28, 1776, the soft Palmetto logs absorbed the cannon shots from enemy warships, giving Commander William Moultrie and his men a decisive victory. During this battle, Moultrie flew a flag over the fort with a Palmetto tree design, which became the foundation of South Carolina's official flag.
Fort Moultrie also offers a special glimpse into Charleston's WWII military history. Browse through the many WWII artifacts and learn about the brave men and women who trained at Fort Moultrie when it was an active U.S. military fortification.
After a few hours exploring Moultrie, stop by local favorite, Poe's Tavern. The restaurant is named after author Edgar Allen Poe, who spend a brief stint at Fort Moultrie in 1827, after he enlisted in the military.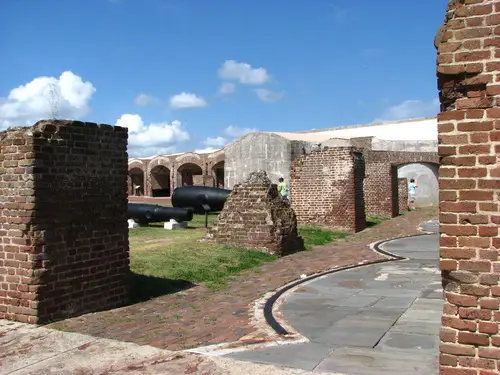 Fort Sumter
As the place where the first shots of the Civil War began, Fort Sumter is arguably one of the more important places in American history. This famous fortification, situated on a tiny island in the harbor, attracts history buffs from across the world.
Fort Sumter is only accessible by ferry, but anyone who loves Civil War history will enjoy the narrated boat ride to the impressive sea fort. Just be sure to purchase your tickets in advance to guarantee your spot. Onsite, knowledgeable park rangers will tell you all about Fort Sumter's history, from the first shots of the Civil War in 1861 to its restoration efforts after its severe bombardment.
Conclusion
From the American Revolution to the Civil War and beyond, your Charleston vacation isn't complete until you have experienced a taste of its military history. Fortunately, there is no shortage of opportunities to explore a city full of historical significance.
It can be challenging to explore Charleston's fascinating military history in a single visit. This is just another reason why people keep returning to the Holy City to explore all of its charms.
Traci Magnus was raised on the Charleston Coast and attended the College of Charleston before moving to New York City in the mid 1990s. Her first job in the Big Apple was with the renowned NYC real estate brokerage Douglas Elliman. For the next decade, she honed her marketing skills at some of Madison Avenue's top advertising agencies. In 2006, she returned to Charleston along with her husband Glenn and their son Max. She joined the Dunes Properties team in early 2008 as Director of Marketing.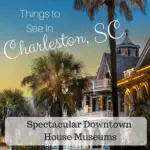 Last updated on January 5th, 2018 at 03:40 pm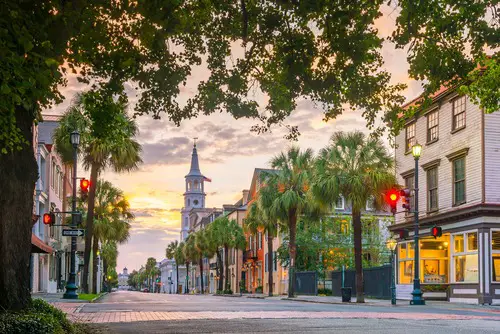 There is no better way to learn about the rich history of the Holy City than by venturing into historic downtown Charleston and exploring the exquisite house museums. From the Calhoun mansion to the Heyward-Washington house, each historic home tells a unique and fascinating story that gives visitors a glimpse into the lives of each family that once lived there.
You don't need to be a history aficionado or an architectural expert to admire these historic homes. Here are the must-see house museums in downtown Charleston that shouldn't be missed.
Edmondston-Alston House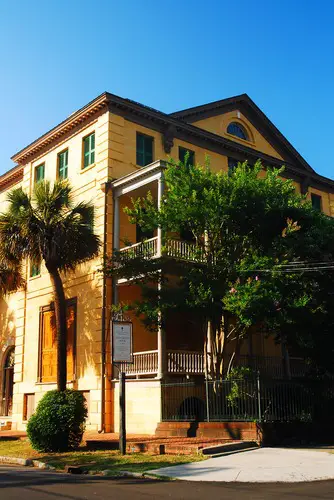 Built in 1825, the Edmondston-Alston House is the oldest house on the Battery and the only historic house museum that commands such a stunning view of the Charleston Harbor. The house was originally owned by Charles Edmondston, a shipping merchant from Scotland.
Though it was lavishly decorated by Edmondston, the Panic of 1837 forced him to sell the house to Charles Alston, a wealthy South Carolina Lowcountry rice producer. Alston wasted no time updating the house in a Greek Revival style architecture, building beautiful Corinthian columns and adding a third story to the house.
If you can't get enough of the scenic maritime views and rich history of the Edmondston-Alston House, you can book a reservation to stay at the privately-owned luxury bed and breakfast that is nestled within the compound of the House. Guests have the option to stay in the Carriage House or Private Quarters and will receive a fresh breakfast each morning, in addition to complimentary tickets to the Edmondston-Alston House Tour.
Aiken-Rhett House Museum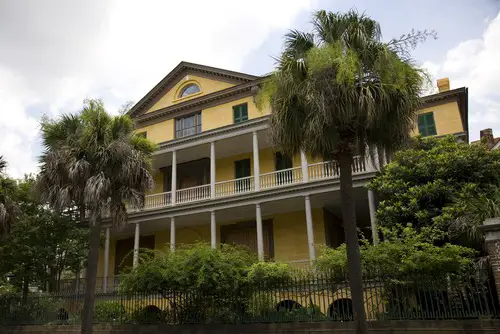 You won't get a better picture of life in the Antebellum era than by touring the Aiken-Rhett House. Located South of Broad Street, one of Charleston's most desirable neighborhoods, this historic home was first built in 1820 by Charleston merchant John Robinson.
When Robinson lost five ships at sea and fell on hard times, he was forced to sell the home to William Aiken Sr., a wealthy Irish immigrant. The house would later be passed on to William Aiken Sr.'s son, William Aiken Jr. The younger Aiken and his wife, Henrietta, made significant renovations to the house that are still preserved to this day, and the museum is full of lavish artifacts that they brought back from their visits in Europe.
One of the unique aspects of the Aiken-Rhett House is the backlot where slaves worked and lived prior to the Civil War. Tour the grounds, and you'll see the stables, kitchens, and sleeping quarters that have been well preserved, providing a fascinating glimpse into the history of antebellum Charleston.
Nathaniel Russell House
Take a tour of the Nathaniel Russell House, and you will get to see one of America's most important neoclassical homes. As you stroll through this house museum, you will also learn more about the lives of Charleston's circle of wealthy merchants and the enslaved African Americans who lived there in the 18th century.
Built in 1808, the Nathaniel Russell House is also notable for its elaborate ornamentation and free-flying staircase, which has no visible support. The house itself is named after Nathaniel Russell, a successful merchant from Bristol, Rhode Island.
When the house was purchased from private owners by the National Historic Foundation in 1955, it was used as the Foundation's meeting place for 37 years. Today, the Nathaniel Russell House has been largely restored to its original furnishes and architectural details.
Insider's Note: You can get lower admission prices by purchasing tickets to both the Nathaniel Russell House and the Aiken-Rhett House together.
Heyward-Washington House
Referred to as "Charleston's Revolutionary War House," the Heyward-Washington House is a must-visit for any Revolutionary War aficionado. This beautiful Georgian-style double house was built in 1772 and was the home of Thomas Heyward, Jr., a patriot leader and one of four South Carolina signers of the Declaration of Independence.
The Heyward-Washington House was rented to George Washington in May 1791 when the president stayed in Charleston for a week. Since then, it has been referred to as the "Heyward-Washington House."
In 1794, Heyward sold the house to John F. Grimke, another Revolutionary War leader, and the father of famous abolitionists and suffragettes Sarah and Angeline Grimke. As you tour the Heyward-Washington House Museum, you will see an amazing collection of historic artifacts left behind, including gorgeous American-made Colonial furniture such as the Holmes Bookcase.
Also featured on the property are the formal gardens, which contain plants that were often used in the Lowcountry during the late 18th century. Another bonus is the museum's Kidstory exhibit, which provides kids with a hands-on experience to learn about the history of America and South Carolina Lowcountry.
Calhoun Mansion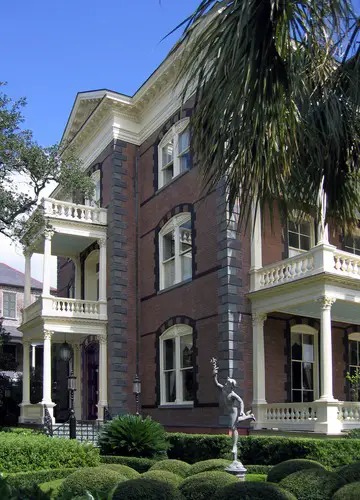 Located on Meeting Street in the heart of Charleston, the Calhoun Mansion is an impressive Victorian house that is currently the largest privately owned residence and house museum in Charleston.
Built around the year 1876 for businessman George W. Williams, the Calhoun Mansion was inherited by William's son-in-law, Patrick Calhoun, a grandson of statesman John C. Calhoun. Today, the Calhoun Mansion is privately owned and offers daily tours to the public.
As you tour the Calhoun Mansion, be sure to note the beautiful Italian design and three levels of piazzas. The extravagant mansion boasts 35 rooms, a grand ballroom with a stunning chandelier, private staircases, and an eclectic collection of artifacts from the 18th century and beyond.
Joseph Manigault House
The famous Joseph Manigault House is one of Charleston's best examples of an antebellum home and a unique architectural masterpiece. Built in 1803, the home was designed in a Federal-style that was not often seen during this period in Charleston.
The Joseph Manigault House is also called Charleston's Huguenot House because its early inhabitants were descendants of the French Huguenots, who fled from Europe in the 1600s to escape religious persecution. The Manigaults were successful rice planters and merchants during the 18th century and were an influential family in Charleston. With the help of over two hundred slaves, Joseph Manigault grew his business to become one of Charleston's leading families in the late 1700s.
In the house, you will see various collections of American, English, and French furniture from the 19th century. Explore the grounds, and you will also find historical outbuildings that reflect the lifestyle of the slaves that once lived and worked there.
Visitors and residents alike will benefit from touring the spectacular homes in Charleston that now serve as some of the most important museums in the city. They provide a fascinating glimpse into the history, culture, and lifestyles of Lowcounty people dating back to the 1700s.
Traci Magnus was raised on the Charleston Coast and attended the College of Charleston before moving to New York City in the mid 1990s. Her first job in the Big Apple was with the renowned NYC real estate brokerage Douglas Elliman. For the next decade, she honed her marketing skills at some of Madison Avenue's top advertising agencies. In 2006, she returned to Charleston along with her husband Glenn and their son Max. She joined the Dunes Properties team in early 2008 as Director of Marketing.