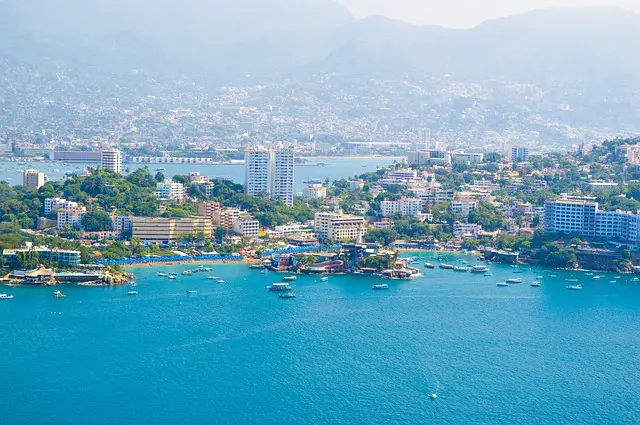 Acapulco is both a city and a major seaport in the state of Guerrero on the Pacific coast of Mexico. Its full name is Acapulco de Juarez, which is the city's name and the name of the port. Often called the "Pearl of the Pacific," and the "Riviera of Mexico," Acapulco is about 240 miles south of Mexico City, the capital and largest city of Mexico.
Located on a deep, semicircular bay, Acapulco has been a port since the early colonial period in Mexico's history. In 1531 Hernan Cortes claimed this harbor, one of the finest natural anchorages in the world, for Spain. 
A settlement was founded there, and the city became a central depot for Spanish colonial fleets sailing between Mexico, Asia, and the Philippines. Acapulco's major exports at that time were coffee and sugar, along with vegetables and melons.
In its heyday, Acapulco was a favorite vacation spot for celebrities like Elizabeth Taylor, Frank Sinatra, Elvis Presley, and President John F. Kennedy.
Today, Acapulco is still a popular travel destination, but the city has also had its share of issues. 
As with any form of travel, there are safety issues to consider when deciding if a trip or tour is right for you. Checking with your home countries' recommendations, such as the U.S. Department of State,  will give you advice to help you make a well-informed decision before traveling.
Check out these excursions in Acapulco.
Getting Around Acapulco – Mexico
Walking
Many areas with incredible scenery are only a 10 to 15-minute walk from the cruise ship pier. The Fort of San Diego, the old town, and beaches along Costera Miguel Aleman are all walking distance. With that being said, attractions such as the cliff divers and most hotels are not within walking distance of the pier.
Bus
Acapulco has a public bus that is inexpensive and runs the length of the strip, and only costs a few dollars. Destinations are printed on the front windows of the buses. The bus system is privatized, so expect that individual drivers will have decorated their vehicles, might have loud music playing, and will pull over to offer you a ride.
Car
It is not suggested to drive yourself around Acapulco. There is very heavy congestion and poor road conditions that make driving challenging. Rental cars are available but can be expensive. Roads can also be dangerous driving at night, and it is not recommended to drive alone. If you choose to drive, a valid U.S. driver's license is needed, but not an international permit.
Taxi
Taxis are prevalent in Acapulco. You will see three main types, Volkswagen taxis, yellow and white taxis, and tourist taxis. Whichever type you choose, negotiate your fare before getting in the vehicle. The tourist taxis tend to be more comfortable, as many have air conditioning, but they do cost more. You can hire a private, air-conditioned S.U.V. at the marine terminal that holds six people and has an English-speaking guide.
Shopping In Acapulco – Mexico
While Acapulco is not one of the best places for buying Mexican crafts, there are still some interesting shops and places to purchase souvenirs or silver jewelry. Shopkeepers will set their prices high and expect you to bargain down.
Mercado de Artesanias El Parazal
Bargaining is the norm at this craft market. It is one of several markets around Acapulco. You will get a better deal here on items that you will also see in hotel shops.
Linda de Taxco
This store sells silver and gold pieces where the cliff divers perform.
Mercando Central (or Mercando Municipal)
This is an indoor-outdoor bazaar where you will be able to get shoes, produce, food, drink, and souvenirs. Buses also stop here regularly.
Sanborn's
A department and drugstore chain, Sanborn's offers an array of staple items such as cosmetics, clothing, magazines, and books. You will also find folk art from around Mexico. The store includes a bakery and candy counters.
Mercado de Artesanfas Noa Noa
This craft market offers handmade goods and folk art. You will find precious stones and minerals, wood carvings, woven goods, ceramics, and national embroidered clothing.
Galerias Diana
If you are looking for a modern shopping center, the Galerias Daina in Acapulco is where to head. Located in the Golden Zone of the city, this center offers a variety of boutiques, high-end restaurants, a video arcade, and a multiplex cinema.
Dining In Acapulco – Mexico
Many of Mexico's finest chefs work in Acapulco, drawn by the tourist market. The restaurants serve many of the following dishes: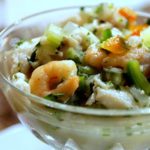 Ceviche: fish or shellfish marinated in lime and tossed with onions, tomatoes, cilantro, and spiced green chiles.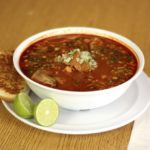 Pozole: A soup made with hominy, beef broth, pork, and chicken.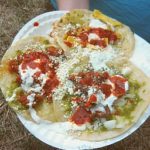 Sopes or Chalupas: flat cakes made with tortilla dough, refired beans, cabbage and cream.
Photo: alex lines, CC BY-SA 2.0 <https://creativecommons.org/licenses/by-sa/2.0>, via Wikimedia Commons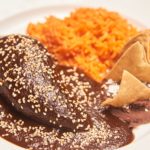 Mole Poblano: a complex sauce made from 30 ingredients, including unsweetened chocolate and typically spread over chicken.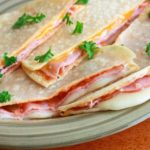 Sincoronizadas: A Mexican version of a grilled sandwich with ham and cheese.
Photo: https://www.daringgourmet.com/sincronizadas-mexican-ham-and-cheese-melts/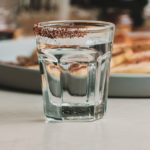 Mezcal: Tequila is a type of mezcal, like scotch and bourbon, which are types of whiskey. Mezcal is made from any kind of maguey.
Here are some of the restaurants that offer dining in Acapulco:
Zibu: Seafood, Asian, Thai, Vegetarian, and Vegan.
Zibu offers Thai seafood with a Mexican twist. The majority of the seating is on an outdoor patio where you can see the glorious cliffs.
Becco Al Mare: Italian, seafood, Mediterranean, Vegetarian
Becca has a contemporary Italian menu with a range of 15 Italian oils and an extensive wine list.
La Cabana de Caleta: Seafood, Mexican
Located in the center of Old Town, this restaurant is on the edge of Playa Caleta, so your view will be of surf and sand. Portions are generous, and you will find shark tacos and enormous prawns on the menu.
El Zorrito: Mexican, vegetarian, gluten-free fast food
If you don't want to spend time at a restaurant, El Zorrito has no-frills but does serve authentic Mexican food. Chicken tostadas, stuffed peppers, and french fries are a few of the items that will come quickly so that you can be on your way to the next adventure.
Cira La Morena: Mexican
If you want to go off the beaten path to a place popular with the locals, Cira La Morena is the spot to go. Located on a small dirt road, the Pescado a la Talla is wonderfully seasoned and comes with handmade tortillas. Thursdays are the traditional night for pozole and mezcal.
Alejo: Mexican
Alejo serves classic Mexican dishes, including Pescado a la Talla and seafood. The restaurant located in Old Town also has a pool and hammock to enjoy before or after your meal.
Things To Do in Acapulco – Mexico
Beaches:
There are plenty of beaches in Acapulco in which to soak up the sun and surf:
Playa de Barra Vieja
Playa Pie de la Cuesta
Playa Revolcadero
Playas Caleta y Caletilla
Playa Pichilingue
Playa Tlacopanocha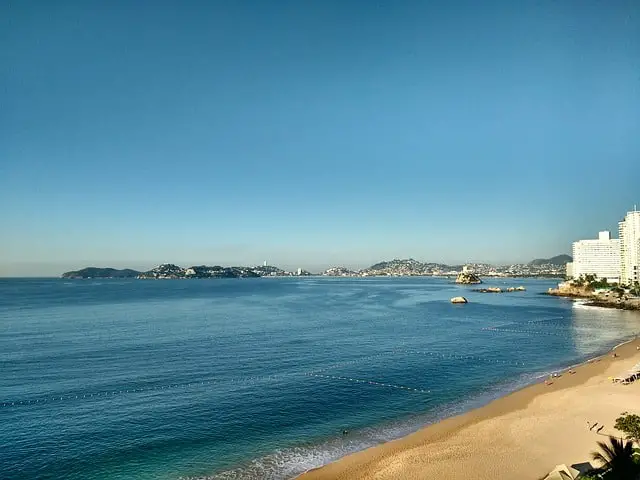 Boat Ride:
The Tres Palos Lagoon boat ride, with lunch, visits a crocodile farm and you will also be able to watch a baby turtle release. This tour is for nature lovers who want to learn about the lifestyle of the locals and see many exotic species of tropical birds. You will go through mangrove tunnels and a natural floating garden of wildflowers.
 Contact: https://www.facebook.com/AssistourAcapulco for more information
Ziplining and Horseback riding:
If you like an adrenaline rush, you can zip over the mountains and ocean on the Xtasea Zipline, reaching upwards of 75 miles per hour! Only for the brave! Then explore the many breathtaking beaches around Acapulco on horseback. You will have options for both beginners and experienced riders.
Contact http://tourbyvan.com/ for more information 
Historical and Cultural Experience: 
Take a journey through Acapulco and learn some of the histories of Mexico and understand the cultural significance of Acapulco. A guide will take you back to the battles between the British and Dutch pirates and the Spanish Empire. You will make a stop at the Mask Museum, and you will also be able to admire the Diego Rivera Mural, one of his last works, before heading to the La Quebrada Cliffs to watch the Diver's show.
Contact http://tourbyvan.com/ for more information.
Top Tours & Excursions In Acapulco – Mexico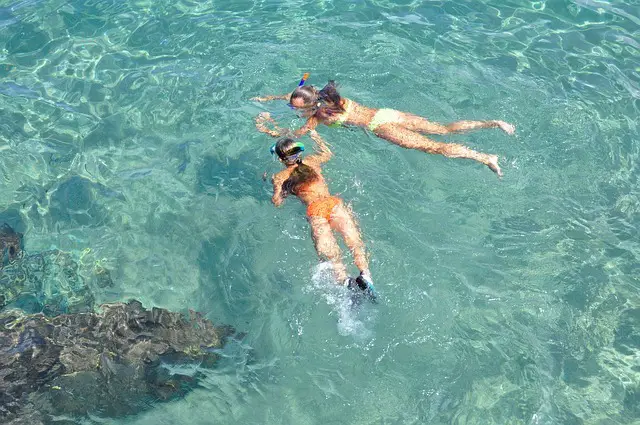 Enjoy amazing marine life and pristine beaches while snorkeling the warm waters off La Roqueta Island, Acapulco's famous national reserve....
Duration: 4 hours
Activity Level: Medium
Wheelchair Accessibility: No
Food: Yes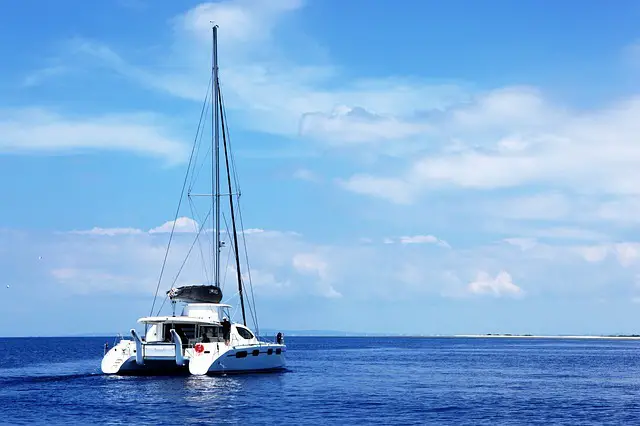 See the beautiful Acapulco coast on a yacht including the famous cliff divers at La Quebrada, mansions of the stars. Enjoy live music and open bar along the way....
Duration: 3 hours
Activity Level: Medium
Wheelchair Accessibility: Wheelchairs permitted but must be able to step on and off of yacht.
Food: Open Bar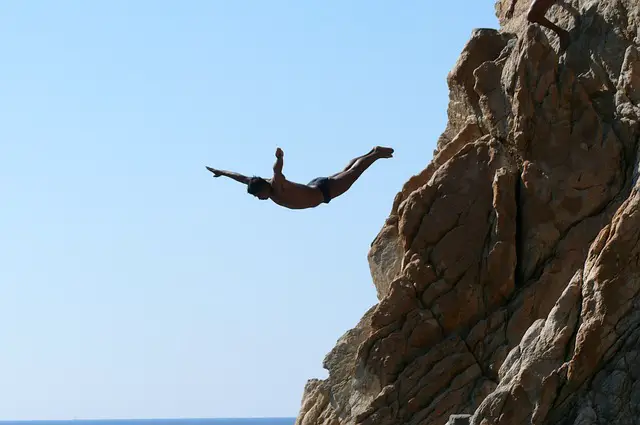 See the best of Acapulco on this tour of the city including  the Diamond Area, downtown cathedrals and the famous cliff high divers at La Quebrada....
Duration: 4 hours
Activity Level: Low
Wheelchair Accessibility: Yes
Food: Not Included