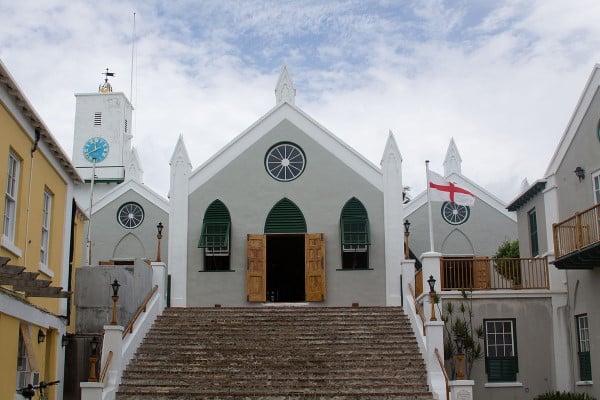 St. George's, Bermuda, is a town on St. George's Island. This storybook town was once Bermuda's capital and today is a UNESCO World Heritage Site. It is also the second oldest settlement in the New World after Jamestown. 
Expect to see colonial lanes and alleys and their quirky names, such as Featherbed Lane, Old Maid's Lane, and Printer's Alley. It is worth a stroll down Shinbone Alley and Silk Alley.
Steeped in history, St. George's was originally called New London when it was first settled in 1612. This tiny town played a huge role during the American Revolution. George Washington requested that Bermudians assist American rebels in stealing much-needed gunpowder from a St. George's magazine to aid in the Americans' war for independence from British rule. 
The entire operation was without the approval of the British Bermudian governor, and so the gunpowder was secretly taken over a hill to Tobacco Bay and then transported by boat to American ships offshore. Bermudians were rewarded with food to replenish supplies that had grown dangerously low on the island. 
And so St.George's part in the historic legacy of the Bermudian people, and their clandestine efforts, forged a link between old-world rebellion and a new country's birth. Their fierce loyalty to their country and heritage is still evident today. 
Helpful St. George's Links and Information
Planning a Trip to Bermuda: The Essentials
Bermuda's Official Visitor Services Centres
Once a rum store, this is where you will start to learn about historic forts, museums, attractions, restaurants, beaches, and more. You can also buy tickets for local tours, buses, and ferries at the visitor center. They take credit cards only.
Where You Dock in St. George's, Bermuda
You will dock at Ordnance Island, which is located in the limits of St. George's. The docking area is just opposite King's Square, which is the heart of the Town of St. George's.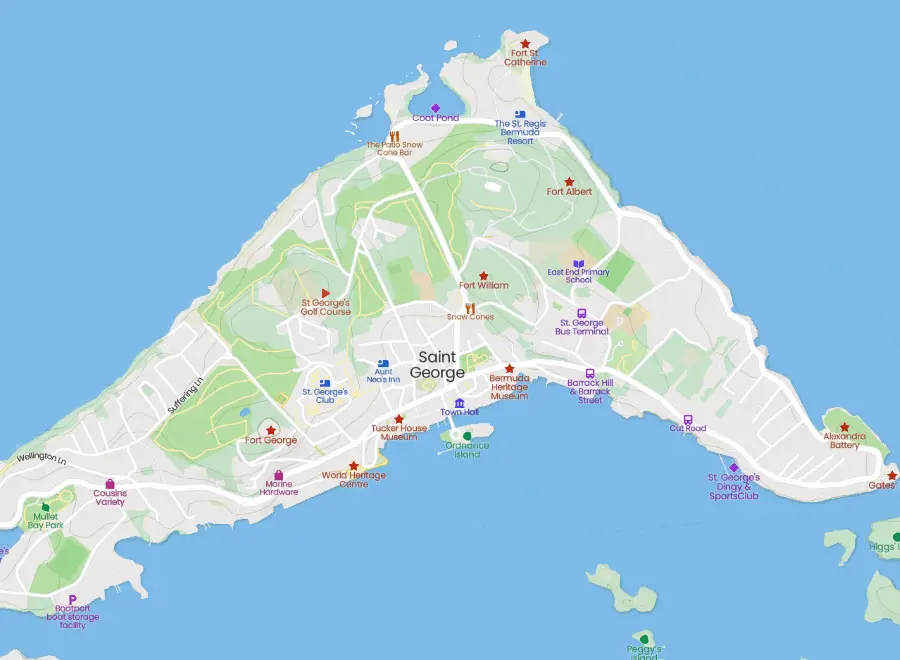 Getting Around St. George's, Bermuda
Visitors to Bermuda are not allowed to drive a standard automobile,  but there are other options of transportation. You can, of course, choose to walk around the town. There are also mopeds, bikes, taxis, ferries, and the bus system. It is hard to miss the bus, as it is bright pink.
Mopeds: While you will not need a driver's license, it is required that you are over 16, have a helmet and insurance to ride a moped. Both the helmet and insurance are included in the rental fee. Please take into consideration that it can be challenging to maneuver unfamiliar streets. The roads in St. George's are narrow, winding, and steep in places. Add to that the fact that Bermudians drive on the left side of the road, and taking a moped can be a bit hazardous. If you still want to take a moped for a whirl, Oleander Cycles for information and pricing on rentals.
 Electric Cars:  Visitors to Bermuda are not permitted to drive conventional rental cars, but the government has allowed the rental of two-seater electric vehicles.  You can find these  compact cars at various locations across the island, but currently, only Rugged Rentals has a location in St. George's, with others hoping to expand there in the near future. Rugged Rentals offer the Hummer HXT electric vehicles at $155/day, including insurance. You have to be at least 25 years old to rent and they have a top speed of 45 km/hr and a range of 100 kms, but charging stations are conveniently located around the island. 
Bikes: Oleander Cycles has pedal cycles for rent, too. The locals call them livery cycles. This might be a safer way of getting around on your own; just remember that there will be some steep hills depending on where you go. You will also need to rent a helmet.
Taxis: There is no shortage of taxis in Bermuda, and you should have no problem getting one. They can be a small car or a mini-van-type vehicle. Taxis are metered and don't operate on a shared basis. If you want to use taxis as a form of sightseeing, look for one that has a blue flag on its hood. The blue flag means that the driver is government qualified. Taxis tend to be pricey, and fares increase by 25% between midnight and 6 am and on Sundays and holidays. There is a taxi stand in King's Square. It is close to Water Street and the Cruise Ship Terminal.
Buses: It is hard to miss the cotton-candy-colored buses in Bermuda. They can get you around Bermuda, but remember that, like most buses, they are not always the fastest mode of transportation. If you are pressed for time, the bus might not serve you well. The buses run along all major roadways and make stops every fifteen minutes. Sundays and holidays are an iffy proposition, as they may run every hour or not at all. You will need exact change, or tokens, for the farebox, or you can purchase a Transportation Pass that will be good for one ($12) or three ($28) days. The Visitor's Service Bureau in King's Square, open Monday through Saturday from 9 am to 5 pm, is where you will get bus tokens and Transportation Passes. The Bureau will also have maps and other local information.
Ferries: Ferries crisscross the Great Sound between St. George's and Hamilton. Hamilton is the capital of Bermuda, filled with shops, museums, galleries, and gardens. The trip between the two places runs about 1 ¾ hours. You must purchase a token at the Hamilton Ferry Terminal, and it is an affordable $4. If you are taking your moped or pedal bike along, expect to pay an additional $4. The schedule for the latest ferry schedule is listed here: SeaExpress Ferry Service
Shopping In St. George's, Bermuda
The Bermuda Perfumery, ESSENCE OF LILI BERMUDA, is an artistic reflection of Bermuda. According to its Perfumer, the scents capture the wind, fresh ocean spray, and luscious botanicals. You can also take a complimentary tour of the Perfumery or have afternoon tea in the gardens.
The Bermuda Craft Market has Bermuda-made wares from more than 60 local artists. Located in the Royal Naval Dockyard, this craft market is housed in a barrel workshop built-in 1832.
Saltwater Jewellery +Designs features one-of-a-kind handcrafted jewelry at a boutique on Water Street in St. George's. Made using natural materials like pearls and semi-precious stones, and Venetian glass, these creations will be the perfect reminder of Bermuda.
Long Story Short is a unique Bermuda shop with books, gifts, cards, skincare, clothing, games, and puzzles. You can also sign up for a History Tour or a Private Scavenger Hunt. Long Story will also rent you a bike to explore St. George's.
 

 

View this post on Instagram

 
Dining In St. George's, Bermuda
It is said that Bermudian food is as diverse as the island's history and heritage. Many of the flavors come from the Caribbean, the British, and Portuguese.
Spiny lobster is served in nearly every restaurant from September through March. Considered a delicacy, this lobster is smaller and does not have claws. A local favorite is known as Hop' n' John or Peas' n' Rice. It is a savory dish made with black-eyed peas, sliced sausage, bacon, or chicken.
The only fast food restaurant in Bermuda is a KFC, Kentucky Fried Chicken. They established their store in Hamilton before the government stopped any franchise or chain restaurant from outside Bermuda.
Dress Code
Most of the restaurants are casual attire, although jackets may be required for men during dinner hour. If you have bathing suits, make sure you have a cover-up over your suit before entering the restaurant. If possible, call ahead if you are in doubt as to the attire required.
Restaurants in St. George's, Bermuda
White Horse Pub & Restaurant | Town of St. George. This is Bermuda's oldest pub.
Lunch ($$) Dinner ($$) Seasonal food with locally sourced ingredients
Breakfast Sunday only from 10 am – 1 pm
Closed holidays
Casual attire
Tempest Bistro serves home-style French cuisine that is moderately priced.
Lunch ($$) Dinner ($$)
Monday's, dinner only 6 pm – 9 pm
Sunday's, lunch only 11:30am – 2:30pm
Closed holidays
Casual attire
The Wharf in Bermuda (formerly Tavern By The Sea) On Somers Warf in St. George's.
Fish, lamb, filet mignon, jerk chicken, pizza, and pasta.
Lunch ($$) Dinner ($$)
Open seven days
Lunch from 11:30 am and dinner from 5 pm
Closed Christmas
Casual attire
Wahoo's Bistro &b Patio – Waterside St. George's Bermuda cuisine. Wahoo nuggets, rockfish Picasso, fish chowder, Wiener Schnitzel sandwich, Angus beef, pasta, tacos and lobster.
Lunch ($$) Dinner($$)
Monday lunch only 11:30 – 5 pm April to October, closed on Mondays in other months.
Tuesday to Sunday Lunch 11:30am – 5pm Dinner 6:00pm – 9:30pm
Casual attire 
Things To Do in St. George's, Bermuda
There is a whole lot of history and atmosphere in Bermuda and you will see and feel it in St. George's. It is one of the oldest English settlements in the Western Hemisphere. Famous for its pink sand beaches, the pink in the sand is from pulverized coral and shells.
While in St. George's, you will find a variety of exciting things to do.
Haunted History Tour: St. George's Spirits Come to Life Some believe that Bermuda's 400-year-old town of St. George's is still home to spirits from the island's past. On this tour, you will be guided through the narrow alleys and cobblestone streets. You may even see some of the town's ghosts (that just might be modern-day costumed inhabitants!) eager to give their accounts of their lives in Bermuda in years past. 
Tobacco Bay, the very same bay that saw colonial-era patriots secretly transport gunpowder for a revolutionary cause, is also the sight of modern-day bonfires at night. This scenic bay is not one of the most popular attractions in Bermuda. With a calm lagoon and unique rock formations, it is ideal to snorkel and spend a relaxing day at the beach.
Grotto Bay Beach Resort and Spa is a resort that is sprawled over 21 acres with two private beaches and 11 cottages in traditional Bermudian architecture. You will be able to swim in the private pink sand beach, in a freshwater pool, or Jacuzzi. Sailing, snorkeling, paddle boarding, diving to ancient wrecks are also available. The Grotto Bay has a tennis court and ocean-front gym. 
The National Museum of Bermuda has over 500 years of Bermuda history and culture on display. Bastions, cannons, shipwreck artifacts, and watercraft are just a few of the items. The museum occupies several historical fortifications in the Royal Naval Dockyard. There are bold bars, jewelry, and other items that have been recovered from centuries-old shipwrecks.