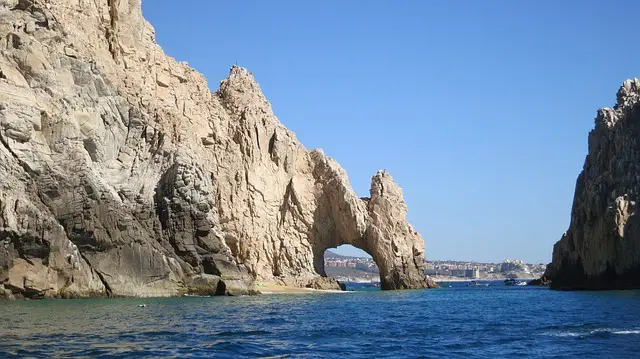 Cabo San Lucas, or simply called Cabo, is a resort city on the southern tip of the Baja California Peninsula, in the Mexican state of Baja California Sur. Cabo is rated as one of Mexico's top 5 tourist destinations.
Cabo San Lucas is a smallish town framed on the west by the dramatic Lands' End rock formations. To the north of Cabo lies the arid desert of the Baja Peninsula. The east is populated with mega-hotels that line the Playa El Medano beachfront.
It is important to know that Cabo San Lucas and nearby San Jose del Cabo are collectively known as Los Cabos. These two different towns comprise the Los Cabos Corridor, a heavily trafficked vacation destination for tourists.
Smaller than Cabo San Lucas, San Jose del Cabo is the political seat of Los Cabos. San Jose has charm along with cobblestone streets. San Jose is designated as the "Old Town" and is near the airport (SJD). The primary draws to San Jose are its ocean views and sandy beaches.
Cabo San Lucas is designated the "Main Town," which is 20 miles from the airport and is the favorite of tourists who head to Los Cabos. As a larger city, Cabo is easier to access and has its share of ocean views, including Land's End and Arco rock formations. 
"The Corridor" is the highway that connects San Jose and Cabo San Lucas. This highway is lined with golf courses, condos, and resorts.
Check out these excursions in Cabo San Lucas.
Where You Dock in Cabo San Lucas – Mexico
Cabo San Lucas has no cruise pier. All ships must anchor a short distance offshore in Cabo San Lucas Bay and then the ship will tender passengers to the port. The trip ashore can take about 10 minutes, so you will need to factor this into the time you will need to return from shore.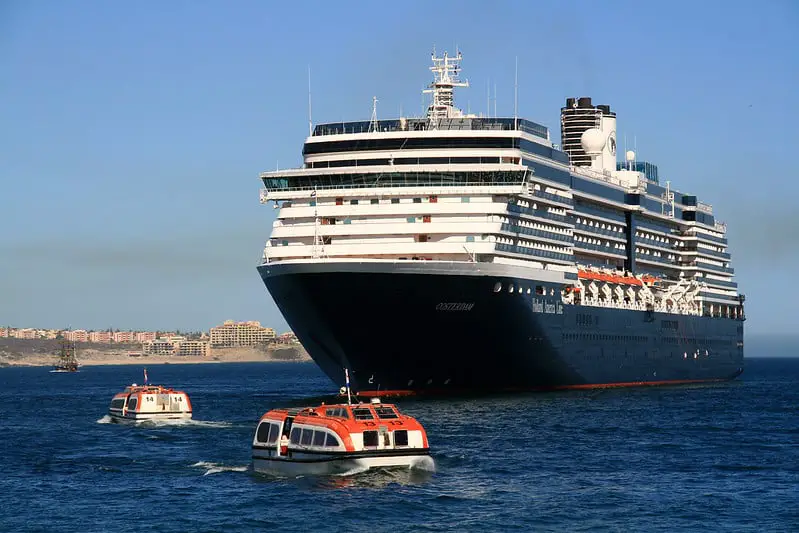 Passengers are dropped off at the Tender Pier located at the Cabo Marina. It is about a 15-minute waterfront walk to the heart of Cabo San Lucas, although there are a number of amenities right when at the pier such as restaurants and bars (including Senor Frog's),  a pharmacy, ATM, washrooms, souvenir shops, including the Marina Mercado, an arts and crafts market.
Getting Around Cabo San Lucas – Mexico
Walking: The walk from the pier where passengers are dropped off to the main area of town is about 15 minutes and is an easy walk. The downtown area has a variety of shopping and restaurants. However, it is good to know that you can't walk between Cabo and San Jose del Cabo because of the distance.
Water Taxi: Water taxis will transport you to Cabo's top beaches from the marina. Water taxis cluster near the downtown marina. The taxis are not metered, but the rates are usually reasonable and start about $15 (as of January 2022) U.S. one-way.
Taxi: Taxis are plentiful in Cabo, and although it is a short walk to the center of town, the heat may be too oppressive to allow you to do so. Taxis are mainly of the sedan type and line up at the marina. Taxis fares tend to be on the steep side.
Car: You can rent a car in Cabo, and if you plan on being in the area for a while, it might prove less expensive than a taxi. Alamo is one of the car rental companies in Cabo. You will also find Hertz, Avis, and Budget. While the car rental may be reasonable, Mexico's notorious mandatory insurance can be steep. You will need a driver's license and passport, and a major credit card. Here are some of the other car rentals in Cabo:
National (877-567-3572 or 624-142-2424), 
Budget (U.S. 800-801-0365 or Mexico 800-002-8343) and
Alamo (U.S. 866-365-3530, Mexico 800-821-6522 or 624-143-6060).
Driving is on the right-hand side of the road in Mexico.
Shopping In Cabo San Lucas – Mexico
Puerto Paraiso Shopping Mall
Blvd. Lazaro Cardenas 1501
624.144.3000
http://www.puertoparaiso.mx/index.html
Cabo's large Marina-based mall is on multiple levels with an excellent variety of shopping. Puerto Paraiso has arts and crafts galleries that offer handmade Mexican goods. There are a large number of clothing boutiques that carry swimwear and resort-style clothing. 
Ruth's Chris and other marina-facing restaurants are available, along with a food court on the mezzanine level. The mall includes a 10-theater cinema. There is also an onsite bank branch, an ATM, and a money changing station.
Plaza Gali
Marina Boulevard
624.143.1600
This is the closest plaza to the pier where cruise passengers are dropped off. All types of shops that are found in downtown Cabo are also found here. There are jewelry stores, arts and crafts, pharmacies, sunglasses, boutiques, and duty-free shops.
Fiesta Mexicana specializes in touristy items like t-shirts and sombreros. You will find a Starbucks coffee kiosk and Senor Frog's bar and grill. The Mexican equivalent to 7 – 11 is called OXXO, where you can get cold drinks and snacks. It is also located in Plaza Gali.
J & J Habanos:
Calle Madero
624.143.60160
http://jnjcabo.com.mx/
J & J's is the most reliable place in Los Cabos to buy Cuban cigars. You will be able to purchase genuine stogies, singly or by the box, from premier Cuban producers. Montecristo, Cohiba, and Romeo y Julieta are among the available cigars. J & J also boasts one of the largest premium 100% blue agave tequilas collections.
Plaza San Lucas:
Carretera Transpeninsular
624.144.7246
You may have left home to get away from these types of stores, but if you need something of the familiar, head to the Plaza San Lucas and the home of Walmart. You will find La Europea, a well-stocked deli and wine and liquor store inside the Walmart. This shopping center has a GNC (General Nutrition Center), numerous clothing stores, and boutiques.
Pepita's Magic Of The Moon:
Calle Madero
624.143.3161
Many feel that this is Los Cabo's best designer boutique. Pepitas offer original custom creations. Beachwear and lingerie, along with skirts, slacks, formal dresses, and everything in between, are on offer at Pepitas.
Luxury Avenue:
Cabo San Lucas marina
624.163.4280
Luxury Avenue is a high-end boutique situated on the Cabo Marina. You will find Hugo Boss, Salvatore Ferragamo, Longchamp, Montblanc, and Victoria's Secret offerings. You will also find Lacoste, Ultrafemme, and Ultrajewels at Luxury Avenue.
Dining In Cabo San Lucas – Mexico
Along Cabos' main corridor, you will find several stores that offer tequila tastings. Restaurants are numerous in Cabo and serve Mexican food that appeals to American palates, making it easy to find tacos, burritos, and enchiladas. 
Seafood is also plentiful, with ceviche and grilled wahoo being popular items. You will also find smoothies and beach restaurants that serve sushi. Not surprisingly, Margaritas are the Queen of Cabo.
Dress code: Cabo is very casual. You will see shorts and flip-flops everywhere, even at night. A few high-end restaurants like Passions or Mandela have dress codes, so if you are going to one of those, check with the restaurant beforehand.
Tipping: Tipping in Cabo San Lucas is expected, especially when good service is provided. The average tip is 10% – 20% of the total bill.
Here are some of the restaurants that you will find in Cabo:
The Crazy Lobster: The menu features lobster tacos, shrimp, ribs, burgers, and more. Located a 10 minute walk from the pier.
Panchos Restaurant & Tequila Bar: This bar is owned by ex-pats from California. A mesquite grill in the center of the restaurant provides dishes such as chicken mole, carne asada, and fresh seafood. Located a short 10 minute walk from the pier.
El Coral: The oldest restaurant in Cabo, they serve Mexican dishes and seafood. Located a 9 minute walk from the pier.
La Casa Country: Mexican food is served, along with the best fajitas in town with a line dancing show thrown in to boot. Located 1.2 kms from the pier (15-20 minute walk)
Nicksan: The sushi bar has some of the freshest sushi in the area. Ask the chef what is best on the night you visit. Located a quick 8 minute walk from the pier.
Things To Do in Cabo San Lucas – Mexico
Scuba diving, snorkeling, and watersports are popular in Cabo, as are the beaches. See the natural beauty of Los Cabos by hiking up to Mount Solmar or zip-lining through the jungle. If you want to stay on dry land, you can take a camel ride through the Mexican desert.
Resort Day Pass can be a fantastic way to spend your day in Cabo. Enjoy the amenities of a luxury resort with white sand beaches, pools, restaurants and drinks. Check out options with ResortPass!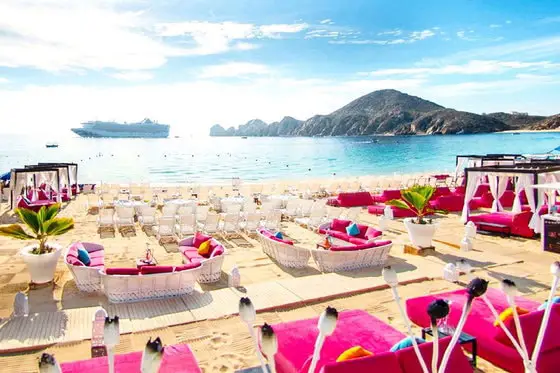 El Medano Beach is a quick water taxi ride from the marina. Here you will find plenty of activities like swimming, jet-ski rentals, kayaking, and water skiing. Parasailing, banana boating, and volleyball are also available.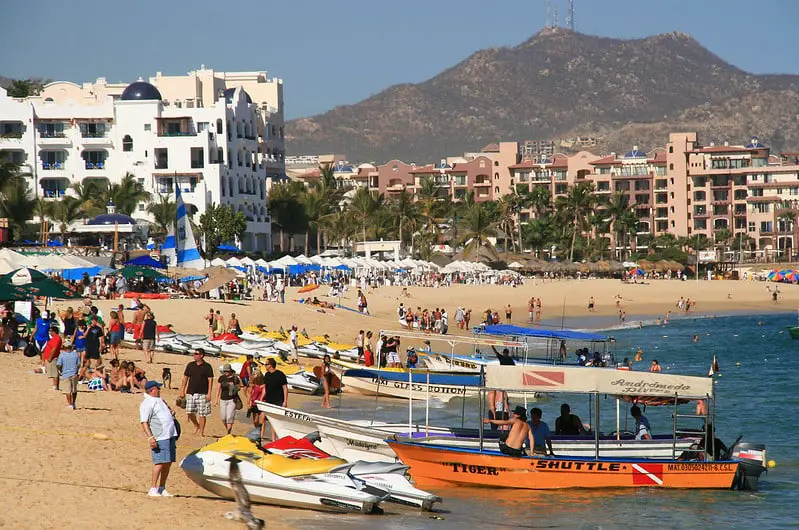 Chileno Beach, also called Playa Chileno, is located about a 20 minute drive from the pier, and offers calm waters that are perfect for snorkeling. You will also find restrooms here, and shade palapas are available on a first-come, first-served basis.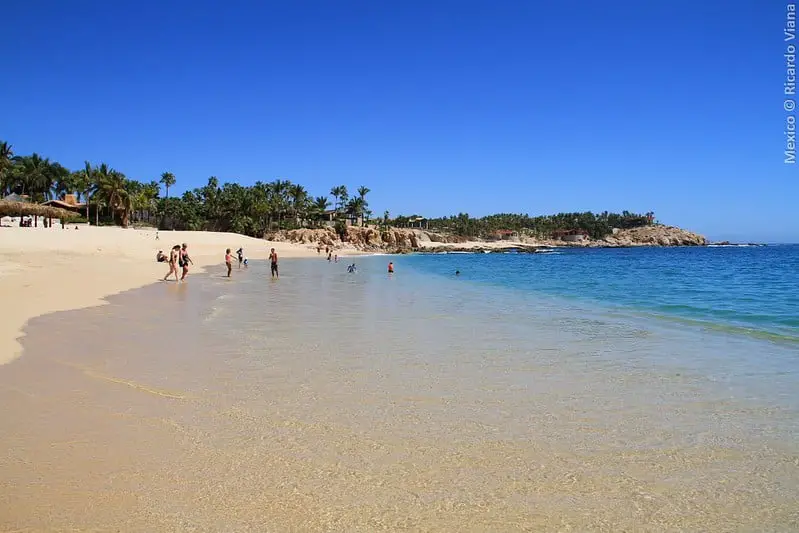 Playa del Amor (Lovers Beach) fronts both the bay and the Seas of Cortez and is tucked between rock formations. You will need a water taxi to take you to this area. There are no facilities, so you will need to bring your own provisions. Wear water shoes as this area has some sharp stretches of rock.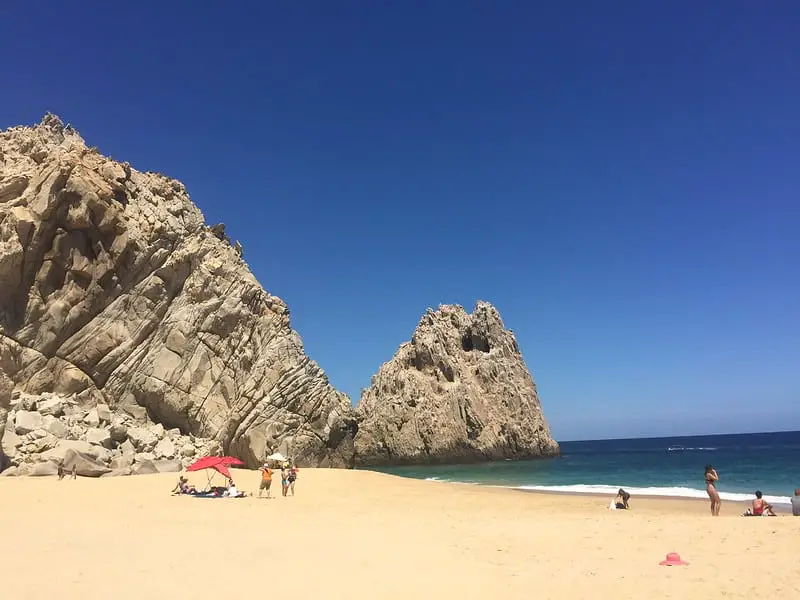 Whale Watching: From mid-December until mid-April, there are a variety of whales, grays, blues, and humpbacks that visit the waters off Cabo. Many tour operators will offer several-hour tours that are simply amazing.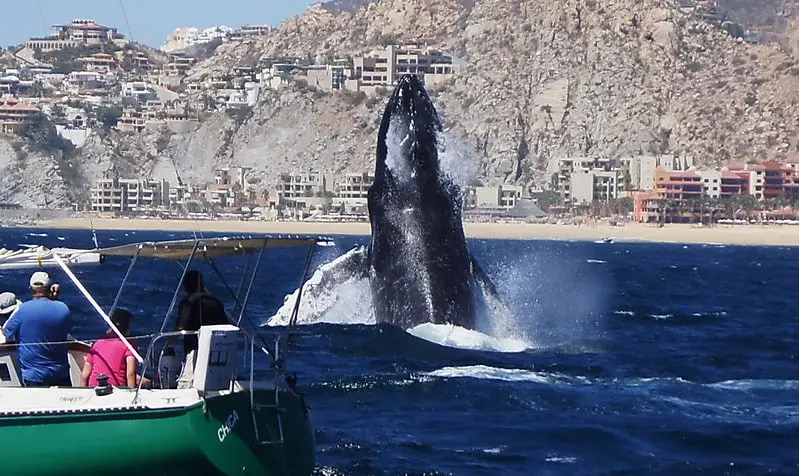 El Arco: This is a big rock with a wide arch that has been cut in the rock by centuries of tide and water. A glass-bottom boat tour will get you closer, and sea lions may visit you.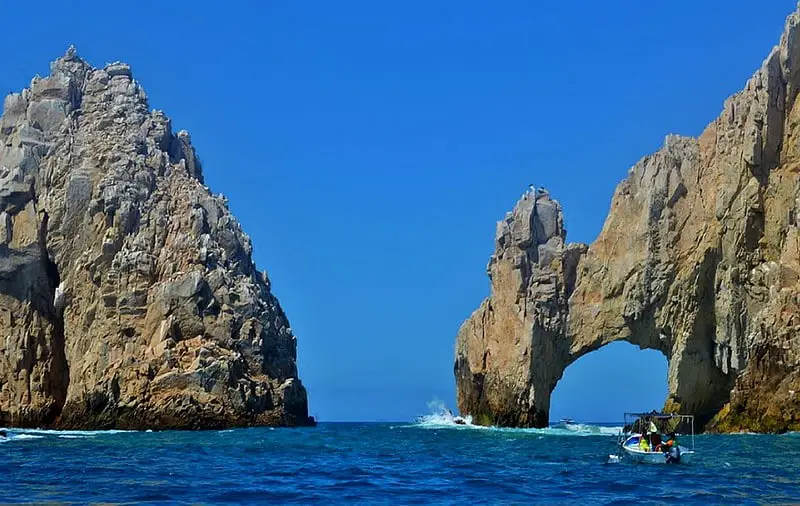 Fishing: Cabo San Lucas considers itself the "marlin capital of the world." You will be able to take full or half-day excursions and try your luck.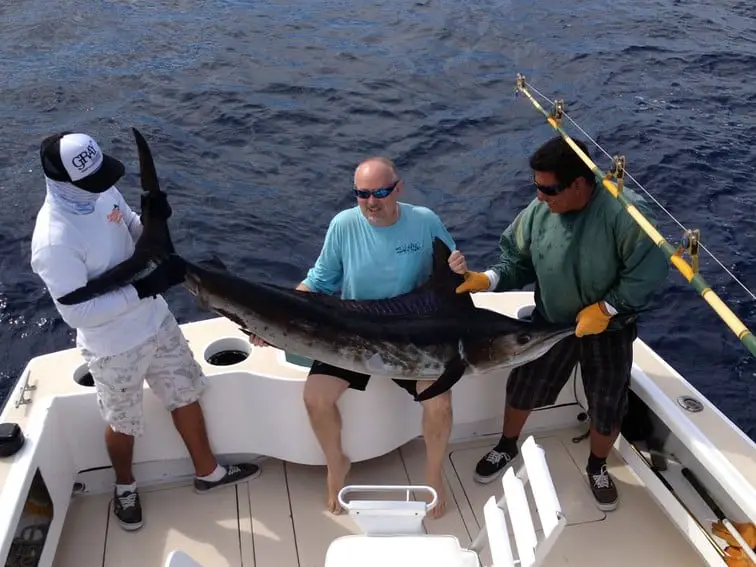 Golf: Golf is very popular in Cabo and there are at least a half-dozen courses that welcome day visitors. The most famous course is the Ocean Course at Cabo del Sol which was designed by famed golfer Jack Nicklaus . This course will give you both ocean and desert views. It has been rated one of the world's top 100 by Golf Magazine.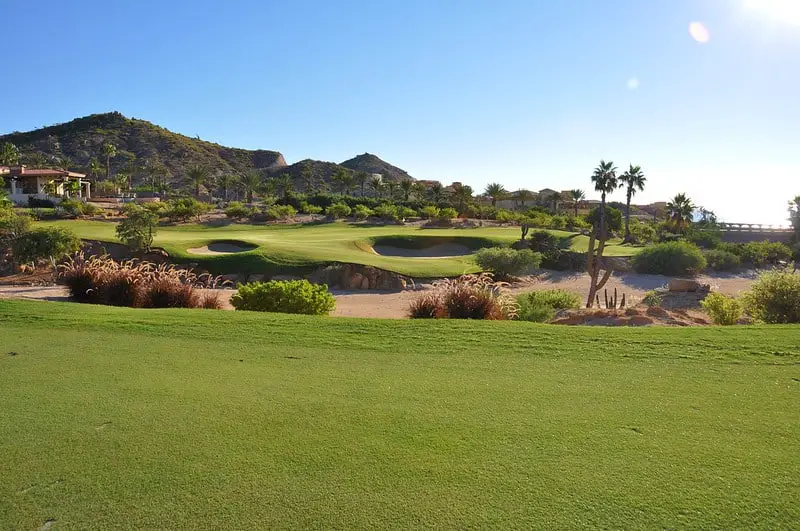 Top Tours & Excursions In Cabo San Lucas – Mexico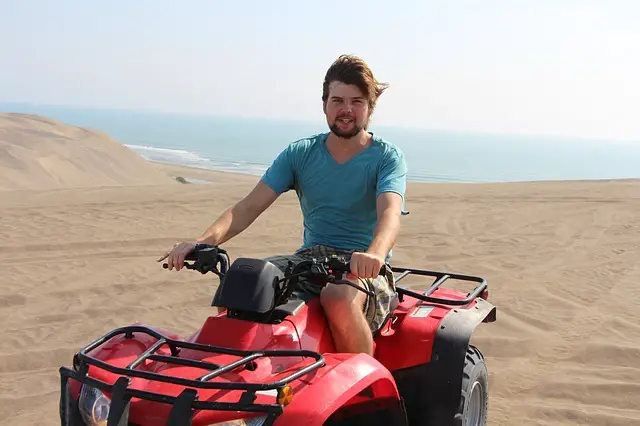 Your professional guide will lead you by ATV through 100 acres of Cabo coast line and desert, including up mountains, canyons, riverbeds and to the beach along the Sea of Cortez. Ride single or double....
Duration: 4 hours
Activity Level: Medium
Note: Must have valid driver's licence to drive.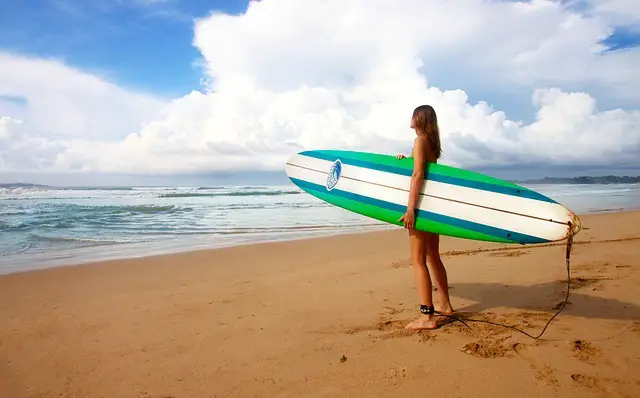 Only a 5 minute walk from the pier, experience surfing at one of the best spots in Mexico - the Costa Azul. Begin your lesson on the beach learning surfing basics, then your expert trainer will help you in the water to put your learning into practice....
Duration: 4 hours
Activity Level: High
Food: Snack and beverage included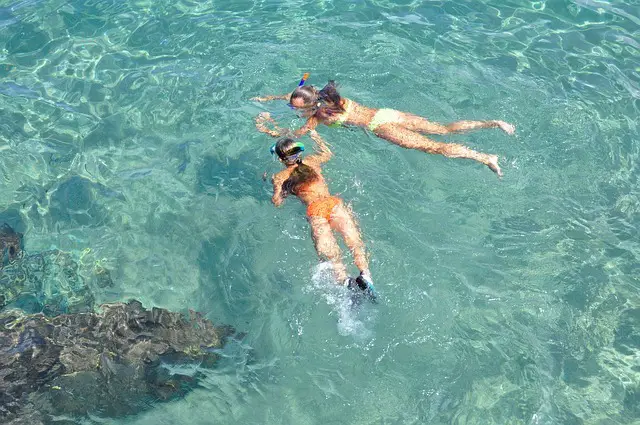 This half day guided tour starts with a  cruise along the Golden Coast of the Sea of Cortez which takes you to the Chileno Reef, known for its excellent snorkeling. Enjoy Cabo sights like the famous Arch,  all while sipping on a cold drink from the spacious boat....
Duration: 4 Hours
Activity Level: Medium
Food: Lunch and open bar included
Tour Includes: Snorkel gear and life vests