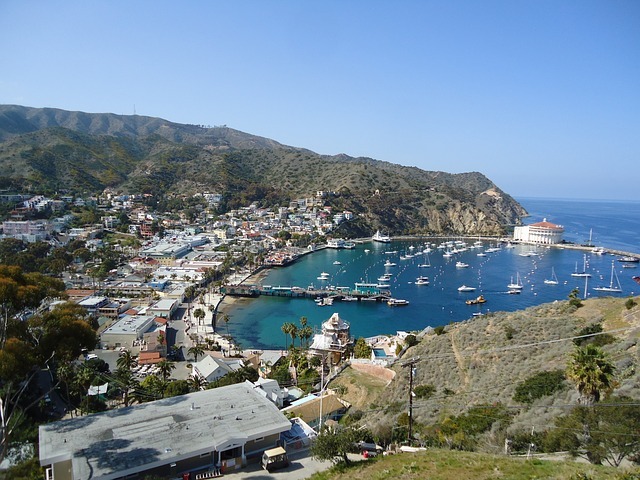 Located about 22 miles off the coast of California, just south of  Long Beach, Catalina island is a paradise within the United States. The island abounds with bright colors and splashing Caribbean waters. Southern California has the distinction of being one of the most sun-friendly places in the world.
Whether you want to relax on the beach, hike the inland trails, or explore the water from above or below, you will find an adventure of fun or relaxation in Catalina.
Where You Dock in Catalina Island – California
Several of the world's top cruise lines come to Catalina Island with a cruise schedule that runs year round.
Due to the infrastructure of the island, cruise ships coming into Catalina anchor in the harbor outside of Avalon and you will be brought to shore by smaller shore boats which bring you to Green Pleasure Pier, and Crescent Ave., which is the four block shore-side center of Avalon.
On either side of the pier you will find a beach along the island's shores if you choose to take in a little sun before heading into town.
Getting Around Catalina Island – California
Catalina is a relatively small island with a population of around 3,500. As such there is an inviting small-island charm.
Getting to and from mainland California can be done by sea or air. Helicopter rides will bring you to the mainland within 20 minutes, and boats going to any of four mainland ports San Pedro, Long Beach, Newport Beach or Dana Point will take about an hour.
To explore the island, there are several types of transportation. Avalon, the main town is less than one square mile and is easy to travel on foot. However, to explore further out you may want to use alternative forms of transportation such as taxi, trolley, or shuttle bus:
Taxi: Taxis provide pricing as a flat rate from one destination to another, and as a metered ride, which is established in taxi rate card inside the taxi.
Trolley: The Avalon Trolley will take you from the Wrigley Botanical Garden and through Avalon. You pay the driver in cash: $2 one way, $4 roundtrip, and $7 for an all-day pass. You can either call ahead, or catch a taxi on the run, however reservations are not generally taken for rides within Avalon.
The shuttle bus, also known as the Safari Bus, links Avalon and Two Harbors with several stops in between.
Rent a bicycle or Segway: There are several places to rent a bike or Segway for a day within Avalon. While this gives you a fun and easy way to explore the town and island, most rentals only operate as a single day rental, with reservations that can be made one day in advance.
Rent a golf cart: There is limited access to cars on Catalina Island, as the waiting list to bring a car on the island is close to 14 years. This has enabled golf cart rentals to become one of the islands main sources of travel for tourists.
Shopping In Catalina Island – California
The main shopping area on Catalina Island is strolling downtown Avalon. With a leisurely stroll through downtown you can find a variety of unique independent shops. As Avalon is primarily a tourist destination you can expect to find the same within the shops with resort-style clothing, souvenirs, handmade crafts, jewelry and artwork.

Dining In Catalina Island – California
Restaurants on Catalina are generally Mexican, American, and seafood with aspects of Mediterranean. Most restaurants are found within a short walk from each other in Avalon, with a variety of venues from casual to fine dining.
You have several options in regards to ocean or island view, popular tourist dining, or quaint, and quiet private dining. For an idea of what you can expect, here are a few dining options to start out with:
Steve's Steakhouse:The only classic steakhouse on the island. Enjoy your steak as you take in some of the best harbor views on the island.
The Lobster Trap:Casual Seafood, steak, and pasta joint with a full bar.
Luau Larry's: Great drinks, food, and atmosphere highlighted with music and a quirky island feel that may have you thinking you are in the Florida Keys rather than Southern California.
Avalon Grille: One of the newer restaurants on the island. Avalon Grille serves American regional food, has a small bar, and indoor/outdoor seating.
Catalina Coffee and Cookie Company:A great coffee shop with a variety of caffeinated and bakery options. It is also the only frozen yogurt fruit bar on the island.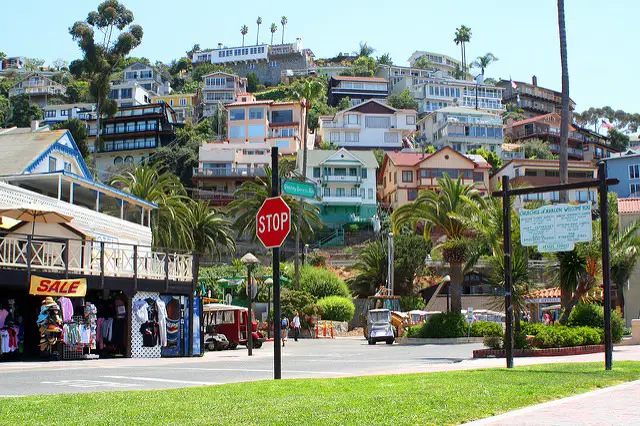 Things To Do in Catalina Island – California
For a small island Catalina has a lot to offer. It is truly for the outdoorsy type, offering a variety of inland hiking and biking options as well as water sport, and more adventurous activities. If you prefer a more relaxing adventure you can rest on the beach, enjoy 18 holes of golf, or take the island casino walking tour.
Undersea Expedition: A great way to view beautiful life underwater as you travel five feet underwater in a spacious, climate-controlled cabin. Every person has their own porthole to view sea life from as well as the ability to move around and explore other views.
Casino Walking Tour: Take a trip back to the 1920's as you stroll within the Catalina Casino. Explore where big bands once played and the world famous Catalina ballroom.
Zip Line Eco Tour: Explore Catalina history and wildlife via zip line. The zip line travels ¾ of a mile with 5 separate zip lines that travel up to 300 feet above the canyon, nearing 40 mph.
Cape Canyon Expedition: Venture into Catalina's backroads to discover the ruggedness of Cape Canyon from rugged middle ranch canyon, to the steep Sheep Chute where the Catalina Bison are often found. Enjoy a bit of adventure in a 12 passenger eco-friendly H1 Hummer.
Kayaking: There are daily guided kayak excursions and kayak rentals available Descanso Beach Ocean Sports, Wet Spot Rentals, and Catalina Tours.
Snorkeling and SCUBA: If you think Catalina is beautiful above water, you will be amazed below. Snorkeling and SCUBA rentals and guided tours can be found in both Avalon and Two Harbors.
Golf
Catalina Island offers one 18-hole golf course originally built in 1892 and is considered the oldest running golf course West of the Mississippi river. It is a 2,100-yard course with two sets of tees for 18-hole play.
In addition, there is a miniature golf course within a garden-like setting, and less than a block from the ocean.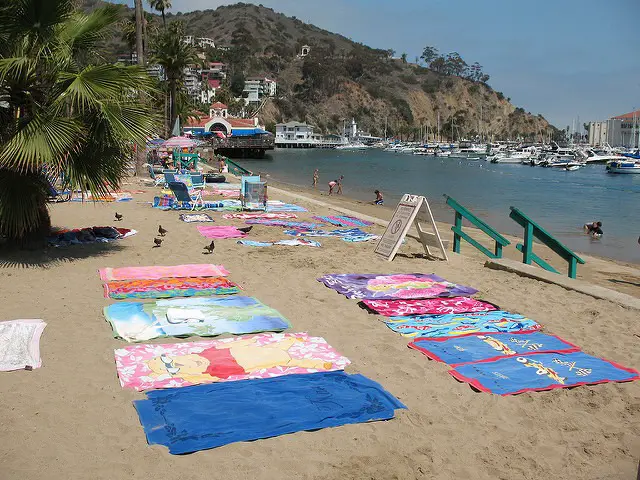 Beaches
Descanso Beach: There is a $2 per day fee to enter the beach. The beach is located on the far side of Catalina Casino, and is a two-tiered private beach with several water sport and beach amenities.
South Beach and Middle Beach: Both beaches are located alongside Green Pleasure Pier, each on the other side of the pier. Enjoy your day sitting out in the sun, or take the short walk to Avalon for food, drinks, and shopping. Life guards are on duty during the day.
Step Beach: Located a short distance from South Beach and Middle Beach, Step Beach is a small strip of sand that stretches into deeper ocean waters. Life guards are on duty at posted times of the day.
Two Harbors: Enjoy the beach and water activities from both sides of the Two Harbors Pier. The beach has a sand volley ball court, as well as water and sport rentals from Two Harbors Dive and Recreation.
Top Tours & Excursions In Catalina Island – California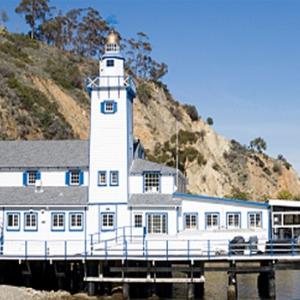 Scavenger hunts are available for those renting a golf cart and those who do not. This adventure is part scavenger hunt, and part history tour. This is a fun excursion if you enjoy solving puzzles and competing in challenges....
Activity Level: Easy
Note: You must have smart phone with internet capability to complete tour. Recommended for groups of 2-5. Beverages available if renting golf cart.
Book Now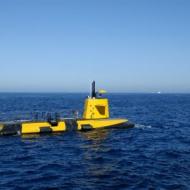 A semi-submersible tour of the Catalina marine life. Enjoy a wealth of fun-facts, and even feed fish, using the submarine's "torpedo" button....
Duration: 45 Minutes
Activity Level: Easy
Note: Must be able to walk onto vessel and take 3 steps down into sitting area.
Book Now