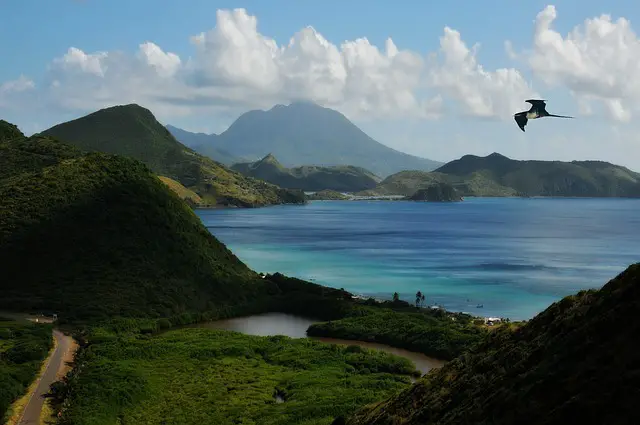 Located on the smaller of the two islands that make up St. Kitts & Nevis, Charlestown Nevis is a quiet haven with lovely beaches and a much smaller tourist crowd. A towering volcano rises from the center of the island, its green slopes covered with lush rainforests. Most cruises stop at its sister island, St. Kitts, so if you're lucky enough to have a stop in Nevis, chances are you will be the only cruise ship there.
Charlestown has a small population of only 1,500 people. The buildings of the town are unique - due to a history of earthquakes toppling the second floor, the lower floor is built of concrete, while second levels are usually wood.
Check out these excursions in St. Kitts!
Where You Dock in Charlestown Nevis & St. Kitts
Cruises anchor offshore and passengers are tendered to the dock in Charlestown. Downtown Charlestown is within walking distance of the tender pier.
Getting Around Charlestown Nevis & St. Kitts
Buses and taxis are the main methods of transportation in Nevis. For a trip North out of Charlestown, the buses wait at the south-west end of D. R. Walwyn Plaza. If your destination is south, you will want the buses waiting at the north side of Memorial Square.
If you have questions, don't hesitate to ask your bus driver.
Shopping In Charlestown Nevis & St. Kitts
The Cotton Ginnery Mall is located within walking distance of the tender pier. This restored stone building now houses shops and restaurants including clothing stores, a local craft shop, among others.
Dining In Charlestown Nevis & St. Kitts
Turtle Time Beach Bar & Grill – Pinney's Beach – Casual atmosphere and great food right on the beach. Turtle Time is one of the most highly recommended restaurants on the island!
Joe Nevis – New Castle – This extremely casual cafe is known for its home-cooked food, free wifi and inexpensive meal options!
Things To Do in Charlestown Nevis & St. Kitts
Botanical Gardens of Nevis – Some of the world's rarest plant life can be found in these incredible gardens. A combination of water features, artwork and beautiful landscaping makes it the perfect place to relax and enjoy the wonderful weather.
Nevis Peak Hike – The full hike isn't for the faint of heart and requires hiking boots and likely a guide. There are several hikes through the lower slopes of the volcano that most people can do regardless of physical fitness. Bring a water bottle and leave at least 3-4 hours aside for the full hike.