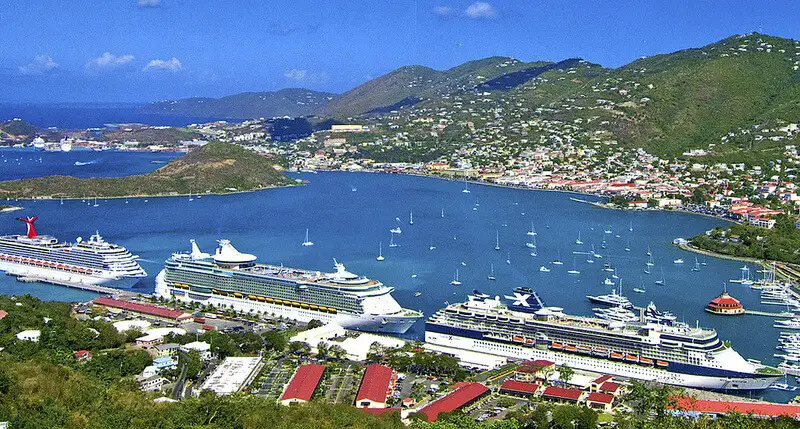 Once a haven for famous pirates such as the well-known Blackbeard, Charlotte Amalie is now one of the busiest ports of call in the Caribbean. It is known for its Danish architecture, a rich pirate-filled history and duty-free shopping opportunities.
Check out these excursions in St. Thomas!
Wireless Internet:
There are a significant number of establishments with complimentary Wifi including but not at all limited to: Big Kahuna Rum Shack - 5130 Dronningens Gade #1 Hooters- Suite C, Buccaneer Mall, Havensight Barefoot Buddha - 9715 Estate Thomas   Due to the fact there are several possible locations that each cruise ship can dock at, checking with the crew of your cruise ship will likely be the best way to find good Wifi near your dock in Charlotte Amalie.  
Where You Dock in Charlotte Amalie – St. Thomas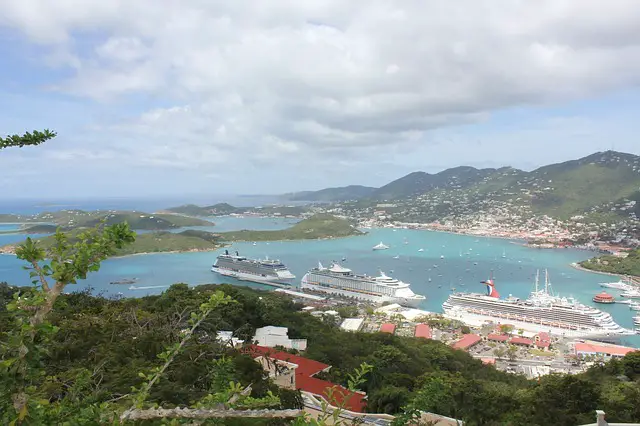 There are two St. Thomas cruise ports in Charlotte Amalie. The first is the Havensight Pier, also known as the West India Company Dock, where most ships will dock. The second is Crown Bay. There are more than 50 shops and restaurants located right at the pier, with other stores (including K-mart) located nearby.
Because Charlotte Amalie is such a busy port is it also possible that passengers will be tendered in to the Charlotte Amalie Harbor or to the Crown Point Marina.
Getting Around Charlotte Amalie – St. Thomas
Walking is possible from the Havensight Harbour to downtown but not recommended from Crown Bay. Taxis are readily available from both ports. Official taxis are regulated and can be confirmed by the word 'taxi' that is always part of their license plate. A fare schedule is available for anyone who asks as taxis are not metered but fees are calculated based on number of people and the destination. Be careful of taxis that don't have the official license plates. It is a 5-10 minute taxi ride from the port to downtown Charlotte Amalie.
Car Rental companies are located within walking distance from the port in Havensight and is a great way to see the island at your own pace IF you are comfortable with left-side driving. If you are from the United States, your driver's licence is valid for 90 days in St. Thomas. If you are from a country other than the U.S., you will need to purchase a temporary international driver's permit.
There is an extensive bus system however it is rather complicated and if time is limited, it wouldn't be recommended.
Shopping In Charlotte Amalie – St. Thomas
With its reputation for duty-free shopping opportunities, Charlotte Amalie won't disappoint. In the downtown area alone there are over 100 jewellery stores filed with gemstones, precious metals and every form of glitz and bling imaginable.
Havensight Mall – Right next to the Havensight Pier is an extensive outdoor mall with shops that range from the expected jewellery stores to shops that sell electronics, clothing, beauty supplies and much much more. The mall provides a free shuttle from the dock to the mall for cruise ship passengers.
Yacht Haven Grande Marina– Long Bay Rd – A more upscale mall, the Yacht Haven Grande is a clothing lovers paradise. Here you'll find luxury stores such as Louis Vuitton, Gucci and more.
Dining In Charlotte Amalie – St. Thomas
Room With a View – Bluebeard's Castle – Known for their extensive menu, seafood dishes and, as the name suggests, a fantastic view. They have one of the largest wine cellars on the island, fine liqueurs and a flambé that can't be passed up.
Beuchert's Beer Garden – 17 Main Street – Tucked away from the hustle and bustle is a beer garden with fantastic food and even better prices. They have a reputation for a friendly atmosphere and a small-town vibe.
Scoops & Brew – Crown Bay Marina – Not more much than a little hut, Scoops & Brew is the perfect place to hit up if you're looking for a good cup of coffee or a sweet treat!
Things To Do in Charlotte Amalie – St. Thomas
Blackbeard's Castle – Built in 1676 at the highest point on Government Hill, the tower was once used as a lookout to identify enemy ships. At forty feet tall with six foot walls, it is an incredible vantage point that offers what can easily be called the best view of Charlotte Amalie Harbor. Optional Rum Tour Available!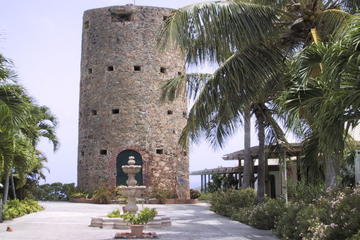 Magic Ice – In the heart of the Caribbean one wouldn't generally expect to find an attraction where gloves and warm shoes are provided, but this Scandinavian-inspired ice gallery is exactly that. It is a permanent 10,000 sq ft Ice Gallery with ice walls, sculptures and an ice bar. What better place could you find to cool off on a Caribbean summer day?
Top Tours & Excursions In Charlotte Amalie – St. Thomas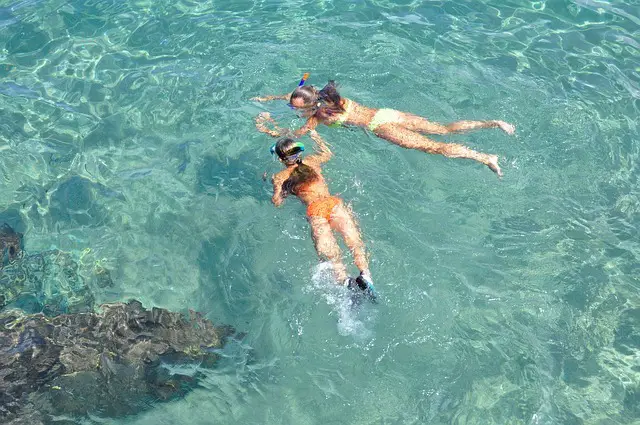 Climb aboard a Morgan 46-foot ketch for this half-day sail and snorkel St. Thomas excursion to the Marine Sanctuary, where you'll have a date with a giant green sea turtle. To begin your St. Thomas excursion, you will sail past the cruise ships as you head for the open sea on a 25-minute boat ride. The professional and courteous crew will greet you with complimentary drinks and snacks. After the yacht anchors in Turtle Cove, the crew will offer p...
Duration: 3.5 hours
Activity Level: Moderate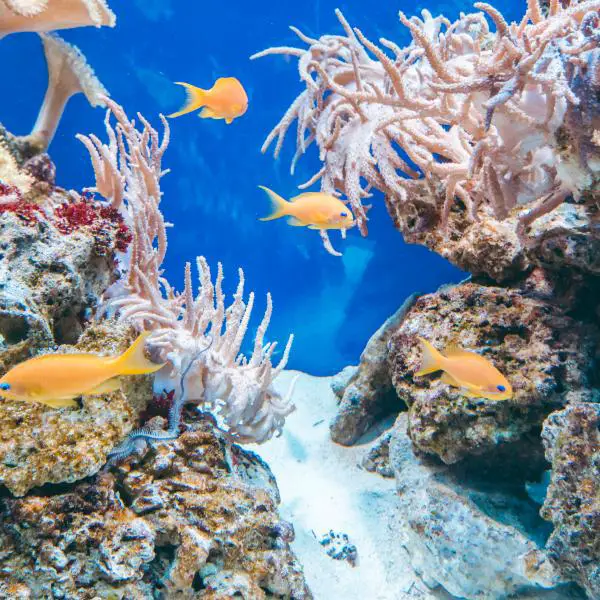 Travel to one of the best marine parks in the Caribbean and spend time at its nearby beach, all in one day.  After being picked up at the pier, you will have a direct transfer to the park.  Explore the numerous exhibits which include: The Undersea Observatory Tower, the Caribbean Reef Encounter, Shark Shallows, Stingray Lagoon, Turtle Pool, and Critter Corners. Your Coral World pass is good for the day allowing you the opportunity to come and g...
Duration: 7.5 hours (6.5 hours activity duration)
Activity Level: Moderate
Tour Includes: Transportation and admission to Coral World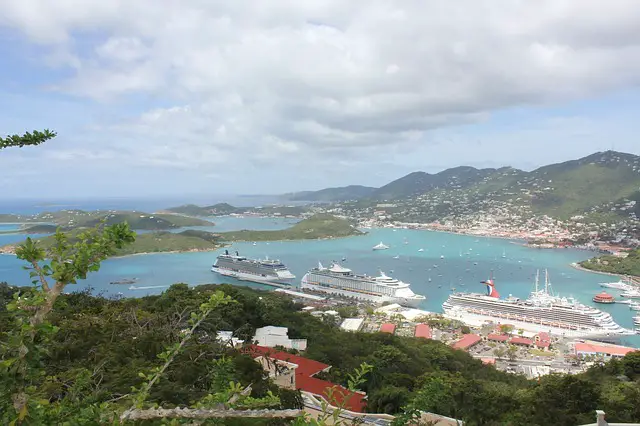 This is a two-hour orientation tour of St. Thomas, with stops at some of the island's highlights and exciting views of the island itself. Riding along the crest of St. Thomas on "Skyline Drive," visitors are treated to vistas of Charlotte Amalie town, harbor as well as Hassel and Water Islands to the south; the Atlantic Ocean, Magens Bay, and Inner and Outer Brass and Hans Lollick islands to the north; and the chain of cays leading to St. John an...
Duration: 2 hours minimum
Activity Level: Low