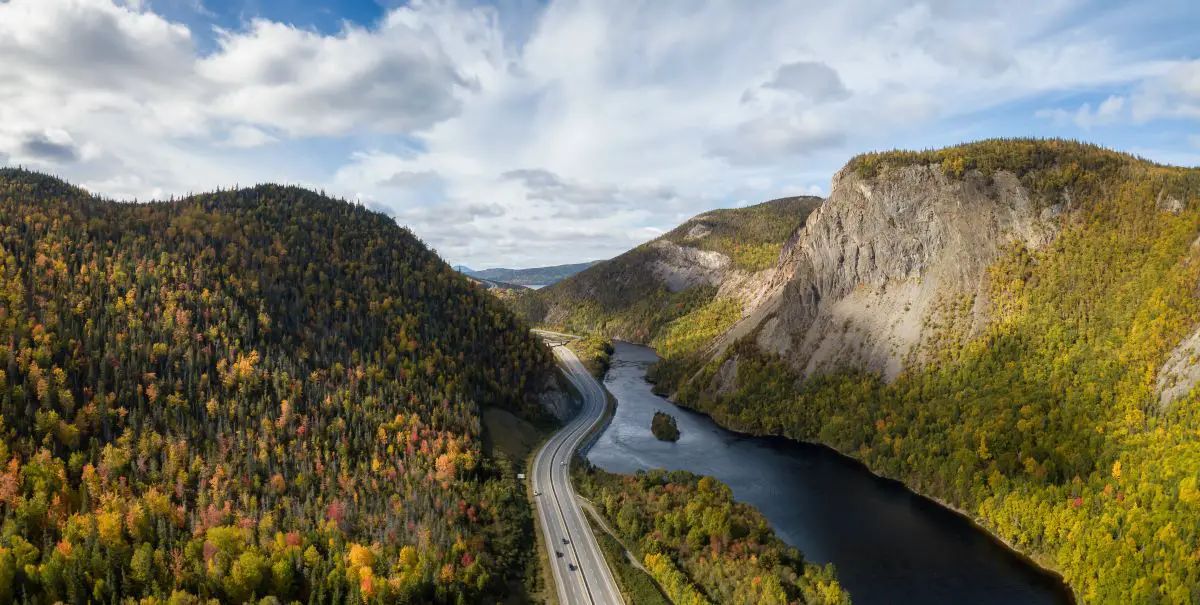 Located in eastern Canada, Newfoundland and Labrador is a province that shares its eastern and southern borders with the Atlantic Ocean. One of the largest provinces in Canada, to the north it is bordered by the Labrador Sea and Quebec lies to the west. The coastal region of Newfoundland and Labrador is characterized by rocky cliffs and a rugged shoreline with major bays and inlets. Corner Brook is a city located on the west coast of the Canadian province of Newfoundland and Labrador. It is the largest city in the western part of the province, with a population of around 20,000 people.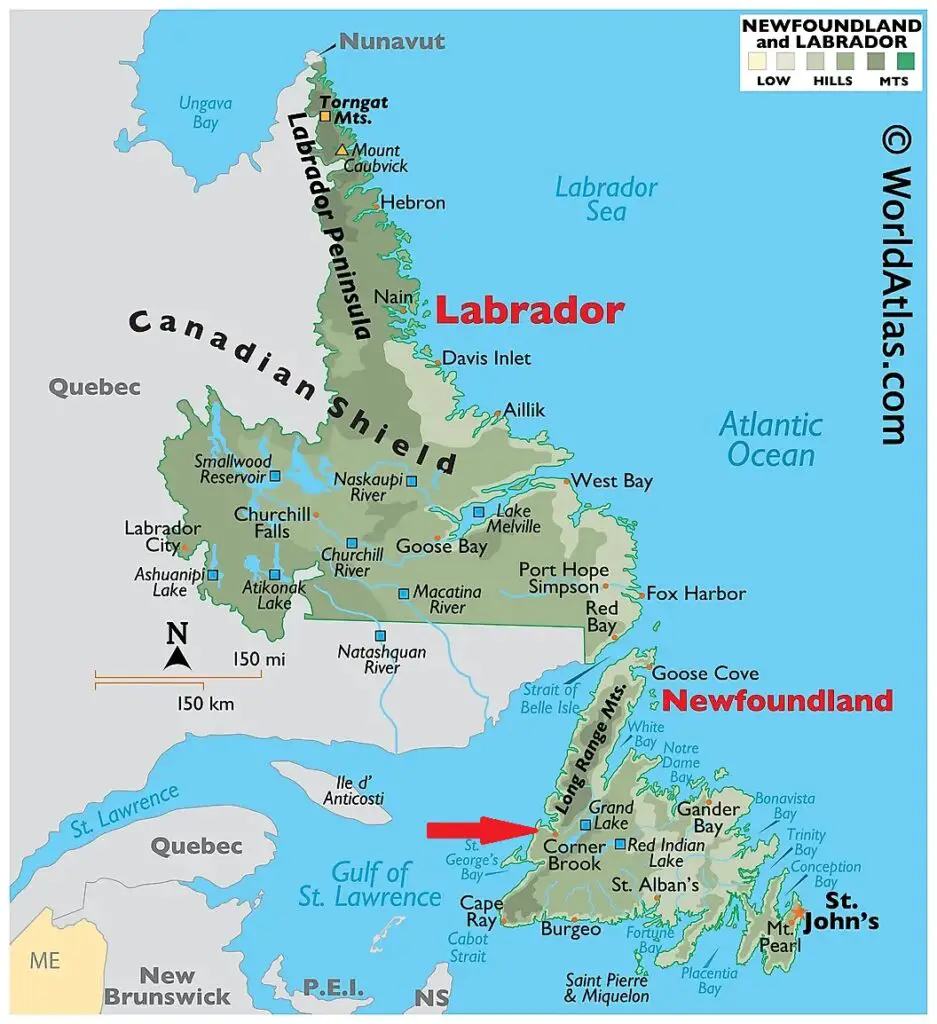 Corner Brook is situated in a scenic area of Newfoundland, surrounded by the Long Range Mountains and located on the shores of the Bay of Islands. The city has a rich history, dating back to the early 20th century when it was founded as a pulp and paper mill town. Today, the city's economy is still largely based on forestry and related industries, although it has also diversified into education, healthcare, and tourism. One of Corner Brook's main attractions is its natural beauty. The surrounding mountains and coastline offer ample opportunities for hiking, kayaking, fishing, and other outdoor activities. There are several parks and trails in the area, including the popular Marble Mountain Ski Resort, which offers skiing and snowboarding in the winter and hiking and mountain biking in the summer. In addition to its outdoor attractions, Corner Brook has a vibrant arts and culture scene, with several galleries, theaters, and festivals throughout the year. The city is also home to Memorial University's Grenfell Campus, which offers a variety of degree programs and community outreach initiatives. Corner Brook is located in a valley of rolling hills at the east end of the Humber Arm from the Bay of Islands. A well protected anchorage, this area was made famous by Captain Cook, British explorer and cartographer.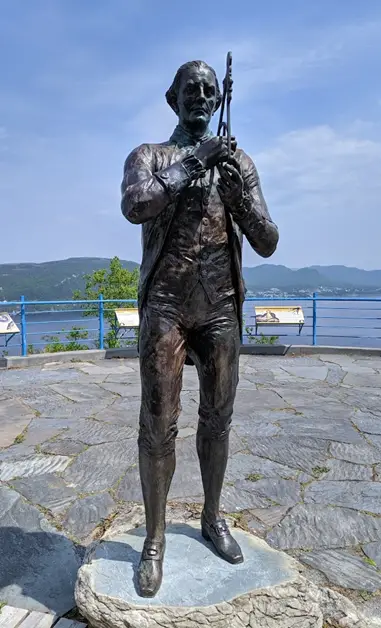 Corner Brook was charted and named by Cook in 1767. A monument in his honor sits on a hill overlooking the city and harbor. Overall, Corner Brook is a charming and picturesque city that offers a unique blend of natural beauty, history, and culture.
Interesting Story About Newfoundland & Labrador
There are stories everywhere you go, but Newfoundland and Labrador have a very big story. On September 11, 2001, the United States Federal Aviation Administration shut down its airspace. That decision forced over 4,000 planes to land at their nearest airport. Inbound flights from Europe were diverted to Canada. Because of this, 38 planes with 7,000 passengers were redirected to Gander, Newfoundland and Labrador, which is about 3 hours from Corner Brook. For an area with a population of 10,000 people, the influx of almost 7,000 people was going to be a challenge. Those stranded passengers are taken to Salvation Army centers, churches, schools and community centers. When those became full, the residents of Gander began showing up at the airport to offer shelter in their own homes. This event was later turned into a book and musical. The musical opened on Broadway in March 2017 to sold out audiences and went on to win a Tony. The musical and book were named after the Newfoundland slang for anyone who comes from elsewhere to visit, "Come From Away," is well worth learning more about.
Learn more about the story here.
Where You Dock in Corner Brook – Newfoundland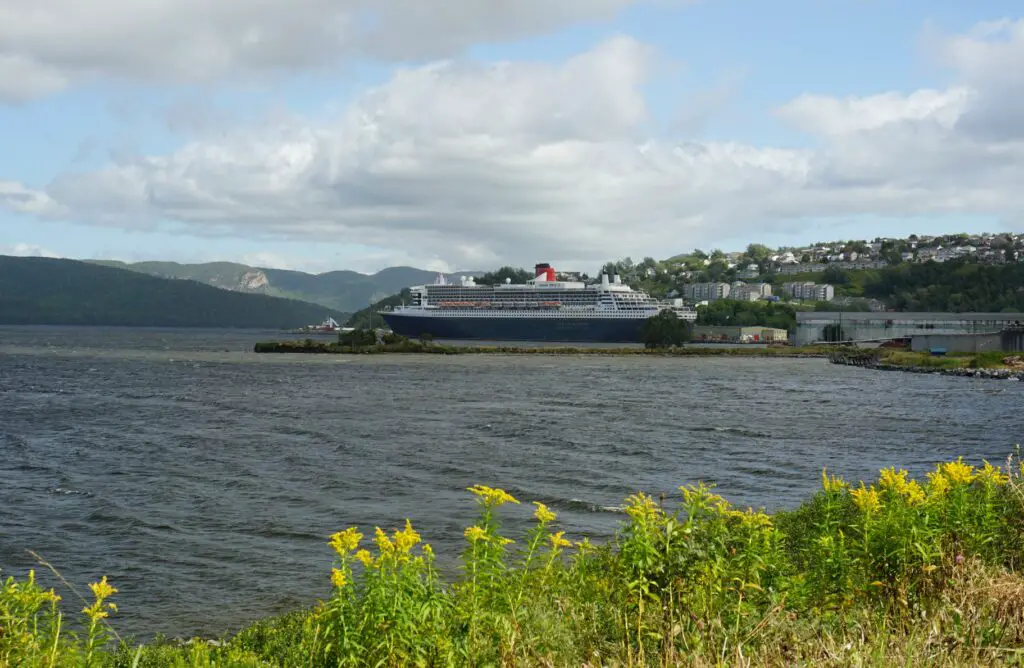 The port at Corner Brook is a sheltered, deep water port located in Western Newfoundland. While it is accessible year round, cruise ships only visit during the summer and fall.
The dock at Corner Brook is multi-use for oil tankers, fishing vessels, ferries, barges and cruise ships so there aren't many amenities for cruisers, but a few pop-up shops will line the docks and WiFi is available in the immediate port area. Complimentary maps and tourist guides will be available also.
Getting Around Corner Brook – Newfoundland
Walking
Corner Brook is a city situated on large hills, so while the city itself is walkable, you need to be able to physically handle the terrain if you venture outside the main downtown area.
Buses
There is a free shuttle bus into the downtown, which is a very short ride. The buses are yellow school buses, so it is easy to identify them.
The buses will run about a half an hour after the ship's arrival and operate throughout the ship's visit, until about one hour prior to the ship's departure.
Taxis
Taxis will be available dockside and offer flat rates for area tours.
There are several cab companies operating in Corner Brook, NL, including:
City Wide Taxi  Phone: +1 (709) 634-4444
Star Taxi & Shuttle Service – Corner Brook  Phone: +1 (709) 634-4343
Corner Taxi Ltd – Phone: +1 (709) 634-5662
These companies provide taxi services for local transportation, airport transfers, and other transportation needs in and around the Corner Brook area.
Rental Cars
 You must be 21 years or older to rent a car in Corner Brook. Also required are a valid driver's license and a major credit card. At the time of rental, you will need to provide evidence of a transferable auto collision and liability policy.
Enterprise Rent-A-Car  +1 (709) 634-6633
Hertz  +1 (709) 700-0714
Dollar Car Rental  +1 (877) 283-0898
Shopping In Corner Brook – Newfoundland
Corner Brook, NL is a great place to shop for local crafts, souvenirs, and unique gifts. Here are some popular items you might consider shopping for:
Handcrafted Newfoundland and Labrador souvenirs: You can find a wide range of souvenirs that showcase the Newfoundland and Labrador culture, including traditional clothing, artwork, and crafts.
Seafood: Corner Brook is located near the ocean, which makes it a great place to shop for fresh seafood. You can find a variety of seafood such as crab, lobster, shrimp, and cod.
Local products: Corner Brook is home to many local producers, such as breweries, wineries, and distilleries. You can find a variety of local products like beer, wine, spirits, and even chocolate.
Outdoor gear: If you're an outdoor enthusiast, Corner Brook is a great place to shop for outdoor gear. You can find a variety of outdoor gear, including hiking boots, camping equipment, and fishing gear.
Overall, Corner Brook offers a variety of unique shopping opportunities that showcase the Newfoundland and Labrador culture, and it's a great place to find locally made souvenirs and products.
Shopping Centers
Valley Mall on Mt. Bernard Avenue (1.6 miles from port) – grocery store, small department store, health store
Corner Brook Plaza on Maple Valley Road (3 miles from port) – Larger mall with clothing stores, a few food options, banks, sports store
Local Shops
This antique & souvenir shop carrys a large assortment of Newfoundland-made items. You will find jams and candies, souvenirs, post cards, local arts and crafts and books.
Located in the Corner Brook Plaza mall but family operated since 1982, you'll find all things Newfoundland including clothing, music, and great souvenirs.
 

View this post on Instagram

 
Dining In Corner Brook – Newfoundland
Newfoundland cuisine is heavily influenced by the province's history and geography, with a focus on local seafood, wild game, and hearty comfort foods.
There is no shortage of seafood in Corner Brook, and just as many fast food spots in the city, too. Here are a few examples of common foods you may find in Corner Brook and the surrounding areas:
Cod: As a coastal town, Corner Brook is known for its fresh seafood, particularly cod. This white fish is a staple of Newfoundland cuisine and can be prepared in a variety of ways, such as pan-fried, baked, or boiled.
Moose: Moose meat is a popular game meat in Newfoundland and Labrador, and it's often prepared as a stew or as a roast.
Jiggs Dinner: A traditional Newfoundland boiled dinner that typically includes salt beef, cabbage, turnip, carrots, potatoes, and peas pudding.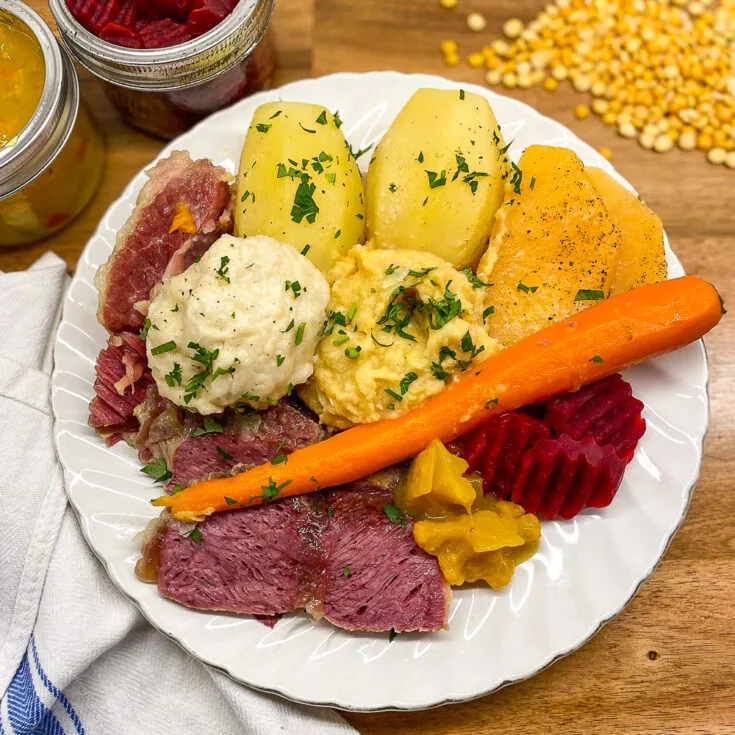 Toutons: A fried dough pastry that is often served with molasses or syrup for breakfast or as a snack.
Bakeapple jam: Also known as cloudberry jam, this tart and sweet jam is made from a wild berry that grows in Newfoundland and is often served with toast or scones.
Restaurants
A cafe with lunch offerings, baked goods and great service. Vegetarian friendly. Outdoor seating is available.
Offering breakfast, lunch and dinner, the Best Coast Restaurant located in the Hew & Draw Hotel uses local products in their menus. The fish of the day, braised lamb shank, and garlic butter shrimp are some of the favorites.

This popular restaurant is the one of the highest rated in the area and serves up delicious sushi and other Japanese-inspired dishes, made with fresh, locally sourced ingredients.
Things To Do in Corner Brook – Newfoundland
Hiking and Walking Trails
Corner Brook and area has an extensive network of parks and hiking, biking and walking trails for various levels. Within the city, you can access the Corner Brook Stream Trail, which winds through the town. If you're wanting a more extensive trail like Cape Blow Me Down Hiking Trail, which is part of the International Appalachian Trail, you can find them here, in the Western Region of the island.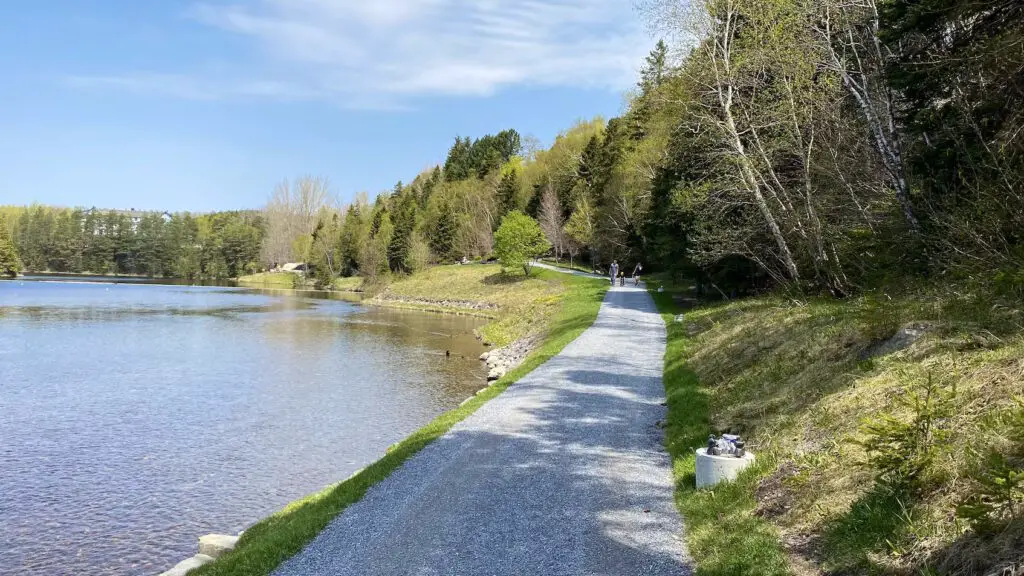 This small museum offers visitors a glimpse into the history of the city and the surrounding region. Located in one of Corner Brook's oldest buildings, you can learn about the local First Nations people, early settlers, and the forestry and paper industries that helped shape the city. Admission is $6 per adult and the museum is open daily in July and August, and Monday through Friday in June, September and October.
See Newfoundland's narrow gauge locomotive and cars at this small museum located near the cruise port. You can climb inside and experience what railway life use to be! Admission is only $3 per adult (cash only)
This gallery features contemporary and historical art by local and international artists. They also feature multi-media and virtual reality exhibits. They are the only public gallery in Western Newfoundland solely focused on visual arts and offer tours and programs throughout the year, with free admission.

Located about an hour's drive north of Corner Brook, Gros Morne is a UNESCO World Heritage Site because of its diverse landscape created by shifting continents and glaciers. From forests, to beaches, the barren Tablelands to fjords and mountains, this is a must-visit during your time in Corner Brook. There are programs and activities, boat tours, hikes and more.