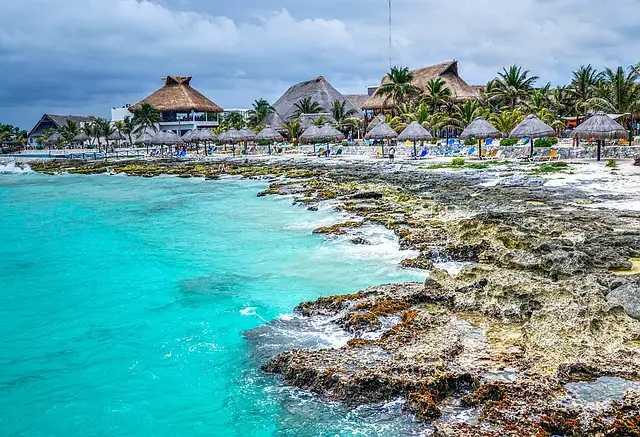 Located about 100 miles south of Playa del Carmen along Mexico's Caribbean coast, this cruise port at Costa Maya was built by developers for the express purpose of drawing cruise lines to its location. This cruise port highlights the ancient and colonial heritage of the Mexican Caribbean, but with today's modern conveniences.   Built in 2001, the port was virtually destroyed in 2007 when Hurricane Dean swept through the area. It was restored, damaged again in 2012 and has since been beautifully rebuilt.   Costa Maya cruise port and the surrounding area is a relaxing stop with beautiful white-sand beaches on the Mahaual Peninsula. Because of the proximity to the Mesoamerican Reef System, there is good diving and snorkeling here. The reef system is the second largest in the world after Australia's Great Barrier Reef.   Built to resemble a small-town Mexican village, Costa Maya comprises three grand pavilions, both artisan and luxury shopping areas, beach, saltwater pools and restaurants and bars.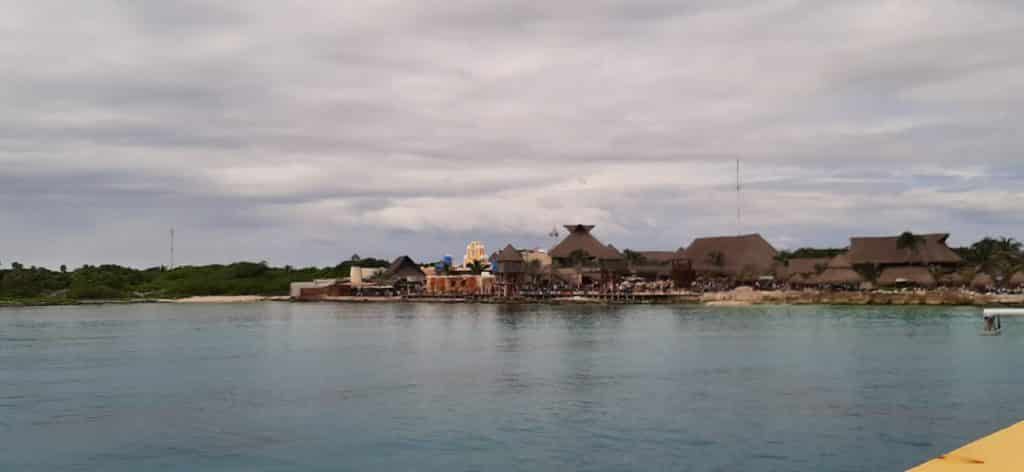 The same developers who created Costa Maya also redeveloped Mahahaul (also known as Majahual). This was a one-time fishing village of about 200 people. The stone embankment along the waterfront runs in front of a row of seaside hotels, restaurants and dive shops.   This development has been restricted to low-rise buildings and has also attracted a sizable Italian community. It is because of this influence from the Italian community that Mahahaul is sometimes compared to Tulum, a sleepy fishing town that has become a popular vacation destination.  
Check out these excursions in Costa Maya.
Where You Dock in Costa Maya – Mexico
The dock at Costa Maya can accommodate up to four cruise ships at once. This port has the capability to dock Oasis and Epic sized ships. The pier from the dock to the terminal (the faux village) is a long one. Fortunately, there are free trolleys that run in a continuous loop back and forth.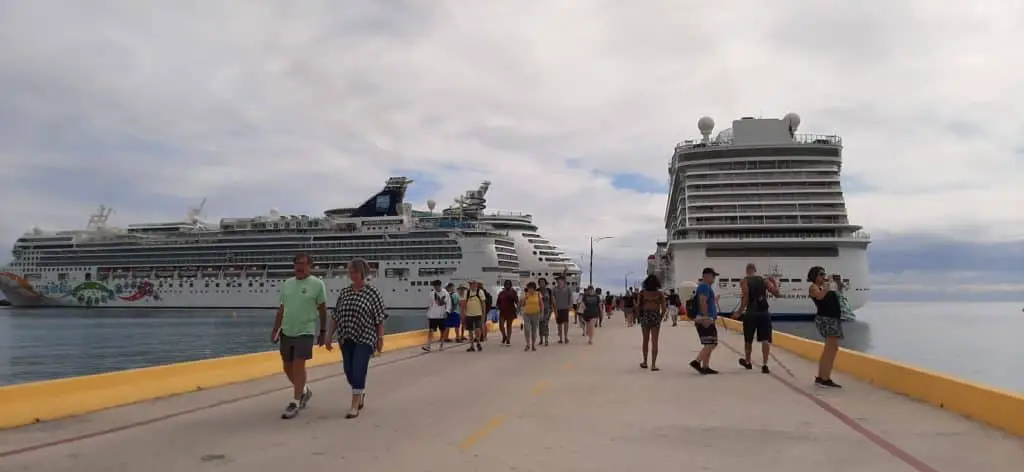 Many people choose to stay within the port area because there is lots to do – dining, shopping, large pool with swim-up bar, swimming with dolphins – but the meeting area for excursions is not far from the end of the pier.
Getting Around Costa Maya – Mexico
Walking:
The pier-side of the Mexican village complex can be explored by foot. While it is possible to walk into Mahahual, it can be a hot 45 minute walk.
Taxis:
There are taxis at the pier and in the town of Costa Maya. From the pier it is a short five minute ride to Mahahaul.
Buses:
If you want to take a bus to Mahahaul, there are shuttle buses located in the village behind the shopping area. Fares need to be paid beforehand and the tickets are sold at a booth that is in the same area.
Car Rental:
You can rent both golf carts (Mayahual Red Shirts Golf Carts in Costa Maya: 40) and cars in Costa Maya. While you won't need an international drivers license to drive in Mexico, you will need to present a credit card.
Check out car rentals in Costa Maya through Expedia.
Shopping In Costa Maya – Mexico
There are some of the typical shopping options in Costa Maya, such as Diamonds International, Crown of Light and Del Sol. There are also local artisans such as:
Artitice: Here you will find hand painted craft souvenirs that reflect the surrounding Mexico area.
Casa Rosa: You will find colorful Mexican apparel, ornaments and decorations.
Dahlia: Unique blankets, cups, plates made in traditional style and colors.
Huichol: Objects made in traditional Mexican artform that represents the indigenous culture of the Huichol.
Oaxaca: Hand carved stone and wood items .
Telarte: Handmade thread purses and bags.
Vidrio Rojo: Beautiful blown glass pieces.
Dining In Costa Maya – Mexico
There is no shortage of food options in the cruise port area and at nearby Mahahaul. You will find Mexican, Caribbean and American cuisine throughout the area. Seafood, lobster, shrimp and fish are in abundance too.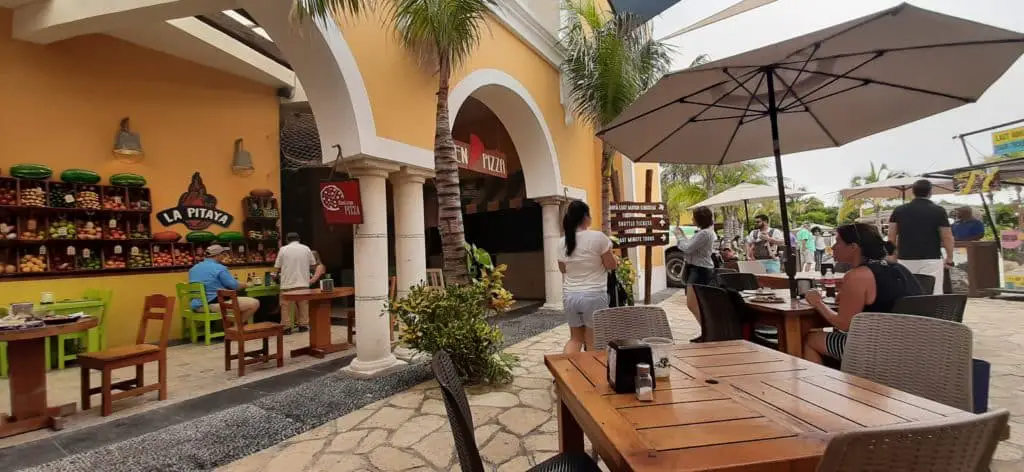 Restaurants Near The Dock
A good amount of these restaurants have menu prices listed in pesos. Make sure that if you are paying in U.S. dollars that you are able to do the conversion so you are charged accordingly. 
Cantina Latina:
This restaurant is in the main cruise area. They serve typical Mexican food and have a swim up pool bar. Besides nachos, tacos, fish and ceviche, the restaurant also serves burgers and salads.
Café México
This coffee shop is in the port area if you need a Starbucks fix. They also offer frozen and iced coffees, along with authentic Mexican coffee.
El Mero Mero
El Pan Dulce
Created fresh each day, the various Mexican bread recipes are enticing with their delicious smells.
Playa Coco
This bar is right by the water so you can enjoy your drink and have a great view of the Caribbean.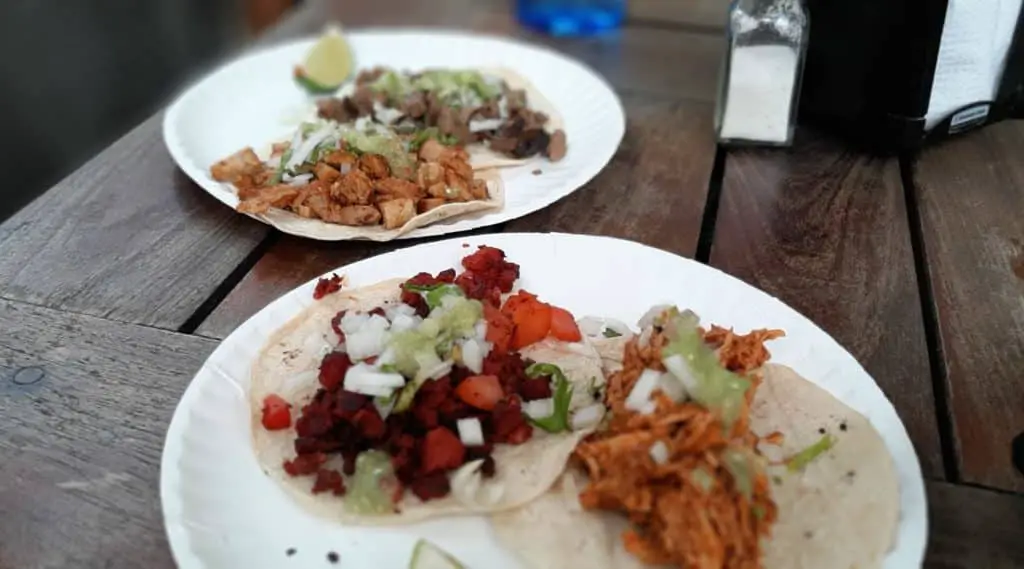 Restaurants in Mahahaul
Jamies's at The Blue Reef
Here you will find Mexican, Caribbean, Latin and seafood options. This restaurant is located in the Blue Reef hotel.
Tropicante Ameri-Mex Grill
The usual Mexican and Caribbean offerings, but the menu also has American fare along with seafood.
Pizza Papi
If you are looking for live music and pizza, Pizza Papi is the place for both.
Ki'Ha
You will find international cuisine and some of the best ice cream all within a mile from the port.
MJM Restaurant
Southern-Italian and Mediterranean cuisine is served at one of the more exclusive restaurants in Mahahual.
Things To Do in Costa Maya – Mexico
While this manufactured port is primarily a tourist region, there is more than enough in the area to occupy your time in the port.
This region of Mexico is home to some lesser-known but still important Mayan ruins.  The Chacchoben ruins are the site of a large Mayan community in 360 AD. Temple One still stands as testimony to the ingenuity of these ancient people. The jungle that surrounds Chacchoben is home to spectacular flora and inhabited by deer, peccary, armadillo, gray fox, spider and howler monkeys. The depths of the jungle will find jaguars, ocelot, puma and tapir.
There is a typical amusement park, called the Lost Mayan Kingdom Adventure Park that would be a favorite with the kiddos. Waterslides, ziplines, zip coaster and a lazy river would keep them busy the whole day.
Dolphin Discovery is a chance to swim with the dolphins. This is located in the cruise port area. You can purchase a ticket to experience this yourself, or watch from a distance for free.
The Bacalar Fort and Seven Colors Lagoon provides boat rides. One of these rides will take you to the Spanish Fort of Fuerte San Felipe Bacalar.
Beaches
There are several beach clubs along the malecon (a Spanish word for stone-built embankment) if you choose to spend the day lounging on the sand next to the waters of the Caribbean. The major cruise lines tend to recommend the Beach Escape Club, La Bamba Beach Club, Uchben Kah Eco Park and the Uvero Beach Club. Snorkeling, scuba diving, catamaran sailing, fishing and jet skiing are also activities that you can choose to participate in.
Top Tours & Excursions In Costa Maya – Mexico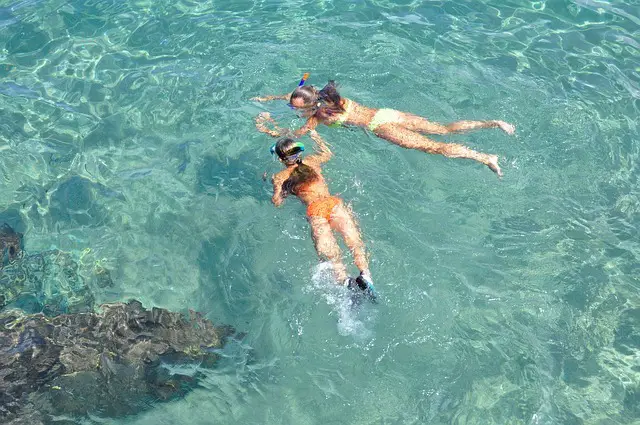 Spend two hours in the Mexican Caribbean snorkeling over vibrant coral reefs. This tour is in the area of the reef lagoon, between the reef crest and the beach. Expect to see eagle rays, sea turtles and coral fish. ...
Duration: 2 Hours
Activity Level: Easy
Wheelchair Accessibility: No
Food: Bottled water and light snacks provided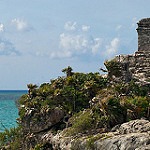 This tour will take you to the Chacchoben ruins with a guide that will share the history of the city and give insights to its past. In Chacchoben Village you will visit and have a meal with locals that consists of traditional Mayan dishes. ...
Duration: 5.5 hours
Activity Level: Moderate
Wheelchair Accessibility: No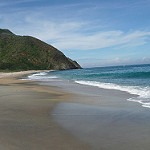 Experience the beauty of Costa Maya by first seeing the Mayan ruins of Chacchoben, then spend time in the crystal waters of kayaking, swimming or enjoying the sun....
Photo credit: Cristóbal Alvarado Minic / Foter / CC BY
Duration: 5.5 hours
Activity Level: Moderate
Note: Food/Beverages provided; only US cash or local currency accepted