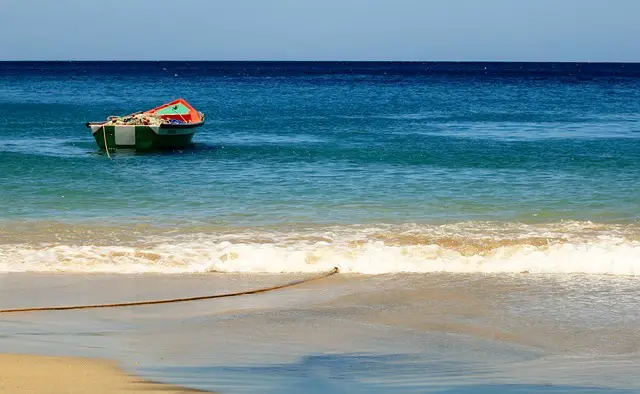 Fort-de-France is the capital of the Caribbean Island of Martinique and is one of France's overseas territories. Formerly known as Fort-Royal, the city boasts colonial architecture, with many of the buildings having ornate iron balconies that indicate its Creole culture. 
The city of Fort-de-France has streets of colorful shops and splendid architecture. The area itself is one of natural beauty made up of lush tropical forests, an active volcanic mountain, and pristine beaches. 
Part of the Lesser Antilles, Fort-de-France sits between Dominica and St. Lucia in Martinique. The French West Indies islands are Martinique, Guadeloupe, French Saint Martin, and Saint Barthelemy.
Almost two centuries after Columbus's first visit, French settlers arrived in Martinique in the mid-1600s and have remained ever since. Martinique was also the birthplace of Empress Josephine, and her childhood home is now a museum that contains love letters from Napoleon.
Martinique is one of the few islands that still grows sugarcane and bananas and has a respected reputation for producing unique rum.
Good To Know: Just be aware that the West French Indies are often like Europe in some of their policies. There is no smoking ban in facilities such as those you might find in the U.S. Most hotels and restaurants allow smoking in designated areas. If you are sensitive to cigarette smoke or just don't care to be around it, be aware that you need to inquire about smoke-free zones in establishments.
While there are no clothing-optional beaches on Martinique, topless sunbathing and swimming are common at hotel pools and on the beaches that are near hotels. Public beaches usually do not have changing cabanas or showers.
Need To Know:
Since January 1st, 2020, all cruise ship passengers that are booked on roundtrip itineraries from U.S. ports, including San Juan, Puerto Rico, that visit Martinique will need passport books. These are not passport cards or birth certificates. If you do not have a passport book, you may be denied boarding. Passport books are required for both adults and minors. They also must be valid for at least six months before the voyage ends.
The biggest difference between a passport book and a passport card is the eligible methods of travel. Passport books can be used for all entry methods into an international country, whether by land, sea, or air. Passport cards are limited to travel through land and sea borders only.
Here are two articles from NerdWallet that will give you more information on passport cards and passport books: 
Passport Card vs. Book: 4 Key Differences
Why You Need a Passport Six Months Before Your Trip
Check out these excursions in Martinique.
Where You Dock in Fort De France – Martinique
The port is located on the island's central-western coast at the mouth of the Madame River and is the largest port in Martinique. The island's Martinique Aime Cesaire International Airport and the French naval base, Fort Saint Louis, are also located at Fort-de-France. 
This port also serves most of the country's cargo shipping traffic, including the exports of cacao, rum, sugar, and tinned fruits.
Depending on your cruise line, your ship will either dock at the Pointe Simon pier or at nearby Tourelles, which is just a 15-minute walk to the center of town. The cruise ship terminal has a shopping complex with numerous vendors, and each ship is greeted by a local hostess in traditional Creole costumes.
Getting Around Fort De France – Martinique
By Car: You can rent a car to explore the island, and driving is on the right hand side of the road. Be aware that you will need an international driver's license to rent a car. 
It is also suggested that you rent from one of the U.S.-based firms in Martinique. This is because rental car services in the French West Indies tend to have confusing rates and stipulations. If you encounter an issue the customer service is also lacking. 
Budget has an office  at 30 Rue Ernest-Desproges, La Faie, Cruise Terminal, Fort-de-France. There is also an Avis located at Airport Martinique Aime Cesaire. 
When you rent a car, there is a value-added tax (VAT) of 8.5% on top of your final bill.
By Taxi: Be aware that local laws in Martinique require that all cabs MUST contain a working meter. The meter must also be on and functioning during transport. 
If you are given a flat rate quote, it is suggested that you find another taxi. If you are looking for a general tour of the island, it is acceptable to negotiate with the taxi driver.
Between 7 pm and 6 am, taxi services charge a 40% surcharge.
By Bus: There are two types of buses that operate in Martinique. Grands buses are the most common type of bus and will hold about 40 passengers. These buses travel within the city limits of Fort-de-France. 
If you want to travel outside of the city limits, the Taxis Collectifs are the ones that are used for these excursions. These minivans are privately owned, hold nine passengers, and have a TC sign on the vehicle. The routes that the TC takes are flexible and according to the needs of the passengers.
While the Taxis Collectifs sound like they might be the ticket for a day out, these privately owned vehicles might not be in the best condition and can be uncomfortable. Use your own good judgement before using this mode of transportation. 
By Ferry: If you want to go between Fort-de-France and the hotel and tourist district of Pointe du Bout, there are ferry boats that depart from rue de la Liberte in Fort-de-France. They are an inexpensive way to travel, and there are usually about 20 ferries that run in 60-minute intervals between 6:30 am and 9 pm.
Shopping In Fort De France – Martinique
Martinique has one of the better shopping experiences in the Caribbean. There is a wide variety of shops and boutiques that showcase local crafts in the best Creole tradition. You will also find unique artwork and the latest in French fashion. Fresh produce, spices, and the local rum are also available at numerous colorful stalls around the city.
Shopping in Rue Victor Hugo will give you high-end shopping options. This is where you will find the latest trends in French fashion. 
The Grand Marche, also known as Marché aux Epices (spice market), has been around since 1885 and operates as Fort-de-France's central marketplace. Here is where you will find fresh produce, spices, rum, crafts, and souvenirs. 
Galeries Lafayette Martinique is located near Fort-de-France in the Galleria shopping center. Here you will find clothes, accessories, toys, shoes, bags, suitcases, and just about everything in between.
If you are looking for jewelry that reflects the tradition of these French West Indies islands, Bijouterie Pascal de Rogatis has been crafting jewelry since 1946. They will offer unique rings, earrings, necklaces, and more.
Dining In Fort De France – Martinique
Spicy Creole dishes or the finest French wine and cheeses are available in the restaurants in Fort-de-France.
The Yellow offers fish, rice, vegetables, and mashed plantains. Duck and steak, along with seafood, are also options.
Le Petit Tonneau is an authentic Portuguese restaurant located in the middle of Fort-de-France. It is a small but cozy restaurant that serves top-notch Creole cuisine. Here you can dine on escargots, frog legs, duck, steak, and bacalhau. 
Head to Chez Carole, a Fort-de-France institution for a colorful setting. 
You can also dine on Italian fare at the La Tavola Italiana, or go for a tex-mex cuisine at Nuevo Mejico to get tacos, burritos, quesadilia and enchiladas.
If you are looking for something quick and easy, try The Melting Pot. It is a fast-service pasta bar. Staff will prepare and pack your meal quickly so that you can eat on the go.
Things To Do in Fort De France – Martinique
It may sound like hype, but to say Port-de-France is picturesque is an understatement. This seaside city has a breathtaking, natural beauty. The island's coasts offer different scenery, with the north being rugged and lush, and the south tends towards the romantic with brilliant white-sand beaches.
Here are a few of the things that you can do in Fort-de-France. There is a lot to see and do in this area, so you might want to do some research beforehand to narrow down your focus.
Bibliotheque Schoelcher: One of the most recognizable landmarks in Fort-de-France, this beautiful public library is named after Victor Schoelcher. He was a leader in the fight to free slaves in the Caribbean. This landmark was first built in Paris for the World Exposition in 1889. It was then disassembled and shipped to Fort-de-France to be reassembled.
 

 

View this post on Instagram

 
Mount Pelee: This volcano casts its imposing shadow over the island of Martinique. While the volcano is still active, it has been quiet since 1902. Take a hike to the summit for an awe-inspiring view.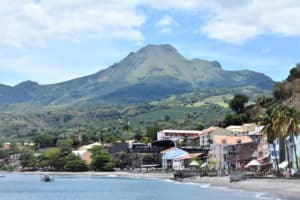 Balata Botanical Gardens: This three-hectare garden contains a spectacular range of flora, with over 3,000 species on display. Wander the carefully landscaped grounds and take a walk over the suspension rope bridge.
 

 

View this post on Instagram

 
Fort St. Louis: This fort towers 200 feet over a steep cliff and affords you some of the best views of both the city and the sea. Tours are available in several languages.
Pointe Du Bout: Directly across from the city of Fort-de-France and on the other side of the bay is Pointe Du Bout. This is one of the most popular resort areas in Martinique. Here is where you will find boutiques, cafes, and restaurants. Man-made beaches are close to this area, and most of them are equipped with deck chairs and umbrellas. Take one of the ferries that we mentioned before that run to and from Fort-de-France to get there.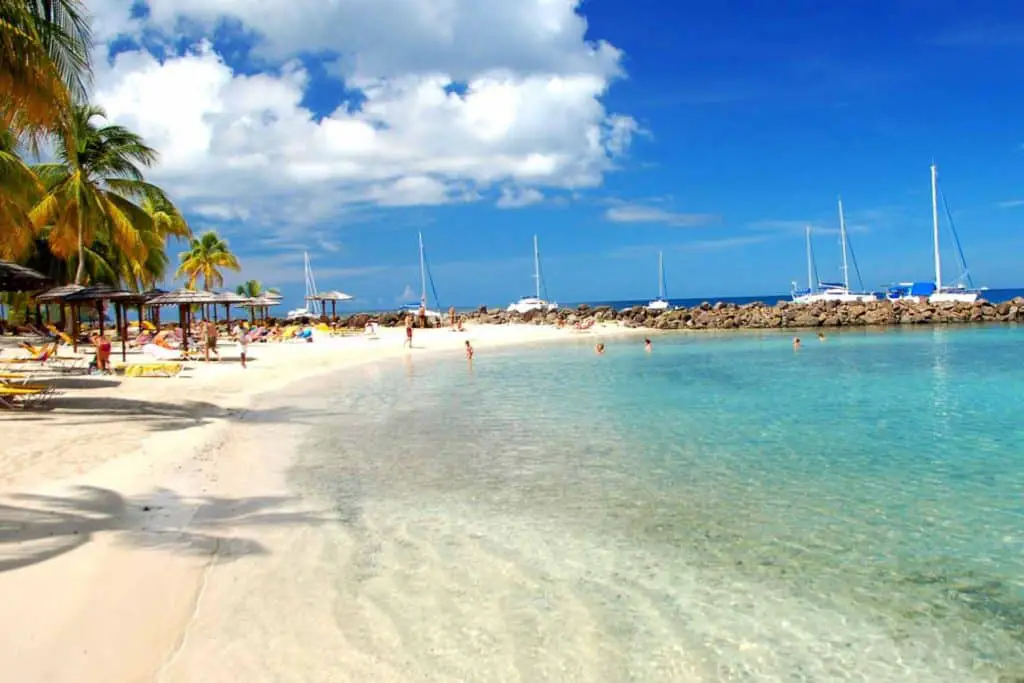 There are also dozens of excursions to take part in on the island, so check out these excursions in Martinique!