Great Stirrup Cay (pronounced "key") is Norwegian Cruise Line's private island. Located in the Bahama's Berry Island chain, it is close to Royal Caribbean's private island, Perfect Day.  Most of Norwegian's ships sail to Great Stirrup Cay as part of a Bahama or Caribbean cruise. The cay is about 130 nautical miles east of Fort Lauderdale, Florida.   While the cay had been inhabited by Native Americans, pirates and members of the Spanish and American armed forces at different times in its history, it was purchased by Norwegian Cruise Lines in 1977. Since then, the 250-acre island has had changes and updates made over the years.   Occasionally, Norwegian's sister cruise lines, the Oceania and Regent Seven Seas Cruises will also stop at Great Stirrup Cay.    
Good To Know
Take some water shoes with you to the island. The cay is famous for the coral in its surrounding waters, but that makes it easy to get cuts and scrapes.  
Bring your own towel from the ship, as they are not available on the island.   There are no lockers on the cay, so leave valuables on the ship.  
Where You Dock in Great Stirrup Cay Bahamas
There is not a pier at this island. A tender boat will bring you from the ship to the island. The tender runs back and forth all day long and is about a 10 minute trip. If your cruise is full, there could be wait times as passengers board and disembark both ways. Plan accordingly if you have time constraints. If you have mobility concerns, you can be met with a beach wheelchair by requesting one.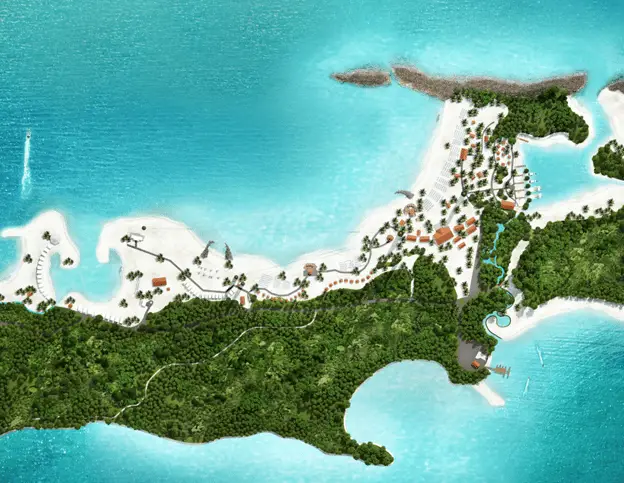 Getting Around Great Stirrup Cay Bahamas
It is about a 10 minute tender journey from the ship to the island. Once on shore, it is less than a 10 minute walk from the dock to the information kiosk.
There is a concrete boardwalk that runs across most of the island, and the rest of the terrain is mostly sandy. There are no rental cars, bikes, scooters, or buses on the cay.
Shopping In Great Stirrup Cay Bahamas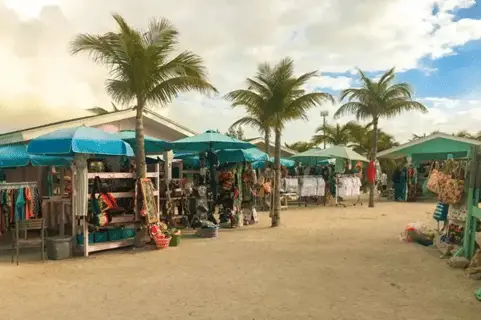 Stirrup Cay Marketplace, a straw market, has beachwear, Bahamian crafts and souvenirs. You will find paintings, wooden carvings, woven items, sculptures and jewelry that will make great items to take home or for gifts. The market is not run by NCL, so you can't use your cruise card here, they only accept cash.
Dining In Great Stirrup Cay Bahamas
Think of the island as an extension of the ship when it comes to the food on the island, as the cost of meals is included in your cruise. Drinks can be paid for with your cruise card.
There are numerous food options in the cay, but not a whole lot of options for those who have restrictions or prefer vegetarian options. If that is you, you might want to bring food items from the ship or tender back to the ship for your meal. If you choose to book one of the Silver Cove Villas, you will have access to the Silver Cove Restaurant and Bar.
Unlike other cruiseline-owned private areas which typically have a grill buffet set up in a couple of spots around the island which serve the same foods, NCL keeps in line with their free-style restaurants by offering the following food venues on the island:
Jumbey Beach Grill – Cold beer, cocktails or a delicious burger, tropical salads, fruit and corn on the cob.
Abaco Taco – Build your own taco at the complimentary taco bar using beef, pork, or shrimp and top it off with sour cream, guacamole and a variety of salsas.
Tropic Like It's Hot -This is a food truck that offers a perfect bite before you go to the beach.  Serving ceviche, pulled pork sandwiches, fish sandwiches, spiced chicken, and rum cakes.
These drink venues are also located around the island:
Bertran's Bar, Bacardi Bar (where you can get the perfect mojito and hear music), Patron Bar (for amazing margaritas).
Things To Do in Great Stirrup Cay Bahamas
Great Stirrup Cay is most noted for the opportunity to spend a relaxing, slow-paced day at the beach. There are plenty of beach chairs and there are protected coves for swimming and snorkeling.
Beaches In The Cay
There are three main beaches in Great Stirrup Cay. All of the beaches have white sand and access to restrooms.
Bertram's Cove
This is the main beach and closest to where the tender drops you off. It tends to be the busiest beach and has a volleyball court. Family entertainment is organized throughout the day here. This is also the location of the underwater sculpture garden.
Cabana Beach
In the middle of the island, this is where the cabana's that can be rented are located. It is close to the Bacardi Bar which has a DJ booth.
Fiesta Beach
The furthest public-access beach from the tender dock, it takes about seven minutes to walk to Fiesta Beach. More cabana's and private villas are situated here. It is also close to the Tropic Like It's Hot food truck.
Silver Cove
This small cove is reserved for passengers who have booked a villa or spa treatment. The cove is surrounded by the villas and the spa. It is also the farthest from the tender dock.
 Play In The Water
Ship's staff organize various activities like beach volleyball and water games. If you choose to go snorkeling, the island has a rental center for the gear to do so. There is a man-made underwater sculpture garden in Bertram's Cove off the main beach.
If you want to be on the water, not under it, you can also rent wave runners, stanup paddle boards and floating mats.
 Zip And Rope Courses And Parasailing
Great Stirrup Cay has six zip-lines and a ropes course of cargo nets, V net bridges and chimney climbs. Platforms for the zip line are 120 feet above the ground and reach a top speed of 50 mph.
 The parasailing adventure is in a parasail glider for you and a friend. You will be towed by a specially designed boat that will take you 400 feet above the water for a very exciting look at the cay.
Visit The Spa
Mandara Spa has sea views and several outdoor hot tubs. Get a relaxing massage while enjoying the open air in their treatment rooms.
Rent A Villa Or Cabana
 If you feel like splurging, Silver Cove Cabanas and Villas are an ideal way to stake out a bit of the island to yourself.
If you plan on spending the day on the island, you might want to think about renting one of the Silver Cove cabanas. The advantage of a cabana is that they are just for your use.
There are 22 cabanas on the cay, 10 large ones on Cabana Beach and 12 smaller cabanas on Fiesta Beach. The large cabanas will fit up to eight people and the smaller ones will fit up to six.
The cabanas are open-air style, with the open wall facing the beach, and windows are on the sides of the cabanas. Privacy curtains can be pulled if you prefer. The large cabana will have a sectional-style couch, a table, a mini-refrigerator and outlet for charging your electronics.
You can order food to be delivered to your cabana, but it will also be stocked with fresh fruit, chips, salsa and bottled water. The cabana will also have towels.  Each cabana has a deck and lounge or patio chairs.
Four complimentary floating mats are included, as well as a hammock and a private shower to rinse off in. There are not any private restrooms, but the public facilities are within walking distance.
If you really want to splurge, take a look at the Silver Cove two bedroom suite that can be rented for the day: Great Stirrup Cay – Two Bedroom Family Suite Villa.  There are 38 villas that range from one and two bedrooms.
Six of the one bedroom villas have a wet bar and a private master bedroom. The two bedroom suites have a dining area and a larger master bedroom with spa tub and shower.
These cabanas and villas tend to book up months in advance of a cruise visit. Online reservations can be made at Cabana and Villa reservations, and the reservation should be in just one person's name, regardless of the number of guests in your party.
Top Excursions & Tours At Great Stirrup Cay – Bahamas
Don't Swim With The Dolphins, Swim With The Pigs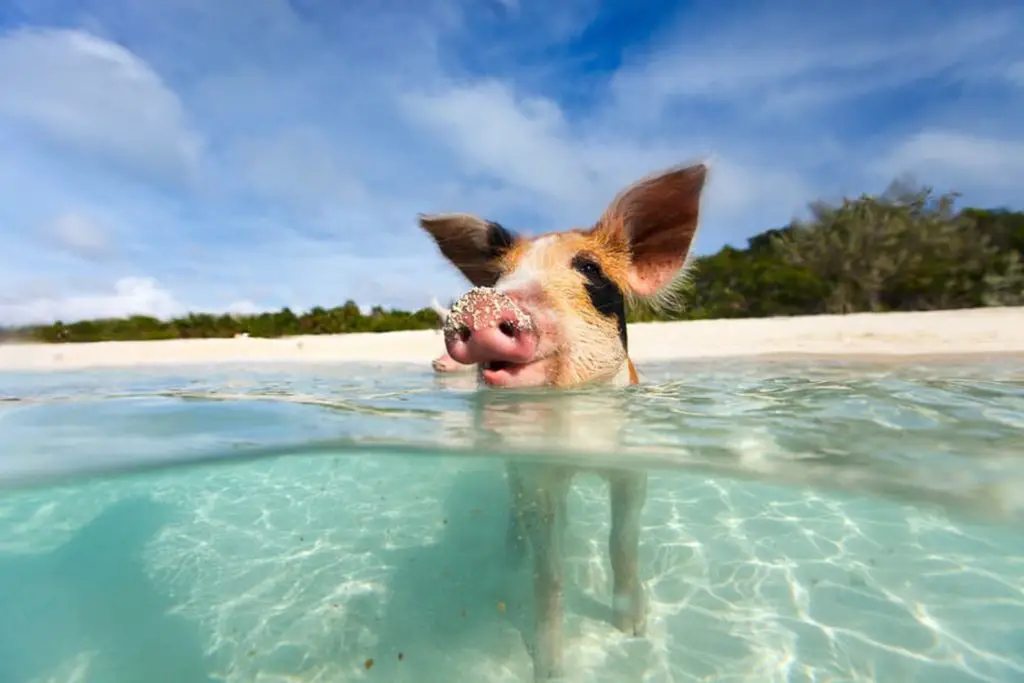 Everyone loves dolphins, who also seem to love us. And you should swim with them whenever you can, but you won't get many opportunities to swim with the pigs, so don't miss out. You can sign up here: Swim With The Pigs.  You will also get to feed these sweet creatures.
Just a 10 minute boat ride from Great Stirrup Cay are the Swimming Pigs of Treasure Island. Purchase this excursion through NCL and you will be whisked to Treasure Island from the cay. You will get an introduction and safety briefing before you meet these little swimmers.
Read some more about these swimming porkers here: Swim with the Pigs On Your Bahamas Cruise to Great Stirrup Cay | NCL Travel Blog
Wave Runner Tour
 This NCL Wave Runner Tour will take you on  a 45 minute personal watercraft tour of the Berry Islands and show you the area highlights, like the Lighthouse at Great Stirrup Cay, Slaughter Harbor and the now abandoned island community of Cistern Cay.  You can have a single or double wave runner. When you book this tour, know that there are age and weight restrictions.
Catamaran & Snorkel
Take a scenic boat ride before plunging into the Bahamian waters to snorkel on this NCL Catamaran & Snorkel tour. You will see an abundance of fish and sea life before enjoying a slow cruise back to the cay. Music, light refreshments and beverages will be provided on the return trip.