Hamilton – Bermuda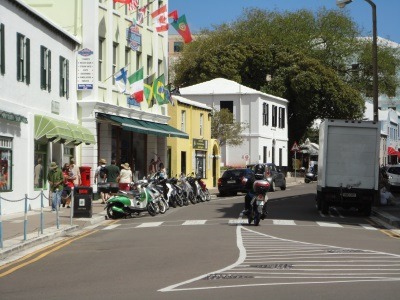 Hamilton is the capital city of the island of Bermuda, a grouping of islands that are part of the British Commonwealth approximately 600 miles off the U.S. east coast. This small city is the primary business district of the city (Bermuda is an international financial hub) with shopping, restaurants, and offices. Most residents live outside of Hamilton and commute to work. Hamilton is a clean, safe city and is the main transportation hub, whether that be buses or water taxis. You will soon notice that Bermuda is known for its friendly people, pastel-colored buildings, pink sand, and Bermuda shorts, which is the customary dress of businessmen and police constables.
Currency:
Bermudian Dollar, US Dollars are widely accepted but you will often get Bermudian Dollars in change. There are many ATMs within a short walk of the dock.
Wireless Internet:
Hamilton is a WiFi Zone, with fees starting at $4.99 for an hour ($9.99 for 24 hours). Some restaurants offer it free with a purchase.
Languages:
English
Where You Dock in Hamilton – Bermuda
Ships under 700ft in length dock along Front Street, the main waterfront shopping and dining district. You will be within walking distance to shops and restaurants, the water ferry terminal and Visitor's Center.
If you are cruising to Bermuda on a larger ship, you will dock at King's Wharf (also called the Royal Navy Dockyard) which is located at a different area of the island (click here for more info about King's Wharf). 
Getting Around Hamilton – Bermuda
Public transportation is widely available and stops at or near most destinations of note. It is a good idea to buy a transportation pass, which you can purchase for 1-7 days. A 1 day is good for both buses and ferries, across all transportation zones. See here for more information. Remember that most locals commute into Hamilton to work, so the buses and ferries are quite busy during morning and afternoon "rush hours."
Buses
The central bus terminal is located on Washington Street, near City Hall and is the hub for the 11 bus routes across Bermuda. Schedules are available at at the terminal wherever you purchase tokens or a transportation pass. Take the times on the schedule as a guideline, not a rule. If you need to be back to the port at a certain time, don't cut it too close. Hamilton is about an hour bus ride from either St George's at one end to the Dockyard at the other.
If you want to catch a bus, look for the blue and pink poles along the side of the road. Pink poles are for buses heading to Hamilton. Blue poles are for buses heading away from Hamilton.
Water Ferries
Sea Express is the company which operates the water ferries and they can be a quick way to get from one point of the island to another. Plus, its a nice way to see Bermuda from a different vantage point. There are four different ferry routes, of different colors and they follow the schedule fairly closely.
Taxis
Taxis are available at the ports, St. George's and outside of most major hotels and resorts. Fares are regulated by the government and Taxis will offer tours of the island. Because the speed limit is only 22 mph (the roads can be narrow with lots of twists and turns) you wouldn't get too far in just an hour. Usually there is a 3 hour tour minimum. Look for taxis with a blue flag – these have been vetted as qualified tour guides.
Scooters
You will notice that scooters are a main mode of transportation for locals. While rentals are available around the island, most cruise lines don't recommend their passengers doing this. It's an economical way to tour the island, however there can be some crazy drivers and the roads in some spots are so narrow that two vehicles can barely pass each other, let alone a scooter on the side of the road. Plus, people drive on the left side of the road.
Car Rental
Only locals can own or rent cars, primarily because driving can be hazardous, with blind curves and narrow roads, most of which have no shoulders.
There is another option, however for tourists to get around on their own. Small, four-wheeled enclosed electric vehicles will seat two people and have ranges of 70-160kms per charge, depending on the vehicle. Brands available are Twizy, Tazzari, and Bermi, among others, and are a nimble, quiet way to navigate the island. 
Check out these websites for more information:
Shopping In Hamilton – Bermuda
Note that store hours are typically 9am-5:30pm Monday-Saturday and closed on Sunday. If large ships are in port, some stores may have extended hours.
Front Street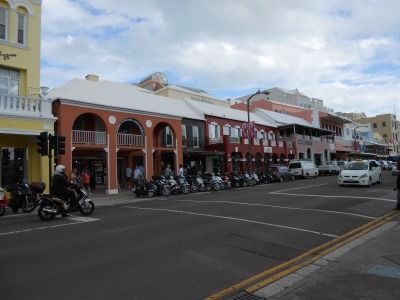 Along Hamilton's waterfront is a key shopping area, with boutiques and unique shops offering British items. Look for department stores such as A.S. Cooper & Sons (since 1897), or Cooper's Cachet for jewelry, crystal and high quality clothing. Check out Cecile or Calypso for high end fashion or colorful European style clothing.
Reid Street
Also in Hamilton, Reid Street runs parallel to Front Street and offers department stores such as Marks & Spencer or Gibbons Company which offers duty free fragrances or premium fashions with no sales tax. Visit Benetton or Nine West for high quality fashion.
The Dockyard
The Dockyard is home to some great shops specializing in arts and crafts. Check out the Bermuda Craft Market, home to locals selling handmade goods. The Bermuda Arts Centre is also home to local artists selling their crafts. The Clocktower building also houses different specialty shops and people selling souvenirs.
St. George's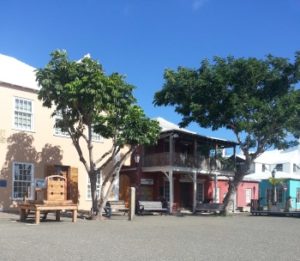 The Town of St. George's is filled with history and many different artists have galleries and shops where you can purchase their works of art in various mediums.
Dining In Hamilton – Bermuda
Bermuda is not really known for innovative cuisine since most of their food has to be flown in. There are a few local favorites including spiny lobster, Bermuda Rockfish, a black-eyed peas and rice dish called Hoppin' John, conch dishes and shark hash. While Bermuda's restaurants have improved in the last several years, the prices are higher than one would typically pay in the US or Canada.
Dress Code
Also, since Bermuda is a fairly conservative country, ensure you are wearing a cover-up over a bathing suit. Also, jackets are often required for men during dinner. Ask about the dress code when making reservations.
Tipping
Although most diners still prefer to tip a small amount if the service is exceptional, there is an automatic 10-17% service charge added to each bill.
Restaurants Close to the Dock
Port O'Call Restaurant (Front St) – Upscale Casual, Lunch($$$), Dinner ($$$$) – International Cuisine
Bolero Brasserie (95 Front Street) – Upscale Casual, International Cuisine – $$$$
Hog Penny (Burnaby St between Front & Reid) – Casual, Lunch ($$), Dinner ($$$) – Pub Fare
Barracuda Grill (Burnaby St between Front & Reid) – Upscale Casual, Lunch ($$$), Dinner ($$$$) – Seafood & Steak
Juice & Beans (Front Street) – Casual, Coffee, Smoothies, Snacks ($) – Bar Seating
Things To Do in Hamilton – Bermuda
The Bermuda Underwater Exploration Institute – a world-first in deep-water exploration. It has a fantastic shell collection and undersea submersible simulator.
The Bermuda Aquarium, Natural History Museum & Zoo – see the large collection of marine life, including a huge 7 foot moray eel. They have exhibits on deep sea exploration, humpback whales and the geology of Bermuda
Golf
Golfing is a huge draw in Bermuda. It has more golf courses per square mile than anywhere else in the world. Some great courses are:
Mid-Ocean Club – rated one of the best in the world. Private, but open to visitors on Monday, Wednesday & Friday. Tee times may be made up to 3 months in advance. $250 per 18 holes
Port Royal Golf Course – one of the most popular on the island. Public course, tee times may be made up to 7 days in advance. Club & shoe rental available. $180 per 18 holes.
Riddell's Bay Golf & Country Club – Bermuda's oldest course. Private, but open to visitors. Call in advance to book a tee time and inquire about rates. Beaches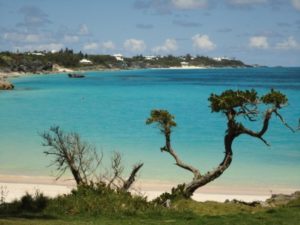 Shelly Bay – in Hamilton Parish – great for families with calm and shallow water and trees for shade
Elbow Beach – Paget Paris – large beach that has protective reefs around it making the water very calm
Horseshoe Bay Beach – Southampton Parish – most famous beach in Bermuda. It is quite a hike down a hill to get to the beach and even worse going back up. There are entrepreneurs that offer rides for as little as $1 per person, one way. The undertow can be rough, so keep an eye on the kids.
Tobacco Bay Beach – St. George's Parish – great for snorkeling & has equipment rentals
Top Tours & Excursions In Hamilton – Bermuda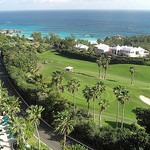 Golf at Belmont Hills Country Club Golf at one of Bermuda's premier golf clubs! Designed by Algie Pulley, these 6100 yards are surrounded by narrow fairways, multi-tiered greens and Bermuda's naturally gorgeous surroundings. Price includes golf cart....
Duration: 5 hours (or time it takes for 18 holes) Activity Level: Moderate Note: Clubs and Shoes available for rent. Dress code in effect.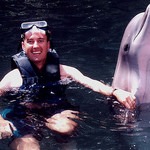 Photo credit: jurvetson / Foter / CC BY
Dolphin Encounter Experience these wonderful creatures up close and personal by first having a hands-on meeting with the dolphins, then once you're comfortable, swim along side them. Get 50% more in-water time than what the cruise lines offer!...
Duration: 45 minutes with dolphins Activity Level: Moderate Note: also includes admission to the adjoining Maritime Museum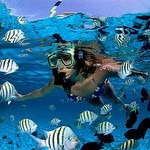 Photo credit: dMap Travel Guide / Foter / CC BY
Best Bermuda Snorkel Adventure Board a glass bottom boat for a day of snorkeling fun. First stop is a sheltered island for novices to "get their feet wet." Then head out to shipwrecks of the Constellation & Montana, before your final snorkel on a gorgeous coral reef....
Duration: 3 hours Activity Level: Moderate Note: Water & soda are available for sale onboard