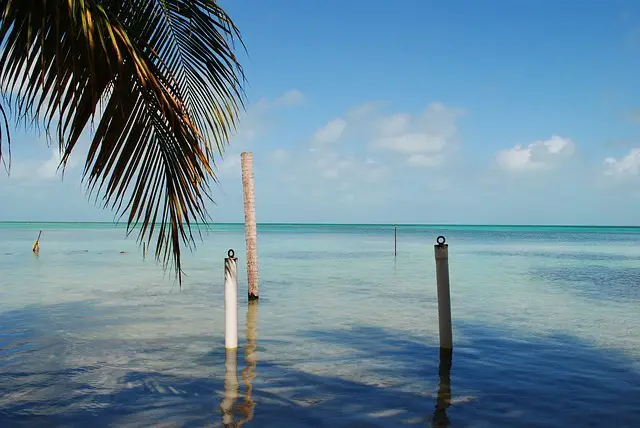 Harvest Caye, which opened in November 2016,  is Norwegian Cruise Line's newest port of call.  Unlike other cruise lines' "private islands," this cruise port, located in southern Belize is more like a resort. It is staffed by locals, not NCL staff, and you will pay for food and beverages, just like any other port. It is located approximately 110 miles (180 kms) south of Belize City.  
Where You Dock in Harvest Caye – Belize
Unlike other ports in Belize, there is no need for a tender to visit Harvest Caye. Ships dock right at the location, making it an easy off and on for cruisers.
Shopping In Harvest Caye – Belize
With the exception of a Harley Davidson store, the shopping area is made up of small local vendors, most selling their own wares. Stores are small and range from selling hand-made items to Harvest Caye-branded souvenirs. If you've been to the port at Belize City, you'll recognize Moho Chocolates, where you can not only purchase their delicious creations, but see how they make it.
Dining In Harvest Caye – Belize
Manatee Bar and Grill – located at the marina
Horse-Eye Jack Bar and Grill – will service the beach villas and deliver food and drinks to the pool area
Landshark Bar and Grill – 2 story restaurant indoor/outdoor restaurant created in partnership with Jimmy Buffet. Located by the pool, complete with swim-up bar.
Things To Do in Harvest Caye – Belize
Besides the pool and swim-up bar, guests will also have access to water sports such as paddle-boarding or kayaking in the salt-water lagoon, take a tour to see manatees, visit the butterfly garden or island aviary, or learn about indigenous reptiles and insects at the educational center.
If you are looking for adventure and aren't afraid of heights, visit Flighthouse, which houses a 3000 foot zipline, suspension bridges and a ropes course, among other activities.
If you want to just relax, poolside cabanas are available for rent ($199/day). If luxury is a top priority, air conditioned villas are located at the beach and have amenities like washrooms, indoor/outdoor showers, hammocks AND a dedicated concierge who will bring you food and drinks. Prices start at $475/day for 6 people (can accommodate 10)
Take a virtual tour of Harvest Caye: