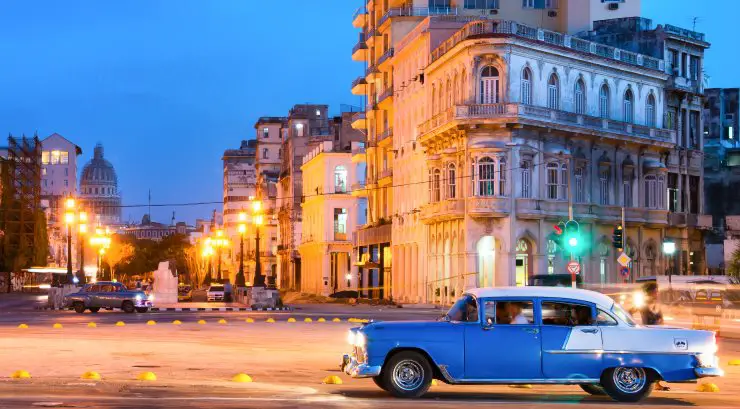 UPDATE - 2022 - Cruises to Cuba from the USA are still suspended. Read More
Havana is a city with seductive charm, striking contrasts, and sublime beauty. We invite you to take a walk around Havana, a city that is vibrant and memorable. Let's go!
Havana, Cuba - Geography
Havana lies in the north western coast of the Republic of Cuba. It is located south of the Florida Keys where the Gulf of Mexico joins the Atlantic Ocean. It is the smallest of the provinces of Cuba; yet with over 2 million inhabitants, it has the highest population density in the entire island.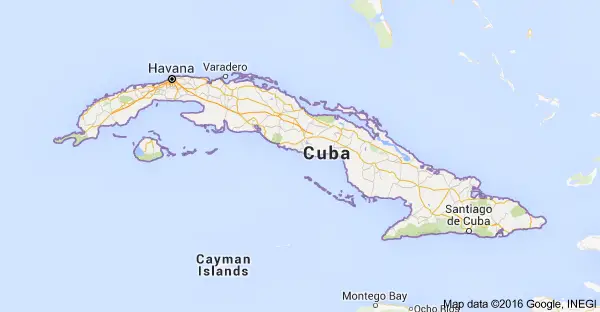 The Havana Harbour, one of the most important ports in the Caribbean, is the site of colonial fortifications overlooking the bay.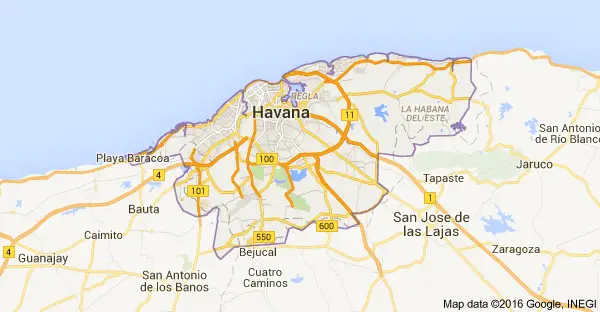 Climate
Havana has a subtropical climate with two seasons. The dry season runs from November to April and the humid season from May to October. Rainfall is abundant in October and September and quite rare in April and March. Average temperatures do not fluctuate as much as rainfall which makes Havana a warm place to visit any time of the year.
As Havana is located on the northern coast of Cuba, there is a greater risk of occasional cold fronts from December to February when temperatures may dip below 15° C. These cold fronts usually station no longer than a week at a time at the most.
Havana also feels the impact of hurricanes during the months of mid June to November. On average 2-3 hurricanes pass by Cuba, but only a few may land. The worst impact the city feels is derived from heavy winds and inundations. The good news is hurricanes often do not affect the city directly and cause lower damage in most cases. All in all, the city is well prepared to handle hurricane season with a highly developed disaster preparedness system and an exemplary civil defense network for evacuations.
Spring
Spring runs from March to May. This is by far the best time to visit Havana. The weather is warm, but not too humid and the nights are cool so you can forgo the AC in your room. You may want to pack a couple of light long sleeves just in case you feel a breeze. But overall, it will refreshingly pleasant!
Summer
Summer runs from June to August. Summer is very hot and very damp. No wonder locals have come up with a saying that goes "This is worse than the August Sun!" No need to fret, though! … Havana has plenty of beaches to soothe a hot body so visiting Havana in summer time is actually fun!
Summer is also rain season with rain coming in heavy showers and lasting luckily an hour or two. Once the rain is gone, it's all great weather again. Average sunny time during the summer is 6 to 9 hours a day!
Fall
Fall runs from September to October. As a matter of fact, summer transitions into winter somewhere in November. You can tell it is fall because trees change their color and lose foliage. Weather in fall does not fluctuate with cold fronts so it's a subtle transition into winter with the first cool front coming down from the North to mark the beginning of the season.
Winter
Winter runs from November to February. Although the average temperatures are nice, it can be cold. January is the coldest month in Havana with temperatures dipping as low as 14 degrees. Just bring a sweater, long pants and socks and you will be warm as toast!
Language
Spanish is the official language. English-speaking visitors will not have a hard time getting in Havana as Cubans are increasingly speaking English.
Interesting fact: Cubans are highly creative and resourceful individuals so they will communicate with visitors even though they may know Spanish only!
Who are the Habaneros?
Habaneros are the local citizens from Habana. They are imaginative, cheerful and have "spark". They love jokes and are party people by nature. Making new friends or starting a conversation with a stranger are things Habaneros, and Cubans in general love to do. Tourists can confidently approach locals on the street and they will be delighted to talk to a new face and help if need be. They are also known for being hospitable and highly educated.
Visa
Everyone wishing to enter Cuba is required to apply for a Cuba visa before being allowed entry. If you wish to enter the country as a tourist, you will be required to apply for a tourist visa-card. A Cuba tourist visa-card is valid only for leisure or recreational purposes. It is not valid for other travel purposes.
Applicants wishing to explore or engage in business transactions in Cuba will need a business visa.
Currency
There are two currencies circulating in Cuba: the convertible peso (CUC) which is the currency used in 99% of cases and it would be the equivalent to the US dollar, and the Cuban peso (CUP) which is also known as "moneda nacional", i.e. national currency or MN in its abbreviated form.
$1 CUC equals $24 Cuban Pesos (CUP) and $1CUC equals $1 USD.
Both currencies, CUC and CUP, are legal tender in Cuba and both are completely available to anyone – nationals and foreigners alike, with no restrictions whatsoever. You can exchange at any bank or exchange bureaus known as Cadecas.
Moneda nacional or CUP has little relevance to tourists since most, if not all, of their expenditure will be in CUCs including accommodation, restaurants, taxis, bus tickets, nightclubs and entertainment, tips and so on.
Practical tips for money in Cuba:
. MasterCard cards are not accepted. ATMs only work with VISA
. VISA credit cards are accepted provided they have not been issued by US banks
. Traveler's cheques are not accepted.
. Change your money to CUC before leaving the airport to cover at least for the first expenses and pay the driver.
. Cash is king in Havana. In Cuba you pay for almost all goods and services in cash. Credit cards are only accepted at supermarkets and hotels
. Beware of street scammers. Avoid changing money in the street with anyone and always change at CADECAs.
. When visiting local markets, make sure you are clear as to the type of currency you are using. It can be confusing for tourists who think they are bargaining in local currency (CUP or MN) when the merchant expects them to pay in CUCs.
. On leaving the country can you change your excess money back into euros or dollars.
. Starting on March 2016, the Cuban government removed that 10% tax it had previously imposed on the use of the US dollar on the island. The tax removal is certainly good news for ordinary Cubans and tourists alike and it results from the relaxation on the embargo imposed on Cuba for over 50 years by the US.
Best Time to Visit Havana
You could think summer lives in Cuba year round; yet July and August are known to be scorching months. As locals put it, you could literally melt in July or August! This does not stop visitors from flocking to Havana even in the hottest months for what this city has to offer! Cubans take their holidays mostly in July and August so local beaches are crowded in those two months.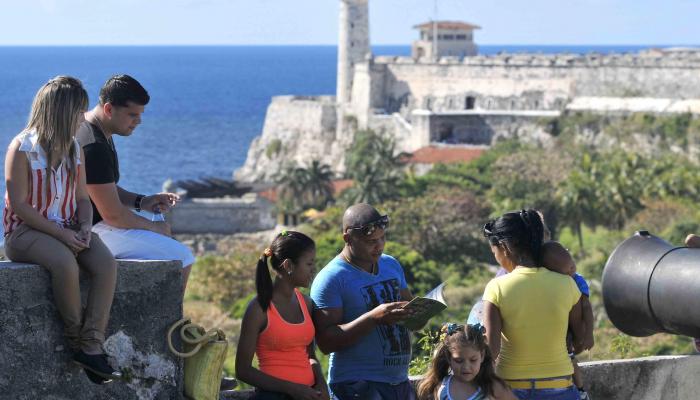 February is a month favoured by most visitors to come to Havana with milder temperatures and a lovely breeze. February is peak season with extra life in the city and plenty of entertaining activities including a cigar festival, Festival del Habano, and the Havana International Book Fair.
October is another great month to visit Havana. The city does not quiet down at this time and there's still plenty of activities to do such as Festival Internacional de Ballet (the International Ballet Festival).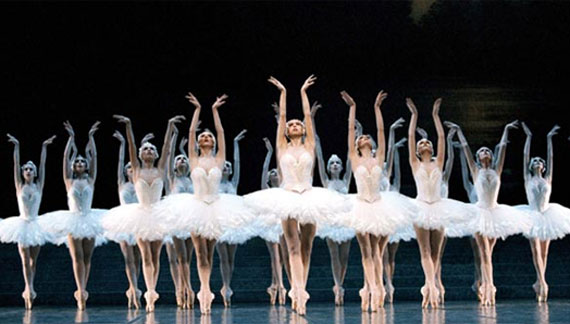 December is a busier month when foreign visitors and Cubans living overseas land in Havana to spend Christmas and New Year's Eve with a good party! Another attraction bringing a greater influx of visitors is Havana International Film Festival; an event that is famous not only for being one of the main film festivals in Latin America and the Caribbean, but also for the long line ups for movie premieres.
Accommodations in Havana
Havana offers all sort of accommodation under the sun! You can choose from hotels for the budget conscious visitor, luxury hotels or casas particulares which are vacation rental homes run by private owners.
Along the Malecon you will find Hotel Nacional de Cuba, Melia Cohiba and Melia Habana. These hotels stand out for the quality of their personalized service.
In the historic part of the city, you will find great hotels with a distinctive personality such as Hotel Saratoga, Hotel Inglaterra, Hotel Telegrafo, Hotel Ambos Mundos, Hotel Santa Isabel. Hotels Saratoga and Santa Isabel have a more "boutique" feel and cater mostly to a luxury market. Inglaterra, Telegrafo and Ambos Mundos have the charm of ancient times combined with affordability for any visitor wanting to stay in the historic part of the city.
Casas particulares are all around the city. At a rate ranging between $15 - $50 per night on average, they are cheaper than hotels or hostals in the city. And no there is no sacrifice of comfort as they are fully equipped for vacation rental. At a casa particular, visitors have the opportunity to interact in a very direct way with locals and appreciate their lifestyle. If you are going for the real Cuban experience, we recommend that you consider staying at a casa particular for authentic Cuban flavour.
Cultural Life & Entertainment
Culture is intense and with a life of its own in Havana! The city hosts several cultural events on a daily basis and the options are frankly too many to count. Museums, theaters, concerts, visual art performances, street music, festivals and competitions are all part of the daily life of Habaneros and visitors.
Highlights to mention are the International Ballet Festival of Havana (October-November), Havana Film Festival (December), the Havana Jazz Plaza Festival (February) and the International Book Fair (February – March), International Urban Dance Festival (March) and the Havana International Rap Festival (August).
If music moves you, Havana offers you plenty of options to enjoy Cuban music and mingle with Habaneros who by the way, are excellent dancers! Casa de la Musica and Salon Rosado de la Tropical are great venues to visit for a live music experience.
Additional cultural attractions we recommend to visitors are the Museo Nacional de Bellas Artes, Callejon de Hamel, Gran Teatro de la Habana Alicia Alonso, Fabrica del Arte, Jazz Café and La Zorra y el Cuervo club.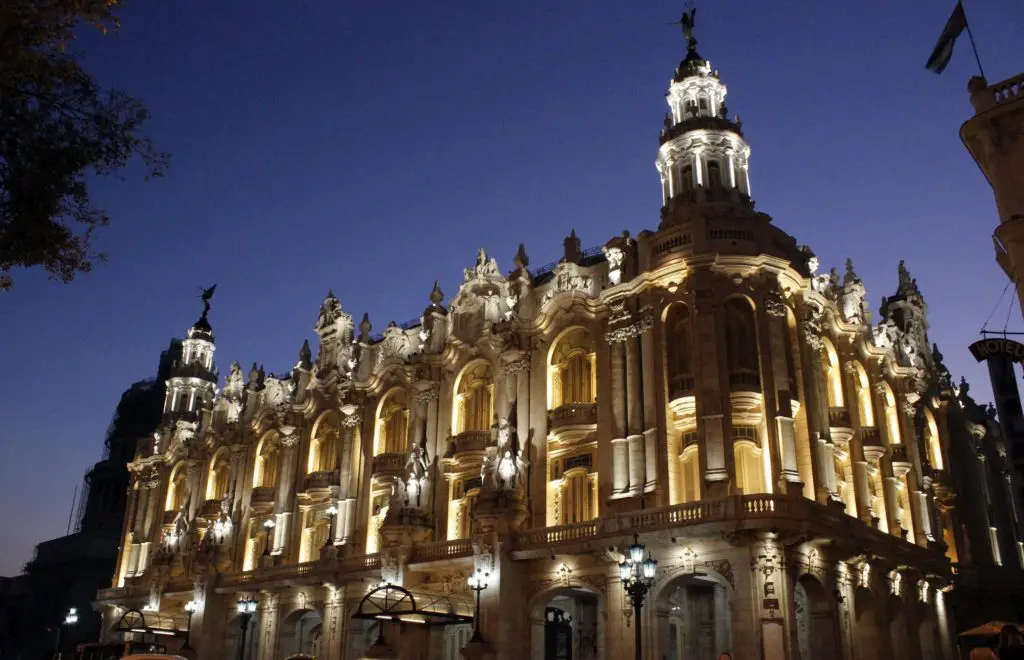 When it comes to entertainment Havana offers a rich variety of night clubs, live concert spaces and cabarets. A must-visit place is Tropicana Club which is a landmark in Havana with world-class live entertainment. Gay bars are also becoming a novelty in the city with great places to visit like the King Bar.
To resume cultural life in Cuba in a few words is a titanic task! Havana always has something to offer so you will probably need multiple visits to this vibrant city to absorb the uniqueness of its entertainment and cultural life!
One more good reason for returning to Havana!
Getting Around Havana, Cuba
Taxis – The so-called official taxis are state-run companies providing taxi services in Havana. These cars are metered and offer a higher level of comfort. The rates are very reasonable and the best part, they can be negotiated with the driver.Tourists will find plenty of these taxis driving around central areas in the city like Havana Vieja, Capitolio, Vedado and Playa. So hailing a cab will be easy and fast!
Classic American cars, aka, "Almendrones"-  Pronounced "al-men-dron", these jewels from the 30's, 40' and 50's will get you around Havana in old style! Similar to a bus, these unique taxis operate on a fixed route picking up and dropping people along the way. The drivers are colourful people who will probably amuse your ride with some loud local music. At $0.50 CUC per person per ride, almendrones are cheap and perfect for a quick transfer in the city. You may want to rent an almendron for a city tour at a negotiable higher rate. No trip to Havana is ever complete if you skip a ride in one of these classic American cars!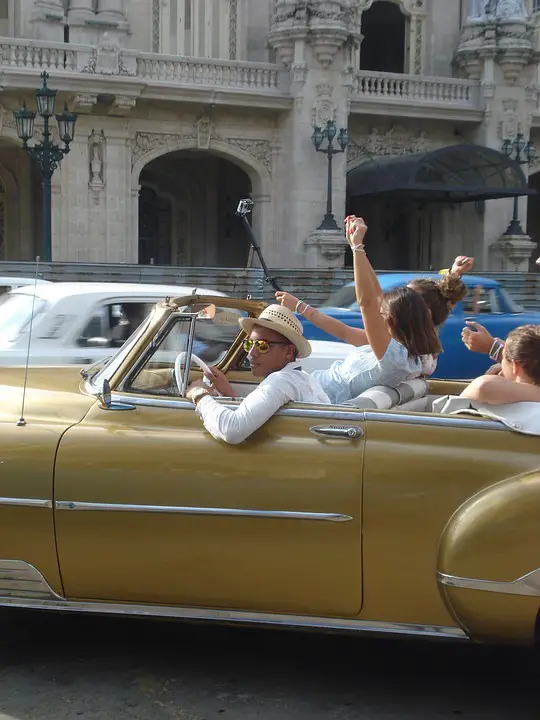 Public Transportation – Buses in Havana, known as guaguas, are a challenging experience! For one thing, they are very crowded and steamy. They ride along fixed routes and stop at paradas (bus stops) that unequivocally have a line. With so many people crammed into these buses, pick pocketing is a real risk so you should watch your belongings at all time. Commuting in public transportation it is not recommendable unless you want to have a firsthand experience of what it is to be sandwiched among lots of people in a hot, hot day!
Car Rental – If you prefer the independence of moving freely on your own in Havana, car rental is the right choice for you. Compared to the US and Canada, car rental is more expensive in Cuba. Most available vehicles are manual transmission and only a few ones are automatic transmission. Driving in Havana can be a challenging experience! Traffic is heavy and there is a great deal of one-way streets which makes it easy to get lost in the city. Don't worry! Cubans are friendly so ask for directions and they will get out of their way to help you. Roads in Havana have gotten better lately so there are less holes and bumps for a smoother ride in the city. Transtur, Cubacar, Via Car Rental Gaviota, Havanautos or Rex are all state-run car rental companies to choose from. Viazul Coach Service Viazul is the coach service used by tourists to transfer from Havana to other Cuban provinces. Your ride will be pleasant and comfortable as Viazul operates new and reliable buses equipped with air conditioning. You will surely welcome this feature when commuting in a hot day in Havana!
Bici-Taxis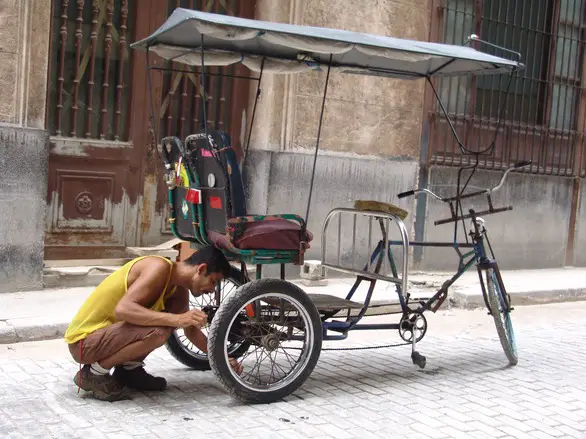 Bici taxis are the Cuban version of cycle rickshaws. They are 3-wheeled bicycle taxis powered by pure human muscle and nothing else! They are pretty popular in Havana and a fun sight to see with a decoration that can be a crossover between pure eclectic creativity and sometimes, a compromised sense of taste! Bici-taxis are cheap with a 15 minute ride costing you $10-$20 MN or $0.25 CUC. Riding a bici-taxi in Havana is actually an unforgettable experience! The friendly relationship you strike with the driver the minute you get on the bici-taxi plus the blaring speakers playing new and old hits of salsa, hip hop, reggaeton or a good tearjerker, make a bici-taxi ride a must-do in Havana if only for a few blocks!
Coco-Taxis – Coco-taxis are 3-wheel yellow vehicles that are located mostly in Havana and Varadero. Tourists can hail a coco taxi anywhere in the city or at hotels. Prices are negotiable and they are fun to ride! (Place photo Coco_Taxis_Taken here)
Dining In Havana, Cuba
This is an excellent time to taste Havana! A food revolution has taken over the city by storm with a colourful range of culinary offers to please all tastes. Private restaurants, also known as paladares, have emerged in bulk and have rightfully positioned themselves as the top choice of locals and tourists alike over state-run restaurants with questionable quality. Some of them have already built an impressive A-lister clientele ranging from President Obama and his family to the Queen and King of Spain.
Authentic Cuban Cuisine
If you are looking for local cuisine with an authentic Cuban flavour, any of these restaurants will make your day: the emblematic Bodeguita del Medio frequented by Ernest Hermingway, Doña Eutimia, 304 O`Reilly, Havana 61, Starbien and El Rum Rum de la Habana.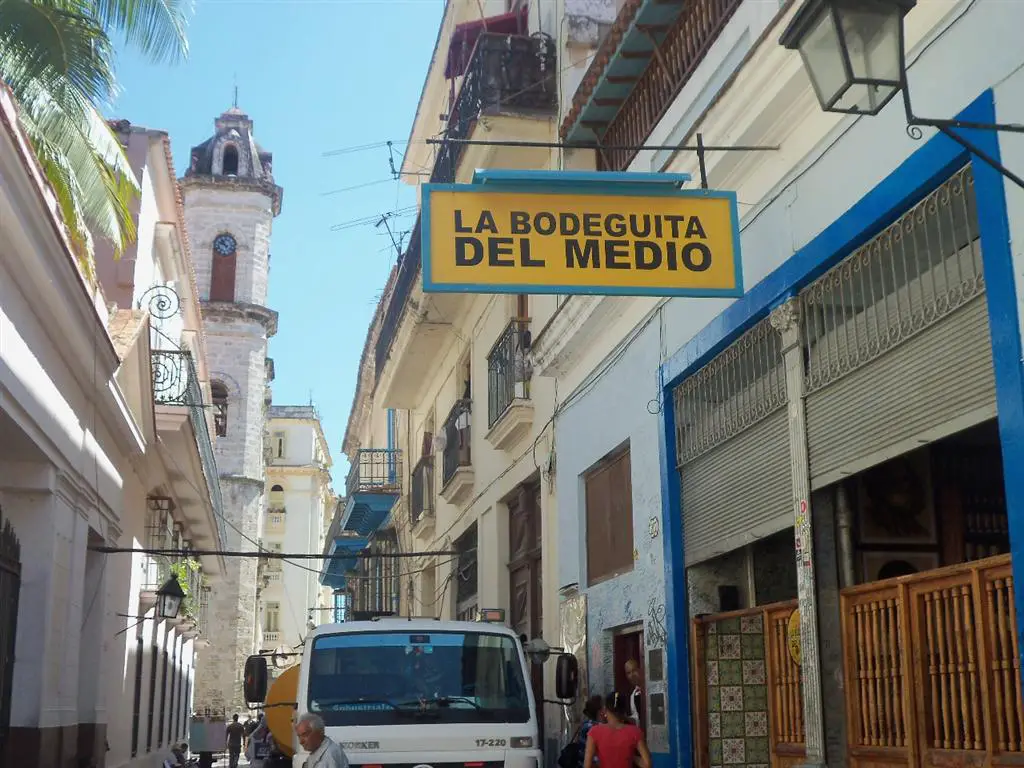 International Cuisine
Those seeking to expand beyond local Cuban dishes will find fine paladares in Havana specializing in international cuisine. You may want to visit any of these: Los Mercaderes, La Guarida, San Cristobal, Café Laurent Habana and La Fontana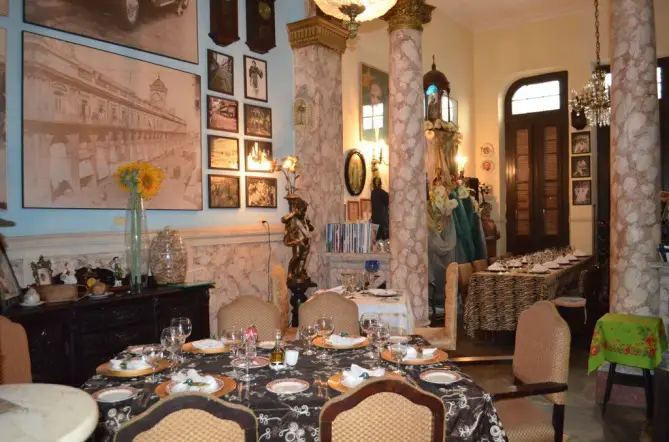 Bohemian Bars and Cafes
Havana has seen a resurgence of bars and cafés in the past few years. They bear an artistic and bohemian footprint that gives them a distinctive touch and attracts an increasingly high number of patrons year round. If looking for bars and cafes in Havana, we recommend that you visit Kilometro Zero, El Chanchullero, Café Fortuna , Café Archangel and Espacios, Bolabana and Sangri- la. The energy in any of these places is high octane and the fun is guaranteed!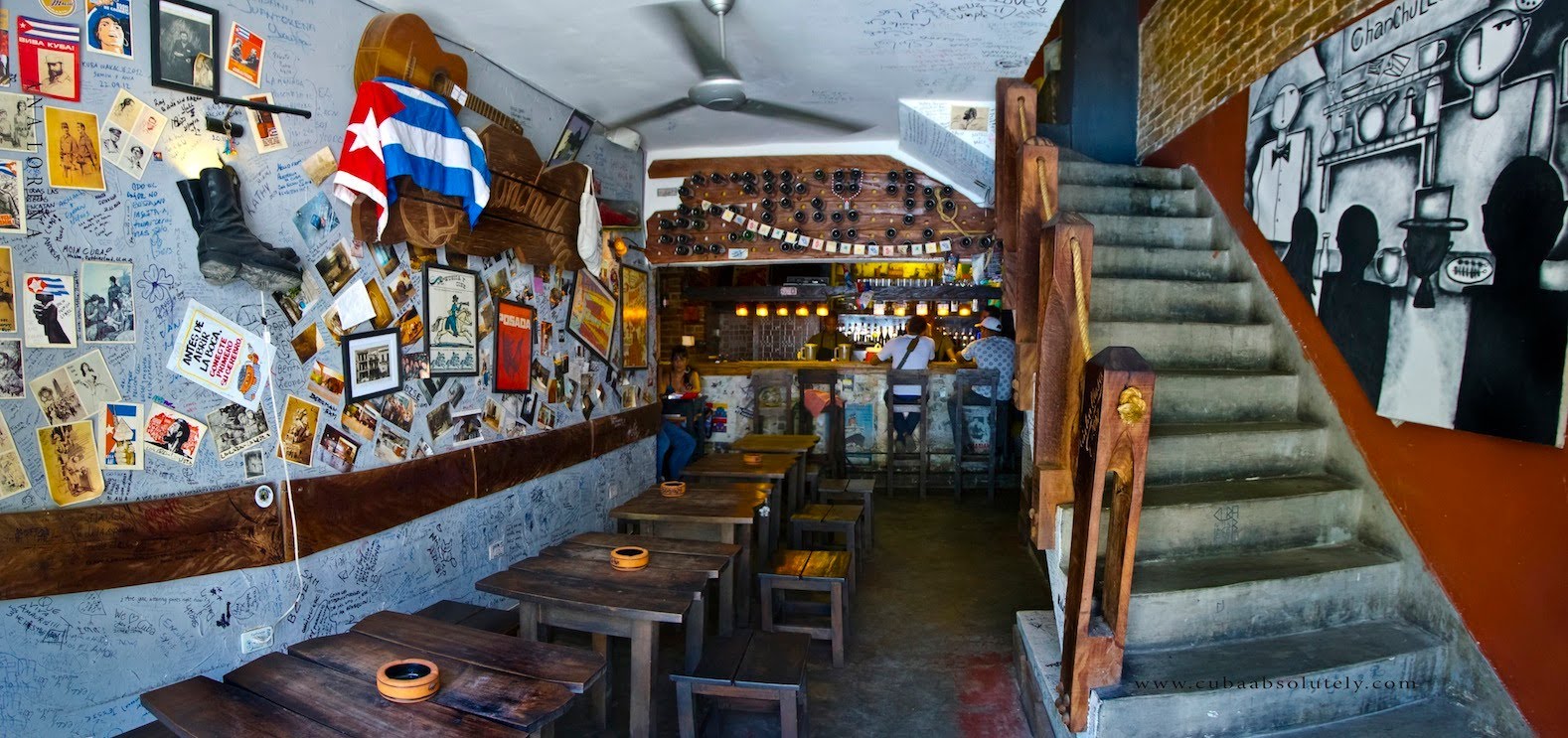 Things To Do in Havana, Cuba
The Malecon The Malecón, aka, the sea-side boulevard, is Havana's quintessential landmark. Locals and tourists visit the Malecon for a delightful stroll along the shores of Havana harbour or simply to sit down and gaze at the city and the sea. Stretching along 8 Km, all local residents and tourists succumb to the beauty and charm of this soulful part of the city. The Malecon keeps the pulse of life in the city as it welcomes a colourful rainbow of people, lovers, friends, poets, philosophers, fishermen and street musicians, to name a few. Having undergone a major facelift in recent years, the Malecon has re-emerged from decades-long decay to further enhance its ranking as the top must-see attraction in Havana. Come once and you will return to this enchanting part of the city over and over again.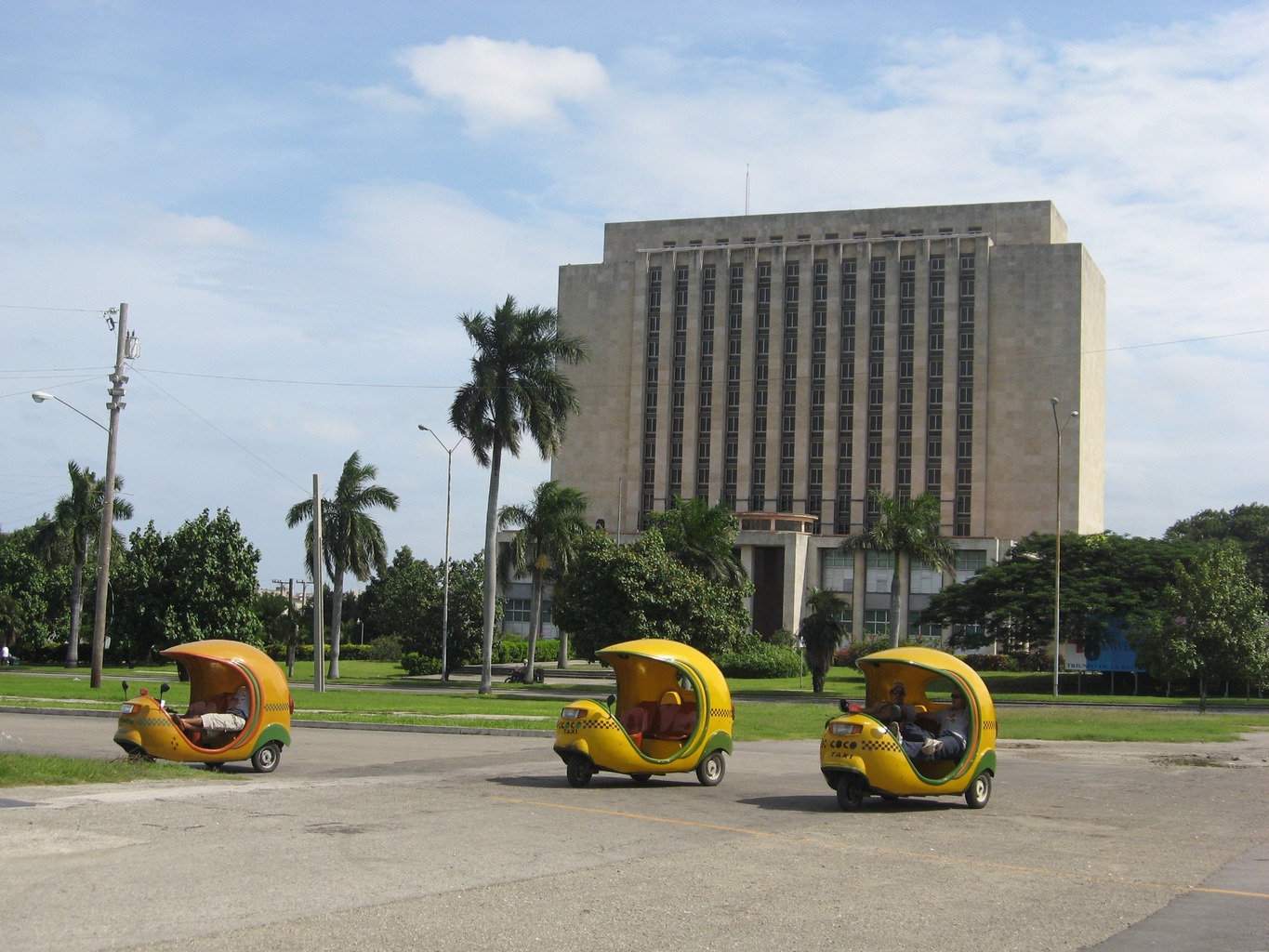 Capitolio Nacional Capitolio Nacional (National Capitol) is one of Havana's architectural jewels distinguished for its grandiosity and magnificence. Similar in architecture to the Capitol Building in Washington DC, Capitolio Nacional was the seat of the Cuban Congress until the year 1959. From that point onwards, it has housed the Cuban Academy of Sciences and the National Library of Science and Technology. Throughout its history, Capitolio Nacional has undergone lengthy renovations with the latest one preceding the historic visit of US President Barack Obama to Cuba after 50 years of broken diplomatic relationship. Upon completion of said renovation, the Cuban Parliament will be re-located to this historic building after over 50 years of absence. Interesting fact: Capitolio Nacional marks the so-called "Kilometer 0" which calculates highway distances between Havana and all sites in Cuba from this point. This is a must-visit attraction!
Fortaleza de San Carlos de la Cabaña This 18th-century colossus was built between 1763 and 1774 on a long, exposed ridge on the east side of Havana harbor to protect the city from the attacks of pirates and buccaneers. The fort is a historic gem that has been restored for visitors as a multi-functional complex housing museums, cigar and souvenir shops, bars and restaurants. One main attraction of the fort is the nightly 9pm Cañonazo ceremony; a popular evening excursion around the fort in which actors dressed in full 18th-century military regalia re-enact the firing of a cannon over the harbour. In short, the charm of this place is irresistible and it has become a mandatory stop for visitors in Havana.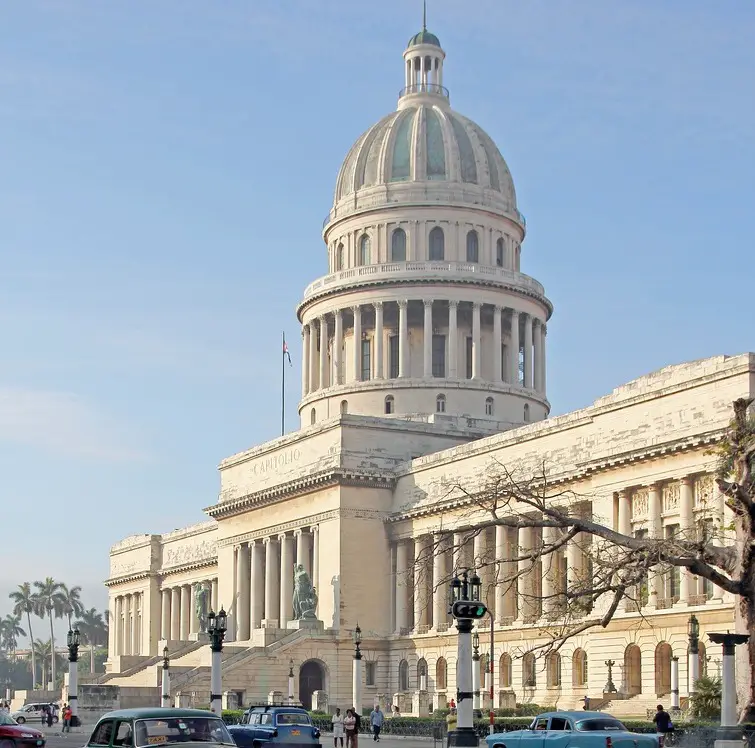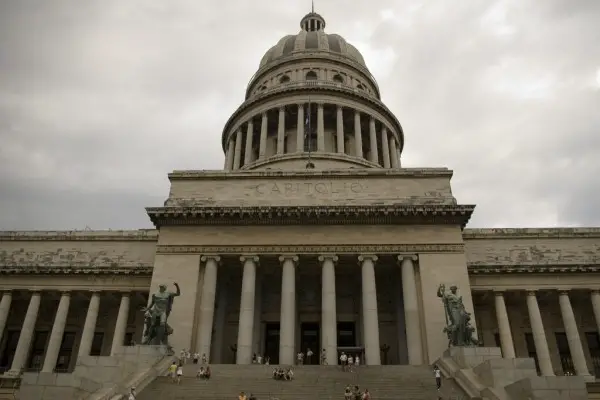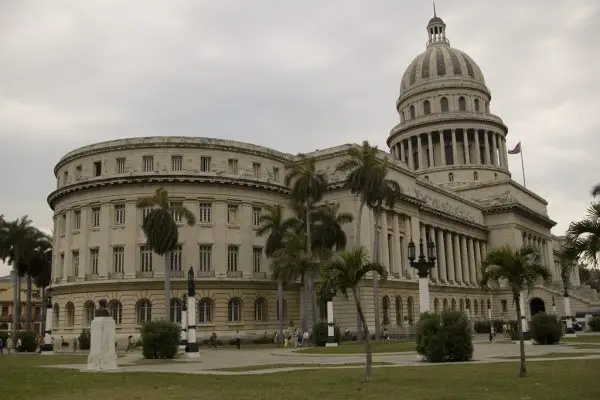 Photo Credits – Cuba Capital Buildings – by Gerry Zamboni
Partagas Cigar Factory Havana is the birthplace of premium cigars, and the city is dotted with cigar factories of all shapes and sizes. While most tourists believe the Partágas Factory is the only factory open to visitors, the fact is two other factories in Havana welcome tourists: the Romeo y Julieta Factory (which has been transformed into the temporary home of H. Upmann) and La Corona.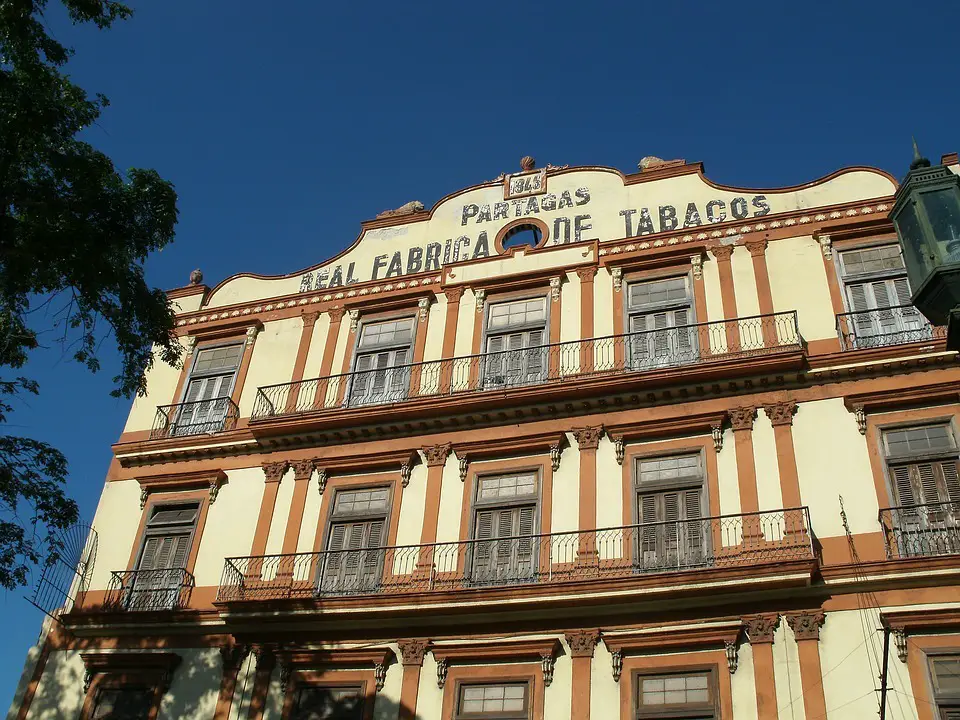 Partagás cigar factory is a grand facility with 166 years of history, and it is today the most visited cigar factory in the city. As the factory is slated to undergo a major renovation , only special factory tours are taking place until renovations are completed. Always check tourism bureaus before arriving there. If you are a cigar aficionado, a visit to Partagas cigar factory must be in your Havana To Do list!
Moreover, you can also order Cuban cigars online and always enjoy them wherever you go. From a huge selection of different flavors and strengths, the most popular are Romeo y Julieta Churchills, Trinidad Fundadores, Punch cigars, and Montecristo No4. For those who like the taste of pepper, leather, and wood Punch cigars will become their favorite one.
The Revolution Square The Revolution Square, Plaza de la Revolucion, is one of the most emblematic monuments of the revolutionary period in Cuban history. Conceived in the 1920's by French urbanist Jean Claude Forestier, the square's design was inspired by Paris' famous Place De l'Etoile.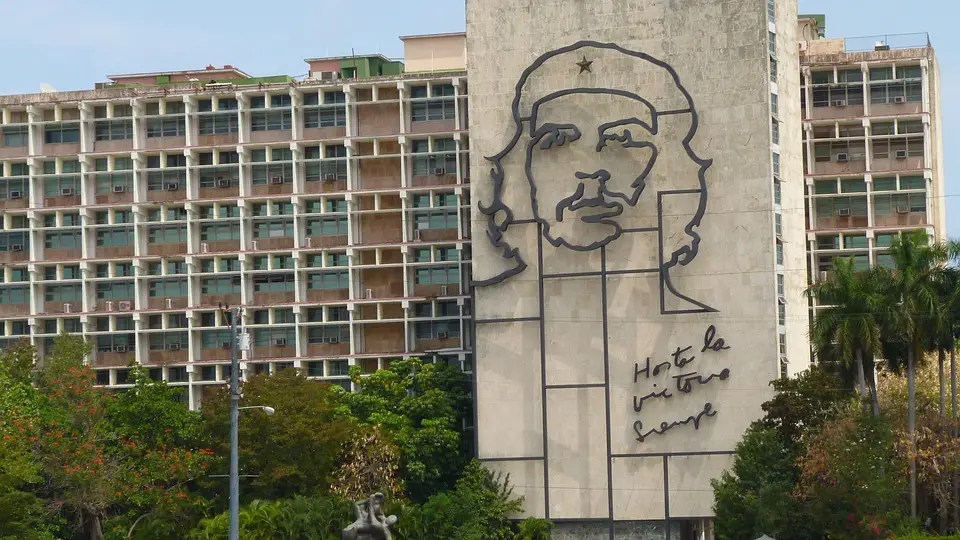 Since 1959, the Revolution Square has served as the seat of the Cuban government and the Cuban Communist Party offices while it has been a venue to hold large-scale political rallies in support of the Cuban Revolution. In contrast, the square has also hosted twice both Pope Juan Pablo II and Pope Francis with unprecedented attendance numbers in its history. The Revolution Square is surrounded by Biblioteca Nacional (The National Library), Teatro Nacional de Cuba (the National Cuban Theater), the Ministry of Communications and the Ministry of Internal Affairs.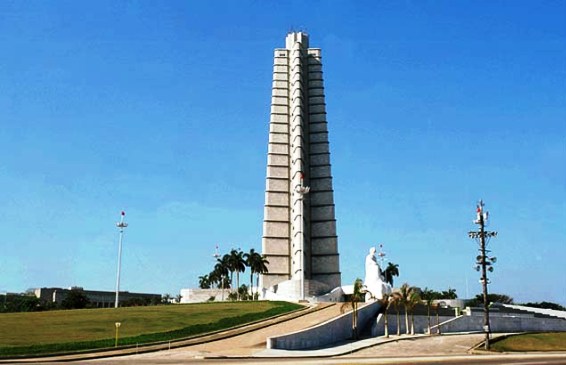 Old Havana Proclaimed a UNESCO World Heritage site since 1982, Habana Vieja (Old Havana) is by far the one spot in Havana visitors feel compelled to visit and admire. Habana Vieja displays a magnificent collection of historic buildings that stand out as one of the finest in the Americas with an eclectic mixture of 17th century baroque, 19th century neoclassical and Art Deco. Walking around Habana Vieja is a true travel back in time with a city pouring history in every corner. Five hundred years of rich architectural heritage can be seen and touched in Habana Vieja with museums, galleries and plazas that have more recently benefitted from massive restoration and brought these precious buildings back to their original splendor. Yet, the makeover i s far from completion and the city still cries out for a facelift on a significant portion specially in residential buildings. Every building in Habana Vieja has a story of its own to tell you; yet there are places that visitors need to experience as part of their tourist trail. This is our shortlist: Parque Central (Central Park), Capitolio Nacional, Gran Teatro de la Habana Alicia Alonso (Havana's Grand Theater), Floridita restaurant where Ernest Hemingway had uncountable visits, Paseo de Marti (Prado promenade), Plaza del Cristo, Plaza Vieja, San Cristobal Cathedral and Havana's statue of Christ. Beware of the so-called jineteros or hustlers who actively roam Habana Vieja offering foreigners everything from counterfeit cigars to unsolicited sex. The best advice to keep these tenacious individuals at bay is to keep walking and simply ignore them.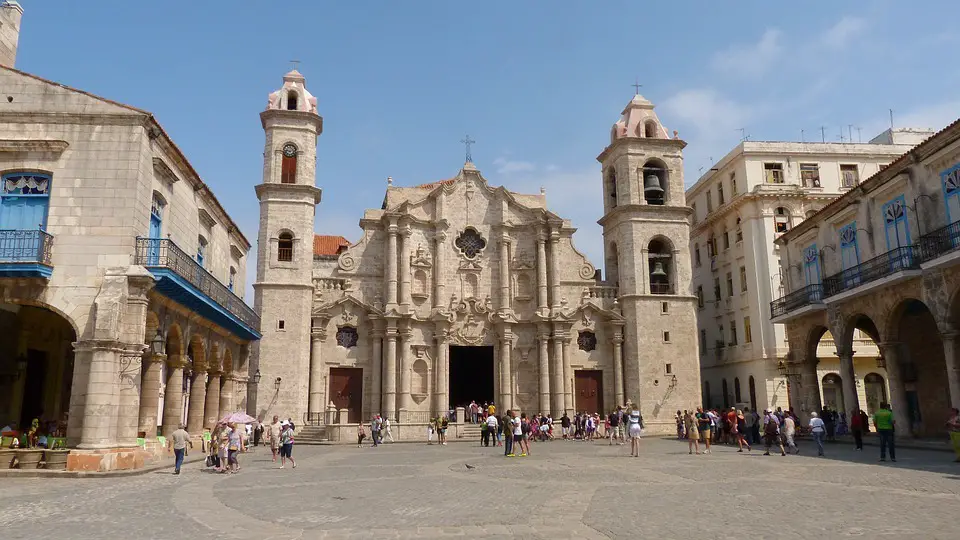 Havana Beaches
Eastern Havana Beaches Havana is blessed with beautiful white sandy beaches! The Eastern Havana Beaches are located on the Northeastern part of the city and comprise Bacuranao, Megano, Boca Ciega, Santa Maria, Guanabo and Jibacoa Beaches. Getting to the Eastern Havana Beaches is only a 15 minute drive from the city. You may also get there by public transportation which would be an adventure onto itself with long lining up included!
Beaches on the West of Havana City Marina Hemingway is located west of Havana and it offers the most complete range of marina facilities in Cuba. Still farther west in Havana Province you will find El Salado Beach with scuba diving sites protected by coral reefs.