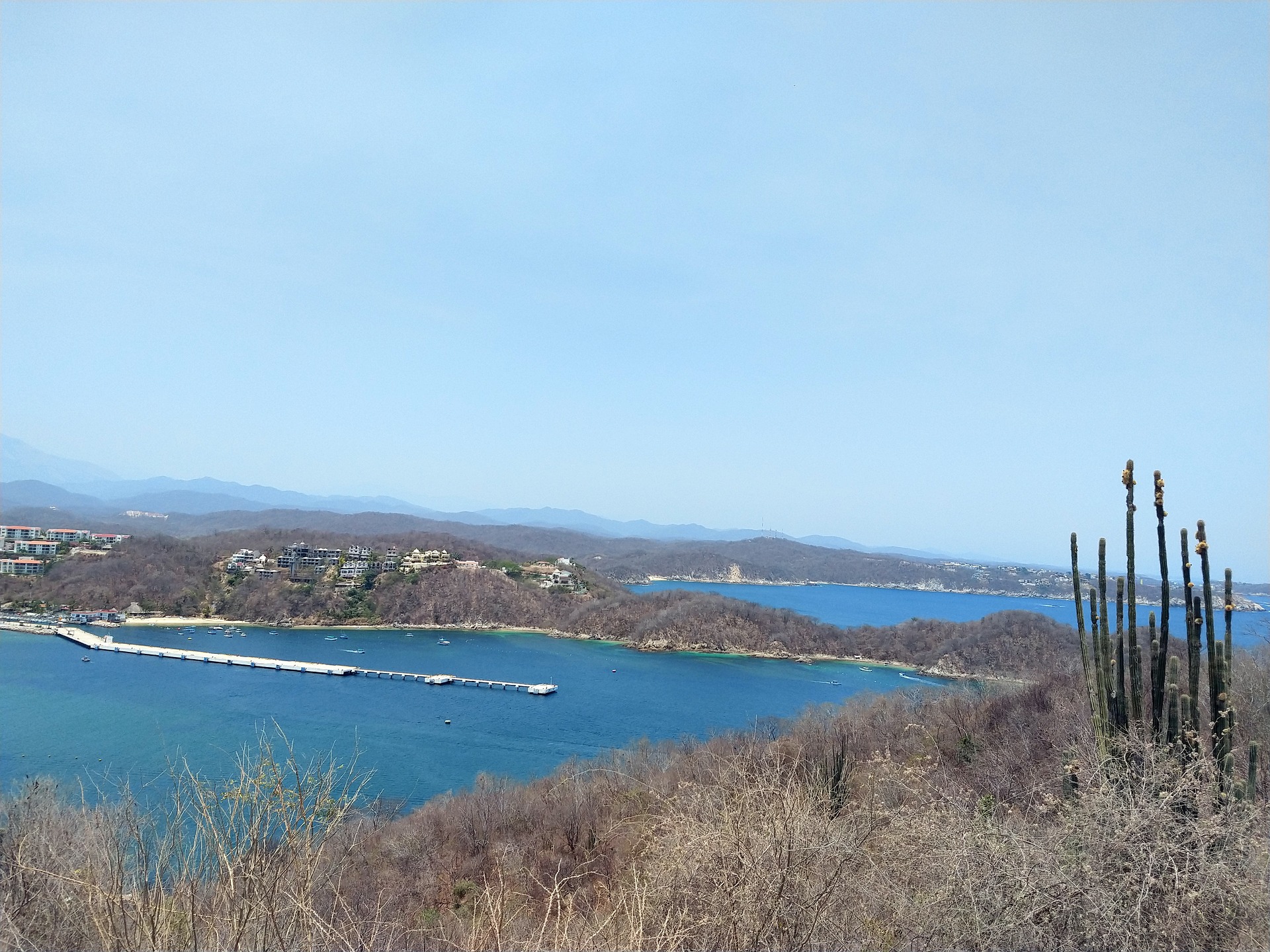 Bahias de Huatulco (wa-tool-coh) is a regional area, not a city, however most people refer to Huatulco as a city.  Fonatur, Mexico's national trust for the promotion of tourism, developed the Huatulco region to appeal to tourists. Fonatur's resort destinations bring in over half of the foreign tourist dollars in Mexico. Fonatur developed five resort areas, Canacun, Ixtapa, Los Cabos, Loreto and the Bays of Huatulco. The Huatulco area encompasses 9 bays and 36 beaches. 
Huatulco is located in the Mexican state of Oaxaca along the Pacific coast. The area is where the foothills of the Sierra Madre del Sur mountains reach the ocean and about 250 miles east of Acapulco. 
The three areas of Huatulco are Tangolunda (an upscale resort area) , Santa Cruz and La Crucecita. The map below gives you an idea of the size and location of the region.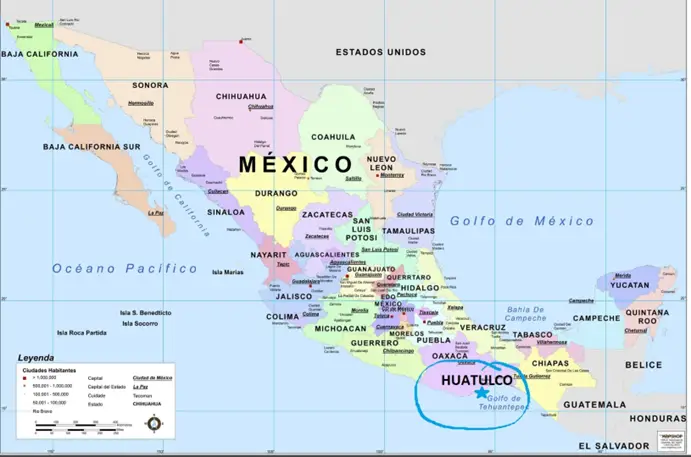 Check out these excursions in Huatulco.
Where You Dock in Huatulco – Mexico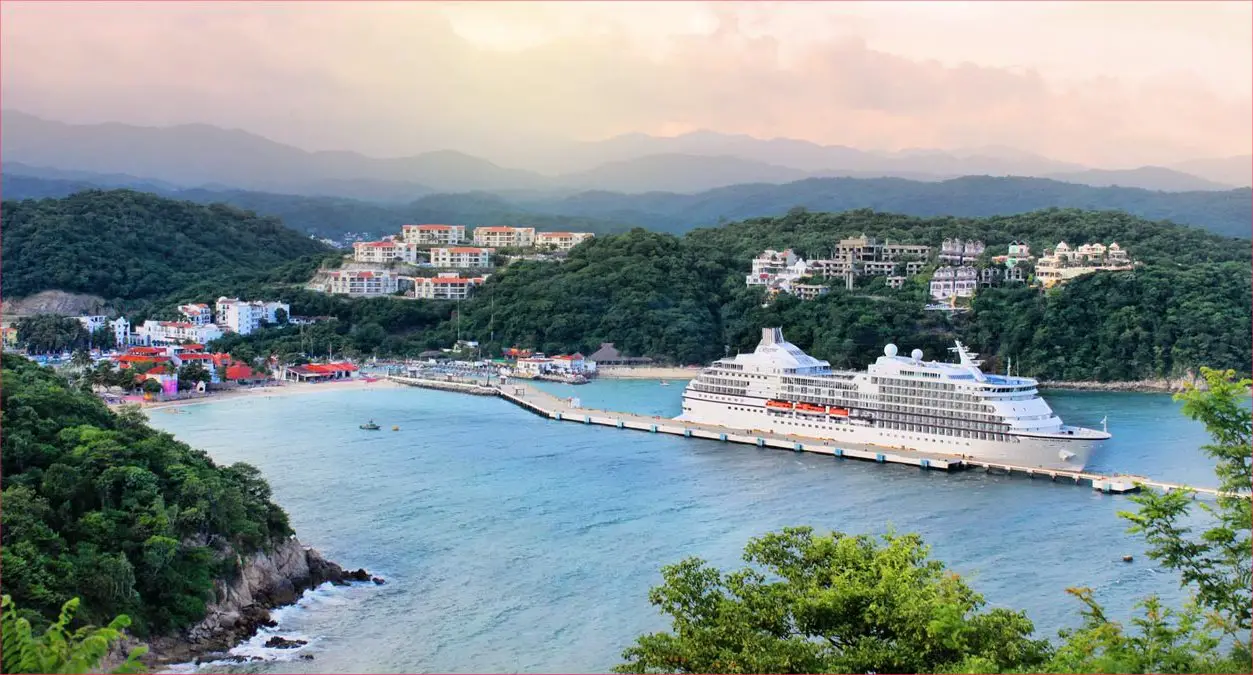 Cruise ships dock at a pier in Santa Cruz Bay. The bay is right next to a beach and a small marina. The exit to the pier is about two ship lengths to walk and it leads straight into town. There are no cruise dock facilities, but they do have small vehicles, see below, that will take you to the port exit for a tip.
Getting Around Huatulco – Mexico
Walking
The beach, restaurants and shops are all within a 15-minute walk from the pier. If you are wanting to venture farther, you will need to take a cab.
Taxis
At the exit to the cruise port there are taxis and local guides that offer shore excursions. You will not have trouble finding a taxi in Huatulco. They will have look similar to the following, but colors will vary.

Know that the farther out from the main tourist areas you travel, the spottier the cell reception will be. If you travel far afield, make arrangements with the taxi service for a time to come and pick you up so you don't have to rely on cell service.
Taxis are the easiest, most convenient and economical way to get around Huatulco. Taxi prices are on display at the tourist information booth. They are also safe, being unionized and standardized. Prices are set so no bartering is needed. 
Note: Uber or Lyft are not available in Huatulco. 
 Buses
There is public transportation in Huatulco. Buses do not stop every few blocks like buses do in most major cities, but they do cover a lot of the region. So if you are looking to go from Santa Maria Huatulco to La Crucecita and then on to Santa Cruz, a public bus will take you there. Get on the bus from the front or back doors, but exit the bus from the front and pay your fare as you leave.
Rental Cars
There are rental car services in Huatulco. Taxis are still the least expensive way to get around, but if you want to rent a car, know that driving can have its challenges. There are many street performers, people selling goods, small motorcycles and any other number of perils on the roads.
Traffic signs and signals are more of a suggestion for the locals, so this can cause problems. The motorcycles, especially, do not adhere to any type of rules of the roads but weave in and out of traffic.
You need to be at least 21 to rent a car and have a valid driver's license from your country of residence. You will also need a major credit card. Driving is on the righthand side of the road. Using a seat belt is mandatory and you can not use a mobile device while driving.
Here are a few of the rental car services in Huatulco:  
Renta de Autos en Huatulco, Oaxaca
Shopping In Huatulco – Mexico
The state of Oaxaca is unique in that its known for the quality and diversity of its artisans and handicrafts because each region and/or town has different traditions and ethnic groups. This makes for very unique souvenirs covering everything from leatherwork, tinsmithing, pottery and stonework, textiles, jewelry, each with different characteristics based on the area it came from.
Because of Hutaulco's proximity to the sea, jewelry and art made from shells are common, as are handmade cosmetics. Oaxacan mezcal is also popular because many still produce it the old-fashioned way
You might want to head to La Crucecita if you are looking to shop. It has a small town feel with a town center filled with shops and steet vendors. Here they will be selling foods, clothing, baskets, hats, wood carvings and other souvenirs. Santa Cruz city center is another option for shopping in the area. Both La Crucecita and Santa Cruz are a 5 minute taxi ride from the port. 
This open air market has produce, coffee and arts and crafts made by locals. You can also find a bite to eat here. Just make sure you don't try to board the ship with any plant products or produce, and only purchase packaged products.  The market operates the first and third Saturdays of the month in the central park. 
Located in the center of La Crucecita, you will find regional handicrafts like Oaxacan clothing, Barro Negro black pots and blankets. There is even a mezcal tasting area.
Mercado Tres de Mayo – La Crucecita
You will find pretty much everything at this mercado located just off La Crucecita's center park. Postcards, leather sandals, souvenirs and fresh produce. There are also stalls with food vendors.
This video is in Spanish, but it gives you a good idea of what the market is all about. (You can turn on the closed-caption and auto-translate it to another language).
Dining In Huatulco – Mexico
Much like the diversity and quality of Oaxacan handicrafts and arts, food is also influenced by the history and culture  of the area, and the area draws thousands of foodie tourists annually. 
The varied climate also plays a big part of Oaxacan cuisine with areas specializing in tropical fruits, seafood, vegetables including unique spices and peppers. Traditional Mexican staples are "dressed up" with local additions of cheese, chocolate (used in mole), mezcal and even grasshoppers. 
Check out the following video outlining 13 must-try dishes in Oaxaca. Though the video is shot in the city of Oaxaca, these dishes can be found around the state, including Huatulco. 
Restaurants in Huatulco
Part of the Villablanca hotel, this restaurant is located literally at the end of the cruise pier. It offers amazing ocean views and has delicious Oahaxan cuisine but reviewers often boast about the amazing fish and chips. They also say staff are friendly, portions are good, and prices are reasonable. 
This beach restaurant does not look like much from the outside. Don't let that put you off as the inside is more inviting. This is also one of the highest rated restaurants in Huatulco. With a spectacular view of Santa Cruz Bay, you will find fresh seafood, soup and much more. Cold beer and bottled water round out your meal. It's located just off to the left of the cruise pier. 
A bit farther afield in La Crucecita, just off the main square, this restaurant has more authentic Mexican dishes. Black, red, yellow and green mole sauce with chicken or Oaxacan beef and sauteed onions are popular. You will also find pork skin with sauce. If you are really hungry, or adventurous, get the Plata Oaxaqueno. This has cheese, tortillas, pork, sausage, beans, avocado, stuffed chili peppers and black mole.
Nothing is prepared beforehand at Don Crudelio, but is individually made at the time of ordering. Grilled fish with crackling, beef tempura, cheese crust and garlic octopus are a few of the dishes made fresh. They also have burgers, soup, tacos and quesadillas, along with a wine list. Located 0.4 miles from La Crucecita's center park. 
A small eatery, but most guests say the flavor is big. Mainly a seafood restaurant, you will still find items like rabbit ragu. The menu is often altered to include new combinations that the owner/chef comes up with. Credit cards are not accepted here, so bring cash. It's located a 3 minute walk south of the center park in La Crucecita.
Things To Do in Huatulco – Mexico
Head To The Beach
There are 9 bays and 36 beaches in Huatulco. This article: Playas Huatulco – CONOCE las mejores playas de Oaxaca! Will tell you about each one of the 36 beaches, just click on the pictures.
Here is a short rundown of the more popular ones:
Playa Santa Cruz
This small, crescent -shaped sand beach is right at the end of the cruise ship pier. There are no beach chairs here, so bring a beach towel. There are a few beach-side restaurants who may let patrons use their chairs and umbrellas as long as food and drinks are purchased, so make sure to inquire.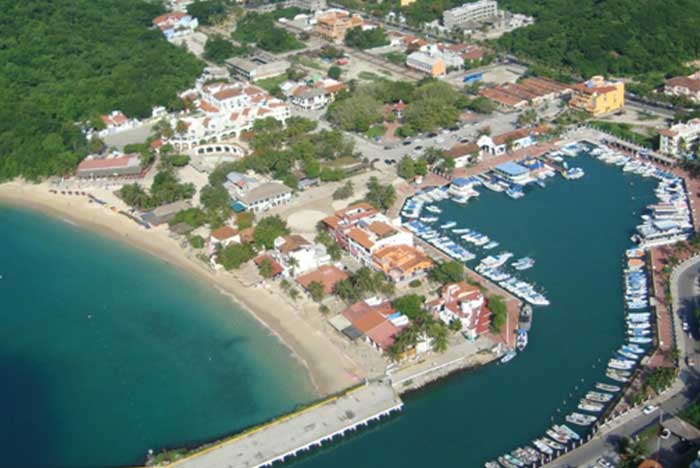 Playa San Agustin
This mile long beach has calm waves, a shallow depth and lots of coral which makes it an ideal spot for snorkeling, and most claim out of all the Huatulco beaches the snorkeling is best here. You will be able to rent snorkeling equipment too. There are also restaurants on the beach such as El Capi Beach Club where grilled mahi mahi, ceviche (fresh, raw fish in citrus juices) seafood stew and guacamole are some of the favorites on the menu. 
It's about a 45 minute drive from the cruise terminal, and requires taking some back roads to get to, so hiring a taxi is the best way to get there. Agree on a rate prior to departure and ensure they agree to come back to pick you up, as taxis back won't be readily available. 
Playa La Entrega
Many consider this one of the best beaches in Huatulco because it is one of the most picturesque of the nine bays but you will need to get transportation from the pier, even though it's not far. This area is popular for jet skiing and snorkeling. There are restaurants on the beach where you can buy fresh seafood and drinks.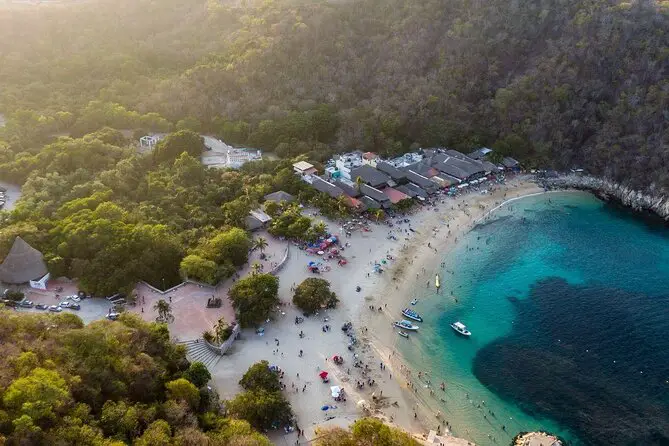 Playa La Bocana
A long tradition for tourists visiting this beach is to get slathered in mud from the Copalita riverbanks. Local women provide the mud which is applied to your skin. Not only is it an exfoliation experience, but it is also a great photo opportunity. The best part is washing it off in the waves. This is also a popular surfing spot. There are restaurants and a popular beachfront Mezcal bar called Mezcaleria Quiereme Mucho. This little video shows both the beach and the bar.
Mezcalería Quiéreme Mucho from Ana Carem Acuña on Vimeo.
Just about a 10 minute taxi ride from La Crucecita's main plaza, this archelogical site is a joint project by Fonatur and Mexico's National Institute of Anthropology and History. The site features the restored archaeological remains of the ancient city of Copalitan, which dates back to 500 BC. The museum is well-curated with collections of ceremonial objects. You will see obsidian knives, jade jewelry and funeral masks. There is also a path with restored buildings from the Classic Period that leads to a spectacular cliff-side lookout with views across the Copalita River. Make sure that you have sturdy walking shoes, water and insect repellent. Admission is free is it is open daily from 8am-5pm. 
This "agro-ecotourism" 320-acre park has lovely riverside trails that will take you past 100,000 plants of 300 different varieties. These plants attract both birds and butterflies, making it a beautiful walk. The end of the walk affords you the opportunity to take a dip in the Magdalena River and the small waterfall, La Campana. The park also has five types of zip lines. Most visitors spend about 3 to 4 hours here and it is a 45 minute drive the cruise terminal. 
Cooking Classes
Because of the amazing and unique food Oaxaca is known for, taking a cooking class can be a great way to learn about the history and culture of the area, while having the chance to prepare, cook and eat some delicious food. The class is in English and is approximately 3.5 hours in length. Click here for more information and to book!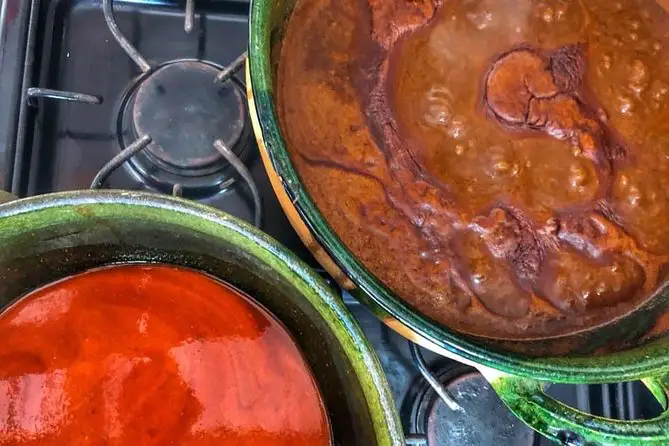 Top Tours & Excursions In Huatulco – Mexico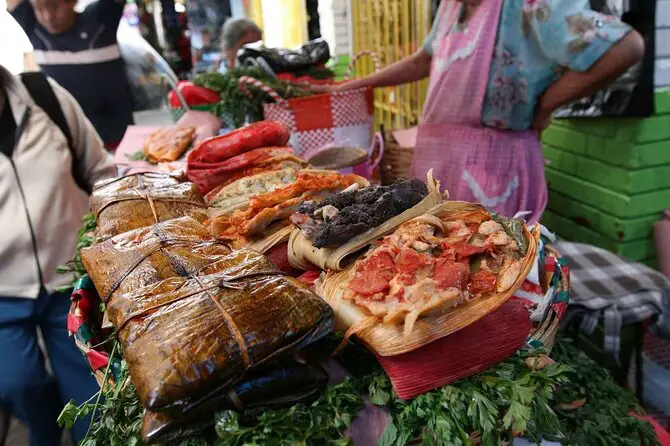 A Walking Food Tour is a fun way to discover Mexican culture in a personal way. Join us for a delicious journey through the streets of La Crucecita, Huatulco! Enjoy seeing where the locals' shop, eat and hang out. We will pick you up  and take you to downtown Huatulco, La Crucecita. Our guide will meet you and take you on your culinary adventure. During the tour, you will taste at least 7 different snacks so be sure to bring an appetite! ...
Duration: 3 Hours
Activity Level: Moderate
Wheelchair Accessibility: Yes
Food: Included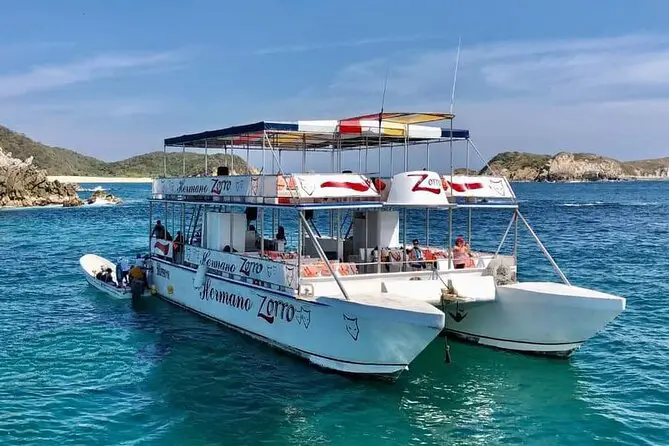 Have fun and get to know the spectacular Huatulco Bays in a catamaran, boarding the boat from the Santa Cruz pier, From the boat you will see the 7 bays of Huatulco, stopping to enjoy snorkeling in the Bay of Chachacual and the beach at San Agustin. Enjoy this adventure listening to the narration of the guide while sailing along the coast and discovering the nature of the beaches. ...
Duration: 7 Hours
Activity Level: Moderate
Note: Bring money for food, port fees, snorkeling equipment
Wheelchair Accessibility: No
Food: Beverages on board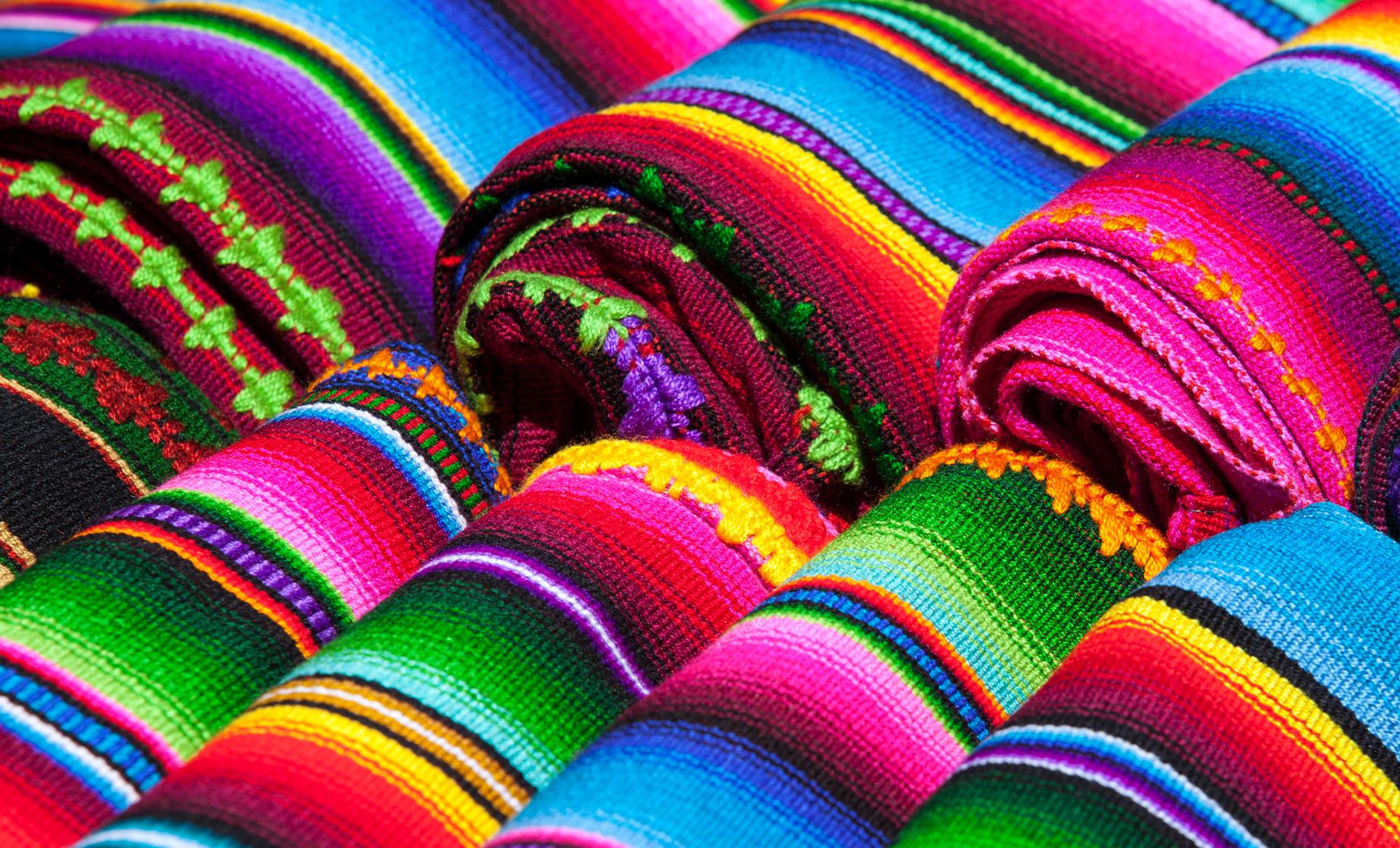 Discover authentic Mexico tour of local villages in the Tangolunda countryside of Huatulco. Here you will see the traditional lifestyle and admire the crafts of local artisans. You'll stop at La Crucecita, a small local village, where you can stroll through the charming main plaza and shop in the handicraft market and silver shops. Here, you'll find Oaxaca's famous woven rugs and black pottery, as well its carved wooden figures. The zocalo (main...
Duration: 3.5 Hours
Activity Level: Easy
Wheelchair Accessibility: Folding wheelchairs (advance notice required) but some uneven ground
Food: Beverages included