Kailua Kona – Hawaii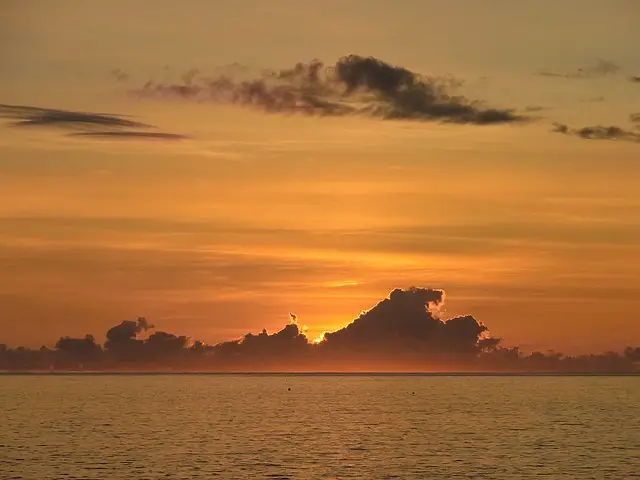 This can get a bit confusing for a non-native, so we will try and make it clearer. There is a popular town on the island of O'ahu called Kailua. On the island of Hawaii, known as the Big Island, there is also a town called Kailua.  
The western coast district of the Big Island is called Kona and Kailua is its largest town. Hawaiians call this town Kailua or Kona or Kailua-Kona.
Kailua-Kona is its post office designation to differentiate it from Kailua on the island of O'ahu. You really do have to be a native to understand! 
Kailua-Kona is situated at the bottom of the Hualalai Volcano. This area on the Big Island is considered to be one of the best places to live because of the pleasant weather and the great waters. In ancient times, many kings had their homes in this area and missionaries built churches here.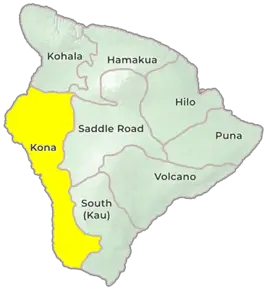 Hawaii Island, also known as the Big Island
In Kailua-Kona you will see the most spectacular sunsets over Kailua Bay. The main street, Ali'i Drive, runs along the ocean front through Kailua-Kona from Kailua Pier to the Kuanmo'o Battlefield. The town is just a few miles south of the Kona International Airport. 
Good To Know
As the age-old, wise saying goes: "It is better to be safe than sorry." The water may look calm and welcoming, but conditions in the ocean can change quickly. Obey all signage or offical warnings that you see on the beach. 
If you visit Hawaii, do NOT pick up any rocks or sand to take home. Hawaiian's feel very strongly that everything has a life force and that rocks and sand are sacred. It is hugely disrespectful to move, disturb or take the sand and rocks that have such a deep meaning to the Hawaiian people. 
Each year, Kailua-Kona is host to the IRONMAN World Championship.  Athletes from around the world come to compete in the two day event. The 2022 competitions are October 6- October 8. The championship starts with a 2.4 mile swim that begins and ends at the Kailua-Kona pier. Next is a 112 mile bike ride. The final stretch of the triathlon is a 26.2 mile marathon that ends on Alii Drive in Kona. This is an invite-only competition.
Check out all  excursions in Kailua Kona, Hawaii.
Weather:
Kailua-Kona has a tropical and semi-arid climate. The average highs are 86°F and the average lows are about 68°F. The coolest month of the year is February and the warmest is August. Kailua-Kona is generally dry with an average rainfall of 19 inches a year. Incredibly, the Big Island has 11 climate zones!
Currency:
The official currency is the U.S. dollar. There are ATMs everywhere on the island. Major credit cards such as Visa and Mastercard are accepted everywhere.
Wireless Internet:
To find WiFi spots in Kailua-Kona, check out this map: Big Island, Kailua Kona – Hawaii – United States – Free WiFi. Click on the red flags to see the name of the business. Places like McDonalds, Starbucks, Island Lava Java and Bongo Ben's Island Cafe all have WiFi access.
Languages:
English is the standard for everyday use, but Hawaiian is the official language of Hawaii.
Where You Dock in Kailua Kona – Hawaii
Most cruise ships call this stop "Kona."
Ships anchor in Kailua Bay and tender passengers to Kailua Pier. The pier is in the middle of Kailua-Kona. There are usually locals who greet the ship with maps and local information.
It's a short walk from the pier to town, where everything you need is available. Shops and restaurants are located across the street.  There's even a small beach right beside the cruise pier. 
Getting Around Kailua Kona – Hawaii
If you ask a local for directions, they may tell you makai (toward the ocean) or mauka (toward the mountains). This may seem vague, but will come in handy as numbered address signs may be hard to find or nonexistent.
Walking
The town is right at the end of the pier, and the town itself is walkable. 
Shuttles
There are shuttles at the pier that will take you to Hilo Hatties, Wal-Mart and the Kona International Market. 
Trolley
Get a copy of the Kona Trolley schedule from the tourist representatives that are at the pier, because services for this trolley are limited. Kona Trolley is a local shuttle that runs along Alii Drive and makes two alternating loops around the Kona area attractions. It will pick up at the pier, make a stop to retail and restaurant areas, and then another to beaches. 
Taxis
It is best to call ahead if you want a taxi. It is not always an option to flag one down on the street.
The Hawaii Tourism Authority recommends the taxis services below:
Uber and Lyft operate in Kailua-Kona, too. 
Rental Cars
Rental car companies sold off almost half of their fleets when the demand fell in 2020. They are starting to rebuild their fleets, but are not at full capacity yet. You may find that they are (like everything in Hawaii) on the expensive side. It is best to book in advance to ensure you have a reservation for a rental car. 
Here are some suggestions for car rentals in Kailua-Kona:
Shopping In Kailua Kona – Hawaii
Although Kailua-Kona is a smaller town, there is no shortage of shopping opportunities. 
Kona Farmers Market – 75-5767 Ali'i Drive (0.5 miles from pier) This market has local art and vendors. You will find food, fruit, clothing, jewelry and souvenirs here.  It is open Wednesday through Sunday from 7am to 4pm. 
Located on the sea side of Alii Drive, there are over 50 shops where you will find clothing, jewelry, art and souvenirs. 
An outdoor marketplace with over 20 vendors where you will find a shaved ice stand and Hawaiian products like soap, coffee, jewelry and coconuts that you can mail back home. It is open Tuesday-Sunday from 9am-5pm. It is wheelchair accessible and has free WIFI!
Nana's Clay Flowers – 75-5782 Kuakini Hwy 2A (0.9 miles from pier)
The clay flowers in this shop have to be seen to be believed! They are works of art that are incredibly realistic. Made from air-dried clay and then painted, they are available in miniature size up to full size. They are open Monday-Saturday 10am-5pm. 
Lanihau Center – 75-5595 Palani Rd (0.4 miles from pier)
This small center, which caters mainly to locals has a shoe store, GNC, clothing store,  nail and hair salons and a grocery store. 
Waterfront Row Shopping Center – 75-5774 Ali-i Drive (0.5 miles from pier)
Situated next to the ocean, the mall has clothing, crafts, artwork, pastries, food and drinks. 
Dining In Kailua Kona – Hawaii
You will find poke in many of the restaurants in Hawaii. It is a staple that consists of a blend of ceviche (raw fish) and sushi. There are many variations of these raw marinated cubes of fish that can be mixed with soy sauce, sesame oils, chilies and seaweed.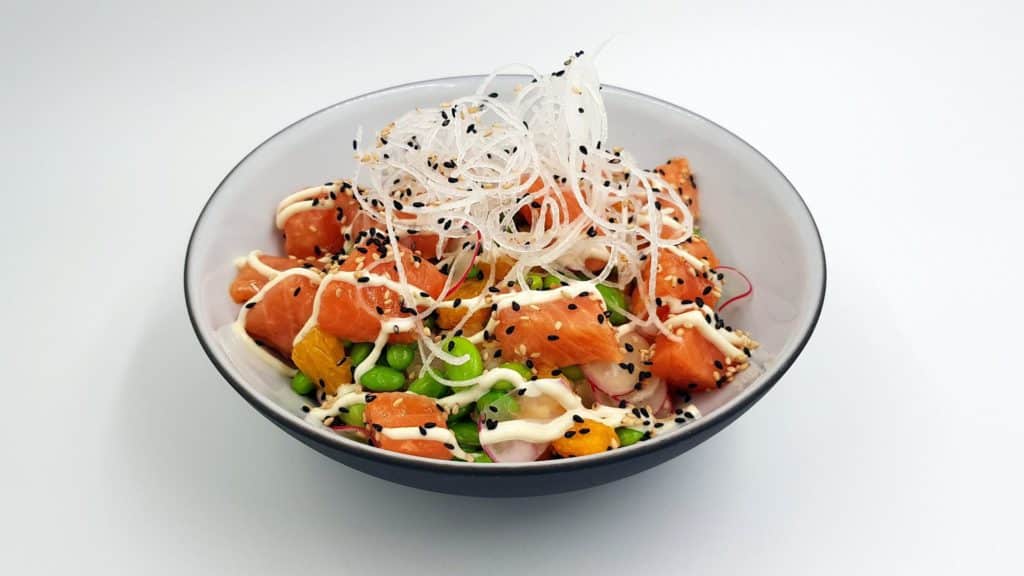 This casual eatery is a local go-to for seafood specials, pupu platters and wine. 
Here you will poke bowls and other Hawaiian favorites. This spacious restaurant will remind you of a cafeteria with its laid back setting. They also have a full bar. 
Foster's Kitchen – 75-5805 Ali'i Drive (0.7 miles from pier)
Foster's has farm-to-table New American dishes. Roast chicken, spring lamb, barbecue and fresh salads can be enjoyed in an outdoor setting. 
Kona Brewing Company – 74-5612 Pawai Place (0.8 miles from pier)
This microbrewery has pizza and live music on Sundays. You can get an informal tour if you want, and eat in a lanai with a corrugated tin roof. BBQ sandwiches and fish are also on the menu. 
Ultimate Burger – 74-5450 Makala Blvd. (1.3 miles from pier)
If you are looking for a casual spot, you will be able to find made-to-order grass-fed burgers here. Fresh cut fries, beer and tea are also served.
Da Poke Shack – 76-6246 Ali'i Drive (3.3 miles from pier)
This is the place for take out. If you want to grab a container of food and head to the beach, you will find excellent poke here. They have other local specialties and salads. 
Big Island Grill –  75-5702 Kuakini Hwy. (0.4 miles from pier)
This casual restaurant serves loco moco (white rice, topped with a hamburger, fried egg and gravy), and Kalua pork. There are also Filipino influenced items on the menu.
Poi Dog Deli – 75-1022 Henry Street ( 0.9 miles from pier)
The owners of this sandwich shop are from the mainland states of Louisiana and Arizona. Turkey reubens and grilled cheese sandwiches are some of the most popular. 
Things To Do in Kailua Kona – Hawaii
This is the former vacation home of Hawaiian royalty and is located a quick 4 minute walk from the cruise pier.  Today it has been converted into a museum that is run by the Daughters of Hawaii. You will see artifacts from the era of King Kalakaua and Queen Kapiolani. There are beautiful koa wood furniture, Hawaiian quilts and other items that had belonged to the royals. 
The palace is open Saturday for self-guided tours or  Wednesday-Fridays for guided tours only. Reservations can be booked here.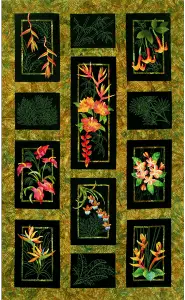 The Kona Hawaiian Quilt Museum and Gallery is a must-see for quilting enthusiasts and is located a short 10 minute walk from the cruise pier. Here you will learn about the history and culture of the quilts that are unique to the Hawaiian islands. Both traditional and vintage quilts are on display. You will be able to trace a Hawaiian quilt pattern to take home with you.
This is paradise, located in paradise! You will get a taste of 100% Hawaiian grown chocolate and cacao from Huallalai Mountain's Kona region on the Big Island. The Hawaiian-grown cocoa beans are hand-picked and sun-dried to preserve the quality.  You can visit the store just to pick up some treats, or the plantation itself is also available to tour on Wednesday and Friday mornings, by reservation only. Click here to book. 
What is a visit to Hawaii without a lu'au? Located on the grounds of the Courtyard by Marriott King Kamehameha's Kona Beach Hotel, you will enjoy an outdoor dinner buffet and show with a lot of Polynesian dancing.
 Kahalu'u Beach Park
The west side of the Big Island (the Kona district) provides the best snorkeling spots with unique species and corals. The black sand beach is protected so remember not to take any of it with you as a souvenir. The shallow waters makes it a great place for kids and the snorkeling spots are easy to get to. There are picnic tables, equipment rental, trees for shade and concession stands. It's located about 5 miles away from the cruise pier, so you'll need a vehicle to get here.
Top Tours & Excursions In Kailua Kona – Hawaii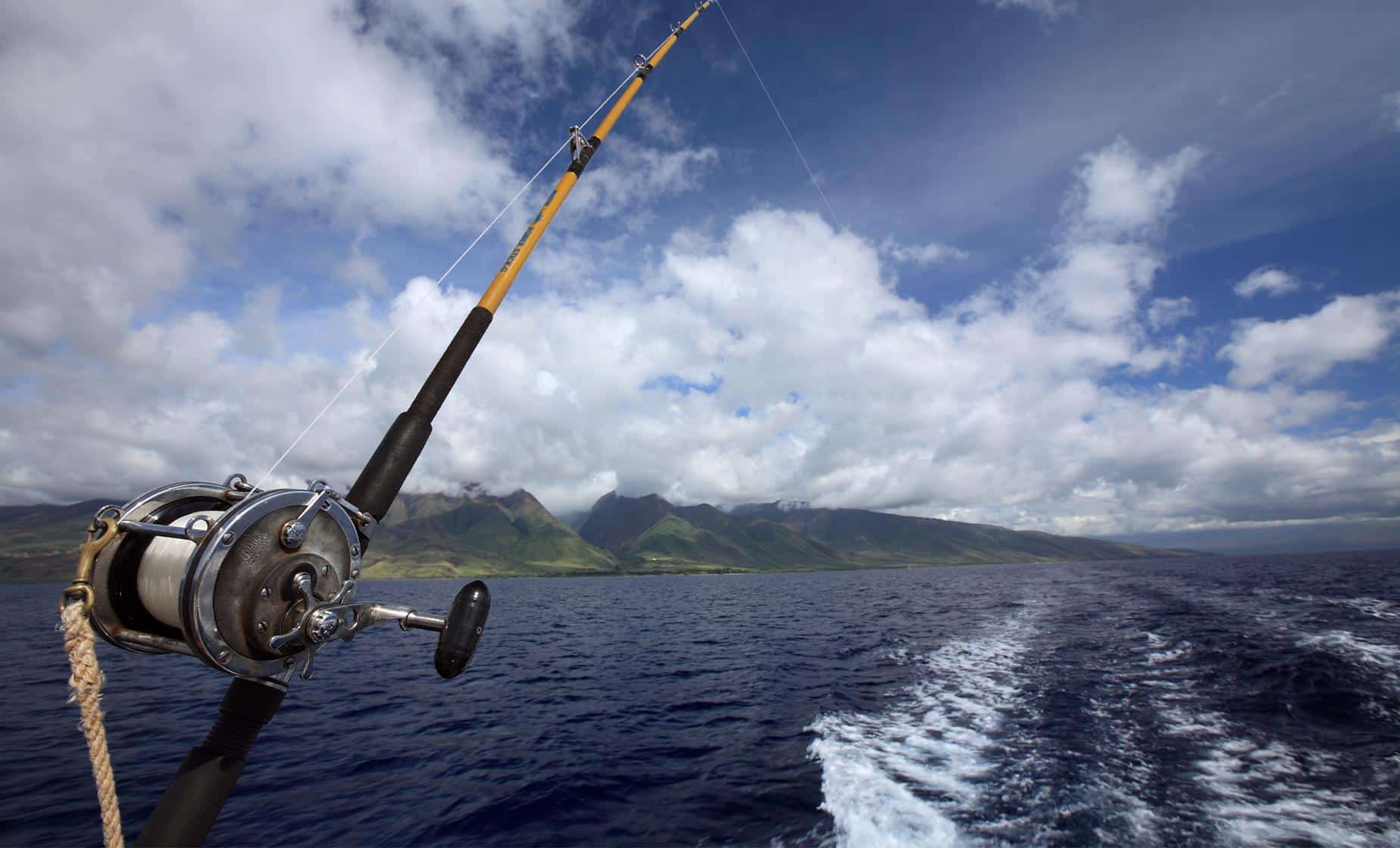 Half Day Sportfishing - Kona This is the opportunity to go fishing for marlin, mahi-mahi, ono, tuna and other big game fish with this private tour. The Kona Coast of Hawaii is famous for deep-sea fishing. You can take a picture and release our fish, or have the local taxidermy mount it for you. ...
Duration: 4 Hours Activity Level: Easy Wheelchair Accessibility: No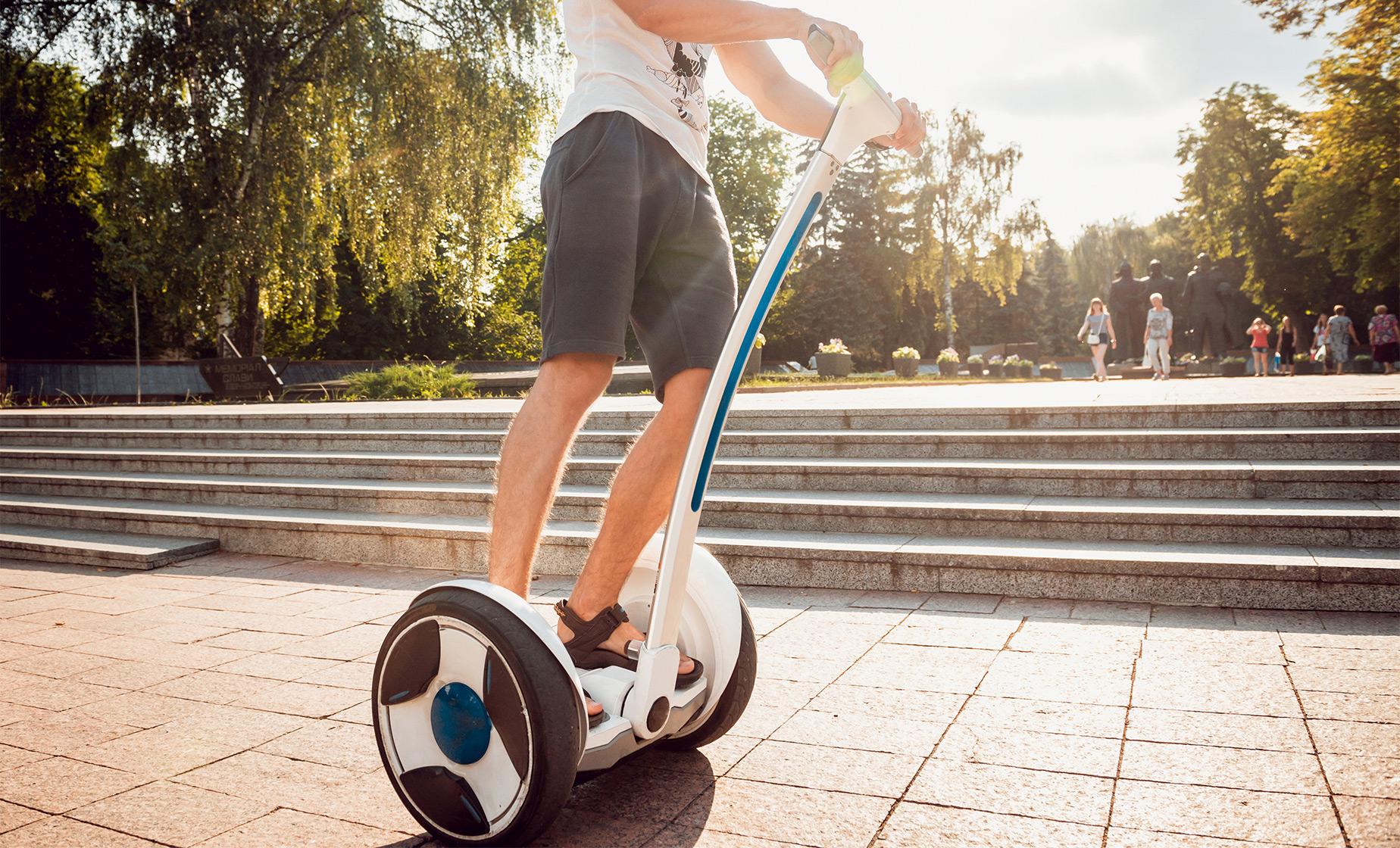 Kona History by Segway This 1.5 hour tour gives you a way to get around on your own personal transport. You will see the magnificent views of the Kona coast, the pier of Ahu'ene Heiau, the temple where King Kamehameha worshiped and the Moku-Auikaua Church. The tour will take you on the town's main thoroughfare with all the shops and eateries....
Duration: 1.5 Hours Activity Level: Moderate Note: Min. age 10 years. Wheelchair Accessibility: No Food: Water provided