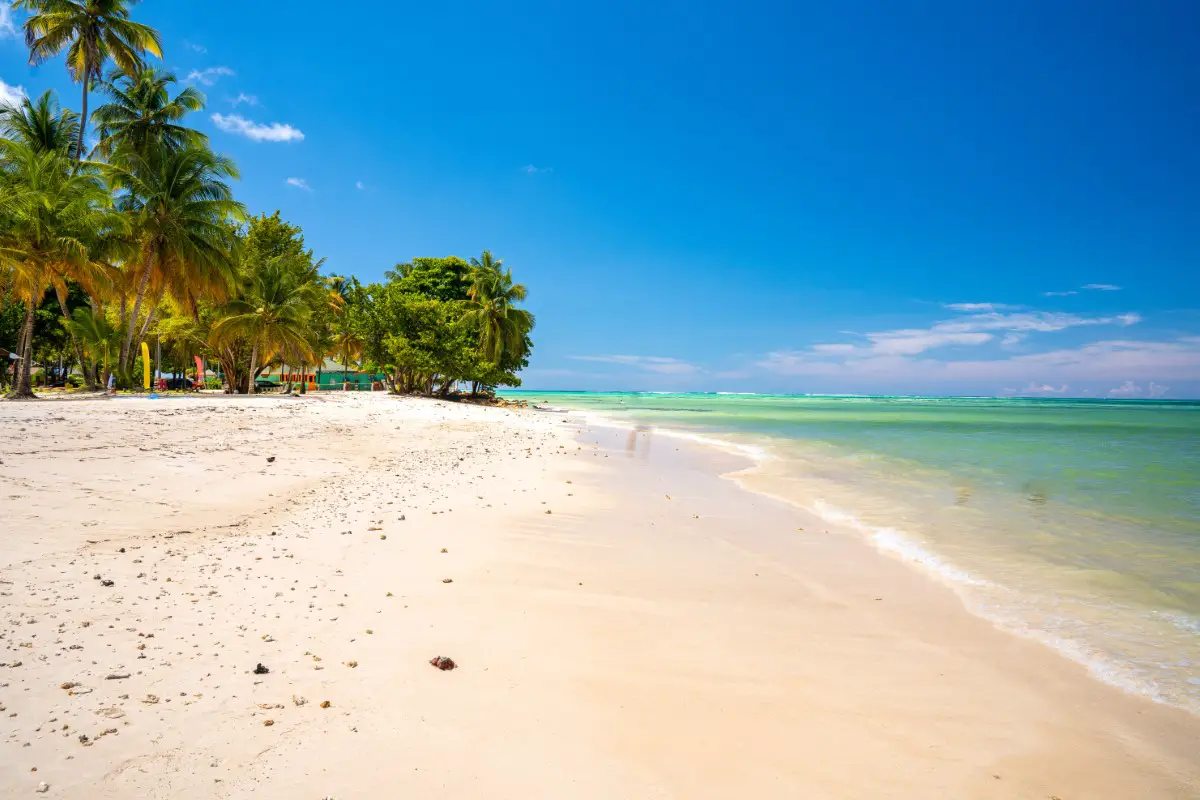 Comprising 32 islands and cays, nine of which are inhabited, St.Vincent and the Grenadines are located in the Caribbean Sea, just north of South America. 
Kingstown is the capital, main port and is also the main commercial hub of St. Vincent. The British ruled St. Vincent for almost two hundred years before the French settled and founded Kingstown in 1722. 
William Bligh, commander of the HMS Bounty fame (or infamy!) brought breadfruit trees to St. Vincent in 1793. Not native to the Caribbean, it has since thrived on the islands. Breadfruit has become a staple on the islands. A third-generation breadfruit tree, a sucker from one of the original plants that Captain Bligh brought to the island, can be seen in the botanic gardens. There is also an annual breadfruit festival.
You will not find many all-inclusive resorts on St. Vincent, and the islands are the least traveled of the Caribbean islands and have little cruise traffic. This might be a disadvantage if you are looking for shopping, dining and cultural attractions; this will not be your stop. If, however, you are drawn by waterfalls, rainforests and coral reefs, this will be the place for you. Just know that some parts of St. Vincent is so densely forested that you can't circumnavigate the island by car. It can be an exciting place for an ecotourist, but challenging at the same time, as there is little in the way of creature comforts for tourists on the islands.
Good To Know
It is against the law to wear camouflage clothing in St. Vincent and the Grenadines. This goes for everyone. Men, women and children are included in this restriction. Items, like purses, backpacks, bandanas or any other item made of camouflage material will be confiscated and you will not get it back.
Check out these excursions in St. Vincent & the Grenadines.
Where You Dock in Kingstown – St Vincent & the Grenadines
The cruise port is located a few minutes from downtown Kingstown. Two cruise ships can dock at the same time. If there are more than two ships in port, the ship not docked will tender passengers.  There is a cruise ship terminal that has a gift shop, restaurants and an information center. It is arranged around a terra-cotta-tiled courtyard with a mural that depicts the St. Vincent's annual Carnival celebration.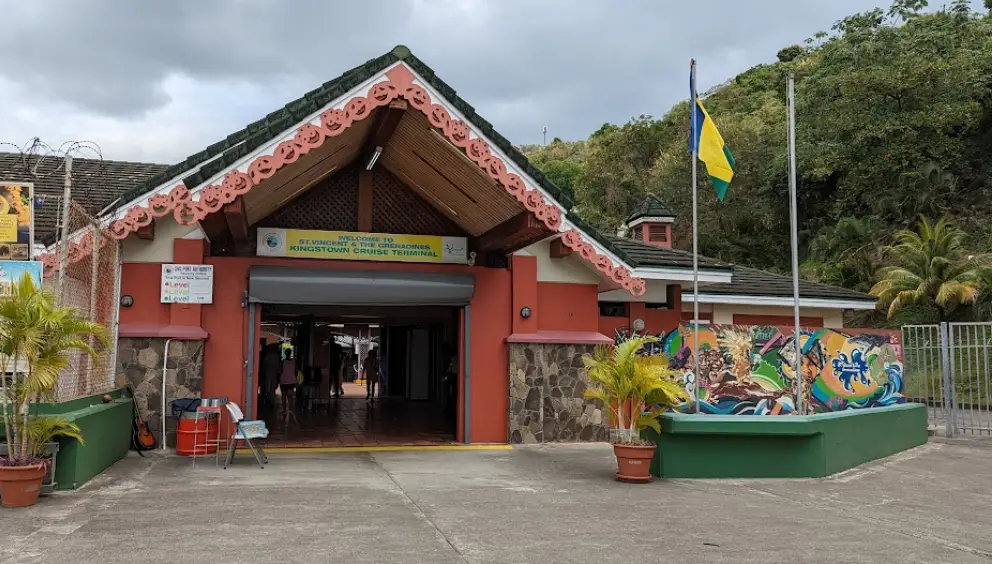 Getting Around Kingstown – St Vincent & the Grenadines
Walking
You can walk into Kingstown from the cruise ship terminal. Much of this small city can be explored on foot. North of the docks is Bay Street, which runs parallel to the sea. It has a wharf, fish market and the police station, and can be an interesting walk if you want to stay in Kingstown. 
While you can walk Kingstown, the cruise terminal is not within easy walking distance of the attractions that would draw an ecotourist.
Buses
What would be considered  "buses" in St. Vincent are privately owned vans. These vans can be flagged down from the roadside and they will take you to destinations that are too far to be reached by foot.
Water Ferries
Watter ferries connect the nearby islands. However, you need to have the time to visit the other islands. The closest island, Bequia, is an hour one way to reach. 
If you have the time in port and want to visit another island, these services will be able to help get you there:
Taxis
Taxis wait outside of the cruise terminal when ships are in port. 
If you prefer to call ahead, or use one of the taxi services for touring the island, here are a few of the ones available:
Rental Cars
As was noted, the main attractions in St. Vincent are not within walking distance of the cruise pier. Renting a car is possible, but the difficulty with driving in St. Vincent and the Grenadines is the poor quality of the roads. The main roads tend to be fine, but minor roads and rural areas are not. There are many narrow roads and blind corners. You need to watch for pedestrians, as they will walk in the roads and turn signals are not often used. Do not stop if you are flagged down by  pedestrians, either.  
To rent a car, you must purchase a temporary driver's permit. The rental car agency will help you with this process. Driving is on the left in St. Vincent and the Grenadines. 
Here are a few car rental services:
Prestige Auto Rentals   +1 784-433-0792
Chaine Rentals  +1 784-529-7756
Shopping In Kingstown – St Vincent & the Grenadines
There are not many shopping opportunities in Kingstown. The best and most available shopping is found at the cruise port terminal. The local market in Kingstown is another spot where you can find fresh fruits and vegetables.
Here you will find all varieties of items, just as you would in a grocery store. There is a deli and pharmacy. There is also an ATM.
SayCheap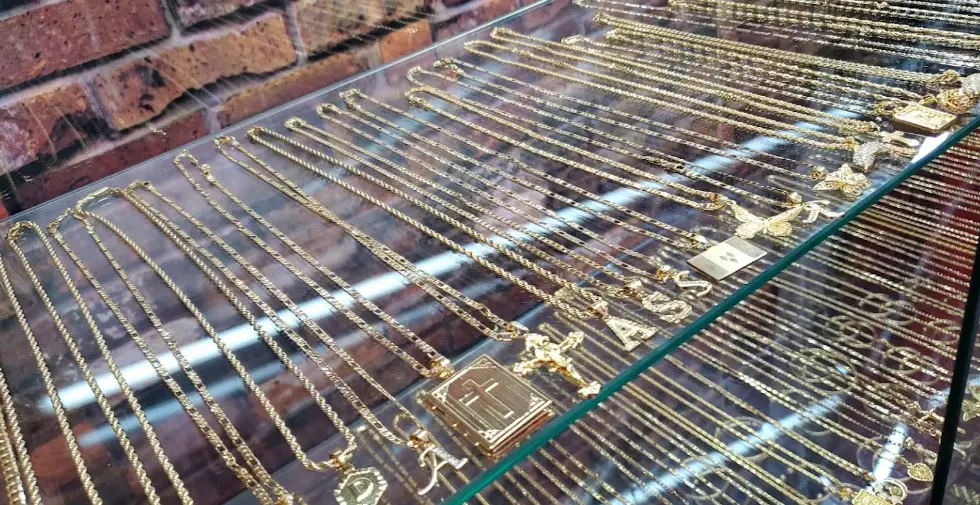 Located on Granby Street, this clothing store has some interesting pieces of clothing and lots of inexpensive jewelry.
Grand Bazaar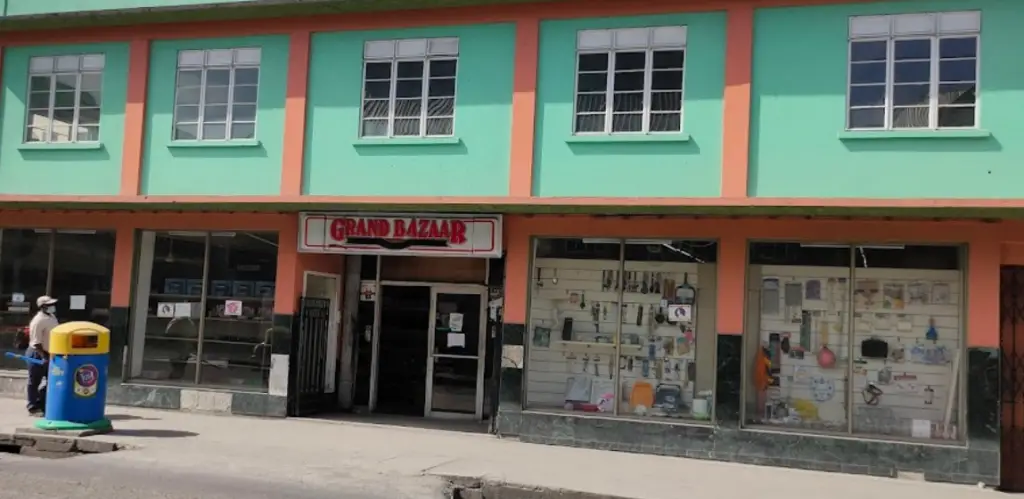 Located on Grenville Street, household-type items and home goods are found at Grand Bazaar. 
Dining In Kingstown – St Vincent & the Grenadines
The national dish of St. Vincent is the fried jack fish. The cuisine in St. Vincent is heavy on fish, as it is the most prevalent resource for the island. Breadfruit is another crop that is mashed or sauteed with garlic. Potatoes, yams, bananas and plantains are also staples on the islands. Other items have to be imported.
Located on James Street, you can get small plate items like soup, cheese platters, seafood scampi bruschetta, fish samosas and conch sushi rice cakes. They also have flatbread pizzas, and salads, along with southern fried chicken sandwiches. All of their menu items are designed to be easily paired with wines and other beverages.
Open for lunch, this bar and restaurant has burgers of beef, chicken or fish. They also have Green pea soup with oxtail. You can get grilled fish, curry duck, mutton, chicken, or rabbit. Shepherds pie and pasta salad round out the menu.
Located in the cruise terminal in Kingstown, you will be able to get pasta, salads,, breakfast, and even sushi. They describe their cuisine as "infused flavors of Asian, American and Caribbean" and offer indoor and outdoor seating. 
Things To Do in Kingstown – St Vincent & the Grenadines
If your cruise line times its visit right, you will be able to see Vincy Mas. Starting the last weekend in June every year, St. Vincent holds a 10 day Carnival celebration called the Vincy Mas which  is a Caribbean Carnival that is full of culture, tradition and heritage. There is music, color, costumes and all kinds of dancing.

Buccament Bay
About 20 minutes from Kingstown, the calm waters in this bay make it a good place for swimming.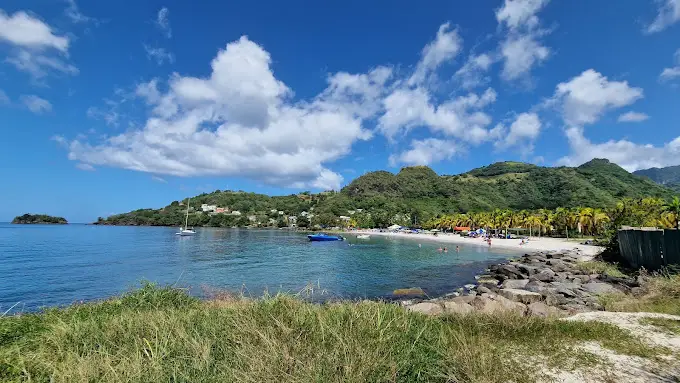 The oldest botanical gardens in the Western Hemisphere, having been established in 1765, these gardens have an array of plants and trees. Located on the outskirts of Kingstown, the gardens were originally created to grow spices and medicinal plants. This 20-acre sanctuary also has an aviary of endangered parrots. It is open daily until early evening and costs $5 Eastern Caribbean dollars (less than $2 USD) for adult admission. Click here to see a brochure. 
This 2 mile trail will take you through lush rainforests and unique landscapes. The hike winds through the forests and offers some great views of the landscape and you may see the St. Vincent parrot, the national bird of the island and is good for all ages. There are areas of the hike which have a wooden boardwalk with steps, and others more rustic dirt trail. There is a small entrance fee, a washroom and visitor's center and benches to sit throughout the trail.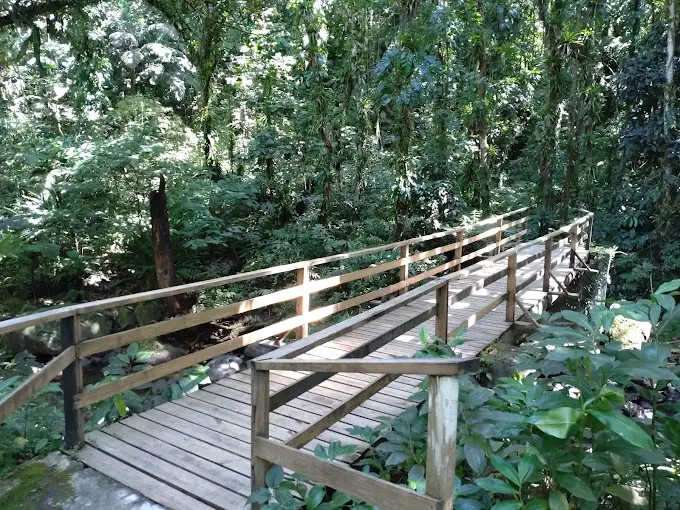 Top Tours & Excursions In Kingstown – St Vincent & the Grenadines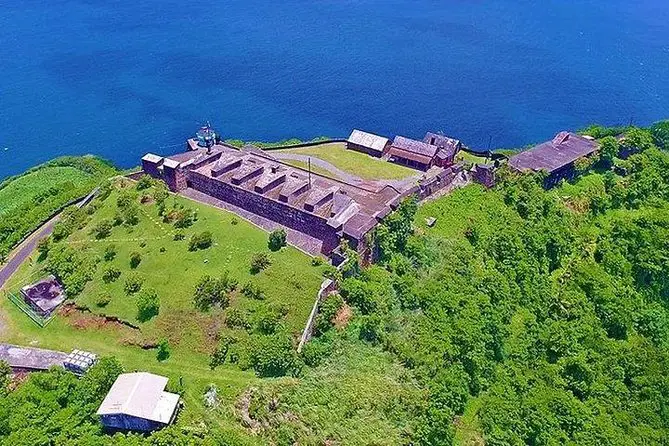 Explore Kingstown's history with this comprehensive tour. See the lookout the British built 600 ft above sea level to provide panoramic views and a base site for canons. Then, walk the stunning scenery of the Western Hemisphere's oldest Botanical Garden, including various plants and the Amazona Guildingii Parrot. Conclude at the Kingstown Market, home to the island's two oldest churches, as well as souvenir shops for browsing. ...
Duration: 1-2 Hours
Activity Level: Easy
Wheelchair Accessibility: Yes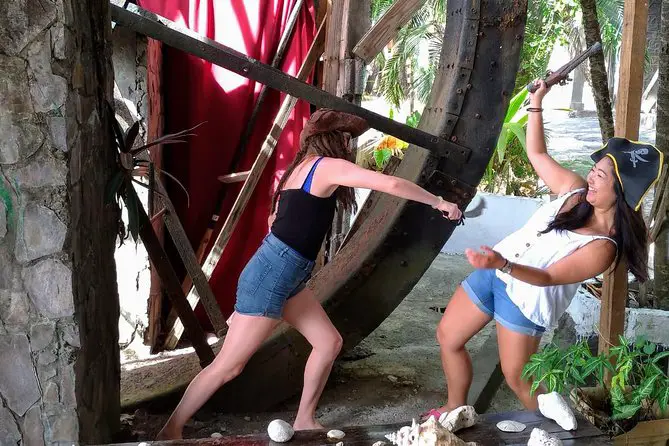 Visit the actual set of the popular movie, "Pirates of the Caribbean," on this half-day tour in Saint Vincent and the Grenadines. See an abundance of props and costumes that remain onsite. You can even dress up and look like a real pirate. The other tour stops include Fort Charlotte, Fishing Village of Layou, Barrouallie, Wallilabou Recreational Park, and Buccama Beach....
Duration: 4-5 Hours
Activity Level: Moderate
Wheelchair Accessibility: Surfaces are wheelchair accessible
Food: Snacks and drinks provided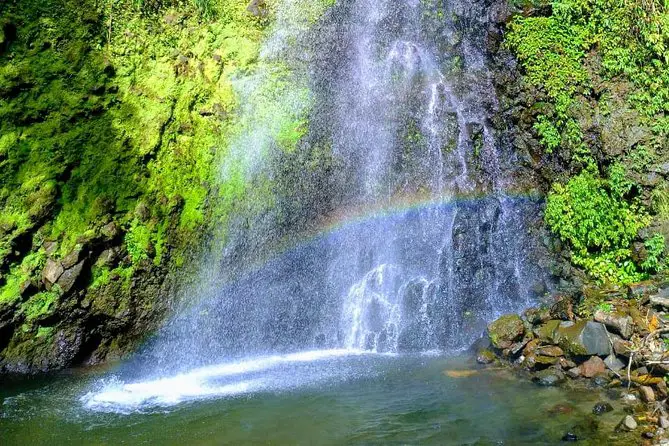 This is an excellent pick for nature lovers. Visit the spectacular Dark View Falls—a set of twin waterfalls that are reached using a bamboo bridge. Exploring this outdoor landscape with a guide means there's no need to study a map or plan transport to get there. After the waterfalls, the trip also visits Fort Charlotte, small fishing towns, and filming locations from "Pirates of the Caribbean"—including Buccament Beach....
Duration: 6 Hours
Activity Level: Moderate
Wheelchair Accessibility: No
Food: Snacks and drinks provided
Tour Includes: Snorkel equipment