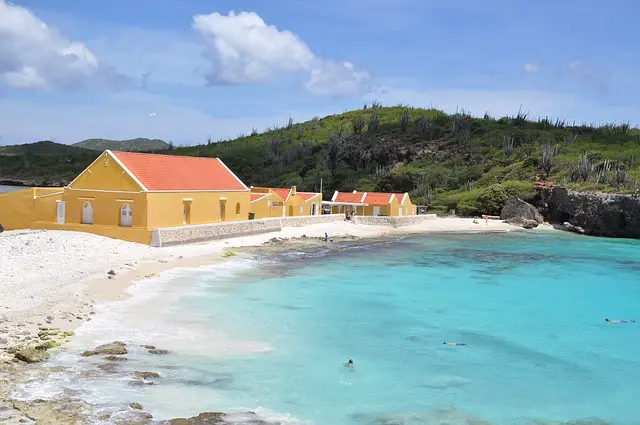 Located 50 miles off the coast of Venezuela, the Dutch island of Bonaire is in an exciting class of ecotourism, with several wildlife sanctuaries set up on the island to provide protection for pink flamingoes, sea-horse, and the sad-eyed donkeys, as well as other protected wild-life. Visitors can also enjoy great snorkeling and SCUBA diving on an island that was far ahead of others in protecting these natural resources. Sea turtles were protected in 1961, and spear-fishing prohibited in 1971. In addition, the island is one of the first to establish an underwater marine park and ban removal of coral from the reefs, as well as shells from its beaches.
The island has a variety of landscapes, but known as "Arizona by the Sea" for its dry climate and abundance of cacti throughout the island. Bonaire is a Dutch island of about 19,000 people, most of whom live in the city of Kralendijk.
The local languages are Dutch and a local Creole dialect. The island ranges from 3 – 7 miles wide and 24 miles long, similar in size and climate to the U.S. island of St. Croix. It is also one of five windward islands, the others being: Saba, St. Eustatius, and St. Maarten and Curaçao.
Where You Dock in Kralendijk – Bonaire
There are two cruise ship ports coming into Bonaire, just south of the main town of Kralendijk. Kralendijk offers visitors the greatest opportunity for things to do while on the island, especially if you are limited to a couple hours. Just a short walk from the pier is shopping, sightseeing, and travel opportunities if you wish to go deeper inland.
Getting Around Kralendijk – Bonaire
The island is relatively small, yet offers a variety of transportation if you wish to travel around the entire island or seek a specific destination.
Cars and scooters: You can rent scooters and vehicles within Kralendijk. You will need a valid driver's license from the U.S., Europe, or Canada and rental ages range between 21 and 25-years old depending on the rental company, which may also restrict what you can rent depending on your age. Usually a security deposit, or credit card hold will be needed to rent, and it is also recommended that you place a reservation in advance, especially during holidays.
Bicycles: There are several bike tours, as well as bike rentals in Kralendijk. It is a popular, affordable, and eco-friendly way to explore the island.
Taxis: Taxis are available to get from one destination to another or, can also provide an hourly rate for offering island tours. The hourly rate may vary depending on the driver, number of occupants, and the type of tour you are looking for. Fares to get to the far north or south of the island will cost approximately $25.
Sightseeing buses: There are several sight-seeing busses run on the island from tour groups, many of which can be set-up by your cruise ship as an excursion. There are also many sightseeing tour that can be found in Kralendijk and can accommodate both small and large groups.
Shopping In Kralendijk – Bonaire
Most of Bonaire's shopping is found in Kralendijk and is complimentary to most Caribbean Island shopping, offering dozens of boutique souvenir shops, advertising Bonaire, and the Caribbean. Pink Flamingoes are a popular attraction, as well as sea turtles and you will find more than your share of t-shirts, hats, and other items garnering the wildlife. Off the main street you will find several off-path shops, and strip malls.
All items are compatible with American and European prices, and ATM's distribute money in U.S. dollars. You can also find fine shopping at resorts that offer delicious Dutch cheeses, Cuban cigars, and fine China.
Dining In Kralendijk – Bonaire
Bonaire has a unique distinction in that it produces no discernable food product itself, yet it is home to a rich array of cuisines, flavors, and international award winning chefs and restaurants. Due to the ethnic diversity of the island, as well as the tourist diversity, Bonaire has an eclectic blend of restaurants from haute cuisine, to other European dishes. There are also, barbecue, American, and strong Caribbean spices and ethnic blends, as well as seafood common to the islands.
Many of the islands restaurants offer themed-buffets, and there are the modern fast food places, as well as local favorites providing rice, beans, goat stew, and gumbo. The island is almost fanatical about providing some of the best food in the Caribbean to the point of sending many of its most up-and- coming young chefs to Italy on tours of ten-plus years to work in some of Italy's finest restaurants.
The island has over 100 restaurants to choose from.
Things To Do in Kralendijk – Bonaire
Bonaire offers many activities whether you are staying a couple hours or a couple days. The island can boast some of the best snorkeling and SCUBA diving in the Caribbean with most of the islands being surrounded by a coral reef which has been protected longer than most reefs in the Caribbean. In addition, the beaches and resorts offer a wealth of beach and water sport activities such as windsurfing, kiteboarding, and kayaking.
There are several sightseeing tours and busses, however, one of the most popular tours on the island is the walking tour of Rincon which is the oldest settlement on the island. Walking tour booklets can be purchased for $5 at several Bonaire resorts and the Cadushy Distillery in Rincon.
You can also receive a guided walking tour for $5 on certain days of the week which is given in either English or Dutch.
The island also has several walking and biking tours of its natural habitats and sanctuaries, as well as historical plantation and salt mine heritage tours.
Beaches
Many of Bonaire's beaches are narrow coral beaches which can be problematic for people going in bare foot, but wonderful for photographers and amazing views. They are also immaculately clean, intimate and uncrowded. The leeward side of the island is popular for swimming, especially at Lac Bay Beach and Soroban which are both shallow water and popular for families.
However, the East side of the island is more rough, with strong waves, thick chunks of coral, and sea creatures such as urchin that can play havoc on your feet. Take heed of the dangers of the Eastern beaches, although if you are a photographer or want to take in some of the characteristic charm of Bonaire, you may want to take the short adventure to this side of the island.
A mile West of Kralendijk is No Name Beach which can boast Bonaire's only white sand beach. It is also a popular location for snorkeling as parrotfish and yellow-tail snappers frequent the beautiful coral off the beach.
Other notable beaches are:
1000 steps beach which is a white sand and bleached coral beach with limestone crags and good diving and snorkeling, and hue-changing tropical seas although there are no amenities nearby.
Boka Slagbaai offers good snorkeling, diving, and picnic grounds as well as amenities in 19 th century buildings. You can also spend the night in one of the small rentals, and enjoy a drink as the breezy bar.
Of all the island's beaches, Boka Cocolishi, may be the most unique. It is a great location for picnics, but not safe for entering the water. Algae transforms the water into a purplish hue, while the coral and mollusk shells provide a black beach. The sand dune, and crashing waves are worth the effort of a romantic getaway.
Top Tours & Excursions In Kralendijk – Bonaire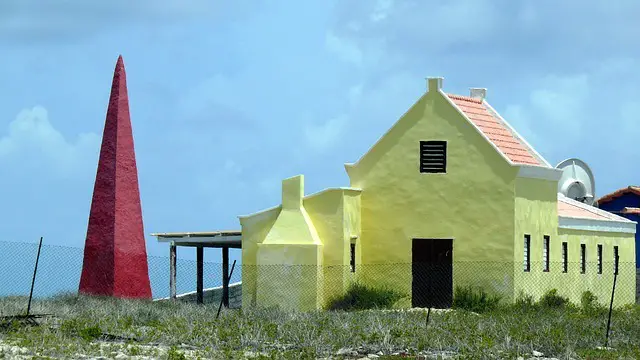 Learn about the history, culture and beauty of Bonaire and its people on this small group excursion. Tour through the residential and resort areas of Kralendijk, then head to Goto Lake, the best spot in the Caribbean to see flamingos. Visit Rincon Village, which was originally settled by the Spanish in the 1500s....
Duration: 3 Hours
Activity Level: Easy
Food: Water provided
Book Now