Limon – Costa Rica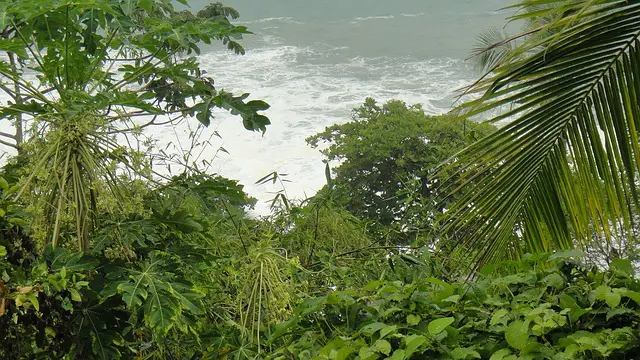 Located on the Caribbean side of Costa Rica, Limon stretches along the coast with 125 miles of shoreline between Nicaragua and Panama. Limon has the most geographically diverse regions with mangrove wetlands, endless rainforests and towering mountains.
The Cordillera de Talamanca (Talamanca Mountain Range) is thought to be the most unexplored area in all of Costa Rica. The rainforests in this area of Costa Rica are some of the most lush, dense forests anywhere on the planet.
On his final voyage to the America's, Christopher Columbus "discovered" this area in 1502. The Spanish tried colonizing the Caribbean lowlands, but eventually gave up because of the unkind climate and equally resistant natives.
Most of the residents have an Afro-Caribbean ancestry. It is hard to believe, but up until 1948, the Costa Rican government did not recognize anyone with Afro-Caribbean ancestry as citizens. Their movements were restricted and they were not allowed outside of the Limon province. That population has become firmly established in the region, and mainly stayed in Limon, even after the travel ban was lifted.
Limon, also referred to as Puerto Limon, is the capital city and hub of the province. Major banana producing corporations like Dole and Chiquita have operations in Limon. You will not find large-scale development in Limon. No towering condo buildings and no massive gated communities. There are also no mega-resorts or fast-food restaurants.
Good To Know
It rains in Limon. A lot. Even the locals say there are two seasons in Costa Rica: Rainy and Not so Rainy.
Limon is not a destination in itself, as it is not as developed as other Caribbean ports. It is more of a jumping off point for its ecotourism and national parks, which make up a quarter of its landmass. Not many visitors choose to head to the beach because of the cloudy skies and imminent rain.
As with any unfamiliar place, be aware of your surroundings. Also know that authorities can sometimes make up the rules as they go along.
Check out these excursions in Limon.
Weather:
The climate in Limón is hot, oppressive, and overcast. It also receives a lot of rain. Throughout the year, the temperature typically varies from 76°F to 86°F and is rarely below 73°F or above 89°F.
Currency:
Costa Rica's official currency is the colon. The currency might still be referred to as "pesos" or "canas."  U.S. dollars are accepted in most tourist establishments, but you may receive change in colones.
There are no ATMs in the cruise terminal. There are a few international banks in Limon, and they have ATMs. The bank closest to the port is Banco de Costa. It is about 400 yards from the dock across from Park Vargas.
Visa and MaterCard are accepted in larger establishments, but smaller restaurants and venues may not have the ability to accept them.
Check for current exchange rates here:
Wireless Internet:
There is free WiFi in the cruise ship terminal. Throughout the province, cell reception can be spotty or nonexistent.
Languages:
The official language is Spanish, but workers in the tourist industry will know some English.
Where You Dock in Limon – Costa Rica
Located on the northern and Caribbean side of Costa Rica, Puerto Limon has a separate pier for cruise ships. The rest of the port is dedicated to the exportation of Costa Rica's bananas, pineapples, coffee and sugar. The cruise dock is located about 250 yards from the city center. The terminal has a welcome center and souvenir market.
There is also a desk for local tour operators within the terminal. They offer tours to some of the national parks and a two-hour tour of Limon among other activities. Taxis are readily available at the pier.
Here's an aerial 360 degree view of the port and town (use your mouse or fingers to turn) taken from within Vargas de Limon Park, located next to the cruise terminal.
Getting Around Limon – Costa Rica
Walking
The city is fairly small, so you can walk through most of the interesting areas, but as always, it is best to stay on the beaten path and not stray from public places. There is a three block walk along the seawall that connects the port with the north part of the city. 
Taxis
Uber is pretty much nonexistent in Limon. There had been a license plate based driving restriction that was making it difficult to find an Uber in Costa Rica. That restriction was lifted in April 2022 and eventually it will become a standard mode of transportation for tourists, but at the moment that is not the case.
 There are taxis ("red taxis") like the one pictured below, that can be hired at the cruise ship terminal or dockside. Although you will find that taxi fares are posted, all rates are negotiable. Driver's English may be a bit spotty, so make sure you can understand each other before getting in the cab. The red taxis are the only licensed and authorized cabs. Look for the yellow triangle on the vehicle's door to make sure you have an authorized "rojos." Rental Cars
Most of the major roads in Costa Rica are in good shape. It is the secondary and side roads that are often unpaved and rarely maintained. These roads can also be quite narrow. There are very few road signs or traffic signals.  You most likely will be dealing with rain and wet or muddy roads, too.
As seems to be the case throughout Costa Rica, drivers tend to be aggressive, fast drivers. Trying to bring attention to this issue, the government installed several screens on main highways that displayed a message that said "Costa Rica is a country of peace but it lives a war on its roads."
 The minimum age to rent a car in Limon is 21 years old. There is also a "young driver" additional fee for those between 21 and 24 years of age. You will need a valid photo drivers license, a passport and a major credit card. Driving is on the right side of the road.
Here are a few of the rental car services in Limon:
 Adobe Car Rental en Limón Costa Rica
Buses
There is no unified national bus network in Costa Rica, yet various companies operate buses from several hubs throughout San Jose. They offer services
from Limon to towns like Cahuita, Moin and San Jose. The buses leave from a terminal that is just a bit beyond the museum on Avenida 2. The fare for a bus ride is inexpensive, only a few dollars depending on where they go. However, it is going to take longer getting anywhere using a bus as they make frequent stops and are loosely scheduled. 
If your ship is docked for the day, a trip to San Jose is three hours one way by bus. Even Cahuita takes an hour one way. Buses might run only every three hours and bad roads and construction delays could cause you to miss your ship. So while you could take a bus, you run the risk of not getting back on time.
Shopping In Limon – Costa Rica
Costa Rica is known for a few things that make for memorable souvenirs or items you must try while in port:
Coffee and the unique coffee making "machine" called a chorreador. Not only do they make great coffee, but they are often colorfully decorated, looking more like an art piece. Cafe Britt is a premier Costa Rican coffee producer and they show you how to make coffee the Costa Rican way:
Cashews & cashew wine. This area of Costa Rica is known for growing cashews, and since cashews are a fruit it make sense that wine would be a byproduct.
Salsa Lizano. This Costa Rican sauce has been on the market for more than 90 years and is eaten with most items, so you will see it on restaurant tables. It is similar to Worcestershire sauce and you can find a bottle at local grocery stores. Fresh fruit. While you can't take fruit or plants back on board with you, Costa Rica is home to many different fruits and this is a great opportunity to try a tree-ripened banana, freshly picked pineapple or passion fruit (maracuyá), or try something new like pitaya (dragon fruit) or momon chinos (type of lychee).
Leather Goods. There are many artisans who work in leather around Costa Rica and Limon, in particular, where you'll can find unique patterns and designs in boots, purses and even decorative art pieces. 
Shops in Limon
This is not a huge shopping destination like some other ports. There are some open air markets close to the cruise ship pier, and others stores in Limon itself. But most of the shops cater to residents, rather than tourists.
Dining In Limon – Costa Rica
The history  and location of the province of Limon has brought a mix of cultures – indigenous, African, Spanish, Dutch – which has created a unique and varied cuisine in the area. Local fruits and vegetables, seafood and other meats are readily available and are often combined with coconut milk and fragrant spices.
Fish is typically fried or grilled with different herbs and vegetables. The typical rice and beans is "Limonified" with the addition of coconut milk, thyme and peppers and is often served with fried plantains and chicken. A seafood stew called rondon is a popular local item and contains different starchy vegetables, and whatever the fresh catch of the day is, combined with coconut milk, breadfruit and spices. Also popular are items you'd find in other regions of the Caribbean such as Johnnycakes, jerk chicken, empanadas (called pati), and sweet breads. 
Top Restaurants in Puerto Limon
Located two blocks from the cruise pier, this highly rated upscale restaurant offers everything from steak to pizza to fish tacos to ceviche – something for everyone. The staff is friendly and offers great wine pairings in a lovely atmosphere.
There is a large variety of local favorites offered at this family-run restaurant located about a 10 minute walk from the cruise pier. You will find fish, chicken and salads. Items are served cafeteria-style. You can choose a pasta or salad, a side and a meat as well as a cooked plantain. The coffee is often highly recommended and they have air conditioning, wi-fi and accept credit cards. 
This popular restaurant is a go-to for Caribbean cuisine. The food it tasty, the restaurant is clean and the staff are friendly. They accept credit cards and many staff speak English.  The popular dish seems to be rice and beans, which is served with a choice of protein including oxtail. Portion sizes are good and prices fair. 
This restaurant is outside of the downtown area, but is an 8 minute taxi ride from the cruise port. It's on our list because of it's ratings and there is a panoramic view  to go along with your lunch or dinner. The menu is extensive and they also have a wine list. They specialize in seafood, but pizza is also on the menu.
Things To Do in Limon – Costa Rica
Beaches
Playa Piuta
This "beach" is the closest to the cruise terminal and is walkable from the port at about a 30 minute walk. It is more rocky than sandy, but there are places to sit in the shade to enjoy the views and a couple of nearby bars. You could wade out a bit into the water to get cooled off, but it's not much of a swimming area. 
Playa Bonita
This sandy beach is popular with tourists and is about a 10-15 taxi ride from the cruise port. There are beachside bars and restaurants but complaints are that the beach is smaller in person than it is in photos and the undertow can be dangerous, which doesn't make it ideal for swimming. 
Located about 50 minutes south of the cruise terminal, the water is turquoise, the sand is white, and there is abundant wildlife in the area which can be seen from the park's hiking trails. It's also known for snorkeling since the best preserved coral reef in Costa Rica is located here. The Playa Blanca park entrance is the one closest to to Puerto Limon and the entry free is a pay-what-you-can donation (cash). The park is open daily from 8am to 4pm. There are also guides you can hire to take you around the trails who will point out different animals, or take you to the best snorkeling spots.  Check out this private group shore excursion to Cahuita National Park and a banana plantation.
Vargas de Limon Park
Located next to the cruise pier, this small public park is unique in that sloths reside there. For a small tip, locals will  point out the sloths up in the trees (it can be hard to see them if you don't know what you're looking for) and take your photo with them. The park is nice and shaded with benches, playground for the kids, a few monuments, and a couple of vendors selling food or handicrafts. You won't likely spend a lot of time here, but you can cut through on your way to downtown. Not quite an hour from Limon, the Veragua Rainforest gives you a glimpse of Costa Rica's spectacular tropical rainforests. This 3,400-acre reserve has a sky gondola, a canopy tour (think Tarzan), a waterfall, and hiking trails. There is a souvenir shop and a restaurant serving Caribbean dishes. Take a tour of the insect Museum, a terrarium with some of the many (and many is an understatement) of reptiles found in Costa Rica. Just in case you were ever kept awake at night wondering what life is like for nocturnal frogs, you will discover that answer here.
Located about a half hour outside of Limon, about halfway between Limon and Puerto Viejo, the folks here are dedicated to the rescue and rehabilitation of sloths. They also work to conserve the rainforest that is the sloth's natural habitat. If these gentle creatures tug on your heartstrings, you can adopt one virtually. They have tours are from 8am until 2pm daily, except Mondays.
Located between Limon and Puerto Viejo, near Cahuita National Park, this site offers 12 acres of botanical gardens with wildlife and walking trails, an organic banana farm, an Afro-Caribbean museum with historic information of the process of chocolate making from farming to traditional machinery and you'll even be able to make your own! They have a 1 or 2 hour guided tour in English or Spanish a souvenir store, and a Caribbean restaurant onsite. They don't accept credit cards so make sure to bring cash! 
This quick video is in Spanish, but it gives you a good idea of what to expect during your visit.
Puerto Viejo
Taking the one hour drive south from Limon is worth it if you'd like to experience authentic Costa Rican living in this laid-back Caribbean-vibe coastal town. It has some of Costa Rica's best beaches, nature and wildlife – something for everyone. 
Visit Playa Cocles, regarded as one of Costa Rica's most beautiful beaches, it has a mile-long sandy beach with palm trees. It is also one of the best sports for surfing along Costa Rica's eastern coast. If you're a surfing enthusiast (or even if you're not) you may have a chance to experience Salsa Brava – one of surfing's largest waves experienced only in certain perfect conditions.
SALSA BRAVA from Joel Sharpe on Vimeo.
On the way to Play Cocles, make a stop at the Jaguar Rescue Center and Sanctuary which is a temporary or permanent (if necessary) home for injured, orphaned or sick animals. You'll see sloths, monkeys, reptiles and amphibians, birds and more. The public tour (1.5 hours in length) is held twice a morning on opening days, or the VIP private tour (2 hours in length) is at 2pm in the afternoons. You can purchase tickets online and kids under 10 years are free. It is also wheelchair accessible and tours happen rain or shine.
Tortuguero Canals
This popular shore excursion stop is located about a 50 minute drive from the cruise terminal. Boat tours travel along the canals, through the rain forest in Tortuguero National Park, which was founded back in 1975 to protect the fauna and flora of the area. You will see wildlife in the water and along the banks including sloths and different species of birds.  Check out this half-day excursion where you'll visit the canals and a banana plantation.
Top Tours & Excursions In Limon – Costa Rica Private Vehicle and Guide Half Day - Limon Customize your own tour and explore the beauty of Puerto Limon! Sit back and relax while your private tour guide takes you anywhere you wish around the area for 4-hours. This tour offers you the freedom to set off and explore wildlife on a rainforest trek, take a scenic drive along the coast or explore the region's diverse culture. You and your group will enjoy first class service from your guide providing you with the town's history and culture....
Duration: 4 Hours Activity Level: Easy Wheelchair Accessibility: Folding wheelchairs or walkers Food: Not included Highlights of Limon  See the best of Limon on this jam-packed tour! It begins with a short city tour, then stretch your legs on a 45 minute nature walk at Cahuita National Park on a flat and shady trail that runs along the shoreline, and enjoy the rich biodiversity and wildlife of the area. Then, you will visit a banana plantation, where you'll learn about the harvesting, processing, packing, and exportation of this fruit.  Your tour continues with a boat ride on ...
Duration: 6 Hours Activity Level: Moderate Wheelchair Accessibility: No Food: Not included Tour Includes: Transportation Jungle Cruise & Canopy Zip Adventure - Limon Your tour begins with a boat ride on the Tortuguero Canals. Board your covered boat for a 60-minute leisurely cruise through the jungle canals. Your guide will point out local wildlife, including howler monkeys, sloths, and crocodiles, as well as exotic flora. Then you'll transfer to the private reserve, where the jungle canopy zipline tour begins with an thorough safety orientation from your guide. You will cross the forest from tree to tree wit...
Duration: 6 Hours Activity Level: Moderate Note: Zipline min. age 7 years Wheelchair Accessibility: No Food: Not included Tour Includes: Transportation