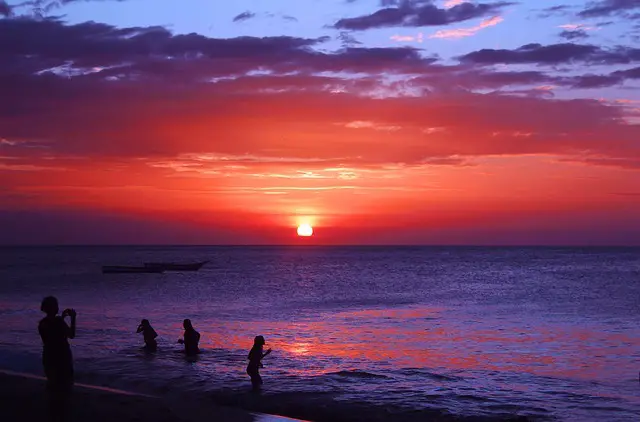 Manzanillo is one of three important ports in Mexico for international ships that bring products from other countries. Manzanillo is situated on two bays, Bahia de Santiago and Bahia de Manzanillo. The city is located on the Pacific Ocean in the Mexican state of Colima. Manzanillo Bay was discovered in 1527 by navigator Alvaro de Saavedra. It was the third port created by the Spanish and became a departure point for expeditions. The next 300 years saw pirates from Portugal, England, France and even Spain loot ships in this area for their cargo.  Today, tourism is an important part of the city's economy. Visitors are drawn for the deep-sea fishing, the warm waters of the ocean and the
Green flash
phenomenon that occurs during sunsets.  The city has many hotels and self-contained resorts, primarily built on the De Santiago peninsula that juts out into the Pacific Ocean north of the city center. Most visitors come for the swimming, snorkeling and scuba diving.  Manzanillo has a couple of claims to fame. It has an international reputation as the sailfish capital of the world. According to records, there has been more sailfish caught in the local waters than anywhere else in the world. Every year in November, the International Sailfish Tournament is held in the waters around the city. The large blue sculptor of a sailfish adorns the harbor as a symbol of this reputation.  Another claim to fame is courtesy of Hollywood. The movie "10" starring Bo Derek and Dudley Moore was filmed in Manzanillo and its most iconic scenes were on its beaches. Although narrated in Spanish, this YouTube video gives you a good idea of what Manzanillo looks like:  
Where You Dock in Manzanillo – Mexico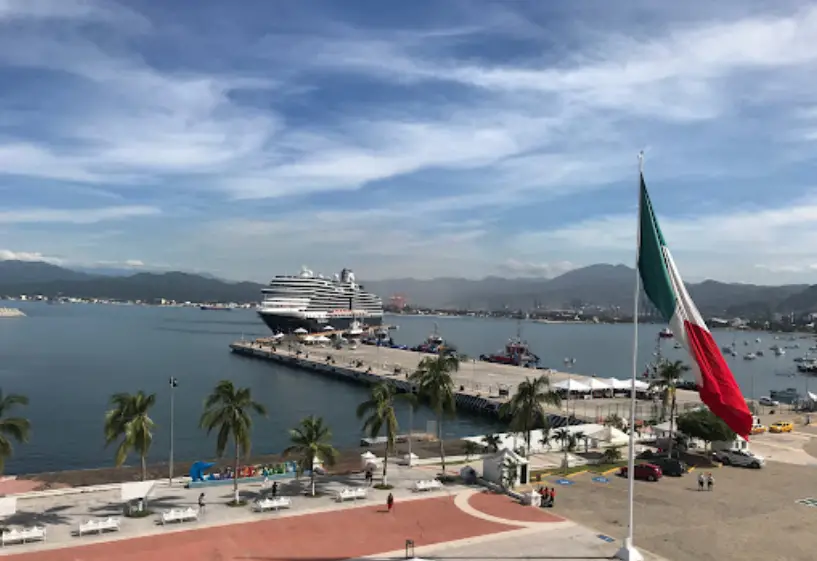 Manzanillo is the largest seaport in the country, and as such it is a very busy port. 
Cruise ships dock at one of two piers in Manzanillo. They dock in the industrial area that also houses large container ships, or at the dock that was specially built for cruise ships in 2010 (Muelle de Cruceros Turisticos). The cruise ship dock is right next to a huge blue sailfish statue on the Malecon. The cruise pier is actually located about a 25 minute drive south from Manzanillo city center but there are still amenities within walking distance of the cruise pier.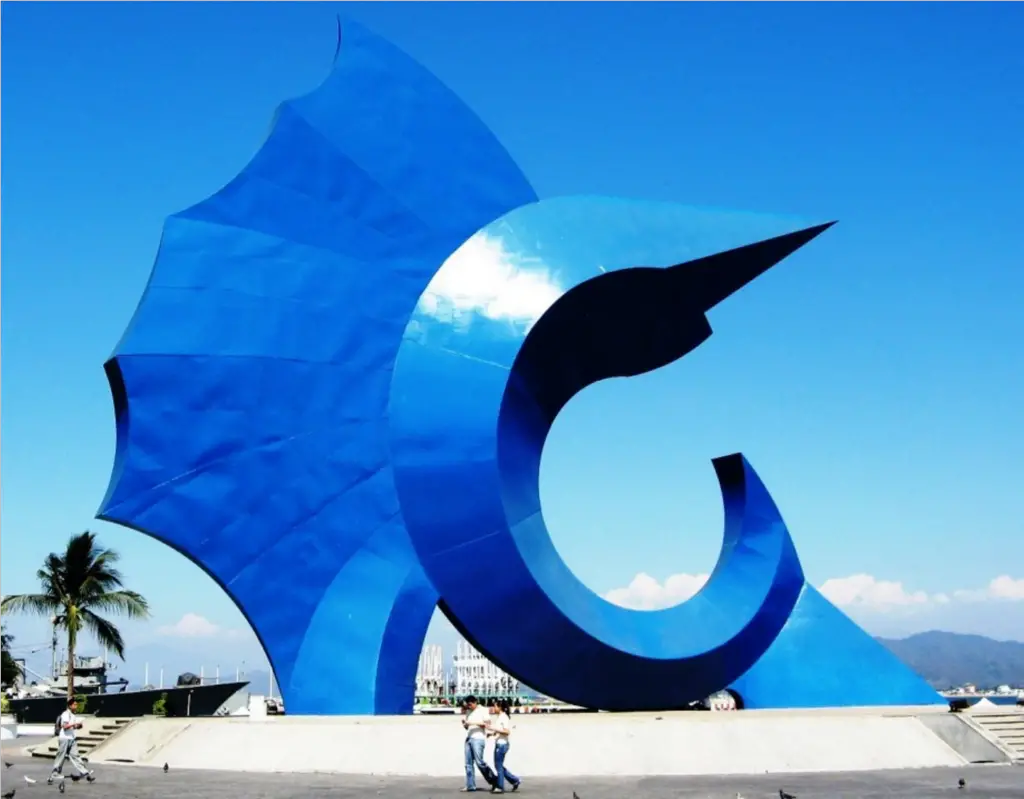 There are no services for tourists at either dock where ships berth. On cruise ship days, there is a small market that will set up at the pier. They will offer pottery, crocheted items, wood carvings, dolls, cigars and soaps.

Getting Around Manzanillo – Mexico
Walking
There are a number of restaurants and a few shops in the area of the cruise pier. Downtown is about a 25 minute drive north of the cruise pier. Along the coast between the area where the cruise pier is and Manzanillo proper is lined with hotels and resorts. 
Buses
Manzanillo has 15 bus routes that go all over the city. There are a set of buses that go north and a set that goes south. Look at the sign in the window and if it says "centro," it's going downtown. You will need to have pesos, as they will not accept U.S. dollars. If you have large peso bills, you won't get change back. Buses run frequently, but the schedule is loosely adhered to and buses tend to be crowded as this is how the locals get around.
Buses
Manzanillo has 15 bus routes that go all over the city. There are a set of buses that go north and a set that goes south. Look at the sign in the window and if it says "centro," it's going downtown. You will need to have pesos, as they will not accept U.S. dollars. If you have large peso bills, you won't get change back. Buses run frequently, but the schedule is loosely adhered to and buses tend to be crowded as this is how the locals get around.
Rental Cars
There are rental car services in Manzanillo. You will need to be at least 25 years old, although some companies allow 18 – 25 year old renters, but charge an additional fee. You will need your current, valid driver's license from your home country. Your passport and a major credit card will also be needed. It will also be mandatory that you have Mexican Liability insurance. The cost of this insurance is not always disclosed in the cost of renting the vehicle. This insurance can be up to $20 per day. 
If you choose to rent a car, know that there probably be spotty cell service wherever you travel. Download Google Maps or Maps.me before you drive outside of the city. 
Toll roads are well-maintained and have less stops than roads without tolls.  There is a site where you can calculate tolls here:
Traza Tu Ruta, Secretary of Transports, Mexico
There will be military checkpoints along the way. They can either be a permanent or temporary checkpoint. The checkpoints will be on both sides of the roads and you will see men in uniform with automatic rifles. While this can be intimidating, their inspections will be for illegal drugs, guns or contraband items. Expect that you will be stopped, but do not expect that they will speak English. Let them inspect the vehicle and then you will most likely be sent on your way. 
Speed limit signs are posted in kilometers.
Shopping In Manzanillo – Mexico
Even Manzanillo has a Home Depot and a Walmart…who would have thought it? If you are looking for something other than what you can get at home, most of the shopping is located near the central plaza. In the same shop, you might find religious items and orthopedic supplies, so it can make for a unique experience which is a whole lot of fun.
If you want a souvenir that is representative of Mexico, look for Taxco Silver made into jewelry, colorful textiles or decorative pottery. While they  might not last until you get home, Mexican chocolate is excellent and can be flavored with cinnamon, almonds or a hint of hot chili powder. 
Vanilla extract was first cultivated by the Totonacs on Mexico's east coast, so when you get some extract to try in recipes at home, it will be rich and smooth after having been extracted from the orchid flower. 
It goes without saying that Mexico is synonymous with tequila, but hot salsa and coffee beans are also favorite items to take home from Mexico. 
Malecon
In Spanish, the word malecon is the path or walkway along the ocean. Manzanillo has a Malecon that stretches about a mile along the coast and is located at the end of the cruise pier. There are lots of shops and markets along the Malecon that sell souvenirs and handmade items at reasonable prices. There are also food vendors along the way where you can get drinks and a meal.
Located about 7 miles from the cruise pier, this mall is an American-style mall that features over 50 stores and is located close to Walmart. They sell traditional Mexican clothes, designer jewelry, hats, shoes and handicrafts. You will also find a supermarket, wine shop, coffee bar, and a bank.

Mercado Municipal Cinco de Mayo
This traditional market is located about half a mile from the cruise pier (about a 10 minute walk). Vendors sell fresh produce, meats and spices.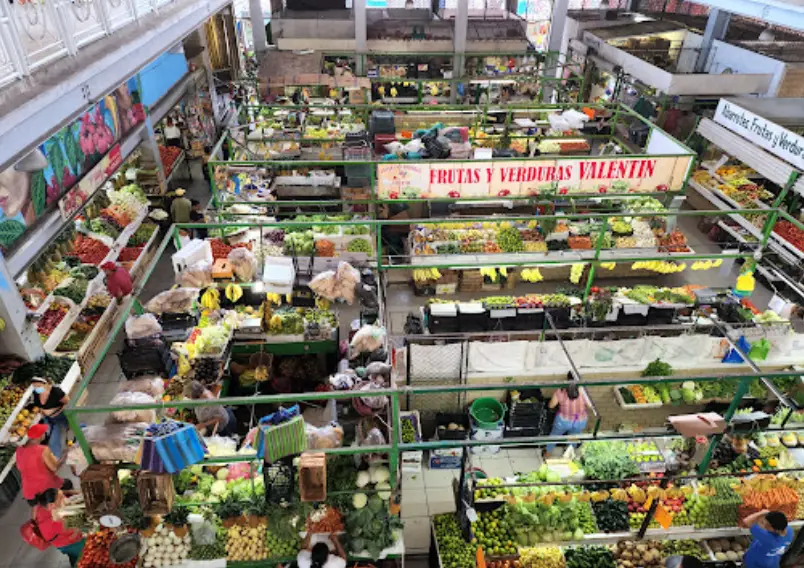 Also located close to Walmart, this supermarket has a better quality of produce and some of the best spices to take home to recreate Mexican dishes. There is a pharmacy here and they also sell wine and spirits. 
Dining In Manzanillo – Mexico
You might feel that you have had Mexican food already in your own country. But as the saying goes, there is something lost in translation. Mexico has given us quesadillas, empanadas, tacos, burritos, enchiladas and fajitas to name just a few of the familiar dishes. While in Mexico, it is worth trying the original dish, and not a knock-off. Aquachile shrimp, huarache, banderillas and a variety of delicious cheeses are also worth trying in Manzanillo. 
Located on the backstreets of Manzanillo, about a 10 minute walk from the cruise pier, Mariscos Carlos is a local eatery. They are inexpensive, but have good seafood. Shrimp,fish, lobster, oysters and crawfish with rice. This restaurant does not look like much from the outside, but locals frequent this place, so you know it is good.

A great spot for breakfast, brunch and lunch, you can get pastas, sandwiches and tacos. They have an assortment of coffee, cappuccino, frapuccino, latte and lemonade. They also have sangria, margaritas, vodka and even Budweiser beer.
Things To Do in Manzanillo – Mexico
Playa La Audiencia
This beach fronts the Santiago Bay. You can rent beach chairs and umbrellas to use for the day. The sand is coarse, but not rocky. As always, watch for undertow, but the waters here tend to be calm and good for swimming or snorkeling.
Playa Miramar
This area has restaurants and small stores on the beach. It can get crowded on the weekends. The waters here tend to be a bit rougher, which makes it a favorite for kiteboarders and windsurfers. The Miramar Flea Market is also in this area.
About 30 minutes from Manzanilla, is Mexico's largest turtle sanctuary. You can get here by taxi or a shore excursion. Here you can learn about the center's efforts to preserve marine life. If you want, you will also be able to hold a baby turtle.
Las Hadas Golf Course is located at the Las Hadas Golf Resort and Marina in Manzanillo. Designed by Pete & Roy Dye, the course is surrounded by 4000 palm trees. The course also has a driving range. Visit the website above to see the course hole by hole.
Right in downtown Manzanillo and close to the central plaza, there is a sanctuary for iguanas, turtles and racoons. Started by Ramon Archundia, the animals are released into the wild once they have matured or mended.  Mr. Archundia has spent over 40 years caring for iguanas. Entrance is free, and donations are appreciated. The government, or any other agencies, do not provide any support. Mr Archundia visits local markets that give him their older or bruised produce that helps to feed them on a daily basis.