Monterey – California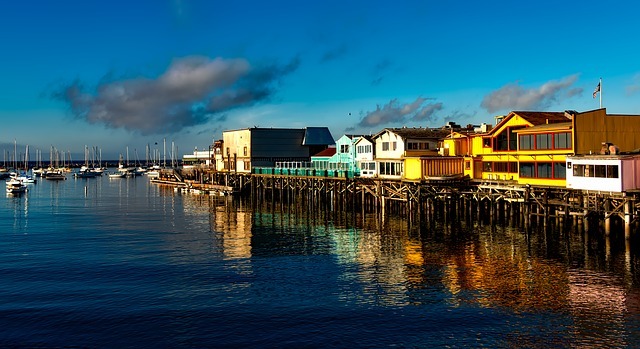 Monterey is a small, culturally rich city that is nestled between a pristine ocean wildlife sanctuary and pine covered rolling hills. Its people pride themselves on a city that is clean, safe and full of entertainment for all ages.
Once a city whose main export was locally canned sardines, it is now a lively tourist destination.
Currency:
USD – Two ATM's are located at the beginning of Wharf 1, near Fisherman's Wharf and the Dock Side Fish Market. Additional ATM's are located all throughout the city.
Wireless Internet:
The City of Monterey has established a public Wifi network at the Marina. Speeds for downloading and streaming may be limited. If this Wifi network doesn't meet requirements, your best bet is to travel inland towards Del Monte Avenue and turn down Alvarado Street. (A ten-minute walk at most.) Here you should find many businesses with Wifi including Plumes Coffee House, Monterey Crepe Company and the Bay Books & Coffee Shop.
Languages:
English. However, the people of Monterey are known to be some of the most linguistically diverse in the country.
Where You Dock in Monterey – California
Because the Monterey Bay is a Marine Conservation Site, passengers are tendered into the Monterey Wharfs, which are centrally located.
The long Del Monte Beach will begin immediately to the right of the wharfs, offering fantastic views of the bay.
Getting Around Monterey – California
Many of the attractions are within walking distance, however, the City also offers a free transport service. This trolley service operates from Memorial Day to Labor Day and will transport tourists between Fisherman's Wharf, Monterey Bay Aquarium, Downtown Monterey and Cannery Row. City buses and taxis are also available.
Dining In Monterey – California
Cannery Row, immortalised by the novel of the same name by John Steinbeck, offers numerous dining opportunities and adventures for your taste buds. For beer lovers, the most notable is the Cannery Row Brewing Company which boasts over 70 beers on tap.
Seafood is incredibly popular in Monterey and is known for being freshly caught. However, due to its cultural diversity, Monterey boasts many restaurants with origins from all over the world.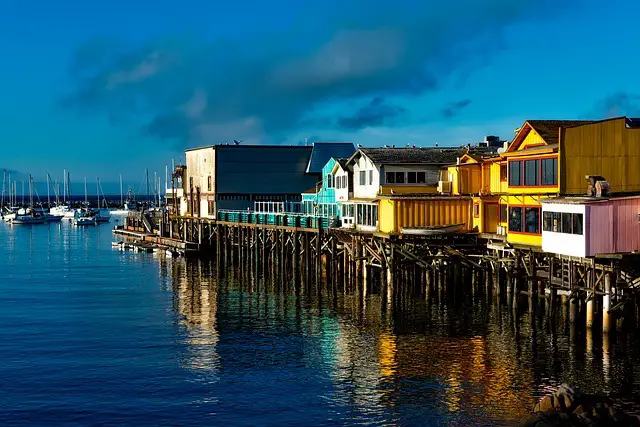 Things To Do in Monterey – California
Monterey Bay Aquarium: Located within easy walking distance of the Wharf, the Aquarium is known for its modern and interactive exhibits. A former sardine cannery, it now holds over 35,000 species, the favorite of most visitors being the playful and lovable sea otters.
Monterey Bay Coastal Trail: Stretching 18 miles along the coast, this trail passes by all major attractions along the waterfront as well as continuing on to many scenic locations abundant in wildlife. Bikes can be rented from many businesses, giving you the best opportunity to spot sea otters, marine birds, sea lions, harbour seals, and in the right season — even whales!
Fisherman's Wharf: This colorful and historic site should be visible almost as soon as guests are tendered in. Full of visual appeal, lively entertainment and tasty treats, this area requires no planning at all to visit. You're sure to find gifts or souvenirs in one of the many unique shops. — Don't forget to try the clam chowder!