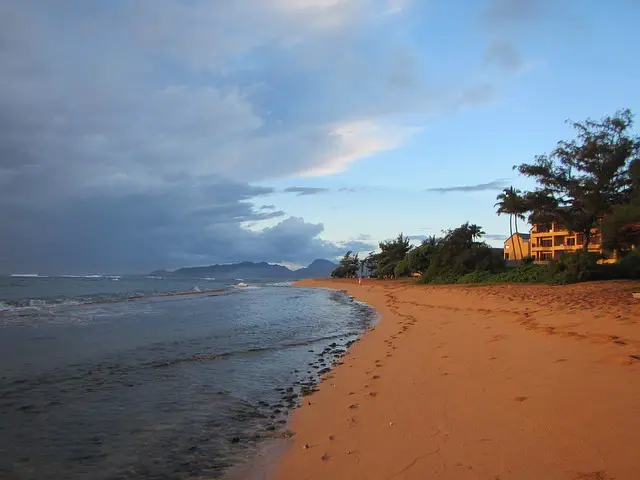 Named after the wiliwili trees that used to line the harbor in Kauai, Nawiliwili is about two miles southeast of Lihue, Kauai's main town. Nawiliwili is on the northwestern side of Kauai at the mouth of the Hule'ia Stream.
Visited by Captain James Cook in 1778, he called the Hawaiian Islands the "Sandwich Isles" after John Montagu, the fourth Earl of Sandwich. Nawiliwili Bay used to be the island's main source of livelihood, through fishing, for over 300 years. The area was also a popular place to farm taro, a starchy root vegetable that is mildly sweet, and is a staple in the Hawaiian diet.
By the 19th century, Nawiliwili Bay was becoming a very important harbor on Kauai as the sugar cane industry grew. Landing cargo ships was a problem in the harbor as there were no natural deep water areas that existed along the island's entire coastline. Philanthropist George Wilcox funded the installation of a breakwater to form the harbor and in the 1930s, Congress approved funds for the dredging of Nawiliwili Bay and more substantial breakwaters to be installed.
Today, apart from the airport, Nawiliwili Harbor is a busiest gateway to the island of Kauai. You may have even seen Kauai without knowing it. Part of the film, Indiana Jones and the Raiders of the Lost Ark, was shot on location on the island.
This short YouTube video was shot by an Indiana Jones enthusiast: Me at Raiders of the Lost Ark Film Locations (Kauai, Hawaii)
Good To Know
 Keep track of time in this port. There is only one cruise ship, Norwegian Cruise Line's Pride of America, that is allowed to stay 24 hours. Other ships dock at sunrise and request passengers to be back on board around 3 or 4pm.
 If you visit Hawaii, do NOT pick up any rocks or sand to take home. Hawaiian's feel very strongly that everything has a life force and rocks and sand are sacred. It is hugely disrespectful to move, disturb or take the sand and rocks that have such a deep meaning to the Hawaiian people. If you need any more incentive to leave the sand alone, it is also illegal.
This article clarifies that sand on the beaches needs to stay on the beaches: EBay removes listings of Hawaii beach sand from its website
Check out all excursions in Kauai.
Where You Dock in Nawiliwili (Kauai) – Hawaii
Ships will dock at Nawiliwili Harbor which is southeast of the island. Cruise ships are allowed to dock in the harbor from sunrise to sunset only. The exception to this is Norwegian Cruise Line's Pride of America. That ship is allowed to anchor for 24 hours.
The harbor is also a commercial cargo port and Nawiliwili Yacht Club is situated in the harbor.
Getting Around Nawiliwili (Kauai) – Hawaii
The island of Kauai is just 25 miles long and 33 miles wide, so it is fairly easy to explore.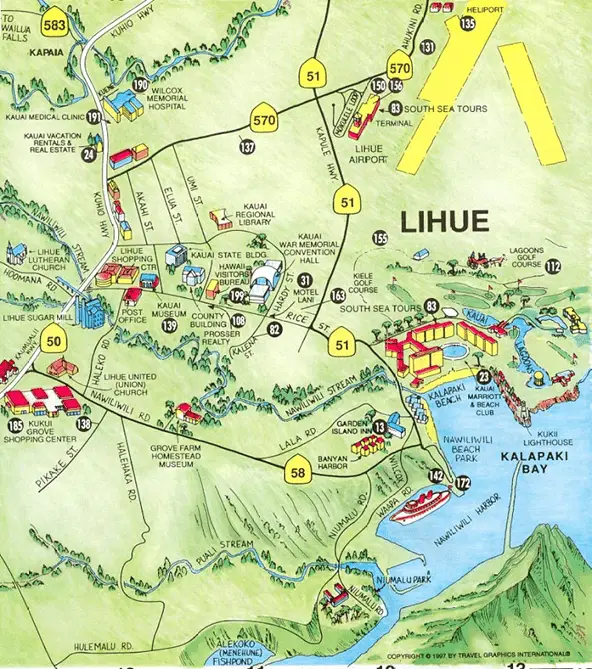 Walking
You can walk from the pier in Nawiliwili to the nearby Kalapaki beach, but most passengers prefer to take the free shuttle to Anchor shopping mall and walk from there.
 Shuttle
Free shuttles run to car rental offices, Walmart and smaller malls from the pier.
Buses
There is bus service on the island and you can see Kauai Bus Schedules at this site. You can also download TheKauaiBus app. It is free, and available on both Android (Google Play) and Apple (Apple App Store) devices. Remember that your time on the island will be limited. If you have your heart set on seeing a particular area, the bus will not be the most efficient use of your time. Other travelers have stated that it is not easy taking the bus, and that the bus is used mainly by residents to get to and from work.
Taxis
As with rental cars, it is best to call ahead to reserve a taxi.
 Rental Cars
There are several car rentals available on Kauai. They tend to be in high demand, so it is best to reserve a car before your arrival.
Here three that are recommended by GoHawaii:
Shopping In Nawiliwili (Kauai) – Hawaii
Even though the population of the island of Kauai is less than 75,000, there is every shop you need within a few miles of the cruise terminal including Target, Walmart, Costco and Safeway. If you would rather buy more local shops, or Hawaiian goods, here are a few options:
Harbor Mall – 3501 Rice Street, Lihue – 0.5 miles from port
Right across the street from Kalapaki Bay, is the Harbor Mall. It is the shopping center located closest to the cruise terminal. The mall provides a free shuttle to cruise passengers.
Locally owned shops such as Beachrail Hobby & Collectables, Kauai Island Treasures, Renee Zhang Jewelry Design, Twisted Turtles Yarn Shop and Yongs Aloha Fashions are a few of the shops you will find.
The Koa Store – 3-3601 Kuhio Hwy, Lihue – 3.3 miles from port
Koa is a hardwood that is often compared to walnut, but Koa looks like lustrous, swirled marble. The Koa Shop has beautiful handmade koa wood gifts. Jewelry, picture frames, shadow boxes, clocks and other items are available. There are items at every price point, so you're sure to find something here.
Kilohana Plantation – 3-2087 Kaumualii Hwy, Lihue – 3.1 miles from port

This Tudor-style 16,000 square foot home has been restored and now contains galleries and boutiques. Local artwork and crafts are available from the shops, and there is also a ceramic shop where you can paint your own piece and have it shipped home. There is also a train that you can ride around the grounds.
Hilo Hattie– 3-3252 Kuhio Hwy, Lihue, 2.6 miles from port
A staple on the islands of Hawaii, this store is named after a famous hula dancer. Go here to find local style clothing for men, women and children. They have aloha shirts, mu'u mu'us, leis, shorts and mini dresses. They also carry souvenirs. It is also located next to Walmart.
CVS Pharmacy  – 2600 Kaumualii Hwy  Lihue – 2.1 miles from port
Longs Drugs is a branch of CVS Pharmacy. You will find the usual pharmacy and convenience store items such as medications, make up, hair products and household items. There are several Long's Drugs in Kauai, but this store is the most convenient location near the cruise port, and is located in the same plaza as Target and Macy's and across the street from Costco.
Dining In Nawiliwili (Kauai) – Hawaii
It may seem a world away, but the Hawaiian Islands are one of the fifty U.S. states. As such, you will find McDonald's, Panda Express, Burger King, KFC and Taco Bell in Kauai.
The closest restaurants to the port are located less than a mile away around Harbor Mall and Kalapaki Beach.
Here are some restaurants in Kauai, and close to Nawiliwili and Lihue that have more flare than the fast-food options.
Duke's Kauai – 3610 Rice Street, 0.6 miles from port
 

 

View this post on Instagram

 
Located on Kalapaki Beach at the Kauai Marriott Resort, Duke's is named for the beloved surfer, Duke Paoa Kahanamoku, this native son was a five-time Olympic medalist in swimming. He was the first person to be inducted into both the Swimming Hall of Fame and the Surfing Hall of Fame. He served as Sheriff of Honolulu from 1932 to 1961, being re-elected 13 times.
There is not much you won't find at Duke's. You can get calamari, coconut shrimp, Tristan lobster, ahi steak, prime rib and filet mignon. At the other end of the scale, mac & cheese, burgers and tacos are also on the menu. One item not to miss out on is the Hula Pie.
Here you will find an infusion of French, Hawaiian and Mexican food here. Lilikoi also has signature desserts and French pastries that are made fresh daily.  They are also known for their brunch and daily Happy Hour. 
Mariachi's – 3501 Rice Street, Lihue – 0.5 miles from port
<
If you are feeling like you want something south of the border, Mariachi's has authentic Mexican cuisine. Enchiladas, burrito, tacos, chimichanga and nachos will definitely satisfy your cravings. It's located right at Harbor Mall, so you can do some shopping after your lunch. 
Uncle D's Kaua'i – BBQ – 3501 Rice Street. Lihue – 0.5 miles from port
Uncle D's is located in the Harbor Mall. Although it is not a dine-in restaurant, it is worth picking up some of their delicious BBQ to go. You will have your choice of pulled pork, buffalo or BBQ chicken, along with sandwiches of the same. Philly cheesesteak, brisket and mac & cheese are also menu items. If you love the sauce, you can purchase bottles to take home.
Things To Do in Nawiliwili (Kauai) – Hawaii
Unless you have arrived on NCL Pride of America, your time in port will be limited. A good plan of action is to decide beforehand exactly what you would like to do and see in the time you are on this beautiful island.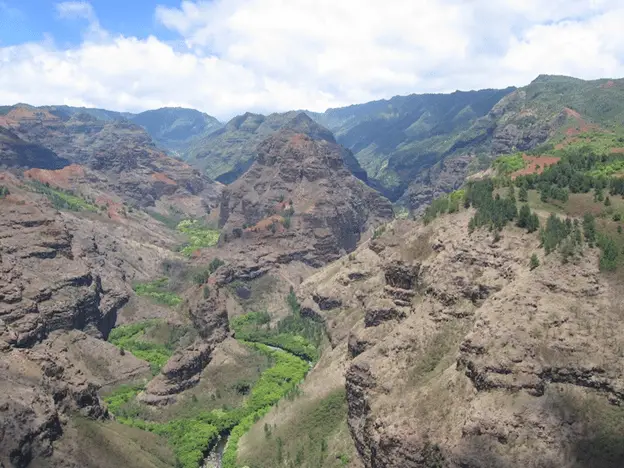 The Waimea Canyon within this state park is also known as the "Grand Canyon of the Pacific." It is one of Kauai's most popular attractions. The canyon is 10 miles long and 3,000 feet deep. Two look out points at PuuKe Pele and Puu Hinahina give you the opportunity to have spectacular views of the canyon. There is a trail to hike, but it is a 3.4 mile round trip hike that takes about 3 hours, so keep the time in mind.
If you are not a resident of Hawaii, you will need to purchase park entry ($5 pp) and parking ($10 per vehicle) but this is valid for Waimea Canyon as well as Koke'e State Park, so you get two parks for the price of one. 
Remember, too, that it is a sign of disrespect to take any rocks home from Hawaii, but in a state park it goes a step further; it is illegal. You could incur a fine of up to $100,000, so they are serious about this.
If you'd rather take an excursion to Waimea Canyon instead of navigating transportation on your own, check out this great one through Shore Excursions Group!
This is the largest coffee farm in the United States. With over 4 million coffee trees planted on 3,100 acres, this plantation produces over half of Hawaiian coffee. Guided or complimentary self-guided tours are available and you will also be able to sample all the flavors of coffee brewed at this plantation.
Check out this video for a peek of the plantation:
The grounds of this four acre village is a re-creation of a traditional Hawaiian village, but it is on an authentic site. You will experience what native lifestyles were like centuries ago. Canoes are also available in an exclusive location on the Wailua River. You can avoid the crowds, and there is no hauling required.
Spouting Horn is one of the most photographed sites in Kauai. Formed by years of wave action, this blowhole is on the coastline's lava rock shelf. The spout can be upwards of 50 feet high and it produces a hissing and roaring sound in the process.
Visit the largest limestone cave in Hawaii. The site is an important one to archaeologists, geologists and paleontologists because of the abundance of fossils found there. You enter the cave by crawling through a narrow opening and into a brightly lit circle opening. This 17 acre site preserves extinct Hawaiian native plants and animal species. Guided tours run from 10am to 4pm, and there is no cost to enter, but they do accept donations.
Close to the cruise port, Kalapaki Beach is a great spot for swimming, learning to surf or do stand-up paddle boarding. Kalapaki Bay is in front of the Kauai Marriott Beach Resort. It has calmer waters as it is protected from the ocean waves by a break wall. It is also fun to simply watch outrigger canoes come and go out of Nawiliwili Harbor. There is always activity at the Nawiliwili Yacht Club which frequently holds races. Before hitting the beach, stop in at DA LIFE. It is a locally owned outdoor gear shop located right on the beach at Kalapaki Bay. You will find all types of gear for any water activity that you would like to engage in. They are also great to give tourists insight into the best activities to pursue while in port. There are restrooms at Kalapaki Beach.
Check out this video of the 8 best beaches in Kauai. If you want to just check out Kalapaki Beach (and catch a glimpse of a cruise ship in the background), skip ahead to 2:12:
Top Tours & Excursions In Nawiliwili (Kauai) – Hawaii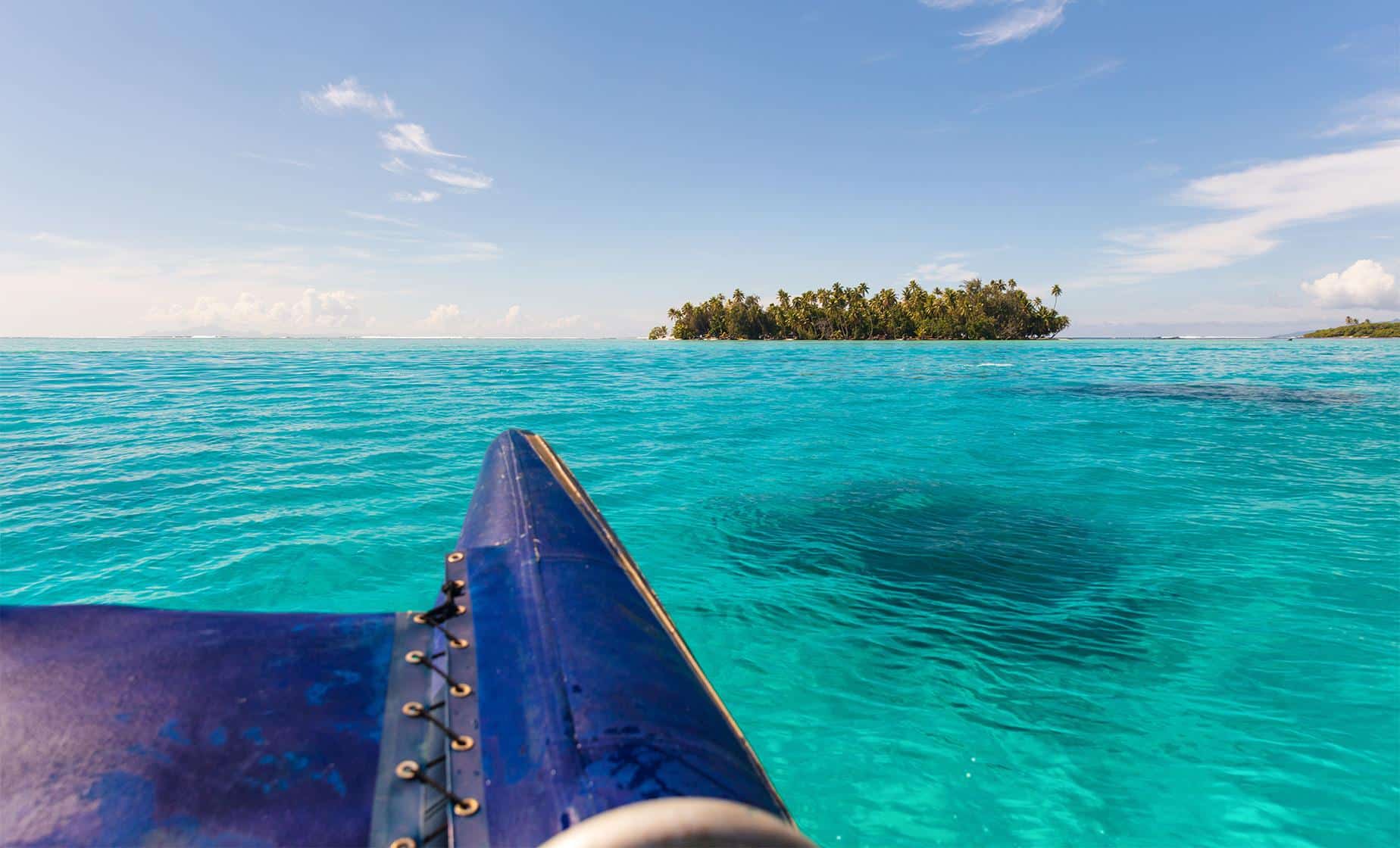 Hop aboard your 30-foot, rigid-hull, Zodiac inflatable raft for a day along the Napali Coast that you will never forget! Your small group will canvas the magnificent coastline while the skilled captain and crew share the history and lore of Kauai and its marine life. You will be treated to spectacular views of beautiful beaches, towering cliffs, verdant valleys, stunning waterfalls and mysterious sea caves along the 17 miles of varied landscape. ...
Duration: 6 Hours
Activity Level: Moderate
Note: Min. age 5 years
Food: Snacks and drinks provided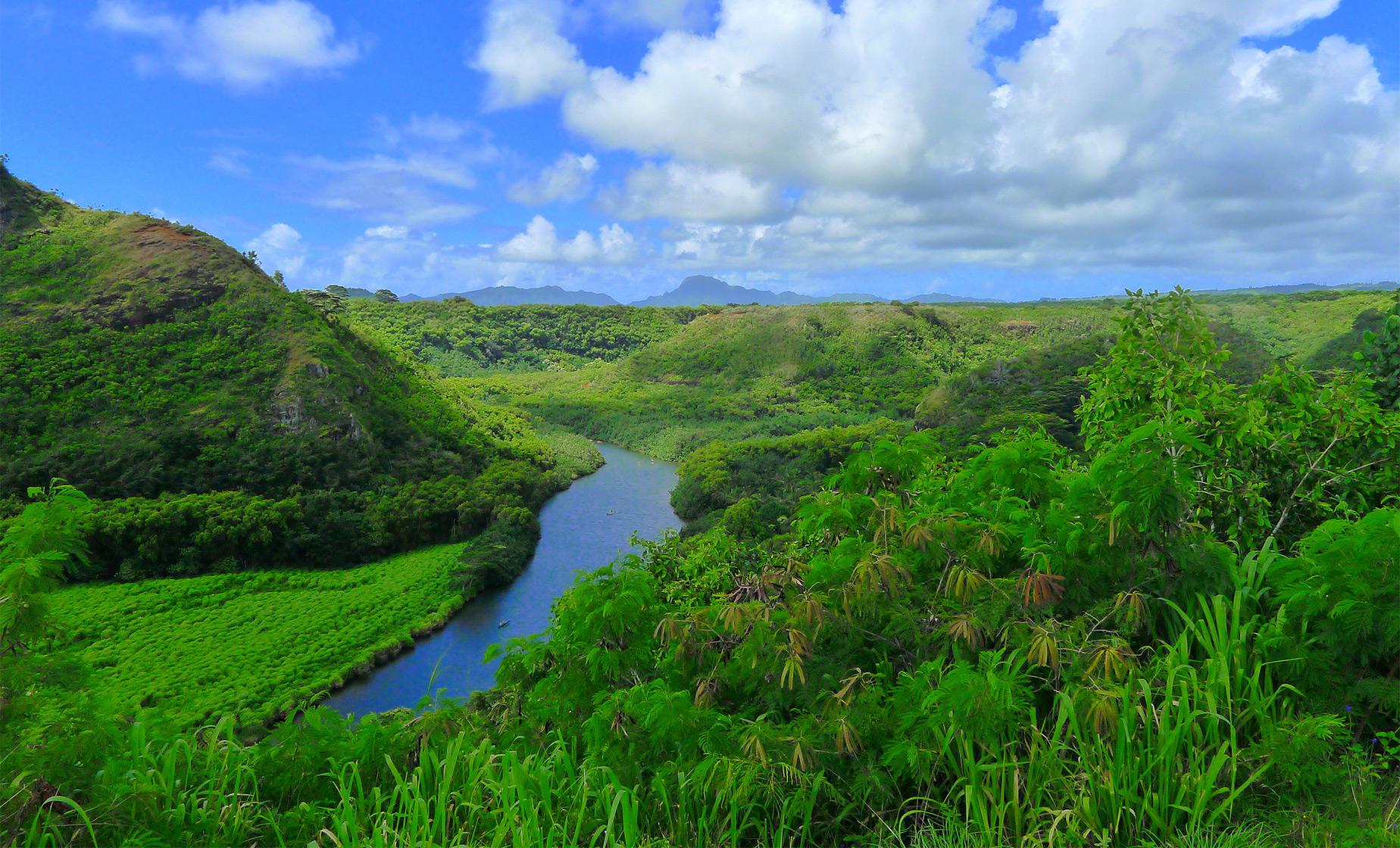 The Wailua River is a long, slowly meandering river that starts at the Wai'ale'ale Crater and is fed by many tributaries on its way to the ocean. It is the only navigable river in Hawaii. The Kauai tour up the river usually takes approximately 1 hour and 20 minutes on a long, flat-bottom riverboat, during which you will encounter kayakers, motorboats and water skiers along the way. There'll be many great photo opportunities of tropical grasslands...
Duration: 3.5 Hours
Activity Level: Easy
Wheelchair Accessibility: No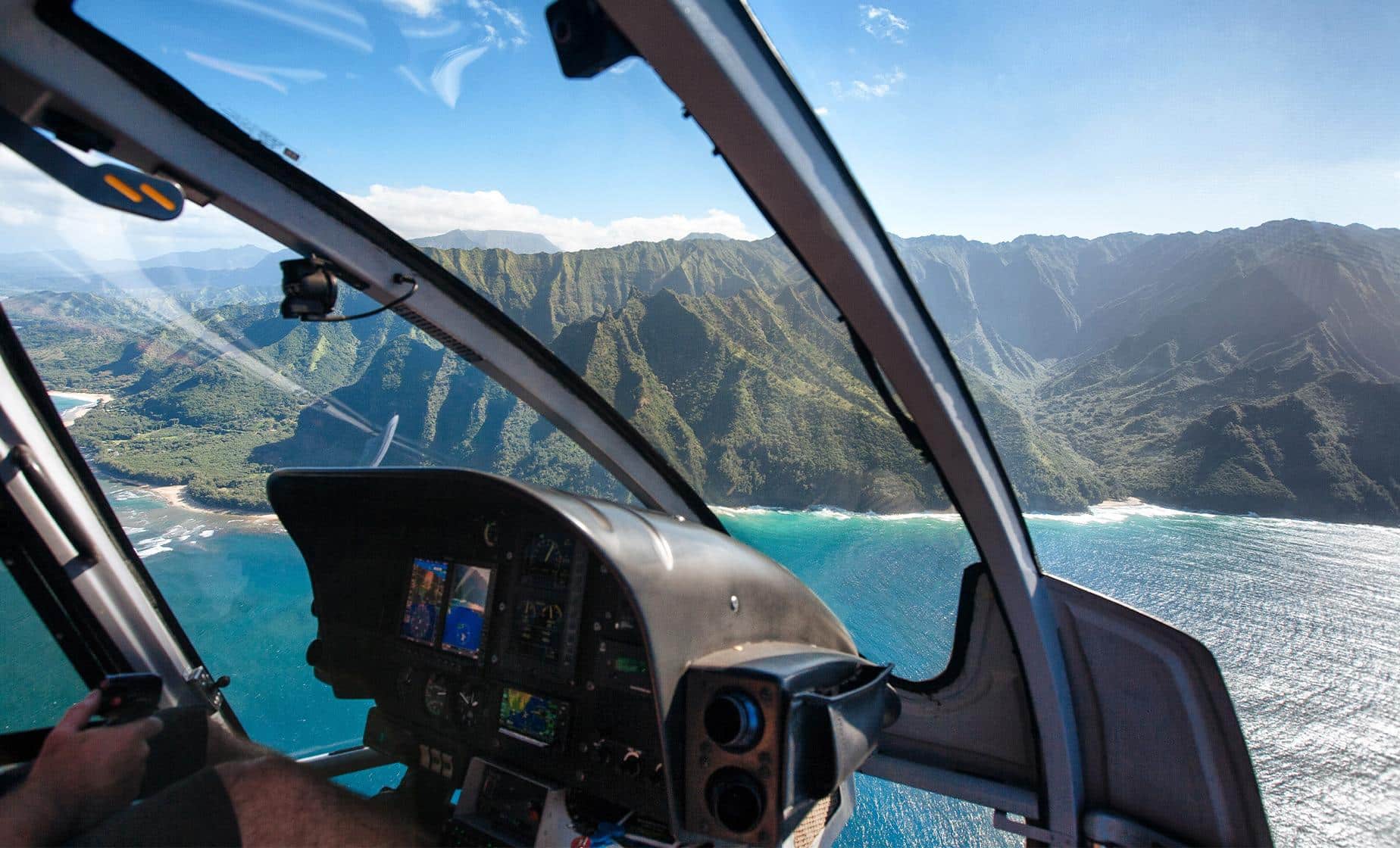 Explore from the air the unreachable beauty that is Kauai. In this extraordinarily exciting Kauai helicopter tour, you will see the Na Pali Coast, Waimea Canyon, Wailua Falls and Mount Waialeale, while learning about the legends and history of the awesome island that your pilot calls home. See Mount Waialeale, recognized as one of the wettest spots on earth, with an average annual rainfall of an incredible forty feet. Most of the mountain rain dr...
Duration: 1.5 Hours
Activity Level: Easy
Tour Includes: Beverages