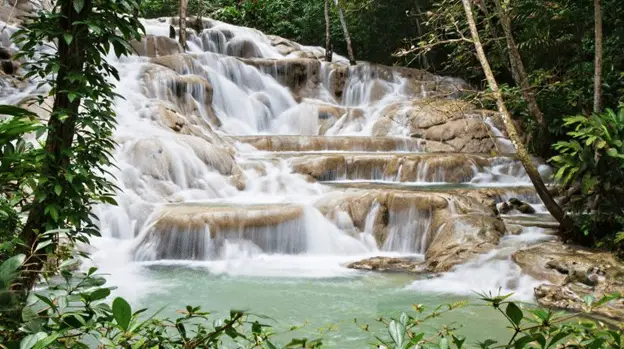 Spanish for "Eight Rivers", Ocho Rios is a port town in the parish of Saint Ann on the north coast of Jamaica. While the name means "eight rivers'' it might be a misnomer. There are just four rivers in the area. It is believed that Ocho Rios might have been a British mispronunciation of the Spanish name Chorreras. However it got its name, this former fishing village is a busy bay that is lined with hotels.  
One of five cruise ports in Jamaica, Ocho Rios, is located at the northeastern edge of Jamaica on a half-moon-shaped cove. The other ports are Montego Bay, Falmouth, Port Antonio and Kingston.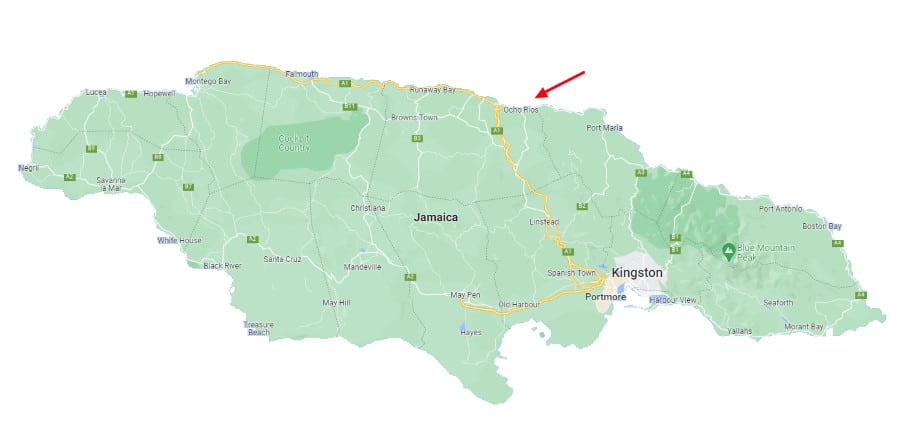 Ocho Rios is the country's largest port and the surrounding parish of Saint Ann is home to rainforests, rivers and waterfalls and therefore is known as the "Niagara Falls of the Caribbean."
Safety
Ocho Rios is considered one of the safer tourist areas of Jamaica, however as with any type of international travel, it is always best to check before going to see if there are any advisories from a valid, trusted source. The U.S. Department of State has these recommendations: Jamaica Travel Advisory.
Good To Know
Locals refer to Ocho Rios as Ochi.
Bob Marley's birthplace and burial place is located in the hills above Ocho Rios in the town of St. Ann.
The James Bond legacy lives on in Jamaica. Goldeneye is an estate in Jamaica that was built by Ian Fleming. It was at the estate that he wrote all of his James Bond novels. A couple of hotels in Jamaica were featured in James Bond movies. Half Moon Jamaica and Couples Sans Souci were featured in Live and Let Die and Dr. No, respectively. The Green Grotto Caves in Falmouth were also in Live and Let Die. 
For the most part, Jamaica runs on "island time." If you have time constraints, plan accordingly.
Check out these excursions in Ocho Rios.
Where You Dock in Ocho Rios – Jamaica
The Ocho Rios cruise ship pier is the busiest of the ports in Jamaica. There are two piers where cruise ships dock and both piers are within walking distance of the city.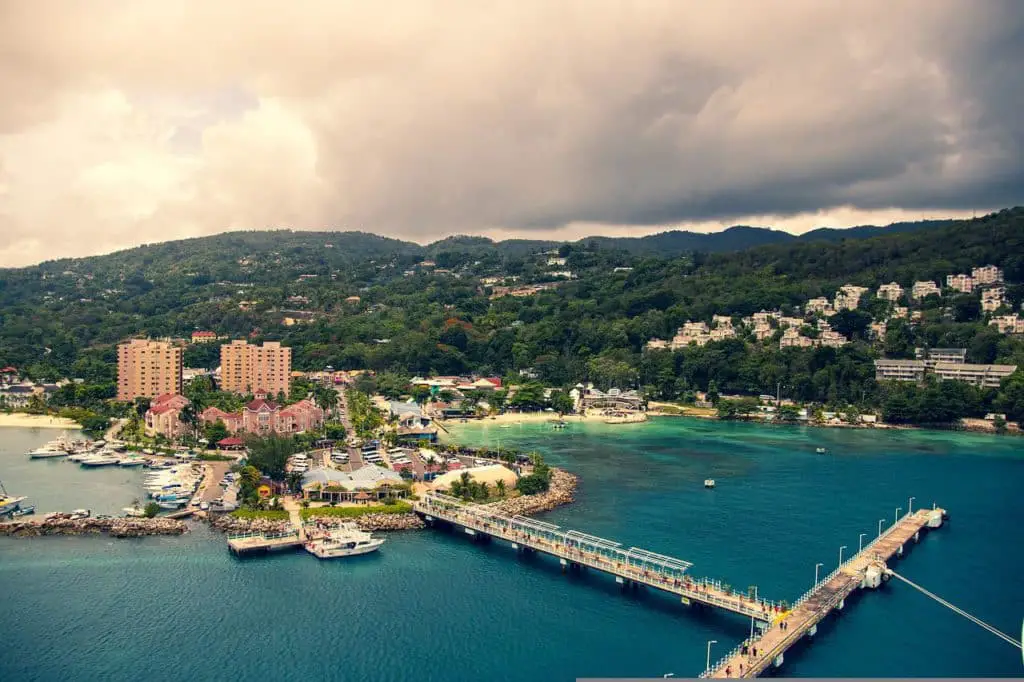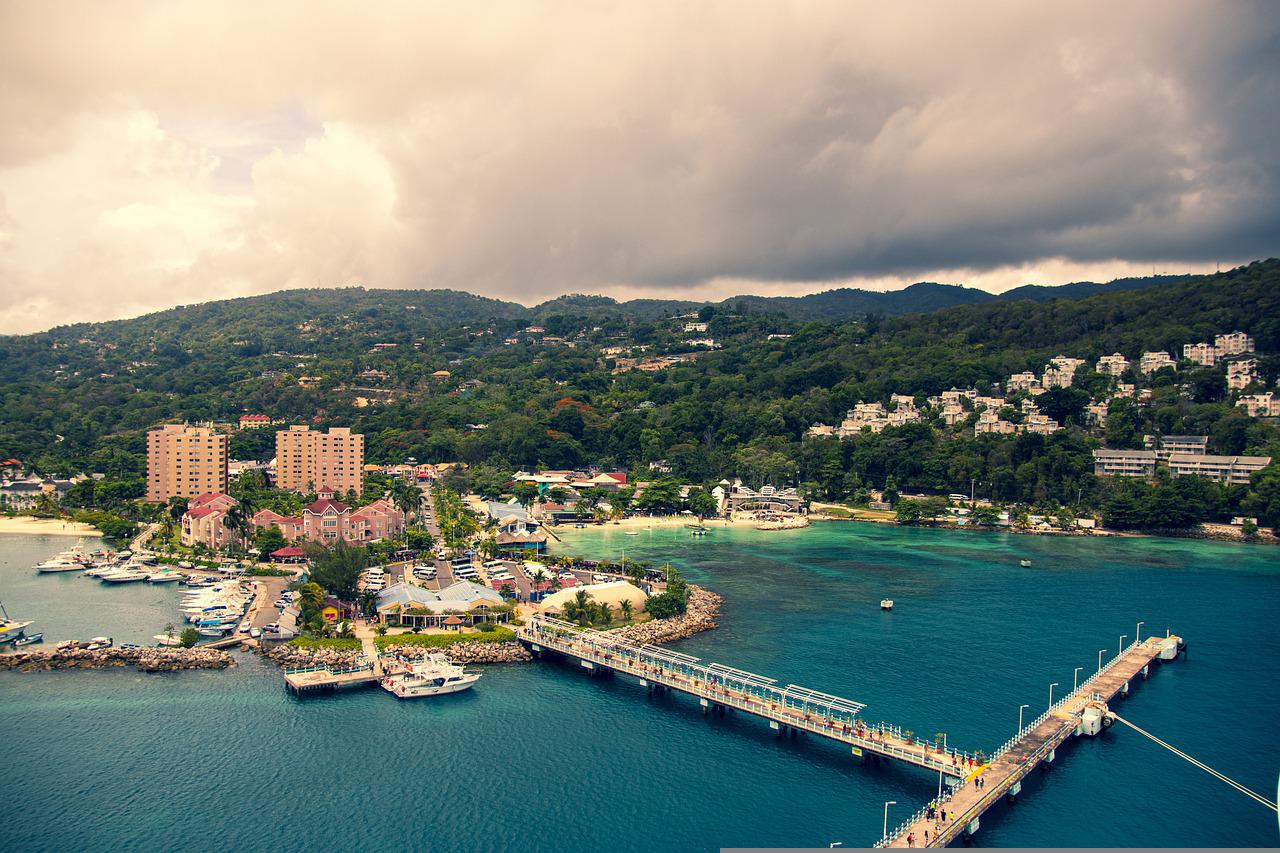 The primary pier is Turtle Bay pier and has enough space for two mid-sized cruise ships. Most of the time this pier is used by just one mega-sized cruise ship. This pier is closest to downtown. Inside the port, you will find tourist information, taxis and a small coffee shop. Just outside the terminal, you'll find various restaurants, including Margaritaville, and if you walk a little further, you'll reach downtown shops or the beautiful Ocho Rios Bay Beach. 
The other dock is Reynold's pier, but also referred to as James Bond pier. This pier is about ½ mile from downtown and is used by both cargo and cruise ships and as such, doesn't have any facilities, other than a pickup spot for taxis and buses. It's about a 15 minute walk along a sidewalk to downtown. 
The main streets of downtown Ocho Rios are Main Street and DaCosta Drive where you'll find duty-free shopping, artisan vendors, restaurants and bars, and while it's worth a walk around downtown, most tourists who come to Ocho Rios want to see Dunn's River Falls and Mystic Mountain, which are located about 20 minutes out of town. It's highly recommended to take an organized excursion if you want to travel to these spots and not to attempt it on your own.
Getting Around Ocho Rios – Jamaica
Walking
The Turtle Bay pier is about 300 feet from the gangway to a terminal-secured area and downtown the beach is about a 5 minute walk. 
Reynold's pier is about ½ mile, or about a 15 minute walk from downtown, along a waterfront sidewalk. 
Buses
There is an extensive bus network on the island. It is best to use this system if you are patient and not pressed for time. This mode of transportation is not recommended for tourists as the system is not easy to navigate. If you use the bus system, you should know where you are going, don't carry much with you and have Jamaican cash in smaller bills like $50's and $100's. 
The most popular route is the Knutsford Express which serves many main destinations, and the route from Ocho Rios to Kingston takes about 3 hours. From Kingston to Montego Bay can be five hours, so while this mode of transportation is relatively inexpensive, just getting them will take up a lot of your time in port. Because it is a cheap mode of transportation on the island, buses are often at capacity. 
If you want to look into bus service, you can check the Knutsford website: Knutsford Express
Route Taxis and Minibuses
There is another form of public transport in Jamaica. Route taxis and minibuses are more comfortable than the bus line, but they do not always adhere to a schedule. That is because route taxis and minibuses will only run once they have enough people to make the journey. The vehicles with red license plates starting with PPV are licensed public transport vehicles. Those with the JUTA on the plate are for tourists only. 
Taxis
You will find taxis waiting by the pier in Jamaica. Officially certified taxis will have fixed rates clearly displayed on placards, so there is no negotiation needed. The prices will be for round-trip and up to four passengers. If you have an additional person, there is an additional price. 
Downtown Ocho Rios, which is within walking distance, usually has better pricing for taxis and it is possible to flag one down on the street.
Rental Cars
It may seem like there are no formal rules of the road in Jamaica. They drive on the left side of the road, but also wherever it is convenient for them. Road conditions are poor in Jamaica. It is advised that you steer clear of potholes and other obstacles (like goats) rather than staying in your designated lane of traffic. Traffic can be chaotic and Jamaican drivers can seem reckless. GPS may not always work on the island.
 You will need a photo ID, credit card and valid driver's license to rent a car. 
It is best to stick with a known entity when renting a car in Ocho Rios, and the Avis Rent a Car – Ocho Rios is recommended. 
Shopping In Ocho Rios – Jamaica
There are tales of the fairly aggressive street vendors that greet cruise ship passengers, so don't be discouraged, but be aware that there can be some fierce haggling and persistent vendors. Also know that the price presented for an item is usually set too high so that there is room for negotiation. Knowing in advance that this is just the way it rolls in Jamaica will help you not to be daunted by the process. 
Here are some of the shopping options available:
Island Village Shopping Center – Located just outside port 
This newer upper-scale shopping and entertainment complex offers jewelry, clothing, souvenirs, etc. This is also where Margaritaville is located as well as other restaurants and cafes (including Starbucks if you want to collect your Jamaica mug!)
Ocho Rios Craft Park – Main Street – 0.5 miles from port
With 135 stalls, you can have a hat or basket woven as you wait, but you can also buy them ready-made. Hampers, handbags, place mats and hand-embroidered goods are available. There are also woodcarvers and their wares. 
Soni's Plaza – 50 Main Street – 0.6 Miles from port
This plaza is another popular spot for shopping. Duty-free watches, fine jewelry and classic perfumes (Casa de Oro) are some of the products for sale at the various stores. There are also diamond solitaires, tennis bracelets and 14-karat gold chains at Gem Palace. At Soni's Plaza you will be able to get souvenir items such as t-shirts and coffee mugs, along with Blue Mountain Coffee, cigars and linen tablecloths. 
Eight Rivers Town Center – Graham St. & DaCosta Drive –  0.7 miles from port 
You can find everything you might need in one spot – groceries and toiletries, clothing, patties, Pizza Hut
Dining In Ocho Rios – Jamaica
Jamaican Maroons were descended from African slaves in Jamaica. The Maroon freed themselves and created their own communities. The word "maroon" came from a combination of French/Spanish and means "wild" or "untamed." Either way the meaning goes, these people were escapees who hid from their oppressors. One of the ways they concealed their whereabouts was by "jerking" their meat. They would spice their pork, chicken and fish and then cook it underground so that smoke would not be seen and give away their position. 
Today, jerk pork, chicken and fish are still a staple in the Jamaican diet and a reminder of their cultural heritage. If you have the opportunity, try some authentic jerk, known the world over, before you leave the island.
Restaurants in Ocho Rios
Miss T's Kitchen – 65 Main Street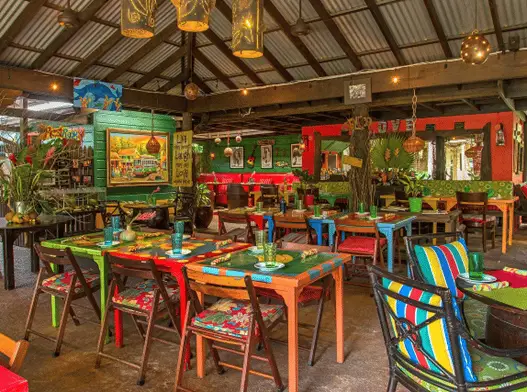 Miss T's has smoked marlin, jerk shrimp, jerk chicken, oxtail, sea trout, sandwiches and wraps along with a vegetarian and drink menu.
Scotchies  Drax Hall – Just off Highway A1, St. Ann's Bay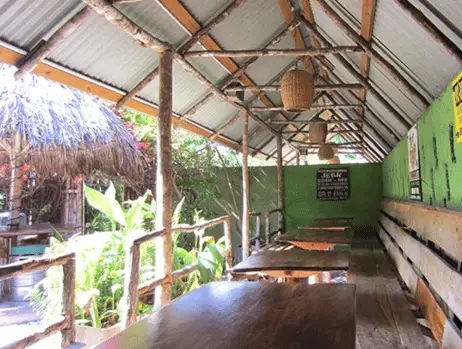 While not much more than a hut,  this small franchise has some of the best jerk chicken on the north coast of Jamaica, which is why it's worth the 15 minute drive out of town. They also have pork items. Their sweetened bread that comes with the meal is a favorite of guests.
Mainland China – in Landmark Plaza, 3 Milford Road
If Jamaican jerk is not to your liking, head over to the Landmark Plaza for some Chinese. You will find soup, noodles, shrimp, chili fish, wontons, vegetarian, rice & noodles, lobster, steamed fish, tai-chin chicken and both lamb and steak options. They also serve Indian food.
Ocho Rios Jerk Centre – 14 DaCosta Drive
Authentic Jamaican jerk is served here, and you can get chicken, jerk burgers, wings, curried chicken, fish and even curried goat. Roast fish, pork sausage, and a vegetable wrap are served with fries or rice. They also have soup of the day. 
 

 

View this post on Instagram

 
If you want a quick in and out, fast food establishment Juici Patties offers delicious patties and has locations all over the island.
Island Grill – 59 Main Street
 

 

View this post on Instagram

 
This island chain restaurants boasts authentic Jamaican tastes, with BBQ and jerk chicken, fish, veggie options, and even breakfast. The main complaint from reviewers is that there's a bit of a wait time with their food, but now you can order online if you need to speed things up.
Restaurants Close to the Port
The closest dining to the port are:
Passage to India – They have rice, lamb, chicken, Indian bread, seafood, vegetarian AND a Jamaican menu. So you could get both cuisines in one place. 
Oceans 11 Seafood and Watering Hole – This seafood restaurant overlooks Ocho Rios Bay and offers seafood options as well as Jamaican cuisine.
Boardwalk Bistro – located inside Island Village shopping area. This little restaurant gets mixed reviews with its Jamaican offerings but does mention WiFi.
Margaritaville – located inside Island Village shopping area. Much more than just a restaurant, it has a pool with swim-up bar, private beach with chairs and umbrellas, and VIP service for an upcharge, 60 foot waterslide and water trampolines.
Things To Do in Ocho Rios – Jamaica
One of the must-do activities in Jamaica. The scenic waterfalls are a spectacle in themselves and to climb them is a thrill not to be missed.
This natural cove is surrounded by 5 acres of tropical rainforest. You will be able to interact and snorkel with stingrays and see exotic birds, snakes and iguanas on the Jungle Trail walk. You can also swim with the dolphins in a once in a lifetime experience with these beguiling creatures.
Activities such as riding a state-of-the-art chairlift 700 feet above the rainforest, a Canopy Zip Line, a Bobsled ride and a Waterslide are the top thrills at this park.
Only 300 feet away from the Turtle Bay Pier, it is always 5 o'clock! Margaritaville is a fun and easy spot to enjoy a day at the beach.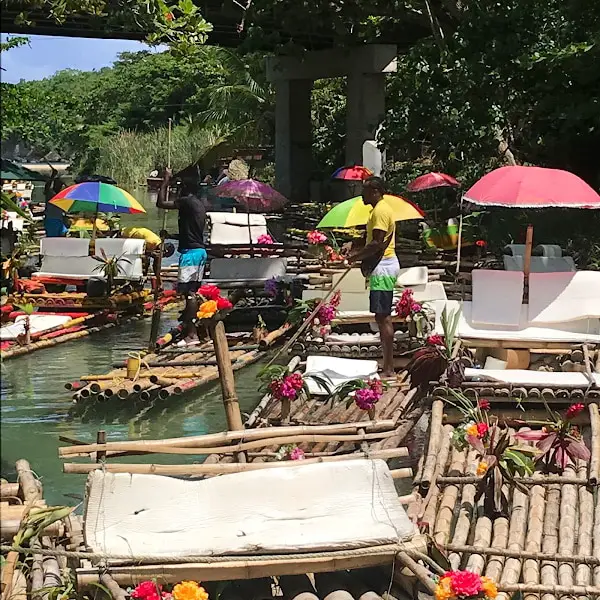 You will have an active paddling experience through twists and turns of rushing rapids. A midway stop allows you to swing on a rope in a placid river pool.
Also on the White River, tube individually or with a group. Check this out to see the beautiful and refreshing experience this would be: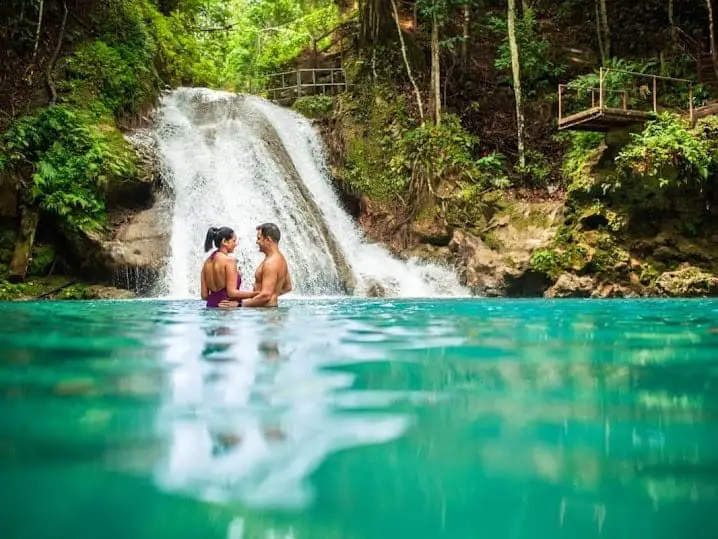 A series of natural limestone sinkholes that are secluded and relatively untouched falls near Ocho Rios. This deep cavern gets its name from the deep azure hue of the water. untouched The Blue Hole has become a top attraction in the last couple of years. The clear blue water of this Natural Wonder is a delight to dive in and swim.
This is your opportunity to learn some of the history of a working plantation. You will also be able to taste some of the exotic flavors of Jamaica.
Top Tours & Excursions In Ocho Rios – Jamaica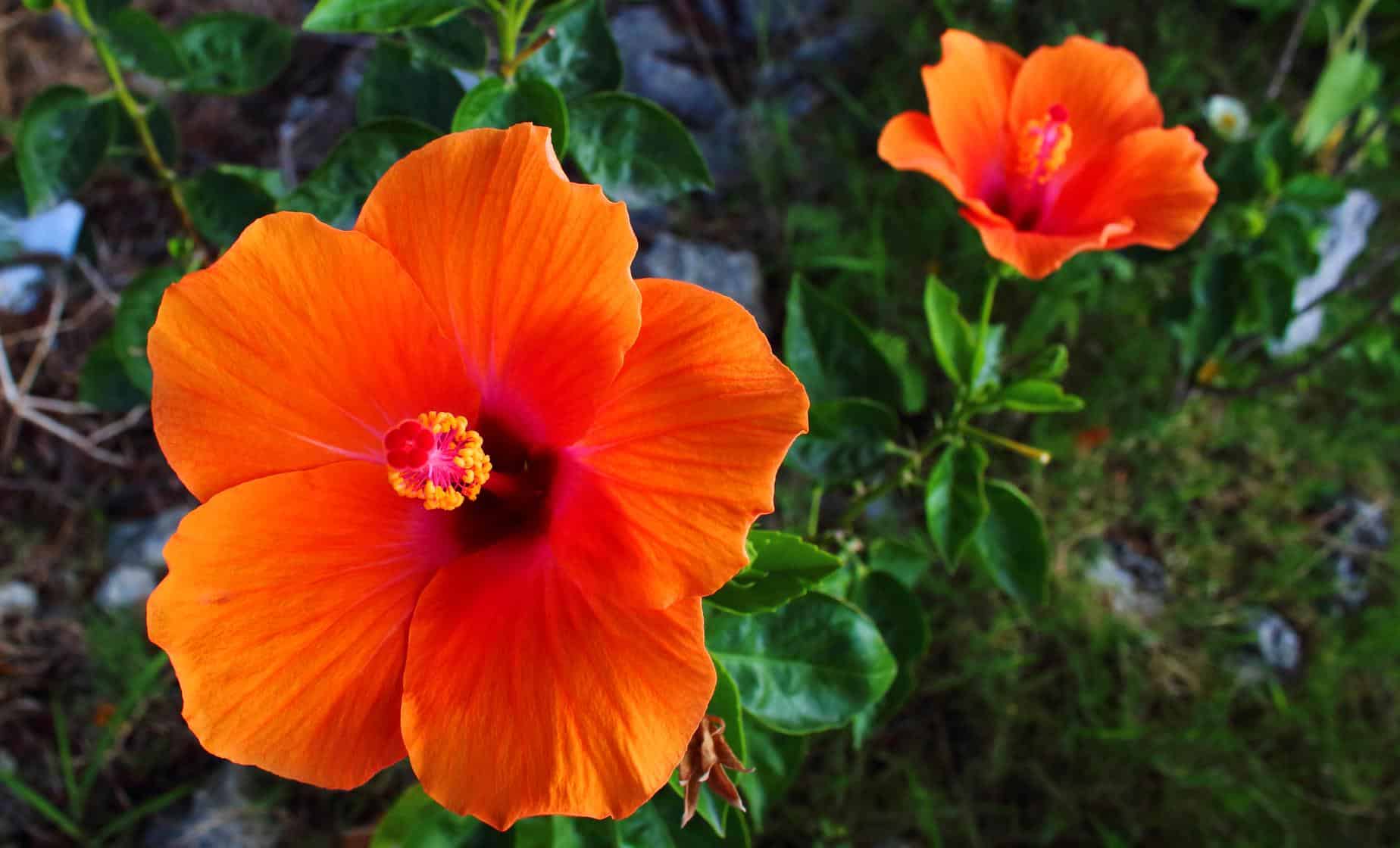 The Enchanted Gardens, Bird Aviary, and Waterfall is a 15-acre tropical garden located in the resort town of Ocho Rios and features 14 cascading waterfalls on the Turtle River which flows through the property. During your approximately 70-minute guided walk through the property, your tour guide will point out the varieties of indigenous and endangered plants such as a wide range of palms, Heliconias, Lilies, Ferns, Hibiscus, Anthuriums, Orchids,...
Duration: 3 Hours
Activity Level: Moderate
Wheelchair Accessibility: No
Food: Not Included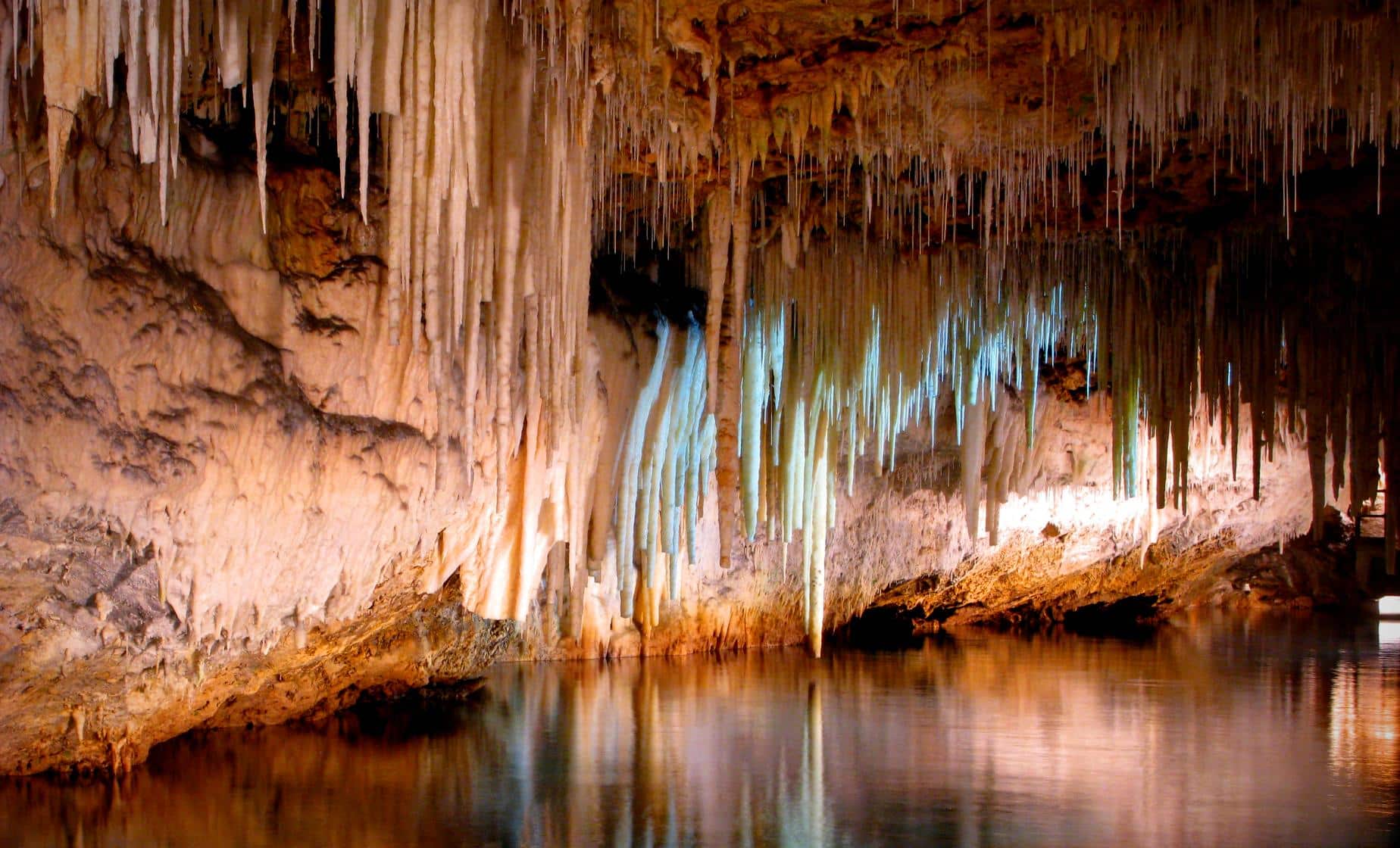 Your journey through time begins as you meet up with your guide and head to the Green Grotto Caves, Jamaica's most prominent natural attraction. From the pier, your guide will take you on an approximately 30-minute scenic drive to the opening of the caves. Once on site you will descend down a labyrinthine maze into an other-worldly area full of stunning stalagmites, stalactites, pristine water flows and more. Continue on to the Seville Great Hous...
Duration: 4 Hours
Activity Level: Moderate
Wheelchair Accessibility: No
Food: Not Included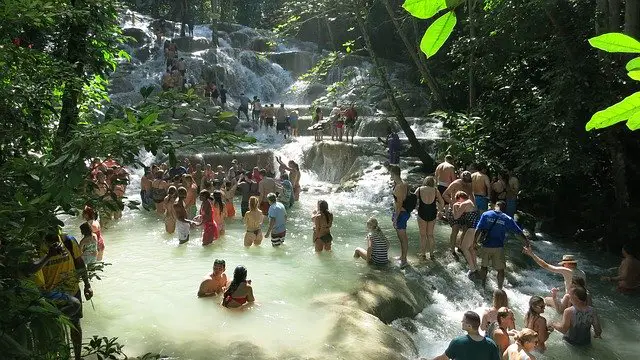 Dunn's River Falls is roughly 600 feet above sea level, with beautiful crystal-clear water running down the mountain into the ocean. It takes about 1 hour and 30 minutes to climb all the way up the mountain. There are places along the way where you are able to slide down into pools of water, take a swim and climb again. After departing the falls, we take a leisurely 20-30 minute drive over to the White River, one of the rivers making up Ocho Rios...
Duration: 4.5 hours
Activity Level: Moderate