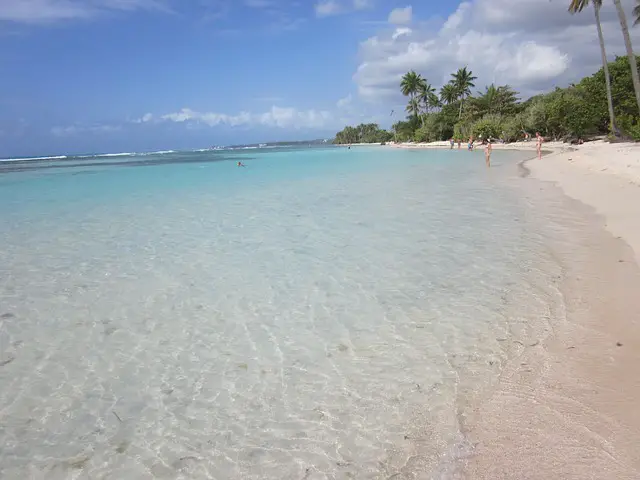 The Guadeloupe archipelago (group of islands) includes the principal islands of Basse-Terre and Grande-Terre and numerous smaller islands. The two principal islands are separated by the narrow Sale֜e River. Pointe-a-Pitre is located on Grande-Terre. 
This island is mostly flat with a limestone base. The smaller islands tend to be hilly and volcanic in origin. Often called the Butterfly Island because of its shape, Guadeloupe is two separate islands. 
Located in the eastern Caribbean, Guadeloupe is between the North Atlantic Ocean and the Caribbean Sea. It is part of the Leeward Islands in the northern Lesser Antilles islands group. Geographically, Guadeloupe is positioned in both the Northern and Western hemispheres.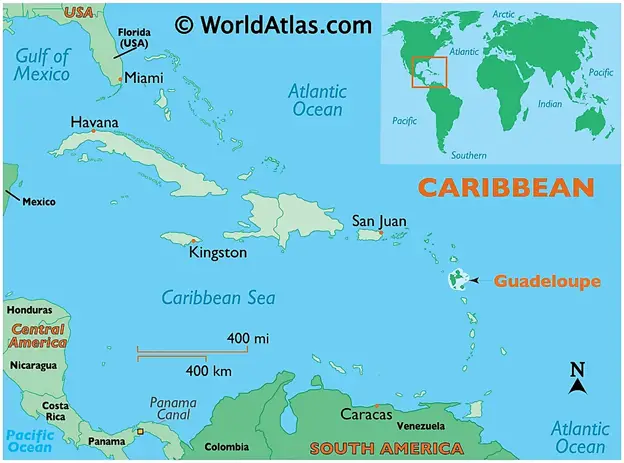 Its nearest neighbors are the British overseas territory of Montserrat, the republic of Dominica and the island of Martinique.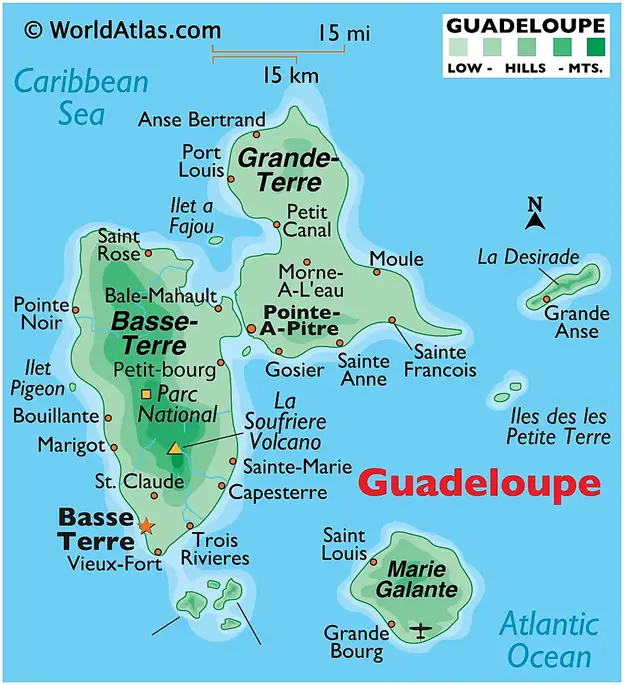 Visited by perpetual traveler Christopher Columbus in 1493, the islands were populated by Caribs. With his penchant for claiming things for Spain, Columbus consecrated the islands to Our Lady of Guadeloupe of Extremadura in Spain, which is where the islands get their name.
As seems to be the fate of so many islands, the British and the French fought over them for years. Occupation went back and forth between the two countries with much upheaval and anguish for the occupants of the islands. Since 1974, Guadeloupe has had the status of a region of France.
Pointe-a-Pitre is Guadeloupe's largest city and the main seaport. The port is in a natural harbor on the south-central coast of Grande-Terre. 
The tropical heat, rainfall and fertility of the volcanic soil gives the islands lush vegetation that is diversified according to their elevation. Much of the land is covered in forests and extensive mangrove swamps cover the banks of the Sale֜e River. Chestnut trees, and the hardwoods mahogany and ironwood are prevalent on Basse-Terre. Grande-Terre was cleared of most of its original forests. 
There is a wide variety of marine life in the waters around the islands. Lobsters, crabs, octopuses, tarpons, snappers, parrot fishes and many species of rays. 
Good To Know
Throughout the Caribbean, there are mosquito-borne diseases. Some cruise terminals will have signs warning of taking precautions by using repellant. It is prudent to take repellent with you, especially if you plan to hike in the rainforest. 
Another precaution, if you are so inclined, is the nude beaches. This is France, and as such,  you will find a very relaxed attitude on some of the beaches. The Anse Tarare Beach is a favorite spot for nude sunbathing.
All shops are closed on Sundays and some may close in the afternoon for a couple of hours, and some Saturday afternoons. 
Where You Dock in Point-a-Pitre – Guadeloupe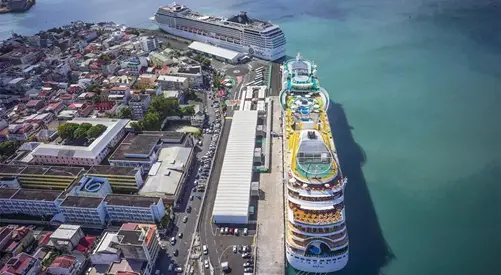 Ships dock at the Centre Saint-John Perse cruise terminal (Terminal de Crosiere). It is only about a 5 minute walk to downtown Pointe-a-Pitre. The terminal has two berths and both have their own terminals and tourist information booths.
Getting Around Point-a-Pitre – Guadeloupe
Walking
Pointe-a-Pitre is on flat terrain and easy to walk. There will be an information booth at the pier where you can get a map. The streets are in a grid pattern, so it is pretty easy to navigate, but a few streets go off on a tangent, so it is best to have a map. Try to stay to the east of the cruise terminal building. If you go north, you will be in the industrial zone where there is nothing, sightseeing-wise, worthy of seeing.
Taxis
Taxis will be in a queue outside of the port security fence. Many of the taxis are vans and will often wait until they are full before departing. Weekends and especially Sunday are the most difficult days to find a taxi. Some, but not all, of the taxis are metered. If the taxi does not have a meter, agree on a price beforehand. Taxis on the island tend to be pricey.
Here are two of the taxi services available:
TAXI MENERVILLE POINTE-A-PITRE  – open 24 hours, visit the above website to make reservations.
 ALLO TAXI GUADELOUPE – hey advertise that they service the airport, the cruise port, beaches and hotels.
Water Ferries
With the islands of Guadeloupe being close to one another, ferries are prevalent in Point-a-Pitre. Ferry companies will offer daily service to the islands. Schedules and fares change on a frequent basis.
Here are a few of the ferry services:
Buses
There are two bus stations in Pointe-a-Pitre. One is at Bergevin, in the north of the city. The other is in the southern district of La Darse. Buy tickets on the buses themselves as there is no ticket office. The buses are usually ridden by locals, so it helps if you speak some French. Know too, that the schedule can be erratic, so if you use the bus, leave plenty of time for your return to port.
Rental Cars
There are numerous choices of rental car companies in Pointe-a-Pitre. Most of the rental car companies will close in the middle of the day and are seldom open on Sunday.
While the majority of the roads are decent, the numerous roundabouts can be hazardous.
You will need a valid photo drivers license, credit card and an additional proof of identity. You need to be at least 21 years of age, although this age requirement may vary depending on the type of car rented.
Driving is on the right side of the road. Children under 12 cannot travel in the front seat of the vehicle and it is illegal to use a mobile phone while driving. When parking, do not park under a palm tree as falling coconuts can damage the vehicle and you will be responsible.
Shopping In Point-a-Pitre – Guadeloupe
Because Guadeloupe is a French Overseas Region, you'll find many of the well-known European brands such as Lacoste, L'Occitane, Lancel and more. But if you're looking to shop for local souvenirs, keep your eyes open for local rum, jams, chocolate, spices and the rare Bourbon Pointu coffee. Handmade jewelry and clothing, especially sarongs, are also popular items.
One thing to note in order to avoid disappointment, is that all shops seem to close on Sundays, and some may close every afternoon for a couple of hours, or even Saturday afternoons. 
Here are some shops you should check out:
Less than 0.2 miles from the cruise terminal (as the crow flies), between Rue Peynier and Rue Frebault.
This open market mall has a myriad number of spices including cinnamon, vanilla along with rum punch. You will also find flowers, Creole dolls and baskets. Just remember you won't be able to bring fresh fruit or plants back on board with you. All items must be in sealed packages or bottles. If you purchase rum, the ship will store it until disembarkation day. 
Less than 0.2 miles from the cruise terminal (as the crow flies), on Rue Achille Rene Boisneuf
The Factory is kind of a one-stop-shop for handcrafted and local items, including fashion items, local snacks, rum, a creole deli and even tuk tuk rides! If you're lucky, you'll be in port for one of their Rum and Blues live music nights. 
Marche de la Darse
Less than 0.2 miles from the cruise terminal (as the crow flies), on Quai Lardenoy
This traditional fish and vegetable market comes alive early in the morning and are open until 2pm. As a cruise passenger, you won't likely be purchasing anything fresh, but there are some local vendors in the surrounding area selling crafts and souvenirs, and it can be a glimpse into the every day life of locals. 
Located across from the Spice Market.
This fashion chain has been selling Creole fashion since 1973 and is the epitome of the colorful patterns and designs of the Caribbean. Pick up women's sun dresses and clothing for the whole family.
Dining In Point-a-Pitre – Guadeloupe
With its strong French connection in Guadeloupe, you will find Creole and European flavors influenced by ties to African and Indian traditions. This means foods will be rich and flavorful with delicious spice combinations called "colombo" or "massale" (think Indian-style masala).  The national dish is porc-colombo:
Some other traditional dishes to look out for and try are codfish fritters called "accras," a fried-bread sandwich called "bokit," a Creole stew called "Dombres" which is filled with a sort of dumpling, beans, meat, fish or shrimp, in a sauce. There are also curries, soups (like callaloo, crab or tripe) and seafood.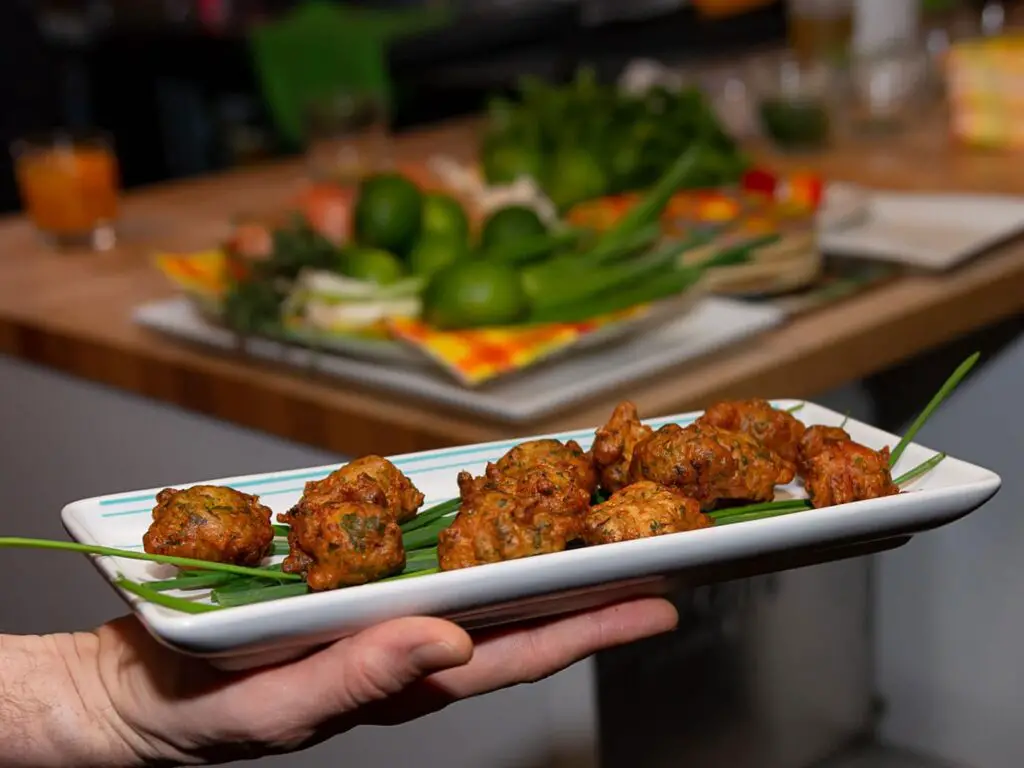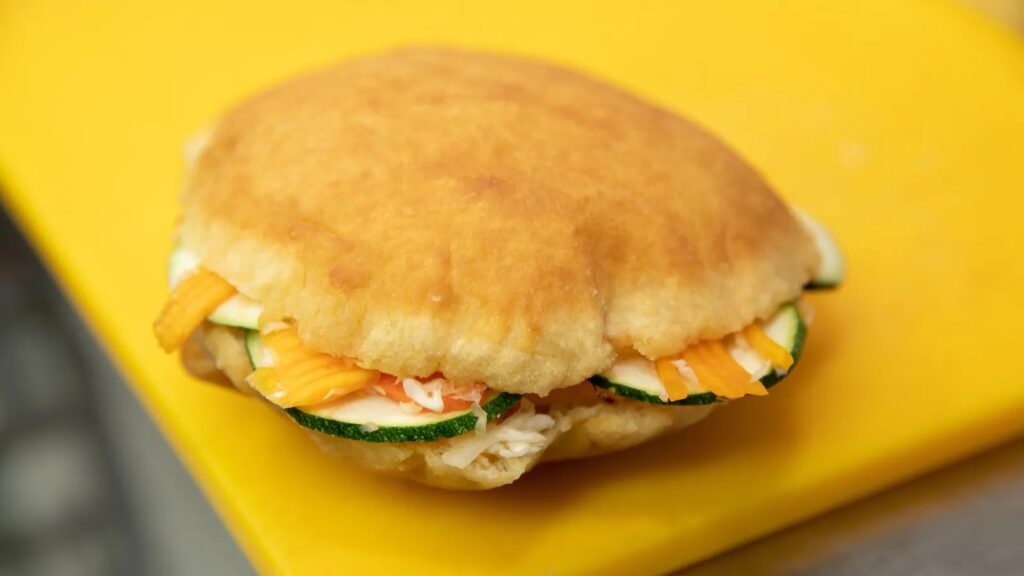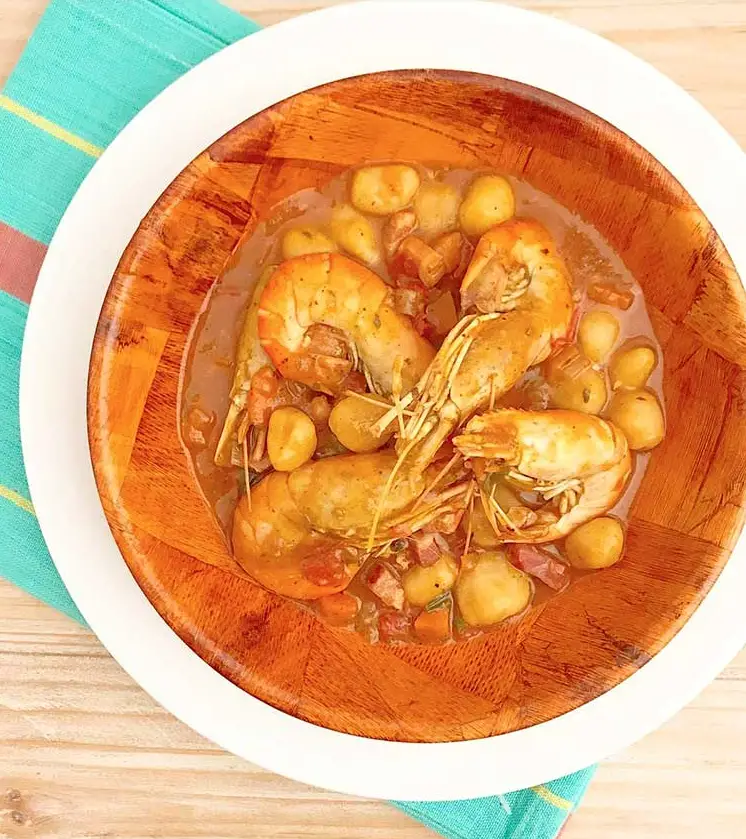 It is best to look for fixed-price options, where appetizers, main course and dessert are included for one price. Appetizers are called entree and the main course is called plat. Beware of the "petit punch" that is often drunk before meals as its name might be "petit" but it packs quite the punch.
As is often the case in the Caribbean, Guadeloupe restaurants are on island time, so keep that in mind if you're on a tight timeline. 
Restaurants Close to the Port
Below are listed a few highly rated restaurants located in the vicinity of the cruise terminal. If you are looking for an area with a few different dining options to choose from, take a short walk to Place de la Victoire (Victory Square) where a number of eateries surround the area. 
Located just outside of the cruise terminal, you can enjoy both delicious food and a spectacular view of the marina. Great Marlin tartar is recommended and an Italian wine to go along with it. They also have beer here. Reviewers speak of the friendliness of the staff and willingness to accommodate preferences.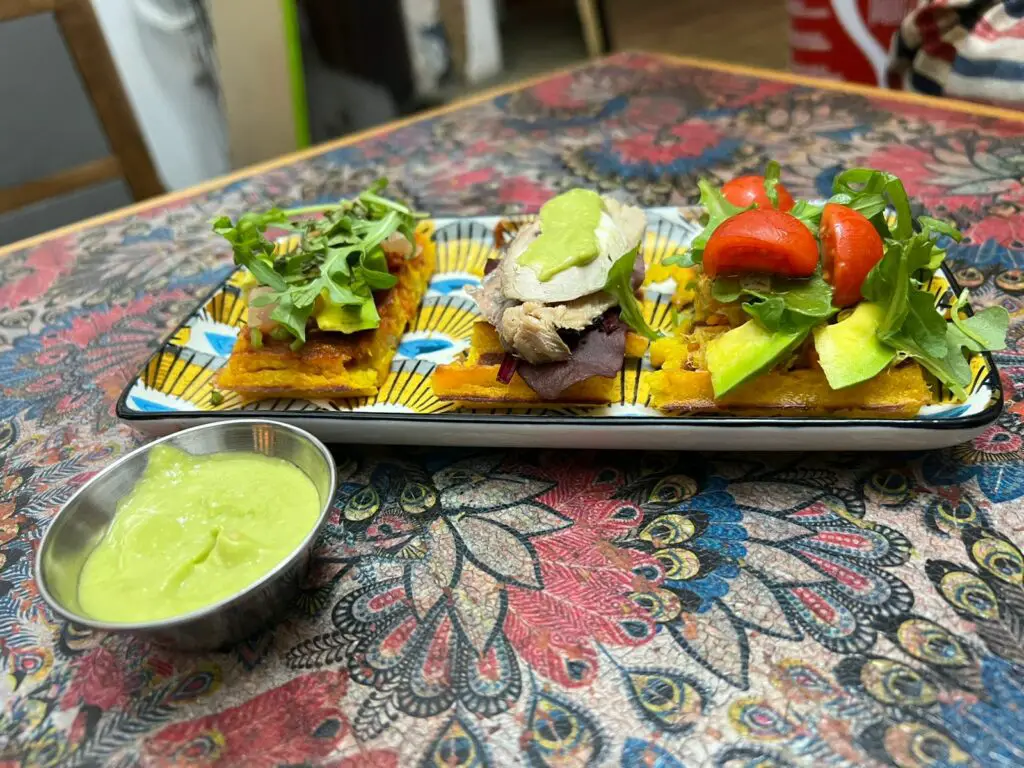 A very colorful place to dine with graffiti covered walls, and you are often treated to live music at this "vintage Kreyol" restaurant which offers tapas, cocktails, and whatever the chef decides to create. Corn bread, gumbo soup, veal and a Thai curry shrimp was the meal that one reviewer had and declared it excellent.
This little Lebanese restaurant is a gem of a find. Located on the second floor of an unassuming building, across the street from the Spice Market, you'll find large portions of delicious Middle-Eastern foods like kibi, kafta and labni, and of course hummus.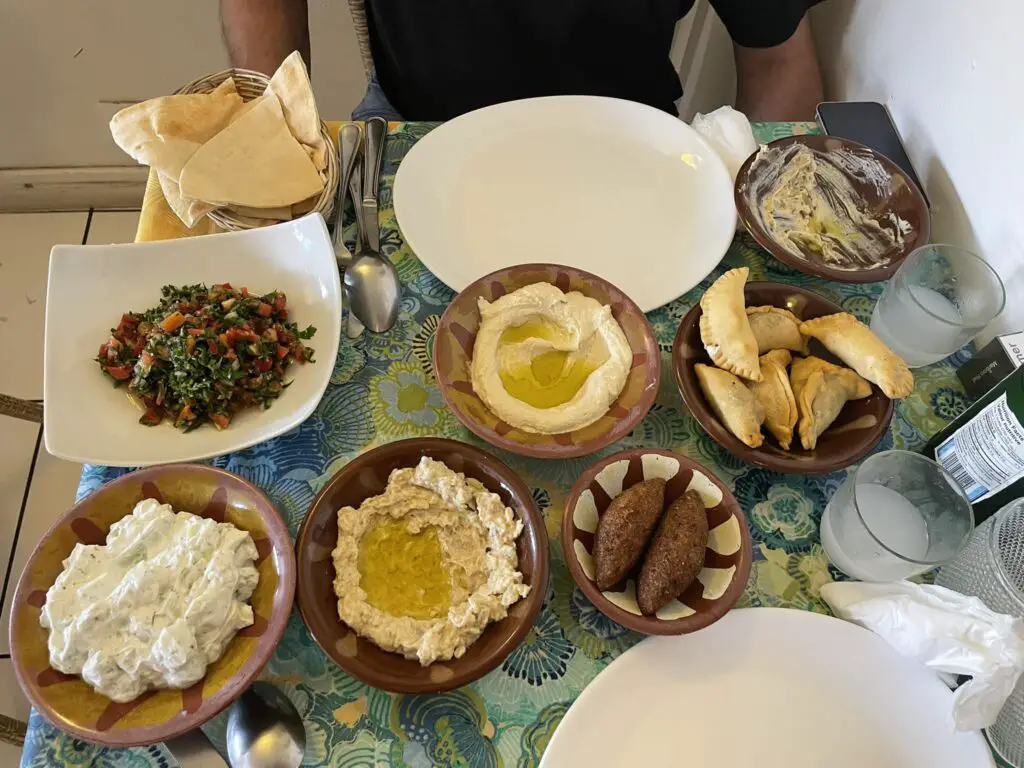 Top Restaurants in Pointe a Pitre
Located about a 13 minute drive from the cruise terminal, in the  area of Le Gosier, is the top rated restaurant in the area, Chez Margaux. Reservations are highly recommended for this French and Creole restaurant, where unique foods are the specialty and the owner offers impeccable customer service. 
Les Ignorants
This wine bar is located near the Marina, about a 10 minute drive south of the cruise terminal. Their cellar masters offer the perfect wine from their large selection to perfectly pair with French cheeses, charcuterie, seafood and more. 
Things To Do in Point-a-Pitre – Guadeloupe
Located across the yacht club bay from the cruise terminal, you'll find the ACT Memorial which is the "Caribbean center for expressions and remembrance of the slave trade and slavery." Housed in this modern, architecturally stunning building, are different collections from the time of Antiquity to the segregation and post-abolitionist colonization of the Americas. Closed Mondays, this memorial and museum is affordable at 10 Euros for 2 people. 
This small aquarium is located about a 15 minute drive south of the cruise terminal, in the Le Gosier area. It's a good choice if you wanted to do a few things during your port stop, as it only takes about an hour to tour the whole aquarium, which is known for its turtles and sharks. 
Beaches
Plage de Bas du Fort
A 15 minute drive south of the cruise terminal, this is the closest beach with some amenities.  Hurricane Fiona did quite a bit of damage to the beach in mid-2022 and common complaints are not enough trash cans, noise from nearby jet ski rentals and cloudy water. But, since it's a bay, the water is calm and there are trees and umbrellas for shade and restaurants and hotels nearby.
Plage de la Datcha
This beach is located a 5 minute drive south of the previous beach, in the area of Le Gosier. The white sand beach is clean, though not very wide, but there are a couple of restaurants on the beach. 
Ilet du Gosier
This islet can be reached by a 10 minute ferry ride, which will cost a few Euros per person. A good spot for swimming and snorkeling, this beautiful islet is located in front of the Datcha beach in Gosier.  Catch the ferry at the end of the pier by Tabarin beach. There is a scenic lighthouse on the islet and an open air restaurant with basic food and drink.