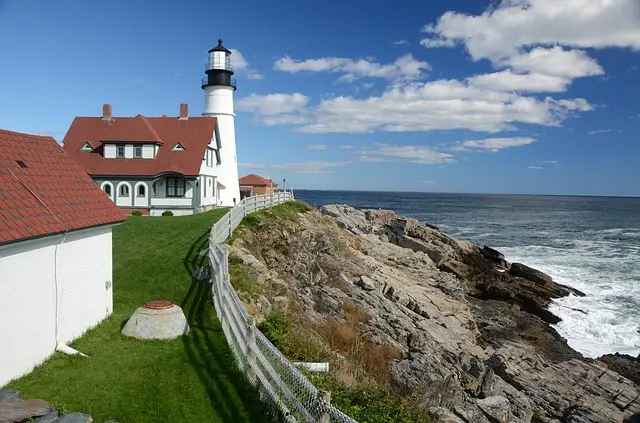 The largest city in Maine, Portland is set on a peninsula that extends into the Casco Bay. Situated on the Atlantic Ocean, the coastline is jagged with a mixture of bays, inlets, beaches and thousands of oddly shaped islands. 
The port is busy, and not just with cruise ships, but with working fishing wharves and warehouses that have been converted into restaurants and shops. The Western Promenade of Portland  is a park on top of a bluff that gives spectacular river and mountain views. The West End is full of Victorian-era homes including the Victoria Mansion museum. Maine is 90% forested and is one of the world's leading paper producers.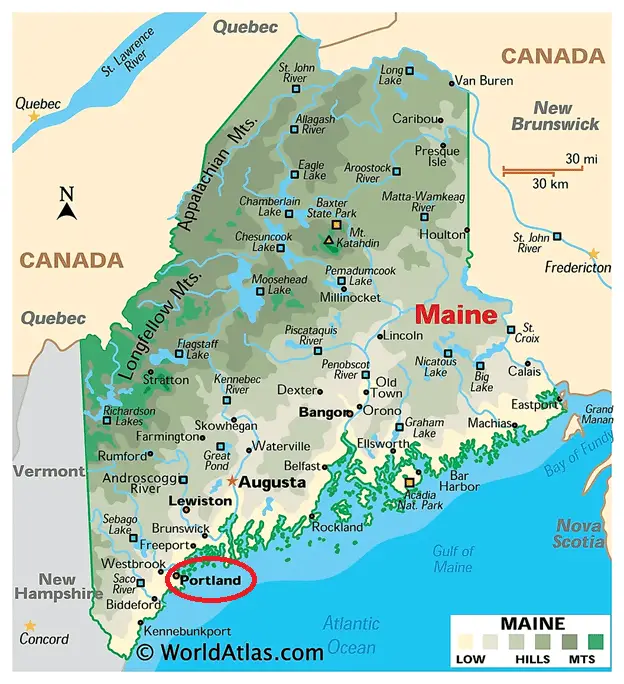 One of Portland's claims to fame is the lobster. Algonquins, who originally inhabited the peninsula, called the area Machingonne (great neck). At the time, lobsters were so plentiful in the bay that the Algonquins used them for fertilizer and bait.The first Europeans arrived in 1623 and founded a settlement, which failed. But subsequent colonial settlers found that lobsters were a great source of protein. They then began the development of trap fishery, specialized boats and networks to ship the lobster. About 90% of the United State's lobsters come from Portland and the coast of Maine.
The port had once been a major shipbuilding center and one of the busiest fishing ports on the Atlantic. Unfortunately, this success also made the port a target for the British during the War of 1812. The coastline still has many of the forts that were built to protect the city.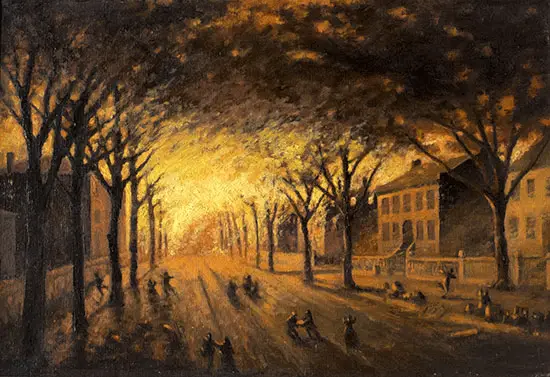 Portland in flames. Painting by George Frederick Morse. Photographed by Derek Davis/Staff photographer Maine Memory Network
In total, Portland was burned, almost to the ground, four times in its history. Twice Portland was destroyed during the French and Indian war and once by bombardment from a fleet of British Naval vessels. But the bitterest fire of all was the fire of 1866. Caused by a firecracker and a pile of wood shavings, it turned the July 4th celebration into a day that would leave over 10,000 people homeless and 1,500 buildings damaged or destroyed.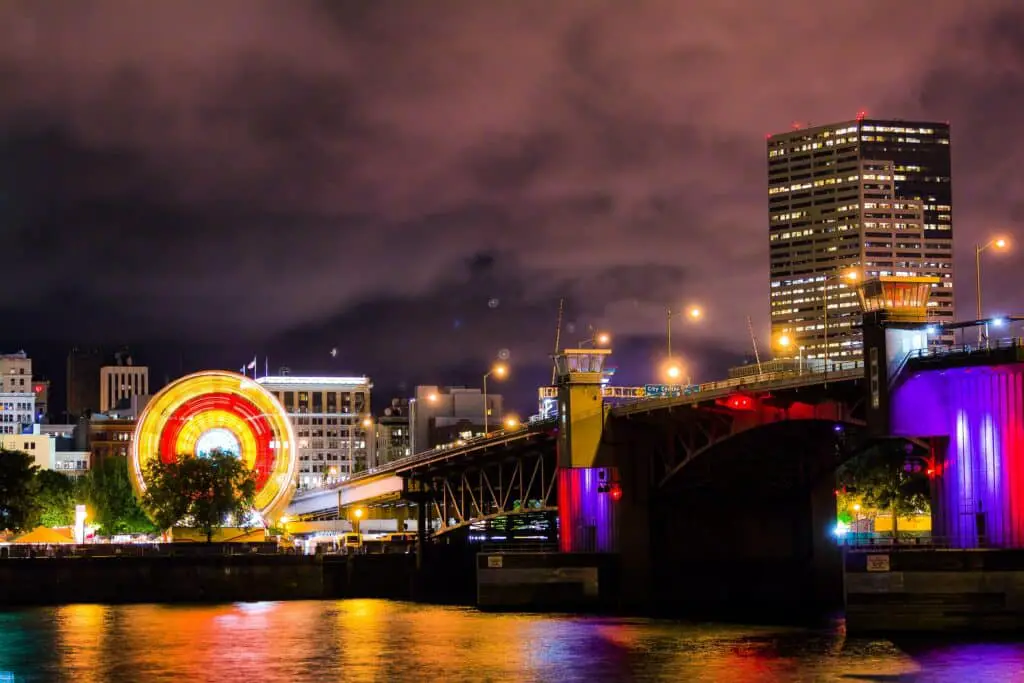 Today, Portland is a vibrant city. Both its flag and city seal depict a Phoenix, wings outstretched, clutching an inverted wreath. The city has, indeed, risen from the ashes. Almost 6 million visitors a year come to the greater Portland area. With much to see and do and good food and shopping, Portland is thriving.
As a side note, the horror and suspense writer Steven King was born in Portland.
This video gives you a really good idea of what you will see in Portland:
Click here to also see Portland's handy Visitor's Guide.
Where You Dock in Portland – Maine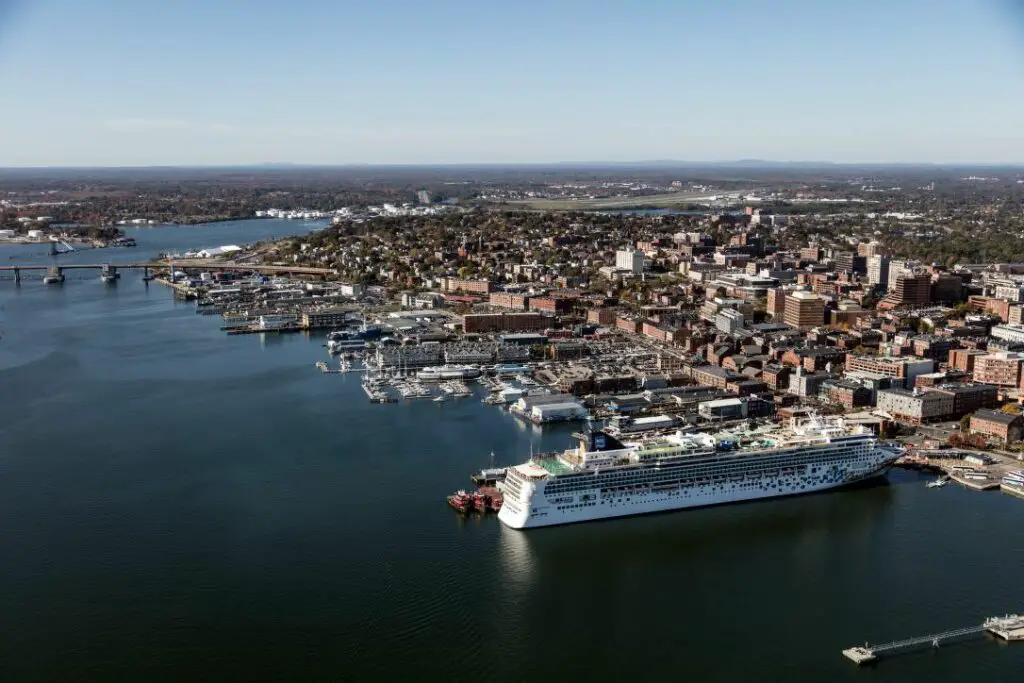 Larger cruise ships dock at the Maine State Pier (also known as the Portland Ocean Terminal) or the Ocean Gateway Terminal, which is located near Casco Bay Ferry Lines. The terminals are only a few blocks apart. Both piers are located in the city center and make Portland a very walkable cruise stop. 
The Ocean Gateway Terminal is a newer facility and has a visitor information center located inside the terminal. 
Getting Around Portland – Maine
Walking
Shops and restaurants are within walking distance from the cruise ship pier. The downtown, too, is walkable with plenty of places to stop for a rest. If you're looking for a free walking tour map, take a 3 min. walk along the waterfront to The Portland Encyclepedia, where they rent bikes, but also offer free walking tour maps. 
Buses
Greater Portland Metro is Portland's bus system, which covers the city, its suburbs and even nearby towns. Metro Line 8 encircles the Portland Peninsula, which includes downtown,  Congress Street, the Arts District, the Old Port, the Waterfront (which is where the cruise terminals are), among others. The closest bus stop to Ocean Gateway terminal is the corner of Commercial & India Streets, which is a 3 minute walk from the terminal/visitor's center.
Cash fare to ride locally is $2 one way and exact change is required. 
Click here for Metro Line 8's schedule.
Click here to see a map of the entire bus system.
Taxis
You will not have a problem getting a taxi in Portland. There are services that will queue up at the pier, or you could call ahead and reserve one.
Here are a few of the services in Portland:
Rental Cars
Advanced reservations are strongly encouraged if you are wanting to rent a car in Portland. While there are numerous rental car agencies at the Portland Airport, which is only about 20 minutes away, Enterprise and Hertz have downtown locations.
You must be 20 years of age to rent a car. If you are under 25, Hertz charges a young renter fee of $19 per day. You must also have a valid photo drivers license and a passport. Driving in Portland is on the right side.
Downtown Portland Car Rental, Enterprise
Bicycles
Another popular way to explore downtown Portland is by bicycle. You can rent a bike for the day just outside the Maine State Pier (Portland Ocean Terminal) at The Portland Encyclepedia. Not only do they rent both adult and kid's bikes, and bike trailers for younger kiddos, they also offer bike tours, and free biking tour maps with turn by turn instructions. Rentals are $15 or $20 for 4 hours for kid's and adult bikes, respectively and are available on a first-come, first-served basis. 
Cyclemania also offers bike rentals and is located about a mile away from the pier/visitor's center, on Cove Street. They take reservations, and they have various types of bikes, including e-bikes.  All rentals also include a helmet and lock and start at $35 a day for a basic bike to $75 a day for an e-bike. 
Casco Bay Lines Ferry
If you've been to Portland before and are looking for something different, catch the Casco Bay Lines ferry to one of the nearby islands of Casco Bay, including Peaks Island,  Long Island, Chebeague Island, among others. The ferry transports pedestrians, vehicles as well as cargo and one-way trips from the mainland are 17 minutes to Peaks Island, up to 120 minutes to the furthest – Cliff Island, depending on the amount of cargo that needs to be unloaded at previous stops.  Click here for rates.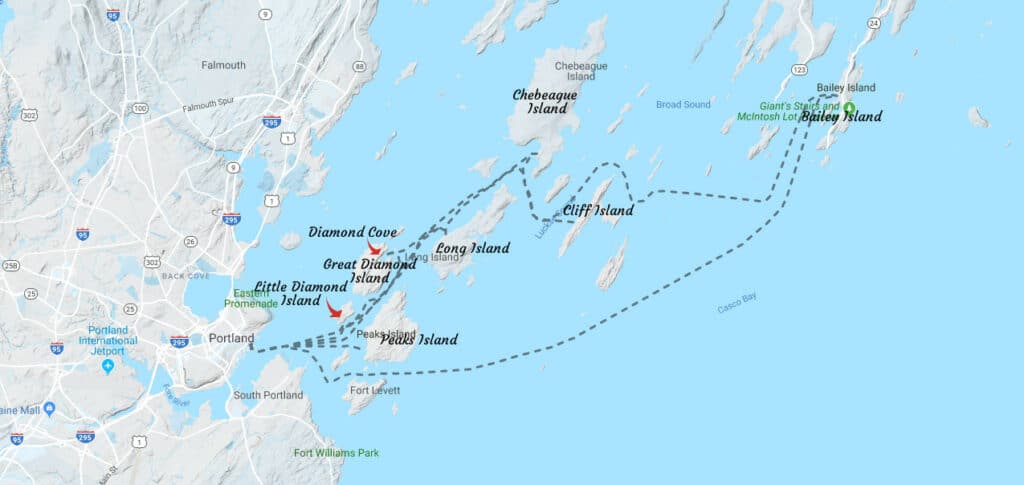 Casco Bay Lines – Explore the Islands from Casco Bay Lines on Vimeo.
Shopping In Portland – Maine
Portland isn't really known for its shopping, but there are a few shops that offer some interesting items. 
Here's what's close to the cruise terminal:
Exchange Street – 0.5 mile from cruise terminal (10 min. walk)
This commercial area is the "main hub" of the Old Port area of Portland and has a few unique stores and boutiques offering clothes, jewelry, gifts and souvenirs. 
Ports of Call – 0.3 miles from cruise terminal (7 min. walk)
THE place for souvenirs and really nice apparel, Ports of Call is located near the cruise terminal on Commercial Street. They sell nautical decor along with pirate hats and plush moose. You will find genuine maple syrup here too.
Edgecomb Potters – 0.5 miles from cruise terminal (10 min. walk)
Located just down the street from Ports of Call on Commercial Street, Edgecomb Potters create one-of-a-kind pieces with distinctive colors and shapes. While it is beautiful pottery, they aim for their pottery to be for everyday use, not just show pieces. 
The Blue Lobster – 0.5 miles from the cruise terminal (10 min. walk)
As you continue down Commercial Street, you'll see The Blue Lobster. This is a great spot for one-of-a-kind apparel. You will also find coffee mugs, keychains, towels and a wide variety of items. Be sure to check out the blue lobster named Willard. Even though Willard is now taxidermied, they feel he is a reminder that he was lucky to be different. 
Walgreens – 0.5 miles from cruise terminal (10 min. walk)
If you need to visit a pharmacy, this is the closest to the cruise terminal, located at the corners of Congress and Hampshire Streets.
Old Port Candy Co. – 0.6 miles from cruise terminal (12 min. walk)
Located on Fore Street, this is the spot for some of the best fudge in Maine. There are numerous flavors to choose from or you can get a sampler pack. They have locally crafted chocolates, truffles, maple sugar candy and salt water taffy. If that is not enough, they have a huge selection of nostalgia candy that is hard to find, and over 100 bulk candies.
The largest shopping mall in Maine with about 100 stores, fashion, housewares and electronics are just a few of the stores that you will find here. Carhartt, Pottery Barn, Sephora, Aeropostale and Apple all have shops here too.  If you want something to eat, Amatos Italian Sandwiches, Charleys Philly Steaks and Jaffa Mediterranean Grill are a few of the restaurants available. 
Although not located in Portland, L.L. Bean's flagship store in Freeport is worth a mention as the store gets over 3 million visitors a year. L.L. Bean is known worldwide for their quality outdoor gear and apparel. This 220,000 sq ft campus of stores is open 24 hours a day, 365 days a year. It is only about a 25 minute drive by car, or you can take the Metro Breeze to Freeport which will take about 50 minutes.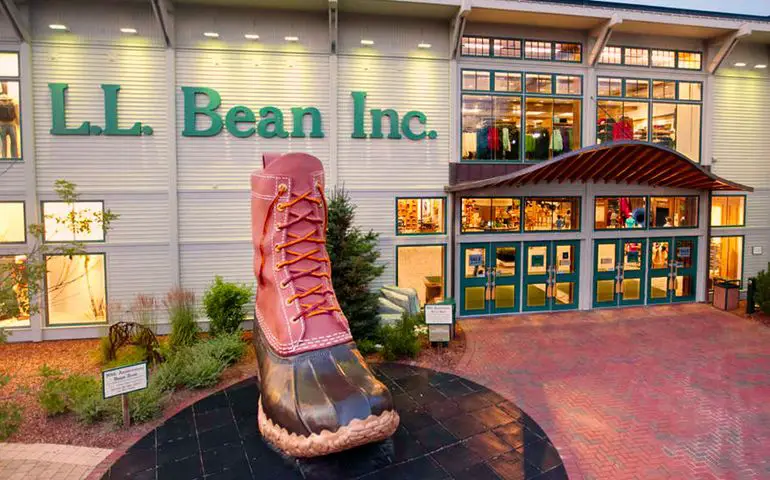 Dining In Portland – Maine
Lobster is King in Portland. You will find that most restaurants will have some form of lobster on the menu. Lobster roll is a staple and could be served hot, with butter, or cold, with mayonnaise.  There are over 250 restaurants to choose from in Portland, with the majority of those in the Waterfront and Old Port districts getting great reviews, so you will not be short on options a short distance from the ship.  Here are a few:
Becky's Restaurant – 0.9 miles from pier (20 min. walk)
If you want to go where the locals go, head to Becky's Diner located a short walk down from the pier, on Commercial Street. With more than 5300 google reviews, waterfront workers, tourists, and even Guy Fieri on Diners Drive-Ins and Dives, go to this diner-style restaurant for good food without the frills. You will, of course, find lobster roll on the menu, but also breakfast (served until 4pm), lunch and dinner options.
You can't go to Maine and not try the lobster. If you are really hungry, try the Downeast Feast which includes lobster, steamed clams, corn on the cob, coleslaw and fries. Or, try their lobster roll which was voted best in Portland in 2022!. They have a huge waterfront deck and daily live music. 
This unique restaurant is situated in a converted car ferry in the maria on the Long Wharf Pier. Their seafood offerings have an Italian flare. You will find seafood here, along with chicken parmigiana. You can sit on the outside decks or watch the sights of the harbor from the indoor dining room.
Duckfat – 0.3 miles from pier (7 min. walk)
This french fry and sandwich shop is a great option if you want to grab something quickly, and still get good food. With Euorpean-style menu items, their Belgian fries are cooked in duck fat and served in a paper cone, just like the owners experienced in Amsterdam. Don't pass up one of their milk shakes that are made with locally produced ice cream. If you don't want a sit-down experience, they also have a walk-up window location on Washington Ave, about a 15 min. walk from the pier. 
Both highly reviewed restaurants are operated by James Bear Award-winning chefs and are located next to each other.
There are 18 varieties of oysters on the half-shell at Eventide Oyster Co.. Other menu options have an Asian influence, like the ginger scallion tuna crudo with tare (a sweet, thick soy sauce). Dine indoor or on the outdoor heated patio and experience. 
Noodle and grain dishes that are inspired by cuisines from across Asia are offered at the Honey Paw. The caramelized honeycomb soft-serve is not to be missed.
Central Provisions – 0.6 miles from pier (12 min. walk)
The menu at this very popular seasonally-inspired small-plate restaurant has a wide range of selections. They serve Spanish chopped salad with candied chorizo, bluefin tuna crudo, amaranth-crusted scallops and almost everything in between. You can also get a wide array of caviar. The name of the restaurant pays homage to the first use of the building it's housed in – provisions storage for East India Trading Company – where in the 1800's, ships would pull right up to the building and offload items such as silk, tea, salt and opium. 
Things To Do in Portland – Maine
If you cross the Casco Bay Bridge and head through South Portland you'll come to Cape Elizabeth and  the home of Portland Head Light. Maine's oldest lighthouse was built during George Washington's presidency. In George's time, the 80 foot tower had been lit with 16 whale-oil lamps. You will find a museum and gift shop at the lighthouse location, too.
Climb the 103 steps in this 86 foot high tower and be rewarded with a spectacular view of Casco Bay and the city of Portland. Originally a signal tower, this is the only remaining wooden maritime signal station in the United States.
Built in 1807 under the orders of Captain Lemuel Moody, it was designed to give a competitive edge to ship owners who paid Moody a fee of $5 a year to alert them when their ships were arriving. A telescope at the top of the tower allowed Moody to identify ships from as far as 30 miles away. Merchants were alerted by hoisting signal flags that identified each vessel. Increasing the efficiency of the Portland Harbor, this tower was operated by the Moody family until 1923 when the two-way radio made it obsolete.
Take a train ride on the Maine Narrow Gauge railway. This 40 minute ride will take you on the scenic route along Casco Bay. Trains leave on the hour every hour from 10am until 3pm. They have a gift shop as well. They have coach tickets for $15/adults & $9/kids or first class tickets which includes a complimentary beverage and snack and individual, cushioned chairs for  $20/adult & $16/kids. They also have a wheelchair lift on one train car, allowing for full accessibility. 
A well-loved Portland landmark, Victoria Mansion is distinguished for its architecture and amazing original interiors. Known as the Morse-Libby House, it was built between 1858 and 1860 as a summer home (believe it or not!) for just two people, Ruggles Morese and his wife Olive. The home is considered one of the finest examples of Italian Villa style in America. Over 90% of the original interiors and almost all of the original wall paintings by Guiseppe Gidincini remain.
Indulge your literary side and explore the Wadsworth-Longfellow house, home of famed Henry Wadsworth Longfellow.  Three generations of the family lived in the house that was built in 1785. Bequeathed to the Maine Historical Society by Henry's sister Anne, the house passed to the society in 1901. All of the household items and artifacts are original to the Wadsworth and Longfellow families.
Indulge your literary side and explore the Wadsworth-Longfellow house. Three generations of the family lived in the house that was built in 1785. Bequeathed to the Maine Historical Society by Henry's sister Anne, the house passed to the society in 1901. All of the household items and artifacts are original to the Wadsworth and Longfellow families.
A unique way to tour Portland is in this vintage fire engine. A 50 minute narrated tour will give you a good idea of the city's history and give you an opportunity to see the sights. The engine can carry up to 13 people, so it is best to book ahead by getting your tickets here!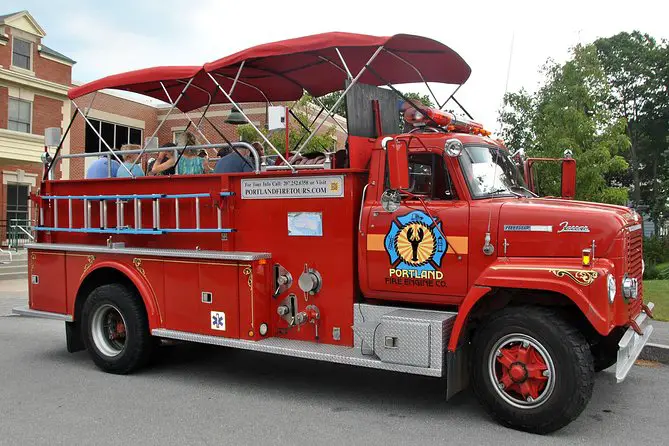 If you have a small group, a charter boat tour of the Casco Bay is a great way to see a unique view of Portland. On this 2 hour tour, you'll pass by lighthouses, islands and beautiful coastline while your informative captain narrates. Guests are encouraged to bring their own food and snacks and beer or wine is available to purchase once on board. Click here to book!
Top Tours & Excursions In Portland – Maine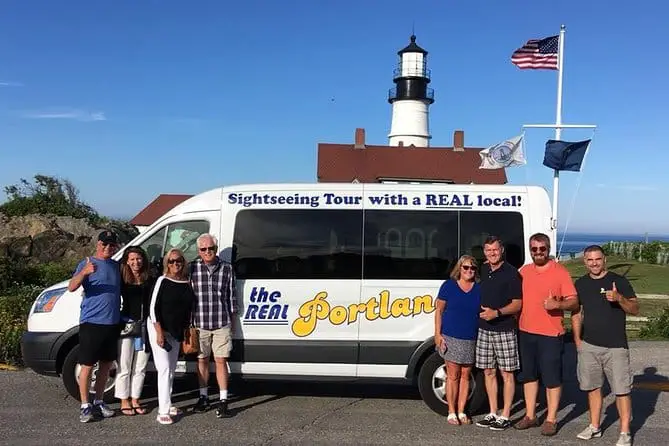 Explore the heart of Portland and head out to see some of the area's hidden gems, including 3 lighthouses, and less-visited spots with this guided sightseeing tour. Your guide, a born-and-raised Portlander who works as a college librarian by day, shows you off-the-beaten-path locations and shares with you all sorts of local lore along the way.   ...
Duration: 1.75 Hours
Activity Level: Easy
Wheelchair Accessibility: No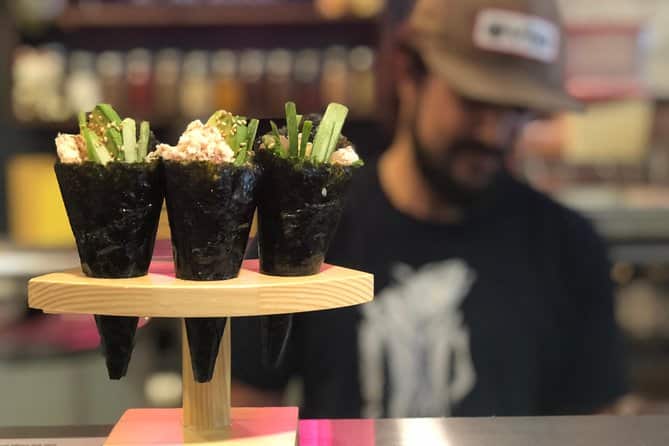 Food lovers can explore Portland's historic Old Port independently, but to uncover the best places serving traditional local fare, you really need a guide to lead the way. Taste the best that Portland has to offer on this guided foodie walking tour, complete with stops at up to seven different eateries—and enough tastings to replace a meal. Along the way, your guide offers some stories about Portland's food scene, so you can get familiar with t...
Duration: 3 hours
Activity Level: Moderate
Wheelchair Accessibility: No
Food: Included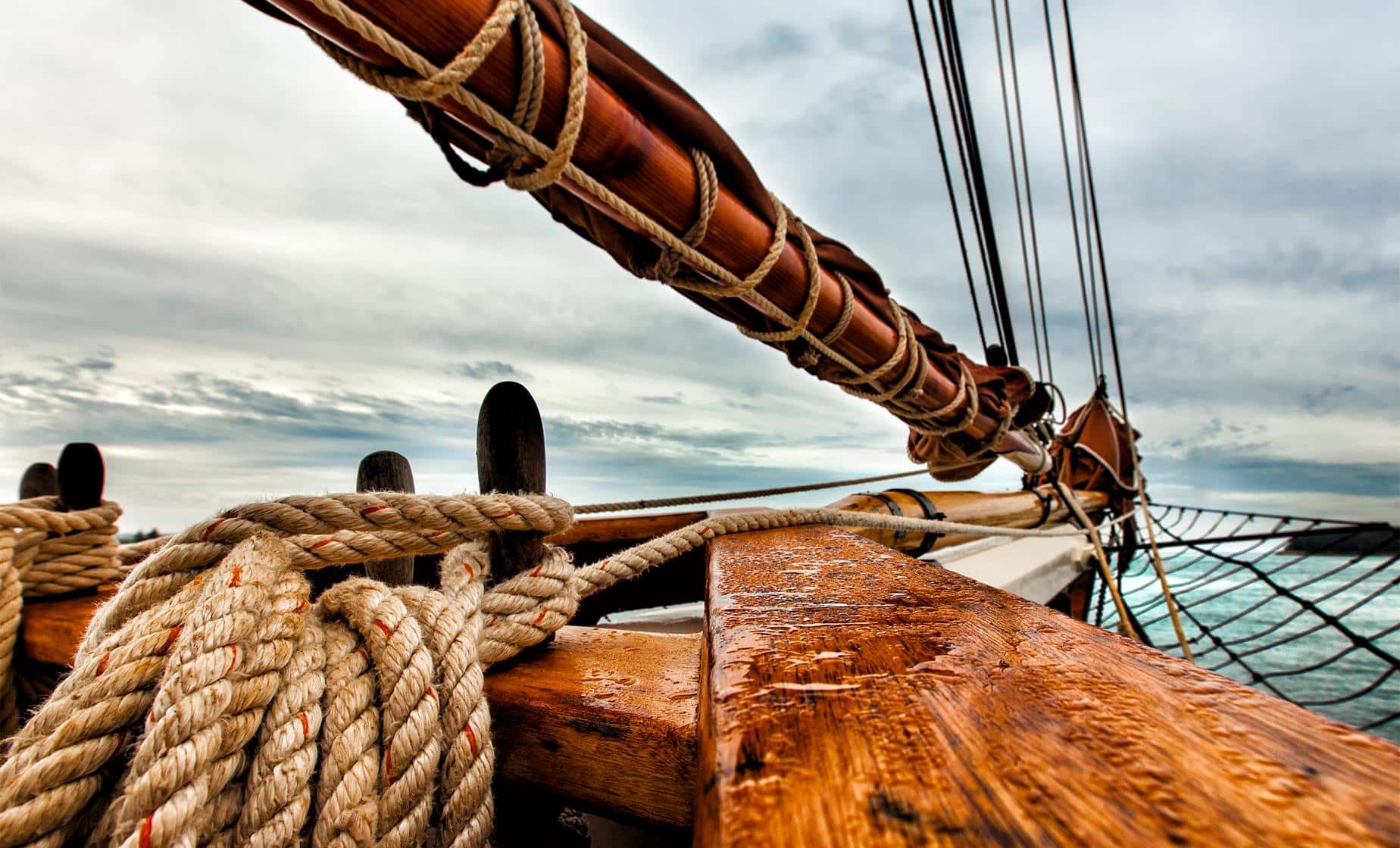 Enjoy this great opportunity for a Windjammer Sail onboard an authentic 48-passenger schooner in Maine's beautiful Casco Bay. Sit back, relax and enjoy the views, or join the crew and learn about sailing. This excursion provides the perfect way to experience the beauty of the Maine coast, complete with lighthouses, seals, seabirds and the rugged coastline. Pack a meal, bring your favorite wine or beer, and sit back and relax as our courteous and...
Duration: 2 Hours
Activity Level: Easy
Wheelchair Accessibility: No. Folding wheelchairs can be stored at the dock.
Food: Not provided. Guests can bring own food and alcohol.