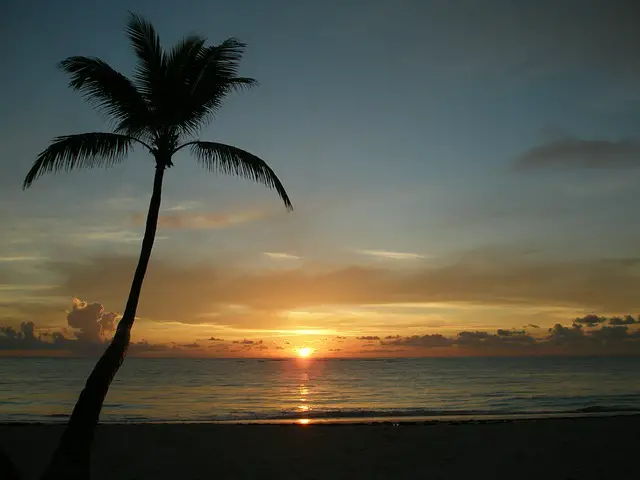 The Dominican Republic is on the eastern side of Hispaniola, an island that the Republic shares with Haiti. The D.R. comprises about two-thirds of the island and has the West Indies highest mountain peak of over 10,000 feet.
Christopher Columbus,  founded the first permanent European settlement in D.R. around 1493. He landed on Rincon Beach, which is still a beautiful spot today.
During Colonial times, the Spanish did not settle in the D.R., and the island became a place for privateers and others who were evading the law.
As with so many histories on almost any island, control went back and forth between Spain, France, and the British showed up. For a time, Haitians occupied the entire island. A small encounter called The Samaná Affair  convinced the French to leave and the island settled into the two regions we know today, Haiti and the Dominican Republic.
Visitors to the Dominican Republic tend to head to Punta Cana. That area is set up and caters to tourists and travelers. The Samana Peninsula, where Samana is located, is less visited. In this region, you will find the non-cookie cutter type of restaurants and hotels.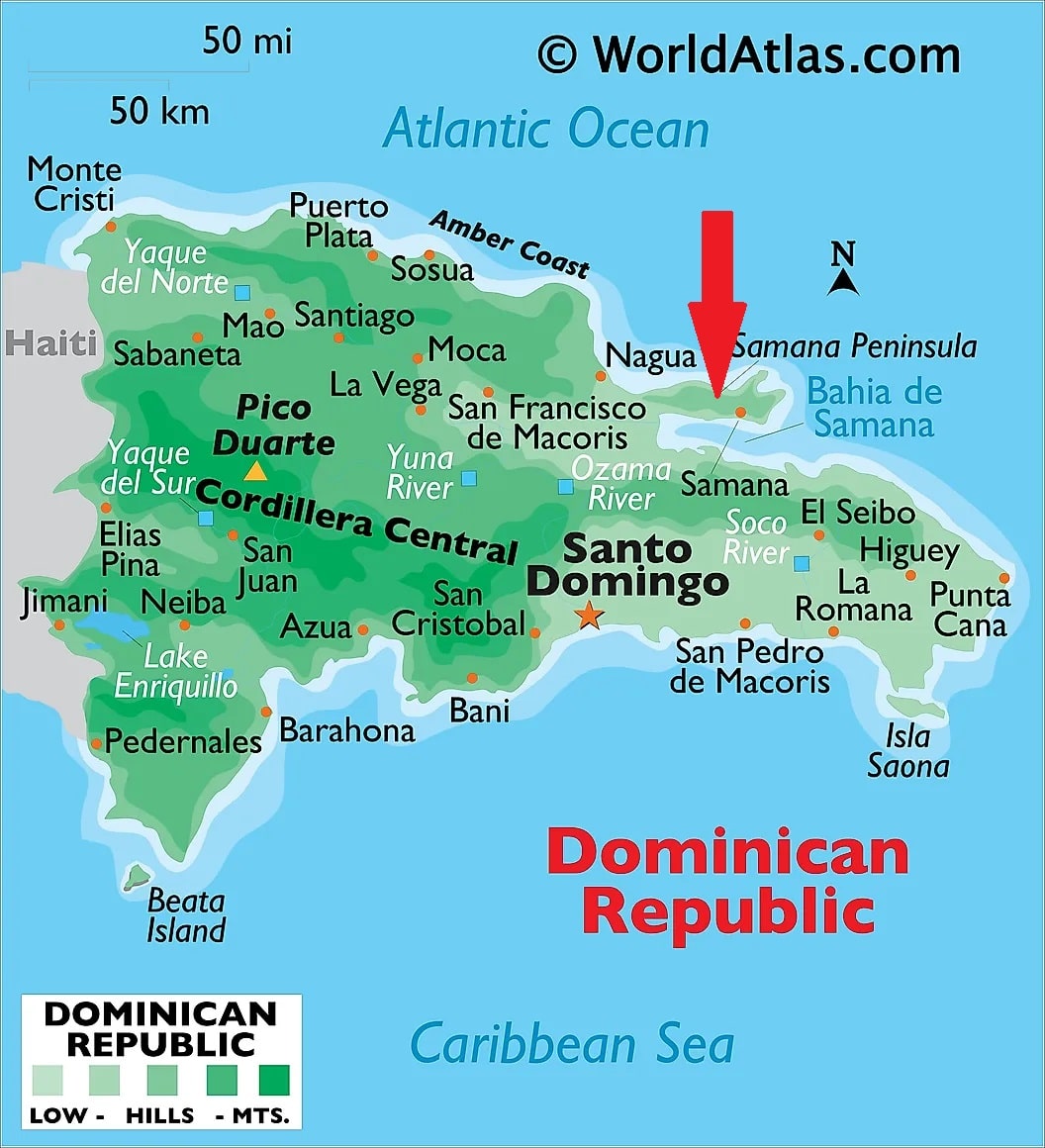 Credit: worldatlas.com
This area is jungle-lush with rainforests and coconut plantations. It is estimated that there are about 6 million palm trees on the Samana Peninsula.
The main appeal on the Samana Peninsula are the natural attractions. There are white-sand beaches, waterfalls, hiking, birdwatching and in the wintertime a couple thousand whales migrate to the bay. 
Good To Know
The people of the Dominican Republic are some of the friendliest in the in the world, but like many touristy spots around the world, the DR has a some issues with crime.
As with any unfamiliar location, be aware of your surroundings and don't stray too far off the beaten path. Leave valuables on the ship and only carry the amount of cash you will need.
Other tips include taking only licensed taxis and not using your phone out in public (duck into a store or cafe if you need to check something). It's also best to not give money to street children as it encourages begging. 
As always in tropical settings, take along sunscreen and bug spray when visiting the island. There are tropical forests on this peninsula, so the mosquitoes can be fierce, and they can carry diseases such as zika or dengue fever, especially during hurricane season.  
Check out our Samana Excursions.
Where You Dock in Samana – Dominican Republic
The Port of Samana is located on the Samana Peninsula and is on the northeast coast of the Dominican Republic. 
Once you arrive, you will be tendered to the mainland. There are two piers in Samana with the main pier being Embat Dock (or Samana Tender Dock, according to Google Maps). At this dock you will find tourism information and you will be able to book a private tour. You will be able to get a cab, use a restroom and consult a giant map. It is about a 10 minute walk to the center of town.
 The other pier is Dock Moto Marina Club.  There will also be tour operators and taxis here. It is about a five minute walk to the town's main center.
When heading to this port, you may notice on your cruise that there is a different option offered than just heading to Samana. Cayo Levantando is a small island off the coast of the Samana peninsula and when ships are in port, it essentially becomes a private island for cruise passengers (aside from those staying at the luxurious resorts). The only way to get there is through a ship excursion, and you would be tendered directly to Cayo Levantando from the ship, instead of going into Samana first.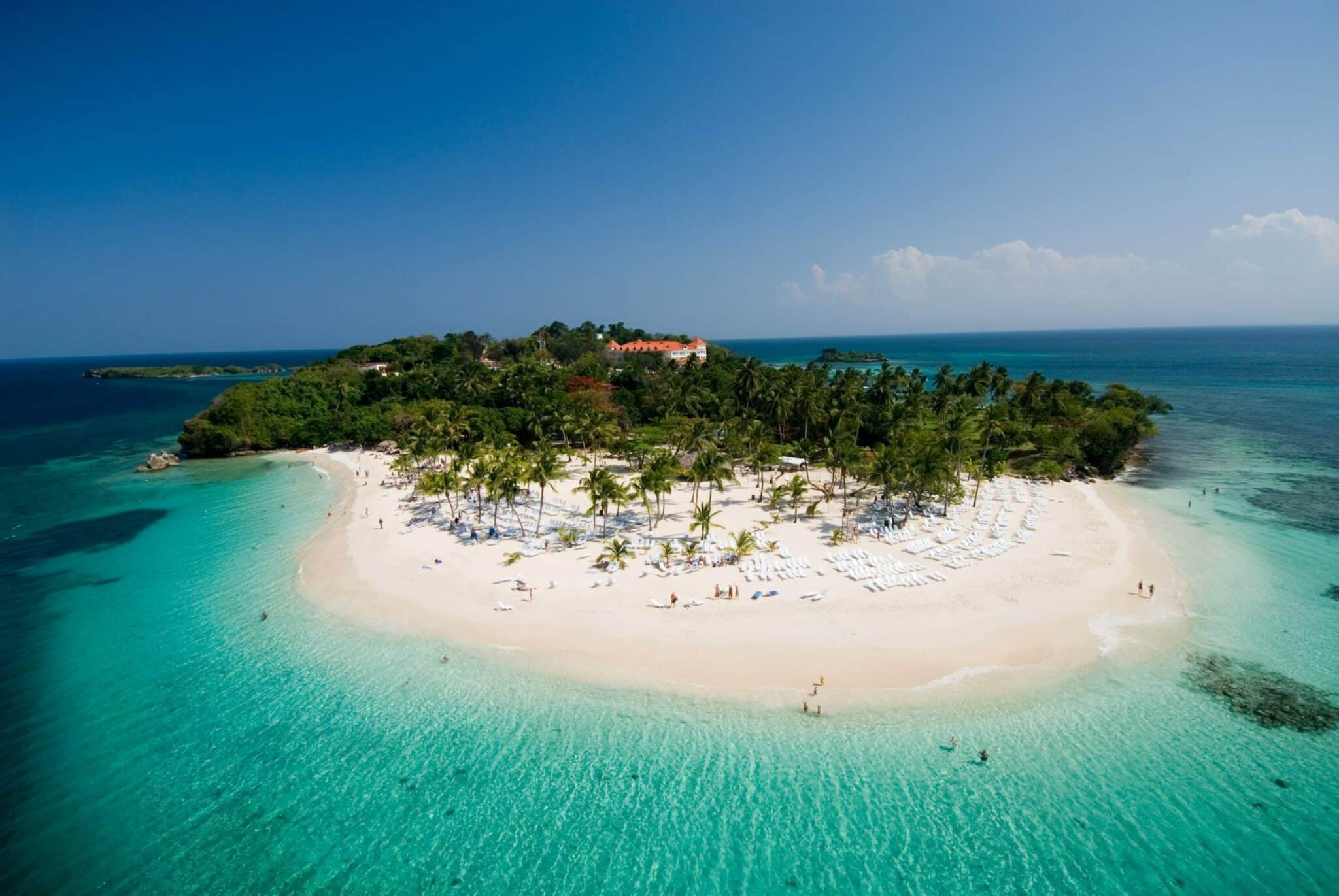 Getting Around Samana – Dominican Republic
Walking
It is easy to walk to the main center of Samana as there is a flat, paved walkway along the shore with benches lining the way if you need to take a break or just want to bask in the view. There are small shops and places to eat with a view of the harbor. This snapshot from Google street view shows what your walk would look like from the Marina into the city center.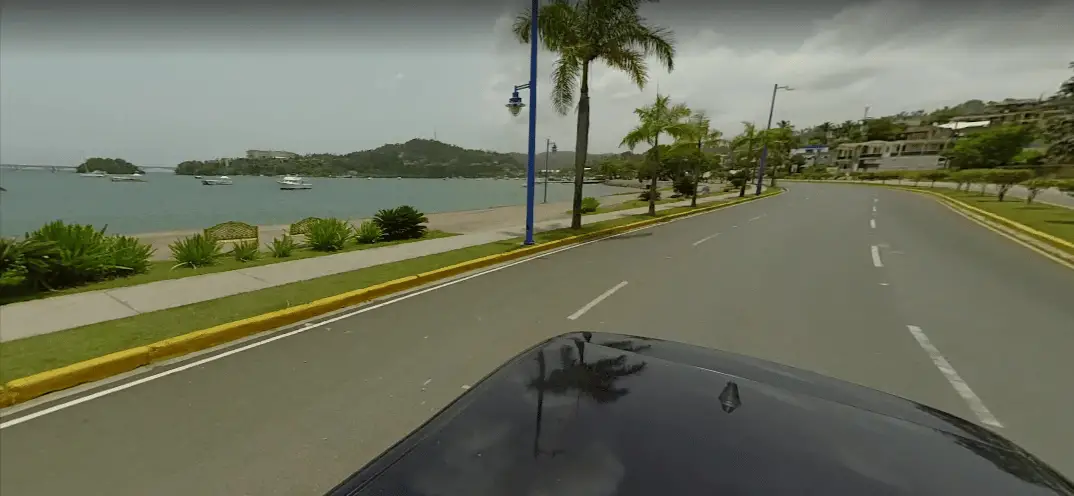 Taxis
You will not have trouble finding a taxi, just make sure it is not a private taxi. Licensed ones will have a sign on the top of the car.  There is information and taxis themselves in front of both Embat Dock and Dock Moto. You will want to know the Spanish name of your destination, as most drivers do not speak English.
Here are a couple of the services in Samana:
Samana Airport Transfer & Taxi Service • PAYANO™
SERVICIO DE TAXI JJ DESDE SAMANA  24 hour service
OPTIMA™ Taxi Samana  They also offer sightseeing tours
Rental Cars
There is one local car rental service in Samana – Xamana Rental Car. While there are other rental car services on the peninsula, this one is the closest to the docks.
While you don't need an international driving permit, you do need a valid state-issued license. Most rental services will not allow you to drive across the border into Haiti. Doing so will nullify your rental insurance and you could incur penalties.
Driving in the Domincan is on the right, speeds are in kilometers and trucks have priority over cars. The roads are full of hazards, like mopeds, people and carts in the roads. The main roads are fairly well maintained, but secondary roads are not. If you are only going to be in port for a few hours, it might be better to use a tour service for the sights you would like to see.
Scooter Taxis (Motochoncho)
Locals who have these scooters will offer rides for reasonable prices. While this may seem like a good idea to take a quick zip to your destination, it is not the best idea no matter the price. Dominican drivers tend to be aggressive. Drivers of motochoncho's weave in and out of traffic, and most likely, you will not be offered a helmet.
Shopping In Samana – Dominican Republic
Samana is a small town, and so quite a few shops do not accept credit cards. Banks have ATMs where you would be able to obtain cash. Shops also may not have change in US dollars, but in pesos.
Whenever cruise ships are in port, an open air market pops up along the Malecon, which is the walkway that circles the port. You will be able to find these open-air tents selling handiwork, jewelry and sometimes artwork.
Plaza Pueblo Principe – 14 min. walk from port along waterfront
Shop for souvenirs, jewelry, and swimsuits. There is also a pharmacy. Once inside the village, it is populated with historically colored shops.
Here you will find both women's and men's clothing, t-shirts, dresses, shoes and handbags. Lots and lots of sneakers.
Henzom Jewelry Store – 6 min. walk from port, along waterfront
A relatively new store in Samana, they have many beautiful pieces of Larimar, silver and amber jewelry, as well as custom made in-store jewelry.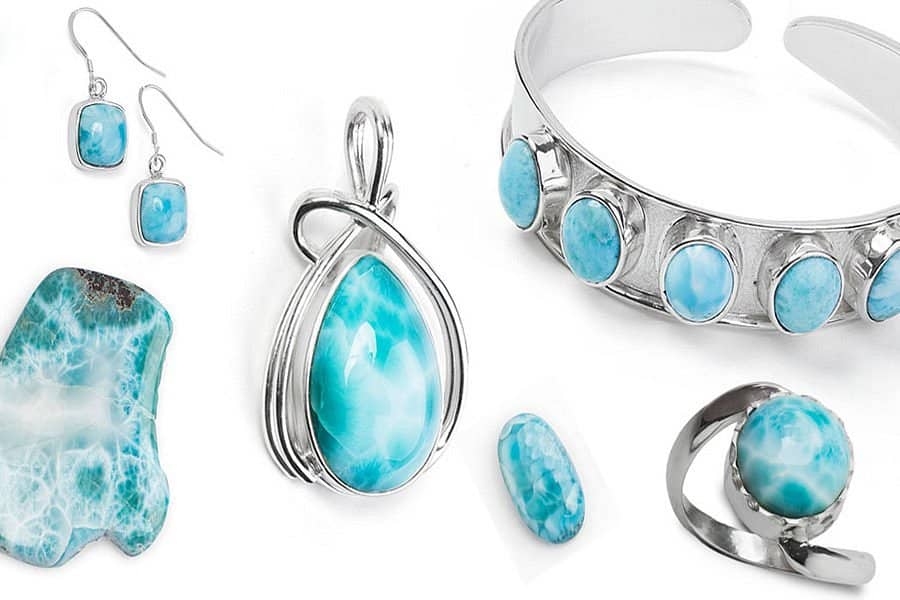 Located near Playa Cayocoa Beach, and done by local artist Eusebio, these Dominican paintings are done on canvas and depict both landscapes and people.
The following map, created by Go Samana has the locations of restaurants, bars, shops, small hotels, discos, tour operators, supermarkets, banks and public beaches.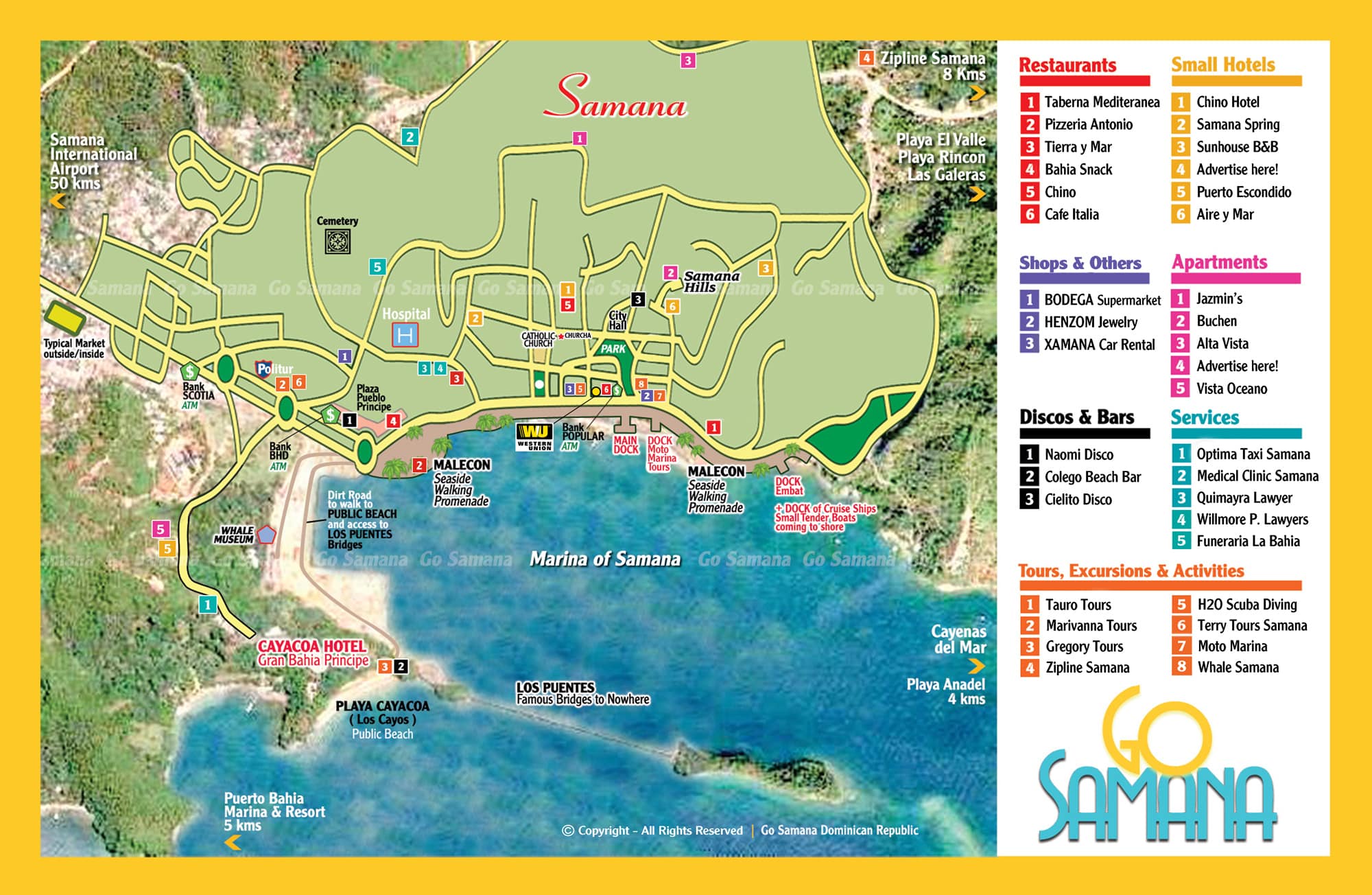 Use the QR code below to get a copy of this map on your phone or one to print.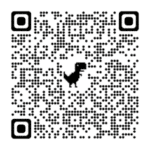 Dining In Samana – Dominican Republic
Exploring the cuisine of a region is a great (and tasty) way to learn about its history and culture and the Dominican Republic is no exception. Full of rich flavors and varying local ingredients, you can see the influences of the indigenous Taino people, Middle East, Spanish and Africa in their many "must-try" dishes and foods. 
Check out this short video from Amigo Foods which highlights some popular dishes of the Dominican Republic:
Royal Snack Bar & Restaurant – 7 min. walk from port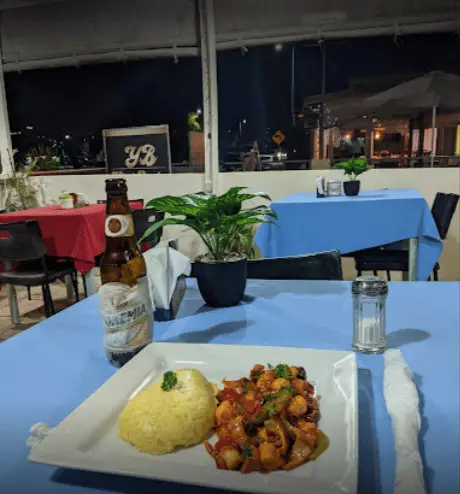 Located on the waterfront, they are open for breakfast at which they serve crepes, and are also open for lunch and dinner. Fish fillet, octopus and other seafood options abound. Burgers and fries are also available.
Local restaurant with chicken fillets, pica pollo and rice. They have the traditional choices of meat and fish dishes along with soups, salads and sandwiches. Not a fine dining establishment, but an established favorite in Samana.
This spot isn't huge, but it's big on taste with local dishes and familiar favorites. Located on the promenade, on the waterfront, Glamour serves great food and drinks and has a fabulous view. The service is great and they speak English, making for easy ordering.
Pizzeria Da Antonio – 11 min. walk from port
Enjoy a pizza by the water at this snack bar-style pizza joint.  A variety of toppings are available to choose from and portion sizes and prices are reasonable. Just know that on busy days, service can be slower. 
Restaurant El Sazon de la Bahia – 12 min. walk from port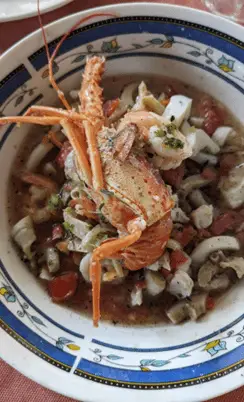 As is evident on an island, there is no shortage of seafood dishes. Soups, stews and rice are available. There are some vegetarian options like pasta and numerous vegetable dishes.
Things To Do in Samana – Dominican Republic
Since the province of Samana juts out into the ocean, beautiful beaches are expected. But did you know that it also has rolling mountains, rainforests, waterfalls and more than 2500 humpback whales that visit Samana Bay every year?!?
Whale Watching
Between January and March, hundreds of humpback whales travel to the coast of Samana Bay to mate and give birth. Take this excursion to see these amazing 40 ton creatures. If you're not visiting during this time, but still want to learn more about the whales, take a tour of….
The Whale Museum and Nature Center offers most everything you wanted to know about the humpback whale. Only a 20 minute walk from the pier along the waterfront, the museum features the skeleton of a 40 foot long humpback whale. Tour guides here can speak English and admission is only $3 per person.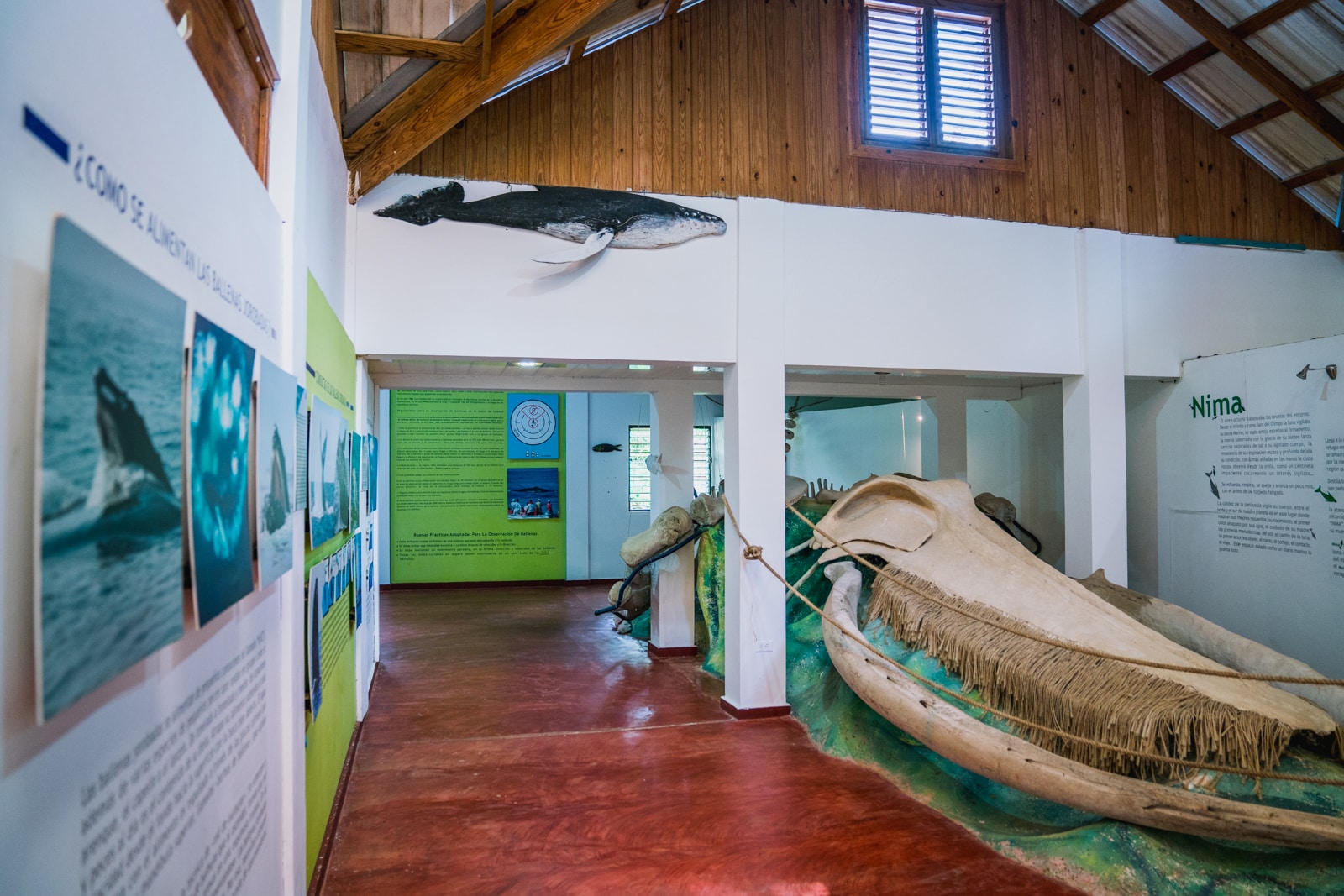 This 618 square mile national park has dramatic rock formations that are inspiring to see. It is a great place to take a boat excursion or birdwatch. The park is in a string of protected islands that offer sanctuary for nesting and endangered birds. Make memories by kayaking through the mangroves or  hiking through the last remaining rainforest in the DR, and where part of Jurassic Park was filmed. Click here for some great tours and excursions to Los Haitises National Park.
El Limon Waterfall
Getting to see El Limon is an experience in itself. The falls are immersed in a tropical forest. It is a 1.5 mile journey by horseback or hiking. You will see lots of flora and fauna along the way to the falls. With a 130 drop to an emerald pool below, it is a bit of strenuous hike that rewards you at the end with dip in those cool waters.
Beaches
Playa Cayacoa
In the heart of the city, Playa Cayacoa is the main beach in Samana. The beach is part of the Grand Bahia Principe Cayacoa hotel. This beach is also popular with locals. There is also a bridge that goes out into the bay to Puente Peatonal, a small island with some smaller hidden beaches. It's about a 1.4km walk end to end, but it provides for some unique views.
Rincon Beach
This beach is located almost an hour's drive from the port, but Rincon is often listed on the Caribbean's 10 best beaches list for it's picture-perfect 3 miles of white sand and palm trees. Also, the waves in this area are not too strong and the water is warm. There are a few restaurants nearby and the fishing town of Las Galeras is a short drive away.
Cayo Levantado
As mentioned above, about three miles offshore of the Samana Peninsula, this island is reachable by a ship-sponsored tender boat. There is a private resort side and a public side, which cruise visitors have access to. This area caters to tourists with restrooms, activities, places to eat and drink and a beach with loungers and water equipment rentals.
Top Tours & Excursions In Samana – Dominican Republic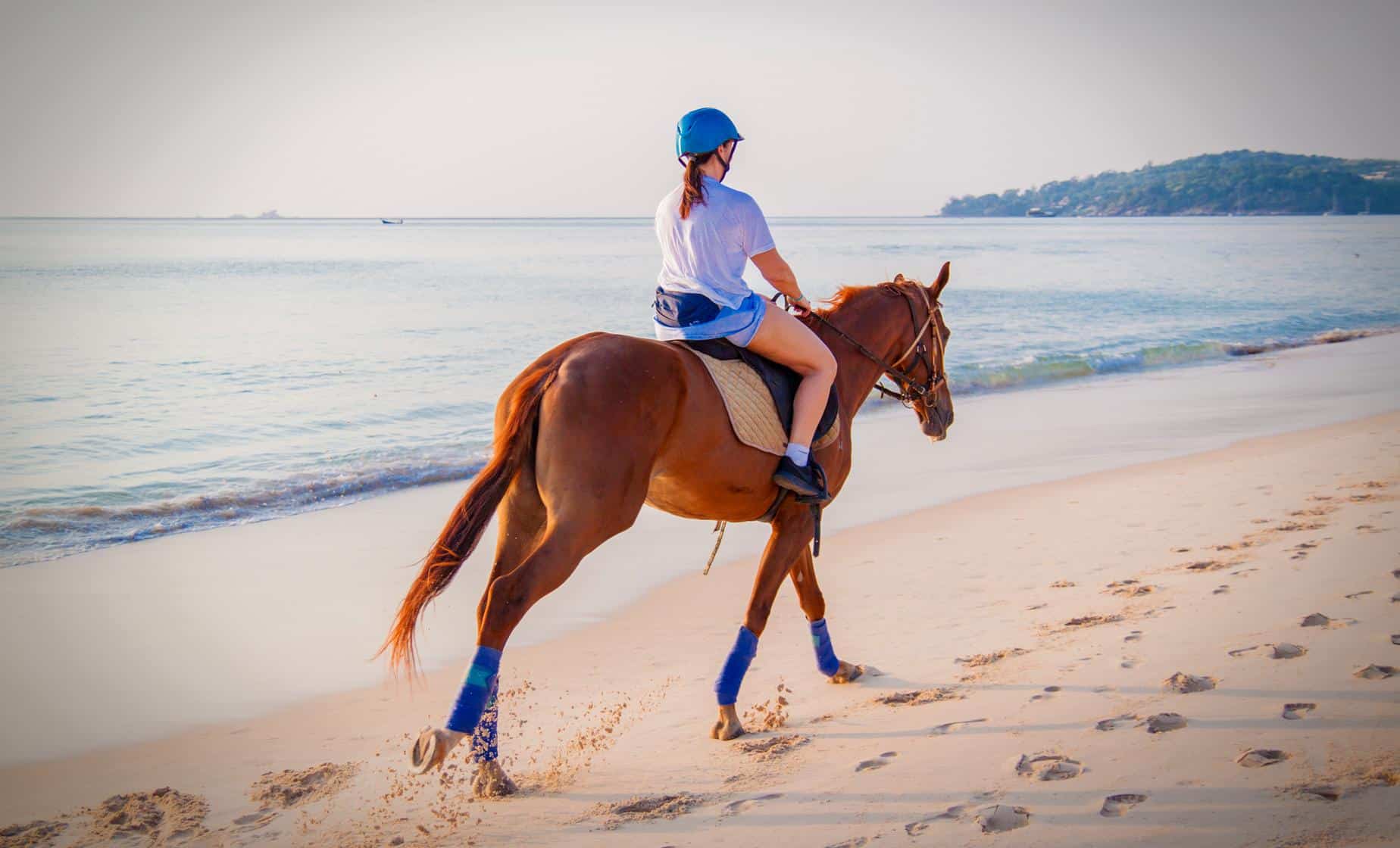 We have special access to the highly acclaimed "Walk the Plank" zipline, considered to be the best zipline in Samana.  You will fly above a pirate ship and the Lulu Waterfall as you cover 7000 feet of line. After your high-flying zip, you will visit the Lulu Waterfall to take a refreshing swim in its pool below. Dry off and walk through the jungle for approximately 10 minutes to reach the waiting horses. After mounting your horse, you will set...
Duration: 5 Hours
Activity Level: Moderate
Note: Max. weight for zipline is 250lbs
Wheelchair Accessibility: No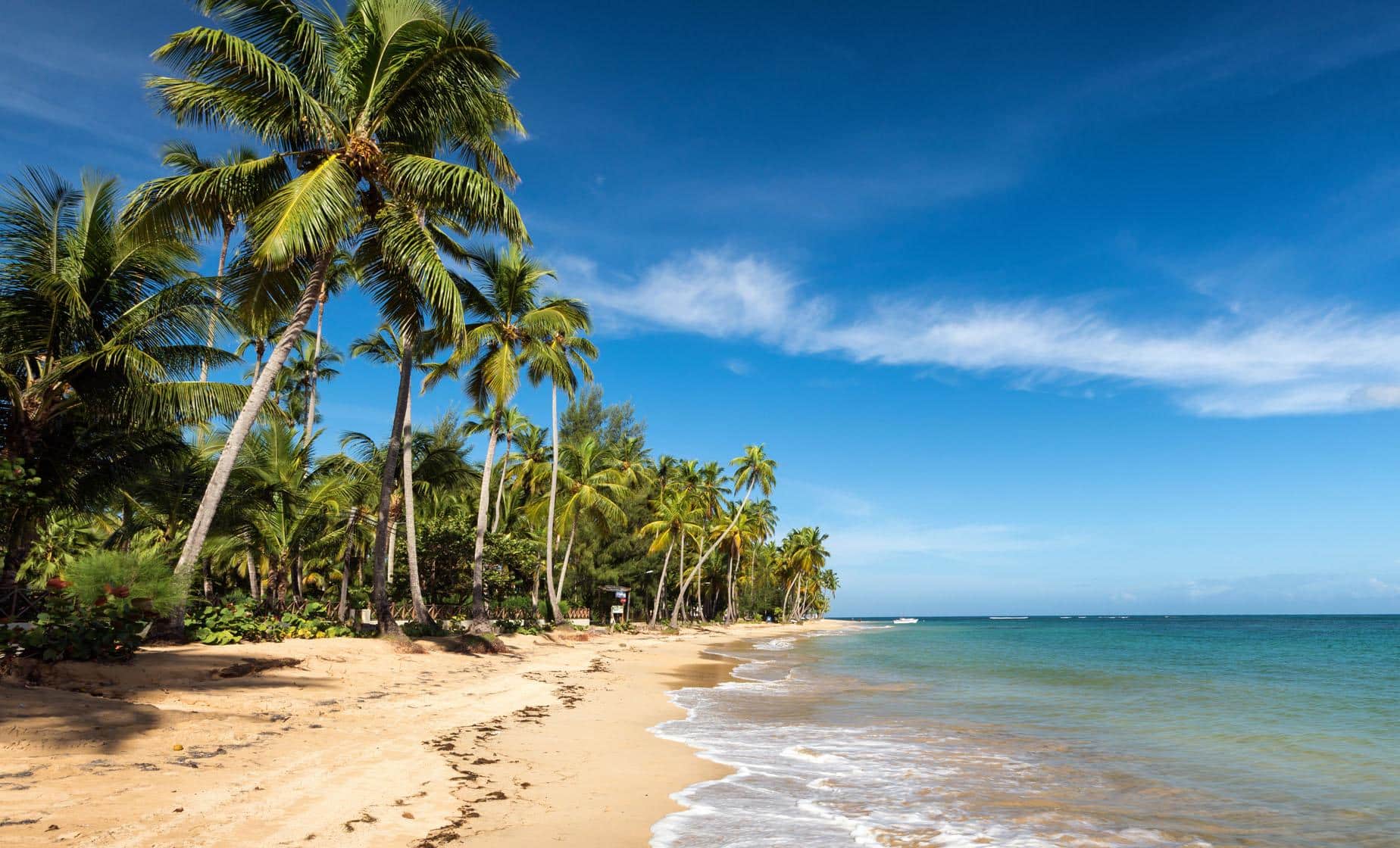 Ride to a village in an open-air safari vehicle to enjoy a presentation of local items that you can sample and purchase like fruits, nuts, chocolate, and visit a cigar factory if it's open on the day of your tour.  Next, you'll visit a semi-secluded natural beach, where you can take in stunning views of the mountains while enjoying a typical Dominican buffet, consisting of fresh fish and chicken, served on the beach with as much local beer, sod...
Duration: 4.5 Hours
Activity Level: Moderate
Note: Roads are not paved and can be very bumpy
Wheelchair Accessibility: No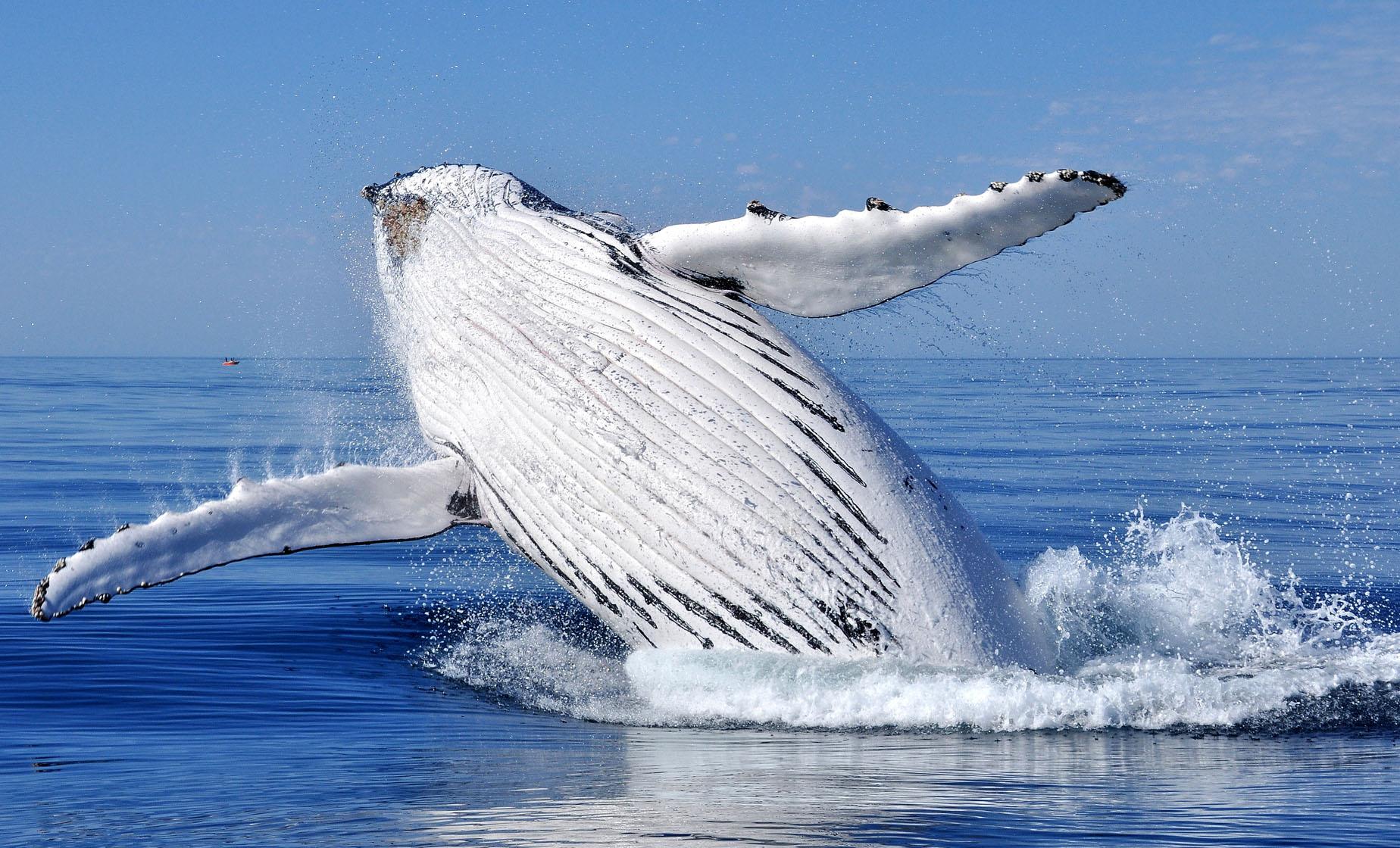 After meeting your friendly local guide at the pier, make your way to the powerboat, which is waiting approximately 5-8 minutes from the cruise pier on foot. Setting out into the blue Samana waters, begin your search for magnificent humpback whales. Pass by the famous Cayo Levantado island (sometimes called Bacardi Island) and take in the spectacular views of the mountains surrounding Samana Bay. Beer and soda will be available for purchase on th...
Duration: 2.5 Hours
Activity Level: Moderate
Note: Min. age 6 years old.
Wheelchair Accessibility: No