Santa Barbara – California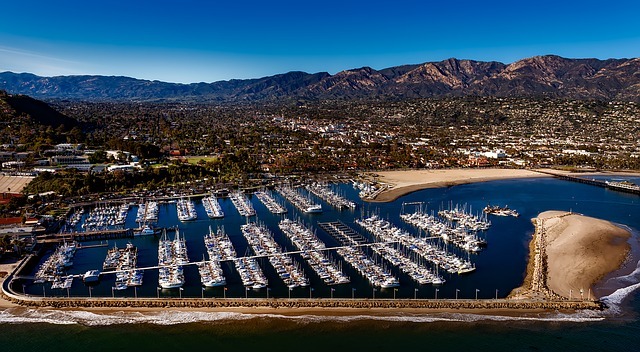 Once the home of a prospering Chumash village, the area the city now covers was rechristened Santa Barbara in 1602 by early explorers. This land wasn't settled by Europeans until much later in 1782. With its Mediterranean climate and appreciation for the arts, Santa Barbara is now known as a sunny and culturally rich environment.
Check out Santa Barbara Excursions.
Currency:
USD. There are two ATM's located on Stearns Wharf which is close to where the tenders dock. Other ATM's are located throughout the city.
Wireless Internet:
Sambo's Restaurant, 216 W Cabrillo Blvd. – Starbucks, 800 State Street. – Santa Barbara Public Library (free high-speed Wifi), 40 E Anapamu St.
Languages:
English is the official language but approx. 25% of the population also speaks Spanish.
Where You Dock in Santa Barbara – California
Cruise passengers are tendered into Santa Barbara and dropped off at West Cabrillo Boulevard. It is within walking distance of the Santa Barbara Harbor, Stearns Wharf and the Downtown area.
Getting Around Santa Barbara – California
Downtown and Waterfront shuttles are available for a mere $.50 per ride. You can find the schedule here.
There are also regular city buses and taxis.
Shopping In Santa Barbara – California
Anyone lucky enough to be in the city on a Sunday will have the opportunity to experience the unique Santa Barbara Arts and Crafts Show. Featuring only original art (since 1965), from 100% local artists, this event showcases paintings, sculptures, photography, drawings, crafts and more!
Many stores and gift shops are located along the waterfront and in the downtown area.
Dining In Santa Barbara – California
Santa Barbara Shellfish Company – 230 Stearns Wharf. Once a business dedicated to the buying and selling of shellfish, fish and crab, this restaurant serves delicious and reasonably priced seafood meals with their unbeatable ocean views.
Toma Restaurant and Bar – 324 West Cabrillo Blvd. Known as Santa Barbara's most romantic waterfront restaurant, Toma's offers a fine dining experience and a menu overflowing with Italian and Mediterranean taste sensations.
Things To Do in Santa Barbara – California
Discover the Arts– Santa Barbara is filled with a wealth of art galleries, theatres, jewellers and museums. For those that appreciate man-made beauty, there is certain to be plenty of entertainment and incredible sights
Parks and Beaches – If natural beauty is more appealing then perhaps knowing that Santa Barbara has a total of 57 parks across 1800 acres might be of more interest. The southern edge of the city is rich in beaches with 4 miles of sand and sun just waiting to be discovered.
Old Mission Santa Barbara – To discover the rich history of the area, visit the Old Mission. Admission is only $9 and the tour is sure to enlighten and teach you something about the area that you didn't know before. Enjoy the architecture and surrounding grounds with their rose gardens and great views.