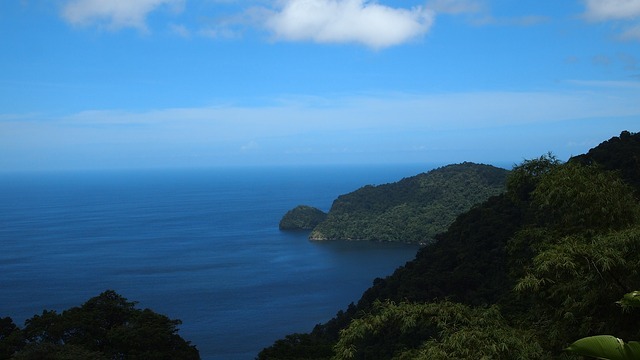 The Republic of Trinidad and Tobago is made up of two major islands (one is Trinidad and one is Tobago) and many smaller islands. Located between the Caribbean Sea and the Atlantic Ocean, the islands of Trinidad and Tobago are just a few miles off the South American continent. When referenced, the two separate islands are most often spoken of as one area," Trinidad and Tobago."
Trinidad is the larger of the two islands and both of the islands share maritime borders with Barbados, Grenada, Guyana and Venezuela. The capital of Trinidad and Tobago islands is Port-Of-Spain located on Trinidad. Tobago is the smaller of the two islands and the major city is Scarborough. Before Tobago was unified with Trinidad, Scarborough was the capital of both islands.
While Christopher Columbus, who really seemed to get around, was said to have discovered the islands in 1498, the islands had already been occupied by indigenous Amerindian tribes of the Arawaks and Caribs.
A century later, Europeans began to settle the islands. There was the usual back and forth as each "conqueror" was vanquished by the next. Spain started the process of acquisition with a settlement close to today's Port-Of-Spain. That was destroyed by England's Sir Walter Raleigh. As sugar plantations developed throughout the islands, African slaves were brought to Trinidad and Tobago as laborers.
Tobago was not prized as an island for settlement but for its strategic position in the Caribbean and was often fought over. Amerindian tribes, England, France, Spain, Latvia and others waged battles on its shore in an effort to seize the island. Control over Tobago shifted more than 30 times over the years until 1814 when Britain regained control of Tobago and annexed it to Trinidad. Finally, in 1962 the two islands gained their independence and in 1976 were officially named the Republic of Trinidad and Tobago.
Today, Scarborough, named for the town in England, is densely populated and the town is steeply laid out on the bottom slopes of a hill on Tobago's southwestern tip. About a third of the island's population lives in Scarborough. On top of this hill is Fort King George, built in the late 1700s, that now holds a museum of Tobago's history.
Tourism has contributed to Scarborough's growth and the nearby town of Crown Point is home to ANR Robinson International Airport which handles both domestic and international flights. While tourism has contributed to the island's growth, tourism is not catered to as you might find in other Caribbean locations. Tobago has two speeds. Slow and slower. It is a place where you can unwind and relax.
The most developed areas of Tobago are in the southwest of the island where the ANR Robinson International Airport is located along with a few of the larger hotels along the Caribbean coast.
Tobago's eastern coast, which takes abuse from the Atlantic Ocean, is where you will find fishing villages, including Speyside, one of the most popular.  Along the north coast of the island is where the coral sand beaches and other fishing villages, like Castara are located. Englishman's Bay, Parlatuvier and Bloody Bay are often populated only by fishermen. The eastern side of the island is where the hills rise to make up the central Main Ridge of Tobago. The main rainforest is located here. Always full of moisture and mist, this area is a must for birdwatchers.
Good To Know
 Avoid buying anything made from turtle shells, bird feather, conch or black coral. While you might find them for sale, Tobago prizes conservation and is cracking down on vendors who offer such items.
The cruise port in Scarborough is in the center of the town and takes up most of the harbor. The majority of ships will dock at the pier, but some will anchor offshore and tender passengers to Pigeon Point, about eight miles from Scarborough. This is the point where beaches are within walking distance of several resort hotels.
Don't forget the insect repellent. Sand flies, midges and gnats can be more troublesome to some than others. A good repellent that has 50% DEET is essential before you start off exploring the island, especially if you plan on visiting the rainforest.
Check out these excursions in Trinidad and Tobago.
Where You Dock in Scarborough – Trinidad & Tobago
The cruise port in Scarborough is in the center of the town and takes up most of the harbor. The majority of ships will dock at the pier, but some will anchor offshore and tender passengers to Pigeon Point, about eight miles from Scarborough. This is the point where beaches are within walking distance of several resort hotels.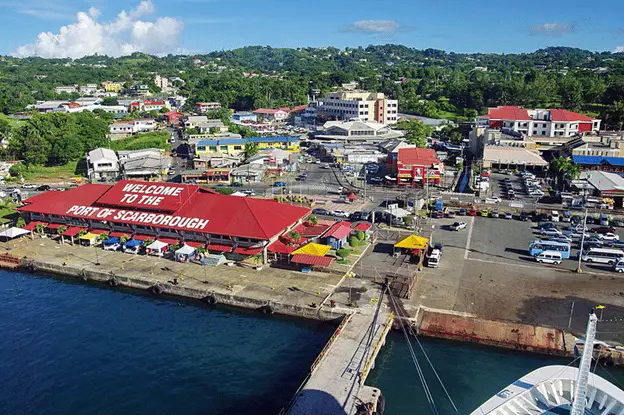 The terminal holds duty-free shops, local crafts and a music store. You will also find tour operators and a tourist office. Outside the terminal is an ice-cream parlor and a pub.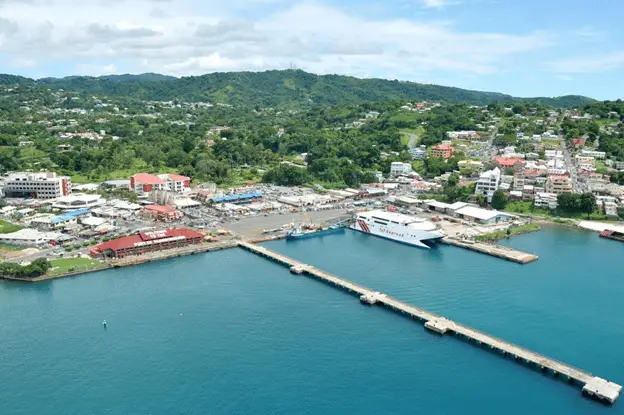 Getting Around Scarborough – Trinidad & Tobago
Walking
Though Scarborough is built on the side of a hill, the area adjacent to the port, and along the shoreline, is quite flat and walkable. As with many Caribbean towns and villages, Scarborough proper is quite spread out and some popular areas are too far to walk.
Buses
Tobago has an inexpensive bus service, but you can expect it to be unreliable. Drivers do not accept cash or credit cards; you need to purchase a ticket at the bus terminal. While there is a schedule and set routes, the timetable may not be exact and most often the schedule is theoretical. They leave when they leave and get there when they get there. The bus terminal is a short walk from the ferry terminal. The buses run to Crown Point, Plymouth and most of the villages on the island.
Water Ferries
A ferry service, the Port Authority of Trinidad and Tobago, links Scarborough with Port of Spain on Trinidad. The Trinidad and Tobago Inter-Island Transportation Company runs the ferry on a regular basis throughout the day, but if you are on a tight schedule you need to know that the trip takes 2.5 hours one way. If you have a rental car that you are wanting to take from one island to the other, you must check in with the Port Authority three hours before departure.
Taxis
As the largest town in Tobago, Scarborough has readily available cabs for hire in most places, especially in market areas, near hotels and resorts.  There is not much nightlife in the city, so if you need a taxi during nighttime hours, it is good to call ahead.
Official taxis have a registration number that starts with the letter "H". Do not travel in a "P" (private) registered vehicle.
There are both private taxis and route taxis in Tobago. Private taxis are for you alone, and will go where you ask. They do not have a meter, so negotiate a fare before you get in the vehicle.
Route taxis, also called public taxis, might be a minibus and are the most common means of public travel. They are inexpensive but follow a route and will not depart until they are full. Here too, you will need to negotiate a price before boarding.
Here are a few of the taxi services available:
Unique Taxi Services  +1 868-660-7949
Xanda Tobago Tours & Rentals  +1 868-293-0711 (24 hour taxi)
Tobago Tours & Taxi  +1 868-796-8121
Rental Cars
 Renting a car can be expensive, and the newer the car, the higher the price,. On Tobago, bad service from car rentals is one of the top tourist-related complaints
Driving is on the left in Tobago and the speed limit on any road on the island is 30 mph. There are no multi-lane highways and very few main roads. There are also few signposts, but the island is also just 26 miles long and 8 miles wide.
Know that the roads, once you leave Scarborough, will deteriorate in quality. Expect twisty, winding roads and a fair helping of potholes. Do not expect other drivers to signal their intention and they also may stop without warning. The shared "route" taxis are notorious for stopping, without regard for traffic, to pick up or let off passengers.
 Some of the services are:
Sunbird Holidays  +1 868-639-2910
Graham's Car Rental  +1 868-639-1094
Yes Tourism  +1 868-357-0062  (this is a brokerage service that can make a reservation at one of Tobago's rental services)
Shopping In Scarborough – Trinidad & Tobago
Many smaller shops in Tobago close by 4 pm on most days, so if you want to shop you will need to do so earlier in the day. The "malls" tend to have longer hours, but don't expect U.S.-type shopping malls – they are often more like plazas. Again, while tourism is welcome on the island, this will not be the place for an abundance of shopping.
You will find local souvenirs are mainly wood carvings, leather sandals, bags, and knitted hats. The beach area will often see vendors, not in stalls, but strolling the beach with their wares.
Portmall Shopping Complex – 2 min walk from port
Located across from the cruise terminal, this newer 3-story shopping center has fast food, clothing and shoe stores.
If you're looking for a shopping mall with a more familiar feel, Gulf City is a large indoor mall with many different clothing, gift, jewelry and beauty shops, with brand names including MAC, GNC, Perry Ellis, US Polo. There are also many well-known restaurants including Starbucks, McDonalds, Hard Rock Cafe, TGIFridays, and more. Local items can also be found here. 
Enjoy delicious food and beverages while you shop for locally made, art, clothing, jewelry and other handicrafts. 
Forros Homemade Delicacies – Bacolet St. – 1 mile from port
This small kitchen and shop has bottles of local condiments, preserves and sauces. Try some of the guava and golden-apple jelly. There is also lemon and lime marmalade, tamarind chutney and hot sauces.
Dining In Scarborough – Trinidad & Tobago
Trinidad and Tobago has a culturally rich and diverse history, and their cuisine follows suit. You will find African, Indian, Chinese and European influences in their foods and dishes. 
Soups, stews and curries are common, often eaten with roti, a type of flatbread, and fish and seafood dishes are popular. Locals eat their food pretty spicy, so keep that in mind when ordering. In fact, you'll find the world's hottest pepper in Trinidad and Tobago!
Doubles are a well-known street food and consist of two pieces of fried dough, filled with chickpeas (channa) and topped with various things like cucumber, tamarind sauce and chutneys.  Other popular dishes are Aloo Pie (fried pockets filled with curried potatoes), Curried crab and dumplings, Callaloo (hearty soup-like dish made from the dasheen plant) and Pelau (combination of meat, rice and vegetables). 
On the island, you will find restaurants in the more populated south-west of Tobago. There are far fewer in the more rural parts of the island.
There are quite a number of restaurants and take-out spots within walking distance of the cruise port, including  KFC and Subway if you're not feeling adventurous. 
Jackie's Bago Family Cuisine – Smithfield Road, 4 min. walk from pier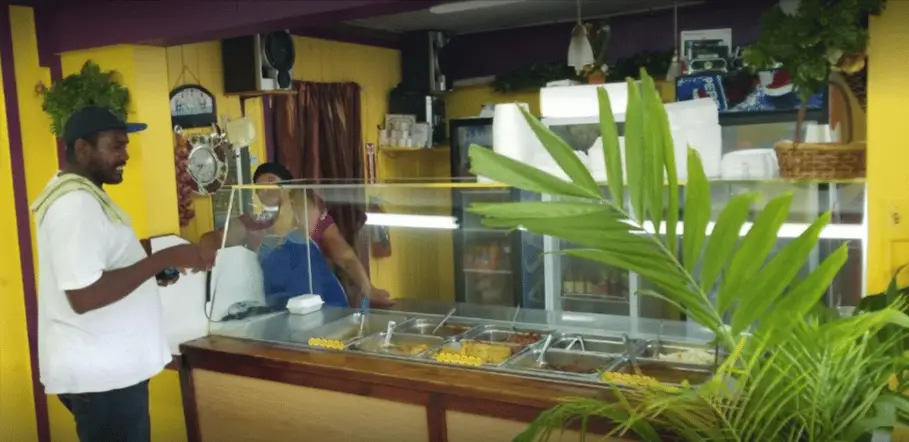 This small, friendly restaurant is located in a plaza and has a good selection of local food, including pork, goat and seafood dishes. There are a few tables for dine-in or you can take the food to go. 
Royal Castle – Wilson Road, 6 min walk from pier
This is a local fast-food chain serving up fried chicken, fish and chips and burgers.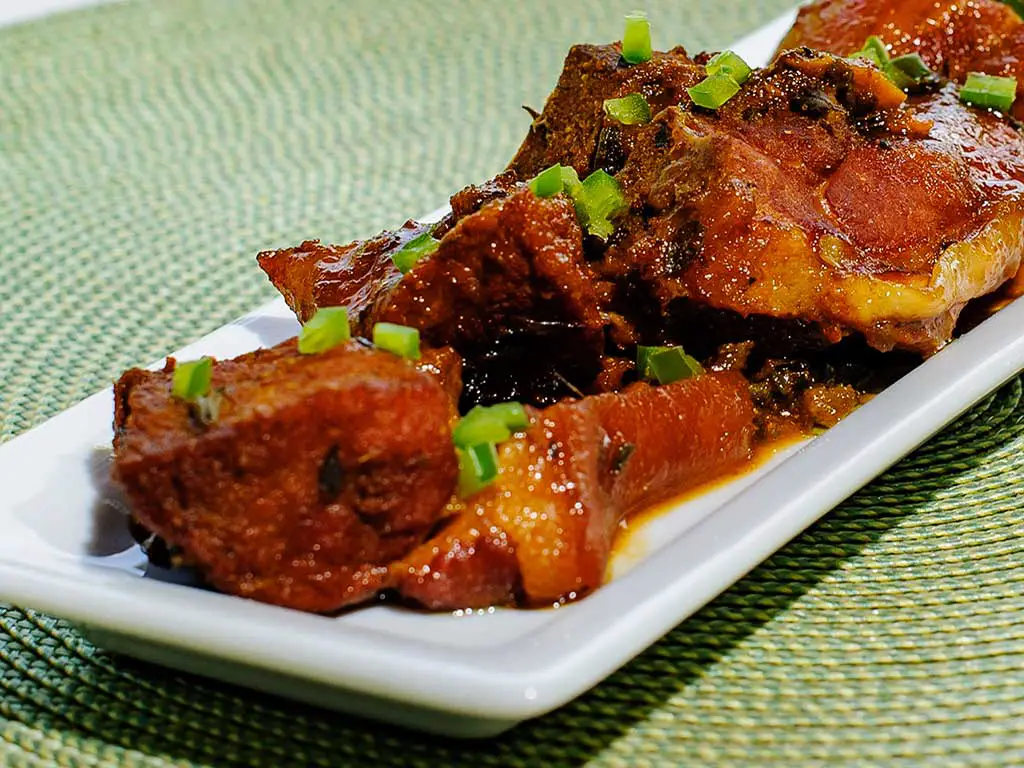 The best place to go in Scarborough for lunch, the Blue Crab is popular with both tourists and locals. The cuisine is Caribbean but at a standard above other restaurants on the island. They are open for lunch Monday to Friday and dinner on Monday, Wednesday and Friday. It is important to reserve before you arrive. +1 868-639-2737. They also accept Visa, MC and AMEX. 
Bar Code – Milford Rd. – 0.5 mile from pier
If you're looking for a bar vibe, turn left out of the port and walk half a mile along the waterfront to Bar Code. Watch TV  from the bar, play pool, or enjoy some chicken, ribs or burgers. If you happen to be visiting the island on a "Sweet Hand Friday", they have a great combo meal for one low price with lots of local favorites. They also have the widest range of rum on the island. 
Personal pizzas, lasagna, fish sandwich, various types of quiche and grilled barracuda are all items that you can get at this local cafe, all while shopping for locally made jewelry, clothing, art, and other handicrafts. 
Things To Do in Scarborough – Trinidad & Tobago
Even though Trinidad and Tobago are sister islands, they are quite different. Tobago is smaller and considered more rural than Trinidad. Many resorts are located on Tobago because of its gorgeous beaches and golf courses.
The most populated area of Tobago is the southwest area of the island, and includes Scarborough, Cambee and Crown Point, where the airport is located, among others. The north-central region is home to Main Ridge Forest Reserve, which is the oldest protected rain forest in the Western Hemisphere.
Botanical Gardens, Scarborough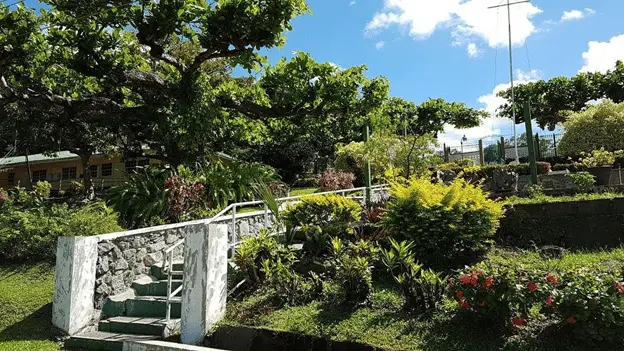 Located alongside the main highway in Scarborough, and less than a 10 minute walk from the port, this 10-acre botanical garden is a perfect place to take a stroll and relax. You will see silk cotton trees and avenues of royal palms. There are two entrances to the park.
Buccoo Reef Marine Park
This protected area, located a short distance off Buccoo Beach on the north west coast of Tobago, is a popular destination and you will learn about the marine life in this shallow reef. Most people take a glass-bottom boat tour to reach the reef, but it is considered one of the most accessible reefs in the Caribbean. 
Also within the protected area is Nylon Pool. This shallow sandbank has crystal clear water and at the same time, this area is in the sea. This white ground coral pool is off Pigeon Point and is accessible by boat. Named by Princess Margaret in 1962, the name was derived from its resemblance to a swimming pool.
Fort King George, Scarborough
One of Scarborough's best-preserved monuments, Fort King George, dates back to the 1770s. The cannons at the sight remain as they were originally positioned overlooking the coast. The views from the top are beautiful, so don't forget your camera! The prisoner's bell tank, barracks and officer's mess can still be seen. The Tobago museum ($) is located onsite, but be aware it has limited hours and is not open on weekends. 
Beaches
There are no beaches in close proximity to the Port of Scarborough. Many of the most popular beaches are closer to the airport and majority of resorts, so if you're wishing to spend the afternoon at one of Tobago's beautiful white sand beaches, transportation will be necessary. 
Resort Day Pass
Enjoy the gorgeous beach with the amenities of a luxury resort with ResortPass. Le Grand Courlan Spa Resort is a short 6 miles from the cruise terminal and not only will you have beach access, but pools, lounge chairs, poolside food and drink service, spa access, fitness and game center, and more! Click here for full details!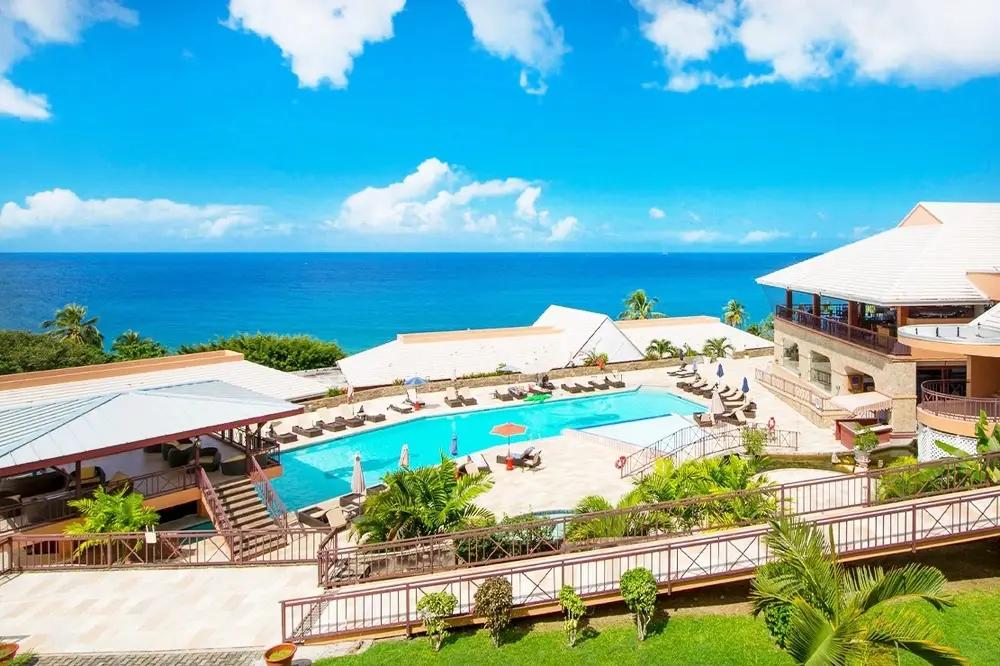 Pigeon Point 
This popular beach is known for its clear turquoise waters and clean sand, and it has all the amenities including a beach bar. There is an entrance fee, and beach chairs, umbrellas, cabanas, kayaks, snorkeling equipment etc. are available for rent. 
Store Bay
This popular beach is within walking distance from the airport, making it a really popular spot. There are changing rooms, restaurants and vendors selling food and crafts. Locals also have beach chairs and umbrellas available for rent.  It can get pretty wavy and the sea floor drops suddenly a little ways off shore, so it's a good idea to keep watch of the kids, but it can be a good spot for beginner snorkeling. 
For less crowded or touristy spots, beaches like Englishman's Bay,  Castara Bay, Kings Bay are good options. They are located on the northern part of the island, about a 50 minute drive from Scarborough. There are tours you can book, which often include lunch and a narrated drive to see these beaches from the port.  Check it out here.
Top Tours & Excursions In Scarborough – Trinidad & Tobago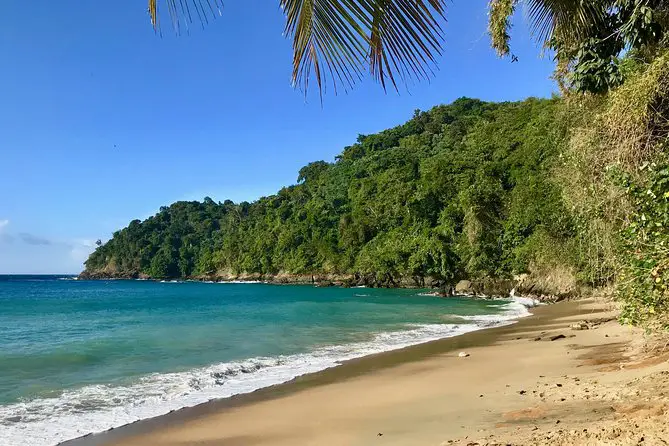 Just like a picture postcard, this beach will be a great place to spend the day swimming and snorkeling. Take a full or half-day trip with a professional guide and lunch is included!...
Duration: 5-6 Hours
Activity Level: Easy
Wheelchair Accessibility: No
Tour Includes: Lunch and use of snorkeling equipment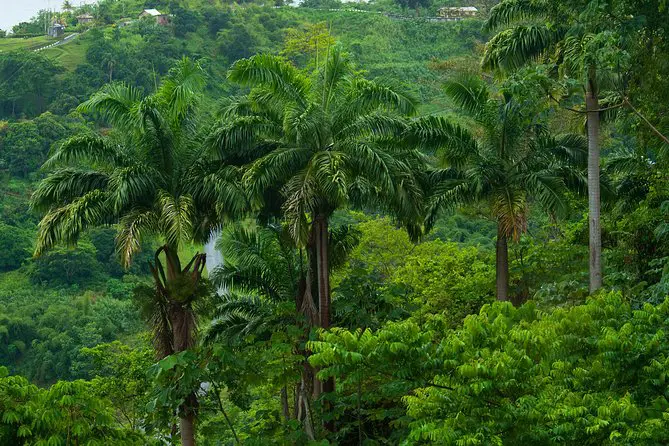 Hike the rainforest of Tobago. It is the oldest protected rainforest in the Western hemisphere. A professional guide will help you explore the beauty and sights and sounds of this fantastic place....
Duration: 3-4 Hours
Activity Level: High
Wheelchair Accessibility: No
Food: Non-alcoholic beverages provided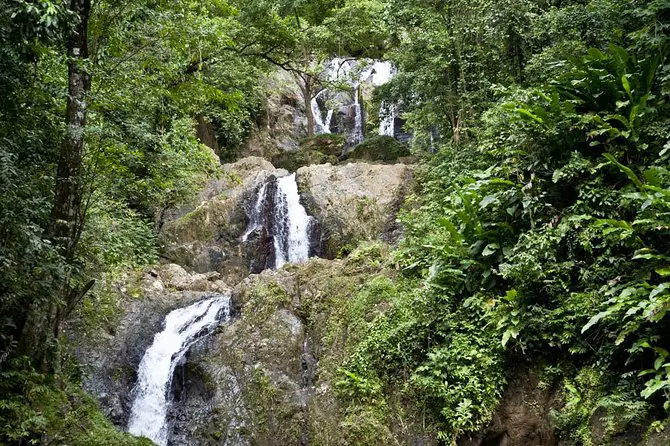 This small tour is a combination of sightseeing and learning about Tobago's flora and fauna. You will walk for 20 minutes on an easy trail to visit the Argyle waterfall and swim in its pools before visiting Tobago's Adventure Farm, a bird-lover's paradise....
Duration: 5-6 Hours
Activity Level: Moderate
Wheelchair Accessibility: No
Food: Non-alcoholic beverages provided