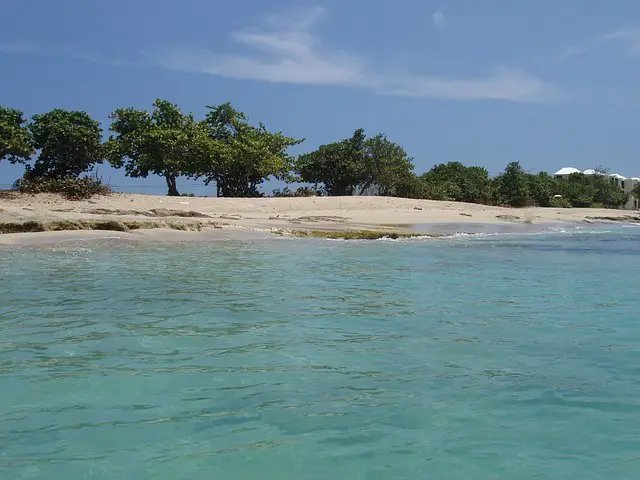 St. Croix US Virgin Islands is one of the lesser known islands known to cruisers, and with what it has to offer, that is a shame. St. Croix is the largest of the three U.S. Virgin Islands, and as cruising and tourism is involved relatively "virgin" in that respect as well. However, with a revitalized cruise port, guests to the island can embark on one of the more beautiful and natural islands in the Caribbean.
With stunning white powder beaches, world-renowned snorkeling and SCUBA diving, as well as a prolifically notorious past St. Croix offer the true laid-back approach to island life.
Where You Dock in St. Croix – U.S. Virgin Islands
All cruise ships dock in Fredericksted. With only one cruise ship allowed to dock at a time, the small town keeps cruising an intimate affair. The single dock will have you enter the smaller of the island's two largest towns.
At the end of the pier you will be welcomed by vendors displaying souvenirs, jewelry, and t-shirts. Within the town of Fredericksted you will find several historic buildings, including the fort, and several shops. The newly renovated port welcomes you with gardens and wonderful beaches.
The two major towns on St. Croix are Fredericksted where ships dock, and Christiansted, which is the primary tourist attraction you will find colorful 19th century architecture along cobbled paths, unique shopping, and two ports. Point Udall is the eastern most point of the 26-mile-long island, as well as the United Stated and is worth the trip.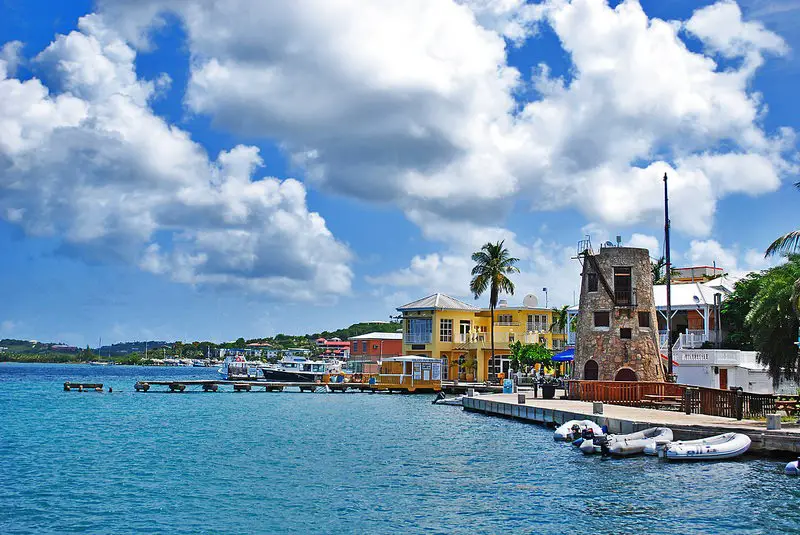 Getting Around St. Croix – U.S. Virgin Islands
Buses: Vitran is the public bus system and runs from Fredericksted to Christiansted and back about every 2 hours making sure to stop near all major shopping and some tourism areas along the way. It is $1.00 per trip, or $0.55 for senior citizens. However, the bus system timing is not very reliable if you are on a tight schedule.
Taxi Service: You will find taxis throughout Fredericksted, Christiansted, the airport, and most dock and tourism areas. Taxi rates are predetermined destination rates, however it is a good idea to discuss the rate with your driver prior to getting in the taxi. In addition to registered taxis that can be identified with their permit, "gypsy" taxis exist which determine their own fares and are not guaranteed by the island. Fares may be more negotiable with gypsy services, although you are at your own risk when it comes to dealing with these drivers.
Car Rental: If you are planning on spending several days on the island, or even a full day of sightseeing it is recommended you rent a car. Car rentals are available in both major towns and at the airport.
Shopping In St. Croix – U.S. Virgin Islands
Both towns offer good shopping options, however, Christiansted is the primary shopping area for tourists. The town offers a wide variety of unique shops, of Crucian jewelry, souvenirs, luxury and typical island shopping.
Most mainstream big box stores and fast food restaurants are found within the inner part of the city, allowing for independent stores to occupy the main towns. The shopping experience on the island is highlighted by the 18th and 19th century buildings and stone streets you walk along. Nearly every part of each town is like walking through a museum.
Dining In St. Croix – U.S. Virgin Islands
While there is a degree of diversity on the island your food options are limited to typical island meals with accents of spices, seafood, chicken and pork. You can also find pizza places, and typical American restaurants with burgers and salads.
There is a wide variety of venue types from food trucks which offer some great tasting foods, to casual and fine dining. Most restaurants on the island are unique and independently owned local restaurants, with very few mainstream restaurants. Many of the nicer resorts such as Carambola and Buccaneer offer fine dining choices with beautiful views of the Caribbean and beaches.
 Rum Runners Steak and Seafood: Listed as one of the perennial favorites on the island. This waterfront restaurant offers Caribbean and Continental cuisine.
 The Bombay Club: A local favorite for years. The Bombay Club serves a great assortment of local, continental, and Mediterranean cuisines.
 Bon Bagay Sailing: Cuisine developed by the islands best chefs who cook on a rotating schedule while diners enjoy the views and sunsets of the island from off-shore.
 Buccaneer Restaurants: The Buccaneer hotel offers several restaurants from casual to fine dining, as well as a beach bar. Enjoy the sand, sun, and great dining.
Things To Do in St. Croix – U.S. Virgin Islands
The draw to St. Croix is in the island's beauty and outdoor activities, as well as its historical value to the Caribbean. On the western side of the island is the rainforest and mountainous region where you can enjoy horseback riding, trail walking, or enjoy the beaches and surfing.
Mixed within this side of the island are unique attractions such as the beer-drinking pigs and Crucian Rum Distillery. As you make your way toward the central and far side of the island the land becomes rolling and arid, nearly desert-like, finally ending at Point Udall, which has a magnificent view of the sea.
Common activities for tourists:
 Cruzan Rum Distillery: Tour the factory, and learn about the 350 year old history of Cruzan rum and its impact on the world. Of course, you get a little taste of many of the rum flavors available.
 Estate Little Princess: Used as a sugar plantation in the 1730's, Estate Little Princess is now a nature conservancy. Stroll through historic buildings and nature trails, some of which lead to a secluded beach where you can enjoy the view while enjoying a picnic lunch.
 Whim Plantation: One of 300 plantations that use to dot the island, many of Whim's original buildings have been completely restored. Tours of the Great House are offered, representing some of the best representations of 18th-century Danish plantation life. Explore the grounds and buildings that are sprawled across the 12-acre museum.
 Estate Mount Washington: Lost until 1984 when the owner found the prior sugar plantation buried in the woods of his property, Estate Mount Washington had now been restored to its original charm. The plantation Great House is considered one of the best historical renovations on the island.
 Heritage Trail: Self-guided trail that encompasses the entire island, touching on nearly 200 historic sites.
 Point Udall: Easternmost point of the island and the United States. A new monument was built at the site in 2000 and the point has been host to several ceremonies, wedding proposals, and is a great place to relax and enjoy the wonder of the crashing waves along the island.
 Rainforest: The rain forest is a display of the island's unique and diverse habitats. Enjoy walking or horseback riding along the trails.
 Fredericksted and Christiansted forts: Both towns' forts stand as a representation of their past as each overlooks the Caribbean the same way they did when they stood to protect the island in past centuries. The forts provide tours and freedom to explore on your own.
 Historic Downtowns: Dating back to the 1600's you can walk along streets that once fed much of the Caribbean, America, and Europe with its rum. The towns were once bustling with the sugar cane industry and were well known to merchants, sailors, farmers, and pirates. Many of the original buildings still exist and are in use today.
 SCUBA, Snorkeling and Buck Island: St. Croix can boast some of the world's greatest underwater coral reefs and views. SCUBA and snorkeling are popular attractions, as are exploring sunken ships in the harbors and further out. Buck Island and its reef are a U.S. National Park and the west end beach was named one of the most beautiful beaches in the world by National Geographic.
Golf
 Reef Golf Course: 9-hole golf course and driving range. Reef Golf Course is nestled in Teague Bay and also offers tennis, a stunning beach, and one of the island's finest beachside restaurants.
 Carambola Golf Club: A world-class golf course nestled in the lush hills of St. Croix. This par-72 course has been awarded a gold medal by GOLF Magazine and given a 4-star rating by Golf Digest.
 Buccaneer Golf Club: Par-70 rolling course designed by PGA Pro Bob Joyce offers one of the most scenic courses in the Caribbean. 13, of the 18 holes are popular destinations for golfers and photographers alike.
Beaches
St. Croix has dozens of powdery sand beaches lining its shores and all of them are available to the public. While most are free, be mindful of some beaches which do have fees for resorts, or restrictions due to sea turtle nesting. While there are too many to list, here are a few favorites:
 Jack and Isaac's Beach: Remote and picturesque, these two beaches are hidden gems on St. Croix. Known for years to only locals, tour guides have now begun to bring tourists to enjoy one of the pettiest views on the island.
 Buck Island's Turtle Beach: Buck Island is a small island off the coast of St. Croix. Turtle Beach has been acknowledged as one of the best beaches in the world, and also a haven for sea turtles.
 Cane Bay: A great family beach, with plenty of activities. It rests on a small inlet that allows for calm and warm waters to relax and enjoy.
 Rainbow Beach: Stunning turquoise water and white powdery sand. It's an A-list beach on a great part of the island known for its beaches.
 Tamarind Reef, The Buccaneer, Carambola, and Beach on the Cay: These are all the quintessential beaches you've come to know from the movies. Umbrellas, lounge chairs, and beach bars only highlight the well-stocked beach toys such as snorkeling gear, and windsurfing outfits.