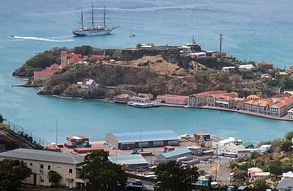 Grenada is a small island that is located in the British West Indies. Covering less than 135 square miles, the country of Grenada is made up of three islands. The three islands are the main island of Grenada, and the two smaller islands of Carriacou and Petite Martinique. The islands of Carriacou and Petite Martinique are considered dependencies of Grenada. There are also about 600 small islets that belong to Grenada, most of which are uninhabited.
The island of Grenada is between the Caribbean Sea and the Atlantic Ocean and is positioned in both the Northern and Western hemispheres.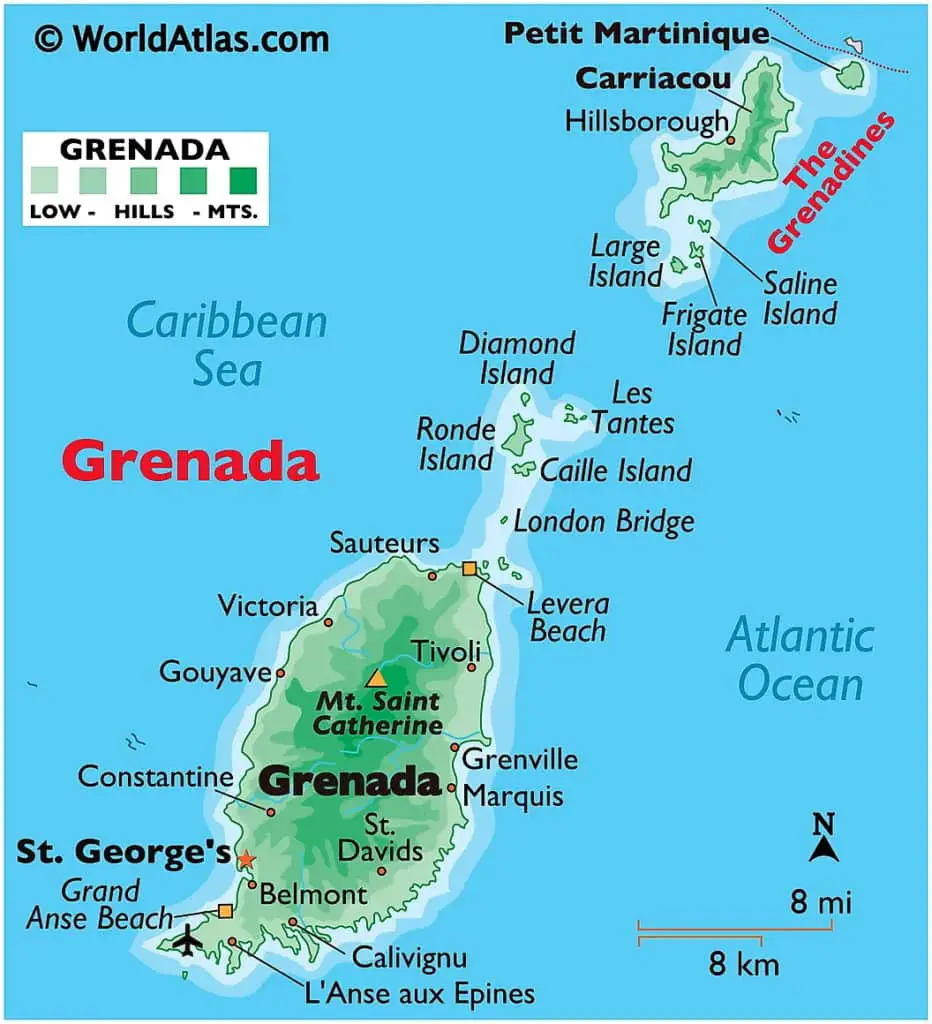 Credit: worldatlas.com
All the islands in this chain are volcanic in origin, with the island of Grenada being the most mountainous and covered with dense forest. Known as the "Isle of Spice", Grenada's climate allows spice production to thrive. Nutmeg, mace spice, cocoa bean and cacao are the main exports. 
 Grenada was inhabited by indigenous peoples from South America before the French colonized the island in about 1649. Grenada would later be ruled by Britain from 1763 to 1779, and again by France from 1779 to 1783. Grenada would gain independence from Britain in 1974. About 82% of Grenada's population is of African descent.
The island was devastated in 2004 by Hurricane Ivan. The category 4 storm had winds of 151mph and stalled over Grenada for 15 hours. Over 90% of the island's homes were damaged or destroyed. More than 89% of the country's buildings were damaged and only two of the 75 public schools were spared. The agricultural sector was also badly damaged, with the nutmeg crops sustaining the most damage. It took years for the island to recover.
Fortunately, today Grenada has fully recovered and is a favorite stop of travelers to the Caribbean. Divided into 6 parishes, St. George's is one of Grenada's parishes. St. George's is also the capital of Grenada and the most populous urban center.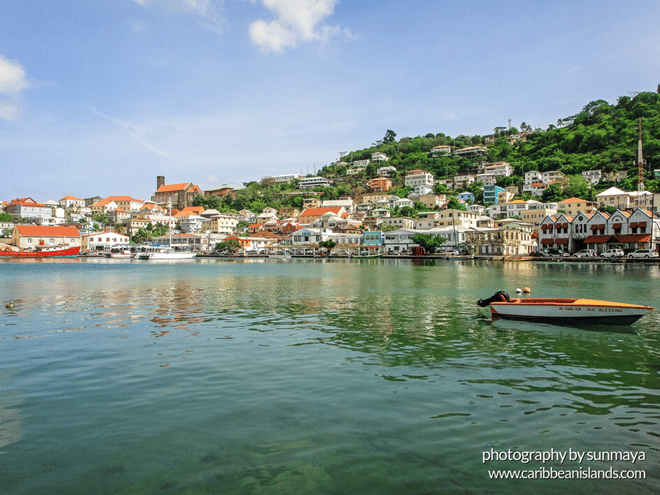 A major university, The St. George's University School of Medicine is located in St. George's along with Maurice Bishop International Airport.
 Get a Heritage Map for Grenada by clicking here.
Good To Know
Wearing camouflage is prohibited in Grenada.
Tipping is customary for those in the hospitality industry, including taxi drivers.  
 The streets of St. George's can be very steep and narrow. They also have deep gutters that run under these walkways. Be careful to watch where you are walking so you don't take a tumble. 
 Annually, the second week in August sees a major carnival held in St. George's with dancing, entertainment and a wide variety of foods.
Where You Dock in St. George's – Grenada
The Melville Street Cruise Terminal is the spot where most ships dock. It is located right next to the town of St. George's. Passengers will exit the pier through the Esplande Shopping Mall which takes you right into downtown St. George's. Smaller ships dock at the Carenage, which is near the main pier.

You will find restrooms and ATMs at the main terminal. There is also an information kiosk sponsored by the Grenada Tourism Authority. Maps and written guides are available here. A duty free mall with shops is located at the port. 
You can get tickets for a scenic train ride of St. George, and purchase water taxi tickets and find a taxi dispatch kiosk in the terminal.
Getting Around St. George's – Grenada
Once you are outside the cruise terminal building, you will be on the main street of St. George's historical downtown. Outside the port buildings there are pick-up and drop-off points for taxis and some tours. Just a few steps north of the pier is the Melville Street Bus Terminus.
Walking
St. George's is a small town, and once outside the terminal  buildings, shops and cafes are a short walk away. While it is possible to walk St. George's, it has a very hilly topography and there are lots of steps and steep hills throughout the town.  
The historical area of Carenage is just a 10 minute walk from the port where you can see an amazing view from Fort George, and learn about the history and culture with a visit to the Grenada National Museum.
It would take you about three hours to explore the city if you chose a self-guided tour.
Buses
Buses in Grenada are privately-owned vans. They will seat up to 20 people, and the drivers like to keep the van as full as possible. The owners of the van are usually the drivers, too. There is also a conductor in the van that watches for passengers and signals the driver to stop.
There are designated bus stops, but most of these vans will stop anywhere when they see a passenger. When you want to get off the bus, knock on the side of the van and they will let you off.
Know that sometimes the driving can be erratic and so can the schedule that buses run on. Each driver gets a limited number of daily runs on their route and so they will pack as many passengers into the van as they can and make the best time that they can.  You will also find that many of the vans have been decorated according to the owner's taste, so they make for some colorful modes of transportation.
They run Monday to Saturday from 6am to 9pm and fares vary depending on the route. 
Taxis & Water Taxies
 There is a taxi kiosk at the cruise port terminal that assists you in getting a taxi. Rates in Grenada are fixed, so there is no need for negotiation.
Water taxis are small boats, so you'll likely get a little wet, but they can be a fun way to get a different view of the island. There's a kiosk at the cruise terminal where you can purchase tickets. 
Here are a few of the taxi and water taxi services:
Ace Ventura Taxi & Tours  (yes, that is the real name!) They offer service 24/7
 Sweet Grenada Tours, Taxi and Rentals You can book a taxi or a tour with this service.
This video gives you an idea of a water taxi ride:
Rental Cars
 If you want to rent a car in Grenada, you will need a valid driver's license and a local permit. The permit needs to be purchased from the Central Police Station in St. George's. You will need to be over 21 years of age. It has also been said that you will need nerves of steel and the reflexes of a cat to drive the steep and windy roads in Grenada. Driving is on the left side of the road.
Here are a couple of rental places in St. George:
Azar's Auto Rentals  (this service will bring the car to you)
Yes, you can rent a car in Grenada if you really want to. However, depending on how long you will be in port, you might want to leave the driving to a taxi. Read this funny, but true, note from The Professional Hobo, who did drive in Grenada while living there.
 "Driving in Grenada, I slam on the brakes. On the bank is a goat grazing dangerously close to the road. In front of me a driver stopped suddenly to chat with a friend on a road-side porch. In front of him is a wheelbarrow, inexplicably sitting on the road. In trying to maneuver around these obstacles, I skirt between a massive pot-hole with a muffler sitting in the bottom and the road's edge (which involves a steep drop-off). Just ahead are more parked cars I'll have to get around once I've let traffic coming the other way through. Adding further to the chaos, I plan to stop randomly at the side of the road myself to get some barbecued chicken."
The Grenada Discovery Train leaves from the cruise terminal every 45 minutes and tours the city. Included in your ticket is the cost of admission for the Grenada Museum and Fort George. The tour is 45 minutes and if you choose to get off at the museum or the fort, you would have 45 minutes to explore before the train comes back to pick you up. 
Shopping In St. George's – Grenada
There are some Grenadian specialties that you should keep an eye out for when doing your shopping – as souvenirs for you, or gifts for someone else: Nutmeg ( and other spices), local rum, Guava jam (so good you could eat it right out of the jar!), hand-dyed fabrics called batik turned into clothing and blankets, chocolate made from local cocoa, and handwoven baskets. 
Just make sure if you're purchasing food items, especially spices, that they are in sealed containers so they don't get confiscated by customs when you return from your cruise!
Here are some stores where you may find these items:
In order to get to the town of St. George's, from the pier you need to walk through the Esplanade Mall. Here you will find duty-free shops, with perfumes, cosmetics, jewelry, liquor, tobacco and of course, souvenirs.  You will find handbags, electronics, local crafts, a supermarket and apparel for men, women's and children. There is also a Western Union located in the mall.
St. George's Market – 5 min. walk from port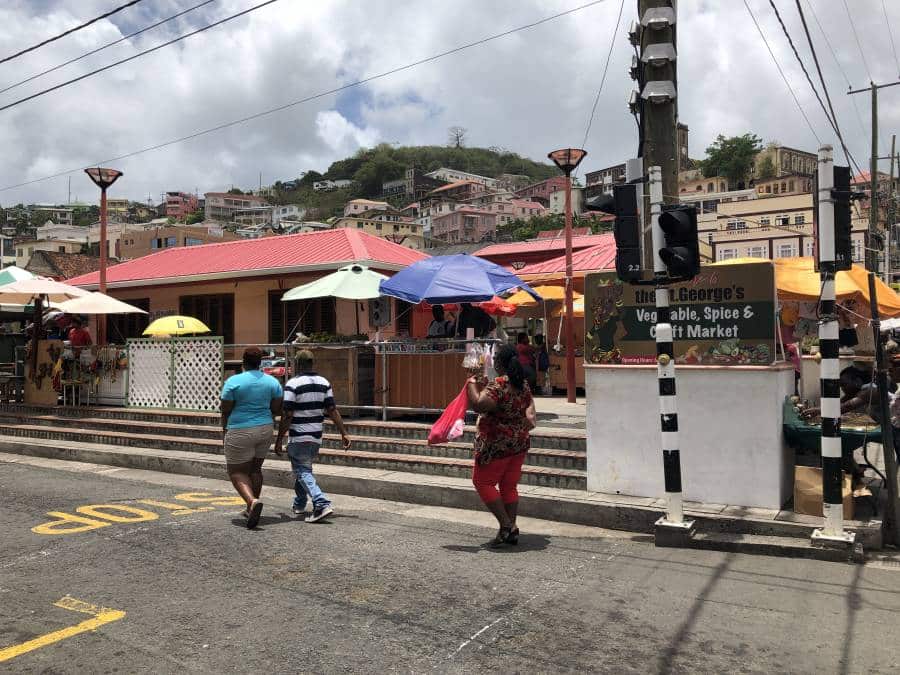 Also known as the Spice Market, you will find both souvenir shopping and some of the spices that the island is named for in this open-air market. Especially bustling on Saturday mornings, you will be able to find handmade crafts and fresh produce too. The Grenada Government is working on rehabilitating the space, so be prepared for various states of construction in and around the area.
Art Fabrik – 5 min. walk from port
In the historic district of St. George's, on Young Street, this boutique is located in a building that is over 200 years old. Local craft items, wearable art and batik are in this colorful shop that had been a fish monger's building. The batik is made right there in the shop. It is designed, created, traced, waxed, dyed, boiled out and hung out to dry in the Caribbean sun. So this batik is the real thing!
Located in The Esplanade Mall, they have souvenirs, gifts, jewelry, handbags and ladies dresses. It is said that Jo Ann's is your number one source for souvenirs on the island.
Grand Anse Craft and Spice Market – 3.5 miles from port, in The Lime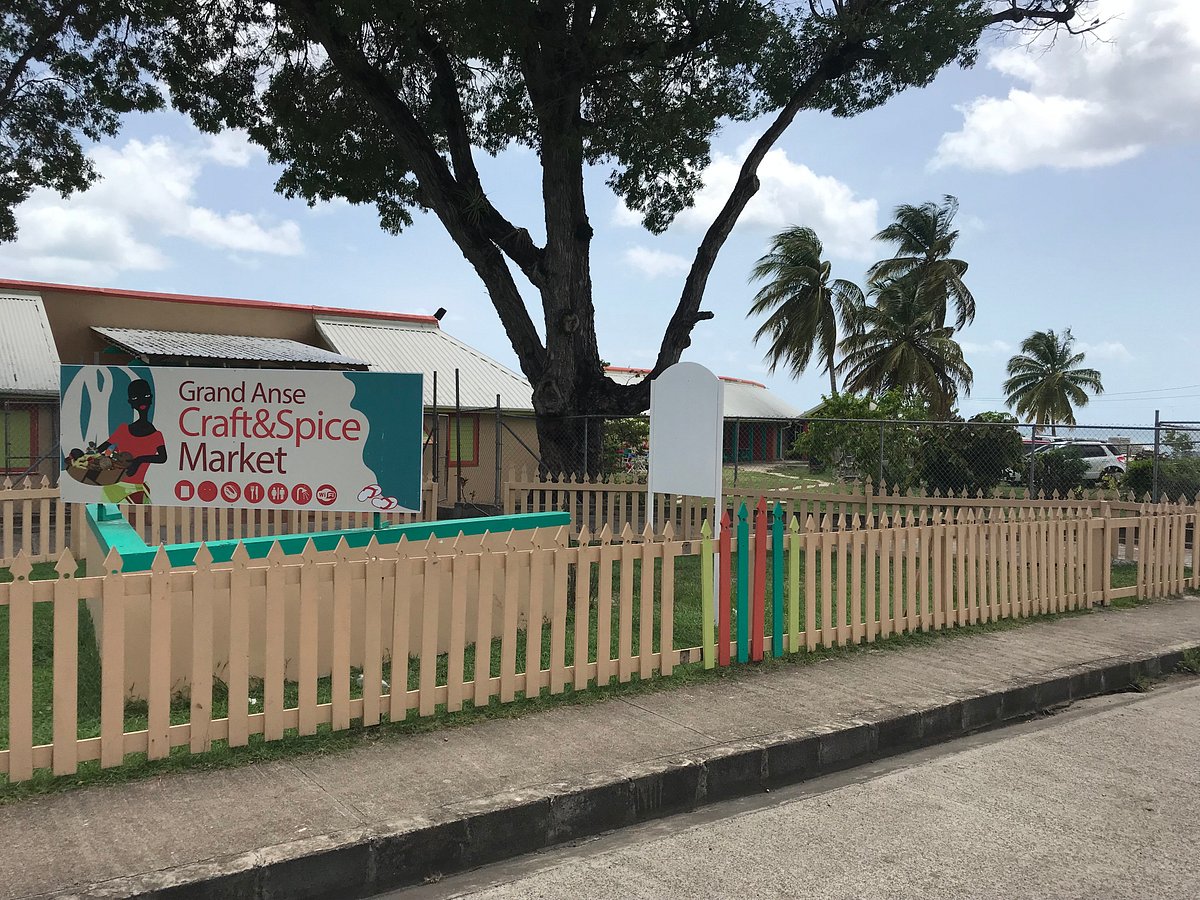 At the Grand Anse Craft and Spice Market, you will find items made by local craftsmen and artisans, fresh spices and amenities such as washrooms, Wi-Fi and restaurants, including the popular Beach Bum. It's also within walking distance to the beautiful Grand Anse beach and close to Spiceland Mall, which is touted at Grenada's premier shopping venue.  Because it's located outside of the city center, a water taxi from the cruise pier is a quick and easy way to get to the Market.
Spiceland Mall – 4 miles from port, in The Lime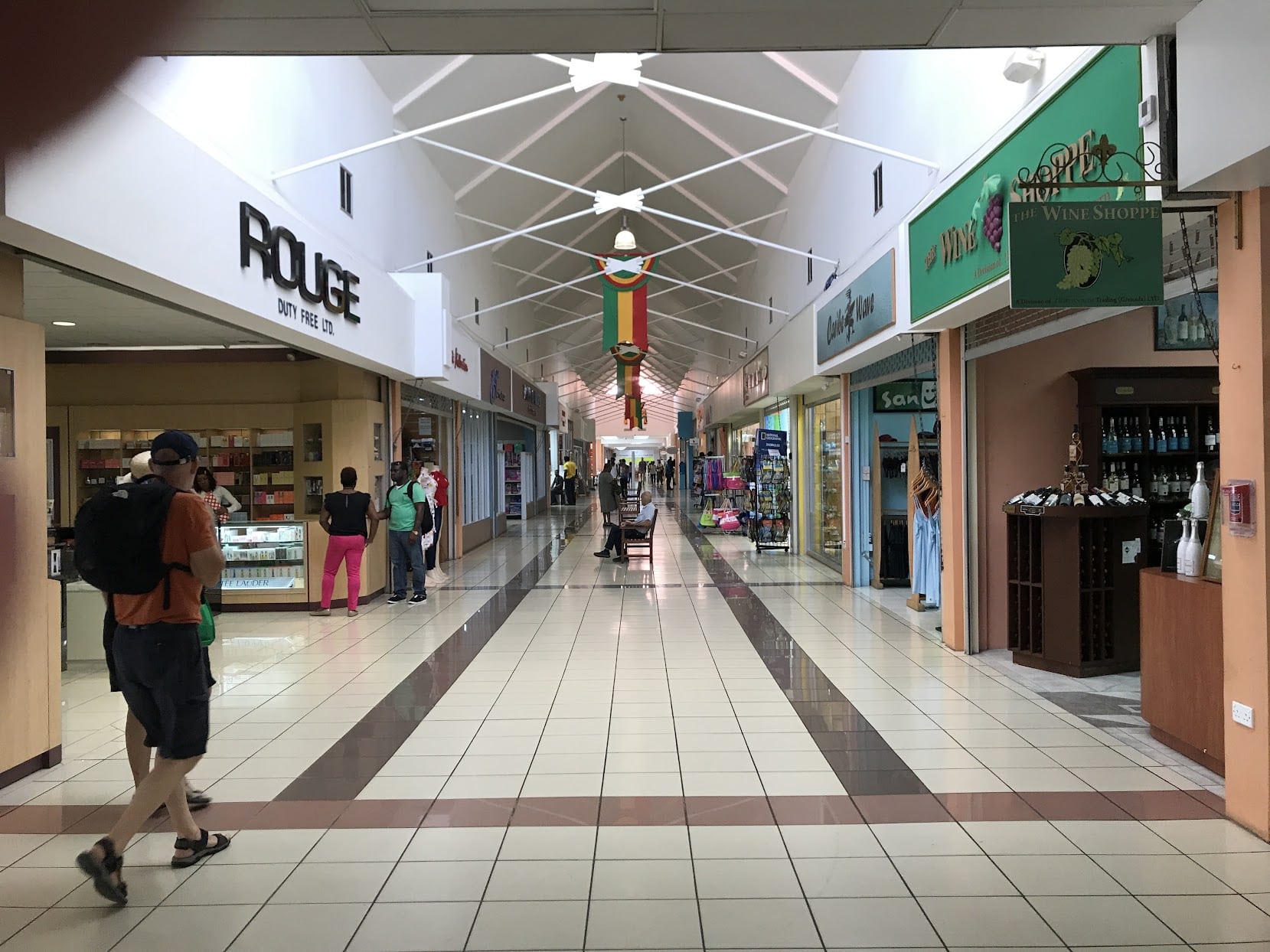 With over 30 modern stores at "Grenada's premier shopping center," you can find electronics, groceries, banking and men's and women's clothing. There is also a food court with local and American choices. It is close to the popular Grand Anse beach and less than a mile from the Grand Anse Craft and Spice Market.
Dining In St. George's – Grenada
In Grenada, food is tied to history and culture, with a mix of African,  Indian and British influences, and being knowns as the Spice Island, gives it a rich and tasty culinary scene. 
Here are some must-try dishes and foods:
Oil Down – Grenada's national dish – is an hours-long simmered stew of meats or fish, vegetables, plantains, spices and coconut made in large steel pots so there's enough to share.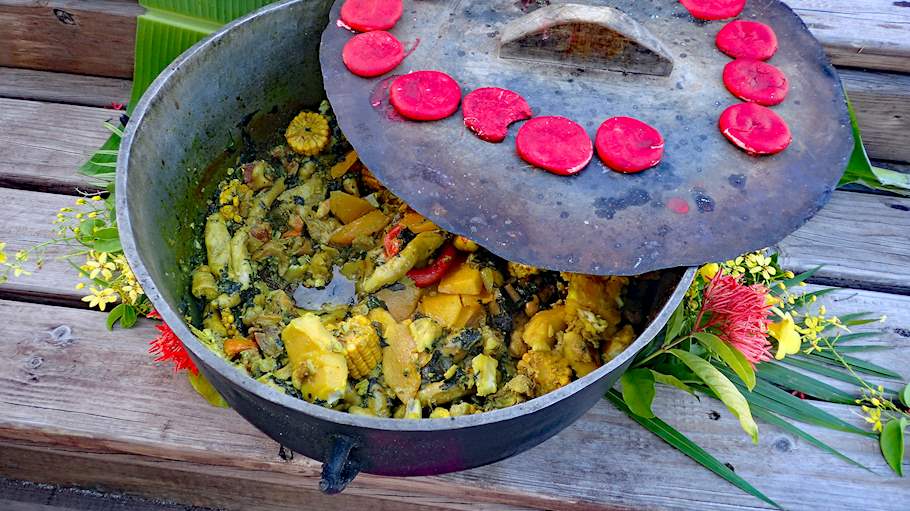 Saltfish and Bake – this combination of rehydrated salted fish and fried bread is often topped with fresh vegetable toppings and chutneys
Soup – Pigeon Pea or Callaloo – hearty soups with meat and vegetables
Roti and Doubles – these street foods are popular around the West Indies. Roti is a flatbread wrap filled with curried meat or veggies. Doubles are round fried bread filled usually with curried chickpeas and topped with sweet and spicy chutney.
Nutmeg Ice Cream & Local Chocolate – satisfy your sweet tooth with ice cream made with the island's most popular spice, and chocolate made with local cocoa. Sugar & Spice Ice Cream has been making local ice cream since 1985. You can find it at The Esplanade Mall or Spiceland Mall.
There are many food carts and street food vendors in the tourist areas of Grenada. Make sure you go to places that are busy with locals and make sure hot food is served piping hot and cold food is served cold. 
Restaurants Close to the Port
The Esplanade Mall, which are the shops at the cruise port, has a few restaurants in its food court including a bagel shop, Subway, fried chicken and a couple of sweets and pastries shops. 
Taste of the Tropics  – the small restaurant is within view of the pier and serves fish, burgers, wraps and fresh juices and smoothies.
Deyna's Tasty Foods – this is located on Melville St. (the same as the cruise terminal) near the Market and offers traditional Caribbean meals. 
360 Degrees Grill & Lounge – 0.6 miles from port, Old Fort Road. A 15 minute walk up the hill. With a laid back atmosphere and amazing views, you will have offerings of grilled chicken, pork, steak, shrimp and lobster.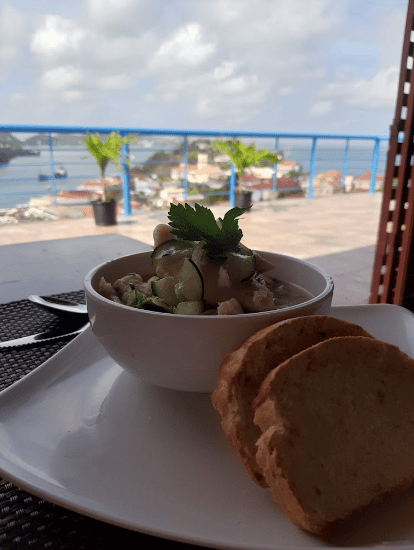 BB's Crabback – located a half mile from the cruise port, on the other side of Fort George, this popular restaurant is known for the Grenada specialty crabback, land crab meat mixed with spices and cheese sauce and baked inside a crab shell. Also be sure to try the pumpkin fritters. In addition, they have port and perfectly seasoned fish, so this is a spot busy with locals. 
Sails Restaurant and Bar – located beside BB's Crabback – 15 minute walk from cruise terminal. Sails Restaurant serves local cuisine, with a heavy emphasis on seafood and Caribbean style offerings. They also have vegetarian options. The views from the waterside restaurant are wonderful.
Things To Do in St. George's – Grenada
Grenada is often underrated as a Caribbean island, but it has so much to offer. It's cultivation of spices, cocoa and production of rum make it a delight for foodies. Nature lovers will appreciate its beaches, jungle hikes and amazing waterfalls, and history aficionados will enjoy visiting the museums, cultural center and war-era forts. And because of the small size of the island, you could fit in more than one adventure in a day!
Check out the Grenadian adventures of this family, who have been fortunate enough to take the year off to travel the world!
Grand Etang National Park & Forest Reserve
This national park covers 3,816 acres. Its name is derived from French meaning "large lake." In the center of Granada, the park has a huge crater lake that was formed from an extinct volcano. A great place to go hiking, the rainforest that surrounds the lake has colorful tropical birds, rare flowers and trails that lead around the area's waterfalls. Hikes can range from easy to rugged and from a few minutes to several hours. You can explore the flora and fauna in the Forest Reserve with it's informative written guides. Check out these tours and excursions for Grand Etang National Park!
Visit the oldest working water-propelled distillery in Grenada and the wider Caribbean. Operating since 1785, this distillery makes a strong rum from local organically grown ingredients. The distillery is powered either by hand or from the nearby river. You will be given a free sample at the end of your tour, but watch the proof if you plan on purchasing some and have to fly home. Some of the rum is so strong, it is banned from aircraft. You can purchase tour tickets here.
The House of Chocolate is a mini-museum/cafe that gives you a history of chocolate. They hand-craft their creations onsite and offer tastes as well as baked goods and ice cream for purchase. 
Fort Matthew and Fort Frederick
Located beside each other, these Forts represent Grenada's complicated history. 
Fort Frederick is a bastion type fort. A bastion is a fortification that was styled when gunpowder and cannons dominated a battle. From the top of Richmond Hill, Fort Frederick gives you a 360° view of St. George's.
Fort Matthew is the largest fort on the island but is falling into disrepair. Once a battle ground, the fort was then used as an insane asylum. You will be able to see the kitchens, bathrooms, underground tunnels and the cells that held patients. The views from this elevation are amazing.
Resort Day Pass
Enjoy the beautiful white sand beach with all the amenities of a luxury resort with a resort day pass. Pools, with complimentary poolside drinks and snacks, complementary lunch and WiFi, or upgrade to a spa package or private day room! Click here for more details.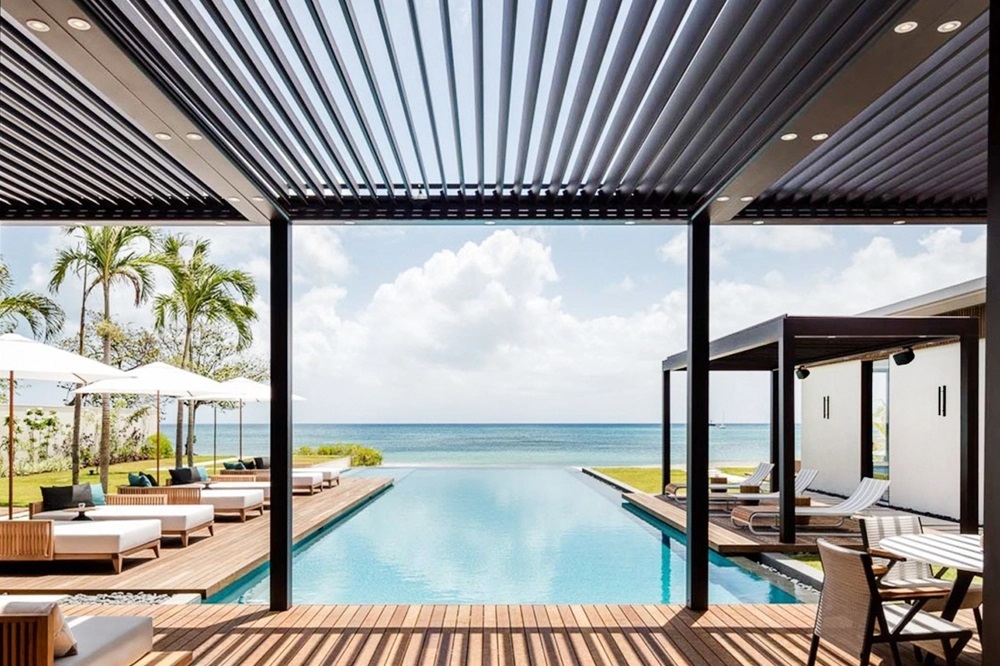 Beaches
Grand Anse Beach
Very popular with travelers, this almost 2 mile beach has white sand and is ideal for swimming. Located along the southwest coast, you will also find opportunities for water sports, restaurants  and a vendors market at this location.
Morne Rouge (BBC) Beach
The Morne Rouge is also known as the BBC beach; there are fewer people here than at Grand Anse. The water is shallow and the beach is sandy.  Rocky's, a beach bar, is in close proximity and a great place for a meal and a drink.
La Sagesse Beach
If you are looking for something more secluded, this is the beach for you. It is about 25 minutes from downtown St. George's and has both stretches of sand and hiking trails. One end of the beach has a salt pond that is fringed with mangroves and is a great spot for birdwatching.
Top Tours & Excursions In St. George's – Grenada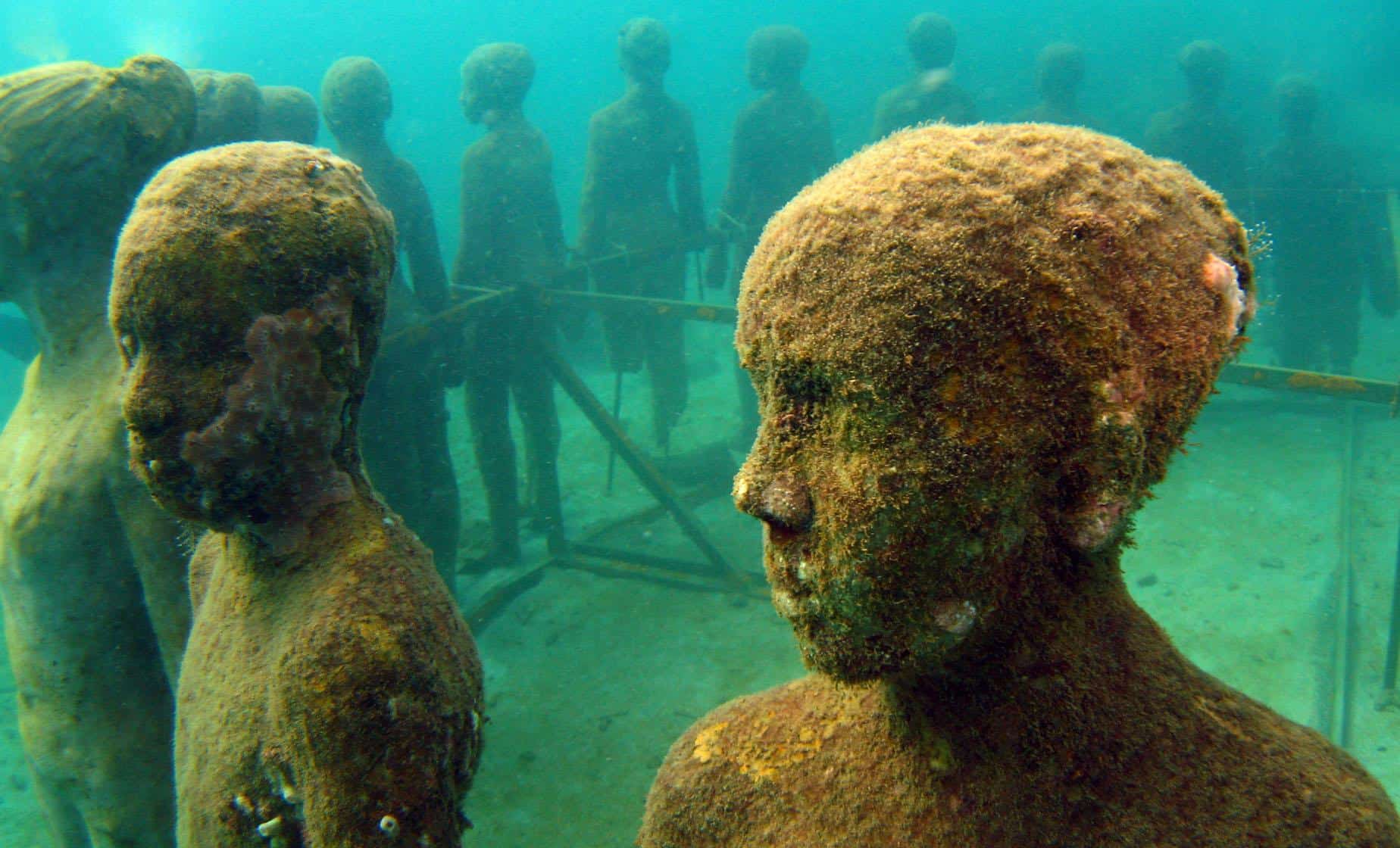 On this exciting underwater excursion, you'll snorkel Grenada and remember it well, including Sculpture Park. After being met at the cruise pier, walk to your waiting snorkel boat and head out to sea. In the Marine Protected Area, you'll have a series of options for snorkeling, including the world's first Underwater Sculpture Park in Molinere Bay. Depending on the water and weather conditions that day, a second snorkel will take place over one ...
Duration: 4 hours
Activity Level: Moderate
Wheelchair Accessibility: No
Food: Water
Tour Includes: Snorkeling equipment & floatation devices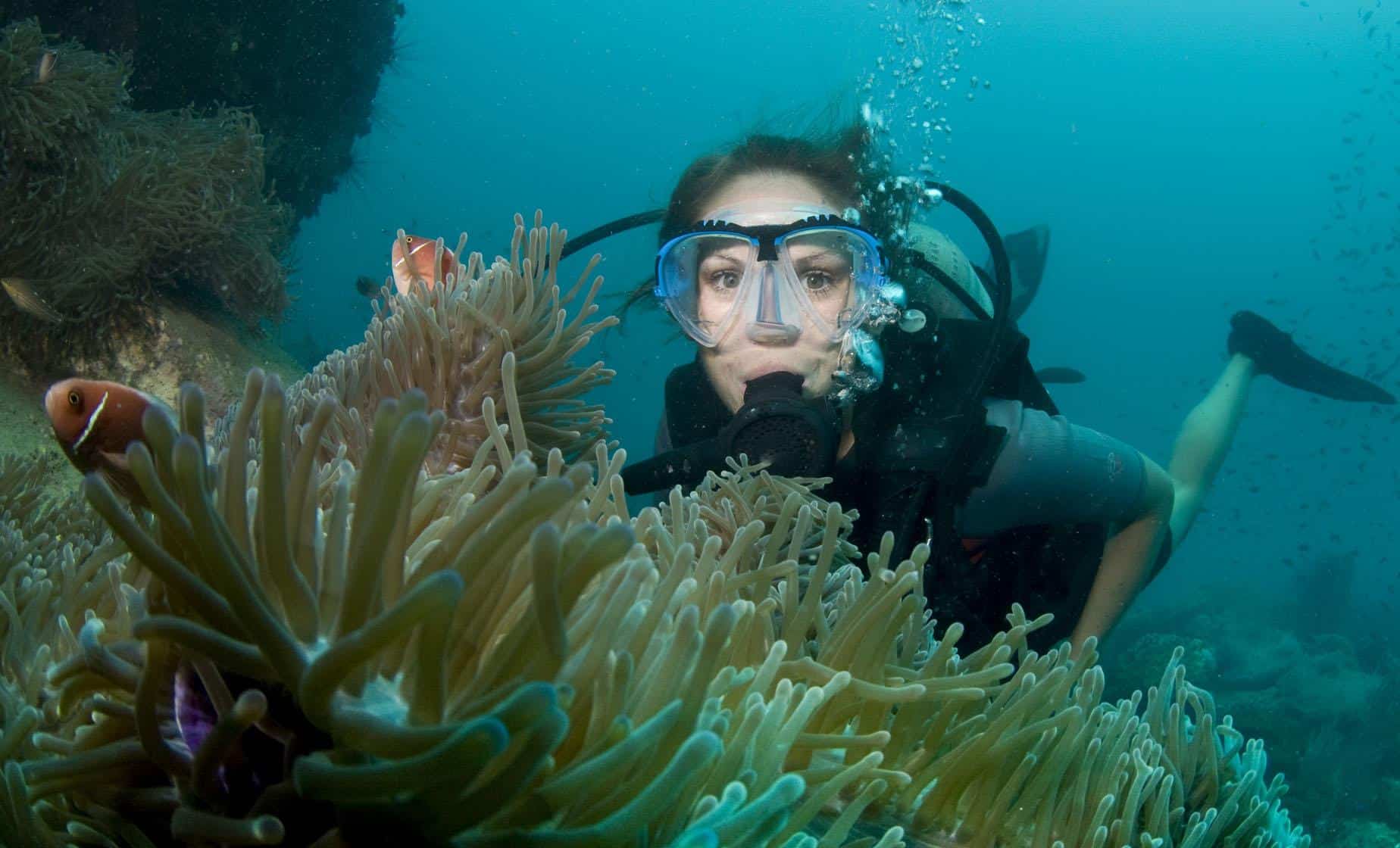 Grenada's undersea world may be the perfect place to take a certified boat dive. Even better when you've got two tanks to do it! After being met at the cruise pier, transfer to the dive center on Grand Anse Beach for registration and to rent the diving equipment you need. You will then meet your divemaster, and in groups of no more than 6 guests per divemaster, 12 per boat, you'll head out. Based on sea and weather conditions that day, your div...
Duration: 4 hours
Activity Level: Moderate
Note: Must be certified and have dived within last 12 months
Food: Water and fruit
Tour Includes: .Tanks and weights. Full equipment available for rent ($20)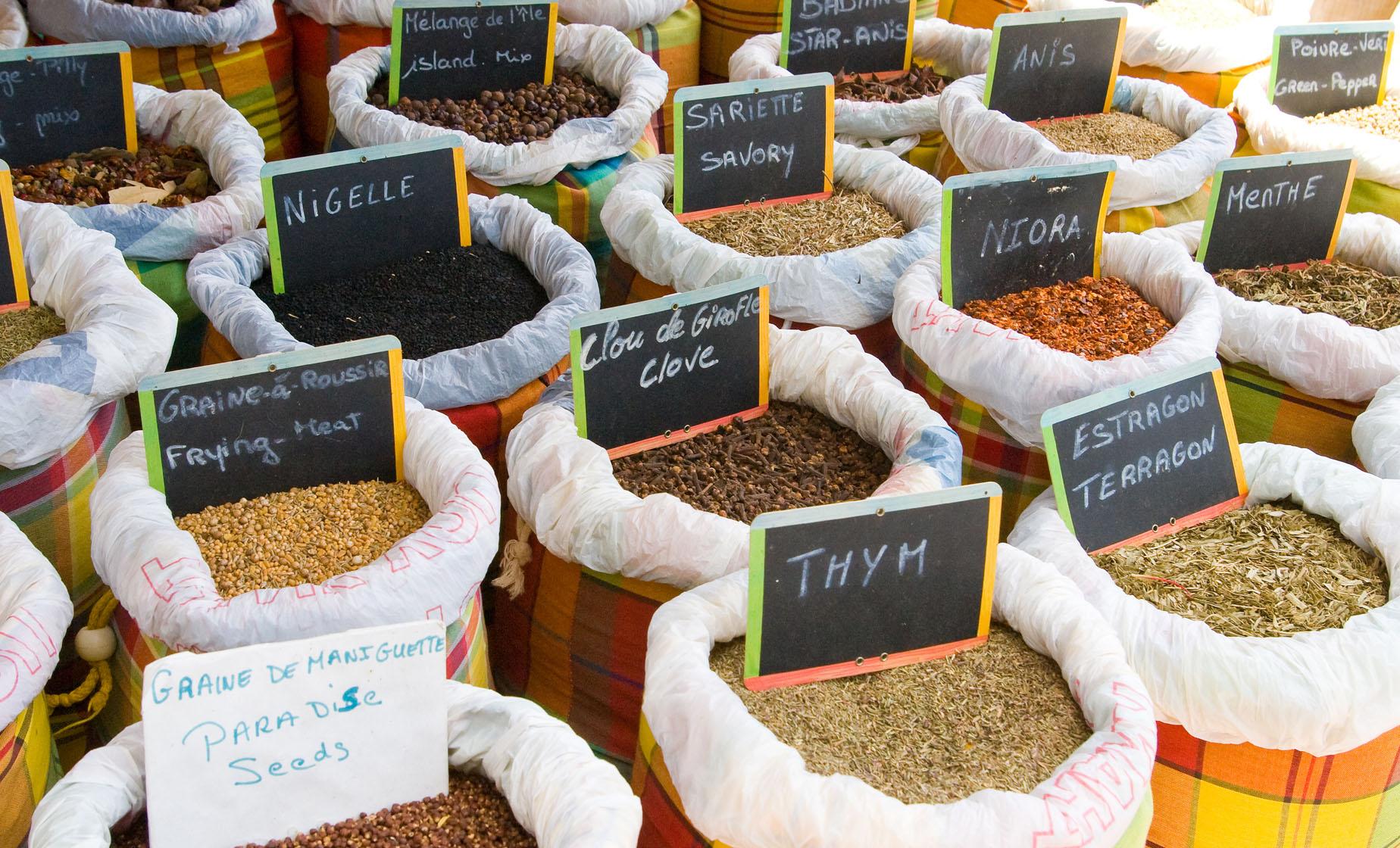 This tour will give you an overview of the culture of Grenada and why it is called the "Island of Spice." Visit the cascading Concord Falls,  capture stunning photos and shop at the spice shop before driving the west coast to the town of Gouyave, where 50% of the island's fish is caught. Next, tour through Dougaldston Estate  immersing yourself in the culture and history of Grenada as you see, smell and touch the spices. Continue your jou...
Duration: 4 hours
Activity Level: Moderate