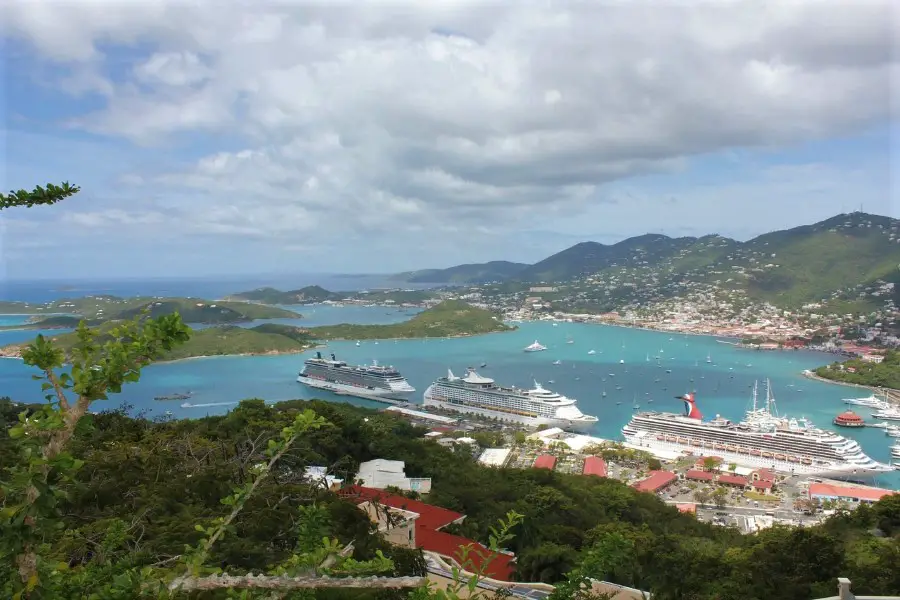 St. Thomas is one of the three United States Virgin Islands, the other two being St. Croix and St. John. The Virgin Islands lie in the Lesser Antilles between the Atlantic and the Caribbean, in the eastern Caribbean Sea. Located 40 miles east of Puerto Rico, St. Thomas is 32 square miles with a population of about 52,000 residents. The island, while volcanic and mountainous, has a natural beauty, with shimmering bays and white sand beaches. The capital of the U.S. Virgin Islands, Charlotte Amalie, is located on St. Thomas and is the main district of the island. Christopher Columbus first sighted St Thomas in 1493 and it is believed that the island was settled around 1500 by the Ciboney (indigenous people of the Caribbean).  In 1657 the Dutch West India Company established a port on St. Thomas, but an attempt by Denmark/Norway to settle the island failed. The island was turned into a slave market, and for a time, the largest slave auctions in the world were held here. St. Thomas saw a tumultuous history with Germany, Britain and Denmark all seeking a claim on the island. In 1917, St. Thomas, along with St. John and St. Croix, were purchased by the United States from the Danes as part of a strategy to keep control over the Caribben while building the Panama Canal. Since that time, the island infrastructure has stabilized and tourism on the island has flourished. The busiest of the three islands, St. Thomas has one of the world's most heavily trafficked cruise ports. The island offers something for everyone with its beautiful beaches, variety of watersports and shopping.
Good To Know
While there are snakes on the island, mongoose have them under control. There are also scorpions that sting, but they aren't poisonous. While St. Thomas is a beach destination, if you are in the downtown area, please wear proper attire. (no bare midriffs or chests) A simple bathing suite cover-up will suit the purpose. Check out the digital Virgin Islands This Week magazine free online at:
https://virginislandsthisweek.com/issues/.
The magazine will tell you what is currently happening and offer suggestions for shopping and things to do, along with maps of the islands.
Where You Dock in St Thomas – US Virgin Islands
The primary docks for cruise ships are Havensight Pier and Crown Bay (or Cruise Port of Charlotte Amalie). As mentioned before, St. Thomas is a much visited island and if there are more than six ships docking, additional ships will be anchored in the harbor and passengers will be tendered to the island.
Getting Around St Thomas – US Virgin Islands
Walking
The infrastructure in St. Thomas has not been geared toward pedestrians. Sidewalks are scarce and not well maintained. Walking as a form of seeing the island is not really an option.
If your ship docks at Havensight Pier, it is about a 10 minute ride (by taxi or rental car)  into downtown Charlotte Amalie. However, the dock at Havensight has more than 50 shops that are within walking distance. There is also a post office, ATMs, and a pharmacy. Just outside of the Havensight facility there are convenience stores, coffee shops and museums.
If you are looking for a bit more shopping, the Yacht Haven Grande Marina is within walking distance of the Havensight Pier.
Buses
The public transportation system in St. Thomas is called VITRAN. Bus fare is very inexpensive, and the bus travels a route through the main commercial area. If you choose this form of transportation, it might require a bit of walking from your stop to your desired destination. The buses are usually blue and white with VITRAN on the side. The routes do not cover all of the island, and the bus runs on island time which means it could be late, and most likely will be.
Water Ferries
There is water ferry service in St. Thomas, but it is primarily for resort guests. The Westin Resort operates a ferry for its guests. The Lovango Resort operates a ferry between St. Thomas and the Lovango Resort + Beach Club. The Marriott offers a ferry between their Frenchman's Cove Resort and the harborside of Charlotte Amaile.
Water Taxis
There are water taxis that operate between the islands if you are interested in hopping from island to island. This is a private, personalized service that operates on your schedule for both day and evening trips.
Here are some of the water taxi services:
Seahorse Water Taxi  (+1 833-340-0340)
Dolphin Water Taxi  (+1 340-774-2628)
St. Thomas Water Taxi  (+1 340-227-5144)
Taxis
There are "taxis", but not the individual cab that you might be familiar with. It will be a van or safari truck that is going to the vicinity of your destination. It will most likely make several stops along the way. The price is per person. These drivers like to load up as many people as possible before departing, and will follow the main drag. If you are wanting to stray from the main drag, you might not be successful in finding a driver to do so.
Rental Cars
As the Virgin Islands are part of the United States, a valid U.S. driver's license is needed to rent a car. There are rental agencies on all three islands, and there are also car barges that allow you to get your vehicle from one island to another.
Just know that driving on the island can be hard on your nerves. The roads are narrow, winding, steep and bumpy. Although the island is owned by the U.S., driving on the island is on the left side of the road. The use of cellphones while driving is against the law.
Here are some rental car agencies on the island, and reservations are highly recommended.
Avis Car Rental (+1 340-774-1468)
Budget Rent A Car St. Thomas  (+1 340-776-5774)
Dependable Car Rental  (+1 340-774-2253)
This agency offers free pick up and drop off.
Shopping In St Thomas – US Virgin Islands
There is no lack of shopping in St. Thomas and you would have a hard time seeing all there is to offer. As is the case whether you shop at home or abroad, it is best to have an idea of what an item should cost. There are some duty-free shops and prices may seem attractive, but make sure you know the average retail price to ensure you get a bargain.
Charlotte Amalie's main streets and alleyways are home to a multitude of shops – jewelry, tobacco, clothing and boutiques and art galleries.  This area is located between the two cruise piers.
Havensight Shopping Mall 
This mall has numerous shops (over 50) and many eateries and is located at the Havensight Cruise Pier.
Located at the Crown Bay cruise port in Charlotte Amalie, there are many souvenirs, clothing, jewelry, books and sunglasses here. Numerous eateries are located in the center, too.
You will find perfume, spa treatments, clothing and jewelry in the shops at Yacht Haven Grande. There are also a number of restaurants in the area.
Mountain Top – 3.5-4 miles from both piers
You will find duty-free shopping and famous Banana Daiquiri here along with spectacular views of Magen's Bay.
Fish Face – located downtown on the Palm Passage alleyway off Veterans Drive
A little bit different from the standard tourist offerings, Fish Face has many local artists featured in the store. You will find unique clothing, art and jewelry here.
Kmart  – located 0.8 miles from Havensight pier
Believe it or not, there is a Kmart in St. Thomas. While there are less than 10 Kmart stores left in the United States, St. Thomas still has a store, although there is some speculation that they might be considering closing: Kmart Shoppers In The US Virgin Islands Are Frustrated And Concerned Over Sparsely Stocked Shelves
Dining In St Thomas – US Virgin Islands
View this post on Instagram
Located at the former Mahogany Run Golf Course, this upscale restaurant serves American, Caribbean, and New American. This has been hailed as one of St. Thomas' best restaurants because of its world-class food and intimate atmosphere.
Try the pickled peach and fresh burrata salad, truffle honey stung chicken with lavender waffles and guavaberry syrup. Grilled yams and bluefin tuna will be accompanied by tomato bacon jam. The restaurant is in a historic sugar plantation stable with two-foot thick stone walls. Desserts and a wine list are also extensive in selections.
Amalia Cafe – less than 2 miles from cruise terminals
With a Spanish influence, Amalia Cafe is an open-air restaurant in downtown Charlotte Amalie that serves  Spanish favorites along with daily tapas, soups, salads, chicken, and roasted duck. Grilled lamb chops, New York strips are available along with a Barcelona Burger. Champagne and Sparkling wines compliment your meal.
If you are looking for a spot to catch your breath, E's Garden Teahouse has more than just tea. Their saltfish quiche and salads are refreshing, too. There are over 30 varieties of tea, both hot and cold, and you will have plenty to look at as you sip, as the Teahouse sells art, jewelry and clothing made by local artisans.
Cafe Amici – approx. 2 miles from cruise terminals
Located downtown Charlotte Amalie, the Mediterranean cuisine at Cafe Amici has local influences and the stone baked pizzas are some of the best on the island. The grilled tuna sandwiches are a favorite, too.
View this post on Instagram
Perched on a hilltop with spectacular views, just north of downtown Charlotte Amalie, the Mafolie Hotel & Restaurant has a continental menu with authentic Caribbean accents. Pot Fish is a specialty, and their kallaloo greens soup contains shrimp and crab. Filet mignon is glazed with local guava berry and the Danish barbecue ribs come with breadfruit mash.
Things To Do in St Thomas – US Virgin Islands
Get Your Exercise. Climb the 99 Steps. (There are actually 103!)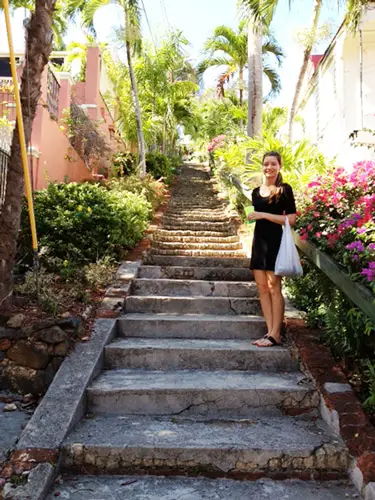 In the main town of Charlotte Amalie, the 99 steps is a favorite for photos. Built in the 1700s by the Danes, the bricks were brought over on sailing ships from Denmark. This port city is known for its hills, and the Danes built the steps to make it easier to get around.
This is the oldest synagogue building in continuous use under the American flag and the second oldest in the Western Hemisphere. It is also one of only five synagogues in the world with a sand floor which symbolizes the flight of the Jews out of Egypt.
This may seem like just another tourist attraction, but here you can get up close and personal with the sea life and learn just how important they are. A 4.5 acres marine park, they have an underwater observatory with 360-degree views of fish and other sea creatures. Especially wonderful for the kiddos, this Ocean Park will give you an appreciation for the marine life that call the oceans home.
The interactive storytelling, some with VR, at this museum tells about the island's history and the pirates that were part of it. There are areas for vacation photos and things for the kids to take part in. The souvenir shop has a collection of rare and antique coins. The Pirates Treasure: A Shipwreck Museum and Store is within walking distance of the Havensight cruise terminal.
Opposite the harbor from Havensight, this eclectic neighborhood is known for its bars and restaurants. It is the home of the descendants of immigrants from St. Bart. Get a feel for the residential district by walking west to the town's winding street and tiny wooden houses.
You will also find the Frenchtown Brewing Company located here. It is a mom-and-pop microbrewery that offers free tasting. Contact them in advance for tours.
Visit The Beach
Coki  Beach
Coki Beach, also called Coki Point, is one the more popular beaches on the island. Its calm waters make it ideal for swimming and snorkeling and it is a favorite destination for cruise ship passengers. There are also food stalls here.
Sapphire Beach
The white sand of the beach also has some grape trees growing, which makes it great to relax in the shade. There is a marina here where you can jet ski, windsurf and parasail. There are also rentals for snorkeling gear and kayaks. There is the Sapphire Beach Bar for a meal or drink.
Hull Bay
Off the beaten path, Hull Bay is where you will find most of the locals. From November to March, this is a favorite surfing area because of the north swells that come into the bay. This is not the best beach for families as there are not many amenities and the waters in this area require a bit more experience to navigate them.
Magens Bay Beach
Considered to be the most beautiful beach on St. Thomas, it has a signature horseshoe shape and is flanked by mountains on either side. Paddle boards and kayaks are available for rent and there are bathrooms, picnic tables and rental shops at this bay. There is also a restaurant, bar and lifeguards on duty.
Top Tours & Excursions In St Thomas – US Virgin Islands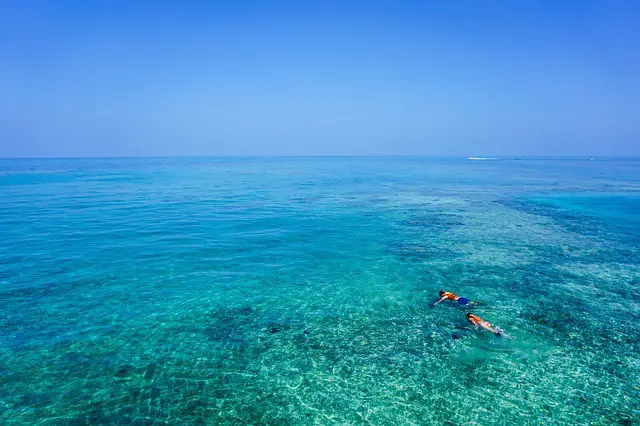 Climb aboard a Morgan 46-foot ketch for this half-day sail and snorkel St. Thomas excursion to the Marine Sanctuary, where you'll have a date with a giant green sea turtle. To begin your St. Thomas excursion, you will sail past the cruise ships as you head for the open sea on a 25-minute boat ride. The professional and courteous crew will greet you with complimentary drinks and snacks. After the yacht anchors in Turtle Cove, the crew will offer p...
Duration: 3.5 hours
Activity Level: Moderate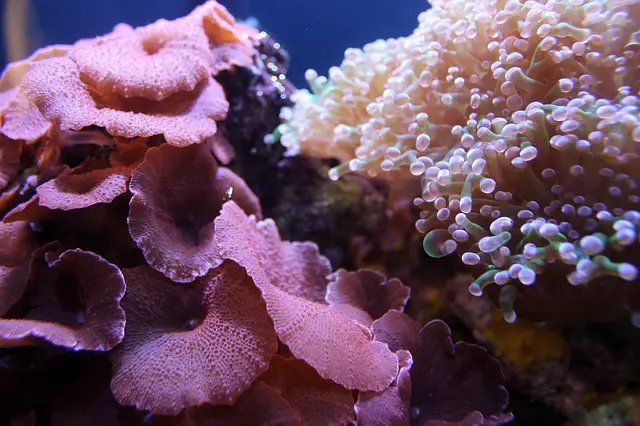 Travel to one of the best marine parks in the Caribbean and spend time at its nearby beach, all in one day. After being picked up at the pier, you will have a direct transfer to the park.  Explore the numerous exhibits which include: The Undersea Observatory Tower, the Caribbean Reef Encounter, Shark Shallows, Stingray Lagoon, Turtle Pool, and Critter Corners. Your Coral World pass is good for the day allowing you the opportunity to come and go ...
Duration: 7.5 hours (6.5 hours activity duration)
Activity Level: Moderate
Tour Includes: Transportation and admission to Coral World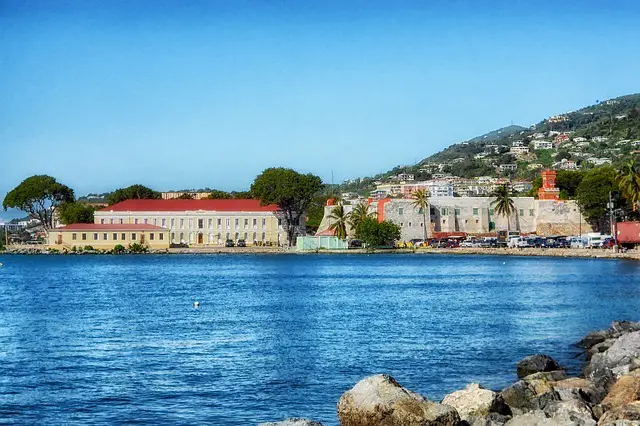 This is a two-hour orientation tour of St. Thomas, with stops at some of the island's highlights and exciting views of the island itself. Riding along the crest of St. Thomas on "Skyline Drive," visitors are treated to vistas of Charlotte Amalie town, harbor as well as Hassel and Water Islands to the south; the Atlantic Ocean, Magens Bay, and Inner and Outer Brass and Hans Lollick islands to the north; and the chain of cays leading to St. John an...
Duration: 2 hours minimum
Activity Level: Low