Tortola – British Virgin Islands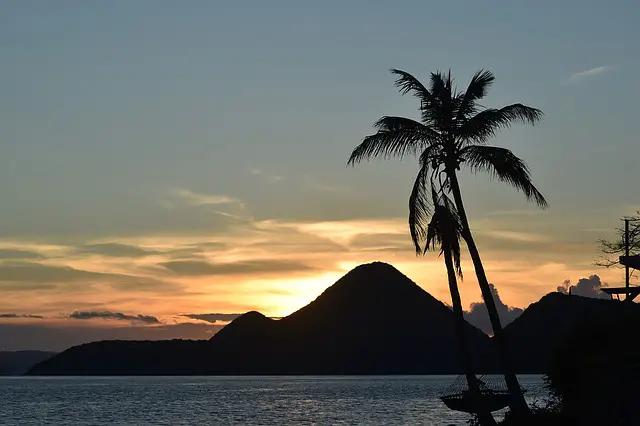 Tortola is the largest island among the British Virgin Islands (BVI). Although there are 50 islands in the chain, there are only 15 that are inhabited.  Tortola (Spanish for Turtle Dove) is part of the Lesser Antilles chain which separates the Atlantic Ocean and the Caribbean Sea.
Tortola is the commercial and governmental capital of the British Virgin Islands, and about 80% of the BVI population lives on Tortola. That being said, the island still has a relatively small population of about 30,000 people. 
The majority of the British Virgin Islands are mountainous, and the climate and vegetation are drier than other Caribbean isles. Streams and waterfalls are practically nonexistent in Tortola and, except in the mountains, there are cactus and succulents rather than some of the more lush environments of other islands. 
Because of so little runoff from streams, the water clarity around the island is much better than other places in the Caribbean. The islands around Tortola create a type of natural sea barrier, making the water calm most of the time. This water clarity, steady winds and calm seas make Tortola an ideal destination for divers, snorkelers and yachting. 
East of Tortola is Beef Island, and the two islands are connected by the Queen Elizabeth Bridge. Terrance B. Lettsome International Airport (EIS) is the main commercial airport that serves Tortola and the other British Virgin Islands. 
[caption id="attachment_18122" align="aligncenter" width="604"]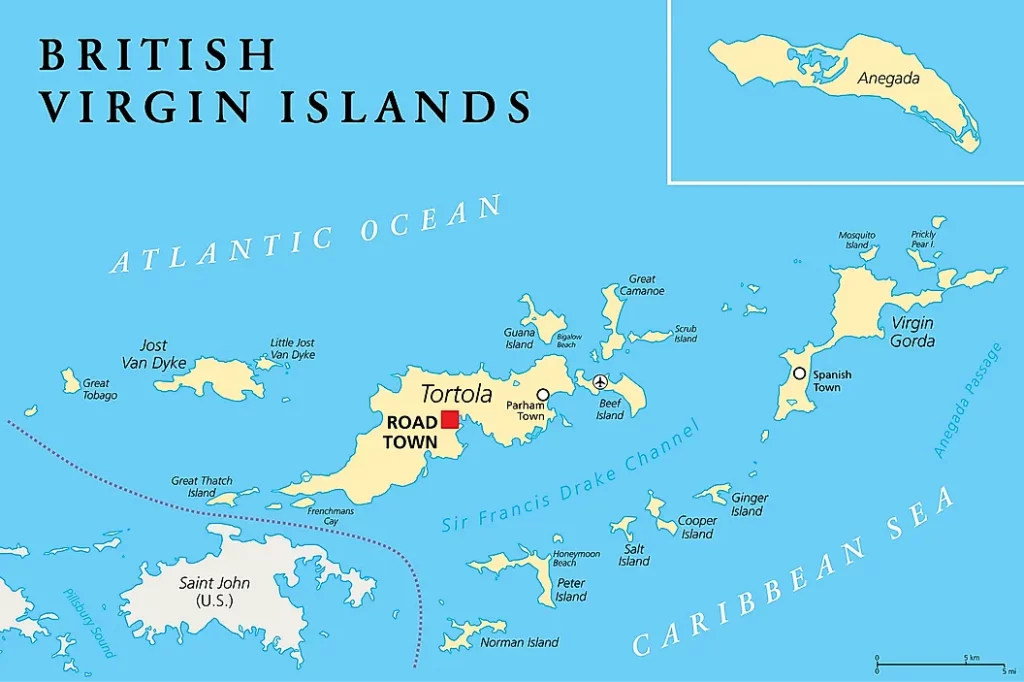 Credit:
WorldAtlas.com
[/caption]
The other inhabited islands in the BVI are close enough for a day trip from Tortola. Norman Island, Jost Van Dyke, Marina Cay, Peter Island and Virgin Gorda are all within reach if you have a full day in port. 
Sage Mountain National Park in Tortola is the tallest peak at 1,716 feet and this part of the island has some of the characteristics of a rainforest. 
Road Town is Tortola's only urban center. In the 1960s, the island became an offshore financial center. This completely reversed Tortola's fortunes. It became quite prosperous and now has one of the highest per capita incomes in the Caribbean. 
Check out these excursions in Tortola.
Good To Know
While Tortola does not have some of the scary animal populations like bears or lions, they do have some plants that you need to stay away from. 
Most visitors will not go around plucking leaves off trees to consume them, but it is still good to know that Oleander and Elephant Ears on Tortola can be dangerous if you were to eat them. 
It is also imperative that you heed the warnings for the Manchineel, or poison apple tree. All parts of the tree, leaves, bark, and fruit are toxic. Sap from the tree is caustic and will burn through your skin. 
If it happens to be raining, do not stand under one of these trees either.  Even if you don't touch the tree itself, sap is washed off the leaves by rainwater and will cause blisters if drops hit your bare skin. 
Spanish explorer Juan Ponce de Leon died after being struck by an arrow that had been poisoned with manchineel sap.
[caption id="attachment_18123" align="aligncenter" width="590"]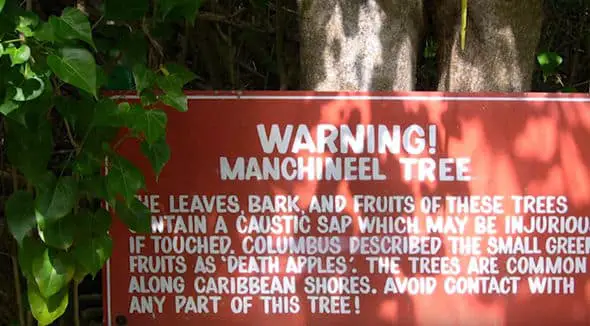 Credit:
express.co.uk article 'The World's Most Dangerous Tree Can Kill You'
[/caption]
With as toxic as the Manchineel is, you might wonder why they are allowed to flourish in the Caribbean. The tree provides excellent natural windbreaks and the roots of the tree stabilize the sand to help prevent beach erosion.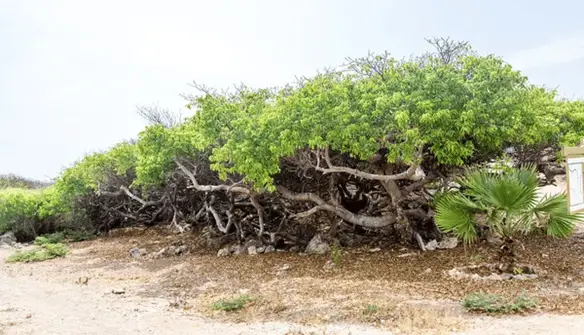 So although there can be some very unpleasant repercussions from contact with the manchineel tree, your best defense on the island is awareness. Trees might be marked with a sign, a red X or a red band around the tree about three feet from the ground. The best rule of thumb is that if you don't know for sure, don't touch it!
Weather:
The climate on Tortola is tropical and hot throughout the year. May to October are the hotter months with an average of 82°F.  From December to March, the temperatures range from 75°F to 77°F and tend to be more pleasant. January to April are relatively dry and May to December sees the most precipitation. The sea is warm enough to swim all year round and the sun shines pretty much every day.
Currency:
U.S. currency is used in the British Virgin Islands. There are ATMs in Tortola Pier Park. 
Wireless Internet:
There is WiFi at most of the venues at the Tortola Pier Park.
Languages:
The language is British English, and there is also a local dialect. Spanish is also spoken by some of the islanders.
Where You Dock in Tortola – British Virgin Islands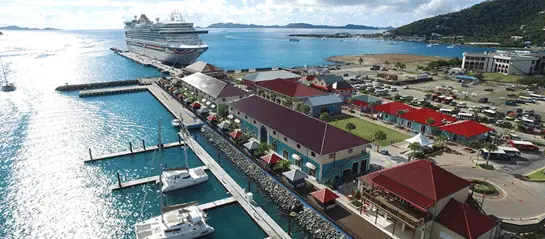 Cruise ships dock at the Cyril B. Romney Tortola Pier Park in Road Town. The pier can handle two ships at a time. Built in a colonial style, the cruise and shopping center is located in Road Town.
This outdoor shopping mall has over 70 retail outlets, restaurants, and service centers, with shops open from 9am-6pm and restaurants open from 7am to midnight. 
Wi-Fi, ATMs and washrooms are available here as well as car rentals.
Tortola Pier Park is quite wheelchair accessible with flat sidewalks and curb cut-outs, but sidewalks made up of interlocking brick or stone could make for a bumpier ride. 
Check out all that Tortola Pier Park has to offer:
Getting Around Tortola – British Virgin Islands
Walking
You will be able to walk from the pier to the cruise facility in Road Town. If you just want to shop or browse, then Tortola Pier Park will have shops, restrooms, and eateries.
 Water Ferries
Going between islands is done by water ferries. They operate on a schedule, and information can be found in the Pier Park. You can catch a ferry at Road Town, Soper's Hole and Beef Island. To get to Soper's Hole or Beef Island, you will need a cab.
Taxis
There are taxi stands at the Pier Park, Soper's Hole or Wickham's Cay. Safari cabs and mini vans are the typical mode of taxis. Avoid a safari cab if you are nervous on steep, winding roads, as there are so many of them on Tortola.
 Rental Cars
If you choose to rent a car in Tortola, you will need to purchase a British Virgin Islands temporary license. You will need a vaild driver's license to do so, and the BVI license is about $10. It is good for no more than three months. You do not have to take a written or road skills test but do remember that driving is on the left side of the road in BVI.
The roads on Tortola can be bumpy, and a bit treacherous. There are steep roads into the mountains and blind turns, along with the usual potholes. The occasional cow, goat or chicken will also share the roadway with you.
If you choose to rent a car, here are a few sites that offer rentals:
Shopping In Tortola – British Virgin Islands
When in Tortola, there are a few things that you might want to look for:
 Spices: Tortola is known for the wonderful spices that it produces. Because of the climate, growing spices has been a major source of trade for the island.
Local Rum: Most islands in the Caribbean make their own rum and Tortola is no exception.
Pottery: Local artists create one-of-a-kind pottery in Tortola. It is nice to know that the pottery here is made on the Island, not imported for tourists.
Jams and Jellies: These condiments are made from the fruits grown on the island and are something you won't find in the grocery store at home.
Clothing: The island flair is recreated in Batik-designed dresses and shirts. If you are wanting just the regular vacation t-shirt, you can get one customized in some of the shops in Tortola.
Shops
Cyril B. Romney Tortola Pier Park, where cruise ships dock, is an outdoor mall which has shopping, dining and entertainment, for locals and vistors alike.
The 80,000 square foot sprawling complex is framed by the picturesque harbor, where luxury yachts and cruise ships frequently dock. This enhanced cruise pier features 11 buildings, 18 kiosks and is home to over 70 retail outlets, restaurants, and service centers.
Just a few among the retail shops you will find at the Tortola Pier Park are:
Imperial Shellcrafters
Kenny Tee's Outlet
Tortola Pier Park Giftshop
JBY Fashions
Urban VI
Tanio Boutique
Dining In Tortola – British Virgin Islands
One of the favorite dishes in Tortola is fungi. Similar to polenta, fungi is made with cornmeal and okra. Another favorite is roti, which is a flatbread that is deep fried. It can also be stuffed with lentils, curry or vegetables.
If you are looking to grab a bite to eat near the dock, you will have about 16 different choices in the Tortola Pier Park.
Just a few of those offerings are:
Delhi Corner: Indian and grilled cuisine.
Mac's Restaurant: Fusion of Caribbean, American and Italian.
Locally Yours: Organic local fruit juices
Seven at the Pier Restaurant: They have a curated menu of Caribbena and Asian dishes.
Swirlzz Frozen Yogurt and Treats: Just what the name implies.
The Original NY Pizza (really? In the Caribbean?)
Aromas Cigar and Martini Bar:Enjoy a hand-rolled cigar and a drink here. 
Coconut Lounge: Beverages and bar snacks.