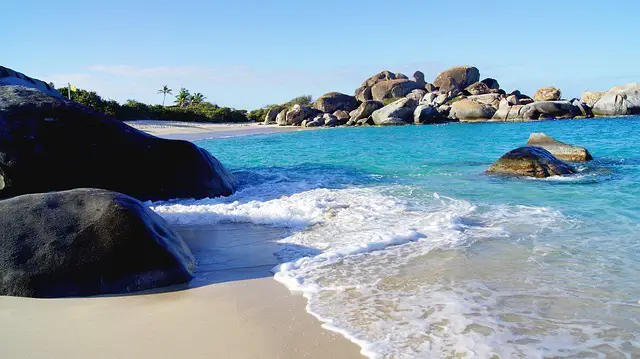 Much like the USVI's St. John's, Virgin Gorda is one of the few tropical islands not yet over-commercialized. The small island is the third largest of the British Virgin Islands and an intimate paradise of small villas, sparkling water, and friendly local smiles.
The island has a rich history. It was first seen by Christopher Columbus in 1493, was used by pirates as a base of operations in the 17th century, and like many of the Caribbean islands was later home to several sugar plantations in the 1700s until England abolished slavery in 1838. Virgin Gorda offers the splendor of dramatic tropical views and powder-white beaches among lush rolling hills giving visitors the quiet sense of owning their own bit of paradise.
Where You Dock in Virgin Gorda – British Virgin Islands
Like many smaller islands in the Caribbean, Virgin Gorda does not have a dock large enough to accommodate larger cruise ships. As a compromise, large ships dock off-island and tourist are transported to Spanish Town by ferries and smaller boats. You will dock at the Virgin Gorda Yacht Harbor, which has many shops and restaurants.
Some smaller ships may dock in the North End of the island, where you will tender to Bitter End Yacht Club, which is a resort complex complete with souvenir shops and restaurants.
Getting Around Virgin Gorda – British Virgin Islands
Taxis: For such a small island with a small population, Virgin Gorda has a huge number of available taxis. Drivers charge per person, so the more people you can find to share a ride, the cheaper it will be. You can also hire a taxi driver to take you on a tour of the island for a reasonable price.  If you plan on doing this, make sure the taxi has air conditioning – not all do.
Car Rental: You can rent cars across from the yacht harbor. While there are a variety of options such as small cars and scooters, it is recommended you rent a 4-wheel drive vehicle such as a Jeep to handle the steep hills, and rough terrain if you happen to go off road. Driving is on the left. Rates will run about $60/day on average.
Ferry: The Bitter End Yacht Club ferry runs between Gun Creek and the yacht club every half hour and is free of charge. The road systems aren't complete, so taking the ferry is the only way to reach the yacht club. There is a ferry that runs between Spanish Town and The Bitter End Yacht Club (North Sound Express) for a fee. It also runs between Tortola and Virgin Gorda.
Shopping In Virgin Gorda – British Virgin Islands
Most of the shopping on Virgin Gorda is within the hotel complexes, or at the Virgin Gorda Yacht Club, which is the main commercial center. Popular shopping for tourists can be found at Top of the Baths, Leverick Bay. Virgin Gorda offers the boutique shopping popular in the Caribbean with a small variety of local island art and photography, jewelry, and of course, British Virgin Island outerwear such as jackets, hats, and t-shirts.
Dining In Virgin Gorda – British Virgin Islands
Many of the islands restaurants are found in the secluded resorts which provide not only great ambiance, but amazing views of the island. Most restaurants offer Caribbean-based options, but you can also find some international cuisine and barbecue. Restaurants range in price from low to fine casual dining. For a bit of variety try the following:
Pavilion at Little Dix Bay: An open-air dining pavilion with views of the sea popular for unique themed buffet dinners.
Hog Heaven: An amazing barbecue venue with pulled pork, ribs, barbecue chicken, and potato salad. If you aren't careful, you may feel the hint of the Southern U.S.
Top of the Baths: A mix of standard American Fare, as well as a blend of island favorites. The food is almost as delicious as the views are amazing.
Hilltop Restaurant at Biras Creek Resort: Considered by many to have the most beautiful views on the island, the restaurant also may provide the most interesting and delicious food on the island. The restaurant provides a flavorful and constantly changing menu of upscale local and international foods.
Fat Virgin's Café: Nice mix of local island fare such as roti and pan-fried fish, you can also find delicious barbecue cooked up family style right in front of you.
Things To Do in Virgin Gorda – British Virgin Islands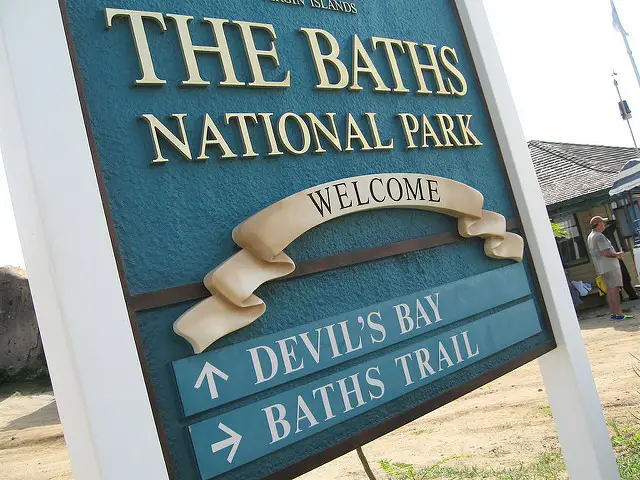 The Baths: One of the most popular destinations in the British Virgin Islands, the baths are a beach area with unique geologic formations. Granite boulders form natural tidal pools, arches, tunnels, and scenic grottos.
Copper Mine: National park with the ruins of a 19 th century copper mine. First constructed in 1837, by 1862 it had been abandoned. Now the mines offer a look into the past of mining on theisland. Interestingly, many of the island's locals are descendants of the Cornish miners and the island women from that mining period.
Hiking: Virgin Gorda offers many areas to hike it's lush forest. Perhaps the most popular is the Gorda Peak National Park which provides several trail, abundant wild life, and access to the highest peak on the island, Gorda Peak.
Snorkeling/SCUBA Diving: With some of the most beautiful water's in the Caribbean you can snorkel or SCUBA dive nearly anywhere off the island. There are several diving charters available on the island which will take you out to view stunning coral and underwater wild life.
Prickly Pear Island National Park: The Prickly Pear slopes are covered in cactus and slide downward toward several powder beaches that offer great swimming, snorkeling, and relaxation.
Beaches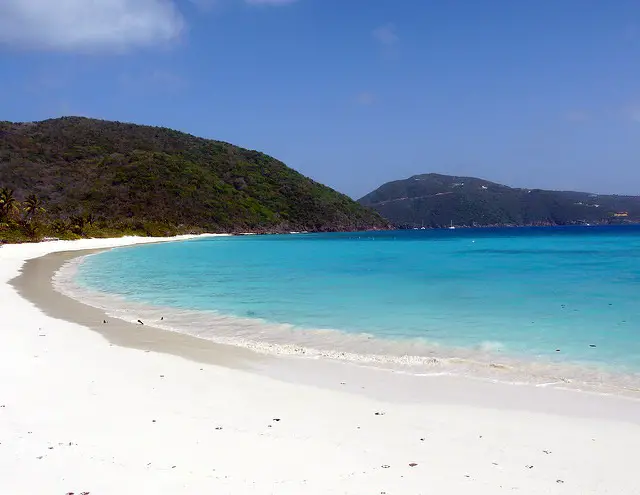 Virgin Gorda offers some of the best beaches in the world with its tranquil waters and powdery white beaches. Due to the limited number of resorts on the island, many of the beaches are hidden coves and intimate settings you can enjoy in peace.
The few resorts on the island provide similar intimate settings with amenities for beachgoers.
Little Dix Bay: Cradled between two small mountains and a coral reef Little Dix Bay beach is hidden in its own intimate cove.
Upper Beach Coast: Two beaches, Savannah Bay and Pond Bay provide nice white beaches overlooked by the islands highest point, Gorda Peak.
Mahoe Bay: Shallow reefs highlight this beach with an abundance of marine life including sea turtles.
Nail Bay: Amazing reef snorkeling, and rocky hikes that connect Nail Bay to Long Bay.
Long Bay: Reached by a small hike, and arguably the most beautiful and secluded beach on the island. Provides great swimming, snorkeling, and relaxation.