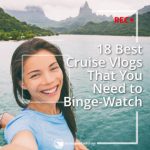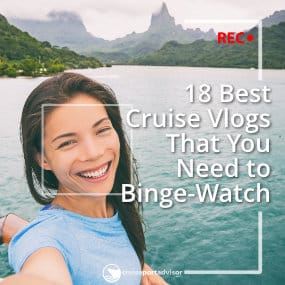 Best Cruise Vlogs to Binge Watch
Last updated on February 14th, 2023 at 05:12 pm
Cruising is back and so are the Cruise Videos!
Now that cruising from the USA is back after a long hiatus, we've decided that 18 cruise vlogs just isn't enough. We've added a few bonus channels to our list that we've found over the past year. 
Jordan Bauth – Performer on Royal Caribbean
Don's Family Vacations – Lots of great, up-to-date cruise-related content. 
Chris Wong Vlogs – Cruise ship employee on Royal Caribbean
Cruise with Ben & David – Over 40 cruises under their belt!
LIfe Well Cruised – Their videos are coming close to 1 Million Views on YouTube.
Eat Sleep Cruise – The YouTube channel to go along with their popular blog.
Harr Travel – In-Depth ship tour videos. 
As cruise lovers, we prefer to be on board in the middle of the sea than being on land, even virtually. But during those times we have to be away from the blue, we have modern-day storytellers that would bring us back right in the midst of the salty air–vloggers. Armed with cameras, microphones, tripods, and laptops, they tell stories that we love to immerse ourselves in.
To help keep your bucket full, here's a list of  the best cruise vlogs that are truly binge-worthy.
CruiseTipsTV
Sheri and her family started CruiseTipsTv in 2013. They are making astonishing progress, moving forward to 2020, having over 480 videos, more than 80,000 youtube subscribers, a Cruising academy, and almost 15 million viewers, their vlogs are treasure troves for both new and seasoned cruisers.
Sheri also recently ventured into podcasting, the CruiseTipsTV Unplugged, where they feature weekly segments on cruise tips and cruise stories.
Check out CruiseTipsTV on YouTube
Sean and Stef 
Updated 2021: Sadly Sean passed away after battling cancer in April 2021. A married couple who are based in Orlando, whose goal is to travel the world one cruise at a time, is hosting Cruiseflix. Sean and Stef Mullen, are professional filmmakers who have won 3 Emmy awards, are producing informative but fun cruise vlogs that are topnotch. 
With the mission to inspire and connect with people all around the globe and show the joy of travelling, their vlogs will definitely leave you feeling good about life, relationship, and cruising.
Check out Sean & Stef on YouTube
Emma Cruises
Creator of Facebook page "Cruising Isn't Just For Old People," Emma breaks the stereotyping of cruisers as old school. In her cruise vlogs, she features cabin tours, cruise booking tips, and tricks, ship reviews, and she genuinely sails the coolest ships making cruising hip for Millenials.
Check out Emma Cruises on YouTube
SoloCruiser
A solo traveller, Julia produces vlogs that present the reality of cruising, both good and bad. She started uploading videos on youtube in 2012 and shares her personal insights she has learned from various lines, which are extremely helpful for people who want to try cruising alone.
Check out SoloCruiser on YouTube
In The Loop Travel
John, the content creator of this innovative vlog, was able to integrate fitness into cruising. Their philosophy is to travel fit, travel happy, and travel often. He provided answers to health-conscious cruisers who do not want to miss out on both fun and fitness.
Check out In The Loop Travel on YouTube
I Like Cruise Ships
This youtube channel launched a little over 3 years in creating video content and has been steadily gaining traction. Russell, who has worked on cruise ships for more than 20 years, is running this channel with the expertise we all need to know about cruising.
Check out I Like Cruise Ships on YouTube
Cruising With Wheels
A channel that primarily focuses on everything about cruising and provides informative videos for accessibility on and off-board while cruising. To get the most out of your vacation, preparation is imperative when cruising with a disability, and watching vlogs of this sort is a massive help.
Check out Cruising with Wheels on YouTube
Cruise Radio
Cruise Radio has made it onto the list of both our favorite cruise blogs and now, one of our fav cruise vlogs. Their YouTube channel consists of over 26,000 subscribers and over 4 million total views on their videos. Since launching the website in 2009, founder Doug Parker has created exceptional content, whether that's on the website, podcast or video.  Their ship tours are well done, informative and interesting.
Check out Cruise Radio on YouTube
Popular Cruising
Jason Leppert, the genius behind Popular Cruising, produces in-depth cruise reviews and tour views. He acquired his passion for cruising from his parents when he was just 2 years old, and after 130 sailings, I don't think there's stopping Jason from embarking. You'll definitely love his behind-the-scenes cruise explorations, previews on upcoming ships and shoreside excursions.
Check out Popular Cruising on YouTube
Cruise Fever
Founded by two brothers who are passionate about cruising –Ben Souza and Jonathan Mark. These siblings made sure that their viewers are not just obtaining tips, reviews, and ship information — they keep their followers posted on the latest trends and news in the cruising industry. Their youtube channel has over 40,000 subscribers and about 17,000,000 views.
Check out Cruise Fever on YouTube
Paul and Carole Love to Travel
Paul and Carole have travelled to over 40 countries, tried different kinds of accommodations, and have been to 19 cruises. Now they want to give back to the cruising world by offering their honest opinions through their festive vlogs.
Check out Paul & Carole Love to Travel on YouTube
Griff and Alyssa
A lovely couple who adores cruising shares their adventures and provides informative videos with fantastic cinematography. Their content is perfect for cruise veterans and new cruisers alike who are looking for reliable information about their next travel.
Check out Griff & Alyssa on YouTube
Jim Zimmerlin
Jim has been running his own youtube channel since 2006 and has attained almost 300,000,000 views. People love him, he is an enjoyable person to watch with videos that offer varieties of fun – from cruising, trains, American Cocker Spaniel dogs to expensive toys. 
Check out Jim Zimmerlin on YouTube
La Lido Loca
Started uploading videos on youtube April of 2017, and they haven't stopped since. In their lively vlogs, they generously share practical tips and realities of cruising that can help anyone in making informed decisions for their next cruise. To help out the cruising community, they created a Facebook community called La Lido Loca Community to help answer questions about cruising and provide a platform for wonderful travelling stories to be shared on.
Check out La Lido Loca on YouTube
Josh Hocum
Travel, Sleep, Repeat –that is Josh's mantra. Though he seems laid back, he creates videos with thrilling cruise contents that transports viewers right at the very deck of each featured ship. If you are interested in the Carnival, you'll love him more because a lot of the videos in his channel features the Carnival. His 3.8 million viewers are enough testament that he produces one of the best cruise vlogs out there.
Check out Josh Hocum on YouTube
Paro DeeJay
Since July of 2013, Jay and his wife Dee have been uploading content on youtube, which now has 685 videos and almost 2.8 million views. Besides the undeniable fact that they provide cruise tips, reviews, and tours of different cruise lines, what sets them apart is their amusing parody songs and cover tunes. 
Check out Paro DeeJay on YouTube
EECC Travels
An absolute must-watch vlog for families who enjoy cruising together. EECC Travels is composed of Alisa and Jason (Couple) and three sons. They make travelling as a family doable, especially for those who have children and haven't tried cruising. You can check out their channel and be ready to be inspired to travel with the whole fam.
Check out EECC Travels on YouTube
Trev and Chels
Viewers absolutely love this young couple on their travels, with the traction of over 56 million views, there's a reason why cruisers are captivated by them. They create videos with superb editing and perfect voice-overs that feature their cruise experiences vividly, and it is keeping people hooked.
Check out Trev & Chels on YouTube
Talking Cruise
Equipped with the current news, cruise ship tours, and topics from around the world of cruising in a fun and unique format. Hosted by Chris Cardona, with 19 years of working in the cruise industry, his channel is a gem for anyone who's planning to go on a cruise.
Check out Talking Cruise on YouTube
Before you start your vlog-watching spree…
Going on a cruise can be intimidating with all the preparation, booking, parking, finding the right ports, and so on and on, but these vloggers manage to contribute to the cruising industry by featuring and creating content that will genuinely make the process a bit uncomplicated. But hey! It's all worth it, so I hope you'll enjoy watching 19 of the best cruise vlogs. 
And, don't forget to check out our Top Cruise Blogs post too!
This page contains affiliate links for which we may receive financial compensation when a purchase has been made through one of our affiliate partners. Jonathon is the tech guy behind CruiseportAdvisor.com. When he's not stuck in front of his computer, Jonathon enjoys travel & cruising (even after being on a cruise ship that caught fire - a story for another day!)