Category Archives: Massport – Port-of-Boston – Boston MA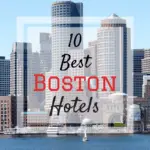 Last updated on February 25th, 2020 at 11:32 am
If you're looking to stay in and around the Boston area, whether you're travelling alone, as a couple, with friends or family, for business or for leisure, you're going to need a hotel that suits you, giving you everything you need to make the most of your trip.
To give you a helping hand in making this difficult choice, here are ten of the best hotels that are just waiting to be discovered in the Boston area!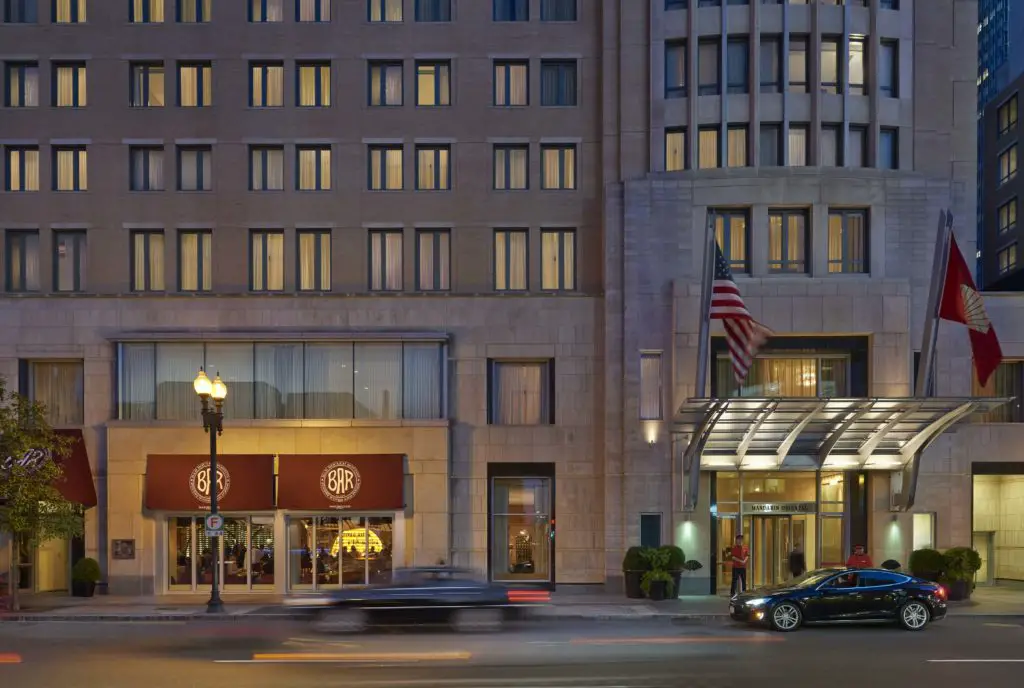 Easily one of the most highly rated hotels in the Boston area, you can find this hotel nestled in the heart of Back Bay. The hotel is famous for its outstanding and superior service, its extensive range of fine dining options and there's even a luxurious spa for you to enjoy.
The hotel is only a stone's throw from the iconic Prudential Center and guarantees to make your trip to Boston a first-class experience.
It's also one of the most highly rated hotels in the Boston area, according to the Telegraph that have awarded is a 9/10 rating, rating it highly on its excellent location and outstanding services.
Click here for more information on the Mandarin Oriental.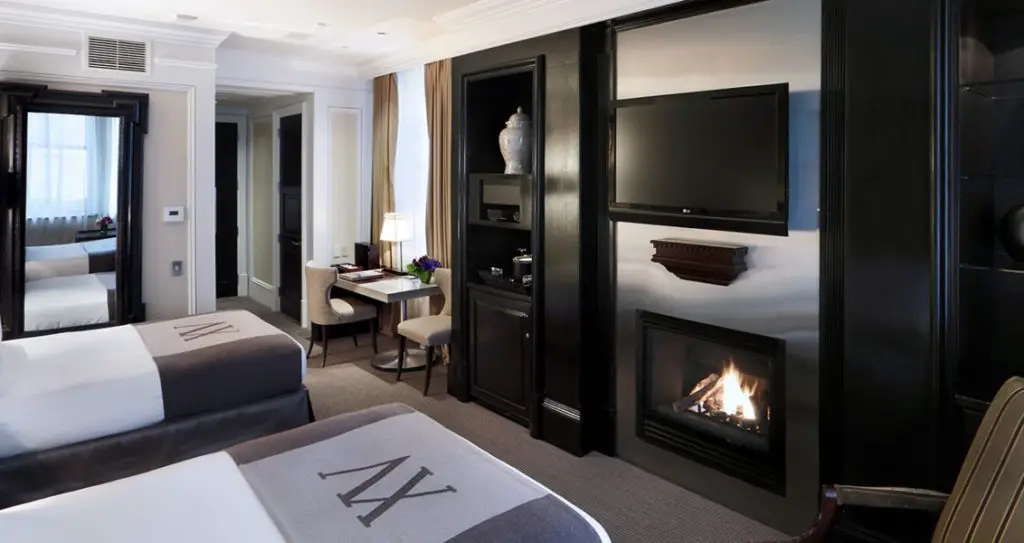 Located in the bustling heart of Boston's city centre, XV Beacon is within walking distance of some of Boston's leading tourist attractions, including an extremely popular building that dates all the way back to 1903.
Whether you're travelling for business or leisure, XV Beacon is sure to give you everything you need and more. Each room is designed with its own luxurious style and fast, friendly service, making this one of the most comfortable stays you'll find.
Learn more about the XV Beacon here!

Priding itself on being one of three of the main and most popular landmarks in the Copley Square district, the Fairmont Copley Plaza dates all the way back to 1912 and promises to add a touch of luxury to your Boston adventure.
Less than a minute's walk away, you'll find the impressive Trinity Church and iconic Boston Public Library, securing this hotel's place as one of the most conveniently-located hotels in the city.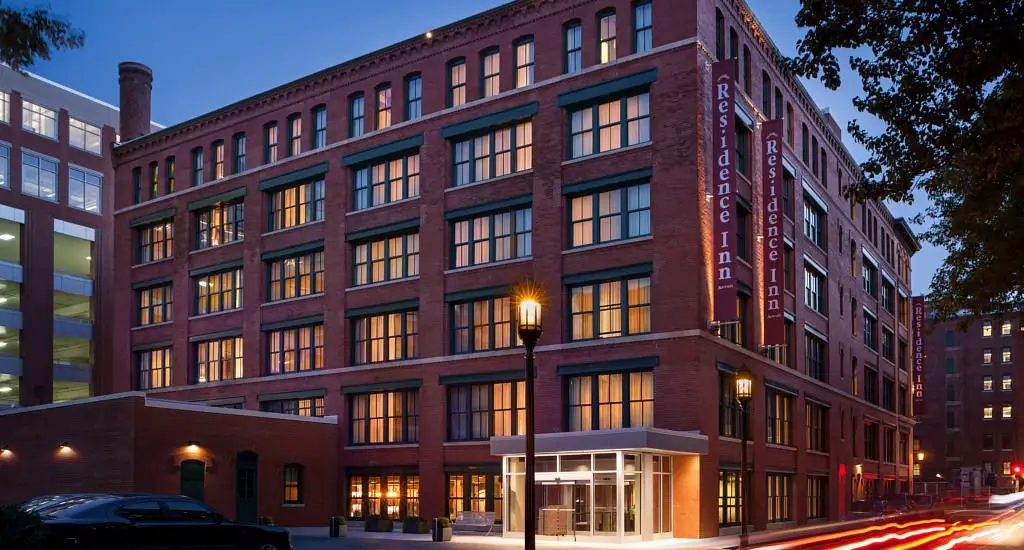 This outstanding hotel is actually a converted factory that dates all the way back to 1901, making it more than a century old. On the first approach, the exterior has retained its exposed brick, beam and tile aesthetics while the interior contains an extensive number of rooms, from expansive studios to simple one-bed suites.
This inn is renowned for being great value for money and is located in a prime location, only a stone's throw from the transport stops and many of the best tourist attractions in the area.
The Reviewal team recently went to stay at this luxurious accommodation, stating that 'it was one of the best hotels we've ever had the pleasure to stay in' and 'we'll definitely be staying there again soon!'.
Get more information about the Residence Inn Boston Downtown Seaport!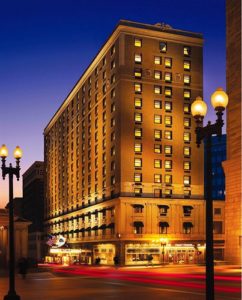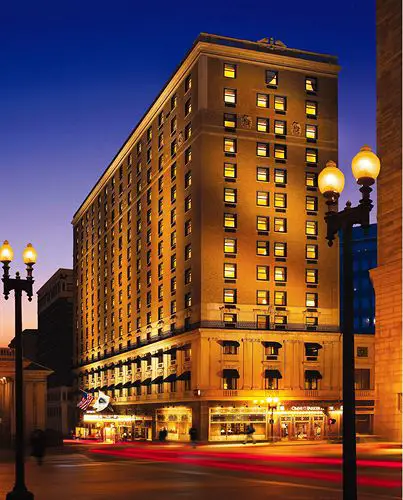 Easily one of the oldest hotels and buildings in the city, having been in operating and serving the public since 1855, Omni Parker House is actually the longest operating hotel in the whole of America, and these decades of experience are extremely clear.
Suitable for both business and leisure travellers, this hotel is conveniently located just a 15-minute drive from the Logan Airport and can be found just on the outskirts of the significant Beacon Hill, right along the side of the must-do Freedom Trail.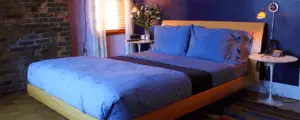 One of the more stylish accommodations in the Boston area, Encore B&B pride themselves on their outstanding service that makes you feel at home. Each and every room is designed to be as comfortable and as home-like as possible, and there's even a fantastic breakfast option that's guaranteed to start your day in the right way.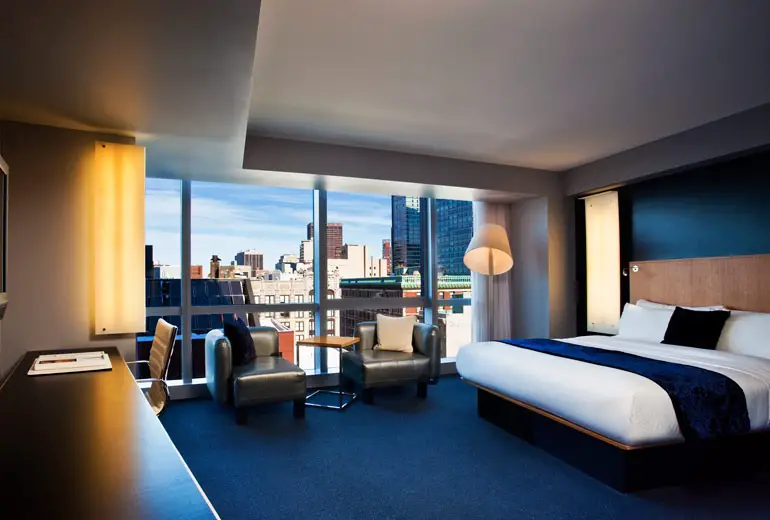 In a city steeped in history, W Boston provides the modern edge that many travellers nowadays yearn for. Located in the heart of the beautiful Theatre District, W Boston is the base camp to stay if you're interested in sampling the city's impressive nightlife and culture.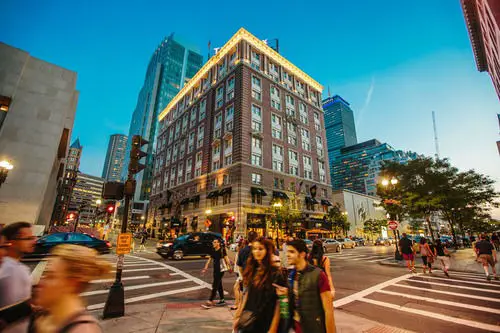 Built in 1900, Lenox provides its guests with an unparalleled experience that's overflowing with both luxury and comfort. Nestled on the outskirts of Back Bay, the Lenox Hotel is right where the all the action is yet quiet enough to remain undisturbed from the bustle of city life.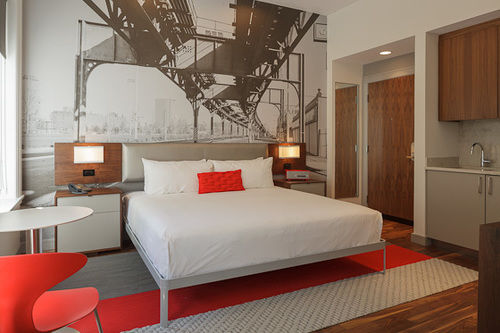 Whether you're travelling alone, in a couple of as a family, Chandler Studios is a 12-studio facility that's awesome Back Bay location near to the main attractions of the city puts it at the top of many holidaymaker's lists. Found in the heart of the vibrant Back Bay, this is one hotel that gives you everything you need and more.
This hotel is one of the most popular in the Boston area of TripAdvisor, rated an incredible 4.5 star where customers rate it for its amazing location and complimentary amenities, such as its free Wi-Fi.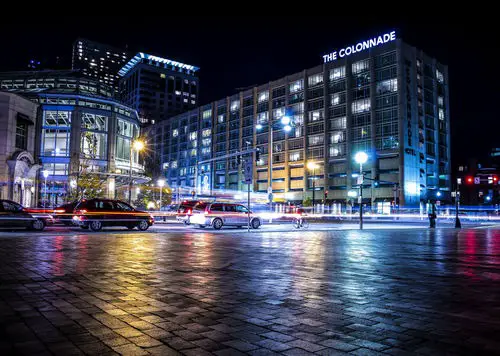 If you're on the outlook for an independent hotel that oozes class and character, this could be the one for you. Located not far from the city's main attractions and draws, the Colonnade Hotel has something special about it. Maybe it's the rooftop pool; maybe it's the fine dining options. Whatever it is, this is a hotel that always leaves people wanting more.
Rachel Summers is a freelance writer whose passion is helping students get the most out of their learning journey. She started out as a writer and journalist in the newspaper industry, before breaking out to go freelance and follow her own passions. Her writing is designed to help you get the most out of college.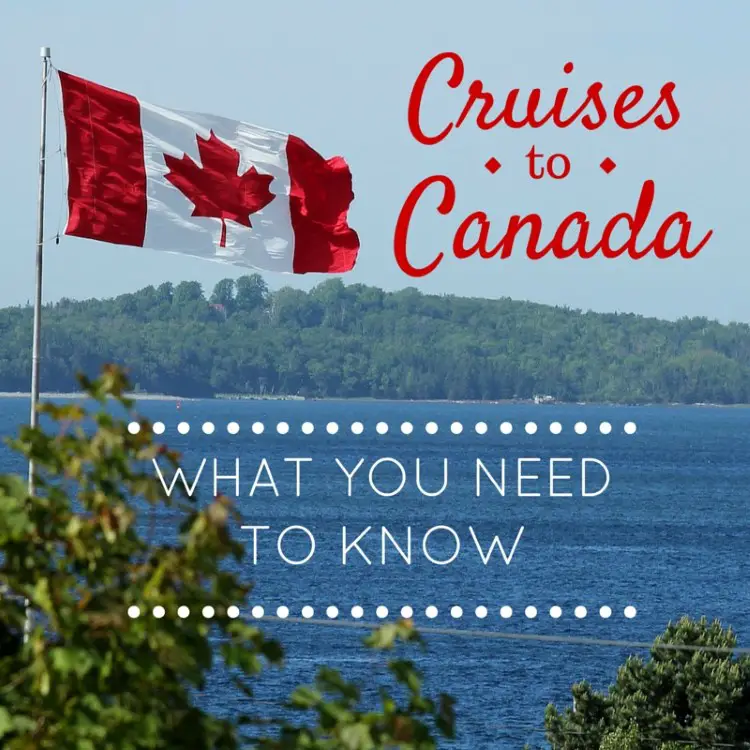 Last updated on February 25th, 2020 at 12:43 pm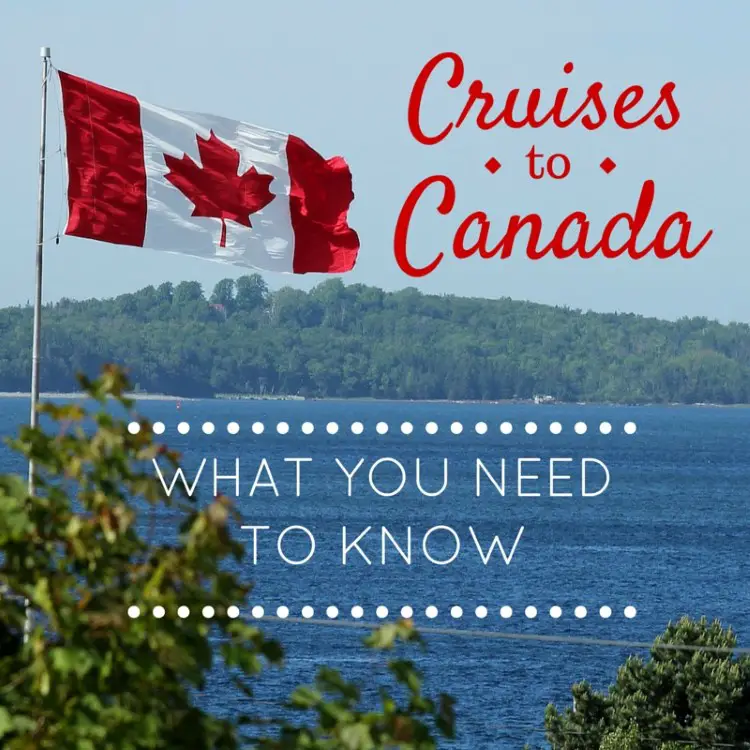 Fall cruises to the East Coast are a popular option to truly experience the beauty of Canada. Beautiful cities like Halifax or quaint fishing villages give you a glimpse into life in a small Canadian town.
On the other side of the country, Vancouver offers a big city feel with a mild climate, beautiful natural scenery, laidback lifestyle mountains, lakes and the Pacific coastline.
Which Cruise Lines Cruise to Canada?
A number of the large cruise lines offer scheduled cruises to Canada, most notably in the fall. Norwegian, Holland America, Carnival, Royal Caribbean, Celebrity and Princess Cruises as well as luxury lines like Oceania, Regent Seven Seas and Crystal all offer cruises to Canada. You can easily depart from New York or Boston and head north visiting stops in Maine and then into Canada, with stops often in Halifax (Nova Scotia) and Saint John (New Brunswick). Many also depart from Montreal or Quebec City before heading eastward.
See Popular East Coast Ports & Excursions
Have You Visited Canada?
Although a large portion of the U.S. population lives within a days drive to a Canadian border crossing, many have not ventured to the north to check out what Canada has to offer. As a Canadian myself, I obviously have a bias toward loving my own country and find it easy to promote the country in which I live.
No matter what Canadian cruise destinations you choose, we hope this Canadian crash course  will make your trip memorable and avoid any possible problems or misunderstandings.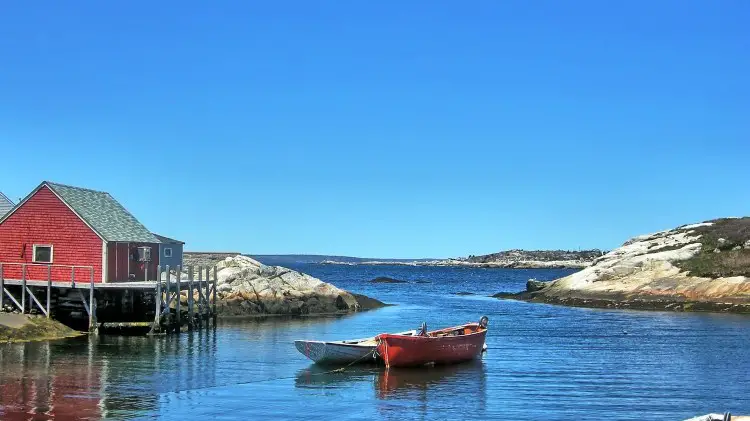 Canada is BIG
Just like the United States, Canada is a large country with many distinct regions. Canada is divided into 10 Provinces and 3 Territories. Think of Canadian provinces like States in the U.S. Understanding Canadian geography will give you a better understanding of just how vast the country is.
As an example, if you started on the west coast in Vancouver, British Columbia and drove straight through to the tip of the east coast, you will drive almost 7000 KMs (4300 miles.) Once you get the end of the road near Sydney, Nova Scotia, you aren't quite at the end yet. You would then need to catch a ferry to get over to the province furthest to the east – Newfoundland, which is an island Province.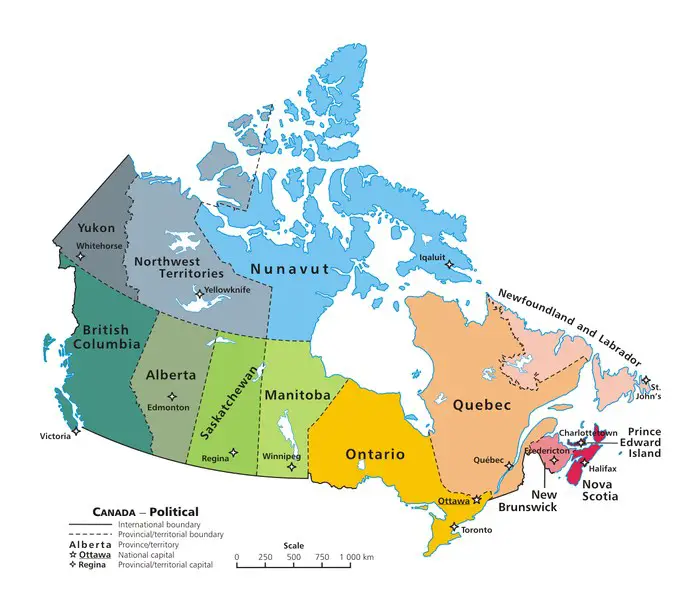 Since Canada is so large, you can understand why Canadians find it weird when our American friends say things like "I have a friend in Toronto (a city with 3+ million people) his name is Dave. Do you know him?"
Canada's population is about 35 million people, most of which live in cities like Toronto, Montreal, Ottawa, Calgary, Edmonton, London, Winnipeg or Vancouver. This handy list of Canadian cities will give you a reference for cities throughout Canada.
Canada Adopted the Metric System in the 1970's
Canada uses the Metric system, not the Imperial system like the United States. This means that we use Kilometres, not Miles, Centimetres, not Inches, Kilograms, not Pounds and Litres, not Gallons. United States, Burma and Liberia are the only countries in the world to continue to use the Imperial system so if you travel outside the United States, it's likely handy to learn the conversions or download an app to your smartphone to handle this.
As a side note – Canadians use British English when we spell, so when you see words such as "centre" or "neighbour," they are spelled correctly.
Weather in Canada
Canada's weather can vary greatly across the country with summertime temperatures ranging from the 70's to the 90's in degrees Fahrenheit.
It's NOT cold in Canada all year round, unless you happen to visit areas far north near the North Pole.
For example, the most northern city in Canada is Iqaluit (Nunavut) where the summer temperature is usually in the 40's or 50's degrees Fahrenheit. Keep in mind, the distance from Toronto to Iqaluit is 2300 kms (1400 miles) which is similar to the distance between Boston and Fort Lauderdale.
While it's cold in the far north, only a very small portion of Canada's population lives in the far North. The majority of Canadians live in areas where the weather would be more like Seattle, Detroit or Boston as an example.
Winter may surprise you as well. While much of Canada has snow on the ground between December and February, not every community in Canada has snow all winter. Many of us in Southern Ontario for example (near Detroit) have experienced more than one green Christmas in the past 2 decades, while our friends in Boston or New York (just an 8 hour drive away) had plenty of snow at the same time.
If you expect to go skiing in September when your cruise ship stops in Canada, you might be disappointed! (We would love to have you back in the winter though, to enjoy a ski resort in Collingwood Ontario, Whistler BC or Mont Tremblant Quebec.)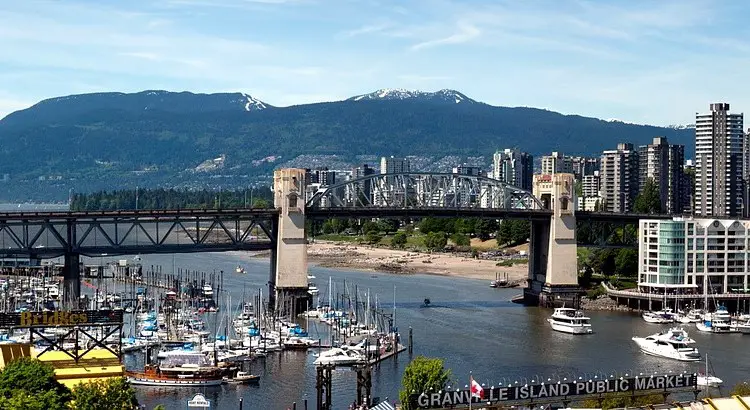 Sales Tax in Canada
Don't be surprised when you visit a store to see 10 to 15% tax on top of the purchase price.
You read that right: 15% Sales Tax in some locations.
Depending on the province or territory, the tax rates change slightly as we have both a Provincial Tax and a Federal Tax. The Federal Tax rate in Canada is 5% and each individual provinces tacks on an additional percentage for their cut, which ranges from 0% in Alberta, Northwest Territories and Nunavut to 10% in Saskatchewan.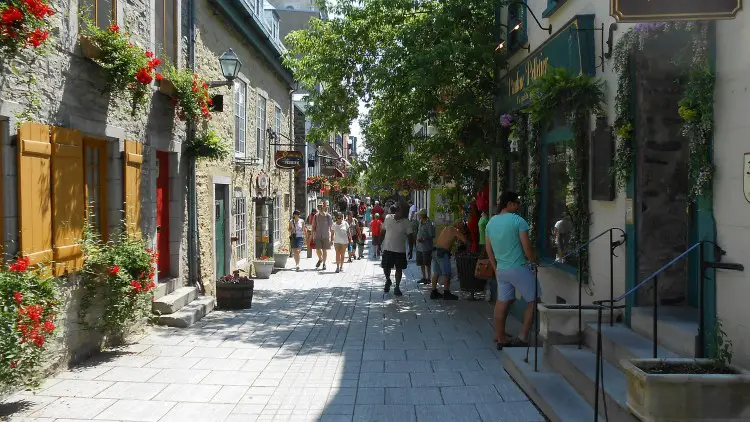 Currency in Canada
Canada uses the Canadian Dollar as our national currency. Currently $1 US Dollar will buy you approximately $1.30 Canadian. You will find that most goods have a similar cost to the United States, so American vacationers get a great value by visiting Canada right now. This currency converter will help you plan your trip.
Our paper-based money as of 2014 is made of a plastic-paper meant to stop counterfeiting. We have denominations of $100's, $50's, $20's, $10's & $5's. Beyond that, we have coins for everything else. $2 coins are called Toonies, , $1 coins are called Loonies (not because we're crazy, but because the bird on the coin is a kind of duck called a "Loon".) We also have quarters, nickels and dimes.
Thankfully as of 2014 we no longer have pennies. All purchases are rounded to the nearest 5 cents, unless you're paying with a credit card.
If you are planning to travel to Canada, get some Canadian currency before you leave the United States. Some merchants in Cruise port cities may accept U.S Dollars however your exchange rate may not be as favourable and you will likely get Canadian money for change.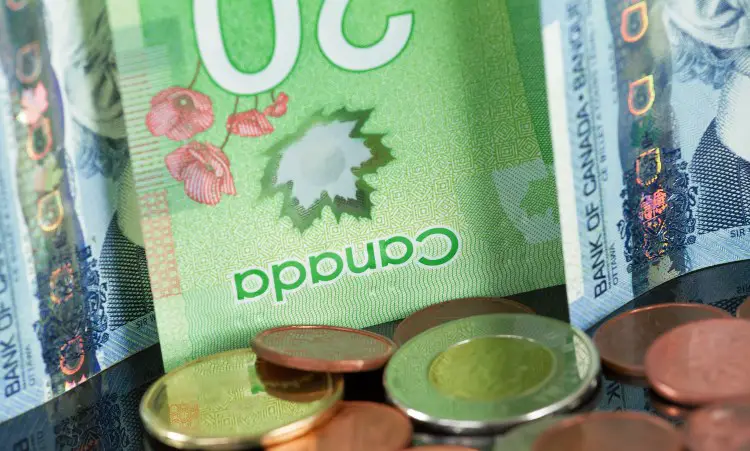 Visa, Mastercard & Debit Cards
Travelling with a Visa or Mastercard is the easiest option as both are widely accepted in Canada. Debit cards are a bit different. In Canada, our national debit system is called "Interac" which we have used since the late 1980's. Basically, for Canadians with Canadian bank accounts, we have debit cards that immediately deduct the amount from our chequing account when used at an ATM for a cash withdrawal or purchase at a store POS system.
Most American ATM cards will work in Canada, but it might be worthwhile to carry some Canadian cash and a major credit card just to be safe.
Liquor in Canada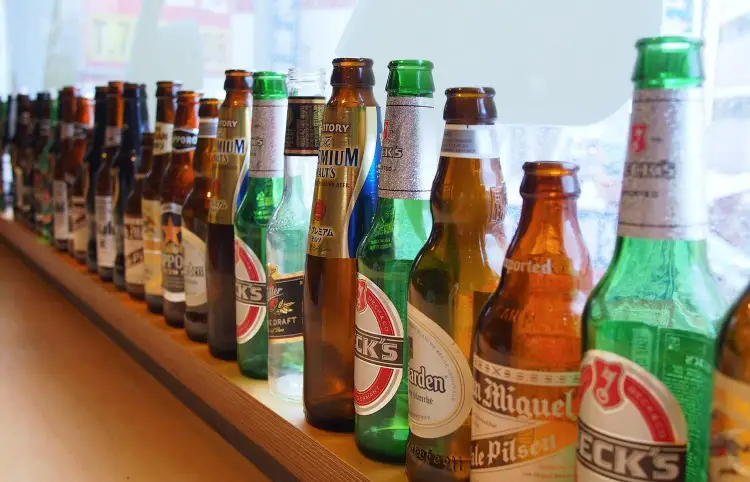 The Canadian drinking age 19 years of age in most provinces and 18 in Quebec! If you're 18, 19 or 20, Canada is the place to go if you want to drink legally.
Be aware though – Each Province and Territory has different laws surrounding where alcohol can be sold. In many provinces, liquor is sold through Government owned and operated stores which means that local convenience stores may not be able to supply you with your beer and wine.
Laws in Canada
Driving
Generally speaking, we have many of the same laws as the United States. To go through them one by one would be difficult. If you think it's illegal, it probably is and if you're unsure, you might want to Google it before you do it. Seat belts while driving are required, no texting while driving is allowed, no drinking and driving is allowed and watch your speed on the highway (remember to look at the KM/hr gauge.) If you rent a car, you will find driving in Canada no different than in the United States.
However, if you plan on renting a car when you dock at a port in Quebec, there are a few unique road rules to consider:
1) Road signs will be in French (though many have international symbols).
1) In Montreal, you cannot turn right on a red light. You also can't cut through private property to avoid stopping at a red light (ie cutting through a corner gas station to turn right).
2) When driving on a highway (freeway) you can't pass another car on the right.
3) Left lanes are for passing only. Don't be the slow driver holding up traffic behind you – you will get a ticket.
4) If you live in New York State or Maine, any Quebec driving infractions (i.e. demerit points) are transferable.
Smoking
Smoking is not permitted in public buildings, restaurants, public transit, shopping centres, etc.
Weapons
One other thing you might want to know – We're just not into guns. This isn't meant to be a political discussion about the right to carry a weapon, just be aware that civilians cannot carry guns at any time (other than hunting) and our gun-related crime is quite low. If you try to enter Canada with a gun (especially a handgun) you're going to have a very hard time getting into the country!
Travel Documents for Entry to Canada
A United States Passport is required to enter into Canada. At one point several years ago, a driver's license was accepted but in recent years it's become mandatory to carry a passport. If you're not an American Citizen, check Passport requirements with your home country before trying to enter Canada.
Houses in Canada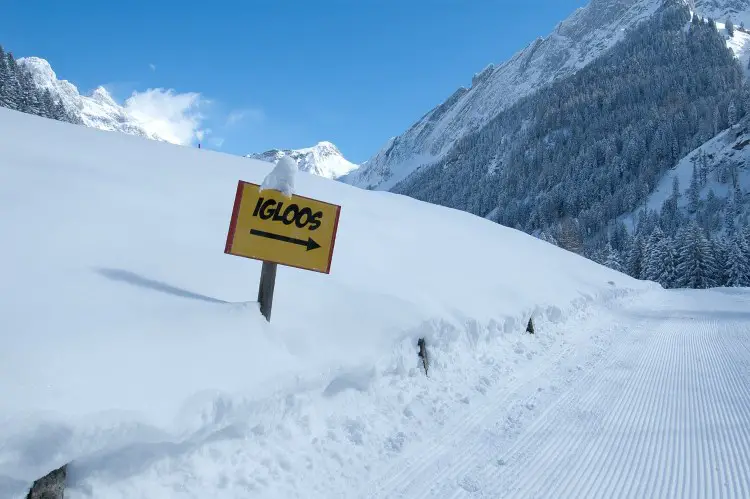 While a Grade 6 Geography lesson might have displayed pictures of igloo's as the main type of housing in Canada, Canadians do not live in these anymore – and haven't for many many years. Even if they did, we couldn't live in them year-round because we don't have snow during the summer anywhere, other than the tops of the Rocky mountains.
Our houses look almost identical to those found throughout the United States. If you went on a cruise hoping to see something totally different, you're out of luck.
Sports in Canada
Let's talk about sports. Canada = Hockey. It's that simple. We have 7 Canadian NHL teams and we're REALLY into supporting those teams. Besides the NHL teams, nearly every community in Canada, no matter how small, has a local hockey rink where Saturdays and Sundays are spent watching minor hockey.
Baseball isn't as popular in Canada as Hockey, but we do have one MLB team – the Toronto Blue Jays. If you're on a cruise, you're not going to make it into Toronto. Even if you stop in Quebec City, it's still an 8 hour drive one-way to get to Toronto. On a side note, if you ever do return to Canada, Toronto is a wonderful city to check out!
Football is a semi-popular sport in Canada, but not as large as it is in the United States. Our national football league is called the CFL (Canadian Football League) and it consists of 9 teams. The games are fairly well attended, but the players don't earn millions of dollars like NFL players.

People in Canada, eh
Generalizing all Canadians as the similar to one another is much like suggesting that all Americans are the same. Since the country is so large, there's great diversity in people across the country. People in Newfoundland are quite different from people in Toronto, complete with their own dialect of English that is distinct to Newfoundland.
Think of the differences between people in Texas and people in New Jersey. Regional dialect, food, culture, pace of life; Almost anything you can think of that defines people from different regions of the United States applies across Canada.
In Quebec, most people speak French as the official language of that Province is French. The East Coast of Canada is known to be very friendly to visitors and the West Coast of Canada is known for it's Seattle-like lifestyle.
Food in Canada
Canada is a multi-cultural nation, with almost every nation in the world represented so our food diversity goes far and wide. Here are a few examples of food and beverages that differ between Canada and the United States.
Iced Tea – If you ask for Iced Tea in Canada, you most likely will get sweetened tea. We don't usually serve cold, unsweetened tea like in many places around the United States.
Ketchup Chips – These wonderful chips are popular with Canadians. Think Paprika and salt on chips. They leave your hands bright red, but they're not for everyone.
Butter Tarts – Somewhat like a pecan pie, in a smaller single-serve pie shell, usually with raisins but sometimes pecans as well.
Donair – Found in Nova Scotia –  Similar to a Greek Gyro, but with a twist. The sauce is what makes it different. It's a sweet milk-based sauce that pairs well with the flavour of the meat, Tomato and Onion.
Poutine – French fries with gravy and cheese curds. These can vary by region, but the best Poutine is going to be found in Quebec.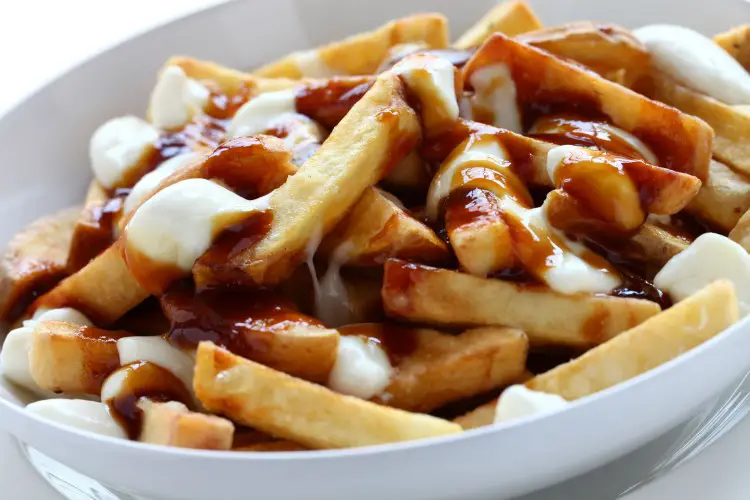 Bienvenue au Canada!
To sum up this entire post, let me state that Canada is friendly, rich in history, and is naturally beautiful from shore to shore and season to season. We would love to have you visit us on your next cruise. Welcome to Canada!
*Disclaimer: This piece was not meant to offend our American friends in any way if you don't find this information helpful. As I'm sure my American friends enjoy some light-hearted joking at our expense we do the same here. We have found that even though we're so close geographically, many Americans don't know much about us so this piece was meant to educate and inform.
We're a polite bunch so if this offended you let me say one of our favourite national phrases: I'm sorry.
Jonathon is the tech guy behind CruiseportAdvisor.com. When he's not stuck in front of his computer, Jonathon enjoys travel & cruising (even after being on a cruise ship that caught fire - a story for another day!)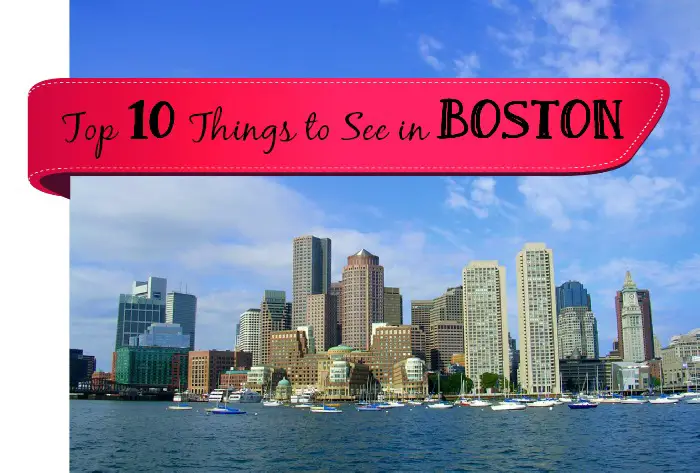 Last updated on February 3rd, 2020 at 01:34 pm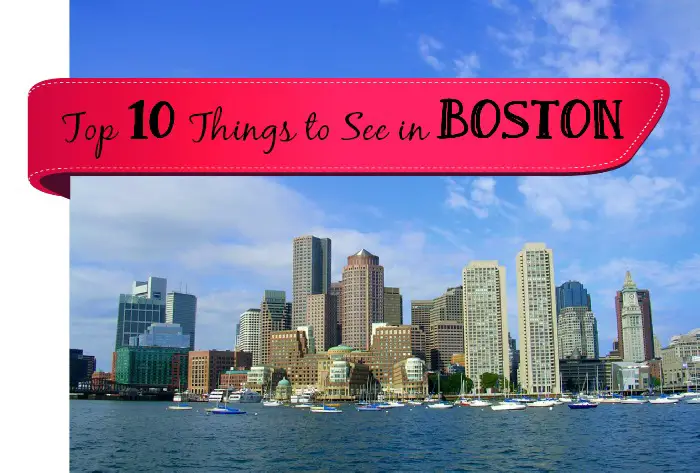 With cruises running from May to late September, there is no better excuse to take a trip up to Boston, MA, often referred to as "Beantown". Whether you choose a New England cruise or a roundtrip voyage from Boston to Bermuda, you must reserve some extra time to explore this great city. With plenty of history, outdoors spaces, and food, Boston is the perfect port city for a few pre-cruise and post cruise days. When you do decide to visit, here is our local guide to the Top Ten Things to See in Boston.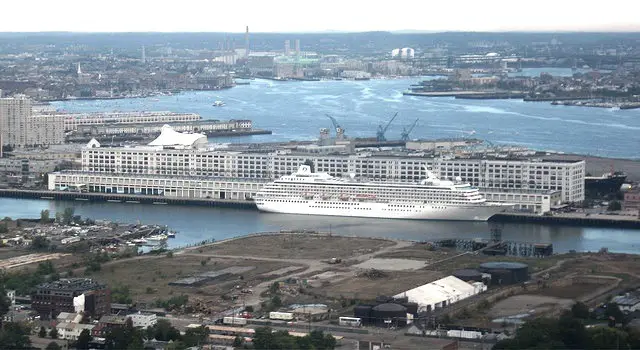 10. The Charles River – Love that dirty water, Boston you're my home! Every trip to Boston should involve a stop at the Charles River. A stroll along the Boston Esplanade might be the perfect way to spend an afternoon or catch an evening concert at the Hatch Shell. Perhaps you want to get a bit deeper, so why not cruise down the river in a sail boat, paddle boat, or kayak.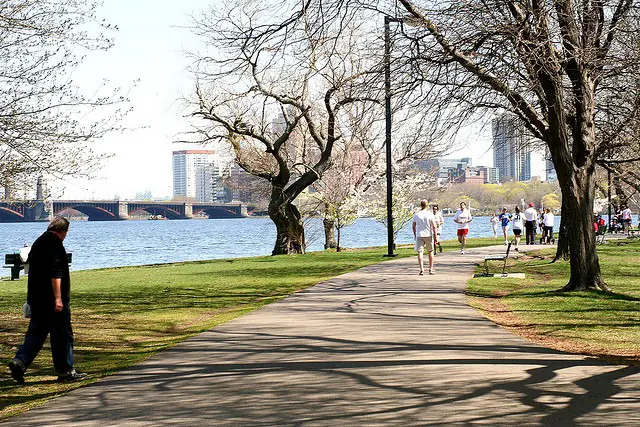 9. Harvard Yard – When in Boston, you might want to "pahk ya cah in Hahvahd Yahd". All kidding aside, nothing is more prestigious and academic than these impressive grounds. The center of the University, this 22 acre area includes some of the campus' oldest buildings and green spaces, and it's home to the statue of John Harvard, who the university was named after when it was built in 1638.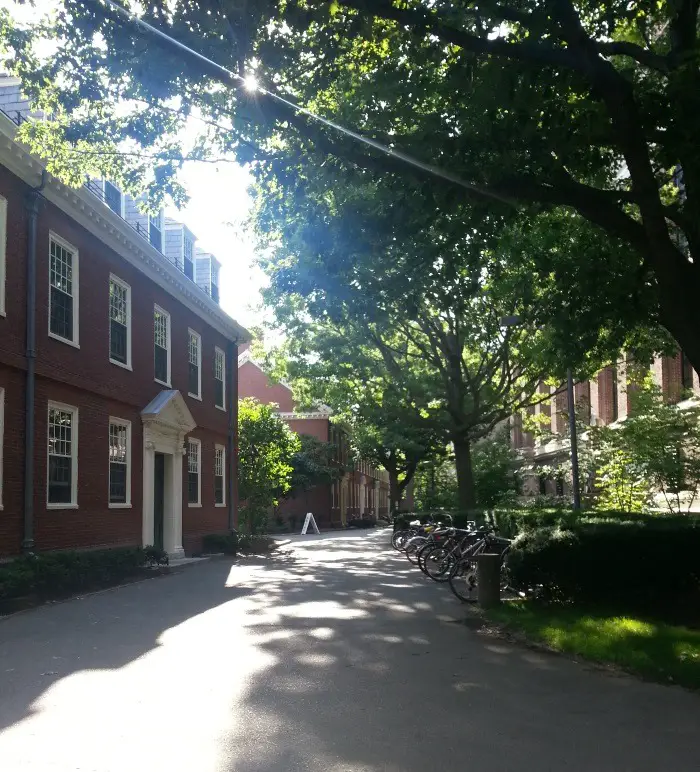 8. USS Constitution – Old Ironsides floats on. When you visit Boston, be sure to take a short ride to Charlestown where you can explore the world's oldest commissioned naval vessel. At the USS Constitution Museum, exhibits tell the tales of the ship's construction and the men who called the ship home during war. While the Constitution is set to enter dry dock for the next few years, you can still step foot onboard this maritime marvel.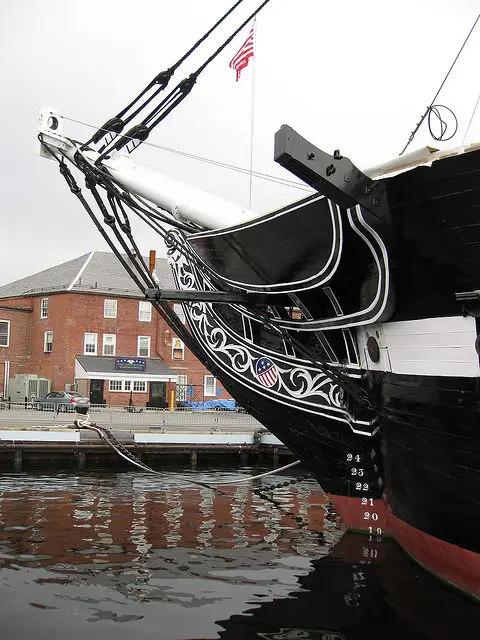 7. Bunker Hill Monument – Not far from the USS Constitution, you will find the Bunker Hill Monument. This 200+ foot granite monument commemorates the first major battle of the American Revolutionary War between the British and Patriot forces fought on June 17, 1775. You can climb all 294 steps of this National Historic Landmark for a spectacular view of north Boston and the surrounding harbor and ports. You might just see your cruise ship!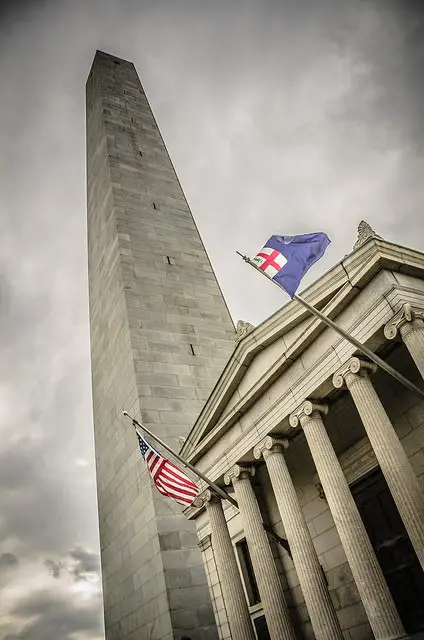 6. Sam Adams Brewery – What started out as Jim Koch's passion to produce a "better beer" ended up igniting a beer renaissance in America. With few domestic options for American craft beer, Koch and his business partner founded the Sam Adam's Brewery and in 1985 began selling its signature lager. You can relive the history of this now iconic brand by touring the brewery located a few miles south of the city-not to mention sample a few pints.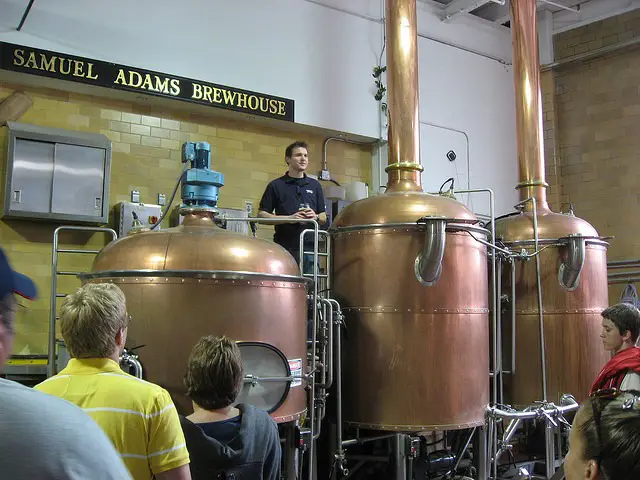 5. Union Oyster House – The oldest restaurant in the U.S., the Union Oyster House has been serving guests since 1826. The rustic atmosphere and fresh seafood make this award winning restaurant worthy of at least a photo-op, if not a pit stop for refueling during your time spent traversing through the city. Of course, you must try a cup of New England clam chowder and grab a few oysters on the half shell during your visit.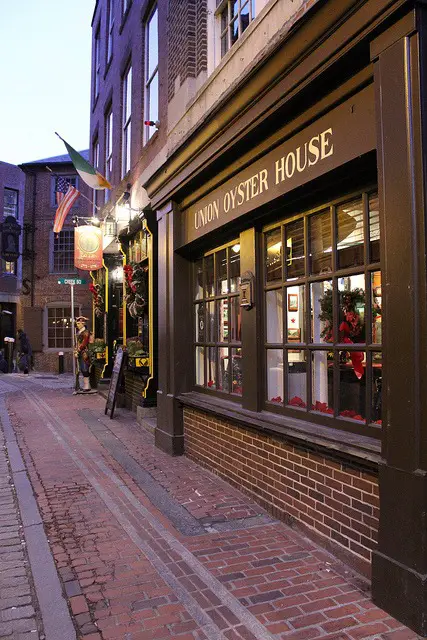 4. Hanover Street – If seafood is not your thing, or you have a bit of a sweet tooth, then you have to make the trek over to Boston's North End. The center of this Italian district is Hanover Street which is lined with great restaurants, coffee shops, and authentic markets with imported Italian delicacies. Some of our personal favorites in this area include Lo Conte's, located a block from Hanover Street, and the world famous Mike's Pastry.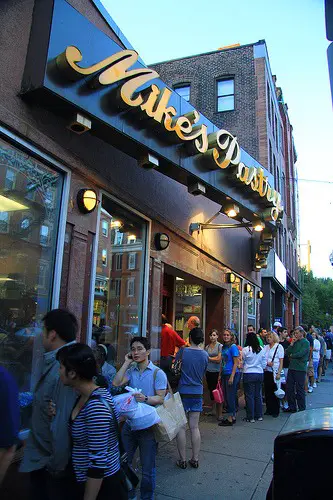 3. Faneuil Hall and Quincy Market – Are you ready to shop while in Boston? Then, head over to Faneuil Hall and Quincy Market. Familiar brands and distinctly Boston stores are mixed between the two original buildings, which also house a variety of dining options. This area has enticed Bostonians and travelers alike for over 270 years. During the summer, a Farmers' Market, featuring locally grown and sourced products, runs every Friday.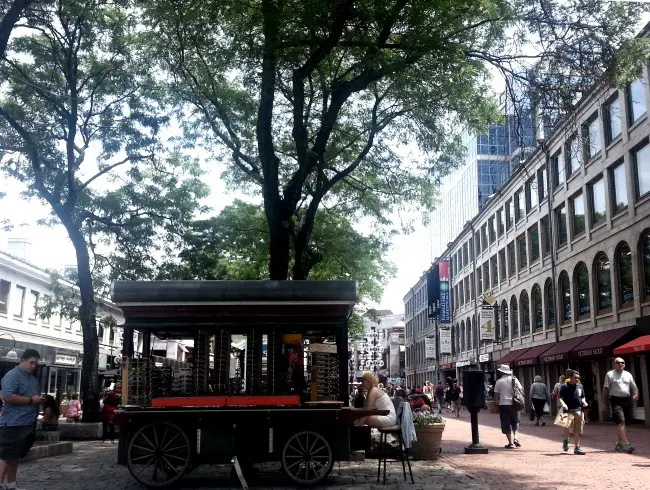 2. Boston Commons and Public Park – Tucked away in downtown Boston, the Boston Commons is the nation's first public park. Located between Tremont Street and Beacon Street, the masses convene at the Commons for multiple events throughout the summer. A more modern addition, the Boston Public Garden is a Victorian inspired botanical garden meant to be savored with quiet strolls and a leisurely trip around the pond on the Swan Boats. While in the area, head over to the place where everybody knows your name- The original Boston pub that inspired the setting of the hit show Cheers.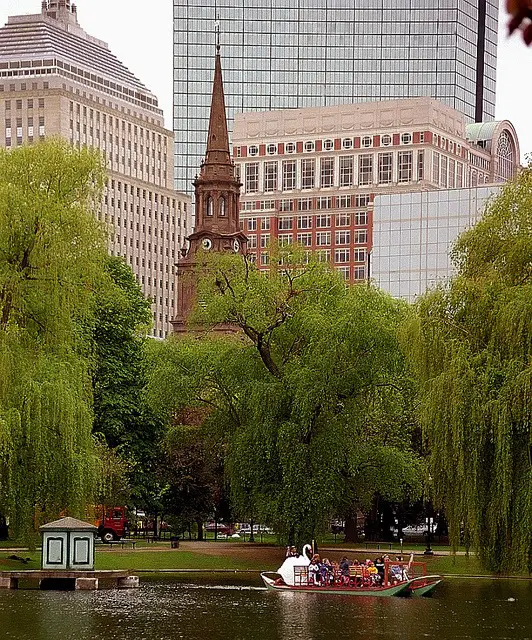 1. Fenway Park – Lastly, no visit to Boston is complete without witnessing the Boston Red Sox play at the nation's "Most Beloved Ball Park", Fenway Park, where good times never seemed so good, so good! The Fenway Franks, the crowds, and the Green Monster are here for you to celebrate the nation's pastime. Regular tours of Fenway Park are also available to see all of the highlights of the park. Even if you are not a sports fan, Fenway Park is distinctly Boston and should be number one on your list of things to see.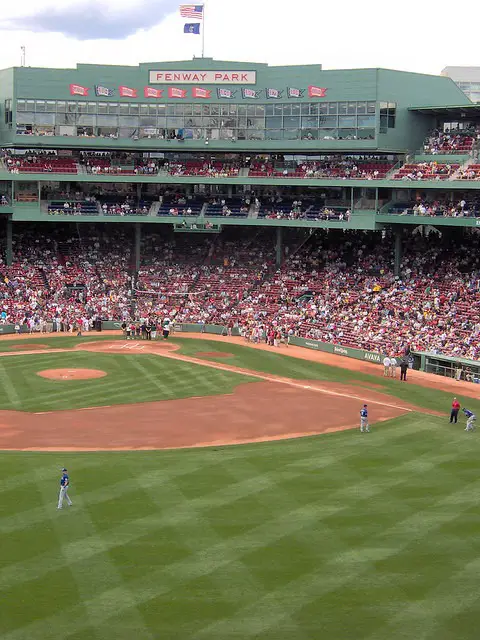 Sure, there are plenty of additional sights and sounds in our homeport, but you can't capture it all in just one trip. There is so much to see and do that you need to come back time and again to enjoy all that Boston has to offer.
Looks like you need to book another cruise!
Don and Heidi Bucolo are the husband and wife team behind the blog EatSleepCruise.com, where the write about food, travel, and all things cruising. With reviews on cruise ships and shore excursions, valuable cruise planning tips and advice, and a complete photo gallery, they help you "sea the world one port at a time".