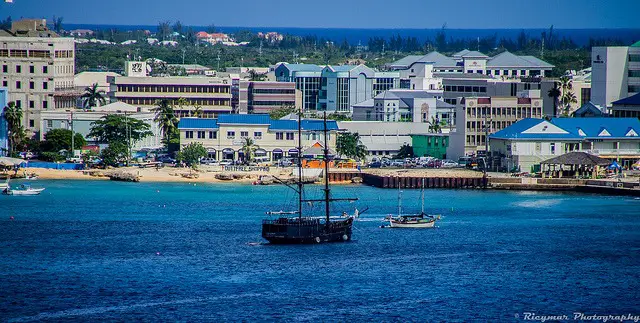 The Cayman Islands,  are located 90 miles south of Cuba and George Town is its Capital, located on the largest island in the system - Grand Cayman. Grand Cayman, a self-governing British overseas territory, is the epitome of "white sand and turquoise waters."
Because of this and its strong economic climate (5th in the world), Grand Cayman is one of the top destinations in the Caribbean.
George Town Grand Cayman offers world-class scuba diving and snorkeling, opportunities to swim with stingrays and turtles, great shopping in George Town city center, and some of the most beautiful beaches you've ever seen.
Where You Dock in George Town, Grand Cayman
Tendering in Grand Cayman
Ships have to anchor off-shore and tender their passengers in. There are 2 docks in downtown George Town – North & South. Take note of where your tender drops you off as the docks can be quite busy when there could be as many as 5 ships in port. Be advised, if the waters are rough, sometimes captains decide it will be unsafe to tender passengers into Grand Cayman and the port will be skipped.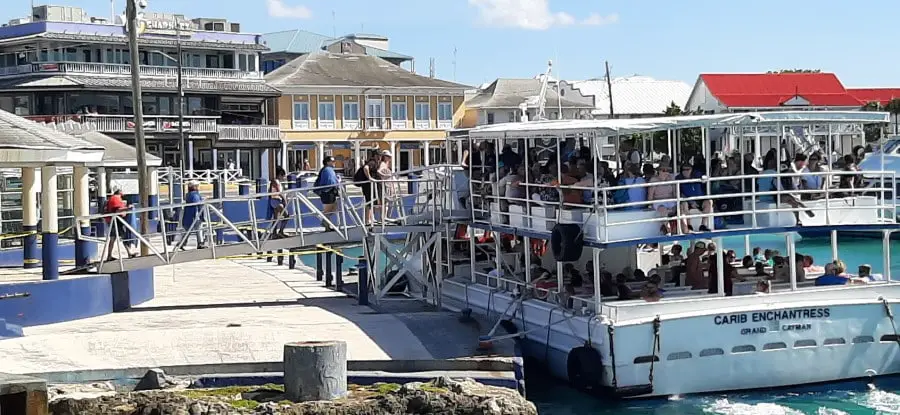 Can Cruise Ships Dock in Grand Cayman?
Unfortunately, no. Not at this time.  All major cruise ships that go to Grand Cayman will drop anchor about 1 mile offshore and small tender boats will take passengers ashore.
Getting Around George Town, Grand Cayman
Walking: The tendering docks are a short walk from town. Shopping and restaurants are a close distance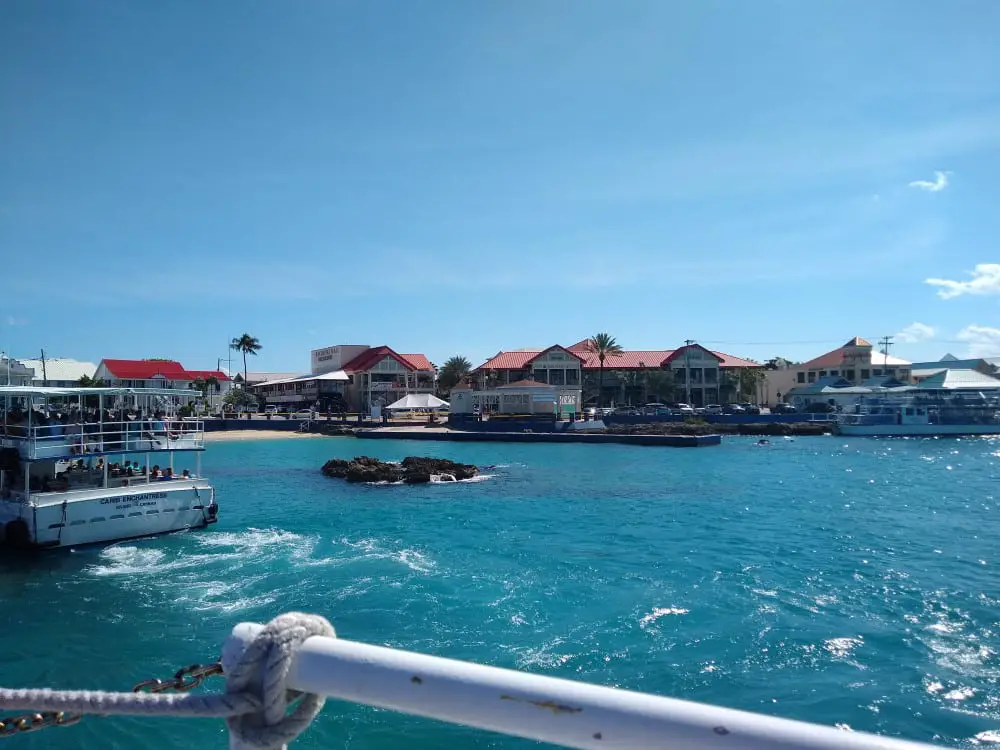 Taxis: Many taxis are found by the port. Taxis aren't metered, but have rates set up by the government, based on 1-3 passengers. Any distance less than 2.2 kms (1.4 miles) is charged a flat fee of $8 CI. Note that it is customary to tip your taxi driver 15-20%.
Bus: There are public buses (mini-vans) that travel around the island on 9 different routes, all identified by a different color. The central bus depot is located is George Town and buses leave every 10-20 minutes, depending on the route. There are some bus stops along the way, but passengers typically will just tell the driver when they want to get off. Also, if you see a bus and it honks its horn, you can wave your hand to flag it down and it will stop to pick you up. It is between $2-$3.50 CI for a ride.
Car Rental: There are different car rental companies located at the airport or near Seven Mile Beach. Visitors must buy a a driving permit (approx. $16 CI) and it is good for 6 months. It's relatively easy to drive around Grand Cayman – roads are good and traffic rules are followed. Note: It's a self-governing British overseas territory, so cars drive on the left, even though most cars still have steering wheels on the left side.
Shopping In George Town, Grand Cayman
Jewelry and watches are hot items in Grand Cayman since everything is tax-free. Rum cake is also a local specialty and a popular spot for purchasing them is Tortuga Rum Company, located in various locations around the island. Small unique shops dot the harbor front offering crafts and souvenirs.
Camana Bay – a large shopping complex located approx 2 miles from the cruise port in George Town. This modern outdoor shopping/dining complex has many familiar businesses like Starbucks, as well as unique Cayman stores as well.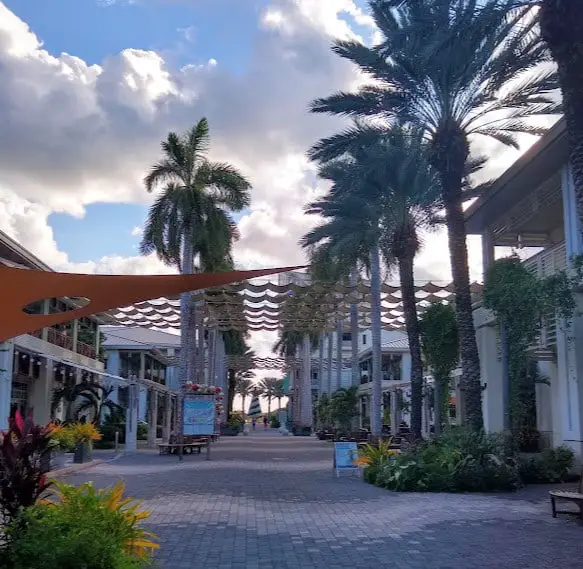 Cardinal Ave, George Town – home to some great, upscale duty-free shopping including Kirk Freeport, Swatch, Cartier Boutique, Kirk Leather, and more. Closest to the North Cruise Terminal
Bayshore Mall, George Town – Closest to the South Cruise Terminal – stores include Kirk Freeport, Cartier, Timezone, Miche , Lalique, and more.
West Shore Shopping Plaza – West Mile Road, Seven Mile Beach – upscale boutiques and galleries
Dining In George Town, Grand Cayman
Grand Cayman has quite a restaurant scene, possibly due to its high standard of living. Conch-based dishes tend to be the island's specialty but you can find any type of cuisine imaginable, from Caribbean to Asian to Bar & Grill and everything in between.
There are chain restaurants such as Hard Rock Cafe, Margaritaville, Subway, Wendy's & Burger King, if you feel like eating something familiar. Many of the restaurants are in George Town or Seven Mile Beach.
Champion House – 43 Eastern Ave – a favorite with locals, a friendly atmosphere serving large portions of Caribbean favorites
The Brasserie – 171 Elgin Ave – fresh, farm-to-table dining in a Caribbean plantation-style setting
Sunshine Grill – 1465 Esterley Tibbetts, Seven Mile Beach – cute cafe across from the beach, American & Caribbean cuisine
Things To Do in George Town, Grand Cayman
Resort Day Pass: 
Enjoying resort amenities can be a great way to spend the day in Grand Cayman. Not only do you have access to the gorgeous white sand beach, but there are pools, restaurants and drinks. Check out these options with ResortPass!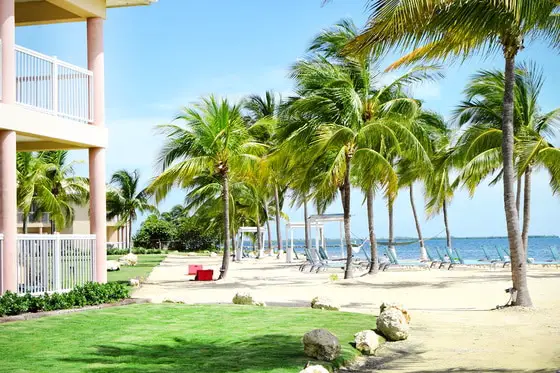 Scuba Diving, Snorkeling & Snuba – The Cayman Wall is known the world over as a great dive site. Devil's Grotto is the perfect place for snorkeling or snuba diving (divers breathe through long air tubes from surface tanks instead of tanks on their backs)  – check out the wreck of a 1940's schooner.
Cayman Islands National Museum – located on Harbor Drive, this museum houses the largest cultural and art collection on the Cayman Islands.
Queen Elizabeth II Botanical Park – 65 acres of trails, beautiful gardens and natural wetlands. A perfect spot to relax.
Cayman Turtle Farm – Northwest Point Road, West Bay – a breeding ground for up to 16000 turtles – see babies get fed and perhaps released into the wild
Dolphin Discovery – West Bay – swim and play with dolphins in a large pool
Beaches:
Seven Mile Beach – voted one of the best in the Caribbean with lounge chairs, water sports & great spots to snorkel.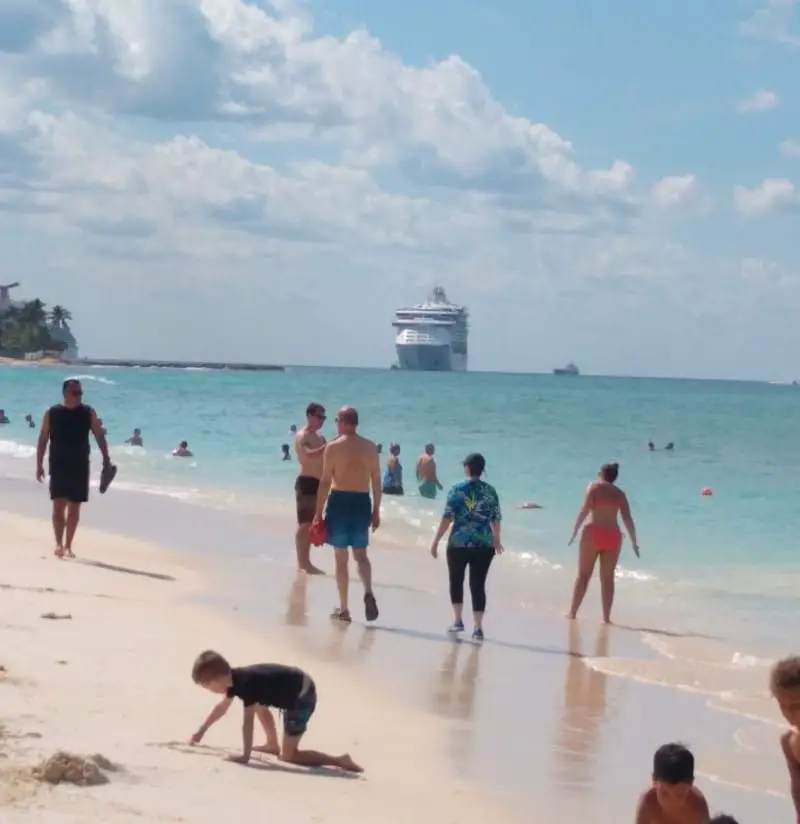 Secluded Beach – Cayman Kai or Rum Point – you'll be heading in the opposite direction of everyone else, to the northeast of George Town (30-minute drive). Amenities such as water sports and restaurants are available.
Beach for Water Sports – East End for windsurfing or Cemetery Beach for snorkeling (north of Seven Mile Beach)
See all excursions in Grand Cayman
Top Tours & Excursions In George Town, Grand Cayman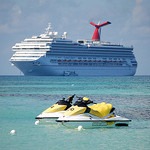 Drive your own Jet Ski out to the shallow Stingray City sandbar, about a 30 minute ride. Swim among and feed the stingrays, then drive over to the barrier reef to snorkel. You will then have the option to end your time at Seven Mile Beach or head back to George Town....
Photo credit: James Willamor / Foter / CC BY-SA
Duration: 2.5 hours
Activity Level: Moderate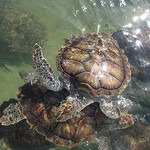 The short tour of Grand Cayman gives you an orientation of the island with still enough time to explore on your own! You'll stop a the turtle farm and tour of Hell as well as other photo ops including Seven Mile Beach....
Photo credit: minnemom / Foter / CC BY-ND
Duration: 2 hours
Activity Level: Easy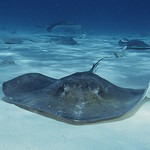 Avoid the crowds by heading to Stingray City on a cabin cruiser. Interact with, feed and swim with the gentle stingrays before heading to the Barrier Reef , then Coral Gardens for 2 stops of fantastic snorkeling....
Photo credit: petersbar / Foter / CC BY
Duration: 3.5 hours
Activity Level: Moderate
Note: There is also a tour with only 1 snorkel stop. See here for details.