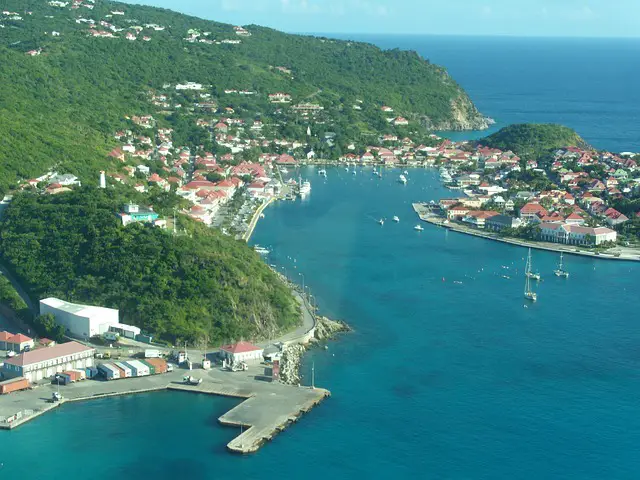 Known as St. Barts or St. Barth, this Caribbean island is popular for its beaches, designer boutiques and upscale restaurants. Positioned between the Caribbean Sea and the North Atlantic Ocean, it is a part of the French Antilles. This island has been famous for decades as a retreat for the rich and famous. David Rockefeller had a home in the northwest corner of the island and Edmond de Rothschild was a frequent visitor. 
Saint Barthelemy's, as is the case with most islands of beauty and strategic location, has had a tumultuous history. First inhabited by the Arawak Indians, the Caribs infiltrated the island and became the dominant habitants. The Caribs were the ones that Columbus encountered in 1493. Columbus named the island for his brother Bartolomeo. 
The French had several unsuccessful tries at settling the island. French buccaneers had more success when they used the island as a way station from which to plunder Spanish galleons. Eventually, France traded the island to Sweden. The capital, Gustavia, was named after Sweden's King Gustavia III. The island was sold back to France and has stayed in its possession since 1878.
An eccentric Dutch aviator, Remy de Haenen, once landed at St. Barth and became enamored with the beauty of the island. He hung around, becoming the first hotelier and then the island's mayor. Remy was friends with Howard Hughes, and numerous Hollywood stars. These notables made the trek to see the island for themselves and St. Barthelemy's reputation as the hang out for the rich and famous was solidified.  
Today, it is the stars like Brad Pitt, Tom Cruise and others who flock to this beautiful island. Just eight square miles, the island has rolling hills and blue-green lagoons. There are no fast food chains here, and the largest hotel has just 75 rooms. 
It is the smaller cruise ships that tend to visit St. Barth as its size and topography make it impractical for large cruise ships. St. Barth does not have an international airport, either. This seclusion has made it a favorite with the jet set. 
[caption id="attachment_19222" align="aligncenter" width="624"]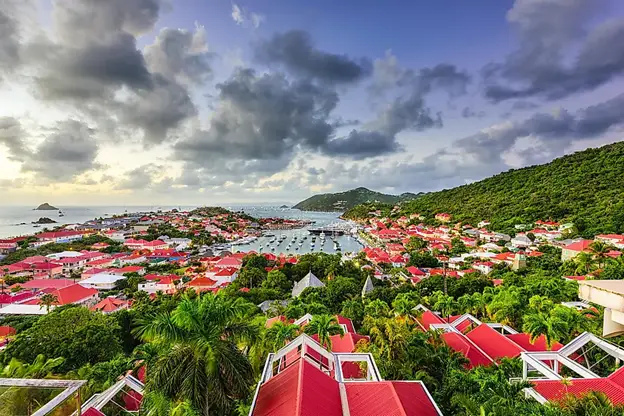 Photo Credit:
worldatlas.com
[/caption]
Good to Know
When you are in St. Barth, you are in France. The tourism agency asks that you remember that things move at a slower pace on the island. St. Barth is considered more upscale and also tends to be much more expensive than other Caribbean islands. 
Not everyone on the island will speak English, and a Google Translate might come in handy. In the United States, making a circle with the thumb and index finger means "OK."  In France, that is an insult and means "worthless." If you want to use the thumbs up gesture, that is universally understood to mean "OK" or "Good."
Here is a paradox, swimwear is perfect for the beach, but not considered proper when in town. However, topless swimming and sunbathing are acceptable, and common at pools and beaches. In case you want to know, the two most popular beaches for nude sunbathing are Grand Saline (Anse de Grande Saline) and Governeurs's Beach (Anse de Governeur), both on the south side of the island. 
Speaking of nude sunbathing, don't forget the sunscreen and insect repellent.
[caption id="attachment_19223" align="aligncenter" width="696"]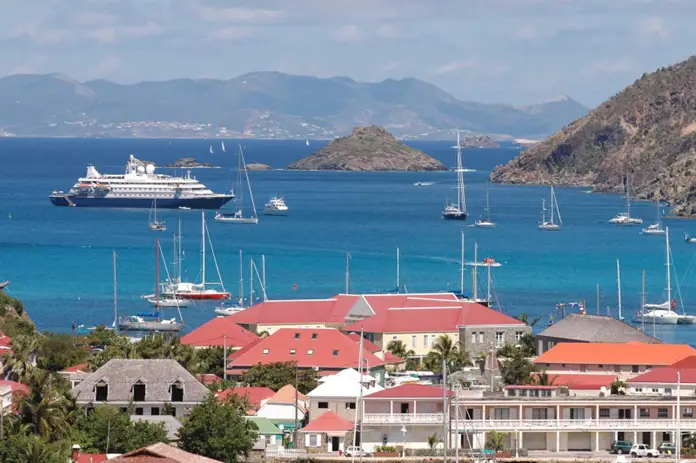 Credit: Sea Dream Yacht Club[/caption]
Where You Dock in Gustavia – St Barthelemey
Cruise ships anchor in the harbor and tender passengers into the Port de Plaisance, which is in the center of the city.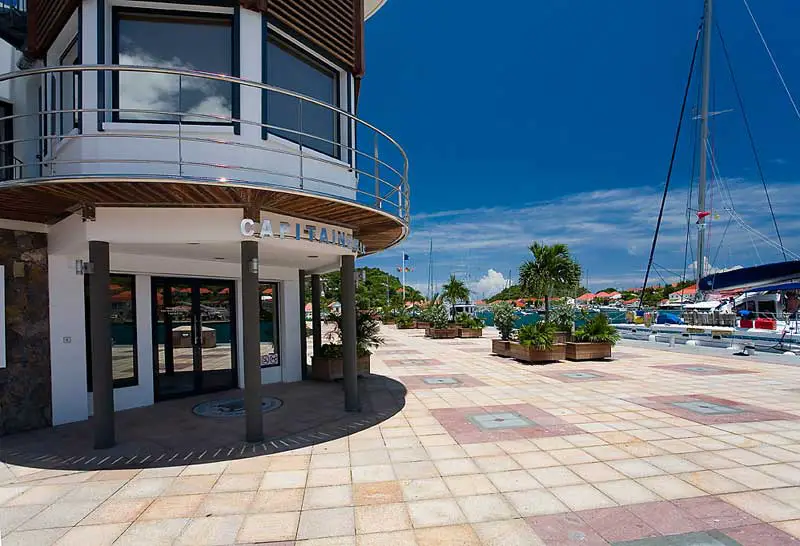 Getting Around Gustavia – St Barthelemey
Walking
You can walk from the pier to the shops and restaurants in Gustavia. Because of the narrow, winding roads with blind corners, it is not advised to ride a bike or go for a run on the roadside. 
Taxis
There are taxis at the pier. Depending on how long your ship will be in the harbor, you need to know that most taxis don't work at night. If you need a ride back to port in the evening, make sure you arrange that in advance. 
The prices are fixed and they are in Euros.
Scooters
You can rent a scooter in St. Barth, but just be aware that driving can be a bit tricky because of the twisty, winding roads. The roads also tend to be slippery and cars drive faster than they should. Most of the accidents on St. Barth are those that involve scooters.
You can rent a scooter here for as little as $27 Euros a day: Barthloc Car Rental (ATV's and scooters, too)
Rental Cars
There are car rental services on the island. The roads on St. Barth are narrow with switchbacks and hairpin turns. While there are the occasional stop signs, there are no traffic lights. 
At an intersection, the car to the right has the right of way. All roads are all two lanes. Driving is on the right side of the road. Seatbelts are mandatory and the top speed on the island is 30mph. This speed, however, is seldom adhered to.
As with most car rentals no matter where you are, you will need a valid photo driver's license and be over 21. You will also need a major credit card.
Hertz, National and Enterprise are the car rental agencies closest to the pier. 
Public Transport
There is no public transport or Uber service on St. Barth.
Shopping In Gustavia – St Barthelemey
As with almost every amenity on St. Barth, the shopping is upscale too. The emphasis is on quality, the finer things and luxury. There are over 200 shops and boutiques across the the whole island that attract sophisticated shoppers. You will find everything from fashion to homewares to art.
There are three main shopping streets in Gustavia that hold shops such as Louis Vuitton, Tod's, Bulgari, Psyched, Cartier, Chopard, Longchamp, Dolce & Gabanna, Richard Mille and Hermes. These streets are Rue de la République, which runs right along the water, by the marina, Rue du Général de Gaulle, which runs parallel to the marina, one block away, and Rue de Roi Oscar 11, which is again one block up and runs parallel to the previous.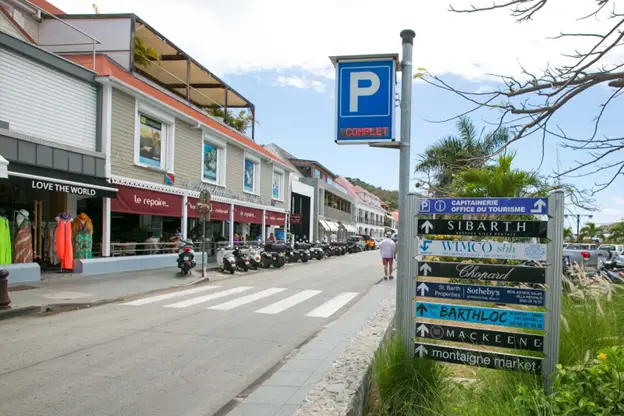 Dining In Gustavia – St Barthelemey
There is absolutely NO shortage of upscale restaurants in St. Barth. The unique, quality cuisine is one of the draws to the island. U.S. News and Travel named St. Barth is one of the top Caribbean islands for foodies. Frommer's Travel Guide likened St Barth culinary scene with the French Riviera with a Caribbean twist. There are about 80 quality restaurants on the island, and it will be difficult to choose just a few to try. Fortunately, whichever one you do choose, it is sure to be excellent.
Le Select
Located almost right at the tender dock, Le Select is the oldest bar in St. Barth, having started in 1949. Open for lunch, enjoy bar food like a burger and fries, wings and nuggets while sipping on a Caribbean beer like Redstripe (Jamaica) or a yummy cocktail. 
In the center of Gustavia, Orega (the name means "it's mine" in Japanese) sits close to the giant anchor that rests across from the Anglican Church. Orega serves up food with a Franco-Japanese fusion concept.
Traditional Japanese fare, including sushi, is accompanied by imaginative dishes. Many of their ingredients are sourced from Paris, Tokyo and New York to ensure the dishes are authentic and high quality.
Homemade dim sum, kai satay, and seafood dishes like the catch of the day, will be made with yellow curry and herb sauce. If you are looking for upscale vegetarian, vegan or gluten-free Asian fare, this is the place. It's only open for dinner.
Santa Fe recently celebrated its 50th anniversary in St. Barth. Views of the ocean compliment the French-Creole cuisine and seafood here. You can choose your own lobster from the restaurant's large tank. Most people make a reservation to obtain the "edge seats" with the best views. They are open for 2 hours at noon and again for dinner, but note they are closed for holidays from the end of June through September. 
There are upwards of seven specialty cooks who prepare their iconic dishes at this restaurant. Bonito is a fusion of South American cuisine and French gastronomy. Their ceviches, triaditos and anticuchos are prepared in the Peruvian way. They have a variety of meats that are cooked on a charcoal grill, a wide range of salads and homemade pastries and desserts. They are only open for dinner. 
This casual cafe is open for breakfast through dinner and is a perfect spot for a cup of tea, fresh juice, acai bowl, hearty salad or yummy burger. Their menu is a blend of French, Asian and Mediterranean influences. The outdoor patio, great service and reasonable prices make for a great stop during a day of shopping.
Specializing in authentic Roman pizza which comes in sizes of full meter and half meter (!) and Italian wine, this relaxed well-priced restaurant is for you. Open for lunch through late, with a pleasant atmosphere, outdoor seating and welcoming staff make for a great casual stop for a bite to eat. They also serve up delicious eggplant parmesan, fresh pasta, salads and daily made Italian desserts, but it's all dependent on what's available at the local market.   Note they are closed for annual holiday for September and October. 
Things To Do in Gustavia – St Barthelemey
The Municipal Museum contains the largest concentration of sociological, ethnic, economic and natural data on the island. Housed in a historic Swedish colonial two-story stone house in the capital of Gustavia. Often called Wall House, it is not to be confused with a gourmet restaurant of the same name. You will see exhibits of historical clothing, everyday items and tools that will give the viewer an idea of life in St Bart in the past. There are also examples of plants and animals that represent those found on the island. 
It is located about a 12 minute walk from the pier, around the bay, opposite the tender dock. 
Entrance to the museum is free. The museum is open Monday through Saturday at varying times so it's best to check here to make sure it's open. 
Built around 1820, this building is one of few that survived a devasting fire in 1852, and as such the building and its grounds became a historical monument in 1990. Even so, the museum wasn't open to the public until 2021 with themed exhibits showing the history of the island including the colonial times of Swedish occupation, times of slavery, and after it was no longer part of Guadeloupe. Tribute is also made to the wealthy Dinzey family who arrived on the island in 1808. 
Visit Corossol
Less than a mile and a half (2.1 kms) from the tender dock, this small fishing village still embraces the traditional island way of life. There is a small beach and fishing port. Traditional boats, dories and lobster pots are still used daily.
The weaving of straw, which is a local tradition, is still practiced here. Hats and baskets are made with dried latanier leaves.
The International Seashell Museum, located in Corossol, has over 9,000 specimens from all over the world. There is a marlin-spike from Hawaii, giant clams from the Solomon Islands and vasum from St. Barts. Founded by Ingenu Margras, it started as his own personal collection and grew into a museum.  
It also has a lovely beach and while there are no amenities, it is has fewer tourists than some of the more popular beaches, and can be a great spot for kids to swim in calm water.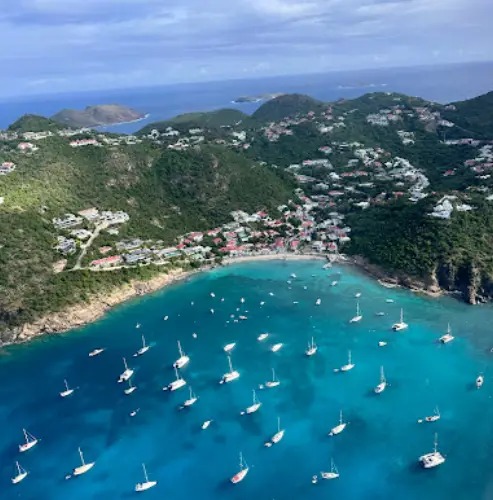 Beaches
Around the island, there are 11 beaches that are easy to access. Some of the beaches have restaurants and places to rent water sport equipment. Some hotels may offer chair rentals but most beaches don't offer this amenity. The map below shows the location of the beaches.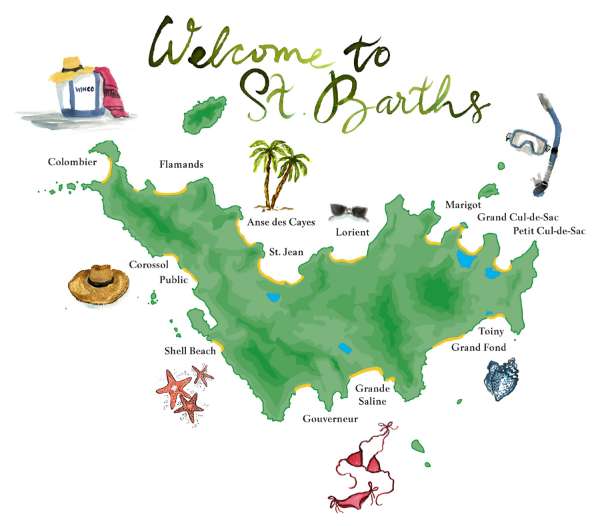 Shell Beach
This beach is the closest to the cruise tender pier at only an 8 minute walk. This cove has steep rock faces and lots of foliage. The sand has a pinkish tinge and a multitude of small shells, hence the name. Because of its location, it tends to be quite busy if a ship is in port, but Shellona Restaurant is at the beach and they have a few chairs and umbrellas for rent.
St. Jean Beach/Nikki Beach
One of the most popular stretch of beaches in St. Barth, it is said that this is the area where you go to see and be seen. St. Jean and Nikki beaches are split with Eden Rock hotel in between (private beach). It's most popular with tourists so is usually busy with swimmers, windsurfers and sailboats. It is located next to the airport, making a unique spot for plane spotting. There are a few beachfront restaurants and hotels with some offering chair rentals.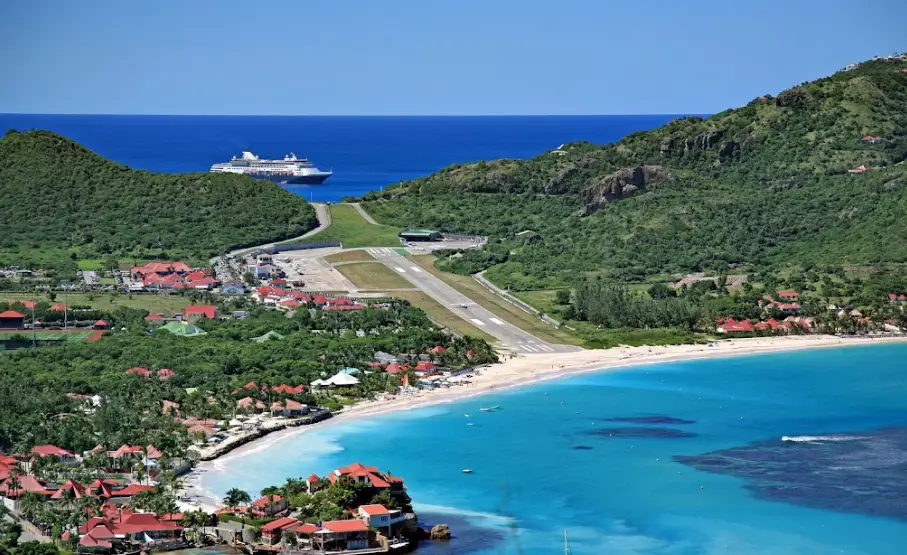 Other beaches that have restaurants or hotels nearby are:
 – Lorient Beach – a 10-15 minute drive from port, good for windsurfing and snorkeling
 – Grand Cul-de-Sac – a 15-20 minute drive from port, good for watersports and calm water
Beaches with clothing optional areas:
Grande-Saline Beach – a 10-15 minute drive from port, beautiful long secluded beach with no amenities or much shade, good for walking and sunbathing with clothing optional area. Note it's a 10 minute hike from the parking area to the beach.
Gouverneur Beach – a 10 minute drive from port, shorter beach than Saline but less of a hike to get from parking to beach. No shade or amenities but warm, clear water. This is a clothing optional beach.