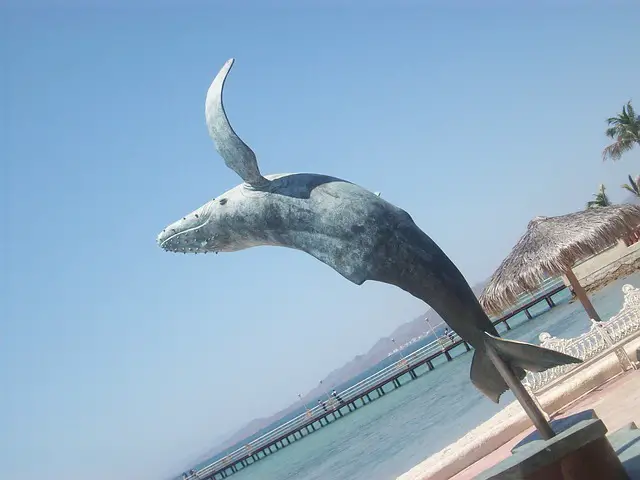 La Paz is the capital of Baja California Sur, a Mexican state on the Baja California Peninsula. This is a peninsula in North America that separates the Gulf of California from the Pacific Ocean. Bordered to the north by the United States, this peninsula is a Mexican territory that comprises two Mexican states; Baja California Sur and Baja California.
The known history of the area goes back to when Hernan Cortes sent the Spanish ship to explore the South Seas of the Pacific Ocean in 1533. After an on-board revolt led by the navigator and second in command, Fortun Ximenez, the ship reached a bay that is now the port of the city of La Paz.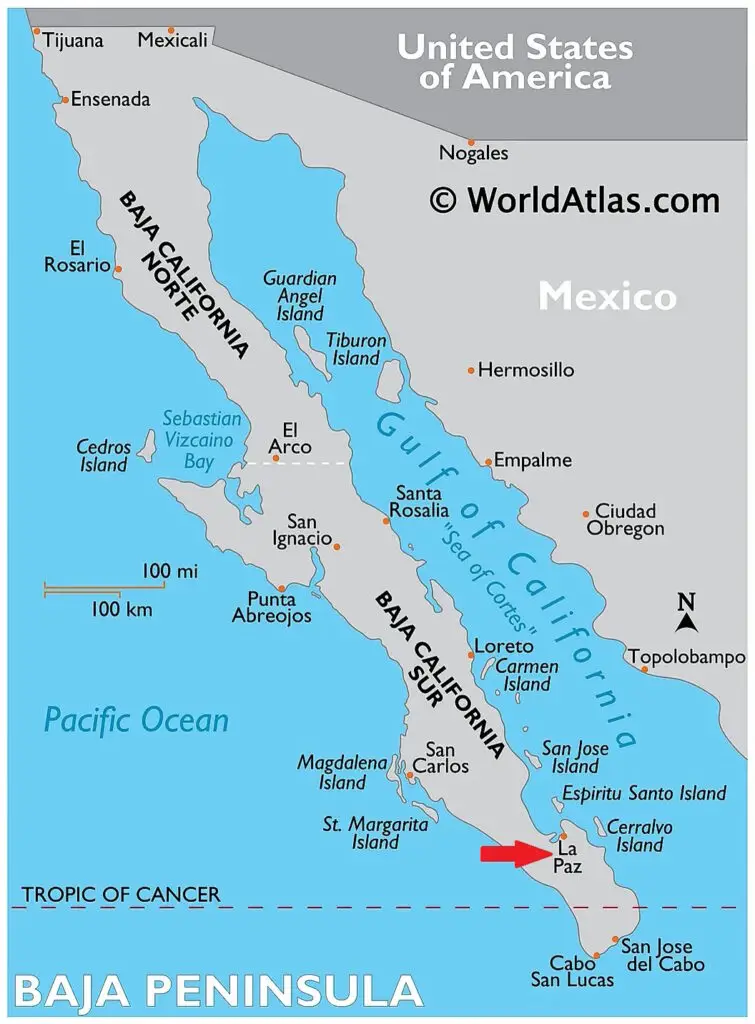 While Ximenez successfully reached what he thought was an island, he and his crew were not so successful with the inhabitants. Ximenez and his crew plundered and looted until Ximenez was killed and the surviving crew of the Concepcion headed back out to sea. After Cortes himself tried unsuccessfully to conquer and establish a colony on this peninsula, Dutch pirates took control before Spain wrestled it back again in 1683.
The waters in the Sea of Cortez in Baja had been a major source of black pearls. Diving for pearls was risky, but large scale operations began in the late 19th century. By the early 20th century, the pearl beds were gone. Hope that they might regenerate was dashed when the Hoover Dam was completed in 1936. The dam prevented the needed nutrients from flowing south from the Colorado River and into the Sea of Cortez. Pearls generated today are done in oyster farms.
On the three mile Malecon in La Paz,  you will see a sculpture that commemorates La Paz having once been the black pearl center of the world.
Ironically, La Paz means "peace" in Spanish, and today the area is a very tranquil region where you will find cactus-filled desert that meet the ocean. In the 1960s. Bing Crosby had a home in La Paz, as did Desi Arnaz. Singer Engelbert Humperdink also had a home there, and Jacques Cousteau would rent a house on the bay to watch the whale migrations.
While it looked for a while like La Paz might become the next Acapulco, that never transpired for the city. It is now seen as a jumping off spot for Cabos San Lucas or for eco-tourism. The proximity to the gray whale winter breeding grounds in Magdalena Bay attracts whale watchers along with kayakers, hikers and scuba divers.
La Paz is also a university town. The Autonomous University of Baja California Sur, the Technological Insititute of La Paz and Mundial University are among the universities in the city.
Good To Know
"Gringo" establishments are those that are owned by, run by, or cater to Americans and Canadians.
Although there are ATMs throughout the area, most ATMs in Mexico accept four-digit pins only. If your bank pin is five or six numbers, see if you can get a temporary four-digit pin for your travels in Mexico.
If you plan on going swimming, scuba diving or snorkeling while in La Paz, you must be aware that you might encounter jellyfish or get a nibble from a sea lion. Wearing a wetsuit, if possible, helps in those situations.
Where You Dock in La Paz – Mexico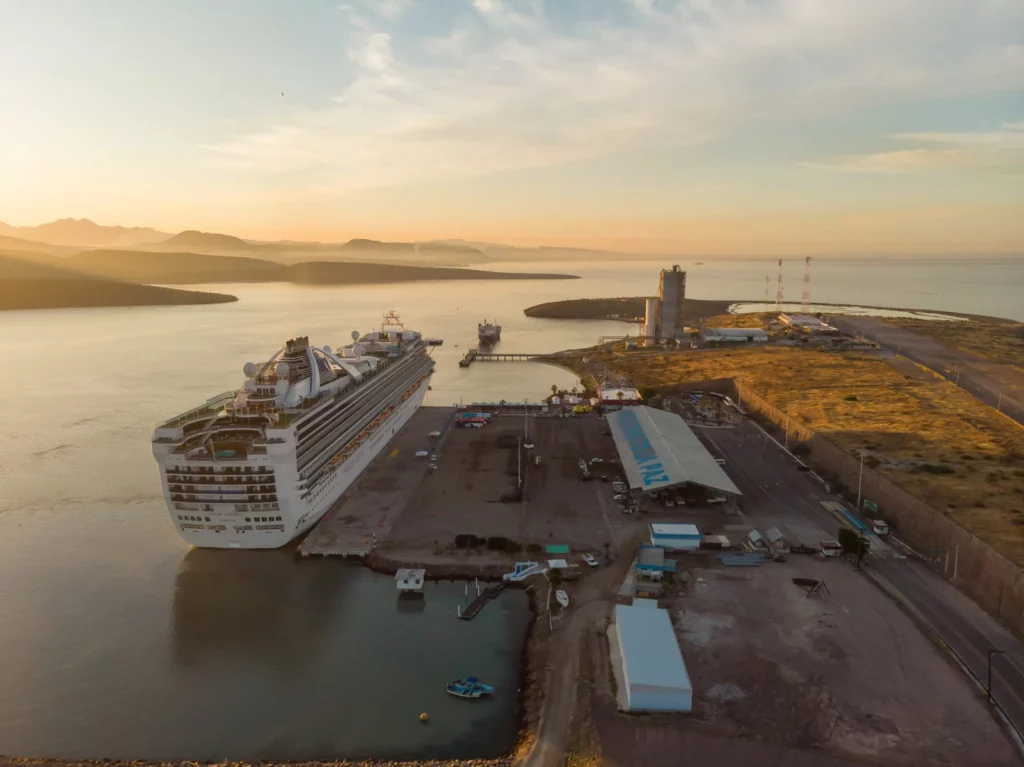 This port is a commercial, industrial and tourist port. Larger cruise ships dock in the Puerto De Pichilingue. This is about 10 miles north of La Paz. There is a craft market that is set up at the dock on cruise ship days, but other than that, there are no facilities. Smaller cruise ships will dock at a small pier that is within walking distance to La Paz.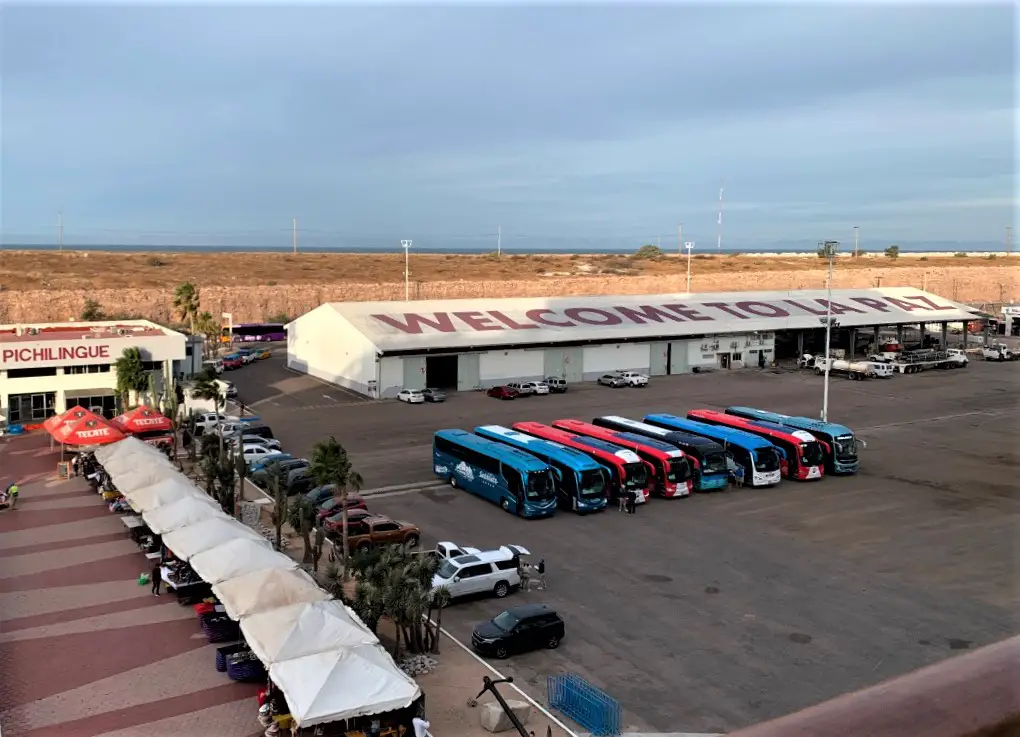 Some cruise lines will offer a complimentary shuttle into downtown La Paz. Princess Cruises, for example, will shuttle passengers into La Paz with a stop at the beach for those who would rather swim and sunbathe, than tour the town.
Getting Around La Paz – Mexico
Getting to La Paz from the Pichilingue cruise pier is going to require either a taxi ride or a trip on a shuttle. Some cruise lines offer complimentary shuttle buses from the Pichilingue cruise pier into town. Check with your cruise line to see if that is the case. Princess Cruises, for example, offers a shuttle that stops at both the beach and downtown.
Walking
Once you arrive in La Paz from the cruise pier, the Malecon Alvaro Obregon is three miles long and is an easy area for walking. The word malecon, often used in Spanish-speaking countries, is a stone-built embankment or esplanade along a waterfront. This walkway has various sculptures of marine animals and great views of the bay. There are also shops, cafes and restaurants along the Malecon. From the waterfront, the streets that go along La Paz are in a classic grid pattern. It is best, and easiest, to explore La Paz on foot. 
Taxis
Taxis are prevalent in La Paz and there are taxi stands along the Malecon. Set your fee with the driver before getting into the cab. If you choose to call ahead, here are some taxi services in La Paz:
Trianglulo Verde – Phone: +52 612 122 0308
Sito Flecha Rojo – Phone: +52 612 121 0700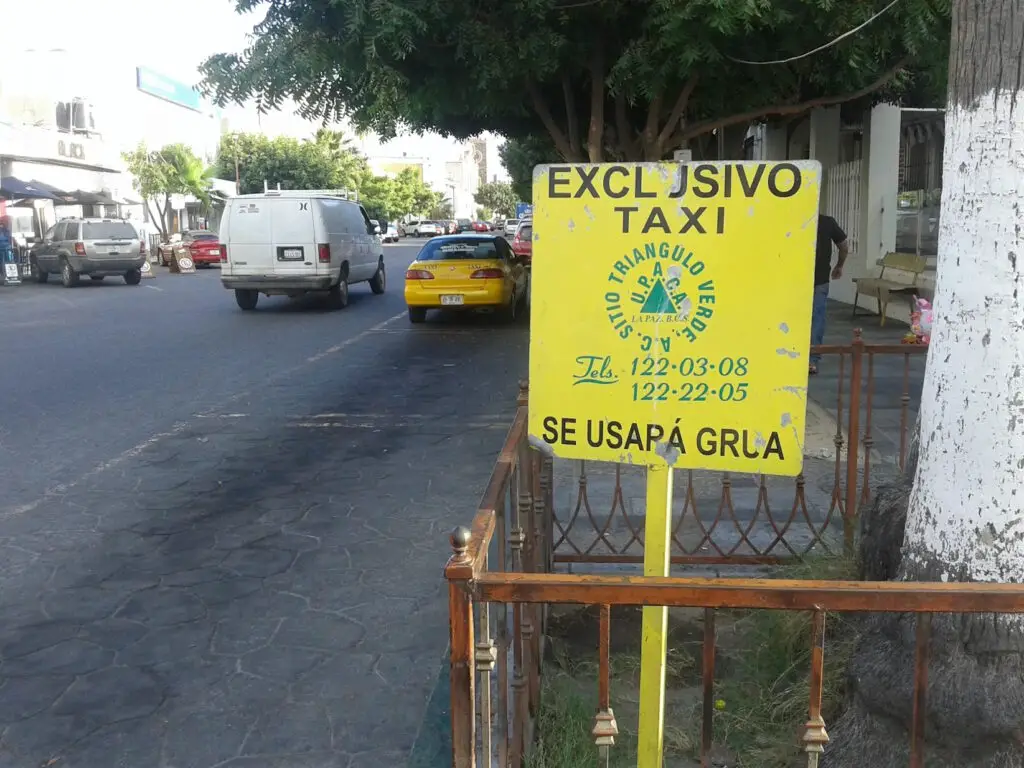 Rental Cars
Most of the major car services in La Paz have a store front along the Malecon. 
You will need to have a valid driver's license to rent a car in Mexico, along with a major credit card. You must also be at least 21 years of age. Most of the car rental services will not rent to anyone over 75 years of age. Driving is on the right hand side of the road.
Here are a few of the car rental services in La Paz:
Cheap Car Rentals in La Paz, Baja California Sur momondo
Enterprise La Paz Centro Car Rental
Renta de Autos en La Paz Zona Centro | National Car Rental México
Buses
There are buses and small vans that are called colectivos or peseros, that operate in La Paz. Most of these vehicles are not numbered, so you need to be able to speak a bit of Spanish or know the city's layout to know if you have the right vehicle for where you want to go. 
There are several intercity bus terminals in La Paz. One of them is on the Malecon in front of the Whale Museum. Buses from this terminal leave for Los Cabos and go by the way of Todos Santos, however, this is a two and a half hour trip one way. There are also buses that will take you to the beaches near the Pichilingue and they leave every hour between 9am and 6pm. 
It is important to know that the buses are inexpensive, but slow. They tend to be crowded, as locals use them. They also do not strictly adhere to schedules so keep this in mind if your time in port is limited. 
Here is one of the bus terminals that has a website, and it departures and destinations. 
Shopping In La Paz – Mexico
When you disembark from the cruise ship port in Pichilingue, there is a small market that is set up on cruise ship days, but other than that, you will need to make the trip into La Paz for shopping. The shops listed below are all in La Paz.
If you have forgotten anything during your packing, you can make a stop at the Walmart in La Paz. It's located south of the downtown, about 3.5 miles from the Malecon and about 14 miles from the port in Pichilingue.  There is also a Home Depot across the street.
This indoor mall has a variety of stores along with a food court including Starbucks, clothing stores like American Eagle, and a variety of services like manicures and an optical store. It's located close to the Walmart and Home Depot, about 3.5 miles from the Malecon.
This "pop-up" store has a permanent location on the Malecon, but instead "pop-up" seems to refer to the variety of local artisans and entrepreneurs that are featured in this collective-type boutique. The fashion and accessories in this store support Mexican brands. You will find candles, skin products, clothing, jewelry, and, with a nod to sustainability, edible and biodegradable utensils. A great spot to find something unique to the region.
Located 1 block inland from the Instagram-worthy La Paz sign, this would be a good spot for pottery, blown glass, tablecloths and bedspreads. You would also be able to find small souvenirs to take home as gifts.
Dining In La Paz – Mexico
Most restaurants will have fresh-from-the-sea options available. Restaurants outnumber chain options, although you will find the standards like Subway and KFC here.
Fish tacos and jumbo shrimp with a Mexican flare area staple in this steakhouse restaurant. Lots of fresh seafood and an attentive staff make this restaurant in La Paz a favorite with diners. It is located in the Central Zone, a couple of blocks inland from the Malecon and is closed Mondays, open for a late 2pm lunch Friday through Sunday, and dinner only the other days. 

Open at 2pm, and located one block inland from the white pavilion on the Malecon, this restaurants touts Baja International cuisine including fresh seafood, grilled meats and pizza. Live music, a wide selection of drinks and a friendly atmosphere makes Quinta La Peregrina a great choice for a meal.
Located 3 blocks inland along Jose Maria Morelos y Pavon (at Revolucion), cheese grilled shrimp, salmon, octopus, scallops and seafood along with salads on this extensive menu. Many diners like the "Burro Maya" with a margarita. Some reviewers said that the service was on the slow side, but it was worth the wait.
If you are a bit done with Mexican, try the Italian dishes at Oliva al Mare located in the Hotel Posada De Las Flores, along the Malecon. Everything is handmade on a daily basis with traditional recipes. Ingredients are imported from Italy and the wines are from around the world. The restaurant is on the small side, but the pasta, risotto and sauces are second to none.

Things To Do in La Paz – Mexico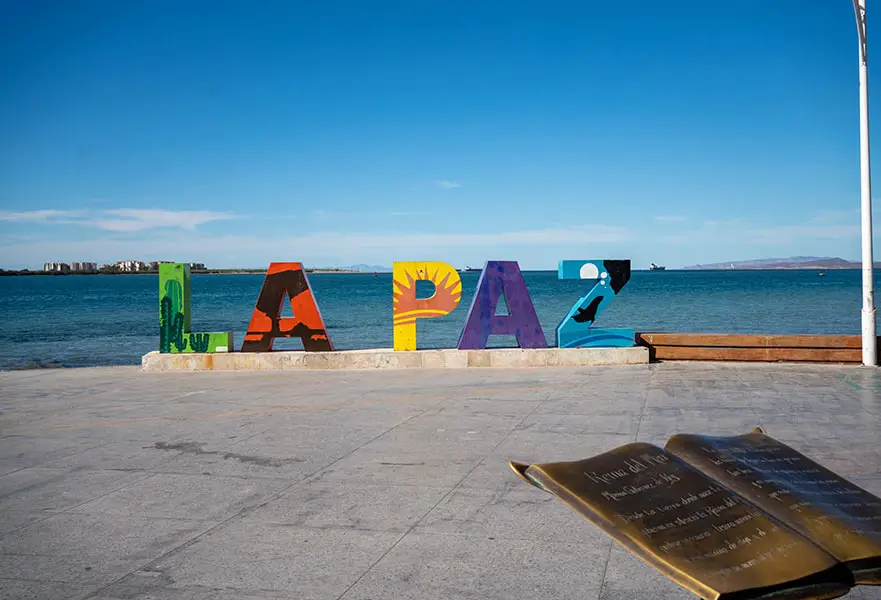 La Paz holds an annual holiday that is the pre-Lent Carnaval. The city holds six days of parades, costumes, music, dancing and fireworks. During the Festa de la Paz in early May of each year, Cortes' landing is reenacted and in mid November, the Baja 1000 off-road racers celebrate the end of the journey in La Paz.
Again, La Paz is not a "touristy" destination. The main attractions in the area are snorkeling with sea lions and whale watching.
Explore The City Of La Paz
Walk the three-mile long Malecon with its amazing views and sculptures along the way. Stop at the La Paz Cultural Center, which is a one hundred year old building that has historical and artistic exhibits. The Mission of Our Lady of the Pillar of La Paz Airapi, pictured below, was founded by the Jesuits. The main face is finished in pink quarry stone. The neoclassical style has two towers flanking the entrance.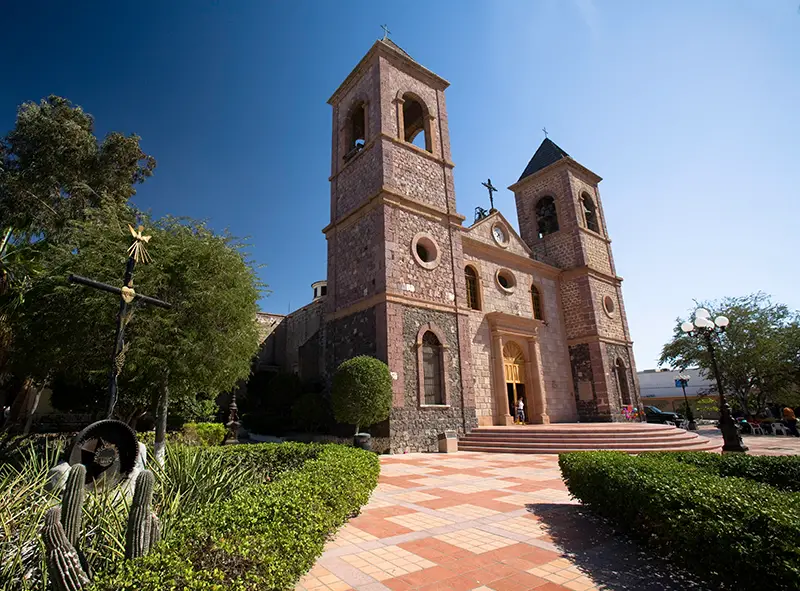 Visit the Museum of the Whale and Sciences of the Sea to learn about cetaceans and visit the Serpentarium to see the large collection of turtles, iguanas, snakes, crocodiles and arachnids. The Shell Museum has a gallery of shells that have been found in the Sea of Cortez along with an exhibition of boats.
Considered La Paz's signature beach, these beautiful turquoise waters and white sands are a favorite. Here you will also see El Hongo (The Mushroom), an iconic rock formation that is part of the Balandra Wildlife Protected Area. At Balandra, you will be able to go for a hike, snorkel, kayak or paddle board.
As of mid-2023 they have two time slots: 8am-12pm and 1pm – 5pm and only allow 450 visitors per slot. You have to purchase a permit to enter the Balandra Bay National Park ($8 pp) which you can purchase in advance, but it does not guarantee you are counted in the 450 person cap.
Playa Balandra is about 4.5 miles north of the cruise port at Pichilingue, the opposite direction of downtown.
Located approximately halfway between the cruise ship at Pichiligue and downtown La Paz, it is walkable from the Malecon (40 minutes). There are a few restaurants, restrooms and a few palapas for shade, including one with a ramp for wheelchair users.

Whale sharks feed on plankton in the warm waters in the Bay of La Paz. They are one of the largest fish in the world weighing up to 20 tons and getting up to a length of almost 40 feet. Calm and friendly, these large fish are in danger of extinction, and so a chance to swim with them may be a once-in-a-lifetime opportunity. Check out this whale shark snorkel small group tour: it's 3 hours in length and wet suits and snorkel gear are provided!
A protected species in Mexico, sea lions live in the waters of the Gulf of California all year long, but from September to May the largest colonies make an appearance in the Sea of Cortez and provide the opportunity to snorkel with them. 
With this Snorkel & Sea Lion Adventure in Espiritu Santo Island (a UNESCO-protected National Park), you'll spend time in the sea lion's natural habitat, where a colony of more than 300 sea lions live. Then you'll sail to Ensenada Grande where you'll have a provided lunch on the beach and time to sunbathe or swim.
Top Tours & Excursions In La Paz – Mexico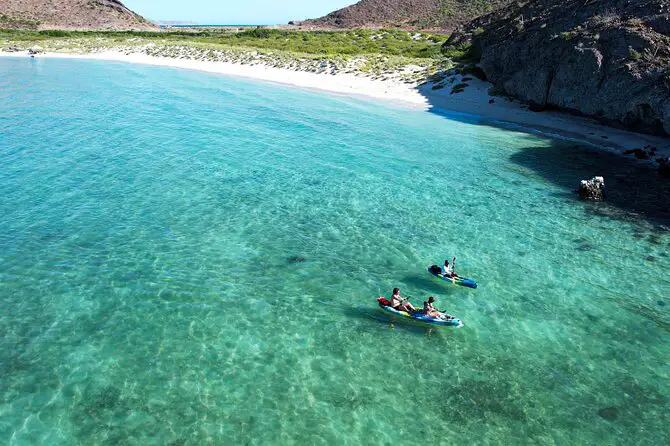 Kayak and snorkel in Balandra, and then hike into Tecolote. We'll stop at beautiful beaches and snorkel in a rocky reef for around 2 hours. The hike is 9 km (approx. 2.5 hours) on rocky and sandy terrain, with some sections where we might get wet if the tide is high. We'll finish the hike in Tecolote beach and we'll have lunch and relax for a bit. ...
Duration: 7 Hours
Activity Level: Moderate
Wheelchair Accessibility: No
Food: Lunch, Beverages included
Tour Includes: Snorkel & kayak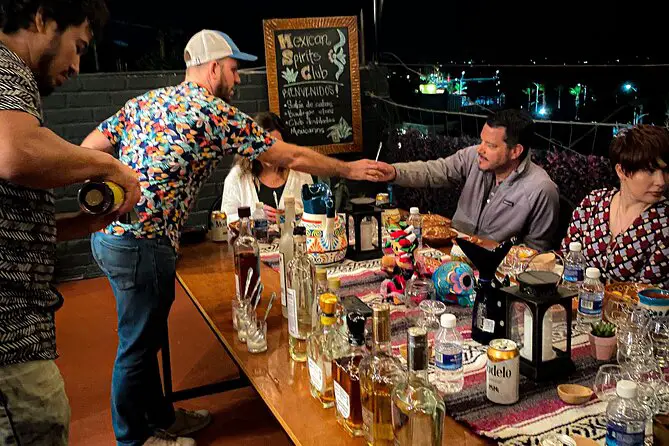 Would you like to learn more about Mexico and its cultural diversity through its ancestral distillates? Then this unique experience is for you. We will meet in the Mexican Spirits Club on its charming terrace in the heart of downtown, near the Malecon. We will try more than 10 different types of artisanal distillates from different states in Mexico, learning about their creation and origin, and taste each of them with delicious and carefully sele...
Duration: 1.5 Hours
Activity Level: Easy
Wheelchair Accessibility: No
Food: Alcohol tastings and food pairings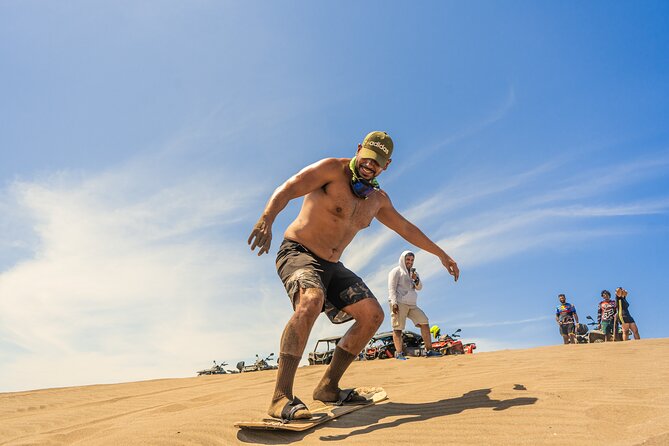 Have a blast sandboarding at the Mogote Dunes when you're visiting La Paz. Sandboarding is a boardsport similar to snowboarding that involves riding across or down a sand dune while standing on a board, sitting, or laying down. You'll have a safety lesson, and then some instruction, and then you can choose the dune you'd like to sandboard down. Beginners are welcome, as there is a dune for everyone. ...
Duration: 4 Hours
Activity Level: High
Wheelchair Accessibility: No
Food: Water and beer provided
Tour Includes: Sandboards and goggles