Marigot – Saint Martin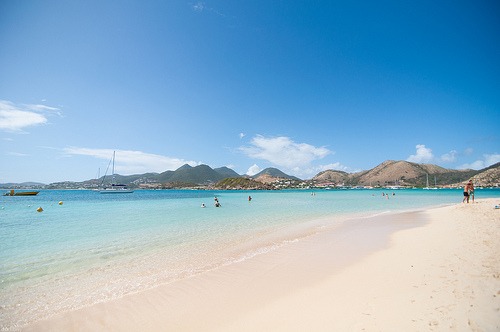 While most large cruise ships dock in St. Maarten (the Dutch side of this small island), Marigot, Saint Martin (the French side) draws some smaller ships to its pier. While they share a small space and have no border crossing making travel easy between the two, they are very different. Saint Martin is less touristy, with pretty beaches, luxurious bed and breakfasts and quaint boutiques and artisan shops.
Safety: Crimes against tourists are relatively low, with the exception of theft. Don't flash valuables around or leave your belongings unattended.
Currency:
Euros. ATMs do not give the option of US Dollars, however many places offer an at par currency rate.
Wireless Internet:
The marinas and hotels tend to offer WiFi as do some restaurants
Languages:
French, though many in the tourist industry speak English
Where You Dock in Marigot – Saint Martin
The Port of Marigot is right in downtown, within easy walking distance to markets, restaurants and shops. It is also where the ferry to the island of Anguilla docks.
Getting Around Marigot – Saint Martin
Unless you want to explore the island, most amenities are within walking distance of the dock including Internet Cafes, a shopping mall across the street, the Marigot Market and some wonderful bistros and cafes.
Taxis – there will be plenty of taxis at the port when you arrive. They don't work on a metered system, but charge by zone. See here for more information. Note that the taxis on the Dutch side only accept US Dollars.
Mini Bus – These large vans cover most of the island and stop at bus stops. There is no set schedule, you just wait at a bus stop and flag one down. They accept both Euros and Dollars.
Car Rental – There are car rental agencies located at or near the port, such as A & K Car Rental or Lucky's Car Rental.
Shopping In Marigot – Saint Martin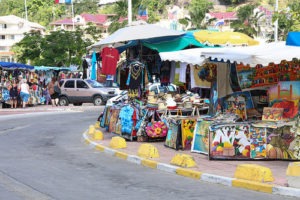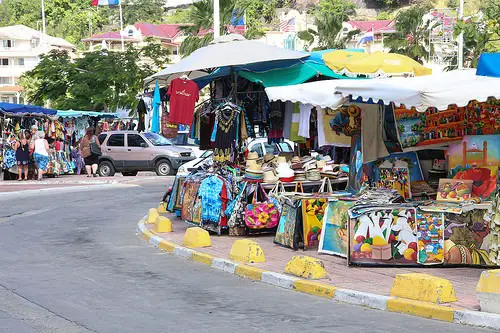 St. Martin is known for its high fashion boutiques and luxury imports from France. While the whole island is tax and duty free, you may experience better deals on items such as electronics on the Dutch side of the island.
Marigot Waterfront Market – within walking distance of the pier, this daily market features souvenirs, crafts and if you're lucky enough to be there on a Wednesday or Saturday, a Caribbean food market with tasty treats, spices and fresh produce.
Le West Indies Shopping Mall – located across from the pier, this beautifully styled shopping center offers high end fashion shops, stores with accessories and cosmetics as well as delicious treats.
Marina District – right outside the port there are many shops and boutiques, you could spend most of your day wandering without straying too far from the port – head towards Marina Port Royal for more shops and bistros
Philispburg, St Maarten – there's a plethora of good deals to be had along Front Street in downtown Philipsburg. Look for great prices on electronics, jewelry, perfume & liquor.
Dining In Marigot – Saint Martin
The cuisine is St. Martin is as unique as its surroundings, decidedly European with a Caribbean twist. Some of its specialties are: guavaberry liquor, codfish fritters, barbecue, beef patties and mutton soup.
The areas which have the greatest number of restaurants are Marigot, Grand-Case (known as the gourmet capital of the Caribbean), and Orient Bay. If you're looking for something more casual than a sit-down restaurant, look for one of the many "lolos" which are kiosks that serve local seafood and barbecue.
Marigot Restaurants Close to the Port
L'Oizeau Rare (Rue de la Republique at Boul. de France) – Upscale Casual, French Bistro, Lunch, Dinner
Bistro de la Mer (Rue F. Eboue at Boul. de France) – Casual, Open Air, Pizza, Crepes
Tropicana (Marina la Port Royale) – Top Rated!  – Upscale Casual, reservations recommended
La Croissanterie (Marina la Port Royale) – Breakfast & Lunch – Homemade breads, Pizza, Burgers,
Best Restaurants in St. Martin
Bistrot Caraibes (Grand-Case) – Upscale, French Cuisine, Seafood
L'Auberge Gourmande (Grand-Case) – Upscale Casual, French Cuisine, Seafood
La Villa Restaurant (Grand-Case) – Upscale Casual, French Cuisine with Caribbean flare
The Sun Beach Clubber (Orient Beach) – Casual, French & American Cuisine, Beach chairs for rent
Things To Do in Marigot – Saint Martin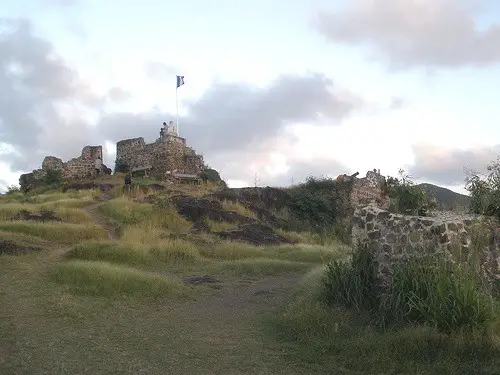 Fort Louis – built in the late 1700's, this fort was used for battle when the English came to raid warehouses at the harbor. Hike the steep path from Margot to the top of the ruins for breathtaking views of the island.
The Butterfly Farm – Enjoy a narrated tour through grottos and waterfalls while admiring hundreds of different butterfly species.
Loterie Farm – Focusing on Caribbean forests and mountains, this eco-preserve offers activities such as zip-lining, horseback riding, mountain-biking and hiking.
Ferry to Anguilla – if you have been there, done that in St. Martin, why not take the 25 minute ferry ride from Marigot, beside the cruise terminal to Anguilla. The cost is $15 one way and the ferry departs in 45 minute intervals. Spend time exploring this beautiful island with some sightseeing tours or just sink your toes into its gorgeous white sandy beaches.
Resort Day Pass – enjoy a day in paradise with the amenities of a beach resort – pools, fitness center, spa, restaurants and frosty beverages. Check out the options with ResortPass!
Beaches in St. Martin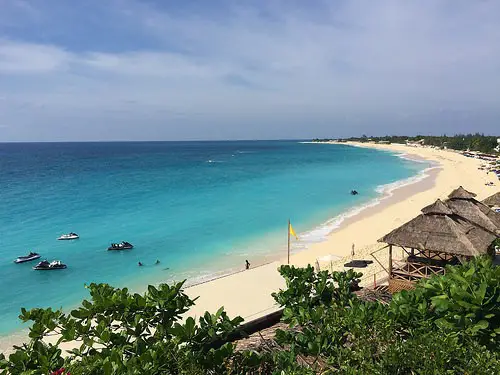 Famous Beach – Orient Bay (on the French Side) is a beautiful, conventional beach with restaurants and watersport rentals but the more adventurous can visit Club Orient a naturist beach (clothing optional, which is permitted on the island).
Best Beach for Privacy – stay away from the hustle and bustle of the crowds at Baie Lounge. Enjoy the two-mile long beach while lazing away the day.
Most Unique View – visit Maho Beach near the airport in St. Maarten and be in awe at the airplanes land what seems like just above your head.
Best for Tropical Paradise – Ilet de Pinel – a tiny island off the coast of the Cul de Sac area of St. Martin, north of Orient Beach. At the end of Rue de Cul de Sac there is a ferry that shuttles passengers over every half hour (5 minute ride – $7 round trip) to this gorgeous island. The shallow clear water is perfect for swimming or snorkeling and there are a couple of restaurants on the island.

Top Tours & Excursions In Marigot – Saint Martin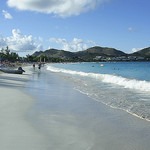 Photo credit: alljengi / Foter / CC BY-SA
Sail to Nirvana Set sail from Simpson's Bay for a wonderful day of sailing, snorkeling, swimming or just lounging on the beach. Eat a delicious Caribbean meal and sip on cold beer and rum punch after your swim....
Duration: 5.5 hours Activity Level: Moderate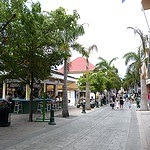 Photo credit: alljengi / Foter / CC BY-SA
Private Two Islands & Beach from Marigot On this private and informative tour, you'll see both the French & Dutch sides of this beautiful island with stops for shopping in Philipsburg and beach time at famed Orient Bay....
Duration: 4.75 hours Activity Level: Moderate Note: Beach chairs available for rent at Orient Bay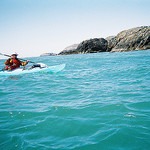 Photo credit: stevecadman / Foter / CC BY-SA
Kayak & Snorkel at Pelican Key After a short demonstration, you'll paddle your way across Simpson Bay to the white sands of Pelican Resort on Pelican Key. You'll swim with your guides out to the reef at Pelican Rock to see some amazing sea life and coral....
Duration: 3 hours Activity Level: Active