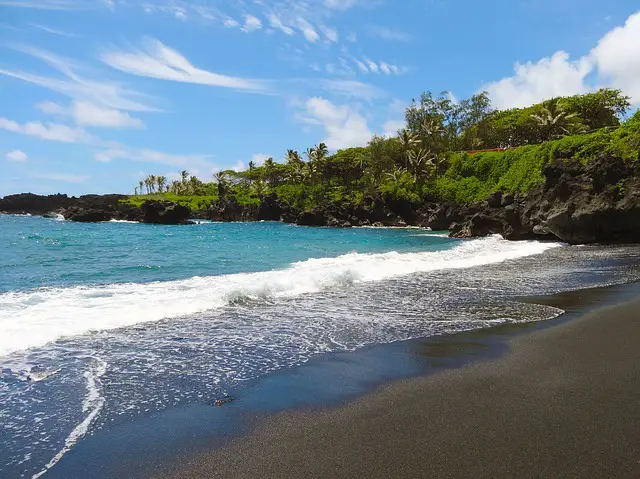 Hawaii is the 50th state of the United States of America, and the only one that is completely made up of islands. Hawaii is over 2,000 miles southwest of California and made up of 8 major islands, numerous atolls and numerous islets.
Maui is the second-largest island, behind the island of Hawaii. It is often referred to as the Valley Isle because of a low-lying isthmus connecting the two halves of the island. From the air, some feel that the island looks much like a butterfly.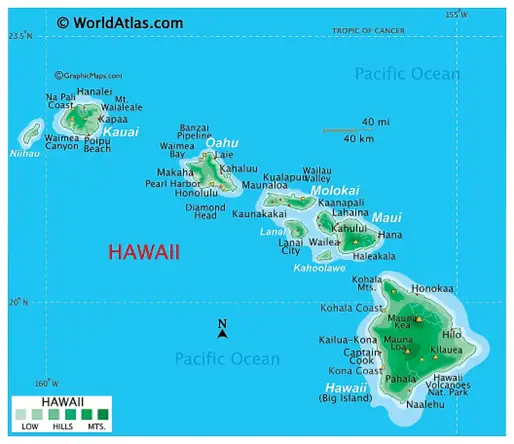 Maui has 120 miles of coastline with dozens of beaches. The majority of Maui's population is located in and around Kahului. The airport, heliport, seaport and warehouses are in Kahului, so it tends to be a busy place. Although a center of activity, Kahului is not considered a tourist destination.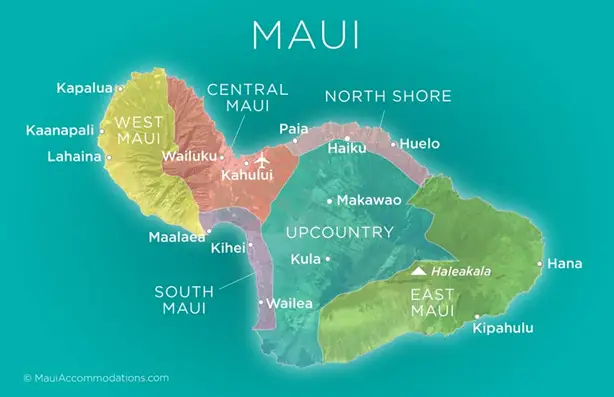 The history of Maui is a bit blurry and fact is intertwined with myth and legend. According to legend, a mythical Hawaiian fisherman and navigator named Hawai'iloa discovered the island on one of his lengthy fishing expeditions. The island was named Maui after his son.  While there is little evidence to support this supposition, it is a strong belief that even today is held on the islands. 
It is known that Polynesians had occupied Maui, and they were thought to have migrated from Tahiti in the 1700s. Undisputed is the fact that King Kamehameha I of the Big Island conquered the Polynesians about 1793. As is similar with many island countries, there were many centuries of wars and conquests. Maui was annexed by the United States in 1898 and became a state in 1959.
The island of Maui used to have an influx of whalers who would stop in the harbor for supplies. When the whaling trade began to decline, the market for sugar increased throughout the world. In the mid 1850s, Henry Baldwin and Samuel Alexander acquired land to plant sugar cane and constructed a 17-mile irrigation ditch to bring water from Haleakala. Kahului prospered until the bubonic plague was brought to the town by rats from ships bringing supplies to the island. Incredibly, in order to eliminate the disease, the entire town was deliberately burned to the ground. Afterward the town was rebuilt and again established itself as a commercial harbor.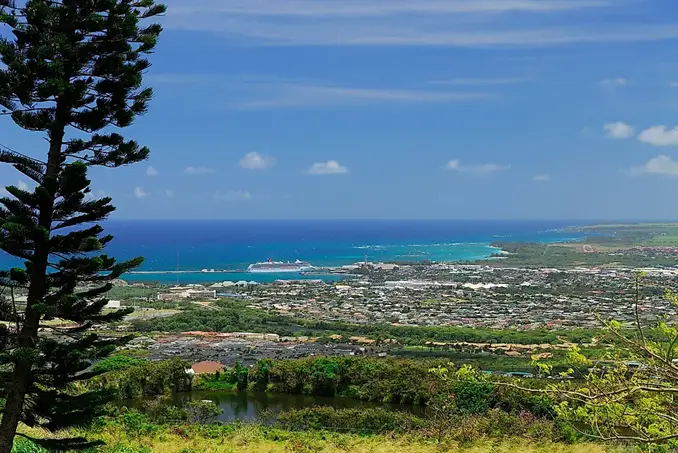 Docked cruise ship in Kahului Harbor from Wailuku Heights, Maui.  Credit: Reimar / Shutterstock.com
Today, the Hawaiian islands are often known as the "trip of a lifetime" destination. There is a variety of beautiful flowering tropical plants, amazing waterfalls and other-worldly landscapes, like Haleakala, Maui's highest peak. 
Maui has the reputation of the "golden child" among the Hawaiian islands as it combines some of the best aspects of the islands. The beaches can be white, green or black with crystal-clear waters. Those waters can be great for snorkeling, scuba diving or surfing. Windsurfers come from all over the world to experience the trade winds on Ho`okipa Beach. The lush scenery and beautiful waters make Maui a paradise to be seen and experienced.
Check out these excursions in Maui (Kahului), Hawaii
Good To Know:
Know before you visit that prices in Hawaii are going to be expensive. It is the most expensive of the 50 states to live in. Prices are about double what they are on the mainland. So while Maui will be beautiful and will provide you with memories of a lifetime,  just know that they will come with a hefty price tag.
Wear reef-safe sunscreen and keep harsh chemicals out of the water. 
Do NOT take any rocks or sand home. Hawaiian's feel very strongly that everything has a life force and that rocks and sand are sacred. HuffPost Life did an article on "Pele's Curse." Supposedly, Pele, the Hawaiian volcano deity, gets angry when sand and rocks are taken from her. The "taker" is then handed a good dose of bad luck. Hawaiian post offices receive packages almost daily from all over the world with both sand and stones that are being returned in hopes of reversing the string of bad luck.
Where You Dock in Maui (Kahului) – HI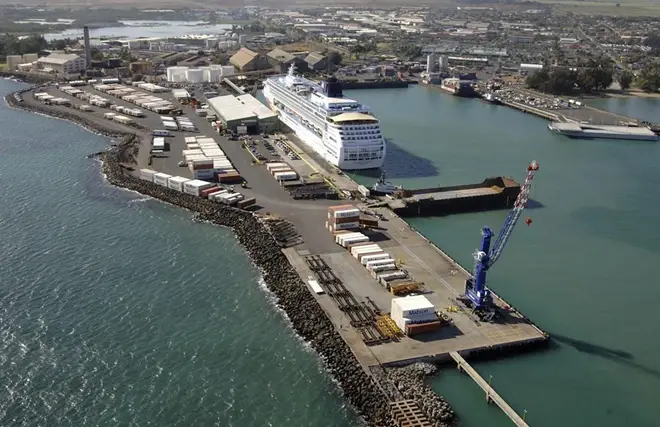 Port Kahului is the island of Maui's main seaport. The port serves both passenger and cargo ships. The cruise ship dock is located on the island's east side and is located in an industrial zone and therefore aren't any amenities for cruise ship passengers. 
Getting Around Maui (Kahului) – HI
Most visitors find that the best way to see the sights are to go on an excursion or to rent a car.
Walking
It is a bit of a hike to walk from the cruise ship out of the industrial pier area. It is a circuitous pedestrian path out of the port, until you come to the Maui Mall. The city does not really cater to tourists. The best way to get around to tour the area and the island is by booking excursions or renting a car.
Rental Cars
The closest rental car companies to the pier are Hertz and Enterprise, but there are other local car rental companies in the area. 
Roads in Maui are in great condition and most drivers are considerate. Locals do tend to drive slower, as they are on island time. You will need a valid photo drivers license and be at least 21 years of age to rent a car. A valid credit card is also required and a current auto insurance policy. Driving is on the right hand side of the road.
Taxis
Most travelers find that the best way to get around Maui is by car. Depending on how much time you will have in port, or if this is a destination, you may want to rent a car. If you choose a taxi, there are plenty of options on the island, but it can be pricey to rely on them.
Buses
The Maui County Bus will run within and between major towns. It does not go to out-of-the-way locations. The Kahului Loop bus route will take you around town with the nearest bus stop at the Maui Mall about an 8 minute walk from the ship. 
Shopping In Maui (Kahului) – HI
As with most stops in Hawaii, there are certain souvenirs you should keep an eye out for while stopping in Maui, like macadamia nuts, coffee, Hawaiian print clothing.  But for a special, unique item, look for hand-crafted items like jewelry or artwork.  Here are some shopping spots around Kahului:
The Maui Mall is the closest shopping area to the port and contains a beauty parlor, nail salon, a drug store, TJ Maxx and clothing shops and even a Whole Foods. While you may not find artisan goods here, it's a great spot if you forgot any essentials at home.
If you're hungry, there are options for eating like Genki Sushi, IHOP, Pizza Hut, Siu's Chinese Kitchen, and Subway. Finish it off with a trip to the Maui Candy Company and definitely visit Tasaka Guri-Guri.  In business for over 100 years, the frozen dessert known as guri-guri is a cross between sherbet and ice cream. The exact recipe for this dessert has been a family secret for over a century, although it is a mixture of flavored juice, guava, lemon-lime soda and condensed milk. It comes in two flavors, pineapple and strawberry. 
If you happen to be docked in Kahului on a Saturday, a visit to the Maui Swap Meet is a must. Open from 7am to 1pm, the swap meet sets up in the parking lot of the University of Hawaii Maui College, which is basically across the harbor from where ships dock (about a 5 min. drive).
Since 1981, Maui Swap has been the biggest outdoor market on Maui. There is pretty much everything at this swap meet. You will find clothing, souvenirs, artwork and paintings, and a variety of flowers and fresh farm vegetables. Vendors will also have t-shirts, jewelry, soaps, jellies and jams and shaved ice. There is a small entrance fee to the swap meet (currently 50 cents for those over 12 years of age).
With glass pieces done by Ryan Staub, Moana Glass is Kahului's only furnace glassblowing studio and art gallery, and the gallery is located beside the port, so it's a 2 minute walk from the ship.
Ryan has created blown glass in over 11 countries. His pieces are considered works of art, but many have a functional purpose as well. Hanging lights, glassware and illuminated pieces. You can also take a glass blowing class and make a small piece, like a drinking glass, starfish or ornament to take home.
Home to the island's only Macy's, the Center also has national brands such as Victoria's Secret and Bath and Body Works.  There's also a Starbucks if you collect their "Been There" mugs. There are also some local island-style shops.  Open for 50 years, the Center has a cinema and fresh, local produce and crafts. There are also several places to get something to eat or drink. Located a mile from the cruise port, it's about a 4 minute drive. 
In business since 1990, this family-run handcrafted chocolate shop is a popular stop with tourists. The dark chocolate truffle mochi is a favorite, or try the peanut butter and milk chocolate waffles. Their gourmet chocolates also come in decorative containers or coffee mugs, making a great gift to take home. It is located a mile from the cruise port.
Dining In Maui (Kahului) – HI
Dining out can be expensive in Maui, which is why we have mentioned two food trucks below in our listing of places to eat. Hawaiian/Polynesian cuisine is readily available along with an abundance of fish and seafood on most menus.
Most restaurants offer a "plate lunch" which consists of rice, macaroni salad and meat or fish. Hawaii also has their own version of the snow cone that is shave (not shaved) ice. Ice is shaved off a large block and topped with flavored syrups or a scoop of ice cream in the middle.
Mai tais, pina coladas contain rum and fruit juices. The kiddos will enjoy "POG", which is a blend of passion fruit, guava and orange juices.
An unassuming, low-key eatery in Kahului, Matsu serves both Japanese and local specialties. The eatery is simple, and your meal is served on disposable plates, but reviewers say the food is very good, especially the teriyaki salmon. If you want to take it out, that is also available.
 

 

View this post on Instagram

 
Housed in a food truck, this local restaurant is in a court across from Costco. The steak and lobster are two favorites that are tender and juicy. They also have shrimp and ahi yellow tuna. Pair your selections with rice and grilled veggies. There are umbrellas and tables set up so that you can eat right there, too.
 

 

View this post on Instagram

 
Tin Roof – 1.2 miles from pier
Traditional Hawaiian selections are served at the Tin Roof, which is also run by the members of the next generation of mom & pop shops, Top Chef finalist Chef Sheldon Simeon and his wife Janice. Born and raised in Hawaii, these owners source their ingredients from local farmers, fisherman and ranchers on Maui. They offer Mochiko chicken, pork belly, garlic shrimp, steak, garlic noodles, fat chow funn, spicy chicken sandwiches and an array of sides.
Family owned and operated, the menu dishes reflect both their Hawaiian and Mexican backgrounds. They serve burritos, nachos, fish ceviche, pork carnitas and carne asada steak. If you are brave, try the crazy fries that are topped with beans, cheese, onion, tomatoes, cilantro, pickled jalapeno, sour cream, guacamole, and Jalapeno aioli sauce. That should keep you busy!
Another food truck, which seems to be very popular in Maui, Geste Shrimp has scampi, hot and spicy and crab mac salad served with rice. Located next to the airport and across from the Costco Gas Bar, there are tables under umbrellas so that you can eat outside.
Things To Do in Maui (Kahului) – HI
Beaches
Kahului is not commonly considered a tourist destination in itself, so you most likely will need to venture out of town to see the sights. There aren't really any nice beaches near the port, so it may be best to rent a car and drove to other areas, or to get a day pass at a resort. 
While many of the beaches have hotels that are on the waterfront, all beaches on Maui are public and it is required that they have public access. Remember, too, that while Hawaiian beaches are some of the most beautiful in the world, they are also among the most dangerous because of large waves and strong currents.
Hawaii has a rating system for their beaches that are designed to help you identify a beach that is appropriate to your ocean skill level. Go here to learn what they rating system is: Rating Signs & Alerts
Hawaii monitors the weather conditions at its beaches, and gives an update every 15 minutes for its lifeguarded beaches. Before you head to the water, check for current conditions here: https://hawaiibeachsafety.com/
Enjoy the beautiful beaches of Maui with all the amenities of a luxury resort with a day pass through ResortPass. Enjoy pools, a visit to the spa, food and beverage and more. Two of the featured resorts are less than a mile from the cruise pier. Click here for more details.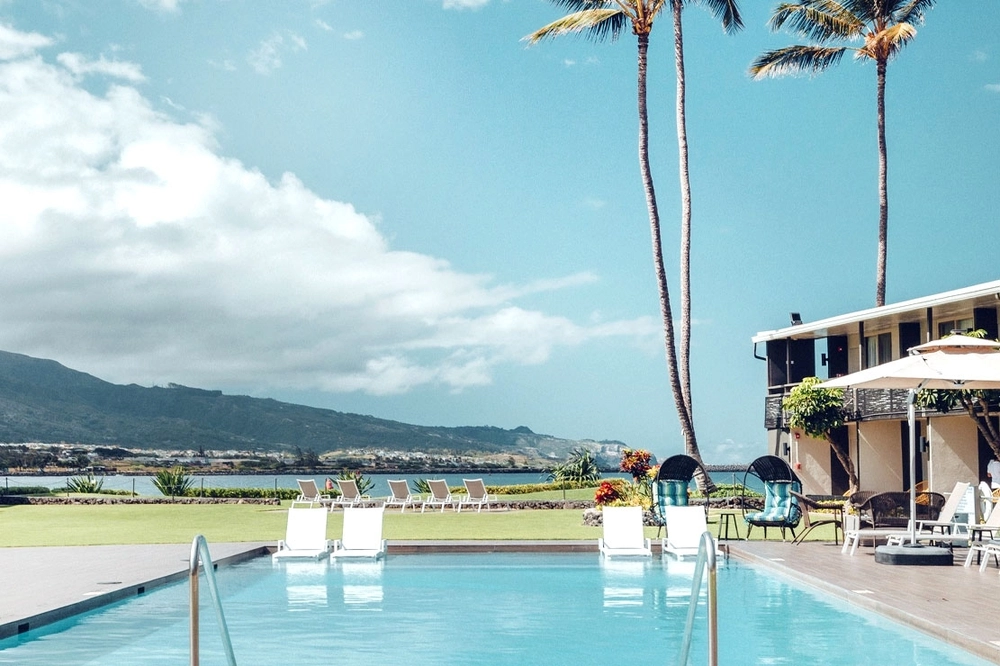 Baby Beach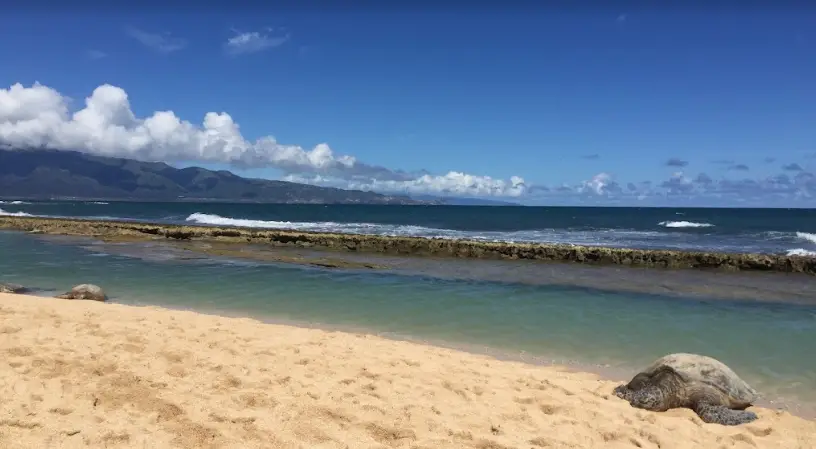 Located 5.5 miles from the cruise port, and not far from the airport, Baby Beach is protected by a reef, making the water a relatively calm place for younger swimmers and beach play, but there are no lifeguards or facilities. 
Baldwin Beach Park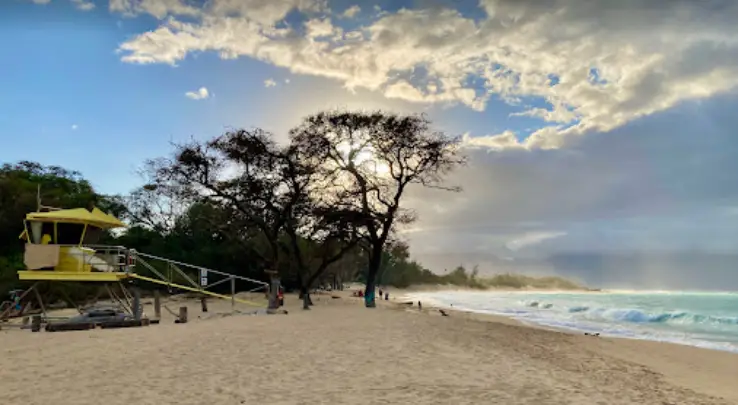 Located 6.5 miles from the cruise terminal,  this beach is great for surfers or sunbathers since it can be pretty wavy, but there are lifeguards and other facilities at the park.
Lower Pa'ia Beach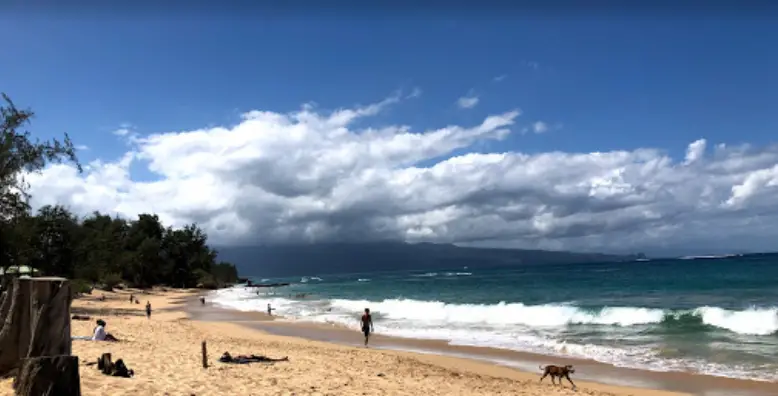 A little further up the road from Baldwin Beach Park, this beach has washrooms and showers but no lifeguards. The rolling surf is good for those who want to body surf, but if you want to swim, there is a hidden area about 200m to the west which is a good place for swimming if the ocean is calmer.
Hookipa Beach Park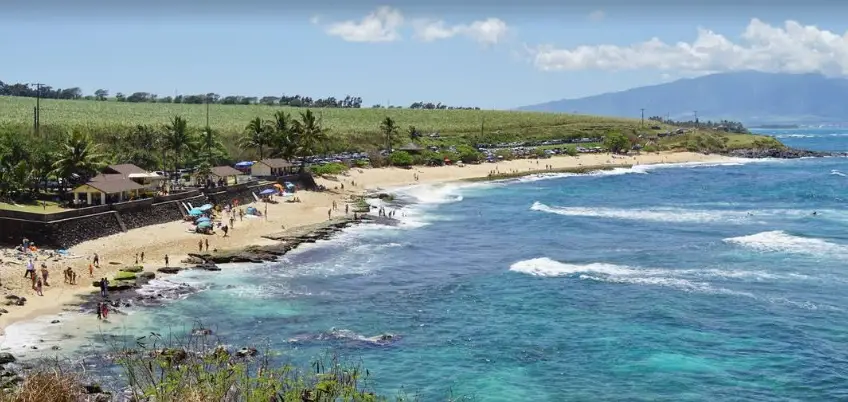 In the same direction as the other beaches, about 9.5 miles from the cruise port, Hookipa Beach is a great place if you want to see turtles. Depending on the time of day, they could be on the sand, or in the sea. The beach isn't great for swimming, but is popular with surfers, and at high tide, the beach is very narrow. But, there are lifeguards and washroom facilities.
Located just over 8 miles from the cruise port, on the opposite side of the island, this aquarium has both indoor and outdoor exhibits, with a turtle lagoon, shark pool, and a hands-on tide pool. The 54-foot-long clear tunnel allows you to see stingrays, sharks and over 2,000 fish up close and personal. There is also a restaurant that serves burgers, sandwiches and salads. The gift shop has a variety of local products, crafts and souvenirs.
Located kind of in the middle of the eastern part of the island, about 28 miles from the cruise port, the lunar-like landscape of Haleakala Crater is a two-hour drive from sea level to the 10,023 foot summit. It is a "must-do" for many visitors to watch the sunrise from the Puu Ulaula Overlook, the volcano's summit. If you are unable to make it there for sunrise, just know that it will still be about 30 degrees cooler at the summit and there can be heavy winds, rain or even snow.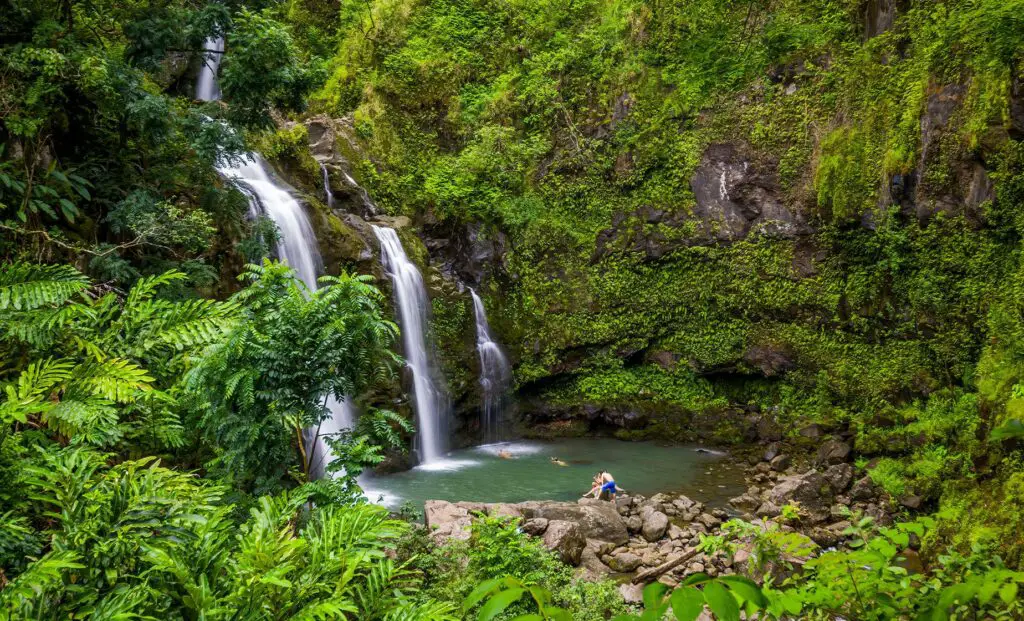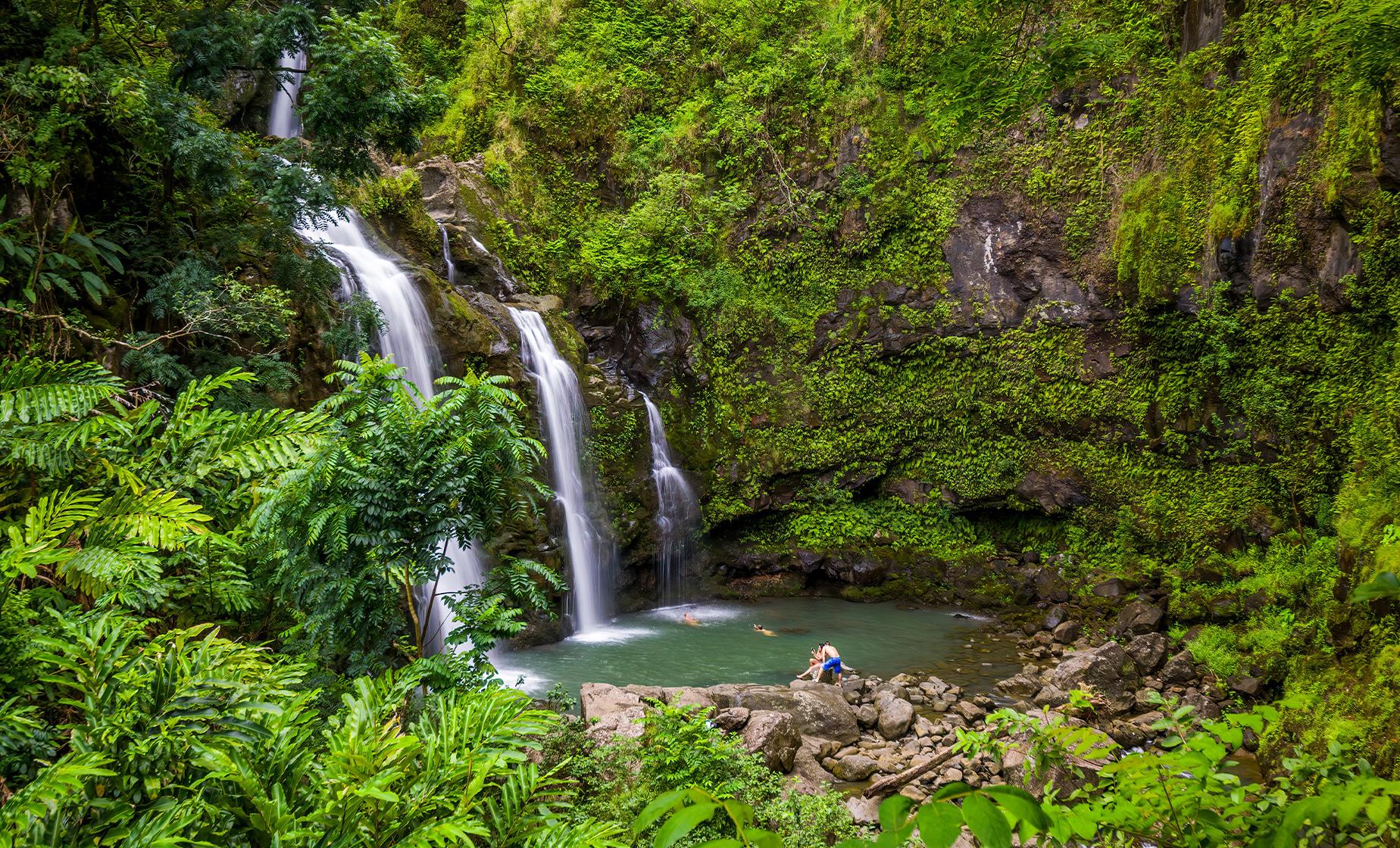 While taking the Road to Hana isn't advised to only do in a day, taking the trip to Hana from Kahului is only about 50 miles (closer than when you dock in Lahaina).  You can drive it yourself, but it can be stressful trying to keep your eyes on the road, plus see all the sights, so taking a tour definitely has the advantage of letting someone else do the driving.  Check out the shore excursion below that offers views by road and air. 
If you're determined to rent a car and do it yourself, read this to avoid these 5 mistakes when on the road to Hana. 
Top Tours & Excursions In Maui (Kahului) – HI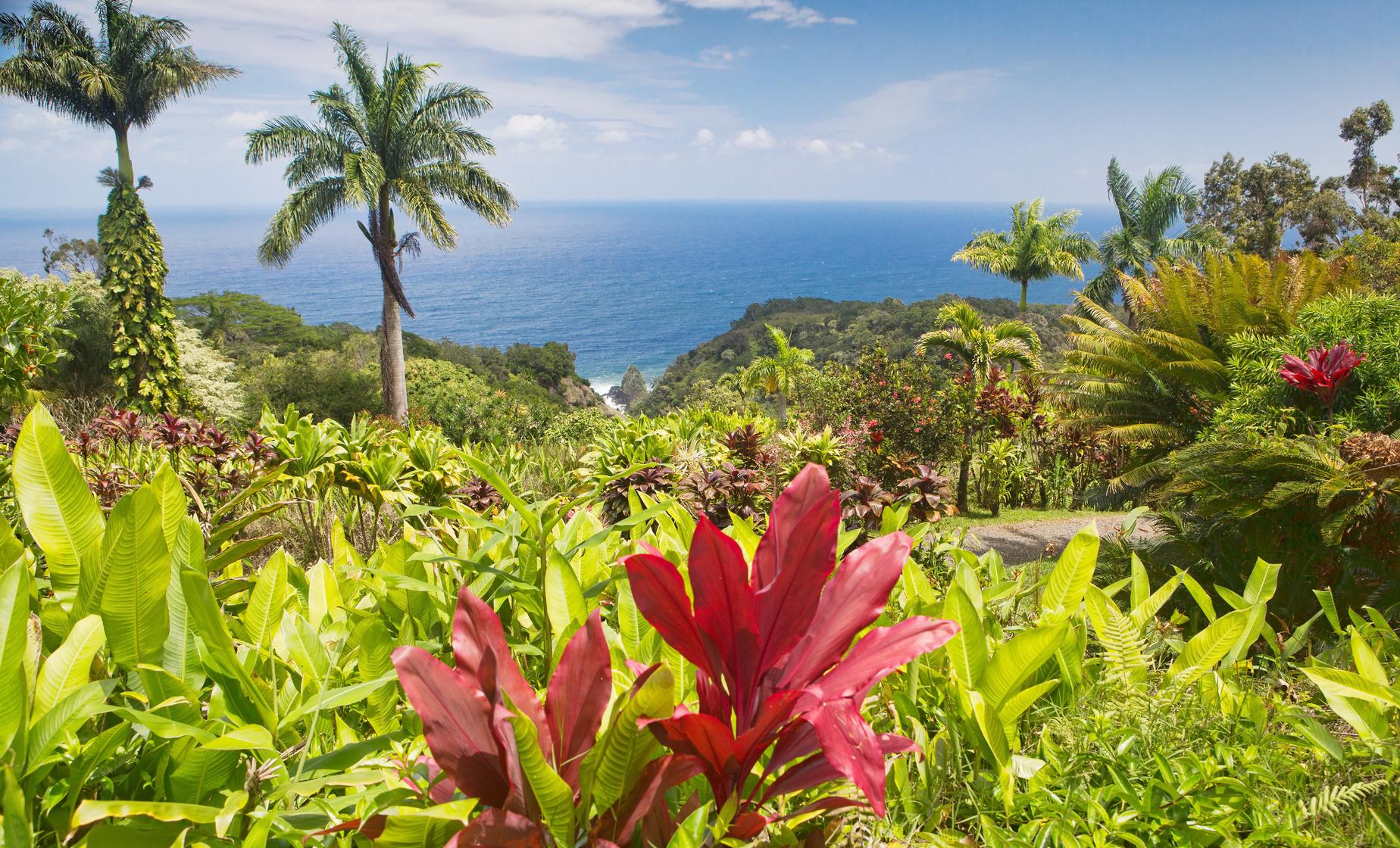 Your private tour will start with a drive through Kahului and up the hillside to the historic plantation town of Wailuku located in the shadow of the lush base of the ancient Hale Mahina volcano. View the charming wooden storefronts around Market Street, showcasing dozens of family businesses, many of which have been in continuous operation for generations. Continue through the town to Iao Valley, a lush rainforest valley that is home to the ico...
Duration: 3.75 Hours
Activity Level: Easy
Wheelchair Accessibility: Van can accommodate folding chair/scooter but some mobility needed
Book Now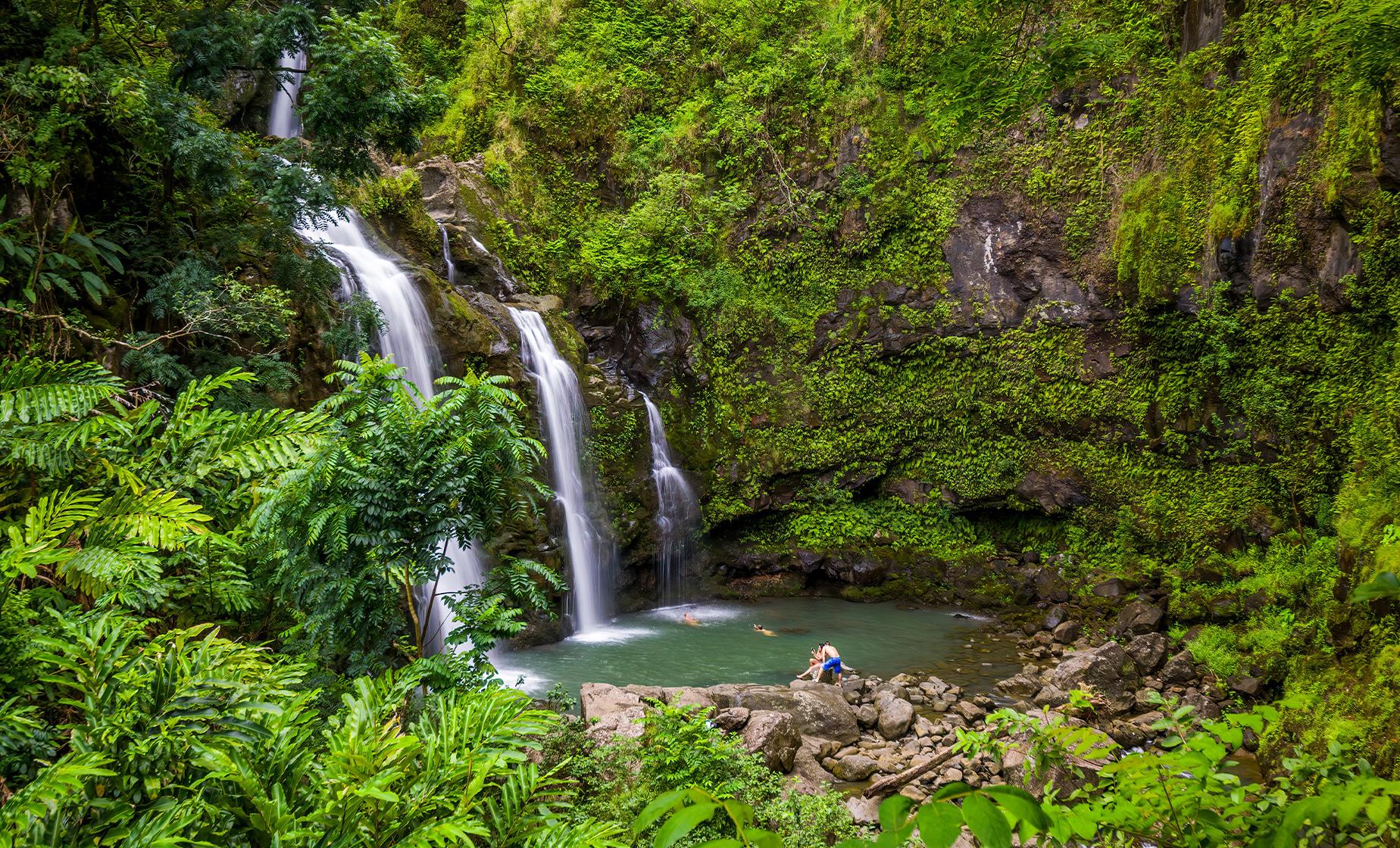 This air-land combo offers superior sightseeing value. Tour beautiful Hana and the majestic Haleakala Crater, the world's largest dormant volcano, by helicopter and luxury van. With only 6 guests per tour, explore the Hana coast narrated by a Hawaii State Certified Guide. Photo opportunities abound as many stops are made along this spectacular sea-coast drive,  including cascading waterfalls and crystal clear pools. In addition, there's plenty ...
Duration: 6.25 Hours
Activity Level: Moderate
Wheelchair Accessibility: No
Food: Lunch, water, fruit drink
Book Now