If you're planning a family cruise vacation, according to Tripsavvy you'll need to budget at least $100 per day per person, exclusive of airfares. This "rule of thumb" when budgeting for a cruise, is due in part to more cruise lines charging extra for items that used to be included in the standard pricing.
The first step begins with choosing a dream cruise destination like Canada, the Caribbean or Hawaii and knowing what to expect so you can take advantage of all available opportunities to save money.
Even with extra charges, there are still ways to ensure you have a budget-friendly cruise vacation. Your budget for a family cruise doesn't have to break the bank.
In this blog post, we'll share some tried-and-true tips on how to save money on a cruise, ensuring a wallet-friendly and fun-filled experience for the whole family.
1.) Opt for Off-Peak Seasons, Repositioning Cruises or Last-Minute Deals
To snag the best bargains, consider booking your cruise during off-peak seasons when demand is lower. This can often result in significant savings on both fares and accommodations.
Additionally, keep an eye out for last-minute deals, as cruise lines sometimes offer discounted rates to fill empty cabins closer to departure dates.
Consider, too, the length of the cruise. Taking a four or five-day cruise yields greater savings than a week-long cruise trip.
While it all depends on how well you've planned to finance your cruise vacation, opting for shorter cruises is a clever way to squeeze in a quick but great getaway without overstretching your overall travel budget.
A repositioning cruise has its advantages when on a budget. A repositioning cruise is a type of cruise where a ship is moved from one region to another to accommodate seasonal changes or demand.
These cruises usually occur when a ship relocates to a different homeport or when it transitions between different cruising regions, such as from the Caribbean to Europe.
Repositioning cruises often offer lower prices compared to regular cruises as they are primarily focused on the journey rather than specific ports of call. They provide an opportunity for travelers to enjoy extended periods at sea and visit unique destinations along the way.
2.) Research and Compare Prices
Don't settle for the first offer you come across. Take the time to research and compare prices from different cruise lines, travel agencies, and online booking platforms.
Price comparison websites can be particularly helpful in finding the best deals and special promotions. Remember, a little extra effort in the planning stage can lead to substantial savings.
3.) Be Flexible With Itineraries
Flexibility can be your secret weapon for savings. Consider alternate embarkation ports, as they may offer lower prices compared to major port cities.
Similarly, be open to different itineraries and cruise durations, as shorter or less popular routes can often come with more affordable price tags.
4.) Explore Cabin Options
While having a balcony cabin or a suite might sound appealing, they typically come at a higher cost. Opting for an interior or ocean-view cabin can save you a significant amount of money without sacrificing the overall cruise experience.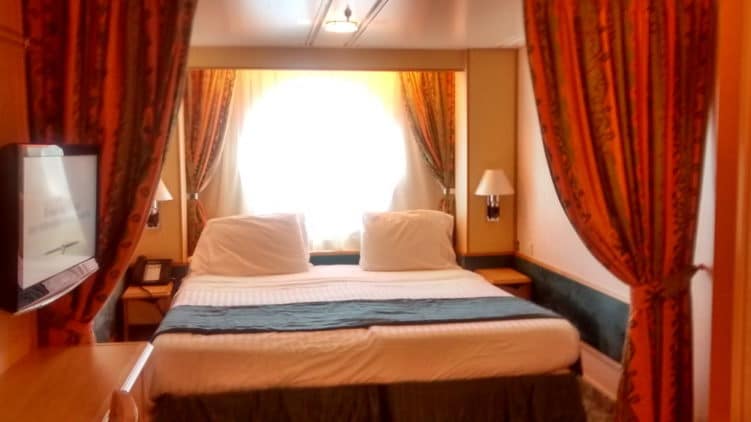 Some cruise lines offer the option to guarantee a cabin type (inside, outside, balcony) without assigning a specific cabin. By selecting this option, you may receive a free or discounted upgrade upon check-in if available.
The majority of cruisers don't spend a significant amount of time in their cabins, so choosing a less expensive cabin should not negatively impact your time onboard.
5.) Pack Wisely and Avoid Unnecessary Purchases
Bring essential items such as toiletries, sunscreen, and medications from home to avoid higher prices onboard. Avoid impulsive purchases by planning ahead and only buying items or souvenirs you genuinely need or want.
As expected, toiletries and other things that one may forget to bring on a cruise, are available at an inflated cost. Bring all your own toiletries, bandages and over the counter medicines.
Watches, jewelry, spa treatments and specialty dining are all marketed aggressively on cruise ships. If you want to save money, don't pay much attention to these additional offerings.
You don't need to spend a lot of money onboard to have a great time on a cruise!
6.) All-Inclusive vs. À La Carte
Evaluate the various packages available and decide whether an all-inclusive or à la carte option suits your family's needs and budget better.
All-inclusive drink packages can save you money if you drink a lot, but if you're only going to buy one or two drinks per day, just pay the per-drink charge.
The same goes for specialty dining. If you just eat in the "free" dining venues, you still have great food and selection, without spending more.
To ensure a budget-friendly cruise vacation, make sure to look out for cost-friendly packages like an unlimited soda package instead of buying beverages a-la-carte.
7.) Plan Excursions Wisely
Shore excursions can add up quickly, so it's wise to plan them strategically. Consider researching and booking excursions directly with local operators, as they often offer more competitive prices than those arranged by the cruise line.
Local tour operators or exploring on your own can often be more cost-effective while allowing you to experience the destination authentically.
Alternatively, explore free or low-cost activities at each port of call, such as strolling through local markets or visiting public beaches. Many destinations are safe enough for you to explore on your own for little to no cost.
8.) Use Credit Card Rewards or Loyalty Programs
Check if your credit card offers rewards that can be used for cruise expenses or consider joining loyalty programs offered by cruise lines. These programs often provide discounts, onboard credits, and other perks.
9.) Set a Budget and Track Expenses To Limit Onboard Expenses
Although many activities and amenities are included in the cruise fare, certain items such as specialty dining, alcoholic beverages, spa treatments, and shore excursions often come with additional costs.
Before embarking on your cruise, establish a budget for onboard spending and stick to it. From specialty dining and spa treatments to souvenir shopping, it's easy to get carried away.
Keep track of your expenses and use budgeting apps or spreadsheets to monitor your spending throughout the trip. Being mindful of your budget will help you avoid unexpected financial surprises.
If you want to stay connected throughout your cruise vacation, opt for a Wifi connection package. But, if you don't "NEED" to be connected, you will save quite a bit by going without. You can always find WiFi when you get off the ship, and while you're on the ship, just enjoy the ship sans internet.
Final Thoughts
With a little planning, flexibility, and a dash of creativity, a budget-friendly cruise vacation can be well within reach for your family. Going for vacation packages helps you land the best value deals and mitigate high fees.
From choosing the right time to book to being strategic with your onboard expenses, these money-saving tips will help you navigate the world of cruising without emptying your wallet.
So, set sail with confidence, embark on an unforgettable adventure, and create lifelong memories—all while staying on budget. Bon voyage!
This page contains affiliate links for which we may receive financial compensation when a purchase has been made through one of our affiliate partners.
About
Joy is the Co-Founder & Content Manager/Expert for CruisePortAdvisor.com and one of the founders of the site. She loves to travel, sing & bake.