Norfolk Cruise Terminal Information
Last updated on September 11th, 2018 at 08:46 pm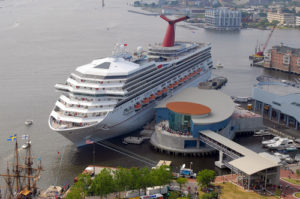 Update for 2018: Carnival Cruises have announced that they will not be sailing from Norfolk during the 2018 season, with the Carnival Sunshine being re-deployed to Port Canaveral. However, Carnival announced the Carnival Sunrise will return in April, May, and October, 2019.
Cruises from Norfolk, VA
The Port of Norfolk, Half Moone Cruise & Celebration Center terminal is located at One Waterside Drive. The terminal is located beside Nauticus, an interactive science and technology center, the entrance of which is at the corner of Waterside Drive (turns into Boush St.) and Main St. W.
Carnival Cruise Norfolk
Carnival Cruises is currently the only cruise line which sails from Norfolk.
The parking is located a few blocks away, but there is a complimentary shuttle. It is suggested to drop luggage off at the terminal prior to parking. See here for more details.
Norfolk Weather
The weather in Norfolk remains at a pretty mild 10° to 26° all year round. With a marine subtropical climate, Norfolk gets more than 1300 mm of rain throughout year. Although most any month can be wet, most rainfall occurs from April to August. Norfolk's summers are generally warm and long, with the winter months wetter than the rest of the year while still retaining its mild climate.
Thunderstorms are most common during winter and spring with approximately 12 storms–and sometimes even a hailstorm or two–occurring throughout the course of a year.
This page contains affiliate links for which we may receive financial compensation when a purchase has been made through one of our affiliate partners.
Cruise Planning at this Port