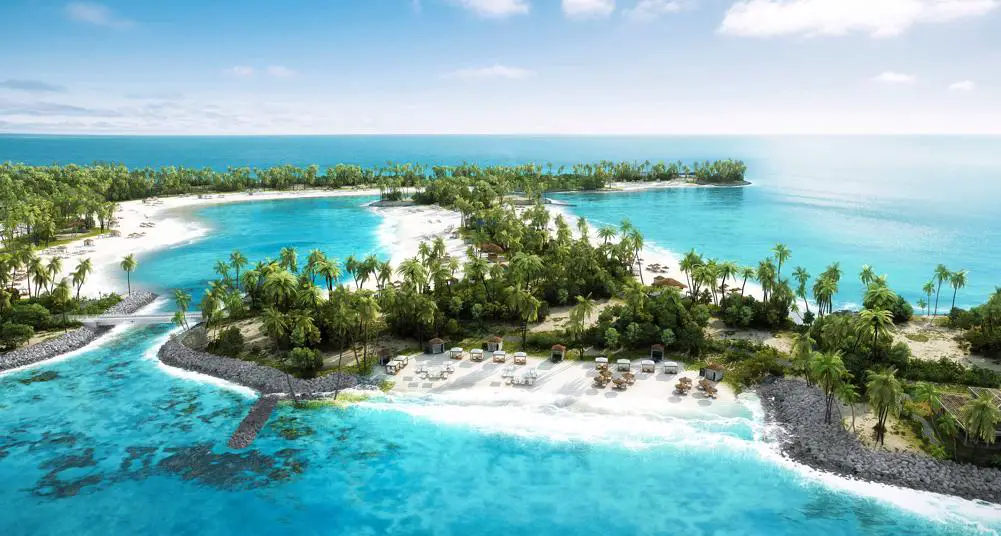 Covering 95 acres, Ocean Cay is an artificial island located 20 miles south of
Bimini
and 65 miles east of Miami in the western Bahamas. Originally built through dredging in the 1960s by Dillingham Corporation of Hawaii, the area was mined for the
aragonite
sand. Mediterranean Shipping Company (MSC), a Switzerland-based Italian shipping line, acquired the island in 2015. Securing a 100-year lease, MSC set about redeveloping the island with a strong emphasis on a marine reserve component. They opened Ocean Cay exclusively for its cruise ship passengers in December 2019. MSC calls the marine reserve "A sustainable destination where guests can connect with nature." >Over 75,000 trees, shrubs and plants native to the region were planted on the island. There were also 400 coral reefs relocated to the waters that surround the island and are a protected coral nursery that covers 64 square miles. It is helpful to remember that while the island is a beautiful stopping point, it is still a work in progress. This is evidenced in that there are few areas of natural shade on the island. NOTE:
Ocean Cay will be closed for upgrades in early 2024. 
See the impressive transformation:    
Where You Dock in Ocean Cay Bahamas (MSC Marine Reserve)
There is one pier at Ocean Cay for the exclusive use of MSC. This pier can accommodate their largest cruise ships. The pier allows passengers to walk right off and not have to wait for a tender. You will not need your passport to visit the island, just your room keycard.
Click here for an interactive map of the island.
Good To Know:
Bring beach towels from your cabin, both to and from, with you if you plan on heading to the beach. If you are a MSC Yacht Club guest, towels will be provided to you.
MSC asks that if you intend to go into the water, you use coral reef-safe sunscreen (which you can buy on the island).
Striving to be eco-friendly, there are no paper maps of the island so as to cut down on waste. There are also no plastic water bottles on the island, so if you want a container for the day bring one with you.
Getting Around Ocean Cay Bahamas (MSC Marine Reserve)
There are no cars, buses, or taxis on Ocean Cay.
Walking:
The island is large to traverse on foot, but it is possible. The closest beach is a 10 minute walk from the ship. The furthest point from the ship on the island is about a 20 minute walk.
Trams:
The island has a free tram service to get from the pier to the beaches. There are golf carts on the island, but those are used exclusively by staff.
Shopping In Ocean Cay Bahamas (MSC Marine Reserve)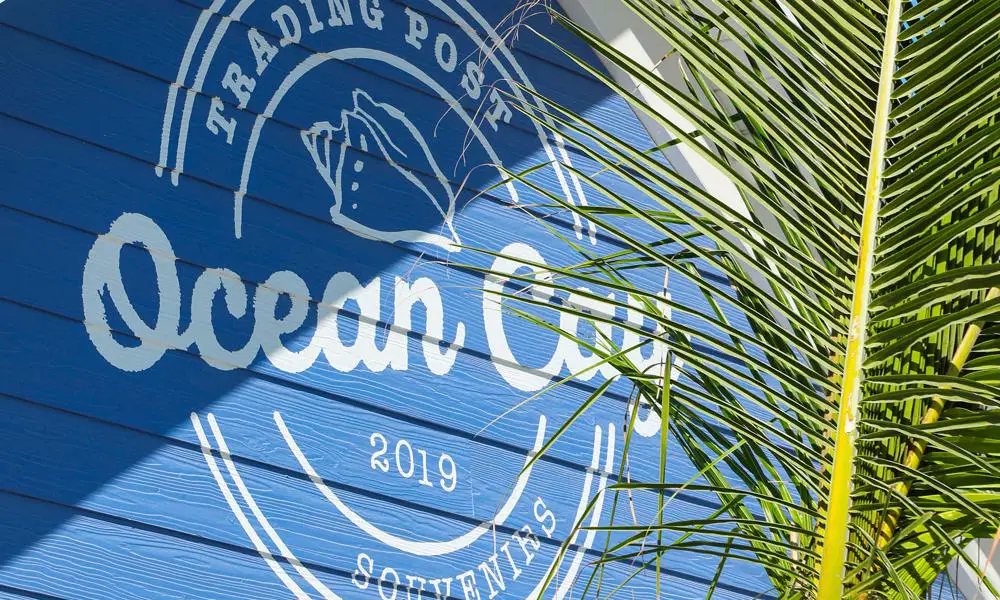 There are four shopping areas on the island where you will find essentials and souvenirs.
The Bahamian Shop & Market has authentic arts and crafts.
Ocean Cay Trading Post will find a selection of souvenirs and gifts including T-shirts, caps, beach items and accessories.
The MSC Logo Shop will provide you with essentials and souvenirs. This shop is also where you will find MSC Foundation items.
Dining In Ocean Cay Bahamas (MSC Marine Reserve)
Sneakers Food Court
This stop is included in your cruise ticket and is the main dining area on the island. They have American favorites and Bahamian flavors, along with dining options for the kiddos.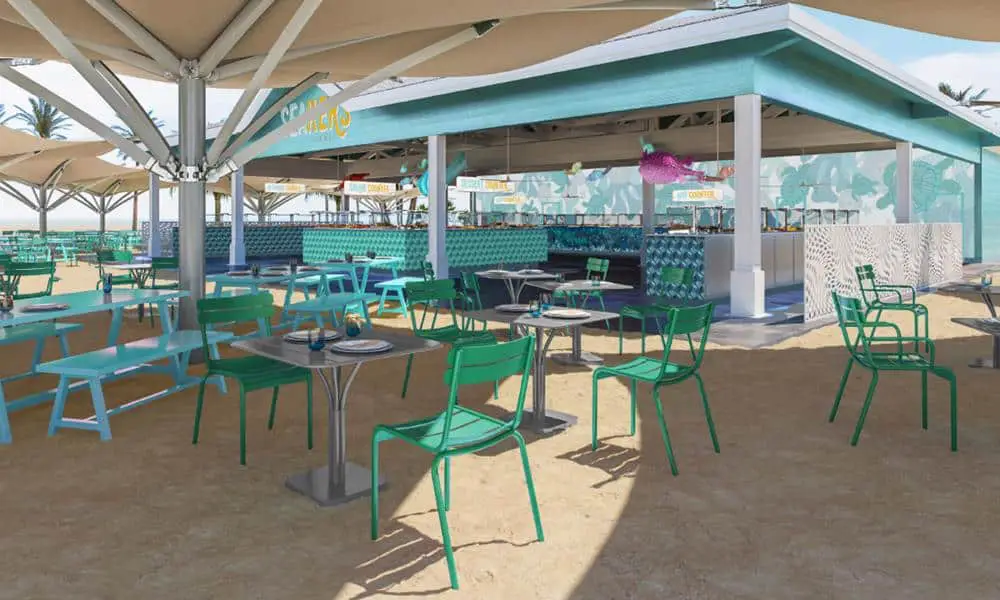 Food Trucks
There are food trucks located at various spots on the island. Their menus are limited to burgers, hot dogs, fries, pasta salads and brownies. There are also seafood food trucks that offer, at an additional cost, lobster bacon rolls, lobster grilled cheese and fried calamari.
Beach Bars
There are numerous beach bars all across the island where you can get something to drink. They have a wide range of beverage options.
Lighthouse Bar
You can't miss the 100 foot red and white lighthouse on the island. You will be able to enjoy drinks along with live music.
Springers Bar
Located in the marina, this is an authentic Bahamian bar offering cocktails and other drinks.
The Smiling Fish and Coffee Bar
One of the most fun places on the island, you will find hundreds of different kinds of ice cream. They also offer freshly brewed whole bean and ground coffee, espresso and cappuccino.
Things To Do in Ocean Cay Bahamas (MSC Marine Reserve)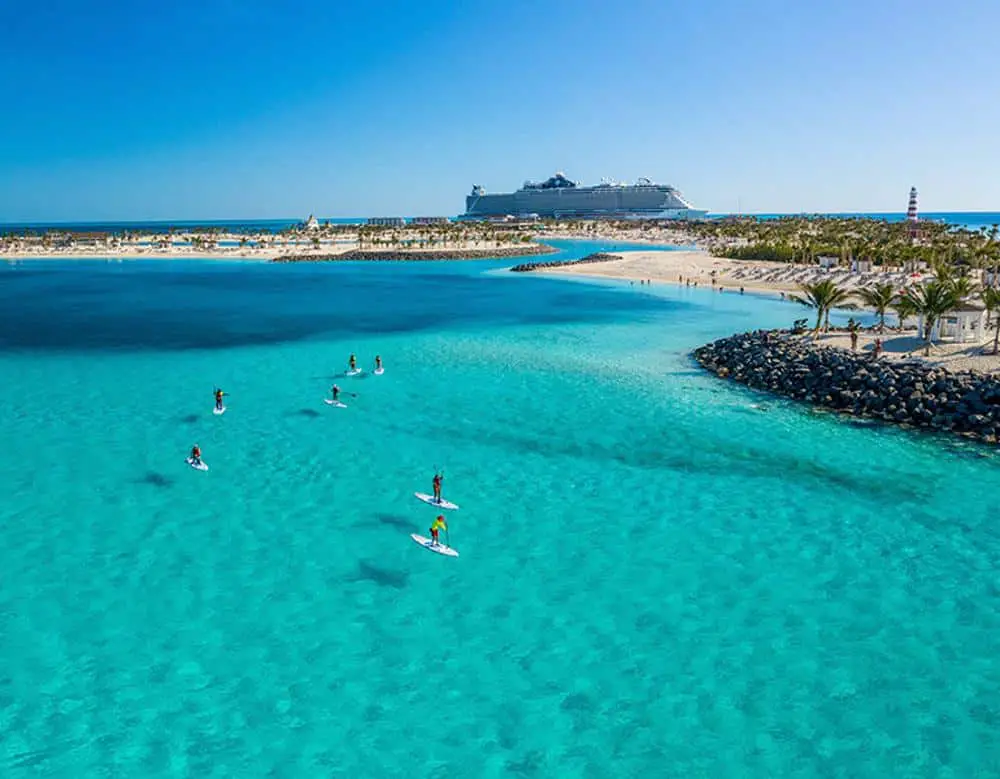 The sand and the surf are the main draws at Ocean Cay. It is a chance to soak in the beautiful sights of beaches and water.
There are no pools on Ocean Cay, but there are seven beach areas with over two miles of white sandy beach shore. Lifeguards are on duty in most of these areas.
Bimini Beach
North Beach
South Beach
Lighthouse Bay
Paradise Sands Beach
Sunset Beach
Ocean House Beach
Bimini beach has a beautiful view of the Bahamian Sea and has calm waters.
North and South beaches are the best for families. These areas are shallow and the waters tend to be calm. There are some palm trees, but not many. Umbrellas are available to rent.
Lighthouse Bay gives you great views of the lighthouse, pristine white sands and places to lounge near the water. This beach is the closest to the ship, and so tends to be the busiest.
Paradise Sands Beach is located next to the Ocean Cay spa where you can get a massage or facial treatment.
Sunset Beach is the longest beach on the island, but there are no lifeguards. There are a variety of water sports available here
Ocean House Beach is reserved for MSC Yacht Club guests. Here you will be able to rent a beachfront or ocean view cabana for the day.
Activities
Even though the beaches at Ocean Cay are the biggest draw, and there are other water related sports that you can take part in.
There are wave runner excursions, and a guided kayak or paddleboard trip. Snorkeling is a favorite activity too.
There is also a spa on Ocean Cay on the far side of the island that offers massages and facials.
Paddleboard tour
This activity allows you to see the natural habitat around Ocean Cay with a guided tour. Equipment is provided and both beginners and experienced paddle boarders will appreciate this tour.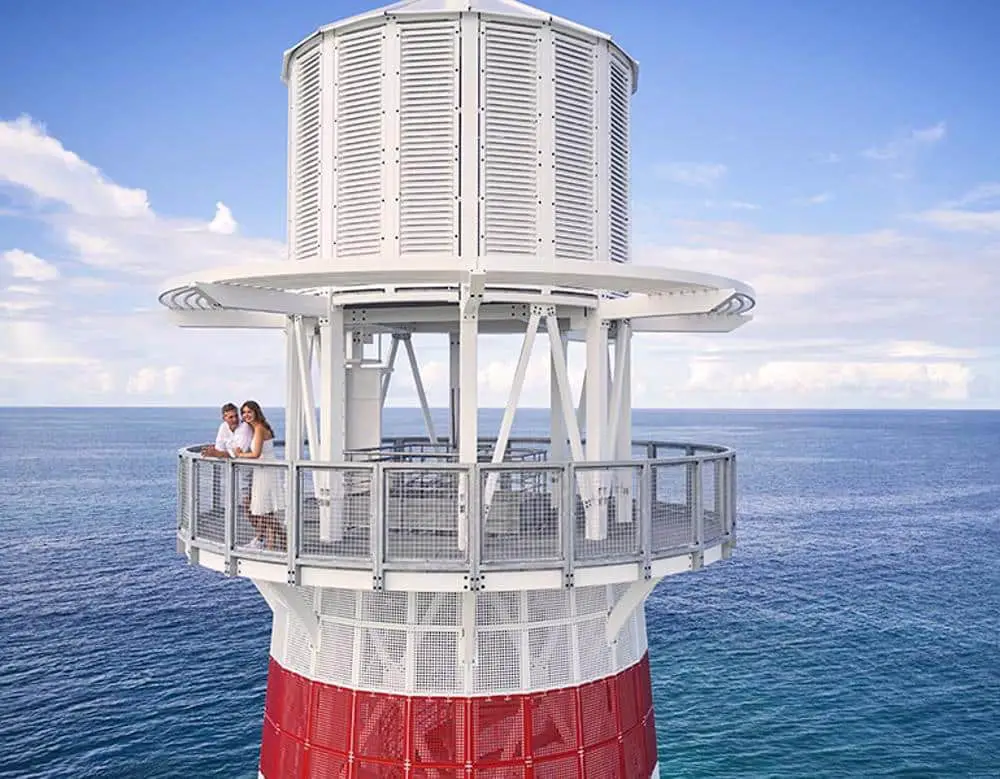 Glow Nightime Stand Up Paddle Boarding
This specially equipped stand-up paddle board is fitted with LED lights that let you glide, illuminated, across the calm waters of Ocean Bay Lagoon.
Kayak Explorer Tour
This guided tour takes in the exquisite views of Ocean Cay's coastline and marine life.
Beachside Stargazing
A guide will use state of the art computerized tracking telescopes to find star clusters, planets, nebulas and galaxies in the Bahamian sky.
Ocean Cay Bahama Bank Escape
A spacious double decker power catamaran will take you on a boat ride around Ocean Cay. It will then anchor in the shallow waters of the Bahama Banks while you enjoy drinks and music.
Twilight Scenic Island Cruise & Light Show
Take a twilight cruise around the Cay on a double decker catamaran. You will also be treated to the Ocean Cay Lighthouse Lightshow from the water before returning to the island.
Shipwreck Snorkeling Getaway
You will be taken by boat to one of the best snorkeling sites. All of your equipment and instructions are provided. Explore on your own or follow your snorkel guide.
Sunrise and/or Sunset Cruise
Catch the sun as it rises on a private double dicker catamaran with complimentary mimosas. The sunset cruise will provide complimentary champagne while you view the spectacular Bahamian sunset.
Ocean Cay Waverunner Tour
You can ride solo or take a friend and set off on a guided tour of the Ocean Cay Marine Reserve.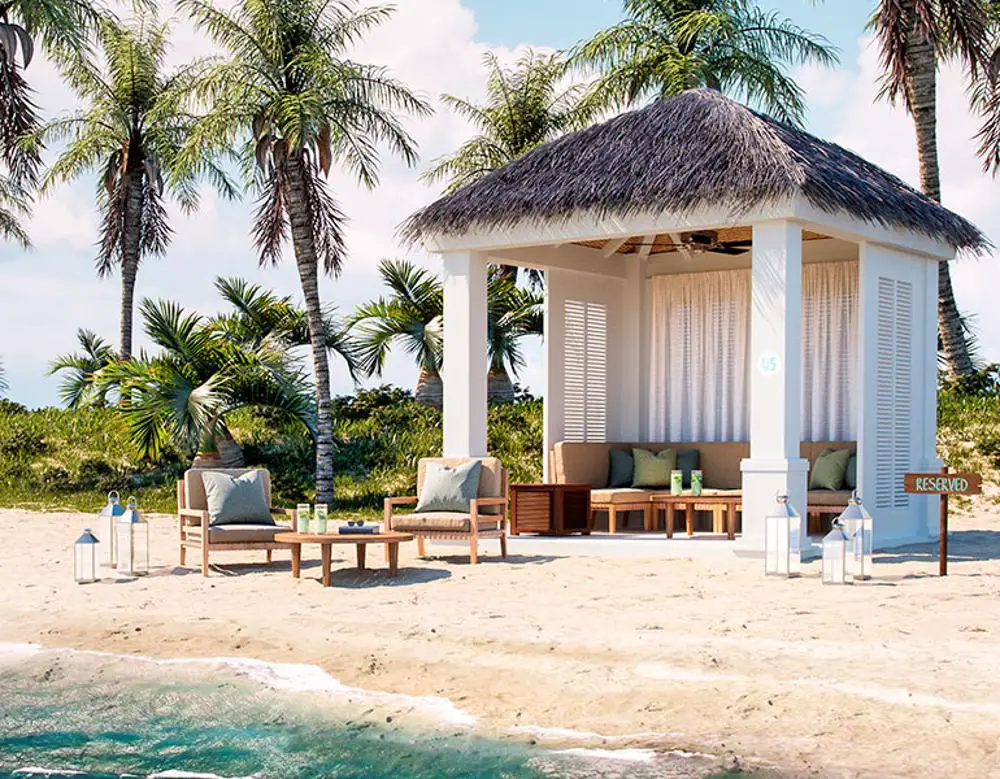 Ocean Cay offers these rentals:
All day umbrella rental
All day rental of a floating beach mat for one person
Kayaks that hold one or two people can be rented by anyone over 18 years of age
All day rental of a beach cabana that accommodates six people
All day rental of snorkeling gear Paddleboard rental
To get a better review of what's offered on Ocean Cay, check this out!